So you bought a camera, and now you need a lens? Welcome to a world of sweet, sweet torment.
The items we're going to go through in this review are all great lenses. Each and every one of them is not only a good streaming lens but a good lens in general.
Knowing what a certain lens entails is a small science. Most of us aren't professional photographers and are not willing to learn the basics of optics and the not-so-small amount of math involved. So we look towards reviews like this for enough information in order to not mess up our purchase.
Post 11 of 18 in the Webcams/Cameras
Best Lens For Streaming
Reviews
---
Well, easy. This post holds all the lenses and answers you might need.
When I first started to dabble in photography, around 2010, I wish there were more reviews like this one. I would've known way better and sooner what my needs were, or I would've at least learned a thing or two passively.
Things like what's bokeh, how to get it, what's exposure, shutter speed, or how to always set up your lenses and settings correctly in manual mode in any light condition.
I learned it the hard way, but now you don't have to! We'll cover the basics here.
I won't go into the nitty-gritty and the aforementioned optics, but I can promise that you will come out a bit more informed about photography in general, as well as knowing exactly what kind of lens is perfect for you and your needs.
Who knows, you might even branch out into photography after this!
QUICK OVERVIEW: Best Lens for Streaming
<!—INSERT CODE BLOCKS BELOW—>

16-50mm focal length
Internal focus

Full metal construction
Bit Depth/Sample Rate: 16-bit/48kHz

16mm prime lens
Aperture: 1.4
❶ Sony E PZ 16-50mm
---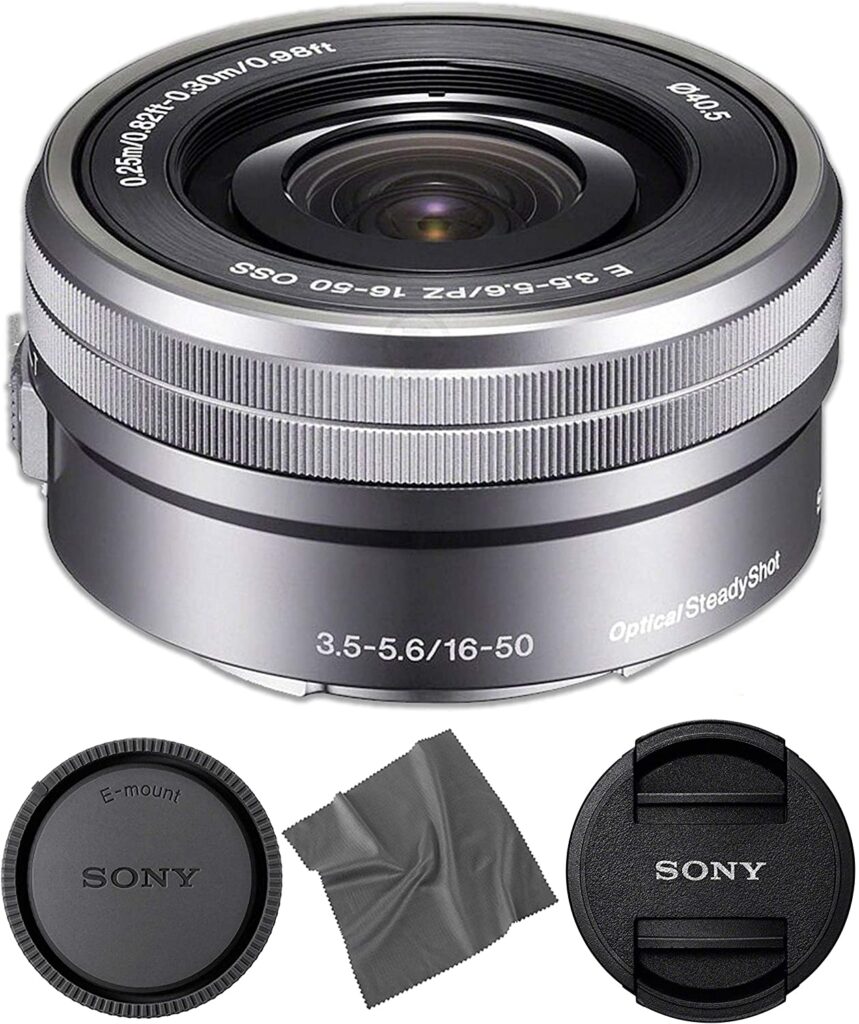 ---
Right from the start – random numbers, right? You're probably thinking "what in the world do these letters and numbers mean?".
Believe it or not, they do hold crucial information about what kind of lens you're buying. If you know what they mean, you will have a pretty good idea about what kind of image quality and wideness of angles to expect.
Description
The Sony E PZ 16-50mm is what we call a zoom lens. The hint about it being a zoom lens (contrary to a prime lens, which we'll cover in one of the later entries) is in that 16-50mm range.
The lower the millimeter count, the wider the angle. So, a 16-50mm lens would offer a range from a wide-angle to a more narrow, portrait angle.
That option doesn't really come in handy when you're looking for a lens to fit on your streaming camera. It is going to spend the vast majority of its working time mounted on a webcam tripod and with a preset focal length and fixed lighting conditions.
You don't really need it to be capable of any kind of zoom, but it's a nice feature to have, nevertheless.
The one very important feature this lens has, and one you should definitely keep an eye out for in any other streaming lens is that it has internal auto focus.
This means that the lens itself has an internal motor that rotates the rings in cooperation with the camera body and its algorithms to keep you in focus at all times.
❷ Sony SEL35F18
---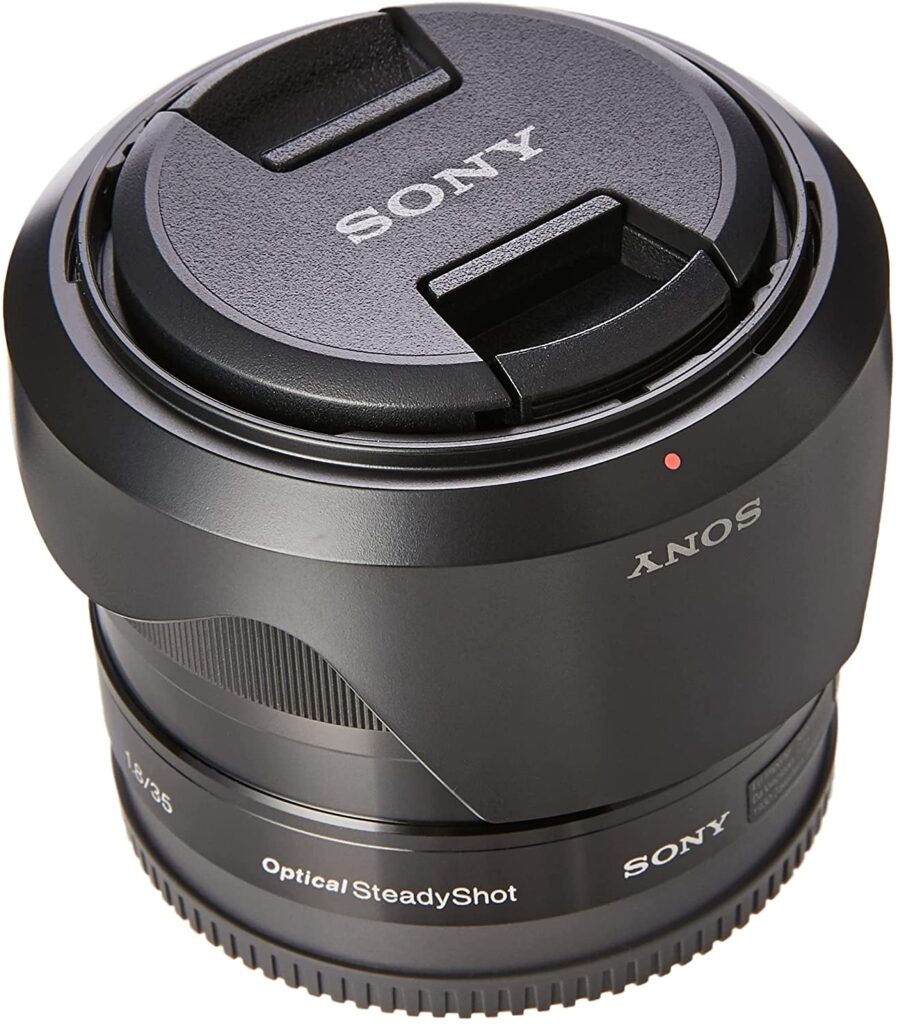 ---
This is a prime lens, I mentioned them in the entry above. What this basically means, is that it has a fixed focal length. That's the thing that's being marked in millimeters.
Some people say that a prime lens will always yield better image quality and sharpness, some people don't. It's one of those eternal debates.
For me, personally, it does sound a bit logical that a highly specified lens, with just one focal length, would fare better than a more universal one.
That doesn't really have to do much with photography and photography-related things, but rather with my experience with various universal gadgets, regardless of what they're for.
It is my experience that universality almost always comes at the cost of performance.
Description
The Sony SEL35F18 is, as I said, a prime lens. It has a fixed focal length of 35mm.
35mm is considered rather wide, so it's a really good lens to have if you need it on your desk, but you also need it to catch more than just your head, for example.
It has the same internal focus mechanism as the lens above, so you'll be privy to Sony's amazing auto focus.
One of the best features it boasts, tho, is its maximum aperture, which stands at 1.8.
It is now time to explain the aperture numbers. Namely, the smaller the number, the larger the aperture. It's a little bit counter-intuitive, but that's photography for you.
So, the larger the aperture (the smaller the number), the more light enters your camera at once. What that means for you is that you need less light to get a well-lit image.
You can now begin to see how a large aperture is a nice thing to have.
❸ Sigma 16mm f/1.4
---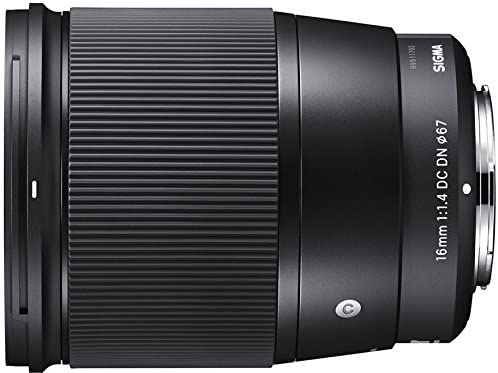 ---
Sigma is a well-known name in the world of photography. Being well-known doesn't go with both benefits and drawbacks.
This lens brand is especially coveted among portrait photographers, and that's what makes it one of the most prominent streaming essentials. You're going to be using your lens as a portrait lens, after all.
Earlier, I was talking about aperture, and how a bigger number means smaller aperture or vice versa.
The marking you can identify aperture with is that f/x.x format you can see in the name of this and many other lenses.
Description
An aperture of 1.4 makes it extremely sensitive to light, and thus it has excellent low light performance. Of course, the fact that it can illuminate your face doesn't mean that you won't need an additional light source for peak performance.
What I'd like to discuss now is how aperture affects a thing called depth of field, a concept touched upon in the previous entry.
Depth of field means how much of the space in front of your camera will be in focus. The larger the aperture, the more shallow that space gets.
So, to put it simply – you get more light, but less of the space in front of the camera can be in focus, or you get less light, but more things are going to be in focus in front of the camera and behind you.
A more shallow depth of field will give you a nicer bokeh (the nice blurry background in professional photos), but it would also mean that it can be so shallow, that, while your eyes are in focus, your nose might not be. That's how shallow it gets at apertures such as 1.4.
❹ Sigma Art 50mm f1.4
---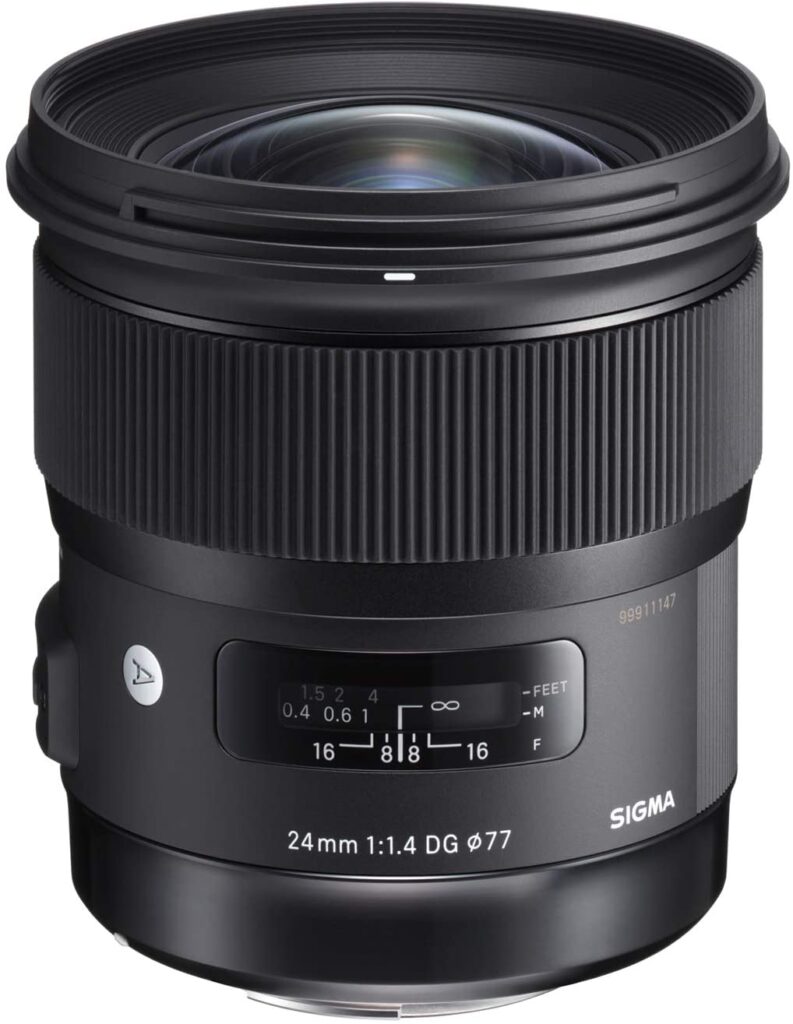 ---
Whenever you see the word "art" next to a Sigma lens, know that it's going to be expensive.
This lens is no exception. Sigma Art lenses have been a standard in portrait photography for a number of years, and rightfully so.
If you take a browse through any fashion magazine you find, the cover photo was probably shot using a variant of this lens, if not this very lens.
As is the case with any standard-setting piece of equipment, the not-so-small price tag is also present.
Description
A 50mm lens is significantly less wide than the last entry. So, if you don't have enough desk space for you to be located a bit further away from the camera, this will not do the trick for you. It requires that there's some distance between it and the subject.
That being said, if it suits your workspace, this lens has probably the best image quality on this list.
Not only will it be sharp, but it will also influence the colors you get. Even in low light conditions, the 1.4 aperture does the trick, and you won't have any issues with your blacks and shadows being too dark.
❺ Tamron 28-200mm
---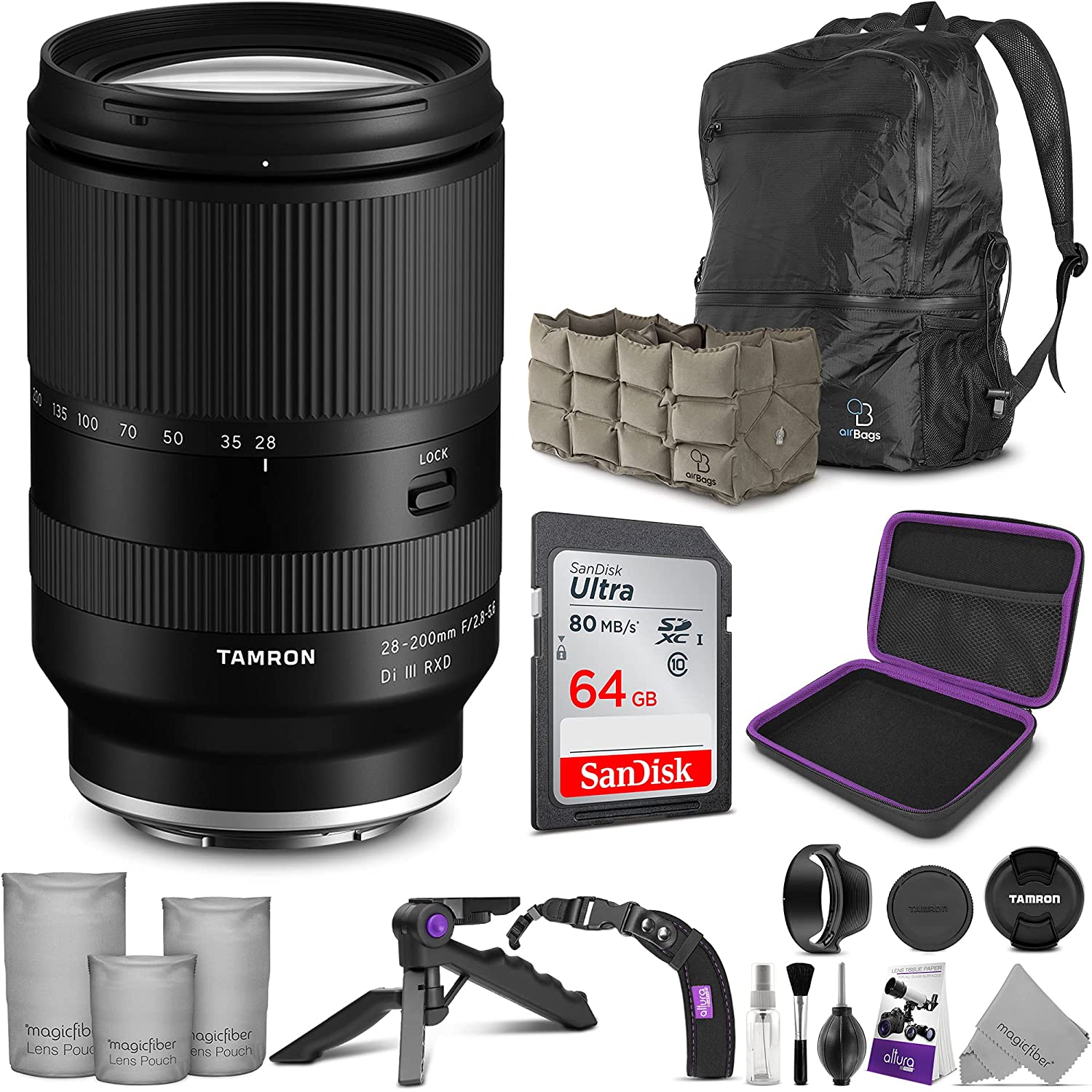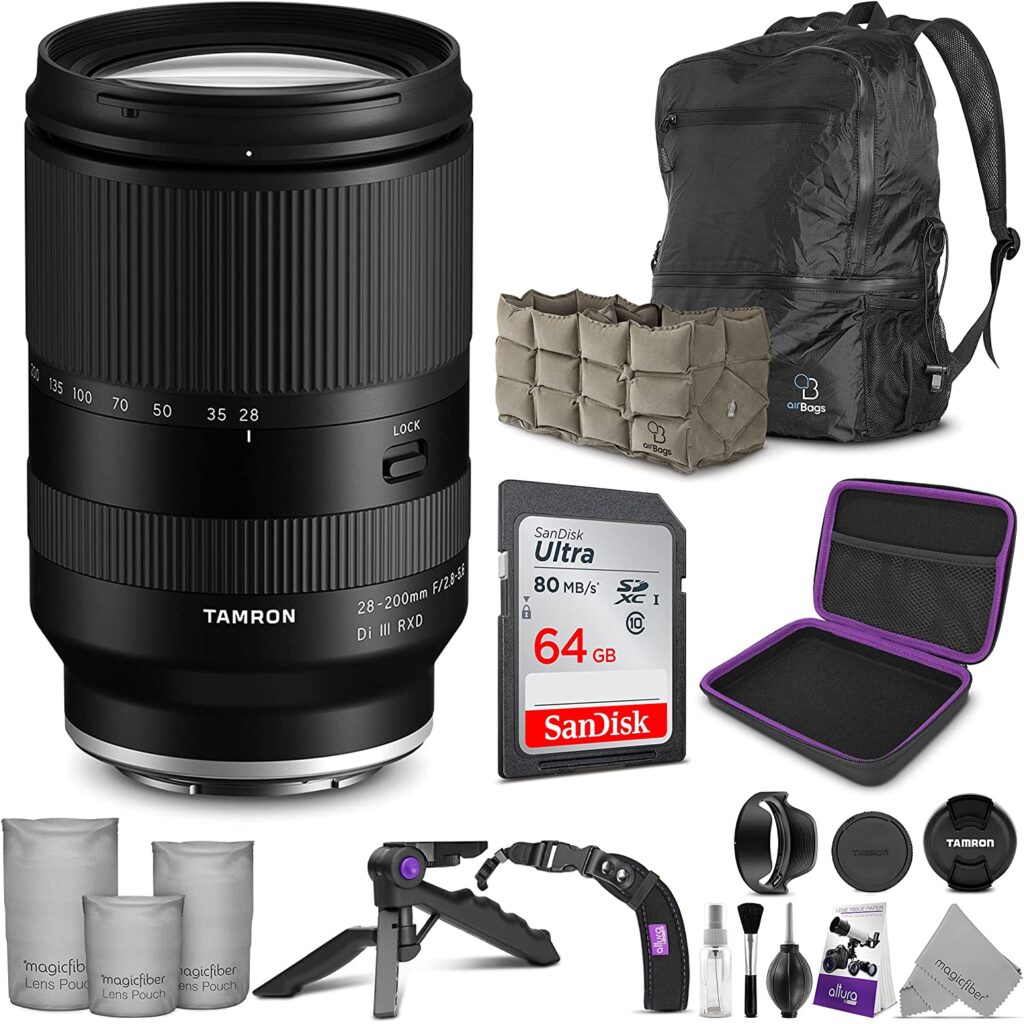 ---
Tamron is one other brand (aside from Sigma) that is well known throughout the photography world.
In its humble beginnings, a long time ago, it was considered a cheap lens with dubious quality control. They've come a long, long way since then, and they have become a household name among photographers.
As far as I know, Tamron lenses can be and are used in all kinds of photography and videography. That many colleagues can't be extremely wrong, can they?
Description
Now might also be the time to talk about constant aperture. Do you see how the name of this lens shows a range of apertures (2.8-5.6)?
That means that it can only have its maximum aperture (2.8) at its lowest zoom level (28mm in this case). The more you zoom it in, the more the aperture closes, and the less light your lens can let through to your Sony camera.
Constant aperture would mean that it doesn't change with zoom. That feature is extremely sought after, and even more extremely expensive. It sets apart premium lenses from regular DSLR lenses. This lens, sadly, doesn't boast that feature.
The feature it has, though, is a huge range of focal lengths. 28mm is a pretty wide-angle, and 200mm is so narrow, that you can take a picture of a bird in flight a couple of hundred feet away.
If you remember, we talked about universality and how it affects performance, and this is no exception. I mean, the lens is sharp and does its job, but both a 28mm prime lens and a 200mm prime lens would be way better.
Furthermore, its range is not something you, as a streamer, would necessarily need. You would probably be using it on just the zoomed-out position of 28mm.
It does, however, offer you the possibility to take up photography a bit more seriously. Especially wildlife, since you don't need to get too close to it, with a 200mm zoom.
❻ Sony – FE 16-35mm
---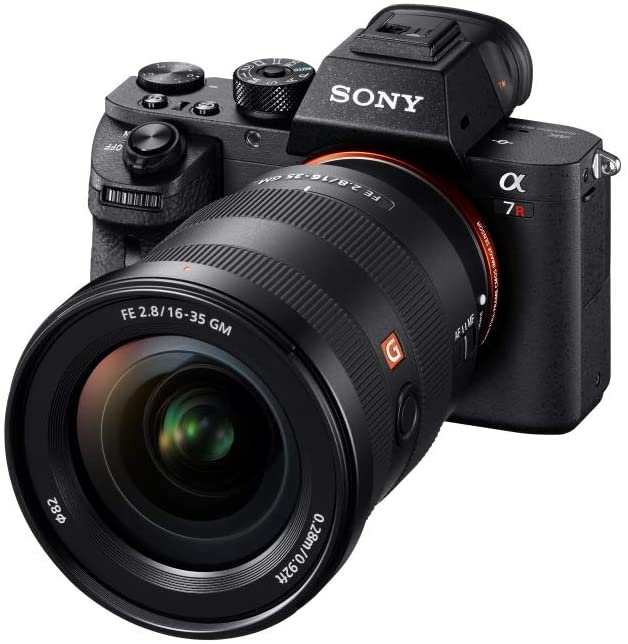 ---
Welcome to the world of extremely expensive lenses! The Sony FE 16-35mm is a highly professional tool, with a highly professional price tag.
It's extremely hard to design an excellent ultra-wide-angle lens, which is also a zoom lens, and Sony did a great job on this one.
Aside from being suitable for streaming and video in general, this kind of wide-angle lens is also very nice for landscape photography.
Description
This is probably the most expensive Sony lens, and most certainly the most expensive lens on this list. That being said, its price is more than justified by its performance.
One of the main reasons for its price is that it has that elusive feature – constant aperture. It holds a 2.8 aperture throughout its 16-35mm focal range.
Although we're not used to a wide-angle lens having any kind of depth of field, this one can provide even a nice bokeh, if zoomed in to the maximum focal length. That is due to its large aperture.
Its body is made of polycarbonate and has a sleek black finish, to go well with your Sony streaming camera and other possible items in your Sony lens collection.
It is also a part of Sony's G Master series, which is a designation for their top-notch quality items.
❼ Meike 35mm F1.4
---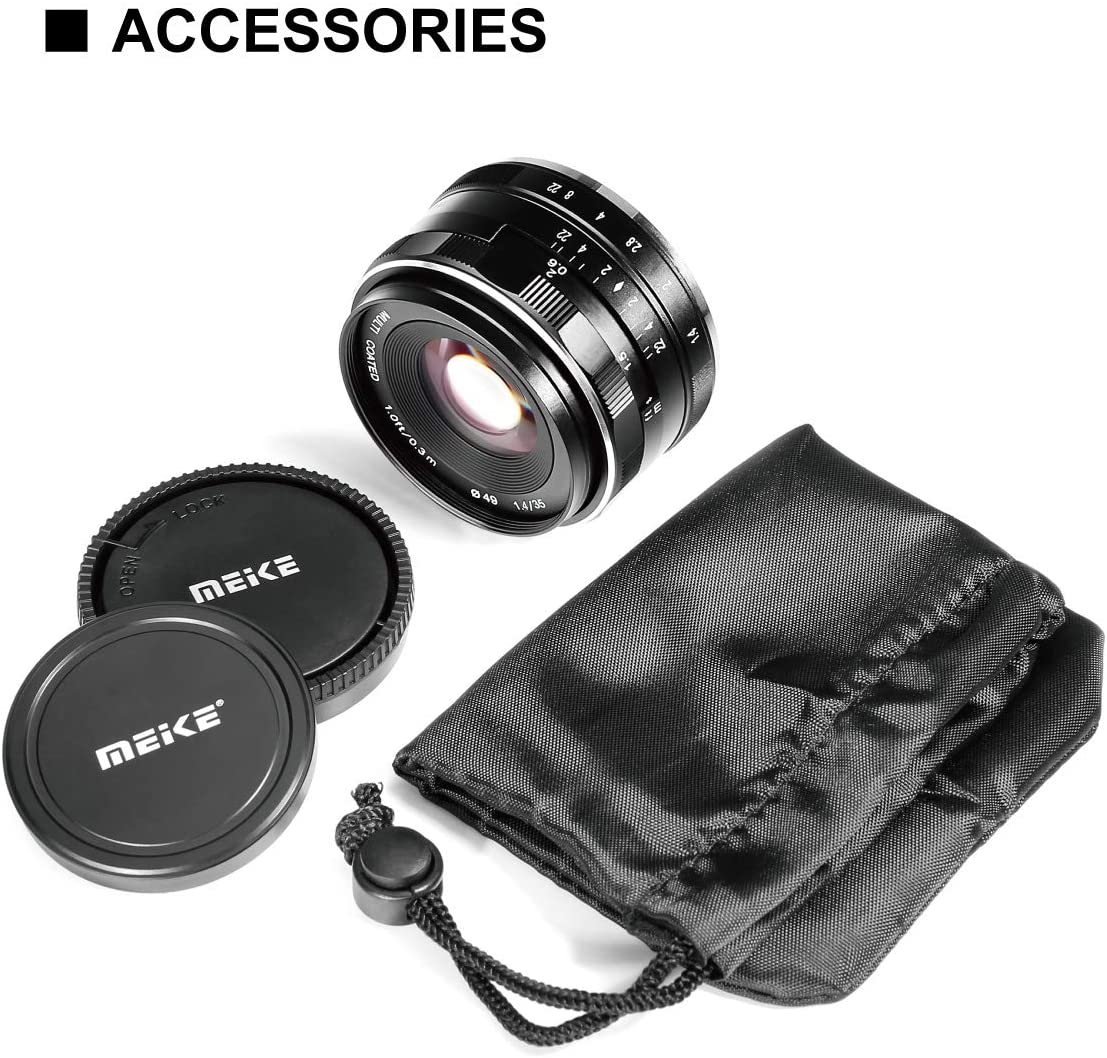 ---
This is a good example of a trade-off that can be crucial but lowers the price significantly.
Meike isn't a popular brand, but this lens has impeccable performance when you look at the numbers.
Some shortcomings get visible when you start digging through the data, though.
Description
At 35mm and f1.4, this sounds like a lens that would normally cost more than $500. And it would if it had any other brand name aside from Meike.
But it's not just the brand name, there's one huge shortcoming with this lens. No autofocus.
This means that using the example of a streamer, you would have to mount your camera on a tripod, adjust the focus manually so that you'd be in focus where you're normally sitting, and not move an inch while talking into the camera.
Autofocus, combined with your camera's algorithm would make easy work out of following your movements, but this will downright ignore you and just stick to the field of focus you've previously set.
Given its aperture of 1.4, that means that its depth of field is extremely low, and you'd probably spend more time out of focus, than in focus.
If you're not one to wiggle a lot while you speak to your audience, this isn't of any bother. But if you are… Ouch.
What To Look For In Camera Lenses For Streaming
It's the same with any other lens, really. You should be on the lookout for sharpness, low light performance, affordability, and practical use when trying to figure out which is the best camera lens for you.
Also, keep a keen eye out for your camera lens is compatible with a full-frame camera, or an APS-C camera, because there is a difference in sensor surface. That translates into different focal lengths.
A lens may have, for example, a 10mm focal length (that would be an ultra-wide-angle lens) on a full-frame camera, but that would translate into 15mm on an APS-C camera. The ratio is between 1.5 and 1.6x, depending on the brand.
Sharpness
Sharpness is what makes the main difference between regular lenses and the best lenses. Of course, you'll know which one is the best lens for streaming only if you test it against your needs, but there is some info you can ascertain even from reviews like this.
Some of the key features are:
Besides that, the sharpness of your stream video, or photography will, in the end, depend on your knowledge.
You will be able to record video footage that would show up well on any computer screen if you follow these pointers.
Low-Light performance
This depends solely on a large aperture, as far as the lens goes. The sensor in the camera itself can help a lot in this regard, too, but that's not our focus right now.
If you expect poor lighting, you should go for lenses that have a larger aperture than 2.8. That means any number that's lower than 2.8 would make for a good choice.
Affordability
This is more of a balancing act than anything else, really. Affordable lenses have numerous trade-offs, compared to premium ones.
Either the aperture will be smaller, the build quality will be lackluster, or a number of other, seemingly small things that can really make your video quality suffer.
In the end, you can do wonders depending on your settings, your DSLR camera, and your skill, but there are some boundaries that cannot be crossed without investing some serious cash into your glass.
Practical use
What I meant under "practical use" is that you should know what you want to do with the lens.
Some lenses might look nice, provide great image quality, or come at a nice price, but they are, for example, 200-600mm.
A streamer would have absolutely no use with such a lens. It's a lot more oriented towards nature photography. Those are the lenses that take those impressive close-ups of eagles, or such photos.
They aren't really close-ups. The photographer was probably hundreds of feet away from the animal when they snapped that pic. The lens they use just has a powerful zoom feature.
FAQ
---
What type of lens is best for streaming?
If I had to generalize, I'd say any lens with a lower focal length than 50mm. Of course, the aperture and other things matter, too, but a lens at +50mm would be pretty hard to set up in your room, given its zoom factor.
So, be on the lookout for what's called a wide-angle lens. There are a few of those listed here, too. Image stabilization, on the other hand, isn't of key importance.
Your camera will almost always be mounted on a tripod, and that makes image stabilization pretty much redundant. It becomes a factor when you record video with your camera in hand.
What lens do most YouTubers use?
I'd say it's one of the Sigma lenses. Probably a wide-angle lens, too. If you want to achieve the video quality of your favorite YouTubers, Sigma 16mm f1.4 would be a great fit.
It will catch both you and some of your immediate surroundings from a short distance. It's razor-sharp and has a large aperture. All great features for a streamer/YouTuber.
Is DSLR or mirrorless better for streaming?
This isn't a lens-related question per se, but it's an important one nevertheless. The answer is that mirrorless cameras always give videos of a higher quality than a DSLR camera would.
That, however, brings your bandwidth into question. The better the video quality, the larger the file you're streaming.
So, if you're limited by your bandwidth in any way, a lower-quality DSLR camera with a matching DSLR lens would be a better choice.
If not, then feel free to go mirrorless, because it's most definitely the future of video production.
---
Join our Discord Group. Ask questions, team up with fellow streamers, share memes, and more!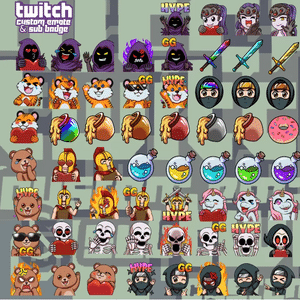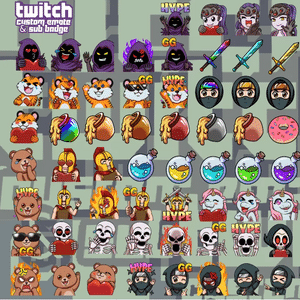 Claim for FREE:
FREE Emote PACKS
A book on growing your audience