Instagram stories are a great way to communicate ideas, advertise products and get the viewer's attention.
People tap through their Instagram stories daily, sometimes to find that one specific thing they're looking for, and other times just to kill time or keep up with their friends' daily activities.
Once you have tapped through all of your friends' Instagram stories about their day, you might be feeling inspired to take your Instagram stories to the next level with some outstanding Instagram story ideas.
33 Instagram Story Ideas To Get Inspired
Feeling a little stuck and uninspired and don't know how to make our Instagram stories pop and get more viewers? Here are some cool ideas you can check out:
1. Promote Your Product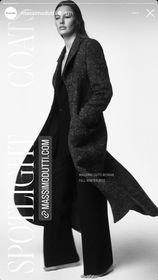 Small local business owners or one of the big guys in the industry – both have one in common: a product they want to share with the world.
Make a creative Instagram story template and post consistently that way.
Apart from regularly promoting your product via typical photo posts or Instagram Reels, why not also use the option to share your products or services in your Instagram story?
Instagram stories, if properly created and designed, have the ability to catch the attention of viewers and bring them to your account.
This is a quick and easy way to get noticed on social media. Snap an image, edit it or get the help of a professional graphic designer and post it to your story.
2. Share A Recipe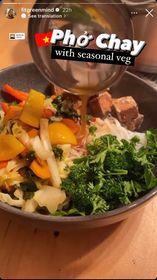 Sharing is caring. If you have an outstanding idea for a super delicious recipe, why not share it?
Of course, if you have a variety of options when it comes to recipes, you can share them as images or videos on your Instagram stories.
Don't be shy, decorate a nice spot in your kitchen and use your fancy dishes. Get inspired and share your process through the steps. Whisk along and allow others to see the magic that happens in your kitchen!
3. Show Off Your Outfit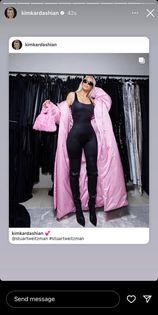 A cute outfit not shared on your social is not a wasted outfit. But wouldn't it be nice to show off that new press or that tailored suit?
Snap an image, boomerang, or video in a mirror. Strike a pose and show your edition of a cool outfit.
Don't forget to tag some remarkable brands if you're wearing their pieces. You might get the attention of the brand itself and get a potential sponsorship!
Share stories like this daily or once a week, and make sure our Instagram followers keep up with your style.
Additionally, use the hashtag #ootd – outfit of the day for that extra reach!
4. Announce And Post During An Event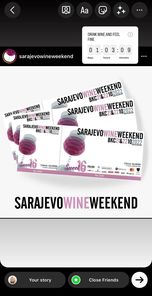 Attending a wedding, a friend's graduation ceremony, or the coolest New Year's Eve party in town? No matter what kind of upcoming event it might be, make sure you post it on your stories.
There are many ways to announce an event. You can maybe talk about it directly into the Instagram story camera or snap a pic of the event invitation.
Many influencers will announce and post to their stories all that's going on during these events. Add a countdown sticker ahead of the event itself!
Share your beautiful surroundings with your Instagram followers. Take pics of people who join you at an event, and you might also end up being tagged on other people's stories.
Post small details such as cute flower arrangements on the table, people dancing to cool tunes, or mighty fireworks in the sky – sometimes more is more.
5. Share Your Day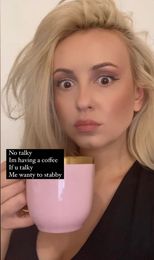 Vlogs have become a very popular way of expressing one's daily routine, current state of mind, and fun times on YouTube.
This same trend is growing popular on other social media platforms, such as TikTok and Instagram.
This is a great way for you to practice being relaxed and natural in front of the camera. Just try recording a small portion of your day. You can stay quiet or talk directly and speak about your day – this can be a fun game.
Authenticity, displaying your true original persona on your IG story, showing your real self behind the scenes, allow your story viewers to see the real you from time to time.
Relatable people are always in and will be reaching and bonding with their followers way more than others who steal other accounts' content ideas and visual identity.
6. Make Your Poll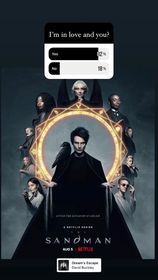 Should I watch House of Dragon, or should I watch The Rings Of Power? To be or not to be?
Having your audience involved in your daily routine can also be accomplished by creating polls and asking them to help you decide.
It can be something simple as asking your audience to help you pick your shoes before you go outside today, or help you choose between two great books you wish to read.
You can go very personal with this, but it is also a great move in all things market research and marketing strategy, as this is a way to show the products and brands you like to prospective customers.
7. User-Generated Content
UGC or user-generated content is getting more and more popular across all social media platforms.
If you want to work with brands, businesses, and artists and want to create engaging Instagram stories, you do not have to necessarily show your face and brand yourself as an influencer.
UGCs are made specifically to show the products through the viewpoint of the user and the target audience's POV.
Unbox, show how to use, display, and present the product – in the most natural way you would use it. The focus here is on creating content in a natural and easy-going way.
Pick 5 products you use in your household, and that you really like – record and share video testimonials, snap images, create voice-overs and do so in a lot of natural lightning.
Post these videos as Instagram stories, save them, and post them on other socials!
8. Show Off Your Aesthetic
Trends are temporary, style is forever. Aesthetics come from inspiration. What aesthetic is your outside persona currently mostly revolving around?
You can be in flower power mode with floral details, not scared to live your best goth days in dark and burgundy, or maybe a luxurious old money vibe.
Make a custom Instagram story design, especially if you have an Instagram business account.
You can use impressive Instagram story templates.
Your Instagram account will be more memorable if you have continuity in identity. Show some sneak peeks within your stories.
9. Travel Stories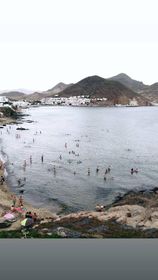 Not all those who wander are lost, or are they? Getting lost on purpose and far away from the public eye for your own satisfaction is one thing.
Why not share those wonderful views, luxury hotels, and amazing exotic foods in your stories?
Tag your location, and share the beautiful sites of the world.
10. Share Your Achievements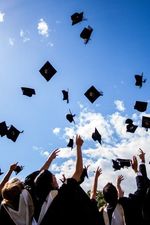 New job, graduation day, moving to a different country for work? New post to your story.
Not to brag, but to inspire! Snap a video or photo of your new workspace or the new view from the window!
11. Add Music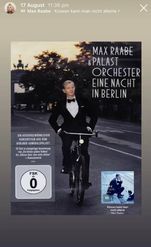 Is there a better way to express yourself emotionally through your Instagram story than through adding the element of music to your IG story?
Share your top artists or simply a song that is relatable to the content you're sharing on your Instagram story by using the add music feature.
12. Share Your Favorite Artists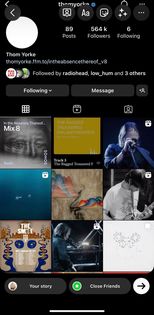 Painters, musicians, performance artists, or geniuses of game development? You can be a regular user or a social media manager, to make use of this tool.
Supporting your favorite artist and creators, regardless of which industry we might be talking about is simply outstanding.
13. Instagram Live Moments
If you were to go on Instagram Live, there could be some very crucial moment you have shared with your audience, and you want to make sure they can still rewatch it later.
Make sure to use the record screen option during these moments and share them later on your Instagram stories.
14. Time-Stamp Sticker
Where art thou? OK, sharing your location is one thing.
You can also add a time stamp if there is a significant event you are witnessing and want to share on your Instagram story.
15. Play With Effects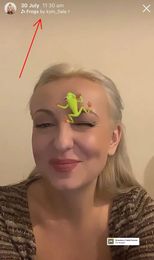 There are new effects added to the effect library, so check out this cool Instagram feature!
This is undoubtedly one of the most creative Instagram story ideas you could try to use when you want to share photos.
16. Share Poetry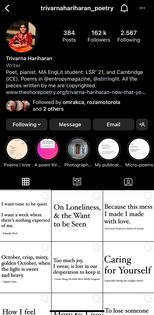 Aside from sharing cute Instagram story ideas, allow me to inspire you to share quotes, poetry, or maybe even your own poems.
Get creative with your word and give your Instagram viewers a sneak peek of your word wizardry.
17. Share Memes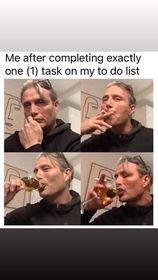 Make your Instagram stories interesting by adding memes now and then. This is a fun way to make your viewers laugh and brag with your style of humor through funny photos.
Create stories to inspire, but also sometimes to entertain.
18. Tag Your Friends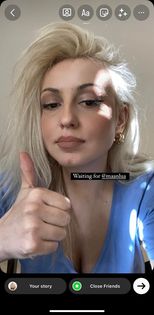 Posting a selfie is cool, posting a group photo with the squad is even better!
Don't forget to tag your friends and acquaintances in your Instagram stories.
19. Use The Question Sticker
If you want to learn, teach and understand, the question sticker will allow you to create an entire thread of interactions.
If you have a professional account, create your own branded questionnaires.
20. Instagram Story Game Ideas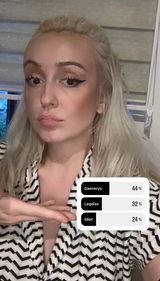 Get interactive and get interaction. Instagram story game ideas are a great way to get fast interactions and get more engagement from the viewers through a quiz sticker.
Ask your followers questions or start a treasure hunt, wherever the shoe fits.
Take things to a different level of interaction and create a quiz sticker.
A quiz sticker will allow you to create a literal quiz. Do your viewers and friends remember your favorite color? Ask them. A question sticker is also a way to get fast interactions.
21. Use The Link Sticker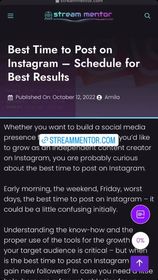 The link sticker is basically a hyperlink sticker, and it will let you add any kind of link from websites to your Instagram story.
22. Share Quotes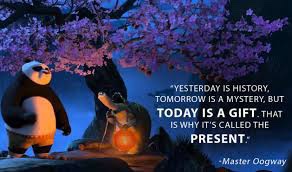 Feeling inspired, or maybe you read a remarkable quote, and you wish to share it with friends, family, coworkers, and viewers?
Take a screenshot from wherever you've found it and turned it into an Instagram post or post it as an Instagram story.
23. Hashtags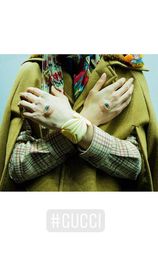 The golden feature of Instagram or the so-called hashtags can be used in your Instagram story content as well.
Allow the algorithm to lead you to your target audience.
24. Support Small Business Sticker
Create engaging Instagram stories also by adding a sticker of this time. People will eventually tap in to find out more about the Business in question.
This automatically means more engagement for your post.
25. Throwback Thursday
Throwback Thursday is available in the form of a popular hashtag #tbt.
Refresh your memory and think of the wonderful things that have a month or a year ago and post it on Thursdays.
26. Tap On Sticker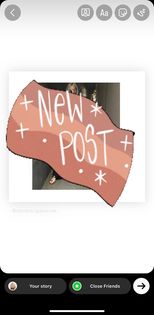 Wanting to show off your new Instagram feed posts? Share them in your Instagram story, and put a sticker on top.
Keep it a little mysterious still, cover a part of the posts' image, and make your viewers curious.
27. Filters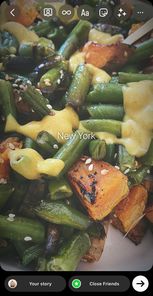 Upon snapping or recording your story, or post completing this step – swipe left and right.
Discover color-changing, hue-altering, colorful, or even black-and-white filters.
28. Customize Your Reaction Sticker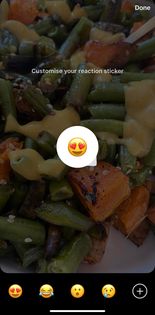 Upon having edited your image or video, you can give it a little extra by adding a customized reaction sticker on top!
Make it happy, sad, or exciting, or show your appreciation. This is up to you.
29. Write A Caption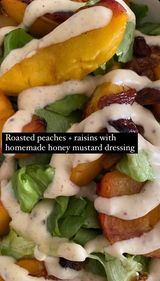 Whatever the focus of your one or multiple stories might be, make your Instagram stories attractive to viewers by adding a funny caption.
Make things descriptive and have the viewing time longer.
30. Add A Gif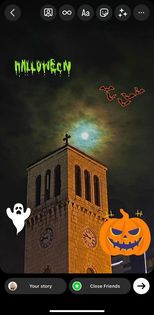 If you would like to just share multiple photos as your stories for the day, this is a great way to spice them up. This is also cool if you want to share your Instagram posts as stories.
After having selected your desired images, simply add a GIF or an add fun sticker, and off you go!
31. Story Highlights
Did you know that you can save our most beloved Instagram stories in the form of Instagram highlights?
You can make several small icon folders and separate each section. Keep your memories safe in your Instagram story highlights. Travel moments or video testimonials, keep them saved and archived.
32. Instagram Story Takeover
Want to offer something special and unexpected? If you work in the influencer community, or you want to alter the POV of your stories, allow another user to take over your Instagram stories for a day.
You will be surprised by the reactions to your Instagram app!
33. Send A Meaningful Message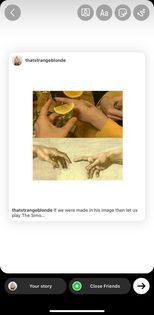 Share your or someone else's success story when you create an Instagram story. Spark a conversation that can just be naturally inspiring to your viewers. The best Instagram story ideas can be the ones that your viewers can feel deeply in their hearts.
A feed post is a permanent reminder of powerful messages, but use creative Instagram story ideas to deliver it in this department as well.
Extra Tips To Make Your Instagram Stories Stand Out
Design Story App
You can use special apps that allow you to create Instagram stories with a special template you can create on your own design.
Explore, user, presets, or be completely original.
Stay Up To Date
Creating specific and unique branded content is a must, but especially if you are showing off your brand, be aware of the fact that you should always check out current trends.
A healthy rivalry between the competition and you is necessary. Check out what they are doing. Check out what people and other industries are doing. Be up-to-date and even try to be ahead of our time and set trends.
Posting Continuity
You can own the best-designed content for stories and post for a while and grow your numbers and enlarge the circle of your viewers.
In case you stop posting for a while, the result might shock you, but you will undoubtedly lose viewers.
Make sure you post your Instagram stories regularly. Sometimes it's better to stick to posting less but with continuity than to post one day 20 stories and the next day, none of them.
Conclusion
You can find cool Instagram story ideas after a little digging on the Instagram App. You can get inspired by a random Instagram post or by the latest blog post you read.
Create Instagram stories by using multiple photos, either from our camera roll or create them on the go. Ask and answer questions and ultimately get more engagement.
Make your IG story pop by using a variety of Instagram story forms. Get creative and start posting your Instagram stories.
FAQ
What content does best on Instagram?
Creating a new post to your story section is one of the most effective ways to get attention. From one to the next story, keep your viewers intrigued, through a countdown sticker, repost of a new post, or a blog post.
Nevertheless, you have to find the formula for growth that will work best for You. Explore, research, discover and figure out what works best for you.
How do Instagram stories go viral?
You should know how to understand your audience's needs. Certain types of audiences will get hooked on watching spectacular sceneries from Instagram Reels reposted on stories, others will like to find someone who can answer questions.
Use hashtags, add music in the form of trending music sounds, and explore other features Instagram has to offer.
What to post on your story when you're bored?
Check your surroundings. Are you sitting at the table of a cute restaurant? Take a pic of our lunch. Are you chilling at home and simply killing time? Go to your window and take a snap of the colors of the sky.
Alternatively, you can always take a selfie from a nice angle and eventually also use an effect. There are so many old but also new features Instagram has created. Find what works for you.