With the enormous popularity of this streaming platform, the streamers and their audience began wishing for a way to track the number of followers and subscriptions the most popular content creators have.
The result of this need is a Twitch sub leaderboard, a place where you can see the top Twitch streamers, both currently and all-time ones, all in one place.
What Is a Sub Leaderboard?
A sub leaderboard is a place on your channel page where you can recognize your most dedicated Twitch followers and active subscribers by making their devotion to your channel visible to anyone who visits it.
Much like the top donator count, the leaderboard will show a number of your top gifters and cheerers, usually 3 of them. The viewers can then expand the board by clicking on it to show up to a total of 10 spots.
Furthermore, it is possible to set up more than one leaderboard, with each of them tracking a different parameter, so your viewers are recognized no matter in which way they contribute to the channel.
Setting Up Twitch Sub Leaderboard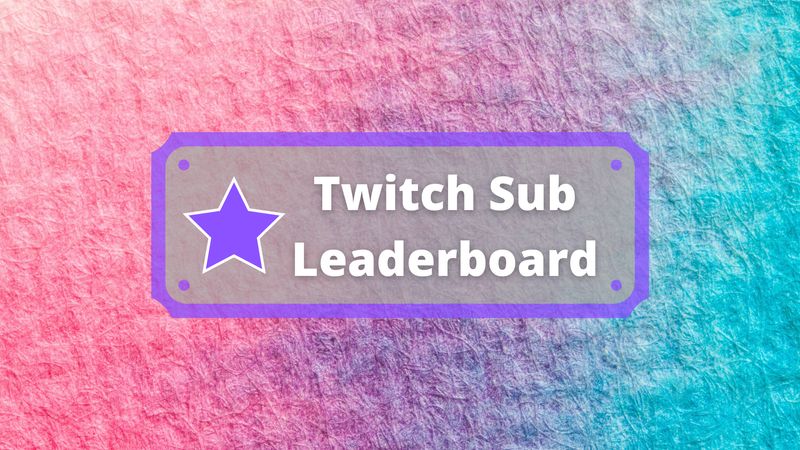 Depending on whether you are a Twitch affiliate or a partner, the menu leading to the Twitch leaderboard changes a little.
Either way, you will need to click on the hamburger menu in the top left corner of your Twitch stream, then go to preferences.
There, you will have a Partner or an Affiliate button depending on your status on the platform.
Choose it, then look for the Community&Recognition option. Under that, you will find a menu called Leaderboards.
How to set up the leaderboard to all-time?
When setting up your leaderboard, you will be greeted with four possible options to choose from, concerning the period the leaderboard will take into account when choosing the Twitch subscribers to feature.
You will see a short description of each option, explaining how it works. Simply tick the time option and save your choice. The leaderboard will immediately reflect your choice, showing people's ranks and Twitch sub badges here.
Adding a Leaderboard to the About Me Section
The easiest way to add a leaderboard to the About me section is through the extensions menu of your Twitch account.
There are a lot of different leaderboard extensions compatible with Twitch, so all you will need to do is go to the extensions menu, found on your creator dashboard, and select the one you like.
Activate it, and go back to the about me page of your channel. You will now see your top cheerers, gifted subs, or whatever you set here.
Top 10 Most Subbed Twitch Streamers
The leaderboard in terms of the most subscriptions per channel changes all the time, so when making a list like this we are forced to make a conscious choice: which period are we looking at?
For example, here is a list of the 10 streamers with the most Twitch subscribers for the month of July 2022.
1. xQc – 81,000+ Subscribers

Currently the number 1 Twitch streamer in terms of active subscriptions, this French-Canadian streamer is a former Overwatch pro.
xQc is mainly known for his excellent sense of humor, this streamer has become well known to the entire Twitch community, even outside of his regular audience.
2. RanbooLive – 72,000+ Subscribers
Streaming since 2020, this incredibly popular Twitch content creator describes himself as "Just a guy doing something". And what he does seems to appeal to the audience quite a bit, putting him firmly in the number two spot on the list.
3. NICKMERCS – 62,000+ Subscribers
An American Twitch streamer that used to be a member of the faze clan, a popular Youtube channel page, he mostly plays Fortnite and Call of Duty Warzone.
NICKMERCS has been in the gaming world for over 20 years, originally making his name known in the game Gears of War and later becoming a Halo professional.
4. AdinRoss – 52,000+ Subscribers

Both a Twitch streamer and a famous YouTuber, AdinRoss is known for streaming NBA 2K, a popular sports game, as well as cooperating with other streamers in this niche.
He first made the news while he was still a high schooler, skipping his prom to stream, a feat of dedication that made him noticed overnight.
5. HasanAbi – 45,000+ Subscribers

Known for both his left-wing political views and the various games he plays, Hasan Dogan Piker is a well-known Twitch partner, and one who has a large following primarily because of the well-thought-out arguments he shares on stream, making him reach the number five spot on this prestigious list.
6. CriticalRole – 40,000+ Subscribers

Not a single person but a group of American streamers that voice acts their D&D campaigns, the channel features both public and subscriber-only streams.
As a result, and due to the popularity of D&D as a game, CriticalRole has managed to gather over 40k subscribers and 700k followers.
7. IBAI – 39,000+ Subscribers

A famous Spanish streamer, Ibai Llanos Garatea is a former G2 Esports presenter. After retiring from this role, he used his already established name to start a hugely popular Twitch channel, streaming various games and more.
8. summit1g – 39,000+ Subscribers

A retired competitive Counter-Strike: Global Offensive player, who used to play for very successful teams such as A51 and Mythic, this American Twitch streamer is quite versatile in his choice of games, allowing him to reach a large audience.
Most certainly a streamer to look out for as his numbers continue to rise, we can expect him to take an even higher spot on this list in the future
9. Ludwig – 34,000+ Subscribers

A well-known internet personality, this American Twitch streamer, and YouTuber reached great popularity primarily due to the versatility of his content. From video games to tv shows and gambling, there is something for everyone on Ludwig's channel, which allowed him to amass a large followers count relatively quickly.
He even holds the record for the most subs at any single point in time, a feat that is unlikely to be beaten any time soon.
10. Gaules – 33,000+ Subscribers

A former CS: GO professional and a famous internet personality, Alexandre Borba, better known as Gaules is not your average streamer, with his rags to riches story attracting over 30.000 subscriptions and making him by far the most followed channel in Brazil.
Still an excellent counterstrike global offensive player, he tops the charts for most subs and is expected to continue to do so for quite some time.
Conclusion
Twitch subscribers can be an excellent way to earn money if you have enough of them. Furthermore, having a large number of subs opens up affiliate and partner programs for streamers, making topping these charts the ultimate goal of any successful channel.
FAQ
Who has the highest sub count on Twitch?
How do I find out how many subs a Twitch streamer has?
The easiest way to find this out is from their home page, as more popular streamers will usually show their Twitch sub points on stream.
Who has the most T3 subs on Twitch?
It is hard to say who has the most T3 subs on Twitch at any given time, as channels go viral and Twitch streamers go up and down in popularity.
To find out this particular piece of information, the best thing you can do is head out to Twitch official statistics, as they are the most likely to have the real-time option.