Now that Twitch has released its streaming software, many streamers are thinking about ditching the old software.
Is OBS studio better than a broadcasting software dedicated to Twitch streaming?
I will compare this two software and help you determine whether Twitch studio is better than OBS. Let's start with the Twitch Studio vs OBS comparison!
OBS
Price, Installation, and Features
OBS is an open-source broadcasting software that can be used on different platforms, so you aren't stuck to just Twitch.
However, this time I will talk only about how to set up OBS Studio for Twitch and features that are suitable for this particular streaming website.
Price
As open-source software, it won't cost you a thing.
You also get a chance to change the code and better it along with other users.
Also, many plugins for OBS are free, so there aren't any hidden costs.
Installation and Setup
This program is suitable for both streaming and recording, but now, I will focus only on the proper setup of OBS studio for Twitch streaming.
If you haven't installed it yet, head to OBSproject.com to get the download link.
Follow the installation step, and when the auto-configuration wizard pops up, choose the settings for streaming.
OBS will set some default settings – typically, these settings match the configuration of your computer and suit it the best.
Before you change any of these settings, link the Studio with Twitch, by using stream key.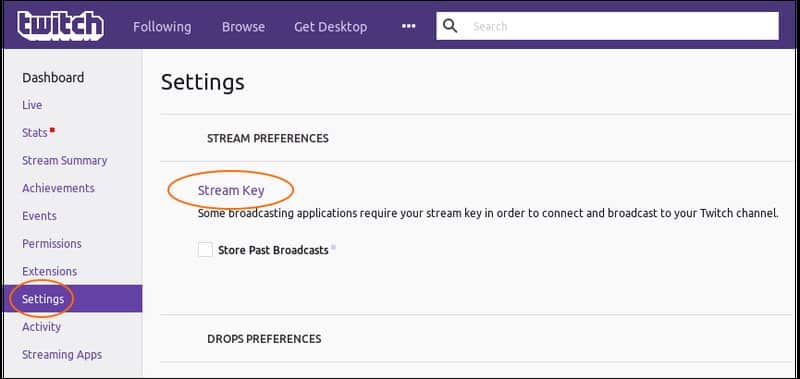 In the Settings menu, there are a few different tabs – General, Output, Stream, Video, etc.
Firstly, focus on the Stream settings – you have to choose the right streaming service and then add the server.
The service is Twitch, and the best ingest server you can find on the Twitch website.
Once this is done, you can go through the other tabs and adjust bandwidth, bitrate, FPS, streaming encoder, and connect external devices.
Features
What do you get with OBS?
Well, for starters, you will have a program supported by all operating systems, so once you learn how to use it, you can switch computers, and still have access to all of its features.
Because it is open-source and many people are constantly working on the code, OBS receives the updates first.
When it comes to recording, you have multiple options.
Most streamers record only gameplay, but unfortunately, this feature doesn't work on all games.
OBS has added Desktop capture, along with Window capture, so you can record either everything that is happening on the screen or only one of the open tabs.
There are also hotkeys, transitions, overlays, and other widgets that will make your streams even better.
All of the mentioned features can be customized, which will make your content more recognizable.
Keep in mind that for most, you will have to rely on some other programs which will sometimes be impractical.
Advantages
1. Supported by all operating systems and streaming services
If you are looking for versatility, you will get it with OBS.
Because gamers have to constantly invest in their equipment, and sometimes have to change operating systems, a program that can follow their progress is the best.
2. Small file size
OBS automatically compresses files, so they don't take up too much space.
Also, later processing and upload are faster!
3. Quite intuitive design
OBS has a great layout that makes using the program super easy.
Beginners like how everything is super intuitive – you won't ever have to wonder where which setting is placed, how to add a Scene or adjust the Audio.
Disadvantages
1. It is practically useless without plugins
OBS without plugins is not so powerful.
Overlays and notifications make a great stream. Since they aren't integrated into OBS, you have to use other programs to make them.
2. Setup is time-consuming
OBS isn't specifically designed for Twitch streaming – it is a software suitable for streaming services.
So, set up for a particular platform can be time-consuming.
Twitch Studio
Price, Installation, and Features
Firstly, Twitch Studio isn't officially launched.
During the TwitchCon in 2019, this software was introduced, but it is still available only in the Beta version.
The creators are still considering the feedback and changing the software so it suits Twitch streaming better.
Price
Currently, Twitch Studio is free – a link for download is placed on their website.
Whether it will remain free or not is still not announced, but because most broadcasting software is free, Twitch Studio will probably be as well.
Installation and Setup
Like OBS, Twitch Studio has a one-click download – you can get it if you use Windows or Mac computer.
Before you launch the program, log-in to the Twitch profile – once this is done, the program will automatically recognize your account, and you won't have to manually log-in to Twitch Studio.
Now, you can start setting it up.
When you click on Get Started, Twitch Studio will connect your microphone and webcam (if you are using them).
Then you can select the layouts. Since you are getting the beta version, overlays are quite simple.
You can choose the one for the main scene, BRB, and intermission scenes – not much, but these are the most necessary scenes so that is why they are implemented in this version.
Lastly, you get to set other settings, such as resolution and FPS. The software will recommend the settings, but you can alter them if you aren't pleased with the proposed ones.
Features
You will notice that the default screen is quite similar to the default screen in OBS.
In Twitch studio, scenes and sources are placed on the left side of the screen, while on the right you will find widgets, filters, chroma key, and other similar features.
As you may know, Twitch still hasn't enabled sound alerts, so streamers are adding them via third-party apps. However, Alerts are incorporated in Twitch Studio and they can be customized.
A few different types are available, and you can set the border, sounds, text, etc.
Also, Twitch Studio features a Media Library.
No sounds are added to the Library, but there are plenty of images to choose from. If you aren't pleased with any, you can upload your own.
Advantages
1. Designed for Twitch streaming
It is great that Twitch decided to launch its streaming software – streamers won't have to search for software that supports Twitch streaming.
2. Built-in widgets
With Twitch Studio, you get everything in one place.
Alerts can be easily added, customized, as well as other widgets.
Also, it allows precision – just use arrow keys to move something to the desired spot.
Disadvantages
1. Lack of unique features
Overall, Twitch Studio doesn't have many unique features.
It is great that you don't have to use other programs to add alerts or create overlays, but there isn't anything new to try out.
Desktop capture is available on both software, as well as Chroma key, and color correction.
2. Not the best design
One thing that bothered me the most is the bad design of layouts.
You can choose the layouts upon installation, but their design is plain and boring, and you can probably create better ones on your own.
Twitch Studio vs OBS
Conclusion
Which is better OBS or Twitch studio?
Well, since you can only try out the beta version of the Twitch studio, it is a bit hard to tell.
This software is still developing, and things that don't work well, will probably be either improved or removed entirely, and the final result will most likely be amazing.
However, for now, it is best to stick with OBS – this software is constantly upgraded, and it works great for Twitch streaming.