Live streaming requires some special equipment, including a video encoder.
If you aren't sure which one to get, I suggest URayCoder Video Encoder. In my opinion, this is the best encoder for streaming because of the high-resolution output display and compatibility with different platforms.
I have created a list of the best live-streaming encoders, and once you're done with it, you will know which encoder will suit you the best.
QUICK OVERVIEW: Best Encoders for Streaming
Has multi-protocol support
4 different streams simultaneously

J-Tech Digital IPTV Encoder

H.264 encoding
J-Tech Control App

H.265 and H.264 encoding
Four 1080p channels or two 4K channels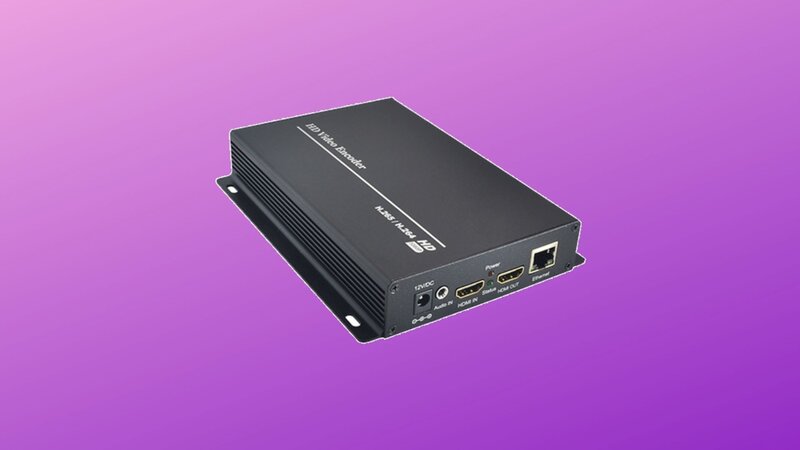 Best Encoder for Streaming
Tested & Reviewed
If you are in need of a hardware encoder for live streaming, I assume that you are working on a more professional level and that streaming quality is your top priority.
Overall, you can expect to spend somewhere around $150 at the lowest, but this is one of those investments that will pay itself back once the video stream quality goes up.
The four models I listed below are the best live-streaming hardware encoders that you can find currently.
---
1. URayCoder Video Encoder
Best overall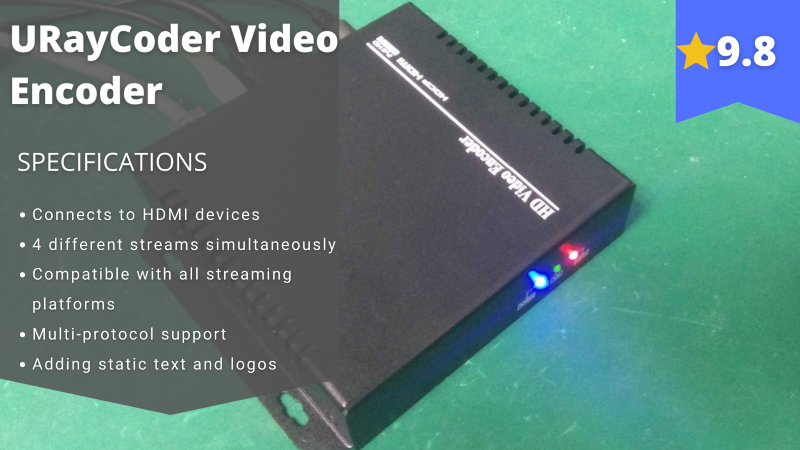 Stefan's Take:
My top pick is URayCoder Video Encoder. Here is why: you can connect different devices (camera, microphone, LAN), and it provides the high-quality output needed for streaming on any platform.
I tested it on Twitch and didn't notice any lags, just dropped frames from time to time, but not to the extent that it disturbs the stream.
Moreover, it is reasonably priced, so it suits both amateurs and competitive streamers.
| | |
| --- | --- |
| Compatibility | 10 |
| Video Quality | 9 |
| Price | 10 |
| For Streaming | 10 |
The URayCoder is a highly rated hardware encoder, and it is priced average, so let's see what you can expect from this one.
Key Features
When it comes to its connectors, the URayCoder is compatible with all devices that have HDMI outlets.
It also has an Audio In outlet, as well as the LAN outlet, so having Ethernet and multiple different microphones won't be a problem.
This device is meant to broadcast audio and video, and it's compatible with YouTube, Facebook, Twitch, Ustream, Streamspot, and so on, basically anywhere that supports live streaming video content.
You can do 4 different video streams at the same time and push them out to multiple platforms.
Also, streaming in 1080p160fps is supported, so quality streams are what you can expect.
Another great thing about this one is the fact that it usually takes up only 20% of your CPU.
If you really need a hardware encoder but you're on a budget, this could be the one for you.
Pros
The price point is great
Uses up only 20% of your CPU
Compatible with any streaming software
HD video quality in 1080p60fps
Inexpensive solution
2. J-Tech Digital IPTV Encoder
Best for streaming on different platforms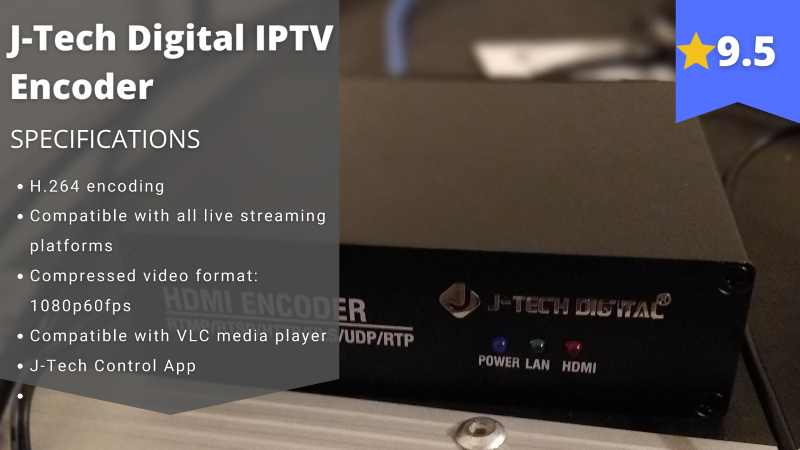 Stefan's Take:
I was quite excited to test this encoder because I knew it supports 1080p resolution at 60 FPS, which I think is a must for live streaming. But this high streaming resolution isn't the only feature I was impressed by.
I liked the ability to stream on different platforms and run up to four streams. The dedicated app helps quite a lot with customizing the output display. While it was a bit harder to set up, I think it's worth the extra hassle.
| | |
| --- | --- |
| Compatibility | 10 |
| Video Quality | 10 |
| Price | 9 |
| For Streaming | 9 |
The J-Tech live stream encoder is similarly priced to the previous model, so if you're interested in this price range, you should definitely look into it.
Key Features
This device is optimized for any kind of live streaming and broadcasting and is made to have everything run smoothly.
It is also compatible with the VLC media player, which a lot of people find helpful for previewing the material.
This one can capture 1080p60fps video input, so having high-quality videos in your live-streaming software won't be an issue.
You can customize the resolution however you like, and this device also supports image parameter settings.
When you have this hardware encoder delivered, the package will contain the video encoder, one DC 12V power adapter, and a user manual.
The maximum number of streams that you can have with this hardware encoder is 4, and it all runs pretty well.
Pros
Simple design
Able to broadcast 1080p60fps content
Does exactly what it's meant to do without much fuss
The company is known for its great tech support
Cons
It's not very easy to set up
3. ISEEVY 4ch Video Encoder
Best for professionals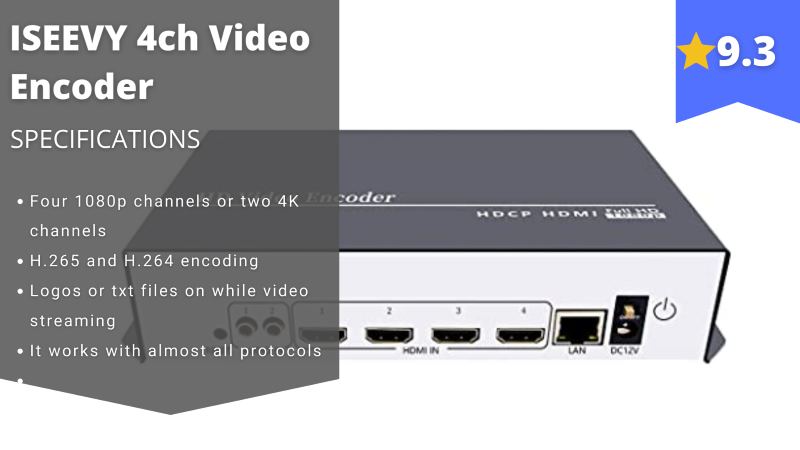 Stefan's Take:
I have to say that ISEEVY 4ch Video Encoder features are quite impressive. H.265 and H.264 encoding, along with the option to simultaneously stream on different channels, are features that competitive streamers will appreciate the most.
It's a powerful video encoder with 4K streaming, but also a great audio encoder that is relatively easy to set up, which is just another one of its advantages.
| | |
| --- | --- |
| Compatibility | 10 |
| Video Quality | 10 |
| Price | 7 |
| For Streaming | 10 |
So, can any of the hardware encoders be worth $500 and more?
The performance capabilities of the ISEEVY 4ch video encoder will probably prove to you that they can.
Key Features
The hardware encoders I previously went through had the ability to live stream directly on 4 different streams and at 1080p60fps.
This one can do that too, but it can also directly connect and have 2 simultaneous streams with HD quality at 4K30 and broadcast them to multiple destinations.
That's some very serious streaming quality!
Most, if not all, cheaper alternatives of hardware encoders won't deliver that.
When it comes to encoding, this one can do both H.265 and H.264.
When it comes to live-streaming compatibility and where this video encoder can be used, the list is long.
Besides during a live stream, this video encoder can be used for IPTV, video chat or conference, and also remote education.
When it comes to the live video quality, you can have basically anything from 480p to 4K.
The quality of video streaming is also enhanced through this one as it gives some advanced pretreatment, giving the streaming content some de-interlacing, noise reduction, and sharpening.
The audio encoding is done in both AAC and MP3 at 64Kb/s~384Kb/s.
It overall works great with all hardware and software, and you won't need any additional dedicated processors for real-time encoding.
Of course, to have this work at its finest, you are required to have a reliable internet connection.
Pros
Highly compatible
Able to broadcast at 4K
Enhances the video while streaming
Very sturdy and durable
Great for streaming professionals
4. UNISHEEN Video Encoder
Great for beginners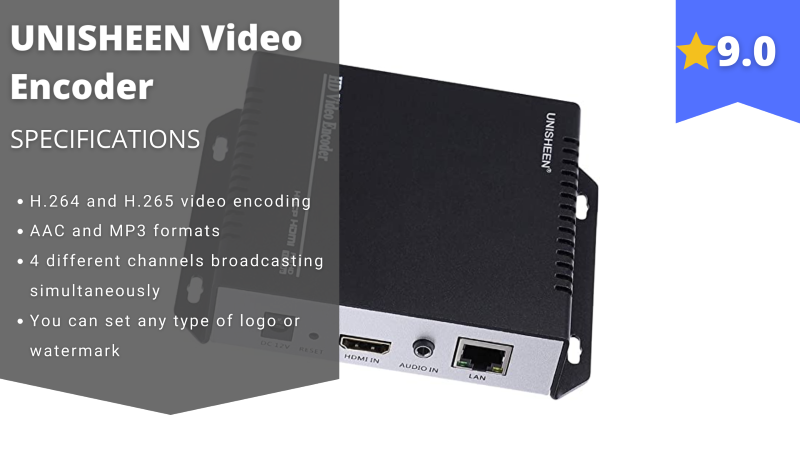 Stefan's Take:
I was pleased by UNISHEEN's performance: the video quality was satisfying (1080p and 60 FPS, without any drop in frames), and I tested it on several platforms.
Moreover, there was no hassle with setting it up; it went smoothly, and I think it would suit beginners the best for such a price.
| | |
| --- | --- |
| Compatibility | 9 |
| Video Quality | 9 |
| Price | 9 |
| For Streaming | 9 |
I'm back at the $150 price point with this UNISHEEN streaming encoder.
Let's see what all the features are and how you can expect your video files to look on your live streams with this streaming encoder.
Key Features
Like most hardware encoders tend to do, this one has the ability to broadcast the compressed material at 1080p60fps.
When it comes to encoding, this encoder for live streaming does it at both H.264 and H.265, and the audio of your live streams can be in both MP3 and AAC.
No matter what the best streaming software is for you, this one is most likely compatible with it, as it is compatible with most.
It can support up to 4 simultaneous channels with different protocols, so it's a great encoder for live streaming big projects, no matter if it's on Twitch, Facebook Live, or any other platform.
If you need a watermark or a logo on your live video, don't worry, that can be done on this one, too.
Pros
Simple design and mostly easy to use
It can be used for a variety of things
Great price point
Cons
Not as good as similar video encoders on the market
Conclusion
Hopefully, you now have a better idea of what the encoders market offers. If you're still unsure which to get, here are my top three video encoders for live streaming:
URayCoder Video Encoder as the best choice,
J-Tech Digital IPTV Encoder as the best for streaming on different platforms,
ISEEVY 4ch Video Encoder for competitive streamers.
As you can see, my list features encoders for everyone's budget. Now it all comes down to what you need. I hope whichever you choose that you're happy with your choice.
FAQ
---
What is the best encoder for streaming?
The answer here depends mostly on what you need your encoder for. If you have simple streams, having a software encoder will probably be enough for you.
But, for streaming on multiple platforms simultaneously with various different channels, you will need to look into hardware video encoders.
One of the best ones from this list is the ISEEVY 4ch Video Encoder, and even though the price is quite high, it is mostly worth it.
If you don't have the means for such an investment, you can try looking up either the URayCoder H.264 Live HDMI Video Encoder or the J-Tech Digital HDMI H.264 IPTV Encoder.
What is the best encoder for OBS?
Software encoders usually don't require a specific type of hardware encoder. However, OBS studio is one of the software encoders for live streaming that's very popular, so if you already use that and you don't need multiple different channels running simultaneously, you don't need a hardware one.
What is an encoder for streaming?
Encoders are used to convert your video and audio files into a digital format that can then be streamed on several different platforms. You can have either software encoders or hardware ones.
A software encoder can be used if you usually live stream by yourself and don't have several different channels that need to be broadcasted simultaneously on different platforms.
So, for most people, having only a software encoder is enough. If you live stream with a whole production behind it, then encoding software won't be enough to do the job.
---