You only need two things to take up Twitch streaming. The first thing is a good internet connection, and the second is software.
---
Quck Overview
OBS is the simplest and most basic option there are, but it is light on your PC. However, if you have a strong machine, give Streamlabs a try – it has more variety, plug ins and widgets and is, overall, an improved version of OBS.
1. Features – Streamlabs offers free overlays and themes
2. User-friendliness – simple interface from OBS
3. Performance – OBS takes up fewers resources
4. Live streaming – Streamlabs has a built in chat and a test or rather, a preview button to check everything before you go live
5. Recording – OBS has no audio files as sources, while Streamlabs has no sound commands
6. Price – both are free
---
There is multiple software available, and you should really get to know each one since you will be using it just as much as Twitch.
One of the most popular choices is OBS, but is it superior to Streamlabs?
Which one should you choose – Streamlabs OBS or OBS?
Streamlabs OBS vs OBS – How to Determine Which One You Need?
Firstly, I have to talk about some technical things.
What is software for broadcasting, and which features it should have?
Then I will go into detail about Streamlabs OBS vs OBS studio.
This software is enabling streaming. It is used for recording the game and sharing the recorded video with viewers via a streaming platform (Twitch is one of them).
The software is also recording the audio and good software allows switching between different scenes, sources, adding overlays, and notifications to optimize your live-stream.
Well, good software is also determined by its price, as well as compatibility, and all of these factors will be taken into consideration in this guide.
OBS
Info, Price, Advantages, and Disadvantages
Let's start this debate on Streamlabs vs OBS with Open Broadcaster Software, also known as OBS.
This software was created by multiple people, and it is available to everyone on the official site.
Installation is straightforward, so the program is beginner-friendly, and thanks to a variety of options, it is suitable for pro streamers as well. This platform follows your progress, and you cannot overgrow it.
Also, if you plan on switching between different streaming platforms, you won't have to change the software.
It was one of the very first streaming software, so many newer ones have similar features.
Price
So, how much will all of those extra features and versatility it offers cost you?
Since OBS is an open-source platform, it won't cost you a single penny – all of the features are available to everyone.
Creators even left the code unlocked, so every developer is allowed to modify the code and help improve it. As said, the creators of OBS are numerous, and everyone has a chance to be one.
If you are a tech-geek, you can adjust the code, so the program fits your needs.
Installation and Setup
Installation of this software doesn't differ much from the installation of any other computer app.
As mentioned, you can get the link needed for installment on the official website.
For different operating systems, different links are available.
Choose yours, download the software, and then open the file.
Once the software is installed, the pop-up window for auto-configuration wizard will occur – if you choose "OK", you will get recommended settings.
You can also configure OBS settings for only streaming or only recording.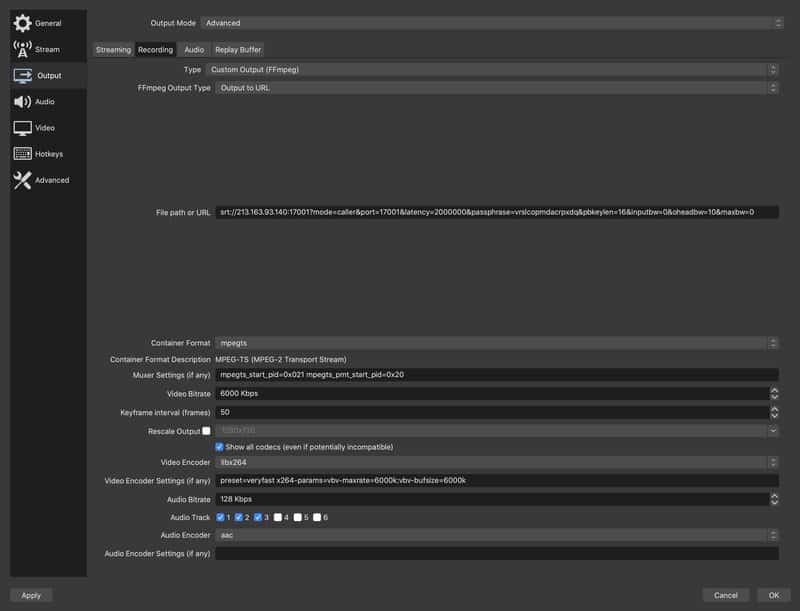 OBS can be linked with a variety of streaming platforms, so if you ever get bored with one, or just want to use multiple ones, you can use only one software.
Connecting two platforms can be done in two ways – either direct linking or using a stream key.
When it comes to Twitch, you can find a stream key on your Dashboard.
Once the two platforms are linked, continue with adjusting the settings.
Choose the best bitrate, set up alerts, and add overlays.
Features
OBS works quite well – even if you have a computer with a bit weaker CPU, you can adjust the settings, so the software works smoothly.
When it comes to features, there isn't much to talk about.
The two basic features are recording and streaming. You have the option to record gameplay, only a certain open tab, or everything that is happening on your desktop.
However, for many other features, you have to use plugins. So adding alerts or overlays requires you to learn the basics of another software.
OBS is especially unpractical for streamers that are earning money via their streams.
You will have to find another program compatible with Twitch that enables donations or Twitch bits.
So, even though OBS isn't demanding, the CPU can get overwhelmed when multiple programs are running at the same time.
Advantages
1. It is open source
You won't find a platform that works this good and is open-source.
With OBS, you can change the code, help with perfecting the software, and add changes that can improve your stream.
2. Software is user-friendly
OBS's dashboard might seem a bit intimidating at first, but you will see how easy it is to navigate it.
Everything is customizable in OBS – you can change the size of the screen, adjust all settings, or connect external devices with the program.
All new elements added to the dashboard can be moved around and resized, so all your preferences are met.
3. Updates
Since it is the first streaming platform, it receives the newest updates the fastest.
When a new driver is released, you can find it in OBS.
4. Doesn't overwhelm the CPU
Thanks to OBS, you do not need to have the most expensive computer to be a streamer.
Even streamers with average computers can produce high-quality videos because OBS doesn't use CPU as much.
5. Compatible with numerous streaming platforms and operating systems
You can get OBS for both Windows and Mac computers.
Also, you won't be limited to only one platform – as long as you have a valid stream key, you can switch between different platforms.
Disadvantages
1. Lack of plugins
Yes, many streamers use OBS and have found a way to add alerts, overlays, or customize their chats.
However, they had to rely on other programs and connect them to OBS, since these plugins aren't included in OBS.
2. Audio cannot be added as a source
Streamers often add music to their streams.
Unfortunately, you cannot add this music to OBS. While different audio devices can be connected to OBS, audio files are not supported.
Streamlabs
Info, Cost, Advantages, and Disadvantages
SLOBS is an improved OBS.
This two software share similar codes, but SLOBS's code is slightly upgraded, so the user experience is often way better.
However, compared to OBS, this software is only available for Windows. Mac users have found a way to use it – Bootcamp enables Streamlabs for Mac.
Cost
SLOBS is also free software, so in the battle of Streamlabs OBS vs. OBS winner cannot be determined by the price tag.
Still, Streamlabs is a bit superior software – you can get paid to use it.
Every streamer that logs in to SLOBS can get an affiliate link.
If people use your affiliate link to create their SLOBS account, you can earn $0.50 per log-in and SLOBS will donate an additional $0.50 to charity.
Even though it isn't much money, it is more than the $0.00 you are earning with OBS.
Installation and Setup
As mentioned, SLOBS can only be downloaded for Windows via the official link on their website, and this setup is easy.
If you own Mac, but still want to use SLOBS, you can install it via Bootcamp. Setting up will be a bit more complicated, but you will have the fully-functioning software in the end.
Just like OBS, this software will auto-configure all of the settings, and these default Streamlabs settings can be customized.
The software automatically opens the dashboard and you will notice that the interface is similar to OBS. Since they are somewhat the same platform, anyone that has already tried OBS will easily learn how to use SLOBS as well.
Linking SLOBS with the streaming platform is done via the stream key.
Once you've connected the platforms, you can start exploring SLOBS.
Features
When it comes to features, this two software are incomparable, and between OBS or Streamlabs, I would go for the latter.
Firstly, SLOBS has numerous themes – this is one of the most fun things about this software.
Once you chose a theme, everything will be set up for you – Scenes are automatically added, as well as transitions, so all you have to do is open the game and tap on the "Go Live" button.
Each theme has different alerts, overlays, so you won't have to use another program to add these.
Different widgets are enabled with Streamlabs, and it even has the text-to-speech feature, which is super important for streamers that plan on receiving donations from viewers. The voice reading the message can be customized, as well as any media playing in the background.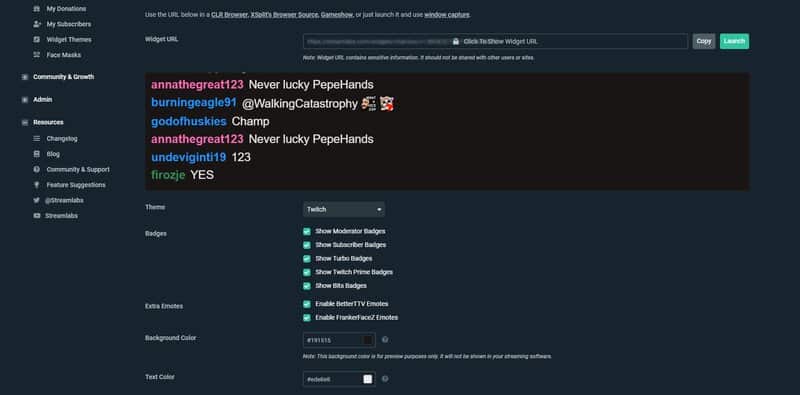 Furthermore, Twitch chat can be customized directly from the SLOBS – if you integrate it with the software, you can view the discussion without switching between two platforms.
Some features (such as a Face mask) aren't particularly useful, and you probably won't ever turn them on, but at least you know that they are there in case you need them.
Advantages
1. Easy to install and set up
As stated, all you need for installation is a link that can be found on the SLOBS website.
For Mac, the installation is a bit more complex, but the program will be running in a few minutes as well.
2. Customization
One of the best things about SLOBS are the Themes – you can choose between super simple and extra detailed, and with so many options, you can find the one that matches your preferences.
Also, Themes can be further customized to better match your content.
3. Integrated chat
For streamers, interaction with the audience is super important. SLOBS allows built-in chat, so you can see the discussions and moderate the chat without leaving the program.
4. Test button
Before starting the stream, you can easily check whether everything is running smoothly with a Test button.
Disadvantages
1. CPU usage
OBS will work fine on every computer, but because of those extra features and themes, SLOBS is designed for more powerful machines.
2. Lack of sound commands
Built-in chat is a great feature, as well as the Chatbot, but the sound commands won't work.
If you plan on using sound commands, you will have to use another program for a Chatbot.
Conclusion
So, who is the winner of Streamlabs vs. OBS?
OBS was the first streaming software, and for a while, everybody was obsessed with it.
However, SLOBS is now a superior software and makes you feel like a pro.
It offers more versatility, and most importantly, you can add widgets without the third-party apps, which means that once you turn on the game, and log in, you can go live in under one minute.
In the end, it comes down to your preferences – which program would you choose, OBS studio vs. Streamlabs?