As Twitch becomes more popular, streamers try to find new ways to become unique and interesting.
Unfortunately for them, it is a tough task since there are no many things that can help you stand out from the mass of Twitch streamers.
Things that can help you with that issue are emotes.
Namely, if you have many different, new, interesting, and unique emotes, you will certainly manage to stand out, become recognizable on Twitch, and enrich your chat.
Emotes are at the same time very helpful when building a community on Twitch and, thus, it is always good to have as many Twitch emotes as possible for various reasons.
---
Takeaways
You can collect new Twitch emotes or design your own and add them to your channel. Here is how you can do that:

1. Collect subscriber points (full guide below)
2. Install Twitch extensions
3. Take part in a Hype Train Twitch activity
4. Install Global Twitch emotes browser extension
5. Collect Twitch Channel points
Creating Custom Emotes
You can design your own emotes using the Creator Dashboard option if you have enough time and skill. But remember that you need to fulfill Twitch's guidelines regarding their size, format, and what they are visualizing.
---
How to Get More Emotes on Twitch?
First of all, in order to get emotes on Twitch, you need to have partner or affiliate status.
After that, you can collect new Twitch emotes or even design and add emotes on Twitch.
When it comes to getting more emotes on Twitch, it's not that easy but there are numerous ways in which you can get them, so you'll be able to choose the way that suits you the most.
We have, of course, analyzed all these ways, gathered information, and created a list of those ways.
So, instead of spending the entire day browsing how to get more Twitch emotes, you can find out all the information by checking out this text, so make sure you do that.
1. Collect Subscriber Points
Subscriber points or sub points are sorts of currency that Twitch streamers can use to redeem emote slots.
Afterward, these emote slots can be filled with different emotes.
Therefore, for instance, when you become an Affiliate you will get one empty slot and the more subscribers you have the more emotes you'll be allowed to have.
This way you can start building your Twitch channel and Twitch community as well as unlock 4 sub badges for your subscribers.
So, a Twitch streamer will get a certain amount of points depending on the tier of the subscriber.
If a subscriber is Tier 1, the streamer will get 1 point for that subscription.
Tier 2 subscription can provide 2 points to a streamer and, finally, the most valuable one is a Tier 3 sub for which a streamer will get 6 sub points.
As we have already said, you get your first slot when you become an Affiliate.
Your next emote slot will be unlocked after you collect 15 points and after you hit 50 points you will have 5 emote slots.
One of the great things that Twitch did was introducing a special badge for the first ten subscribers to any channel.
So, this way, you will get 2/3 of the subscribers needed for unlocking the second slot and your subscribers will have a very good reason to be among the first ones to subscribe given that they will obtain that special badge.
For the higher amount of slots and subscribers, you will need to reach a partner status on Twitch.
Thus, if you become a partner, you can get your first 6 emote slots unlocked automatically and the rest of them will become unlocked after you collect certain amounts of points.
Namely, you will need 65 points for the 7th slot, 125 points for the 10th slot, 500 points for the 20th, etc.
Finally, the maximum number of slots that you can unlock is 60 and for the 60th slot, you will need to collect 10 thousand points.
Re-subs and Lifetime subscribers
Many Twitch users came up with the idea of re-subbing to get more sub points.
The idea is that you subscribe to a certain channel, that channel gets subscriber points, then you cancel your subscription and subscribe another time and that channel is supposed to get more subscriber points.
Well, unfortunately, it doesn't work that way.
Namely, a streamer will get a subscriber point for that subscription but the moment that subscription is canceled, the point is getting removed.
This way Twitch has prevented this sort of fraud with re-subs and subscriber points.
Nevertheless, it is important to highlight that even though you lose subscriber points if the sub is canceled, you cannot lose the emote slot that you have previously unlocked, even if you lose subscriber points.
So, to sum up, subscriber points can be lost, but once unlocked slot remains unlocked permanently no matter what.
The other interesting role on Twitch is so-called lifetime subscribers.
First of all, a channel needs to have a partner status to get this lifetime subscriber option.
Secondly, one streamer gets only 3 lifetime subscriptions which he can give to any follower he wants.
Therefore, since you get only 3 of them, you need to think wisely about whom you want to give these lifetime subscriptions.
When it comes to subscriber points for a lifetime subscription, a streamer gets them for a lifetime subscription and the number of points depends on the level of subscription that the streamer donates.
Namely, if the streamer donates a Tier 3 sub, he will get Tier 3 subscription points, while the viewer will get Tier 3 benefits.
2. Install Twitch Extensions
There are several extensions for your browser, that allow you to add emotes to your Twitch channel.
Even though those emotes are not official Twitch emotes, many Twitch users still opt for them since they are quite easy to get.
So you just download and install the extension, then login to your Twitch channel and choose emotes you want to add to it.
The two most popular browser extensions for adding emotes are BetterTwitchTV and FrankerFaceZ.
These extensions are very easy to install and when you want to turn them on, just go to your channel, open the "Chat Settings" menu, click "BetterTTV Settings option" and then just make sure you've set "BetterTTV Emotes", "BetterTTV Emote Menu", "BetterTTV GIF Emotes", and "FrankerFaceZ Emotes" options to on.
BetterTwitchTV (BTTV)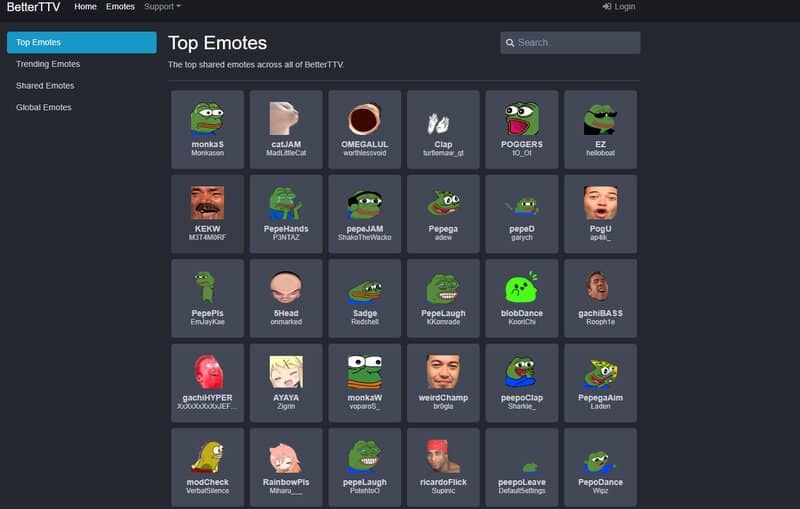 BetterTwitchTV can be downloaded for Microsoft Edge, Safari, Opera, Firefox, and Chrome, so basically for all browsers.
The reason many people on Twitch use this very extension is the fact that Better Twitch TV emotes are so good that sometimes you can't tell the difference between the official Twitch emotes and BTTV emotes.
Additionally, some BetterTwitchTv emotes have even been incorporated into Twitch official emotes.
With BTTV you will get a more extensive menu that contains all the global emotes that BTTV offers as well as the collection of your subscriber emotes.
Apart from that, BTTV also offers theater mode, blacklist words, animated emotes, and many other interesting options.
FrankerFaceZ (FFZ)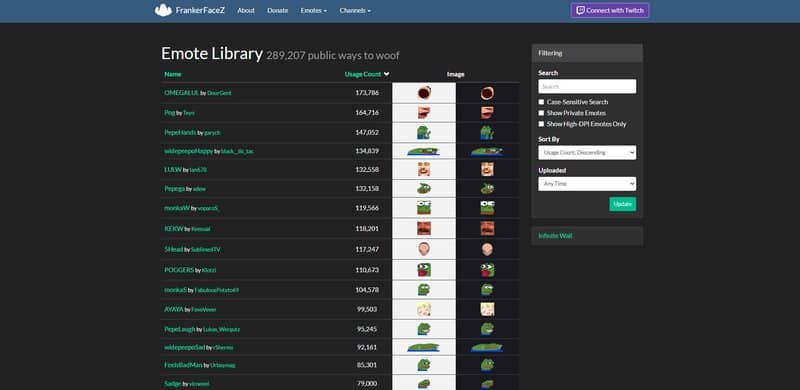 FFZ library offers more than 200 thousand emotes and streamers can even submit their own custom emotes to this FFZ library, but FFZ tends to approve emotes before accepting them.
Just like BTTV, FFZ also offers various special features to the Twitch users, such as tabbed Twitch chats, clickable links, and many more.
3. Take part in a Hype Train
Hype Train is an interesting activity that Twitch has introduced in January 2020.
It becomes activated when a Twitch streamer gets an increased number of subscribers and donations.
Afterward, other viewers keep subscribing and donating Bits to fill the Hype-O-Meter.
The more viewers fill this Hype-O-Meter, Hype Train reaches the higher level.
Finally, after the process is over, each participant in this action gets one emote that has been found in the final level that the Hype Train has reached.
Finally, even though the Hype Train can get you some really unique and cool Twitch emotes, we have to underline that participation in this activity is not free.
4. Install Global Twitch Emotes
Global Twitch Emotes is another browser extension that converts any text that's the same as a certain Twitch emote, into that emote itself.
With this extension you can use emotes from BTTV and FFZ as well, so we could say that it raises the interaction among Twitch users to a higher level.
Additionally, these Twitch global emotes can also be used on other channels as well as on other websites such as Discord or Reddit, where users also tend to build communities.
Finally, it's important to say that this Global Twitch Extension is available only for Chrome and Opera.
5. Collect Channel Points
Channel Points are another sort of currency on Twitch since they can be redeemed for several rewards including emotes.
These Channel Points can be earned by watching a stream for several days in a row, taking part in raids, or following a streamer.
Additional points for watching can be earned if you are subscribed to the channel on which you are watching the stream.
Importantly, you can collect Channel Points only from channels that are Partners or Affiliates.
In the bottom-left part of the Twitch chat menu, you can see the purple icon, and there you can check how many Channel Points you have collected.
After you've earned enough of them, you can redeem them for Twitch emotes.
Designing Your Own Custom Emotes
Apart from all the options, we have mentioned in the text, you can also design and upload custom personal emotes for your channel using the Creator Dashboard option.
However, not everyone can upload custom emotes.
In order to do so, your channel needs to have a Partner or Affiliate status and there are some conditions that those custom emotes have to fulfill.
One of those conditions is related to emote sizes.
Namely, your emote has to be a square image between 112×112 and 4096×4096 pixels and its size can be maximally 1MB.
You can also opt for the manual mode and upload the file in three different sizes (112×112, 56×56, 28×28 pixels).
Additionally, the emote has to have a .png format.
There are also some content criteria for custom personal emotes and, thus, portrayals of violence, hate, or any kind of harassment are not allowed.
Of course, you can design your personal channel emotes all by yourself but if you don't feel free to do that and you are looking for someone more professional, there are several places where you can find amazing designers.
1. Finding them on Twitch
First of all, you can find great designers on Twitch.
They might be some of your viewers or perhaps people from some other channel who are skilled in design.
And instead of paying them for creating emotes, you can maybe repay them with some other kind of collaboration in the future.
2. Fiverr
You can find many professional or semi-professional emote designers on Fiverr.
Many popular streamers on Twitch hire designers from Fiverr and the average price per one emote is around $15.
3. Own3d
On this site, you can find emote packs, as well as the, emote maker where you can create emotes by yourself.
The minimal price per one emote on this site is about $5 while the highest price per emote is approximately $24.
Tips for designing
Custom Emotes Approval
After you create your personal emotes, you will, logically, need to get Twitch's approval before introducing them.
The approval process lasts approximately 48 hours unless you submit them shortly before the holiday season, then you'll have to wait longer.
However, if your channel has been a Partner or an Affiliate for at least 60 days and if it is in good standing you might be able to upload emotes without Twitch's approval.
After your emote is approved, just click the smiley face icon in the chat and your new emote should be among all the other available emotes.
Frequently Asked Questions
How many emotes can I get?
Partners and Affiliates can have a different number of emotes and emote slots. Twitch Affiliates can get up to 5 Twitch emotes while Twitch Partners can unlock up to 60 emotes.
Additionally, Affiliates can have one emote for all subscribers and two emotes each for $9.99 and $24.99 tier subscribers. Twitch Partners start with 6 emote slots but that number can increase to the maximum of 60 emote slots if they have enough viewers and subscribers.
What is the difference between a global and channel emote?
Global emotes are emotes that every Twitch user can use, while channel emotes are some channel's special emotes and they can be unlocked by subscribing to that channel.
What are sub emotes?
Sub emotes are emoticons that streamers can make available to their communities after they have become Affiliates on Twitch.
Conclusion
Regardless of the way of getting emotes you opt for, you will shortly realize how fun this process of getting free emotes can become.
Finally, we can assure you that obtaining new and different additional emotes will increase your reputation on Twitch and enrich your chat, and designing and introducing your personal custom emotes will help you build a community, and as your community grows, your channel will become stronger and more popular.