A great feature on Twitch for both the long-term and the up-and-coming streamers is the ability to add stream labels.
This is one of the streaming tools that you can add through the streaming software you're using, adding labels for things like new followers.
If you're using either OBS Studio or Streamlabs as your preferred streaming software, you've come to the right place because here, you'll find detailed guides that explain everything you need to know about stream labels with both of these programs, so let's get into it.
What Are Stream Labels?
When you're watching other streams, no matter if it's a chill, just chat type of a stream or some quality tutorials, you've probably noticed some overlays on the screen that notify the streamer about some kind of interaction, like who are the most recent followers.
Stream labels notifications come in the form of a text overlay, and what they do is update in real-time depending on which interaction occurred.
Some of the usual ones are the labels about donations and tips that are received, and even the new followers on your channel.
How To Setup Stream Labels In OBS Studio
Before setting up labels in OBS, you need to download some widgets from the Streamlabs website.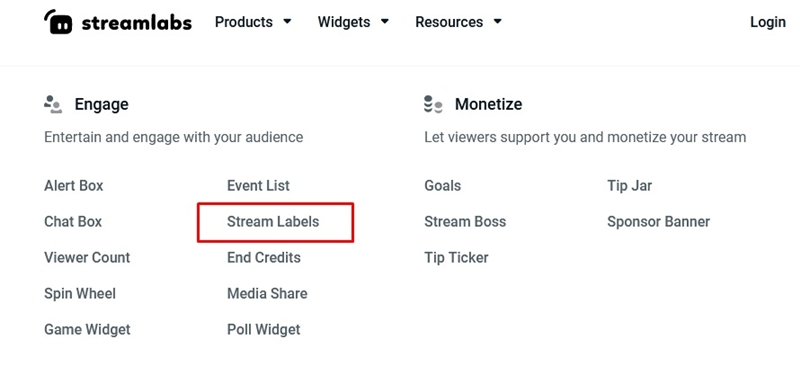 Here are the steps:
Open the Streamlabs dashboard and log in or make an account
On the dashboard, on the left-hand side, find the Features category, and in there, you should select All Widgets
Find the box that says Stream Labels, and click on it
Before the widget is downloaded and then install, you will need to log in to your Twitch or YouTube account, depending on what you're streaming on, and then proceed with the installation
Edit Stream Labels From OBS
Now that the widget has been downloaded from Streamlabs, you need to set the label in OBS.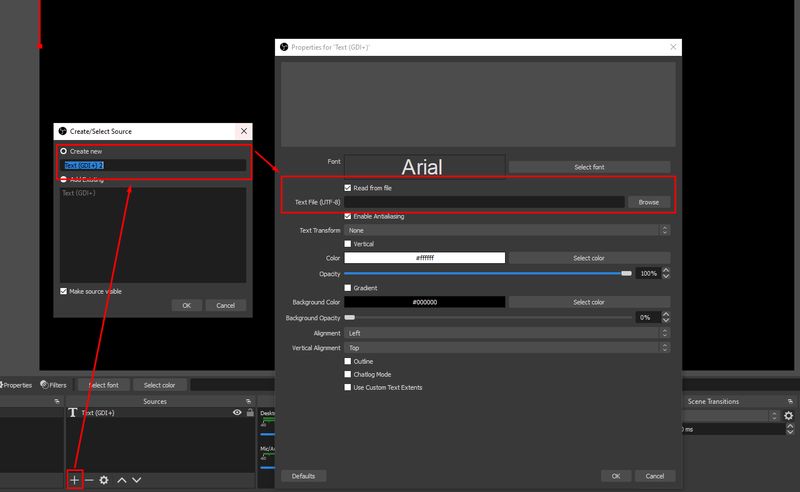 Here is how you do that:
Open your OBS
Go to the Sources box and click on the + button
Now, a pop-up box will appear, and you'll need to select the option that says Text (GDI+)
In the new window that appears, you will need to name this new source, so make sure that it is something that you'll know how to recognize easily.
Once that's set, just click on Okay.
Now, find the option that says Read from file, and check the box next to it
Find a section that says Text File (UTF-8), and click on Browse, which is next to it
Find the .txt file that you downloaded from Streamlabs, and select it
In the window that's now opened, you'll be able to edit the label and change up the font, the color, and many other settings, so you can create the perfect stream label that you want
When you create everything you want with all the different settings, click on the Okay button
By default, the label you create will be on the left-hand side inside OBS, and to move it and resize it, you will just need to click on it
Once that is done, and you're satisfied, just click anywhere on the screen
When you edit stream labels with all the different settings in OBS, you will be able to set which ones you want to have for new followers and which ones for donations, tips, and anything else you might want.
Adding Stream Labels In Streamlabs
The ability to incorporate stream labels in Streamlabs is extremely easy, as this is something that's pre-built, and here are the steps you need to take are really easy:
Go to your desktop PC and launch Streamlabs, find the Sources section, and click on the + button
Under the Widgets section, click on the Stream Label button, then name your source, and then add it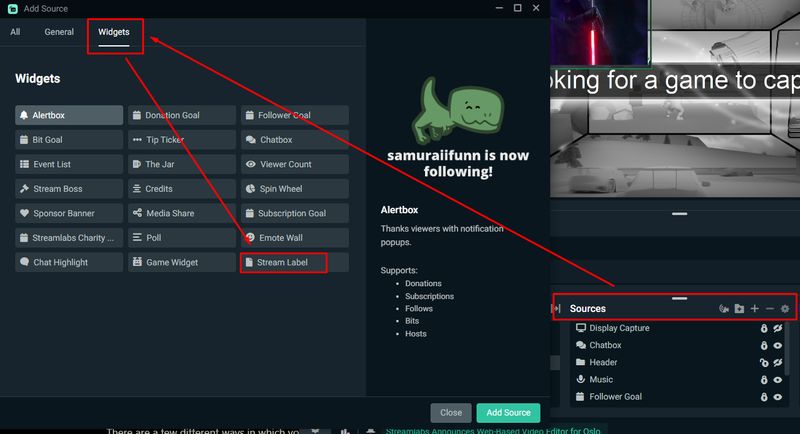 And that's it!
Now, you can put your attention on customizing your labels to say what you want them to say.
Also, you can change the way the labels appear on the stream by playing with different filter options.
Customizing Stream Labels In Streamlabs
There are a few different ways in which you can change up and personalize your labels, and here are they:
Label type – there is a wide variety of label types available in Streamlabs, 65 to be exact, so, for example, if you want a label for the Bits you're getting, then you should pick that label
Label template – this feature customizes how your text will look after the label has already appeared on the screen
Font family – with this feature, you will choose what kind of font style your labels will have
Text transform – this feature is used if you want your text to always be typed out in a specific way, for example in all uppercase
Verticle – with this, your text will appear vertically.
Custom text extents – sometimes, with custom stream label frames, the names of people may end up cut off if they don't fit the frame, so with this feature, you ensure that that won't happen
Adding Filters To Stream Labels
Filters are used to specify how you want your text to appear on the screen, with the Scroll option being the most popular one, and it's very easy to do; you just need to follow these steps:
Find the label that you want and right-click on it
From the options that pop up, click on Filters
Now, click on the + button in order to add the new filter
Under the Filter type section, click on the drop-down menu, and from all the different options, choose the Scroll one
Click on the Done button
Play around and set the speed you want your text to scroll in, whether it's vertical or horizontal
As you can see, there are a lot of filters to choose from here, so even if you want something else than the Scroll option, you will have the ability to do it.
Benefits Of Having A Stream Label On Your Stream
The main benefit of using stream labels is that they unmistakably engage the audience more, as it's very exciting to see your name on the screen.
Besides that, you can use stream elements like the labels as reminders for the viewers to follow you on your other social media platforms, so you will most likely get more like-minded people on all fronts.
With every new recent subscriber, you get paid a fee, so when an action occurs when someone subscribes, other people will be more likely to subscribe, meaning that stream labels also help with your monetization.
Finally, when you have the chance to get a notification whenever a new subscriber joins, you'll be able to thank them personally, and that brings overall good and festive vibes in both the stream and in the chat.
Conclusion
Stream labels are great tools to add to your stream in order to make it more dynamic, but they can also be very helpful for both you and your viewers.
It doesn't matter whether you have OBS Studio or Streamlabs as your preferred streaming software, it's very easy to set them up and customize them, and as they bring a lot of benefits to your streams, you should definitely consider them.
FAQ
What is a stream label?
Stream labels are used to indicate different viewer interactions that occur during a stream.
For example, when you get a new subscriber, a stream label will pop up to notify you about that.
How do I make a stream label?
To get a stream label, you first need to get a widget from the Streamlabs website, install it and then customize it depending on what you want it to say.
This can be done in both Streamlabs and OBS Studio.