If you succeeded in finally getting your hands on your favorite dynamic microphone for streaming, you need to complete your home or studio setup with the appropriate and compatible boom arm. One of the most popular choices is Rode PSA1.
However, many streamers don't like this boom arm. The best Rode PSA1 alternative is NEEWER Microphone Arm Stand because of its outstanding build quality and maximum load capacity.
With this article, I'll present to you some of the best microphone boom arms worth considering instead of Rode PSA1, their pros and cons, as well as some essential questions worth answering before you make a purchase.
QUICK OVERVIEW: Rode PSA1 Alternatives
NEEWER Microphone Arm Stand

Extremely durable steel frame
Good max load at 2.2 pounds

Puroma Microphone Arm Stand

High-quality steel
Built-in spring for increased stability

Durable steel construction
The rotation angle is 360 degrees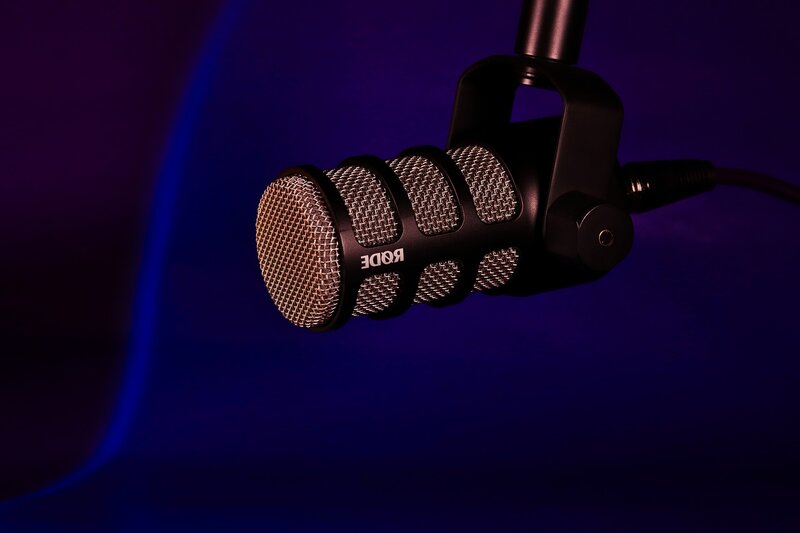 Best Rode PSA1 Alternative
Tested & Reviewed
Rode PSA1 is considered by many to be among the best boom arms available on the market. It's incredibly sturdy and reliable, flexible, and adaptable. It's certainly popular for many good reasons, but it also comes with a hefty price tag, and it's not exceedingly travel-friendly due to its poor portability.
And though you are paying for good quality, that doesn't necessarily mean that the Rode PSA1 boom arm is a perfect pick for your every need. There are still valid reasons to choose a different option for your setup, especially if you travel a lot, you're on a tight budget, or you merely feel this mic arm would be an overkill for your necessities.
There is no shortage of quality boom arms to consider if you're looking for great replacement options suitable for both your needs and your pocket. I covered six of those options with this list, so let's get right to it.
These are the best microphone boom arms to serve you as a Rode PSA1 alternative.
1. NEEWER Microphone Arm Stand
Best overall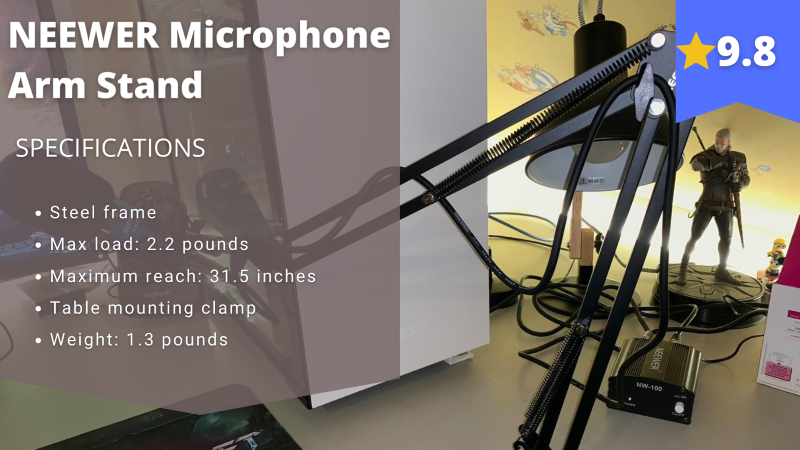 Stefan's Take:
I think NEEWER Microphone Arm Stand is the most affordable Rode PSA1 alternative and the most quality one.
It's made of steel, with built-in springs, and stability and sturdiness are guaranteed.
I appreciated its compatibility with various microphones, the great movement of the arms, and its reach, which enabled me to find the best position for the mic and the most comfortable for streaming.
| | |
| --- | --- |
| Load Capacity | 9 |
| Compatibility | 10 |
| Quality | 10 |
| Maximum Reach | 10 |
I'll start with a very competent Rode PSA1 alternative in the form of NEEWER's boom arm mic stand.
This armstand is a personification of sturdiness. It's rugged and highly durable, thanks to its high-quality steel frame. It's also equipped with a powerful spring, so it's designed to be a reliable heavy-duty boom arm with a 2.2 pounds max load capacity.
It comes with a standard black plastic microphone clip, fit to be used with most microphones, but unfortunately, not with USB Blue Yeti or most other USB mics, which I think is a real shame with this model.
This black scissor arm stand is foldable, making it highly adjustable and easy to carry around. It extends approximately 31.5 inches, and it's 135 degrees, 180 degrees, and 360 degrees adjustable regarding distance, height, and horizontal rotation, respectively.
With this boom arm, you'll be able to achieve very decent cable management, though you'll have to purchase some zip ties because none are included in the packaging.
All in all, this is a bargain, ideal for live streaming, broadcasting, and audio recording in both the studio and some less professional environments.
Pros
High-quality build
Extremely flexible and adjustable
Able to handle heavier microphones
Good vertical reach
Cons
Not compatible with many USB mics
2. Puroma Microphone Arm Stand
Arm stand compatible with many microphones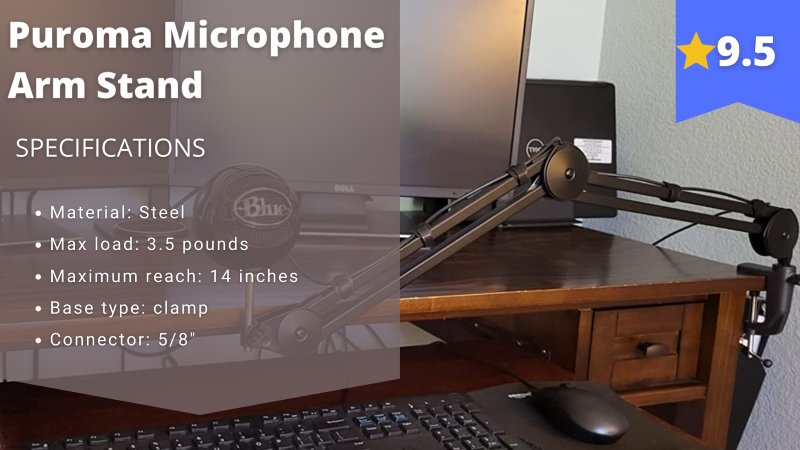 Stefan's Take:
Puroma Microphone Arm Stand is super easy to set up, and because of its good design and quality materials, it can easily hold even heavier microphones.
What stood out was the movement of the arm that was separate from the movement of the mic head. This ensured that my mic stayed at the same level while I played with different heights.
Also, the 5/8" thread allowed me to test different mics, which is a big plus since I often switch up my streaming gear.
| | |
| --- | --- |
| Load Capacity | 10 |
| Compatibility | 10 |
| Quality | 9 |
| Maximum Reach | 9 |
This Rode PSA1 alternative is a great all-in-one combo with everything you need for studio recording.
Puroma Microphone Arm Stand is stable and durable, made of high-quality steel, and versatile for beginners and professionals.
This great boom arm is very flexible and fully adjustable in all directions. You can adjust the boom arm 180 degrees up and down and back and forth, thus enabling you to find that perfect angle for recording.
A mic clip is flexible and adaptable, with a 5/8-inch thread, making it suitable for most popular microphone models like Blue Yeti. However, your experience with USB mics may vary.
Moreover, you can rotate the mic clip 270 degrees while the base rotates full circle.
There will be no unnecessary shaking and noise with this boom arm on account of its super-strong spring, thanks to which it enables a maximum load capacity of 3.5 pounds, ideal for heavy mics.
They failed a bit in the cable management department since no straps or zip ties are included, and managing cables would be tricky even if they were.
It's definitely an excellent value for your money and more than a decent alternative to Rode PSA1.
Pros
Complete package for a budget price
Excellent max load capacity
Easy to use
Cons
Would benefit from a cable management system
3. TONOR T30 Arm Stand
Boom arm with the best maximum load capacity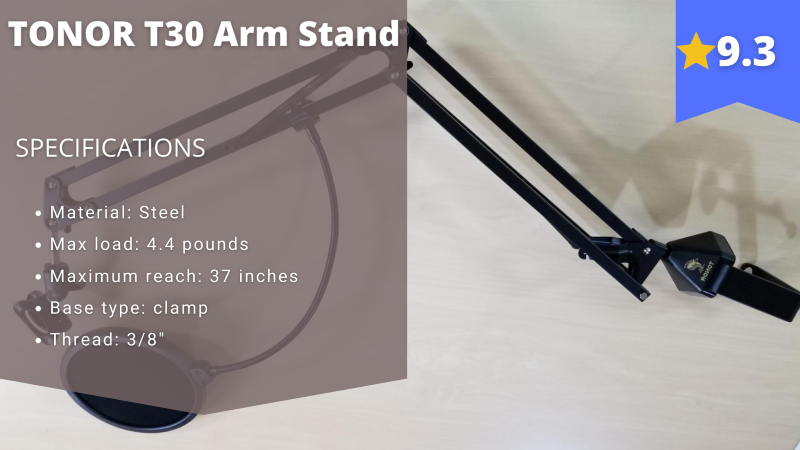 Stefan's Take:
What amazed me about TONOR T30 was the load capacity. I placed my Blue Yeti on this arm stand, and even with the frequent moving of the arms and repositioning, I didn't notice it getting wobbly.
The improved clamp made sure it stayed in place, and the long reach allowed me to sit back comfortably in my chair.
Another thing I liked was the accessories – pop-filter truly transformed the sound of my streams and recordings.
| | |
| --- | --- |
| Load Capacity | 10 |
| Compatibility | 9 |
| Quality | 9 |
| Maximum Reach | 9 |
Tonor is known for improving with every hereditary product, and with going from T20 to T30, they made no exception to that rule.
The T30 is made of durable steel, and that, along with super-tension springs, enables its excellent load-bearing capacity of whopping 4.4 pounds, so it's able to deal with heavy mics with relative ease.
The desk clamp is one of the best I have ever seen in this class. It has a large contact area and can securely mount to any desk up to 2.4 inches thick, and as a bonus, it has an integrated headset hook.
Maximum arm reach is an impressive 37 inches, with the boom arm itself being capable of 360 degrees of rotation ability, giving you a wide range of motion and easy adjustment.
Thanks to its handy metal adapter, the T30 microphone suspension boom arm will be compatible with most standard shock mounts and popular microphones like Snowball and Blue Yeti. You also won't have to fret about the microphone cable getting entangled because you can develop your version of the cable management system with four handy cable ties.
This mic boom arm comes in a bundle along with a capable foam cover and a pop shield, giving you an all-in-one package to get you started on your projects.
T30 is the priciest deal on this list, but it's still only half of what Rode psa1 costs, thus making it one of the best microphone boom arms deals you can get right now.
Pros
Long and flexible arm for reach
Able to hold the heaviest mics
Impressive table mounting clamp
Cable management is a breeze
4. Luling Arts Professional Stand
The sturdiest mic stand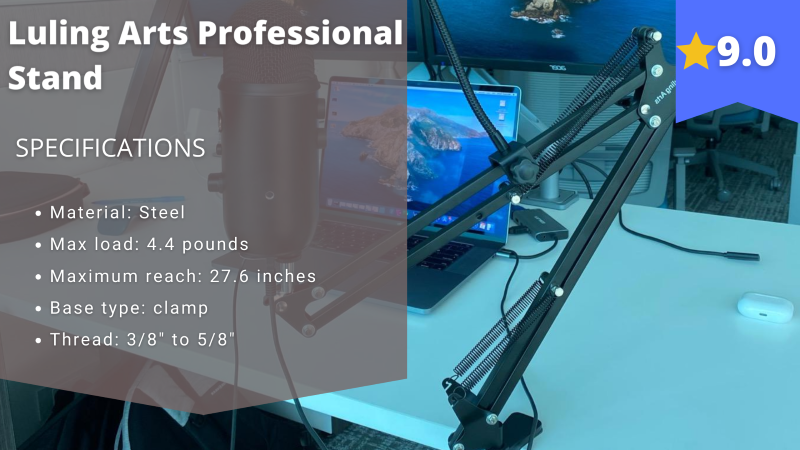 Stefan's Take;
What I really liked about this mic stand was the clamp. It was not only super easy to install and mount the stand, but it also holds the stand and microphone in place, which is the most important. I do have a bit thicker desk, and it fits without any problems.
The 4.4 pounds max load is another benefit, but the maximum reach could be higher – I felt just a bit limited by the arms' length.
| | |
| --- | --- |
| Load Capacity | 9 |
| Compatibility | 9 |
| Quality | 9 |
| Maximum Reach | 9 |
Luling Arts' suspension boom arm is a product beyond price, a collection of many exciting features packed in a bellow 20 dollars package.
This high-value mic stand is uniquely designed and well-equipped to handle heavier and lighter mics.
It comes with 3/8 inches to 5/8 inches screw adapter adaptable to any standard-sized microphone like Snowball and Blue Yeti, and it can easily handle up to 4.4 pounds of load while remaining tight and stable.
The ABS plastic suspension shock mount has a diameter of 1.77 inches. Still, it can be easily adjusted to any microphone with a diameter up to 2.05 inches by fiddling with O-rings, thus giving you excellent isolation from both the vibrations and unnecessary stand and floor noise.
The highlight of this microphone boom arm is an upgraded desk clamp. It ensures that you can securely mount this microphone stand to any desk up to 2.36″ thick scratch-free, thanks to its anti-scratch pad and protective cover.
Luling Arts complemented this bundle with a two-screen pop filter for dealing with hissing sounds and plosives, while the included straps enable decent cable management options.
If you're looking for cheap and quality microphone boom arms, look no further than this one. You'll get your money's worth, plus something extra with a few handy bonus accessories.
Pros
Exceptional desk mounting clamp
Adaptable and efficient shock mount
Cons
It could have a better maximum reach
5. Aokeo AK-35 Boom Arm
Great budget boom arm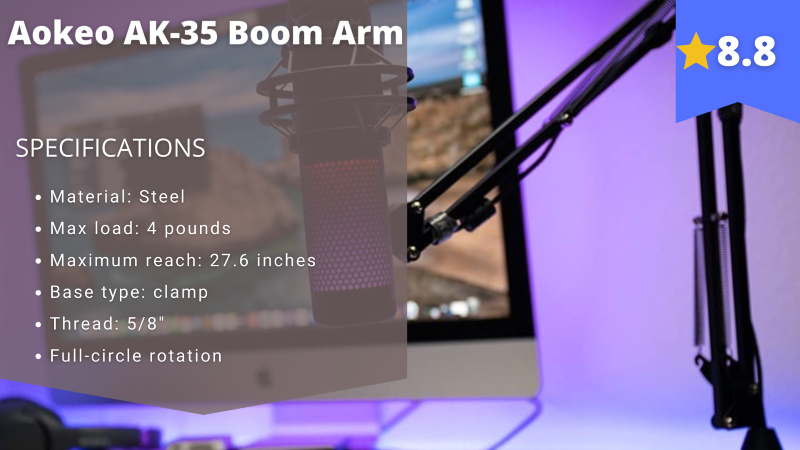 Stefan's Take:
Aokeo AK 35 is a strong and versatile boom arm with an outstanding load capacity of 4 pounds and a maximum reach of almost 28 inches.
Considering the price, it's a quality boom arm that can easily hold even heavier mics and gives you full-circle rotation, so you can position it as desired.
| | |
| --- | --- |
| Load Capacity | 9 |
| Compatibility | 9 |
| Quality | 9 |
| Maximum Reach | 8 |
It's hard not to appreciate products with a lifetime guarantee, and Aokeo offers just that with an AK-35 microphone boom arm.
AK-35 is a sturdy microphone boom arm made of quality metal with electrostatic powder coating. This rust-resistant mic stand has excellent spring support, enough to enable a load of a respectable 4.4 pounds.
The mic arm itself is very flexible and adjustable. With its 270 degrees support and 360 degrees rotatable desk mount, you can effortlessly pivot and fix this microphone stand in any position you see fit. The clamp mount is 3.93 inches wide mouth, which gives you a wide array of mounting options.
AK-35 has a 3/8 inches microphone threaded mount and comes with a detachable 5/8 inches thread adapter, so it's almost universally adaptable to any microphone or a shock mount. Three cable straps are also included, so you can comfortably conduct cable management any way you want.
This microphone boom arm doesn't come with additional accessories like a shock mount or pop filters, but it's hardly an issue at this price range, and I can recommend it as a cheap but worthy Rode PSA1 alternative.
Pros
Very cheap option
Highly adaptable
Surprisingly good quality
Cons
It does get wobbly with use.
6. IXTECH Boom Arm
Good studio-grade boom arm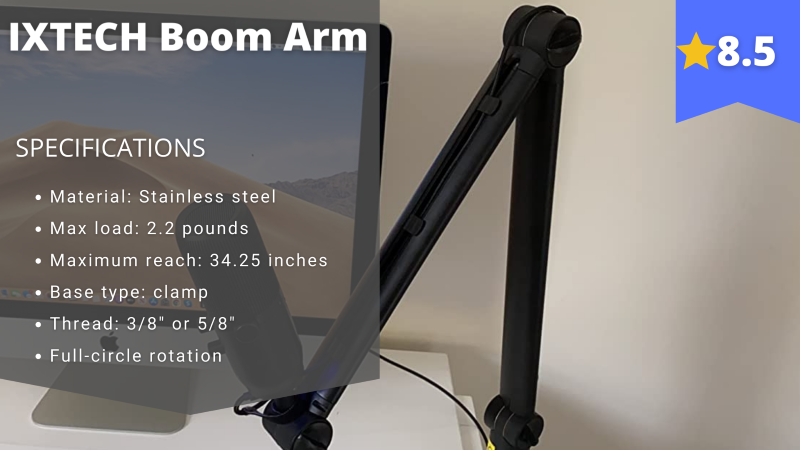 Stefan's Take:
This is a type of boom arm I could picture in a music studio or for podcasting. It's not bulky but still quite strong and supports most of the popular streaming mics like Blue Yeti or HyperX QuadCast.
What I liked the most were the hidden springs, due to which the stand looks like it's built for pros. Also, it gives you a full range of motion – you can rotate it in a full circle and move in any direction to get the best setup.
| | |
| --- | --- |
| Load Capacity | 9 |
| Compatibility | 8 |
| Quality | 9 |
| Maximum Reach | 8 |
The last Rode PSA1 alternative I'll discuss is IXTECH Boom Arm, an all-purpose microphone arm with exciting features.
IXTECH Boom Arm is made of high-grade steel, and it comes with a shock mount, a preinstalled XLR cable, and reinforced springs that allow up to 2.2  pounds of maximum load.
The boom arm is durable and flexible.
The upper and lower arm length is 15.5 and 17 inches, which gives you a decent total arm length to work with for the most accurate positioning, which is further enhanced by 360 degrees rotating C-clamp mount.
IXTECH Boom Arm comes with a pretty standard c clamp mount, with a soft pad for desk protection.
I appreciate that all springs are built in, as I think this further improves the stability of the boom arm. This also isolates your microphone from vibration and other inconveniences.
Moreover, it has a clip-on cable holder, which means that you don't have to be concerned with setting up your cable management system.
The thread supports most microphone models, including Blue Yeti USB microphone.
With all that in mind, IXTECH Boom Arm is a good choice and an easy recommendation for any home or personal studio, but only if you have a bit extra money to spend.
Pros
Easy to set up and use
It has a cable management system
Cons
Pricier than other alternatives
Things to Consider When Getting the Best Rode PSA1 Alternative
Now I'll cover some of the most common things you ought to watch out for when looking for the best alternative for the Rode PSA1 mic arm.
1. Know your enemy
Rode PSA1 is considered by many to best the best microphone boom arm on the market because of the tremendous cost-to-performance ratio, durability, and flexibility. It's hard to top because of the unlimited functionality it provides.
Yet, maybe you could get away with some more affordable options but still completely functional and tailor-suited for your specific needs.
Before determining that, the first thing you ought to do is familiarize yourself with the PSA1 mic arm. What it offers, and what exactly it has that would benefit the most to your particular setup.
2. What do you need?
Now that you have gotten up to speed with everything the PSA1 offers, you need to consider what key features would benefit you the most and what you can live without with your boom arm.
The best microphone boom arm for you might be the one with only two or three characteristics of those that come with PSA1.
PSA1 features internal springs for additional strength and security, thus enabling it to carry heavy mics with no issues easily.
Some of the alternative microphone boom arms I mentioned can take the same weight or even more without internal springs.
Boom arm like Aokeo Ak-35 or others I already talked about in this list can carry mics up to 4.4 pounds, which is quite an impressive feat.
PSA1 also has two mounting options available; a standard c clamp mount and a flange mount for more permanent attachment. If you tend to move your equipment about, a flange mount is something you could live without, or you might even need something completely different, like a flush mount or a wall mount.
The PSA1 boom arm is flexible and offers impressive vertical and horizontal reach. But again, if you don't require that kind of reach for your setup, you can easily disregard it and go for a slightly shorter mic arm but equally as maneuverable.
The PSA1 also supports most types of USB or condenser microphones, but if you know you'll be using only one kind, you could easily opt for a boom arm that supports only your model of microphone and standard shock mounts that you'll likely use.
And now that you have gone through all those information, only one thing remains.
3. Budget
There's no going around this one. Budgetary considerations may be one of the most important ones that made you search for a Rode PSA1 alternative boom arm in the first place.
The money might not be a problem for some. Still, if you are a beginner or are just not sure whether going into the streaming business, for example, could be profitable for you, a limited budget is something you'll probably have to deal with at some time.
It's a crucial decision to make because choosing a cheap but fitting and capable boom arm may get you enough breathing room in your budget to help you complete your perfect studio setup.
Conclusion
That concludes my list of the best Rode PSA1 alternatives. Here is a brief summary of the top three choices:
NEEWER Microphone Arm Stand as the best overall,
Puroma Microphone Arm Stand that's compatible with numerous microphones,
TONOR T30 Arm Stand with the best maximum load.
The final choice depends on you. I am sure you'll be pleased with either of these boom arms as they're all quality products.
Frequently Asked Questions
Is the Rode PSA1 boom arm worth it?
If you are keen on obtaining the best microphone boom arm for professional use, the answer is a definite yes.
Compared to other boom arms, the Rode PSA1 offers many exciting features in one package, all developed to make your life more comfortable when it comes to streaming, broadcasting, or setting up any home or professional studio.
Rode PSA1 arm provides you with good longevity thanks to its heavy build with strong internal springs, and because of a reasonable weight limit, it can carry almost any microphone you decide on in your setup.
It offers tremendous vertical and horizontal reach, versatile twofold desc mount, and it comes with a shock mount to enable vibration-free, quiet operation.
All those features are top of the class, and it's no wonder Rode PSA1 is as popular and widely used as it is.
Does the Blue Yeti work with Rode PSA1 Microphone Boom Arm?
Blue Yeti is famous to the degree that every microphone boom arm that supports it has that information underlined within its specifications.
Yes, Rode PSA1 works quite well with a Yeti, including the USB version. PSA1 can hold heavy mics like Blue Yeti in most standard configurations, thanks to its superior sturdiness.
The suspension boom arm is solid and sturdy enough to handle the weight in low, mid-level, or overhead positions.
There won't be any unnecessary wiggling or wobbling, and the PSA1 microphone boom arm will hold your Yeti in a secure way for however long you need.
Is Rode PSA1 Mic Boom Arm compatible with Shure SM7B?
One of the many reasons Rode psa1 is considered one of the best mic boom arms is adaptability. It can work with most standard microphones you can think of, and it works with them well.
Shure SM7B is no exception to that rule, and PSA1 fits with it perfectly. While other boom arms tend to sag and struggle to keep their position, the PSA1 stays nice and solid.
It's rugged enough, so you won't have to tighten the screws and knobs any time soon. Some cable management concerns directly limit SM7Bs turnability to only 90 degrees.
If that presents a problem for you, it can be easily countered by getting an extension tube for mic stands. If that is a problem for you for one reason or another, it can be easily countered by getting an extension tube for mic stands.
What boom arms do streamers use?
Though headsets can still offer you more than acceptable functionality for streaming, in this day and age, streamers are turning their attention more and more toward external microphones.
They provide higher quality and a more professional look, consequently building a need for getting top mic boom arms to complete their setups.
Streamers often opt for getting high-quality boom arms that can provide them with good flexibility and adaptability for all the microphones and additional equipment they'll be using.
Some of the more popular mic boom arms among them are:
1. Rode PSA1, as mentioned above
2. Blue Compass Premium
3. ON-STAGE MBS7500
4. Heil Sound PL-2T
5. Samson MBA38