People often frown upon USB microphones as a low-end waste of technology, unrightfully so, but there is more to them than people give them credit.
Not only are USB microphones easy to use, but they can also offer surprisingly high sound quality, and they are an excellent solution for beginner content creators, podcasters and streamers, and even for music artists.
I'll examine Razer Seiren X and a Blue Yeti in this article. I'll put these two competent and popular USB mics against each other, find out just how good they are and how do they fare against each other, and answer some of the most common questions to help you pick the right one for your needs.
Together we'll look into their good and bad sides, compare them and hopefully decide the winner in this duel between the Razer Seiren X vs. Blue Yeti.
Razer Seiren vs. Blue Yeti
Comparison
Razer Seiren X vs. Blue Yeti Specs
As usual, it's essential to look at each device and what they bring to the table, briefly review their specs, and layout some of the more critical features and pieces of information before comparing them and laying out their differences, advantages, and disadvantages.
Razer Seiren X
The sample rate is from min 44.1 kHz to max 48 kHz
Bit rate is 16 bit
It contains 25 mm condenser capsules
Uses super-cardioid polar patterns
The frequency response is 20Hz – 20kHz
Power Required 5V 100 mA
Sensitivity 17.8 mV
Max SPL 110 dB
Impedance ≥ 16 Ω
Power output 125 mW
The signal-to-noise ratio is 85 dB
The casing is made of aluminum
The mic weighs around 13.5 ounces
Blue Yeti
Power consumption: is 5V 150mA
The sample rate is 48 kHz
Bit Rate is 16bit
3 blue-proprietary 14mm condenser capsules
4 Polar Patterns: cardioid, bidirectional, omnidirectional, stereo
Frequency response is between 20Hz and 20kHz
Sensitivity is 4.5mV/Pa
Max SPL is 120dB
Weight: 3.4lbs
I'll start with a Seiren X, a USB streaming microphone from Razer.
The Razer is one of the best-selling gaming peripherals manufacturers globally.
They cover everything from desktop cameras to mechanical keyboards and, of course, gaming and streaming microphones, just like Seiren X.
So, how does Razer Seiren hold up?
Design
Razer Seiren X is a USB condenser microphone made predominantly, but not exclusively, for gamers and streamers.
Basic description
Razer Seiren X features a body made of anodized aluminum, with a surprisingly subtle yet effective design. Its body is of a relatively compact form, made to be not intrusive and to take up as little space as possible.
This microphone is somewhat barren when it comes to on mic controls, with only a volume knob and a mic mute button available.
The Razer Seiren X uses a 5/8 thread mount to attach to the base of the stand, but you'll most likely need an additional 3/8 to 5/8 adapter to connect it to a boom arm.
It is also worth mentioning that for the same price, you can get Razer Seiren in three colors, classic black, mercury white, and quartz pink, so there's some room for preferences and adaptation when it comes to your style.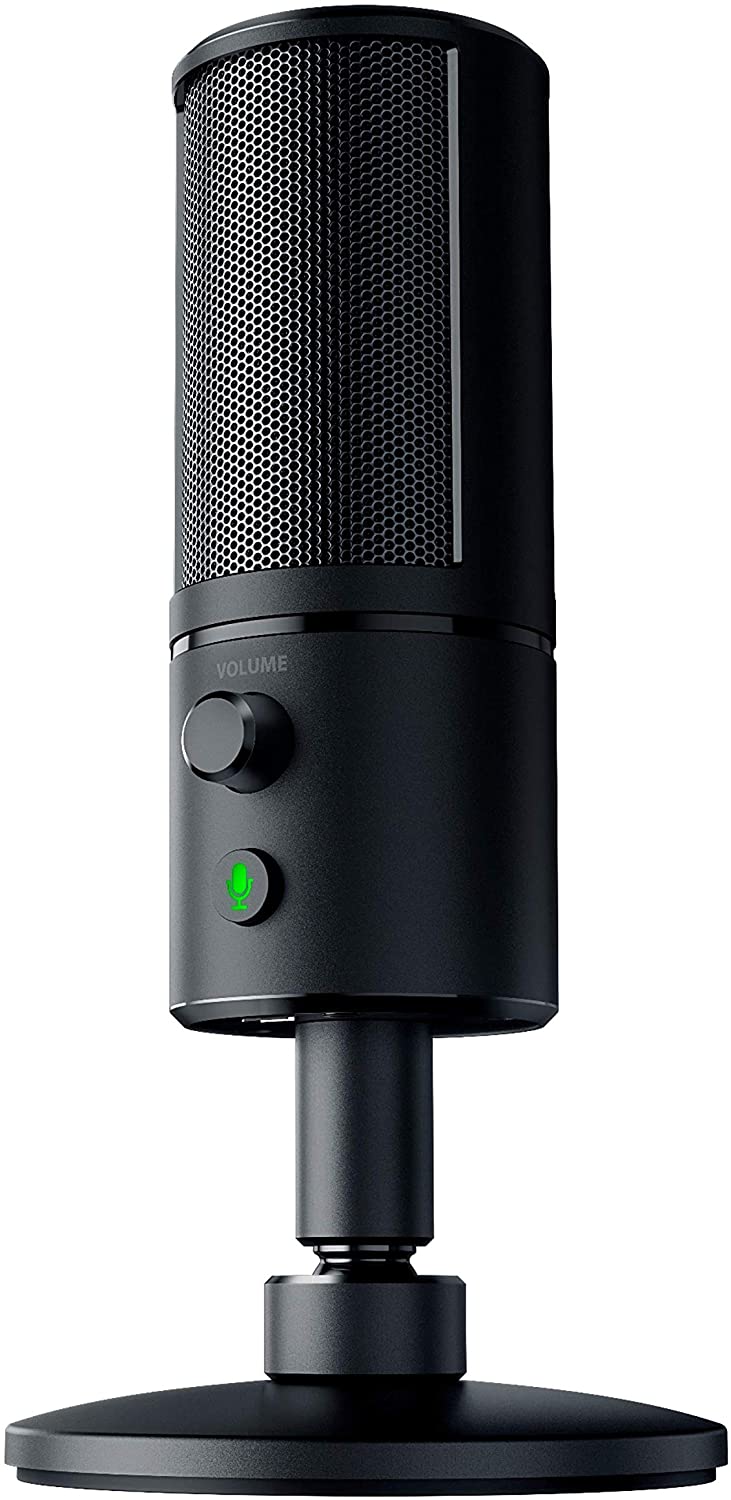 Under the hood
Things get a little more interesting inside the microphone itself. The Razer Seiren X uses a super-cardioid polar pattern, assuring a highly directional audio pickup, allowing for a good side rejection and picking up less unwanted background noise in the process.
The in-built shock mount takes care of most sound anomalies by dampening vibrations from accidental bumps and knocks. Zero-latency headphone monitoring is possible thanks to a proper 3.5mm headphone jack.
The Seiren X is entirely plug-and-play and also highly compatible. With only a USB cable, the Razer Seiren microphone will work with everything from a radio or an amplifier to a computer and a gaming console like PS4 and PS5.
What is there to say regarding this USB microphone that hasn't been said already? Blue Yeti is one of the most used and well-known mics for recording and streaming.
Design
Large and in charge, the Blue Yeti is one of the bulkiest and most imposing USB mics around.
Basic description
Despite its large size, the Blue Yeti is adorned with a slick design and a solid and durable complete metal construction.
Easy to reach on-mic controls allow for a lot of recording adjustability since you'll be able to set microphone gain, choose one of 4 available polar patterns, change headphone volume, or quickly mute and unmute the mic.
The desktop mic stand that it comes with is steady and decently positionable, but nothing to write home about. Blue Yeti comes with a 5/8 threading so that it can be mounted on most boom arms, but your mileage will vary on the arm-to-arm basis, and you might need an additional adapter for that.
Under the hood
Blue Yeti is no less impressive on the inside than on the outside. It contains 3 custom blue-proprietary 14mm condenser capsules. It provides incredible flexibility with 4 polar patterns: cardioid pattern, stereo, bidirectional, and omnidirectional pickup pattern so that you can record your sound and audio in most situations you might find yourself in during the recording process.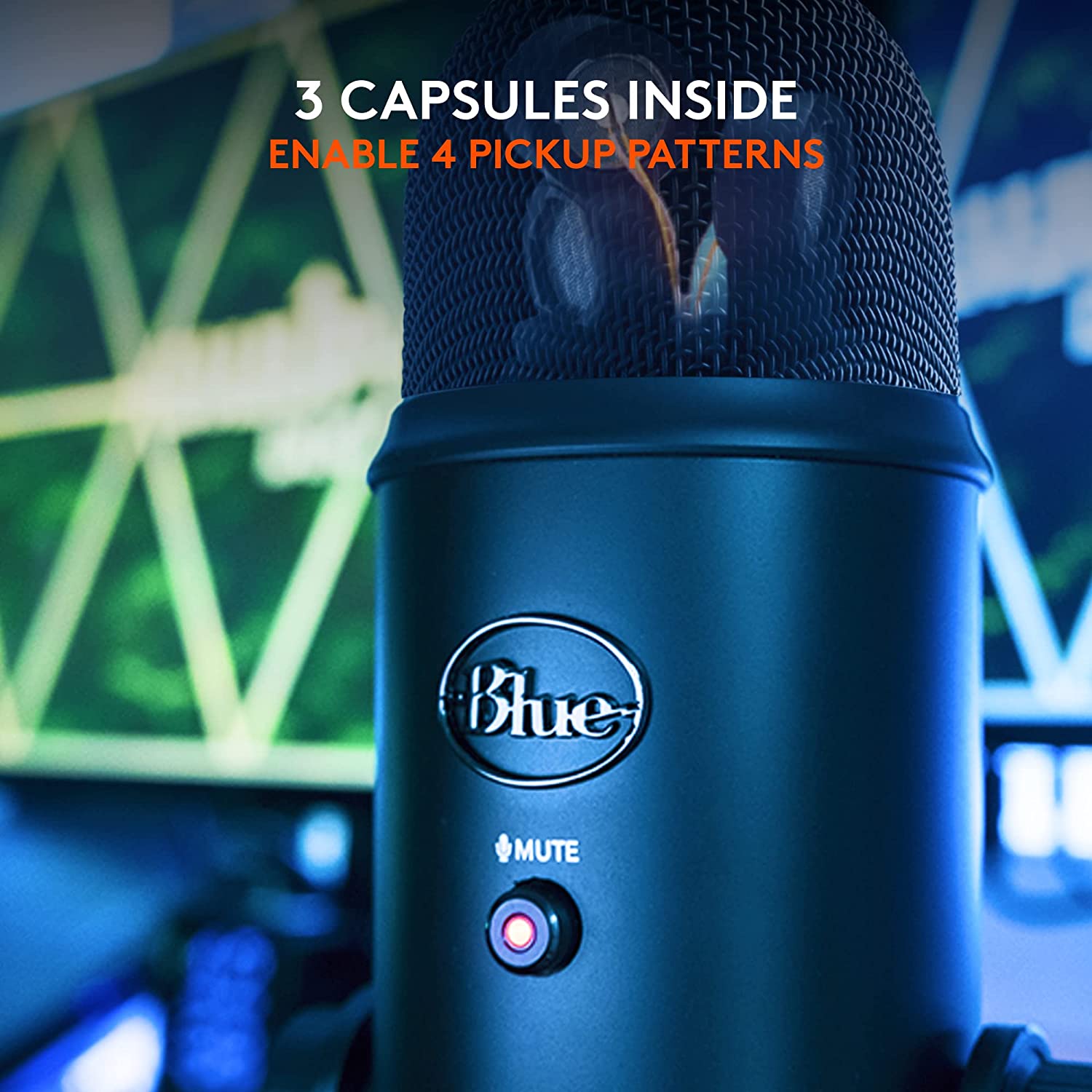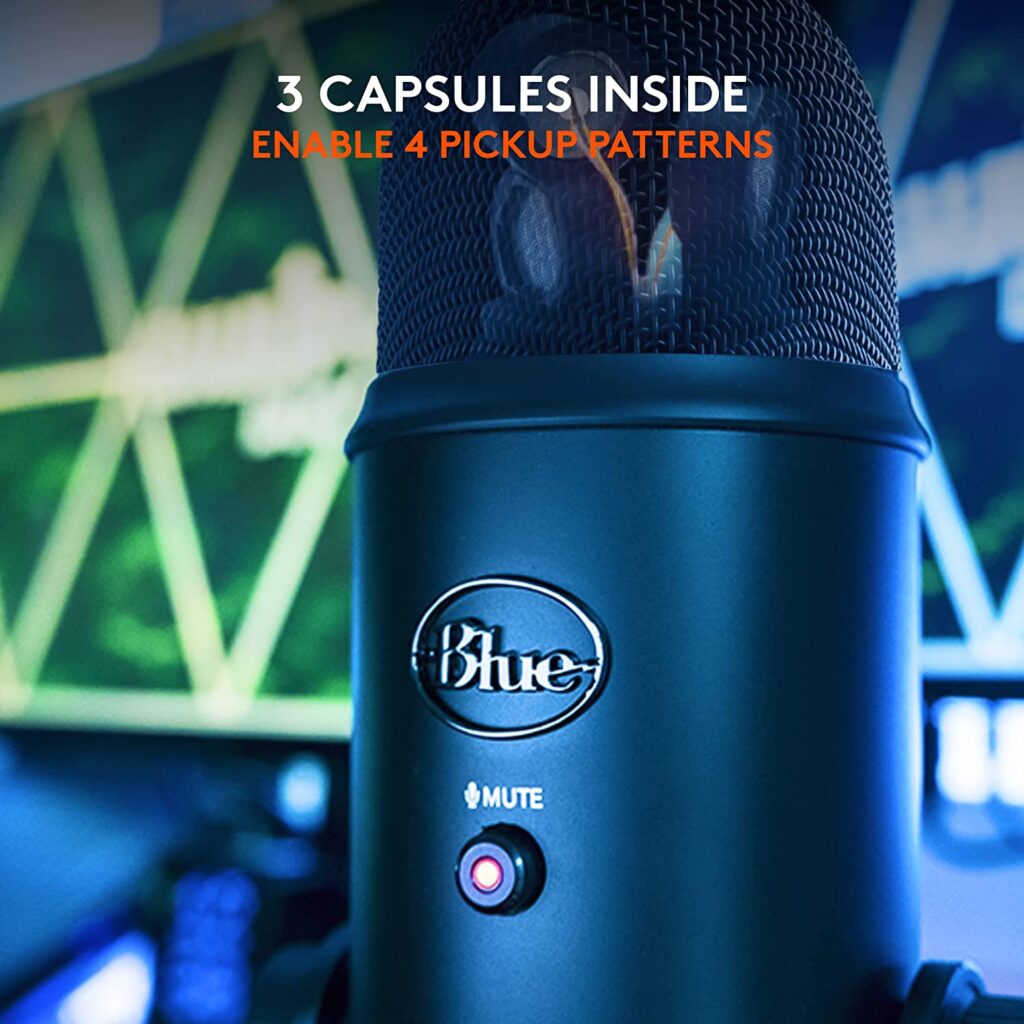 Blue Yeti is a plug-and-play mic, and it is compatible with PC and Mac, which you can connect it with via the included USB cable.
To get the best audio quality possible, you're advised to download and install Logitech's free G HUB software. That will allow you to use Blue voice software, a perfect way to enhance your recording through many available tools and effects.
Headphone Amplifier specifications:
Impedance >16 ohms
Power output is 130mW
THD is 0.009 percent
The frequency response is 15Hz to 22kHz
Signal-to-noise ratio is 100dB
Time for Comparison
Now that we have taken a peek at these mics' features and capabilities, it's time to compare and stack them against each other directly. Razer Seiren vs. Blue Yeti, how do they compare?
Design
Both Blue Yeti and Razer Seiren X are competently made microphones, but as far as the quality of construction is concerned, the Blue Yeti takes the cake. It's simply more rugged and long-lasting than the Razer Seiren mic. Blue Yeti is made from better quality material. It is more durable, heavier and you are less likely to damage it with prolonged use.
And while both are stand-alone mics, a Blue Yeti comes with a somewhat superior desktop stand. This stand is more positionable and maneuverable without needing a dedicated boom arm.
These mics offer rather practical, simplistic, and slick designs, but they are not made for the exact spatial necessities.
Razer Seiren is a compact and discreet mic. It is travel-friendly and an excellent solution for cramped spaces, smaller desks, etc. Blue Yeti is a complete opposite, a majestic microphone to show off and strut as a highlight on your desk or in your studio.
Performance
Now we'll take a look look at how these two microphones handle themselves when it comes to audio recording and dealing with unwanted background noise.
Sound quality
This comparison has a ton to do with the purpose these mics were designed for in the first place.
Though specs are on the pretty even field across the board with the same bit depth, sample rate, and frequency response, these mics still sound and function differently.
Because of its super-cardioid polar pattern, the Razer Seiren works best when picking up sound right in front of it by a single person in a podcast or a stream. At the same time, a Blue Yeti is a lot more diverse, and you can choose a polar pattern depending on your needs.
The sound quality is overall a bit better on a Blue Yeti, in my opinion, but both are pretty good in that regard, and best of all, they won't eat up much of your storage space with a 48 kHz sample rate.
Note that neither one of these mics comes with a pop filter, though, and that's something you might want to get if you are bothered by plosives.
Background noise
Razer Seiren is at an advantage in this category, and the reasons for that are twofold. Firstly the Raizer Seiren X utilizes a super-cardioid pickup pattern to eliminate distracting noises that are coming further away from the microphone.
Secondly, the built-in shock mount in Razer Seiren efficiently dampens vibrations to help protect against bumps on the desk or noise from using a mechanical keyboard, thus helping with getting the smooth sound and excellent audio quality.
Because of the lack of those features, Blue Yeti will perform a lot better in sound-treated rooms without much background noise. Some of the noise problems can be further rectified by attaching Blue Yeti to a dedicated boom scissor arm, but that would present an additional burden on your budget.
Outputs and control features
Blue Yeti holds an edge in this category over Razen Seiren X in the grand scheme of things.
Outputs
There is not much to differentiate them when it comes to connectivity.
Both Blue Yeti and Razer Seiren are connected and powered via a simple USB cable, and both possess a 3.5mm headphone jack for latency-free headphone monitoring without confusing echoes.
It is worth mentioning, though, that the Razer Seiren is compatible with even more devices than the Blue Yeti, devices like PS4 and PS5, which can come in handy for gamers and streamers.
Audio control
Blue Yeti mic is equipped with more onboard audio controls than Razer Seiren. However, there are some similarities, like a mic-mute button or the headphone volume knob. Blue Yeti ups the game by enabling direct control over microphone gain and a pickup pattern switch with which you can easily pick between multiple pickup patterns available.
It is also worth mentioning that, unlike Blue Yeti, Razer Seiren doesn't come with dedicated software for sound enhancement, so all settings are done directly from a PC or other device you connected it with in the first place.
You can download a supported third-party app for Raizer Seiren, like a Voicemeeter Banana. Still, a Blue Yeti comes with dedicated software that you can use to tweak the sound to your liking easily, and that's a much better option overall.
The price
Razer Seiren is 40 percent cheaper at the moment on Amazon, but they are around the same price range in general, when neither is discounted, sitting at around 100 dollars. As it is, Razer Seiren is currently a lot cheaper and might be a worthy investment.
Both Blue Yeti and Razer Seiren are stand-alone mics, but they could always benefit from an additional scissor arm, windscreen, or a pop filter. In that case, it is worth mentioning that you might need an additional adapter to pair up Razer Seiren with some of the most popular boom arms available.
FAQ
Is Blue Yeti still the best?
Blue Yeti is indeed one of the best in its class. It is a high-end microphone that strikes a good balance with its price and recording quality. In 2022 the Blue Yeti is still going strong, and it is widely popular with many podcasters, vloggers, streamers, music creators, etc.
It offers unparalleled versatility with its 4 easily switchable polar patterns. The audio quality is top-notch, bearing in mind that it is a condenser mic, along with a durable and authentic design that makes the Blue Yeti a well worth package.
What mic is better than Blue Yeti?
There aren't many USB mics that can effectively outperform Blue Yeti at a similar price range, but it is certainly not the best microphone on the market.
If you opt for the best and most proven options you can buy, some of the best products come from Shure.
Depending on your setup, you can't go wrong with either Shure SM7B or MV7. The former is one of the best XLR microphones in recent history, with the latter representing sort of a successor to that model, but with an additional USB connectivity option.
Is Razer Seiren X worth it?
That depends entirely on your preferences. If you are on demand for a quick solution for streaming games or recording podcasts, the plug-and-play mic that you can utilize with pretty much any device, then yes, Razer Seiren X is worth it.
At the current price of around 60 dollars, you will get a compact stand-alone microphone, capable of noise reduction, adaptable, and with some great features that you can efficiently use right out of the box.
Blue Yeti vs. Razer Seiren Verdict
A Blue Yeti is superior to Razer Seiren X in a side-by-side comparison, if only slightly.
If you're unsure what scenarios you will use your microphone or are sure that you will use it in as many different scenarios as possible, the Blue Yeti seems like the right choice. It's simply more versatile thanks to 4 polar patterns, and it will be more helpful in recording everything from group podcasts to music.
If you're not incredibly tech-savvy, and you're looking for a compact and practical microphone for streaming that comes with its stand, doesn't take much space, and that you can easily carry with you on your travels, you might opt for Razer Seiren X instead.