Blue microphones are one of the most famous, if not the most famous, companies in the world when it comes to audio equipment.
As a result of this, their Blue Yeti mic is an extremely popular choice with many streamers and content creators, mostly due to the superb sound quality it provides and a fairly affordable price. Unfortunately, the yeti microphone doesn't come with a stand or a boom arm of its own, meaning that customers often need to invest in a microphone boom arm by themselves.
Realizing that choosing the correct yeti microphone stand can be a daunting task, we have extensively tested a number of different Blue Yeti microphone stands with the goal of helping you make the best choice for yourself.
Post 1 of 7 in the Mic Stands
Best Boom Arm for Blue Yeti
Reviews
When making this list of best boom arms for Blue Yeti microphone we have taken into consideration a number of factors, such as price, physical characteristics, compatibility, carrying capacity, and others.
The microphones on the list have been carefully selected after long internal testing, with each of their features thoroughly checked for any inconsistencies.
Thus, we can say with a great degree of certainty that the items on the list are, indeed, the best boom arms for Blue Yeti available for purchase.
QUICK OVERVIEW: Best Boom Arm for Blue Yeti
Weight: 2.98 pounds
Rotation angle: 360 degrees

Material: aluminum
Rotation angle: 360 degrees

Weight 4.09 pounds
Material: Steel construction
1. Blue Compass Premium Tube Style
---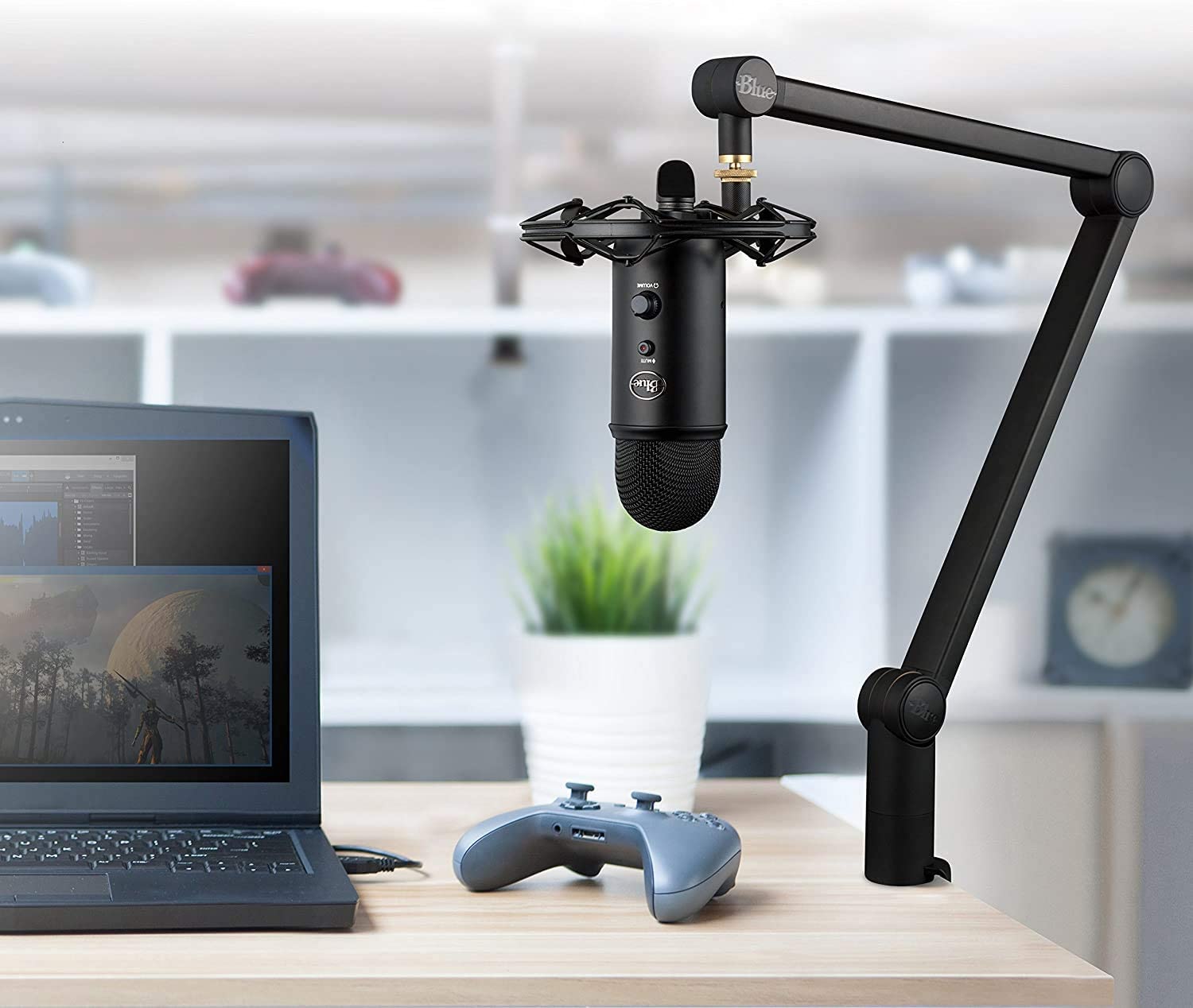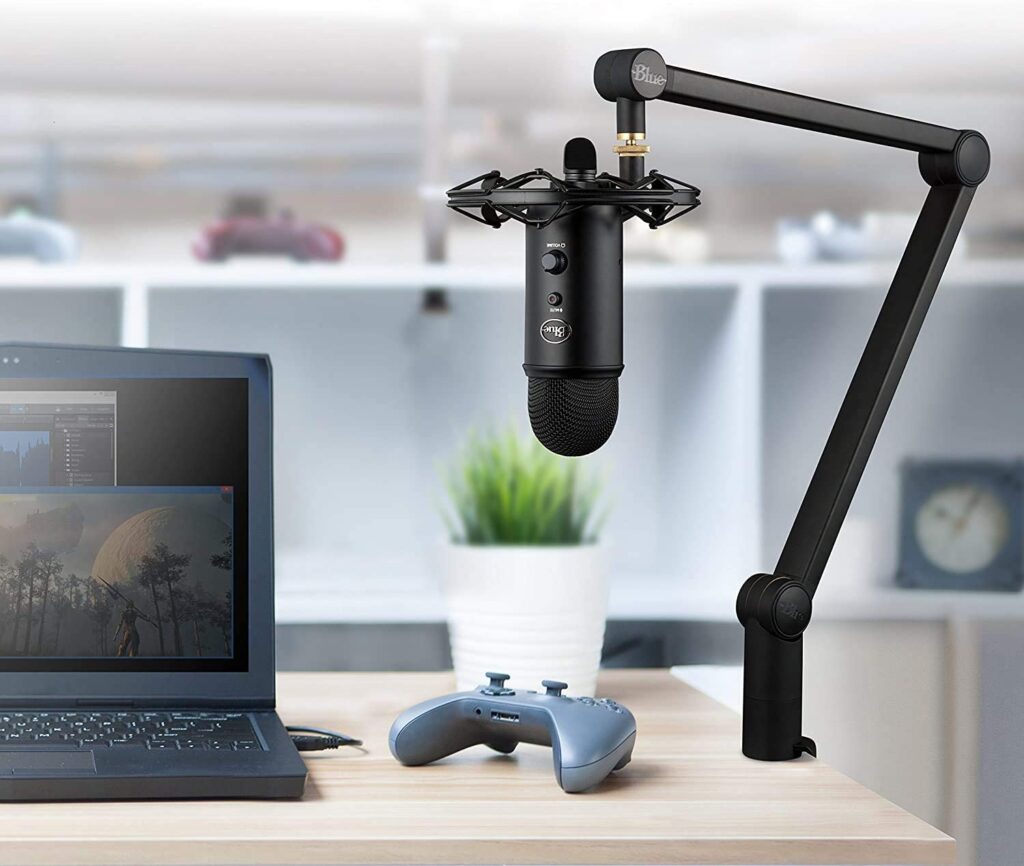 ---
We are starting out a list with a blue microphone compass a Blue Yeti boom arm released by the same company with the specific intention of serving as a podcast or studio arm mic stand. This boom arm works great with a Blue Yeti microphone and is made of high-quality aluminum.
Blue compass premium tube is equipped with integrated cable management, a set of internal springs, and one excellent table mounting clamp.
The desktop clamp is especially nice, as it makes usual Blue Yeti mic uses such as streaming and podcasts much easier, allowing you to keep your mic securely attached but also very mobile.
Choosing the best mic position is extremely easy due to the boom arm having a massive 82cm reach and full 360 degrees rotation angle. And the best thing about this adjustable arm: compass premium tube-style fits on just about any desktop stand due to the quality of its table clamp, allowing you to use it instantly after purchase.
Furthermore, mounting blue compass premium tube is very simple, making it one of the best mics stands for anyone looking to start out their streaming or podcast career with a Blue Yeti.
2. RODE PSA 1
---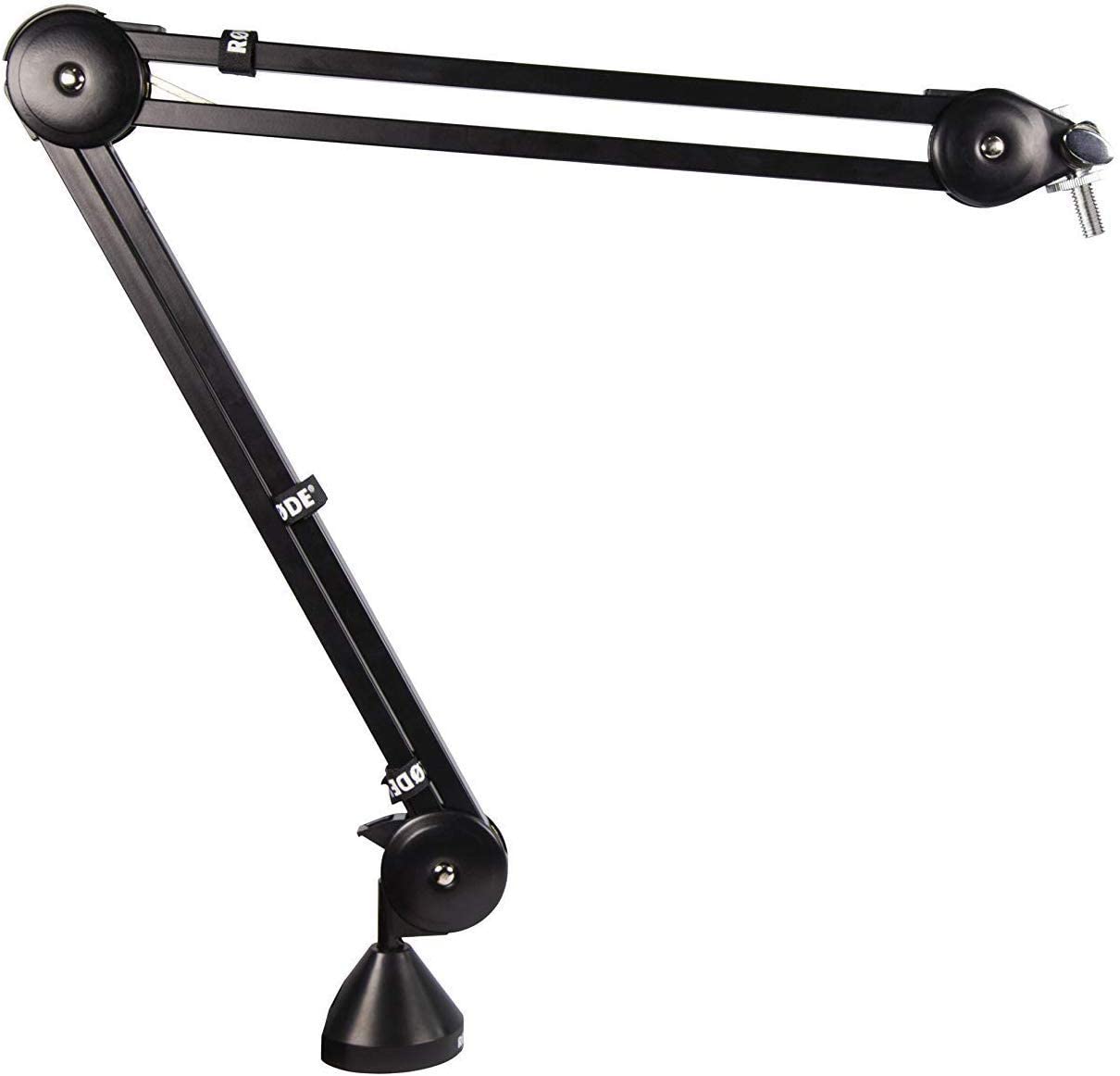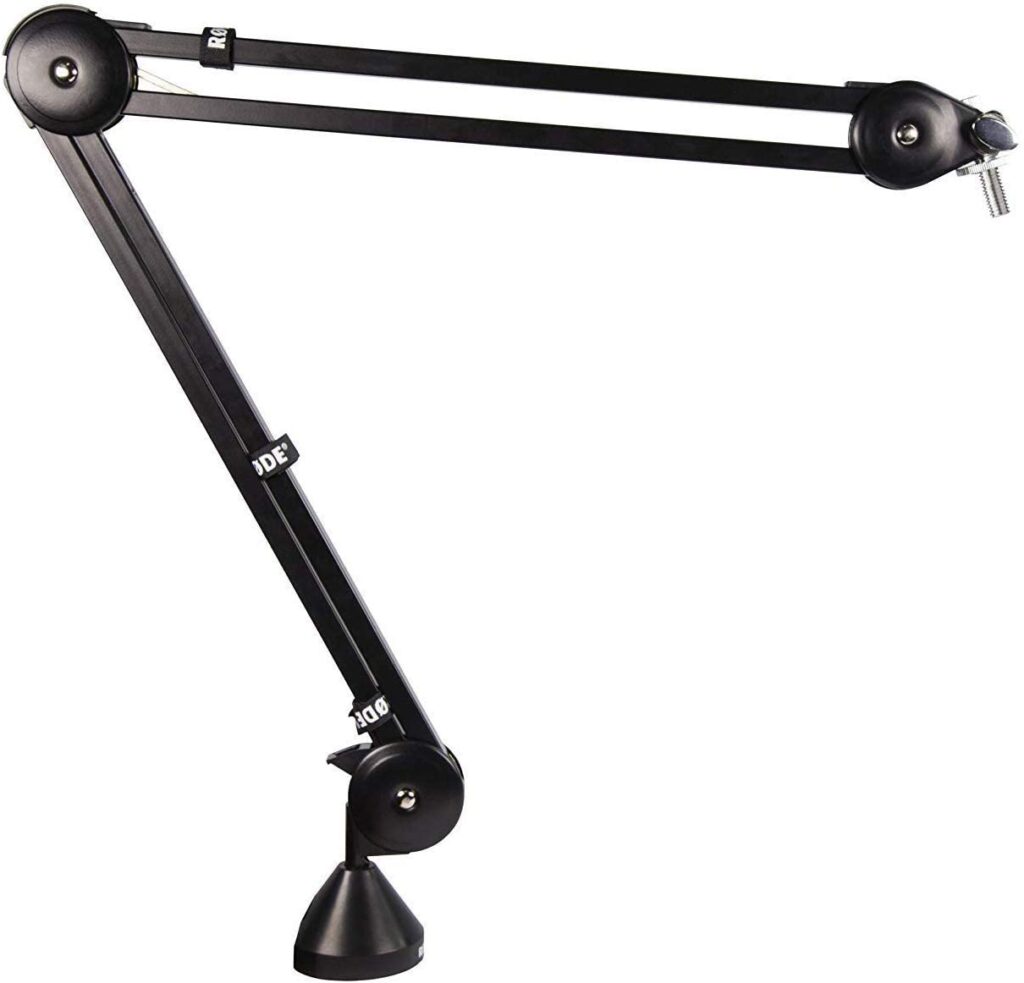 ---
The next entry on our list featuring the best boom arm for Blue Yeti mics is RODE psa1 swivel mount studio, a large and quite resilient boom arm stand released by RODE electronics.
This boom arm stand features a 33-inch reach, both horizontal and vertical, as well as a 360-degree rotation, as is the standard for a studio microphone boom arm.
In addition, the velcro cable wraps allow for more options when mounting this boom arm when compared to those featuring only a table mounting clamp (which is still included, by the way), allowing you more freedom when choosing the general location of your Blue Yeti microphone stand.
In addition, this boom arm is compatible with various shock mounts of the same manufacturer, allowing you to get a better sound quality even if working in an environment where a shock mount might be necessary.
Finally, the testing in our studio has shown this studio scissor arm stand to be a great choice for a Blue Yeti microphone, making positioning a lot easier and providing a significant increase in sound quality.
3. InnoGear Arm Stand
---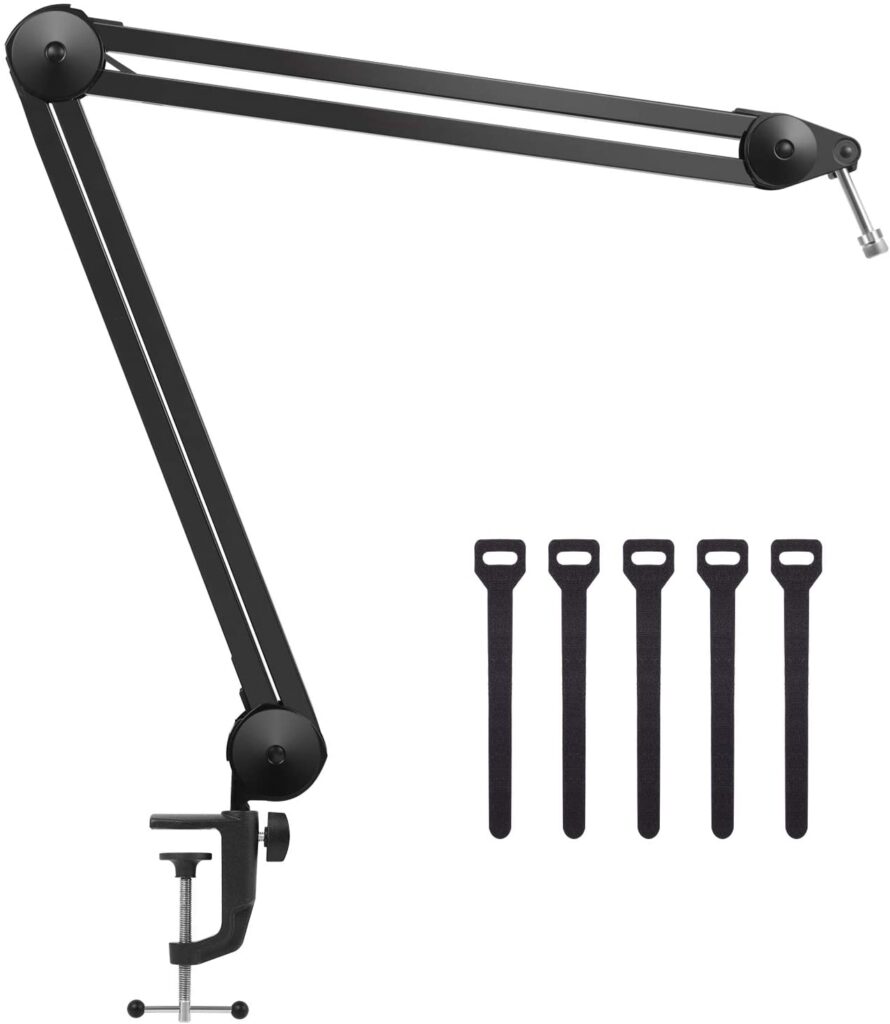 ---
Innogear might not be as popular a manufacturer as the world-renowned blue microphones, but that does not mean they aren't capable of making a high-quality boom arm stand.
Innogear sturdy microphone stand is nearly perfect for your Blue Yeti, as it provides great mobility and adjustability and can carry more than enough weight to support a Blue Yeti with ease.
The maximum load of 4.4 pounds is more than double the weight of the Blue Yeti mic, further reinforcing the status of this Innogear boom stand, a studio microphone boom arm.
Another excellent feature of this boom arm, especially with Blue Yeti microphones, is its foldable arm.
This technology allows you to use your into gear microphone stand even when pressed for space, making it much more accessible to people who don't have a large studio.
Furthermore, this boom arm is made of sturdy heavy-duty steel, making it extremely durable and thus suitable for prolonged use.
Finally, the internal spring system provides your Blue Yeti mic with even more flexibility, making this one of the best Blue Yeti microphones stands, even though it does lack a shock mount.
4. DISINO Boom Arm Stand
---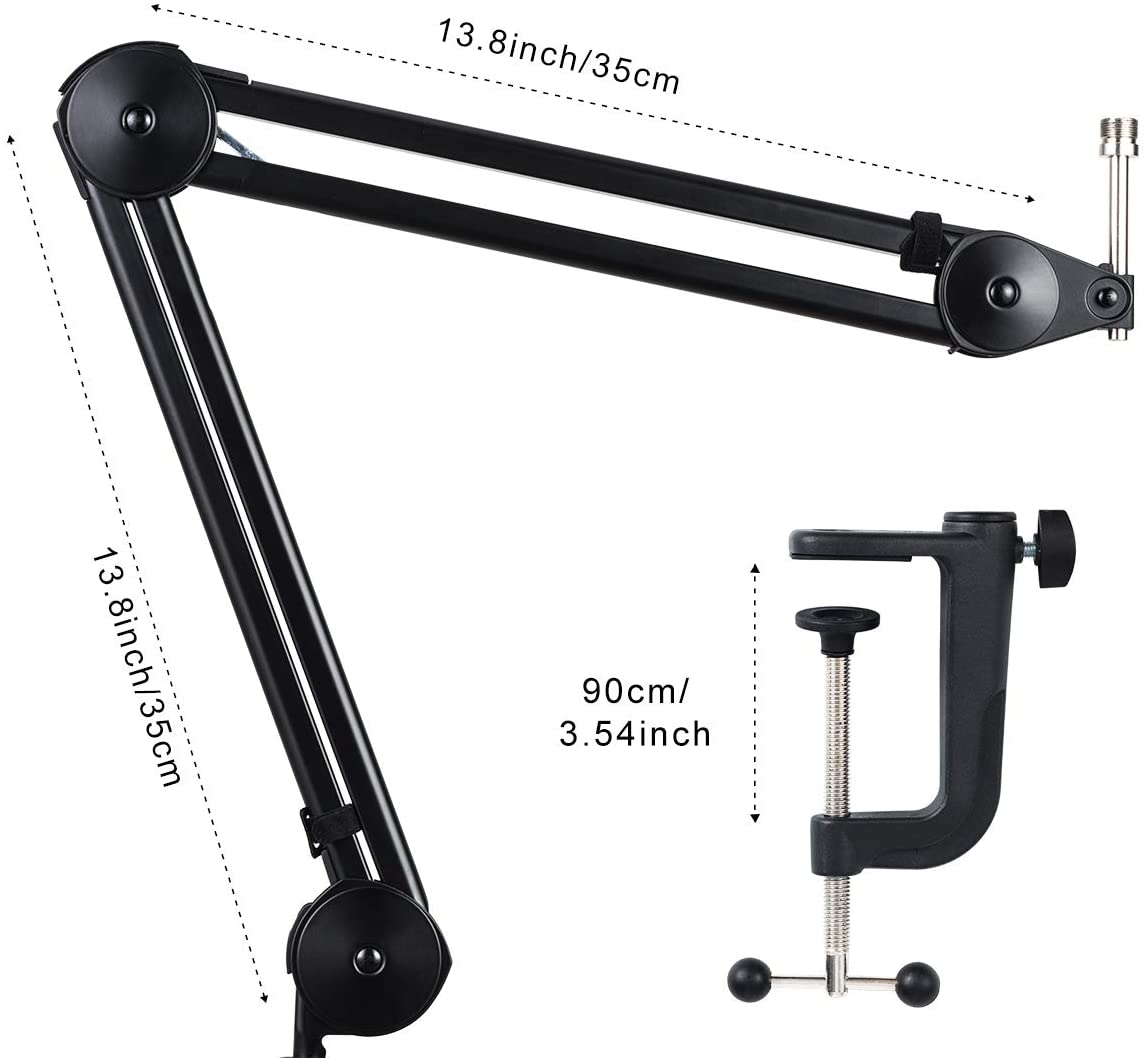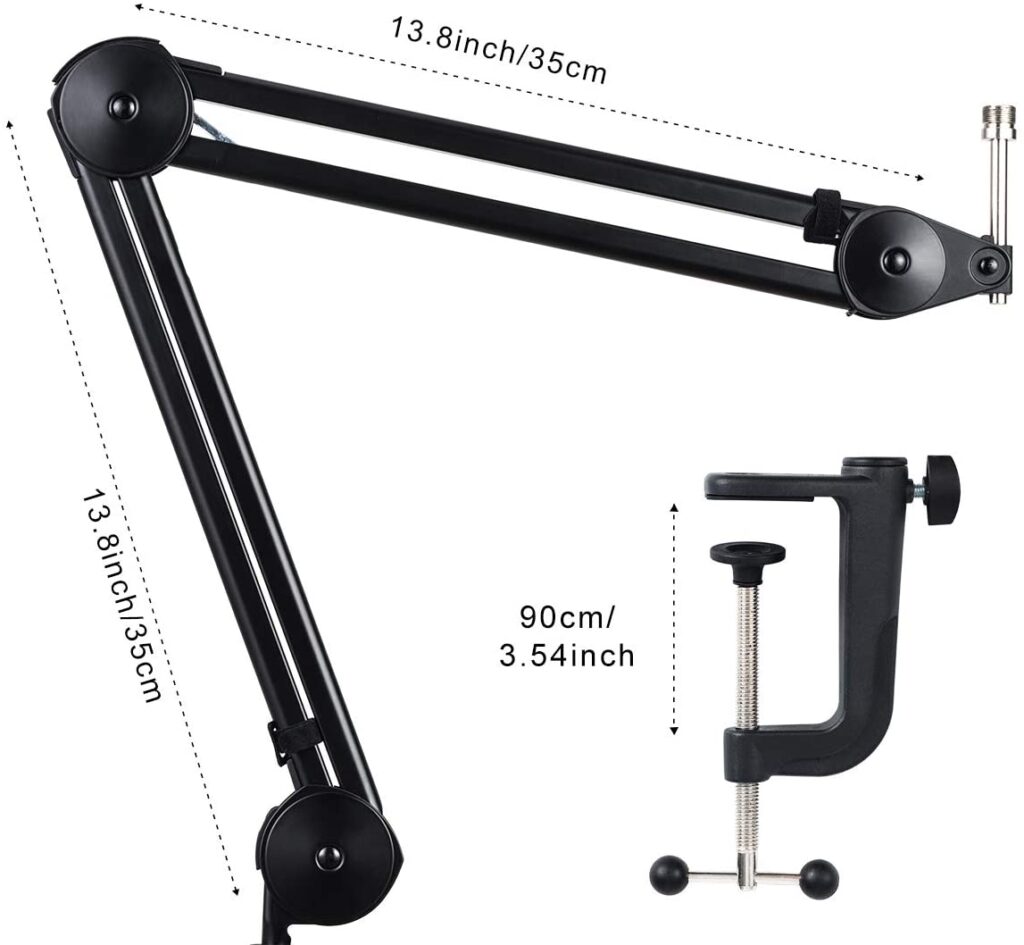 ---
Immediately upon seeing this microphone stand for the first time, I realized how well-made it is.
This adjustable scissor arm stands from Disino comes with built-in springs, elegantly solved cable management, and an excellent 2.5 kg maximum load, which is more than enough for a Blue Yeti microphone stand.
Looking into more details, the high-grade steel frame was made with electrostatic powder spraying technology, making it both sleek looking and completely antirust.
The mounting is both simple and precise: this boom arm comes with one table mounting clamp included, as well as soft rubber adjustment knobs (a pad to protect your desktop from the clip).
Because of this, using this boom arm with a desktop stand is really simple; you will be able to set up your Blue Yeti microphone in just a few minutes and get into streaming right away.
With a maximum reach of 70cm, Disino microphone boom arms are surprisingly adjustable, allowing you to find the best possible position for your blue mics no matter what type of content you are recording.
It even comes with a specialized Blue Yeti mount hole, the first boom arm on the list to have one.
Excellently made and reasonably priced, this boom arm has shown to be a great match for a Blue Yeti mic in our testing, and we can gladly recommend it as one of the best Blue Yeti microphones stands on the market right now.
5. Eastshining Upgraded Boom Arm
---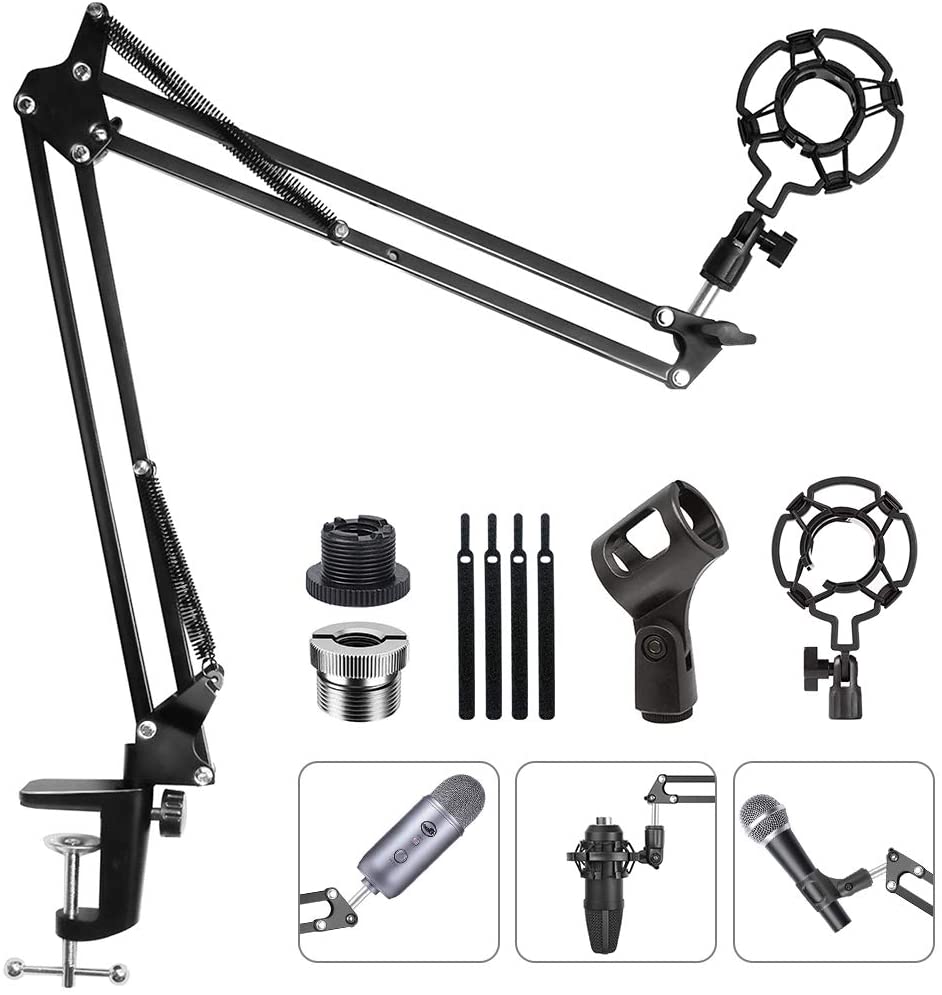 ---
Coming from Eastshining, a less known but very respectable audio equipment manufacturer, we have this all-in-one mic stand that works with a plethora of Blue Yeti mics, such as Blue Yeti, blue compass, and even blue snowball.
A first great feature of this microphone stand is that it comes with its own shock mount, meaning you won't have to look for one elsewhere.
This is a great thing, as making sure that your boom arm and your mount are compatible with each other can be quite a hassle sometimes.
Next, the dual suspension springs make this boom arm incredibly quiet to use, meaning you can move it around without having to worry about background noise of any kind.
In truth, this mount studio microphone boom is perfect for table mounting as it comes with a rubber washer as well, ensuring you won't have to worry about your furniture getting damaged.
The microphone clip is very stable and carries a maximum load of 4.4 pounds (2.2 kgs) which is enough for both Blue Yeti and other blue microphones.
The maximum reach of this thing is 70cm, which is less than in some of its competition, yet the fact that it contains a lot of backup options makes this solution from Eastshining a great Blue Yeti microphone stand.
In the end, if you are looking for a studio scissor arm stand that will throw other boom arms out of the water with the number of addons that come included with it, there are no better choices than this swivel mount studio microphone.
6. Gator Frameworks Short Weighted
---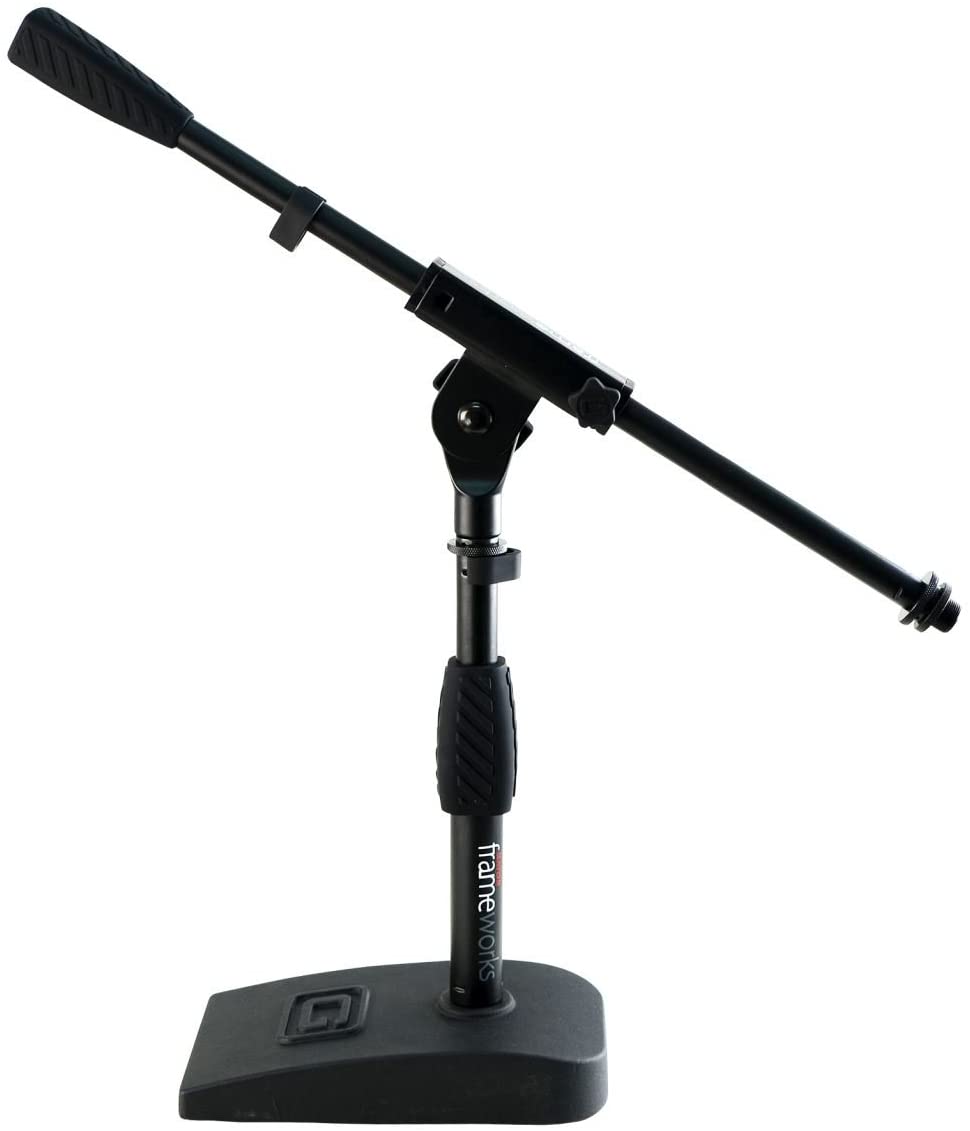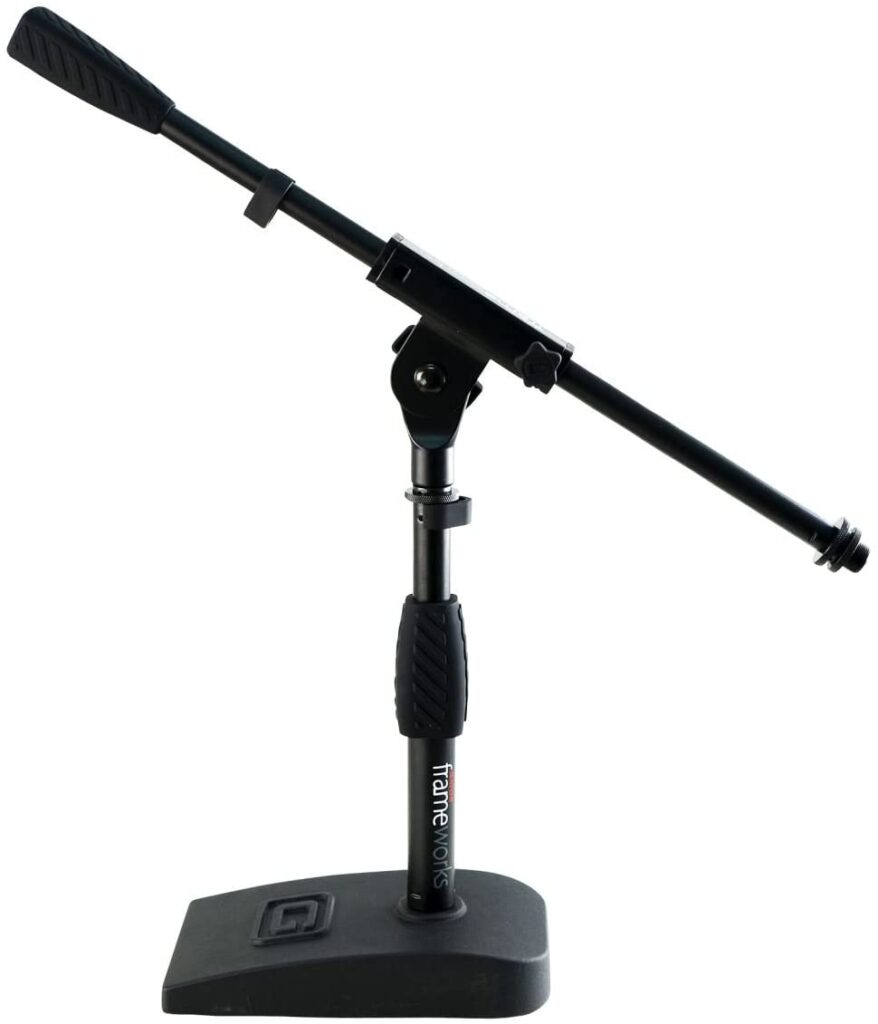 ---
Gator Frameworks is a company well-known for finding unique solutions to most problems posed in audio accessories manufacturing, and this microphone stand is no exception to that rule.
Sturdy and easily adjustable, it comes with its own weighted base instead of featuring a table mount, allowing you to use it with your yeti mic even on surfaces that would be impossible to use a desk clamp on, at a small cost of needing extra space to be mounted as the foot at the base is rather large.
Still, this quality boom arm compensates for that with superior stability and the ability to carry even the heaviest of microphones with ease, making it one of the best mount studio microphone boom arms available for something like a group of musicians playing as you can easily place it next to your drums or bass guitar.
There is, however, a downside to this Blue Yeti mic stands as well as its size. Unfortunately, this particular mic stand is quite a bit smaller than its competitors, causing it to be unsuitable for large studios or anything else but desk mounting.
Still, as it is indeed designed to sit on a desktop stand, its smaller size is but a minor downside.
The other significant problem with this boom arm is its single section nature, as it greatly limits the maneuverability of your microphone.
In the end, this Gator Frameworks mic stand is a decent choice for a Blue Yeti mic or any other USB microphone that will be exclusively table-mounted and in a fixed position.
Otherwise, I would suggest looking at a different solution.
7. Heil Sound PL-2T
---
---
Heil Sound is not a company that many know of, especially if they aren't involved with the audio gear business, but their products are pretty good regardless of that.
A good example of the company's quality production is the PL-2T Overhead Broadcast boom, a mic stand featuring a number of very convenient characteristics that make it an excellent choice for any Blue Yeti mic user.
First of all, the hidden cable management is solved extremely elegantly. The built-in cable system keeps it out of the way of your recording, removing any concerns about the cable taking space on the table or being hard to manage in any other way.
Internal springs are present as well, giving the boom arm a great deal of elasticity and flexibility in use.
Additionally, it reduces the likelihood that you will need a shock mount with your device.
The standard C-clamp desk mount is included with the boom arm, allowing an incredibly simple mounting process that shouldn't last more than 10 minutes after first unpacking the mic stand.
In the end, my opinion on this Blue Yeti mic stand is mostly positive.
It is large and flexible enough to be usable in a variety of positions while also being quite easy to set up, and the internal springs are a very nice touch.
While you might still want a shock mount if you are working in a particularly dynamic environment, most users will have no need for one.
Finally, the cable management is superb.
8. Puroma Microphone Stand
---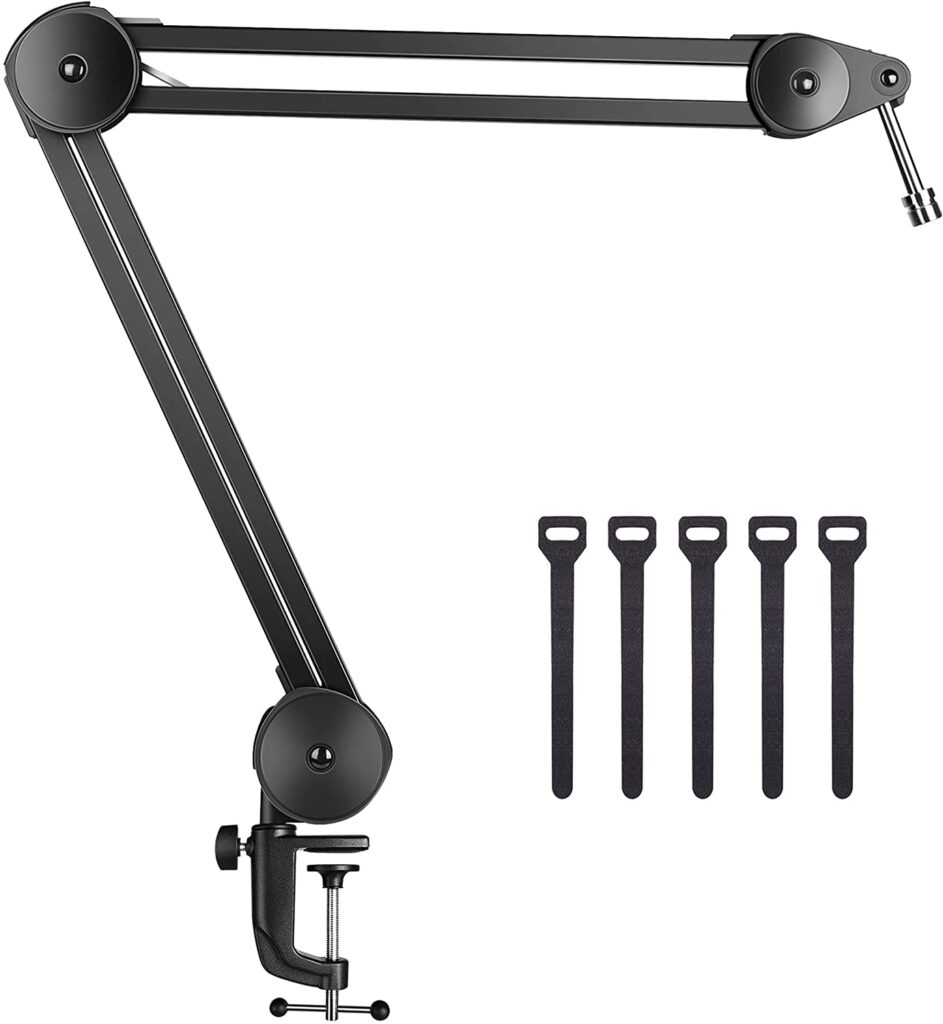 ---
The final entry on our list of Blue Yeti mic stands is a great boom arm from Puroma, designed to provide the best user experience possible while remaining relatively inexpensive.
Specifically designed to be used with both Blue Yeti and Blue Yeti nano, this mic stand possesses a number of features that one wouldn't really expect in such an affordable product, making it one of the best Blue Yeti mics stands on the market.
Firstly, the built-in springs allow for a great deal of precision in the boom arm's movements, meaning you will be able to put your microphone in the exact spot you need it, without it changing position on its own.
Likewise, the 360-degree rotation and the large size of the boom arm are extremely useful, making this mic stand a great choice for anyone working in a large studio or just needing a greater reach than a standard arm can provide.
In the end, I can only say I was greatly impressed by the quality of this piece of gear. It is completely stable, performs admirably in all kinds of studios, and doesn't really require any additional equipment.
What to Consider When Buying a Boom Arm for Blue Yeti?
Size
The most important aspect of every boom arm or mic stand is its size. By using boom arms too small for your needs, you will usually be unable to achieve optimal results.
Furthermore, larger boom arms often come with additional features not present in smaller and more budget solutions. Thus, you should look for an arm that fits your studio or recording station the best.
Brand
Just like with any other studio gear, the brand is a very important mark of a boom arm's quality.
Respected, well-known brands usually boast much more reliable pieces of hardware than more obscure ones do.
As a rule of thumb, unless you are already familiar with some brand or receive a good recommendation from someone who is, you should only buy boom arms from trusted brands.
Price
While getting a quality mic stand is important, you need to be careful not to pay an arm and a leg for one.
Simply put, some manufacturers will attempt to charge way too much for their products when compared to others.
You should always take a look at a price comparison article prior to making a purchase.
FAQ
What boom arm is best for Blue Yeti?
There is no singular response to this question. With the number of manufacturers on the market offering their boom arms and claiming their compatibility with the incredibly popular Blue Yeti microphone, choosing the best one is by no means easy.
Thankfully, we have written up a guide containing some of the more relevant, reliable, and high-quality boom stands that are sure to work with your Blue Yeti.
Each of these has been tested in-house by our writing team as well as by its manufacturers and was proven to be a good choice, depending on your needs.
Can I put a Blue Yeti on a boom arm?
Blue Yeti microphones are indeed compatible with most boom arms, provided that the arm has sufficient carrying capacity. The more important question is that of choosing the correct boom arm to use, and for that, you have our list.
There you will find all the information you need about a number of great solutions for your Blue Yeti microphone, complete with specifications and personal opinions of our testers.
What type of mic stand is good for Blue Yeti?
Blue Yeti microphone is a popular choice amongst both streamers and other content creators, meaning that it is usually paired with desktop mounted mic stands.
However, there are some users who will enjoy having their Blue Yeti available to them in a studio as well.
Regardless of what you prefer, our list is sure to contain a good Blue Yeti boom arm for you to choose and purchase, internally tested by our writing team.
We are sorry that this post was not useful for you!
Let us improve this post!
Tell us how we can improve this post?
Mic Stands
If you need to find other streaming gear, make sure to look at our Streaming Gear page. Here, you will find everything you need!
Post 1 of 7