If you're looking to start a business or grow an existing one, you need to start selling merchandise.
It's one of the best ways to get your brand in front of new customers and increase revenue. But where should you start?
There are many great merch stores out there, but we've compiled a list of the best merchandise websites.
These websites have everything you need to get started, including a wide selection of merch, subscription plans, and helpful tools and resources.
Post 4 of 11 in the Money
Top 16 Online Stores to Sell Merchandise
Sites
Here's the list of 15 websites that will help you boost your business to a different level. Most of them will do half a job for you by printing and delivering your designs, so feel free to try them out! You never know!
1. Merch by Amazon
Merch by Amazon is the most popular choice among YouTubes and the best merch website.
You can create and upload your designs, and they'll take care of the printing and shipping.
They also offer a wide range of other merch, including hoodies, tote bags, phone cases, and more.
Keep in mind that it is an invitation-only online store.
This means that you have to apply and be accepted before being able to sell your merch.
You can also earn an invite if your YouTube channel has over 500 subscribers.
The merch sales and royalties depend on the product that is sold.
For example, if you plan on selling T-shirts, you can earn up to $10.00 per T-shirt.
The biggest benefit of using Merch by Amazon is access to many potential customers who are already on Amazon.
2. Sellfy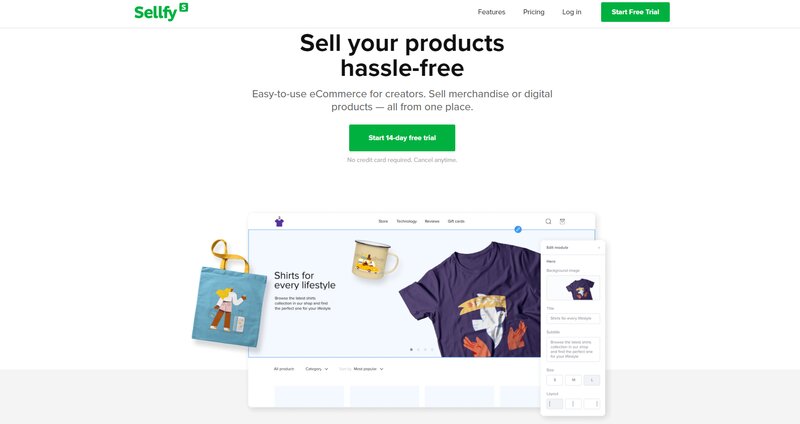 Sellfy is an eCommerce platform that was initially made to allow people to sell digital products, such as ebooks, photos, illustrations, and videos. Literally everything that can be in digital format.
However, you can also use it to make print-on-demand products such as clothing, phone cases, decorative items, hats, bags, and similar. In order to use Sellfy, you don't need to already have an established website. You will be able to create an eCommerce store with Sellfy instead.
You can try Sellfy for free, and there are 3 separate paid plans, starting from $29.99 per month if you want to acquire additional perks for your eCommerce store.
3. Printify
Printify is a fast-growing online store that offers a wide range of merchandising solutions for businesses.
It's best if you're looking to sell custom T-shirts, but they also offer other merchandise such as mugs, bags, and phone cases, as well as Mockup Generator.
This is a perfect tool for testing on which products your design looks the best.
Once you upload your designs, Printify will take care of the printing and shipping.
Furthermore, it works with numerous print providers.
Rating, base prices, shipping rates, used printing technology, and packaging are listed for all printing providers, so it is easy to choose the one that suits your needs and allows you complete control over your own prices.
For some products, only one print provider is available.
Additionally, you can connect your Printify with your own marketplace on eBay, Shopify store, or another website you plan on using to sell merch.
They also have a wide range of subscription plans that start at $29/month.
With a premium plan, up to 10 online stores can be linked with a Printify account, while with the Custom Enterprise plan, you connect unlimited stores.
One thing to note is that Printify has a lower commission rate than Merch by Amazon (15% versus 20%).
4. Printful
Printful's distinctiveness is a print-on-demand platform, which means that content creators do not have to worry about leftovers in their own shop.
There is no minimum order requirement, as they offer print-on-demand products, so once the order is in, they create merch.
Each shop owner gets to set the price of the merch and cover the production costs once the order is fulfilled.
You can even connect it to your online marketplace and automatically forward all orders to Printful.
5. Zazzle
If you're looking for a wide variety of merch, Zazzle is the best website for you.
They offer products in over 100 product categories and have over 250,000 designers who create new merch designs every day.
You can sell anything on Zazzle, from T-shirts to phone cases to home decor.
This merch store has around 30 million users, so establishing your own store and brand is easier since you are getting excellent exposure upfront.
The royalty rate can be between 5 and 99%, and Zazzle will accordingly set the price of the merch.
Zazzle also has a referral program that allows you to earn a 15% commission on every product sold through your link or code.
Additionally, you can earn extra money by making additional sales and earning their small volume bonus.
6. Bonfire
Bonfire is best if you're looking for high-quality merch.
They print on American Apparel, Bella + Canvas, and Gildan shirts and have a wide range of other products to choose from.
You can sell T-shirts, hoodies, sweatshirts, hats, phone cases, and more.
Bonfire takes care not only of creating custom merchandise but of payments and shipping as well, so social media influencers can focus on growing their communities.
All of the features are available with a free plan.
7. Teespring
Teespring is best if you want to create and sell merch in high volumes.
They offer a wide range of products, from T-shirts to phone cases to mugs, and have over 100 templates that you can use as a starting point for your design.
Like Bonfire, Teespring takes care of the printing, shipping, and payments.
You can also use Teespring's tools to help with marketing your products.
Furthermore, you can connect it with your social media accounts to promote your own merch, which makes Teespring the best online store for selling YouTube merch.
Content creators pick which of their merch products will be displayed under which post and video.
They have a wide range of subscription plans that start at $30/month.
Additionally, you receive a commission for every product sold.
This ranges from 20% to 40%, depending on the subscription plan you choose.
8. Spreadshop
Spreadshop is best for entrepreneurs who want to create a unique brand and connect with their customers on a deeper level.
It offers print-on-demand merch, as well as payment processing, order fulfillment, and shipping, and content creators are just collecting money.
You set the price, deduct the base price, and collect the earnings once a month.
Spreadshop offers products in over 20 categories, including clothing, phone cases, and accessories, which makes it one of the best websites for creating and selling merch.
You can also choose from a variety of printing methods, such as screen printing and digital printing, and select a print provider.
Spreadshop has a unique feature that allows you to create custom merchandise with your own designs and graphics.
Additionally, they have an online store builder where you can choose from over 40 themes for your shop or create one of your own.
9. Spreadshirt
Spreadshirt is another website that offers print-on-demand merch.
You can choose from a wide range of products and add your own designs to any product.
If you decide to set up your own store via Spreadshirt, you can collect 60% of your earnings.
Also, your own merch will be sold on other websites such as Amazon and eBay, thus helping you expand your store.
It is worth mentioning that Spreadshop and Spreadshirt have the same founder, so all the features are pretty similar.
However, one big difference between them is that Spreadshirt decides on royalties, so you do not have complete control over the profit margin.
Since Spreadshirt is the largest global print network and is shipping its products to over 150 countries, fans from all over the world can buy your merch.
10. CafePress
CafePress offers two selling options.
The first option is called Design and List, and it allows you to create products with your own custom designs and sell them in their online store.
You choose from a huge range of products or let CafePress suggest on which product your design looks the best.
CafePress will have the license to display your merch items on their marketplace so that you can reach a higher number of customers.
The second option, called Seller Shops, gives you a bit more freedom regarding both design, selling merch, and earnings.
By setting up your own merch storefront, you get to choose the products' designs and set the prices.
There is a minimum payout for both options: $25 for PayPal and $100 for a check.
Also, in most cases, you will have to wait for over a month for your payment, as CafePress has a 30-day money-back policy.
11. RedBubble
RedBubble is best for artists who want to share their art with the world and sell merch.
They offer a wide range of products, such as clothing, phone cases, laptop sleeves, and much more.
You can also choose the printing method and set your own prices.
Once you choose the products to sell, RedBubble takes care of the rest: processing orders, payments, and shipping is a part of its service.
For each product sold, you earn 20% of the price.
Once you earn $20 in sales, you can transfer the money to your bank account or PayPal.
12. Gemnote
Gemnote offers over 200 products that you can choose from, depending on your budget.
They also have a variety of printing methods available, so you get to be creative with your merch designs.
Additionally, Gemnote offers a subscription plan, which gives you access to more products and a higher commission rate.
For every product sold, you earn 50% of the price.
You can transfer your money to PayPal once you reach $50 in sales.
13. Amplifier
Amplifier allows you to print-on-demand merch with your designs and sell it in their online store.
They offer over 50 products, such as clothing, mugs, phone cases, and more.
You can set the price of the product yourself or choose from three pricing options that Amplifier offers:
Low cost (for best value).
Medium cost (for best quality).
High cost (to earn the most money).
The upgraded version has a new feature that allows you to connect Amplifier with Shopify, making it easy to promote your brand.
You get a commission of 20% – 50% for each item sold.
Amplifier offers two payment options: PayPal or direct deposit.
The minimum payout is $100.
This website also has an interesting feature – you can create a store and sell products from other artists.
One downside of the Amplifier is that it doesn't give you complete control regarding the design of your YouTube merch or other products.
For example, printing is possible only on the front of the T-shirt.
14. Big Cartel Big Cartel is the eCommerce merch maker for artists.
This website gives you the opportunity to create a custom online store where you can sell your merch.
Unfortunately, Big Cartel doesn't offer many features that merch stores with print-on-demand products have, so you have to put in extra work.
It is great for smaller content creators, as it offers the best prices, along with the feature to list only five products to sell.
As your community grows, you can start investing in this merch maker and upgrade to one of the three paid plans:
25 products – $9.99 per month
100 products – $19.99 per month
300 products – $29.99 per month
15. StreamElements
StreamElements is the best merch maker for Twitch and YouTube content creators who want to sell merch.
It offers a wide range of products, such as clothing, phone cases, hats, mugs, and more.
Additionally, it has a subscription plan that gives you access to more YouTube merch and a higher commission rate.
You can also customize the merch with your designs, set prices, and create bundles.
For each item sold, you earn a commission rate of 30%.
You can transfer the money to PayPal once you reach $100 in sales.
16. Society Six
Society Six is a merch maker that focuses mostly on home decor, so your fans can buy pillows, chairs, wall-posters, cushions, mugs, as well as clothing, bags, and hats.
Once you choose the products to sell, Society Six takes care of the rest: processing orders, payments, and shipping is a part of its service.
Also, the merch store will take care of the marketing and provide needed exposure.
For art pieces, each creator can set the markup.
However, for the rest of the products, the markup is fixed.
Furthermore, any promotions offered by the merch marker can affect your earnings.
Payments are made once a month via PayPal.
Conclusion
Many merch makers can help you start your own shop and sell merchandise, so do some research before picking one.
Luckily, there are options for all types of content creators and businesses.
Once you set up your shop, start promoting it on your social media platforms and see how well it does!
FAQ
What is the best merch?
There is no best merch, as each creator's needs and products vary.
T-shirts, phone cases, sweatshirts, and hats are a good starting point.
It is also important to talk to your community and see which merch they would enjoy the most.
Where do most YouTubers sell merch?
Most YouTubers sell merch through their own websites and other platforms, such as TeeSpring and Merch by Amazon.
However, a few use specific merch makers, like the ones listed in this article.
If you are looking for a print-on-demand merch maker, consider Printify or Printful.
How much money do streamers make from merch?
This varies greatly, as it depends on the commission rate of the merch maker, as well as how much effort is put into marketing.
Generally speaking, streamers make around 30% for each product sold.
Can I use my own designs?
Yes, most merch makers allow you to use your own designs.
Be sure to read the terms and conditions of each maker before starting to create designs, as some may have restrictions.
We are sorry that this post was not useful for you!
Let us improve this post!
Tell us how we can improve this post?