Getting the right mic can be a rocky road, but the journey doesn't end there – you'll need a mic stand as well.
I'm here to help you with that! My recommendation is a RODE PSA 1 because of its versatility, great load capacity, and compatibility with different mics.
After going through my list of the best mic stands that are current market favorites, you'll be able to make a good and informed decision about your purchase.
QUICK OVERVIEW: Best Mic Stand for Streaming
Full 360-degree rotation
3/8 inch thread adaptor

Foldable boom arm
The upgraded desk clamp

Internal springs
Easily foldable boom arm
---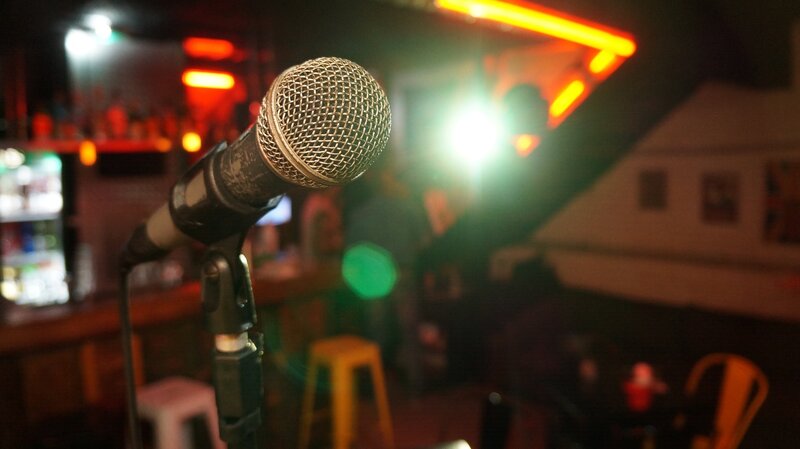 Best Mic Stand for Streaming
Tested & Reviewed
Whether you need a traditional microphone stand, a heavy-duty boom arm, or the most basic desktop microphone stand, the market nowadays is full of lots of different products.
Having a mic stand can actually improve your sound quality very much, but let's be real, it's way better not to have another thing just standing on your desk.
Whether you need a stand because your desk is getting too crowded or because you've found out that the sound quality is low due to the mic being on the table, the right stand for you will be found below.
Also, I know that you'll be delighted to find out that I've added some options that are great even if you're on a tight budget, so do not worry.
Here are the top eight microphone stands ready to support all microphone shapes and sizes.
1. RODE PSA 1
Best overall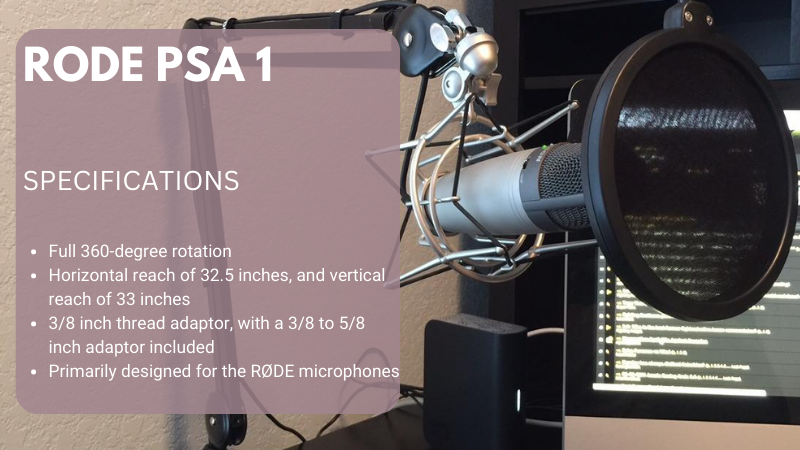 Stefan's Take:
In my opinion, the best boom mic stand for streaming you can get is RODE PSA 1.
It has a great vertical and horizontal extension, as well as full circle rotation, so you can adjust it as you wish. I tested it with my Blue Yeti and didn't notice any sagging, and I'm sure it can hold even heavier microphones.
| | |
| --- | --- |
| Compatibility | 10 |
| Maximum Reach | 10 |
| Load Capacity | 10 |
| For Streaming | 9 |
Why do I think RODE PSA 1 is the best among these?
Because it's a versatile boom arm that can hold even heavier microphones, and it won't cost you an arm and a leg.
Key Features
The RODE PSA is a sturdy boom arm that can rotate the full 360 degrees, so it can be good if you need your mic to change positions from stream to stream.
It can reach the maximum extension of 32.5 inches horizontally and 33 inches vertically, and it holds up to 4.4 lbs, so whatever mic you have, this one will probably be able to hold onto it.
Also, it has two different options for desk mounting, so you don't need to worry too much about fitting it into yours.
Pros
Internal cable routing
Very strong springs
It has both a desk mount and a recessed hole mount
Good range of motion
2. Luling Arts Microphone Arm Stand
Best for Blue Yeti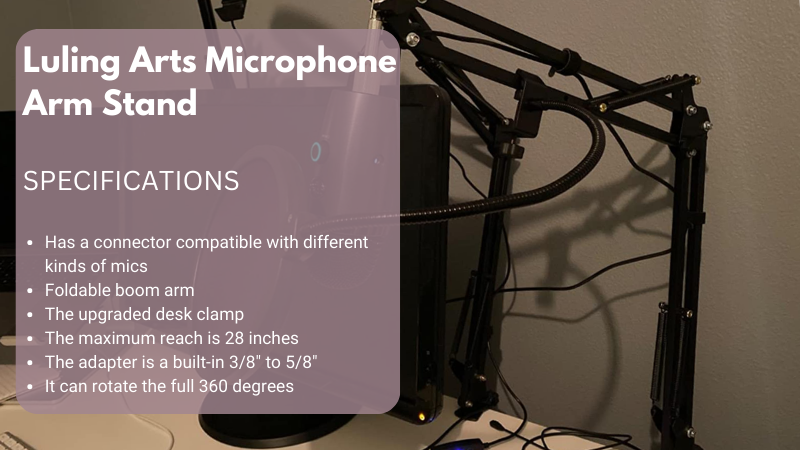 Stefan's Take:
I got this microphone arm stand because of its lower price and was quite pleased by its performance.
The arms move smoothly, and installing it was quite easy – it has a C-clamp that tights securely to the desk, so drilling holes isn't necessary, which is a big plus for me.
Also, I liked that the small accessories, like the pop filter, are included.
| | |
| --- | --- |
| Compatibility | 9 |
| Maximum Reach | 10 |
| Load Capacity | 10 |
| For Streaming | 9 |
The Luling Arts mic arm is one of the microphones stands on the lower-end pricing. Let's see whether it would be the right choice for you.
Key Features
This armstand is highly recommended, mainly for the Blue Yeti microphone.
But, even if you are not a Blue Yeti owner, you could probably use this boom arm for your mic and be more than satisfied.
This is a heavy-duty stand, and it can be used for various different activities – gaming, streaming, and podcasting.
Besides being compatible with all kinds of both expensive and cheap microphones, the Luling Arts mic stand is also compatible with any type of shock mount.
One of the great things is that the suspension boom arm is foldable, so you can easily move it around and get it out of the way if your desk is crowded with other streaming equipment.
Pros
Very solid pop filter
Easy to assemble
It comes with great accessories like velcro straps and a pop filter
Affordable
Cons
It can be mounted on the desk with only one way of mounting – the clamp
Some heavier microphones can overpower the boom arm
3. Samson MBA28
Best budget mic stand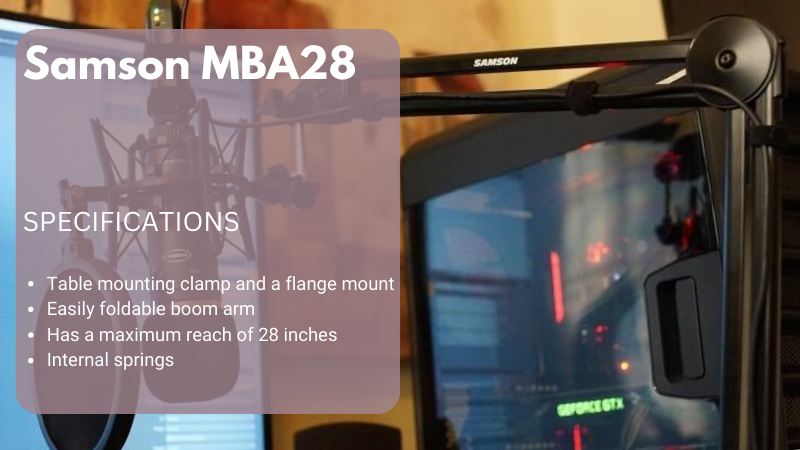 Stefan's Take:
What amazed me the most about this mic stand was the built quality. The mic stand is durable and tough, and internal springs add to its stability, but also silence.
I was moving it around quite a bit just to see whether it would start squeaking, but it didn't happen.
| | |
| --- | --- |
| Compatibility | 9 |
| Maximum Reach | 9 |
| Load Capacity | 10 |
| For Streaming | 9 |
This microphone boom arm is another cheaper option for you, so make sure to take it into consideration when making your final decision.
Key Features
As the name suggests, this microphone boom arm is able to reach a maximum of 28 inches when stretched out, both vertically and horizontally.
It's easily foldable and even comes with two types of mount, so it's a very practical option.
It has internal springs, so it's great for any kind of recording situation, and this guarantees that everything will remain silent while you record.
The construction is steel, making this boom arm extremely sturdy and able to hold up a mic up to 5 lbs heavy, which is more than a lot of other options here.
Pros
Very well made and sturdy,
Very affordable, with a good price-to-quality ratio
Two different mounting options
Able to be adjusted silently
A practical option
Cons
There are some issues with the compatibility.
4. On-Stage MBS5000
Mic stand with a great load capacity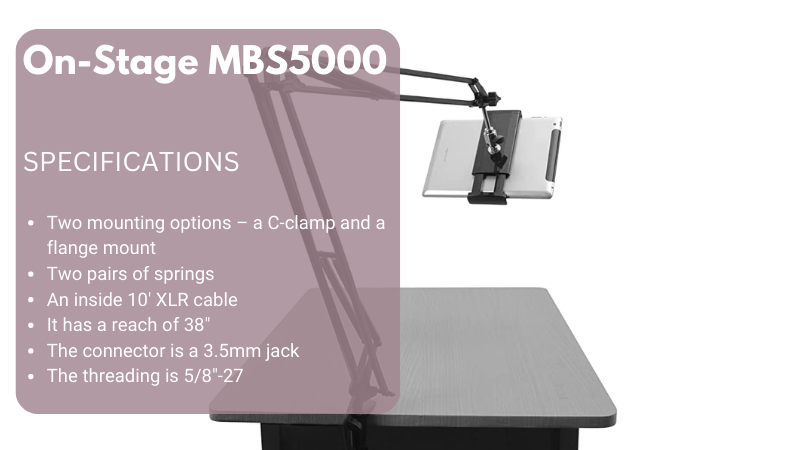 Stefan's Take:
I have to say that I wouldn't trade my RODE PSA 1 for On-Stage MBS5000, but this mic stand is still quite good.
It's silent, so you can readjust the position of the mic even during the stream without worrying about creating background noise. It has two mounting options, and the set-up is straightforward.
I liked that it comes with an XLR cable, but it would be better if it was already installed.
| | |
| --- | --- |
| Compatibility | 9 |
| Maximum Reach | 9 |
| Load Capacity | 9 |
| For Streaming | 9 |
Need a boom arm for something done on stage?
Let's see whether this lives up to its name!
Key Features
Still, on the more affordable side of microphone boom arms, this stand is a bit longer than your traditional mic stand.
Made for things like broadcasting, it's very sturdy so it can hold up most microphones, as well as things like an iPad, as long as it doesn't weigh more than 3.5 lbs.
The 10′ XLR cable is installed within the tube arm, so not only is it protected from any possible damage, but it also has a more clean look to it.
Having cables inside also ensures that every recording will go down smoothly and quietly, or at least that the boom arm won't add to the background noise.
Pros
Very affordable
Good XLR cable, the length is great
Sturdy construction
It can reach good height and width
Cons
The supplied screws are a bit short
5. K&M 23860
Best for professional streamers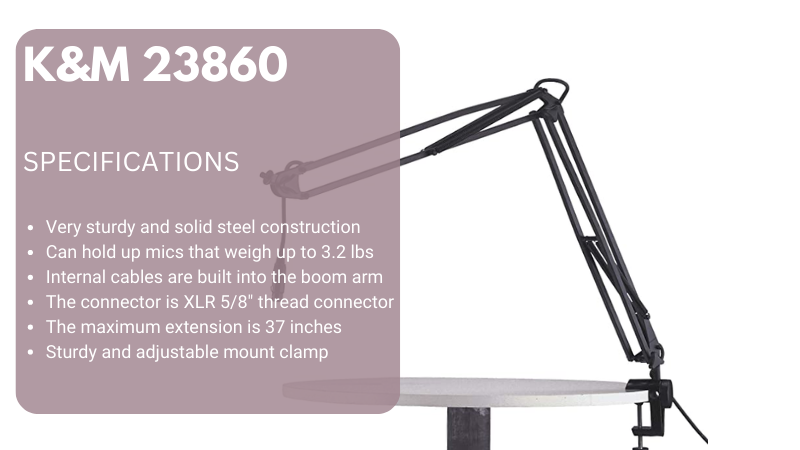 Stefan's Take:
The quality of K&M 23860 is simply outstanding! It's made of steel, gives you plenty of room to adjust it as you wish, and is easy to install.
At first, you may be intimidated by its look, but it doesn't require a learning curve.
Also, a big advantage is a pre-installed cable placed within the tube, so you don't have to worry about making a mess on your desk with extra equipment. 
| | |
| --- | --- |
| Compatibility | 9 |
| Maximum Reach | 8 |
| Load Capacity | 9 |
| For Streaming | 9 |
Can a microphone boom arm be worth $300?
I was as intrigued as you are, so let's dive right in.
Key Features
This boom arm is considered a professional-grade product, and if you really don't need it for some heavy-duty professional recording, just skip to the other boom arms on this list.
When it comes to the specific details of this one, it seems like any other boom stand made for desk space.
When it comes to carrying a heavy condenser or dynamic mic, this stand can hold up to 3.2 pounds.
The construction is steel, so it ensures that this boom stand will be sturdy and durable, which is what you would expect from pricing like this.
K&M is a leading digital publisher when it comes to equipment, so that is a guarantee of quality.
Most people find this a very solid and durable purchase, and even a lot of gamers and streams are not opposed to paying this price, especially when they've already gone through several different and cheaper options.
So overall, it is a great boom arm.
Pros
A very solid steel construction
Pro-grade quality
Easy to move around
It has quite a big reach
Amazing audio quality
Cons
The price is very high
You can't replace the cable
6. On-Stage MBS7500
Great studio-grade boom arm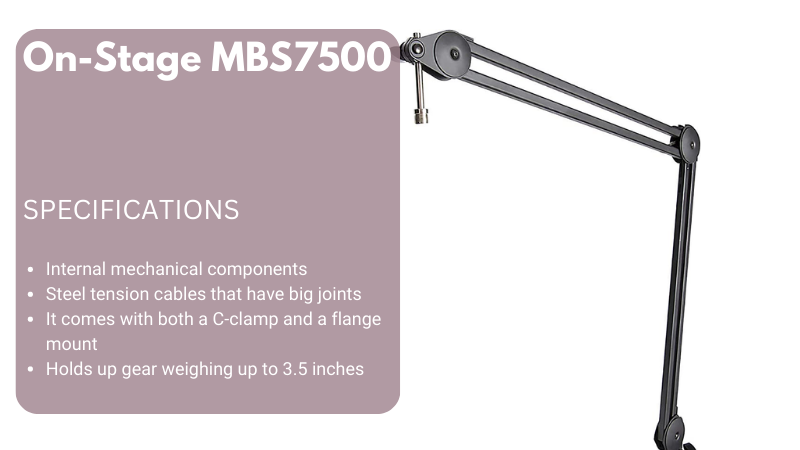 Stefan's Take:
If you would like a boom arm similar to K&M 23860 but at a fraction of its price, my recommendation would be On-Stage MBS7500.
It's compatible with all microphones, even heavier ones, and gives you a great range of motion, so you can sit comfortably, place the mic as you want, and not worry about it not reaching you.
Another benefit is the metal clamp that holds the mic stand securely in its place.
| | |
| --- | --- |
| Compatibility | 9 |
| Maximum Reach | 9 |
| Load Capacity | 8 |
| For Streaming | 8 |
This boom arm is marketed as professional-grade while being fairly affordable.
That itself draws attention, so let's see what this suspension boom arm is all about.
Key Features
Having internal installations has more or less become an industry standard nowadays, and this is one of the many mic stands that has exactly that.
Not only are the cables protected, but it also provides you with a sleek, clean look, and that is something that's important to many streamers, especially if you do face cam.
Besides mics, this stand can hold tablets as well, so if you need it for that, you should definitely consider this boom arm.
The steel arm is compatible with any basic 5/8″.27 shock mount, making this product very user-friendly.
When it comes to the table mounting clamp, it can be placed on tables that are up to 2 inches thick, which is somewhat of a standard.
If you want this boom arm to be mounted permanently, then you'll be happy to know that it comes with a flange mount as well.
Pros
The metal C-clamp is of a great quality
Moves very silently
User-friendly and easy to install
It can hold up a heavier microphone very well
You can lock it into the preferred position with a thumb screw
Cons
The quality isn't consistent
7. CAHAYA Tripod
Best for music studios
Stefan's Take:
CAHAYA tripod is a high-quality tripod that is quite affordable. You get a few mic clips, so you can use it with different microphones, and it holds the mic in place.
However, I wouldn't say it's the best choice for streaming. This is a good option for someone who is frequently in the music studio and streaming.
I had problems positioning it when sitting in my chair, and it's pretty practical for that type of setup. Also, I noticed a problem with the counterbalance.
| | |
| --- | --- |
| Compatibility | 8 |
| Maximum Reach | 9 |
| Load Capacity | 8 |
| For Streaming | 8 |
This is the most affordably priced microphone boom arm that I could find for you (without trying to sell you on something that is just horrid), so if you are a beginner on a budget and need just the most basic equipment to start you up, definitely look into this microphone boom arm.
Key Features
Besides being different on this list of best boom arms because of the pricing, this mic stand is also a different kind.
This one is a tripod microphone stand, so it's a bit more stable.
It has rubber feet, or more precisely, rubber ends, so it will be very stable on any type of surface.
Also known as a telescopic boom arm, this type of boom arm is a great option if you need it for singing purposes.
It also comes with a carrying bag and different kinds of universal mic clips, which is always a big plus.
The boom arm itself is extendable and removable, and it can also be positioned and moved within the range of 180 degrees.
Pros
Very inexpensive
Great if you need it for various uses
Easy to assemble
Very light
Cons
Too light for some mics
This type of boom arm takes up more room
8. Gator Frameworks Deluxe
Great for streaming
Stefan's Take:
I have tested the Gator Frameworks Deluxe with several microphones, including Blue Yeti and MXL770, and it easily withstands both. I didn't notice any bouncing or sagging, and the mic stayed in the position I had placed it initially.
This boom arm also includes an XLR cable hidden in its tubing for a neater look.
However, I do think you can find a boom arm with the same specs for less money.
| | |
| --- | --- |
| Compatibility | 8 |
| Maximum Reach | 8 |
| Load Capacity | 8 |
| For Streaming | 8 |
This suspension boom arm is one of the pricier ones here, but overall it's considered mid-tier pricing.
I am someone who always tends to go for the mid-tier prices with everything, so if you're like-minded, I've got your back!
Key Features
As you would expect with mic stands of this kind and pricing, the Gator suspension boom arm is able to rotate 360 degrees with minimal noise.
Another thing quite up to the standard is the cable, which is an XLR.
The maximum weight it can take is 4.4 lbs, so it will have good support for a wide variety of USB mics.
Like most mic stands, the connection threads are 5/8″-27, so it can connect with a wide variety of streaming microphones.
Pros
Very sleek design with internally routed cables
Metal boom arms provide the needed for sturdiness
Easily adjustable
Cons
You can't switch out the integrated cable
The clamp is not as good as the other parts
Conclusion
That concludes my list of the top eight mic stands for streaming. Here is a recap of the best three options:
RODE PSA 1 as the best overall,
Luling Arts Microphone Arm Stand as the best choice for Blue Yeti,
Samson MBA28 as a budget-friendly option.
I hope that my list has helped you find the right boom arm and that you're happy with the new equipment. Happy streaming!
FAQ
What kind of mic stand is best for streaming?
Depending on what is it that you're streaming, you'll be needing a different kind of a stand. If you mostly talk, then you can have a small, basic, tripod type of mic stand, however, for streaming games, you might like something more different.
Gaming includes a lot of keyboard usage, so something whit a shock mount and a mic boom arm might be a better option since you won't have anything in front of you getting in the way of your hands.
Also, you should consider the type of desk you have, and what will work best with your specific setup.
Where should I put my mic when streaming?
Your mic should be close to you, but probably not as close as it gets for singing. A distance of 4 to 12 inches is best, depending on what type of microphone you have.
Of course, it's best to play around and see what works best for you. Get your headphones on, go into your Sound settings, and try out how your voice sounds with different placements.
Another thing that you should do next time you stream, is asking your viewers for feedback.
A few "Do you hear me well now", "And what about now?" and "Can you hear the neighbors drilling when it's like this?" questions will be fun for everyone involved, and it will also ensure that all your future streams have great audio.
What is the best microphone stand for gaming?
The best microphone boom arm for gaming is one that won't be in your way while you game. This means that you should avoid the telescopic kind of boom arms, and opt for suspension boom arms.
Suspension boom arms are the ones that can be adjusted to your desk, and that can reach different lengths, so you can set it up however you like. Best prices for stands like this are usually around $50, so you don't have to worry about your budget too much.
If you want some specific examples, I would say that the best microphone boom arm for you would either be Luling Arts Microphone Arm Stand or the Samson MBA28-28" Microphone Boom Arm.