Today we talk about the best possible options for all of you gamers and streamers out there when it comes to boom arms.
When you think about microphone boom arms, the first thing that comes to mind is the quality-price ratio.
Therefore, we have prepared a list of products for you to choose from, that through our rigorous testing turned out to be the best on a certain budget. Thus, let's end the small talk and jump straight to the point.
Post 7 of 7 in the Mic Stands
Best Boom Arm for Streaming and Gaming
Reviews
As I said above all products that are on our list went through thorough testing, so that you, the buyer, can choose from this list with ease. But always have in mind that everybody likes and needs different things. My advice is to choose wisely so you can avoid any inconvenience.
QUICK OVERVIEW: Best Boom Arm for Streaming
Two desk mounting options
3/8-inch thread adaptor

Desktop Mount: C Clamp
2.98 pounds

Total Reach: 38 inch
Weight Capacity: 3.5lbs
1. RODE PSA 1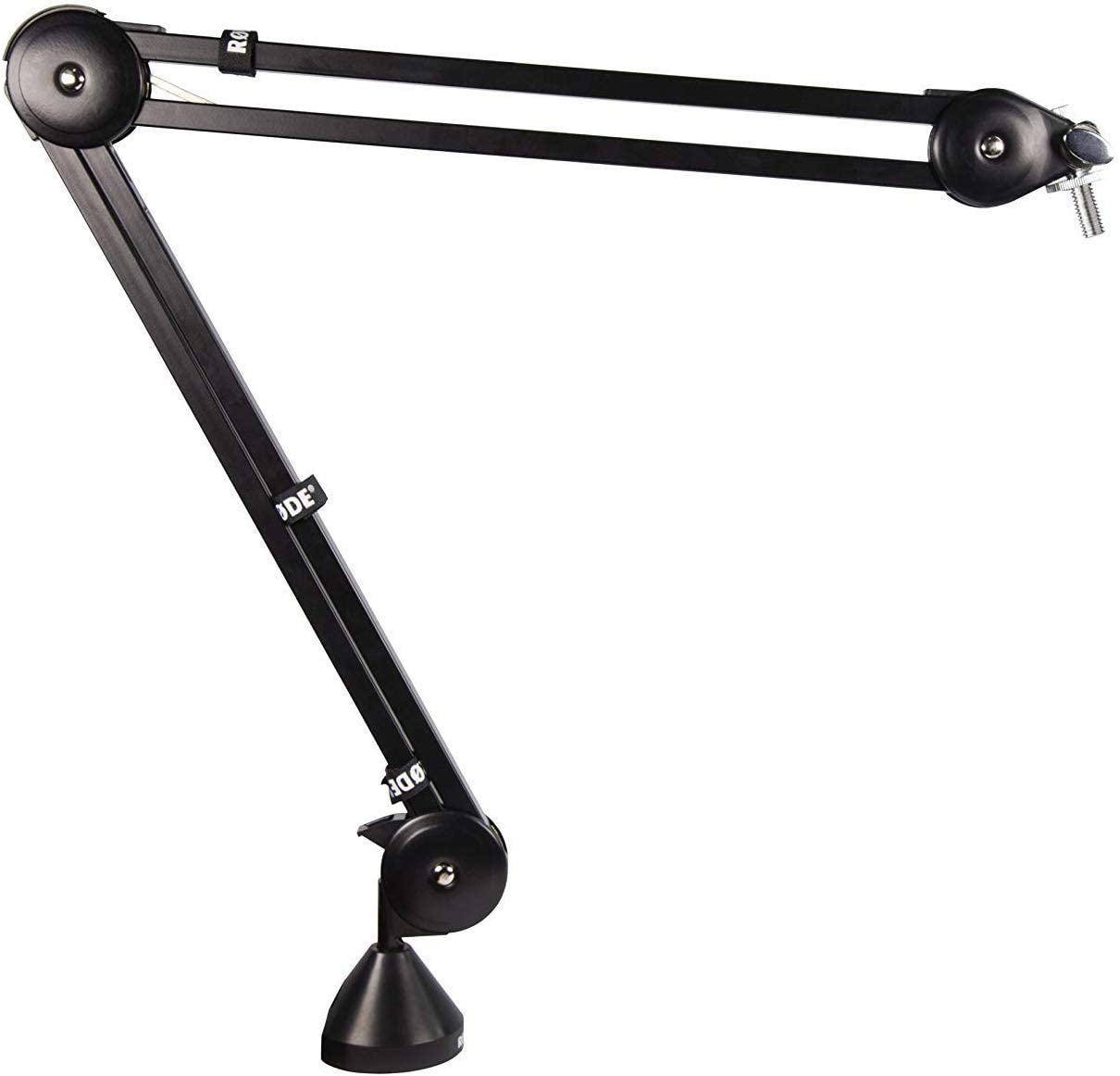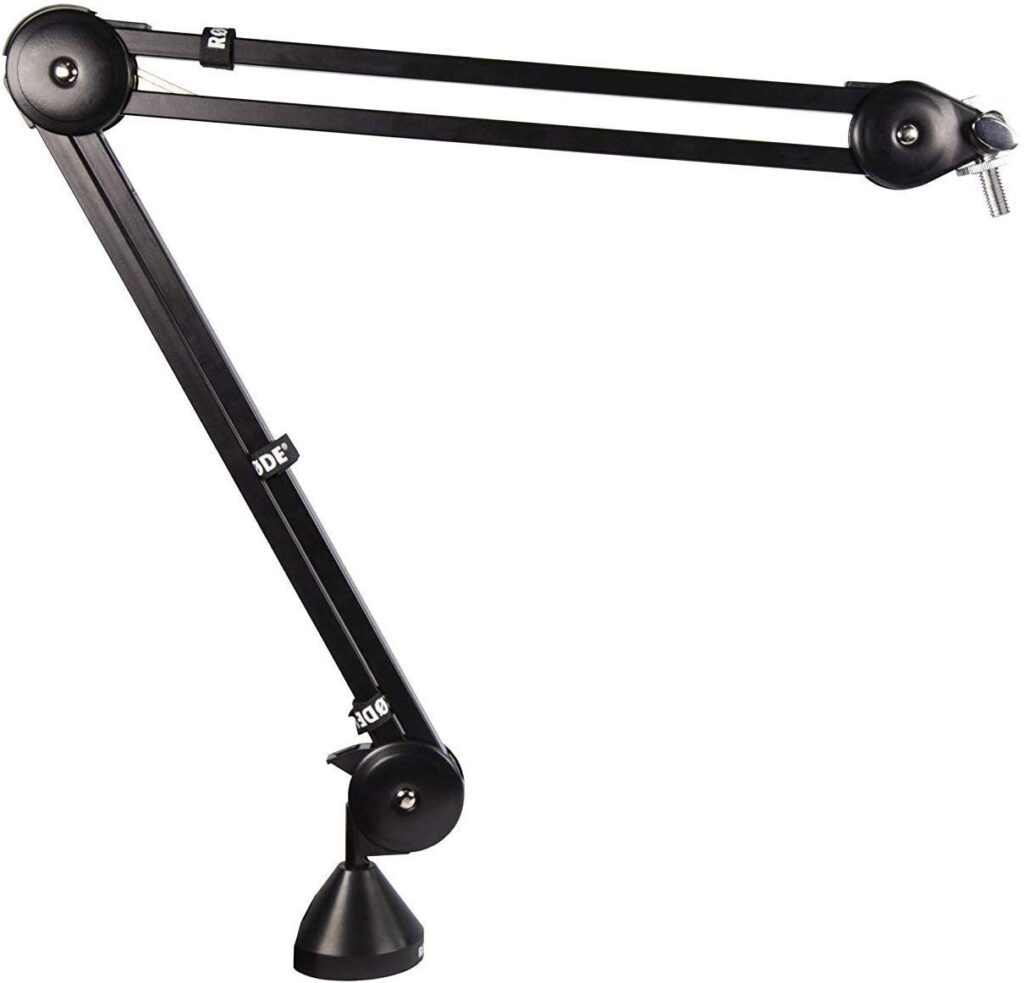 Here we are going over the PSA 1 microphone boom arm and we think is a good addition to your mic disc setup for gaming voiceovers and streams.
This particular product comes from the RODE company, a well-known company for their microphone making. This is a uniquely Australian-owned and operated audio company. RODEs mics are sold in 117 countries which makes it truly a global company.
Who is it best for?
The RODE PSA mic boom arm is a studio boom arm designed for studio and home recordings, gaming, and everything else that comes with it.
When you overall think about boom arms there isn't much of a difference between them regarding the design. The thing we looked after is the quality of the product.
Our main, if I can say, demand is that this type of equipment needs to last a certain amount of time (when I say certain I mean a long, long time).
These products are so simple yet they can make your job/hobby a lot easier. So basically, my advice to all the manufacturers out there, please just make your product durable, we ask nothing else.
Key features
The PSA 1 offers a horizontal reach of 32.5 inches and a vertical reach of 33 inches and a full 360-degree rotation dual-axis swivel mount for accurate positioning.
Together with its long extension and full 360-degree rotation it really gives you a lot of versatility with your particular recording space and recording setup.
The PSA 1 kit provides two desk mount options so you can easily mount your boom arm to your recording space. You can either use the included desk clamp or the screw-in desk attachment for a more permanent solution.
Weighing roughly around 4 pounds this boom arm has a very durable fill and supports most mics weighing between 1.5 to 2 pounds when combined with the shock mount.
Now if you are wondering if this RODE boom arm will work with your microphone, it does come with the standard 3/8-inch thread adapter which is the universal standard for most microphones. But it does also include a 3/8 inch to 5/8-inch thread adapter for larger microphones as well.
Lastly RODE does include Velcro cable wraps so you can wrap your mics cables neatly to the boom arm in order to reduce cable clutter on your desk space. What more can you wish for.
---
2. Blue Compass Premium
Now we have the Blue Compass that claims to be the best studio-grade boom arm for your Twitch streams your podcast and your YouTube content creation. If you are not familiar with the company they make a lot of mics that are USB and XLR based (you've probably heard a few of them like the Yeti or the Ember). But is it really the best boom arm in town, let's put it to the test and see.
Who is it best for?
As I said above this premium blue boom arm is best for any of you who are striving to have the best equipment when it comes to audio recording/streaming and all of that.
The company claims that this is the most versatile and one of the quietest boom arms out there, and after we tested it I can say with appreciation that they are absolutely right.
Therefore, if you are an active streamer and you have to move your microphone boom around a lot to different positions to suit your needs that this is the best microphone boom arm for you because it doesn't make any sound at all.
This particular boom arm mic stand will absolutely get the job done when it comes to holding your mic and clearing your desk space.
You will definitely be able to record/produce good quality audio with the microphone that you can attach to your mic boom arm.
Mainly this product can suit all your needs no matter what your occupation is at the given moment. That being said, we can jump to the key feature part where our testing is displayed and you can better grasp the specs of this product.
Key features
The first thing you guys need to look out for is the adjustment of this product, this isn't a classic plug and play.
A lot of you actually don't know that you have to adjust the tension throughout the entire tube. The way you can do this is by adjusting the bottom end screw at the base of this unit. You need to do this if you don't want your boom arm to move away when you are not holding it.
The blue compass is a very sturdy enclosed aluminum body design which means all the springs all the plates all the bolts are enclosed inside this aluminum body adding to its slick design.
This was the first thing that came to my eye, and the thing I liked most and thought that is the best feature that this product gives you.
Also, the Blue compass has a hidden cable management system. Simply just run your XLR cable through there or any other audio cable that you're using it for and just pinch it down.
It is also sporting a nice 360-degree smooth rotating base which was simply awesome from my perspective because it makes no sound at all as it rotates (this is very important if you are looking to make good quality audio).
It has a maximum reach of 32 inches and the compass can also hold a maximum weight of 2.4 pounds. It also comes with 5/8 inch threaded bolts on the end for your mounting options, but also if needed it comes with the 3/8 adapter.
The next thing they did right is that it's not only for the Blues own mics. Due to the threaded bolts it can fit a wide variety of different mics and cradles so you can have the best possible experience.
---
3. On-Stage MBS5000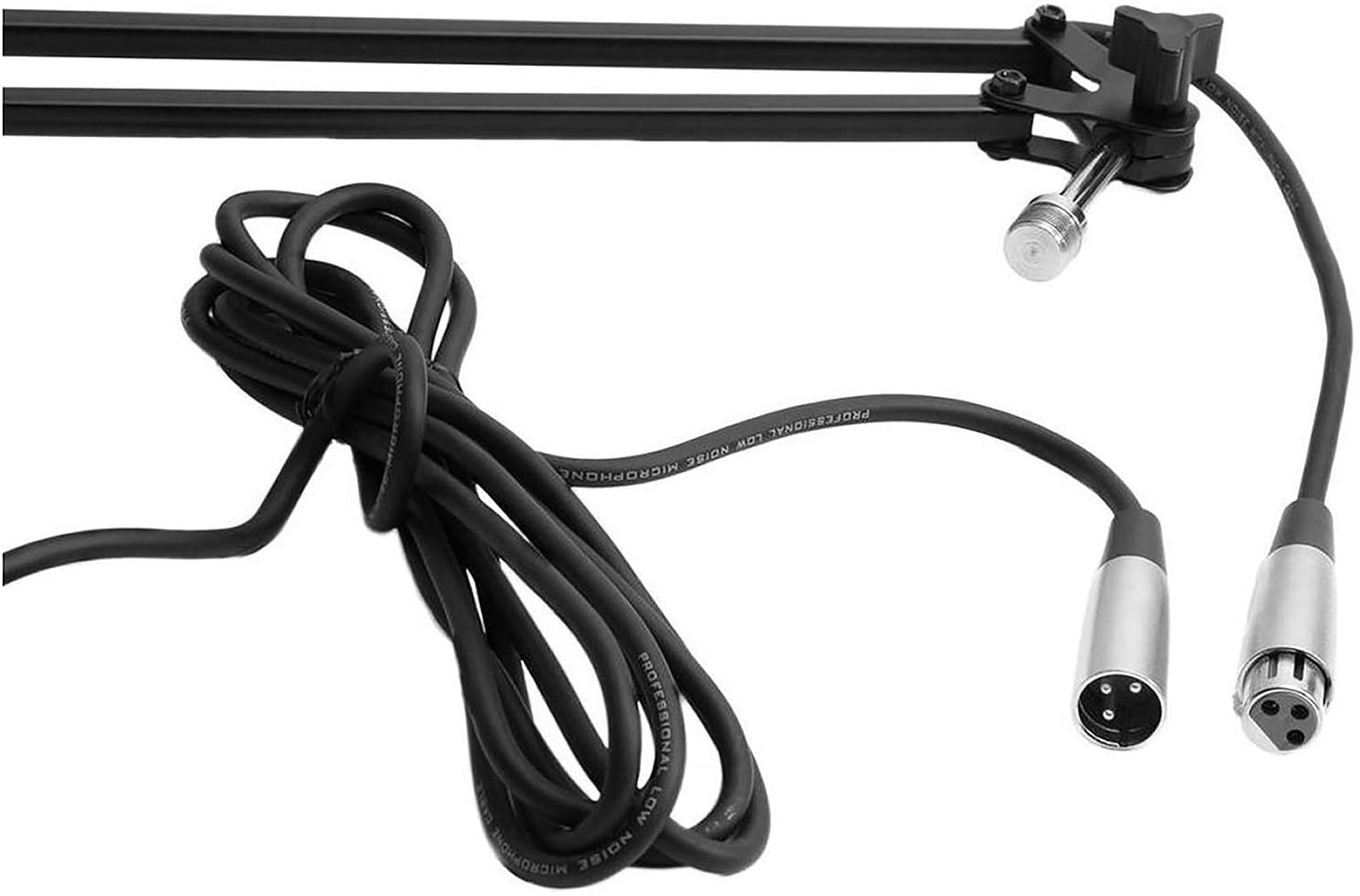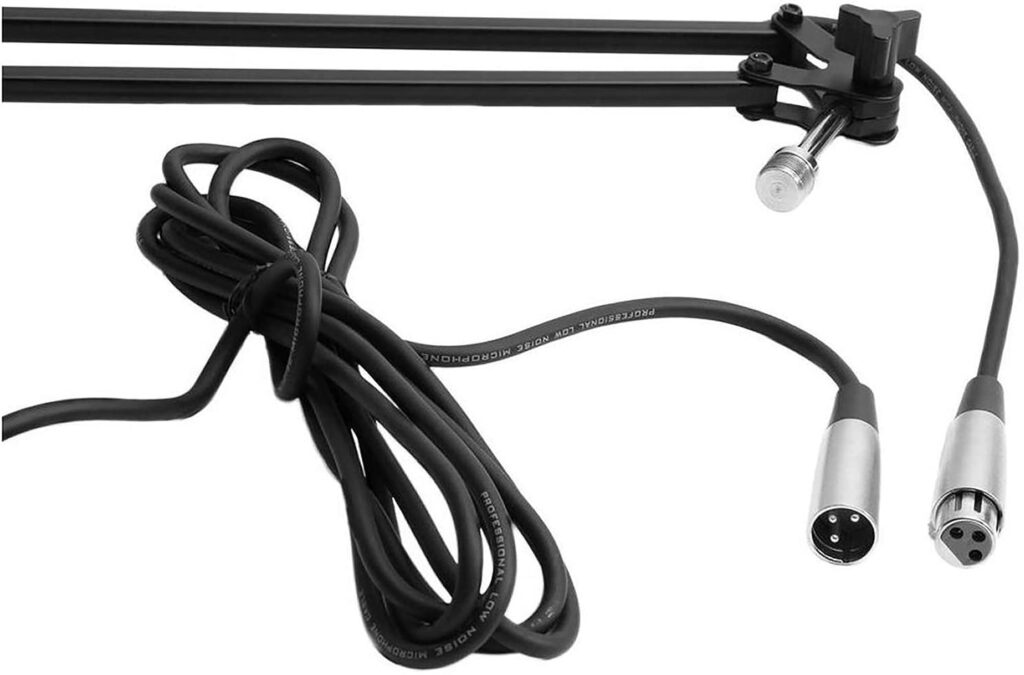 For the third product on our list, we have the On-Stage company's mic boom arm. The On-Stage company is well known for making audio gear and one of them is the one and only MBS5000. We have put it to the test to see what this product is all about, so you can make an easier choice when it comes to buying your own mic boom arm.
Who is it best for?
As you can expect this boom arm is designed for the studio environment, but you can use it in any way you seem fit.
The installation is very simple, you just put your mic on it, it has a standard 5/8-inch thread, and your good to go.
This is one of the most budget-friendly mic boom arms on our list. But being one of the cheapest doesn't mean it has to be on the bottom of our list. On the contrary, it's quite nice, even in the top 3 if you ask me.
I can also say that it is of good quality materials and won't break easily. The C Clamp that we used to attach it to the table-like surface did a really fine job and above all, we didn't need to make any holes in our desk to try it out. So a win-win situation for us.
Key features
The first testing that we put it through was the noise test, we wanted to see if it was really as good as they said (whisper quiet). The first test was a success; the product didn't make any noise whatsoever when we moved it around.
We tried every possible angle and it really was whisper quiet. This means you can easily produce good quality audio either when you stream or play games or any other occupation you seem fit at the moment.
The cool thing about this product is that you have multiple mounting options, personally, I am a fan of the C Clamp (grasping surface up to 2-inch-thick) but that might not always be the best option.
When this kind of product is new it can be a little stiff and if the C Clamp isn't properly attached it can loosen a bit. This might not be the problem for all of us but some may experience this (not all products are the same quality).
Initially, you can always choose a second option, and that is the grommet option (drill a hole in your desk). This will ensure that the boom arms won't get loose and will stay strongly attached to the desk.
Maybe the most useful thing (but take it with a grain of salt) is the build in 10′ XLR cable installation within the tube for a clean look.
It supports the standard 5/8 thread with all common mic clips and offers plenty of room for oversized shock mounts. The two springs provide just the right amount of stability and can support all the popular mics or other devices weighing up to 3.5lbs.
---
4. Heil Sound PL-2T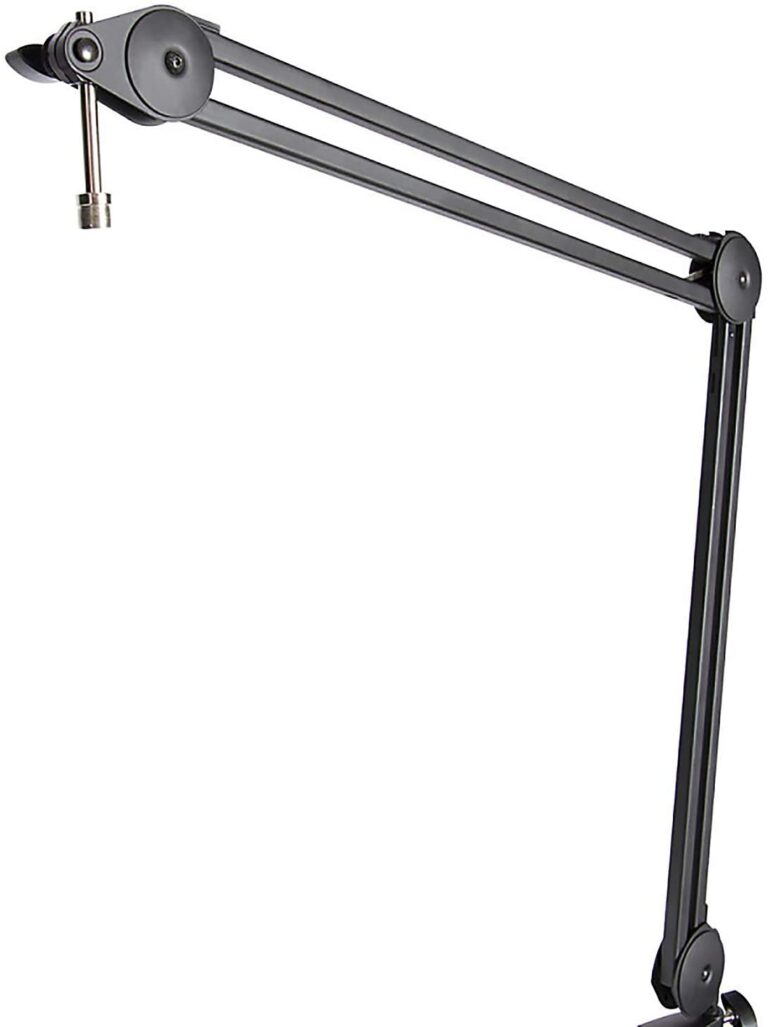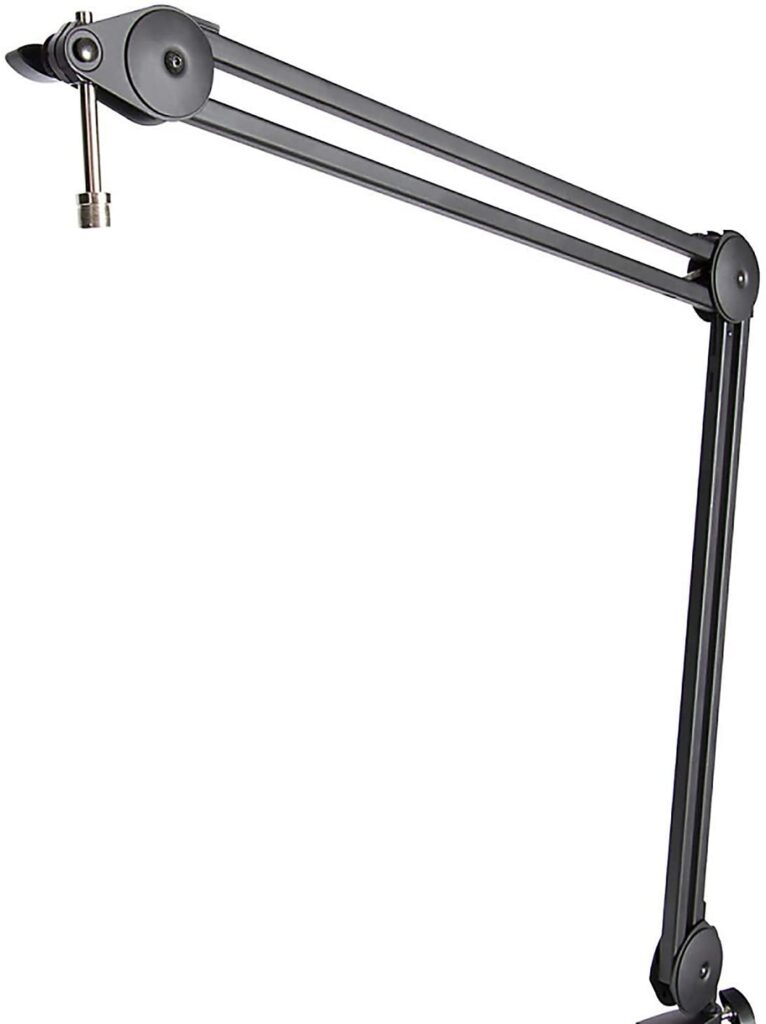 The next product on our list is from the Heil Sound company. This is a well-known modern microphone company, that doesn't only make mics as you can expect. They claim that their company is comprised of people that are passionate about producing superior mics and related products. And now we will just see if their equipment really is superior as they say.
Who is it best for?
Just like any other mic boom arm this also is designed for the studio environment. Like all, you can do with the mic is record music and do podcasts in the studio. When will they produce a mic boom arm intended for all of you streamers and gamers out there?
And don't get me wrong, this mic boom arm will definitely get the job done in the home environment. But I just don't like the advertisement part of these products when they say it's designed for the studio environment.
The good thing about this product is that it comes with the C Clamp mount so you can easily install it at your home set up without making any damage to the table. So even when you are done with streaming and gaming (if that is just a faze you are going through) you can use your table for a totally different thing.
Key features
Here I am going to take a closer look at the Heil PL2T and go thru all the key features that come with it.
First of all, I can say it's rather simple to set up thanks to the C Clamp. The next thing I noticed is the overall good quality of this product, it's really tough, rugged, and it should last quite a long time. This is the first thing that I want from products like this one, to last me a long time.
Because why wouldn't it, it's a very simple product they can at least make it of good quality materials so we can use it as much as we like.
The next thing I liked is that it has plastic cable covers at the top that you can run the cables under it. I must say I also liked the fact that you can change the mic's position from upright to any other position. You can just loosen the plastic screw and spin the microphone upside down.
So if you want your mic boom arm to be placed above your head you can just position the mic to hang down from below.
These were the good parts sadly I must say there are a couple of negative ones as well.
Basically, it doesn't go forward enough, it goes back a long way but when you pull it forward the back end stops at the 45-degree angle.
Personally, I would have liked if the back arm could go a bit further so I could bring the mic closer to me by another 6 or 7 inches, but for some reason, it stops at that angle.
The next negative part is, and this is maybe because it is new, it is quite stiff when you try to move it around with one hand. And because of that, the C Clamp can loosen up a bit so take this into consideration before buying this product.
---
5. Gator Frameworks Deluxe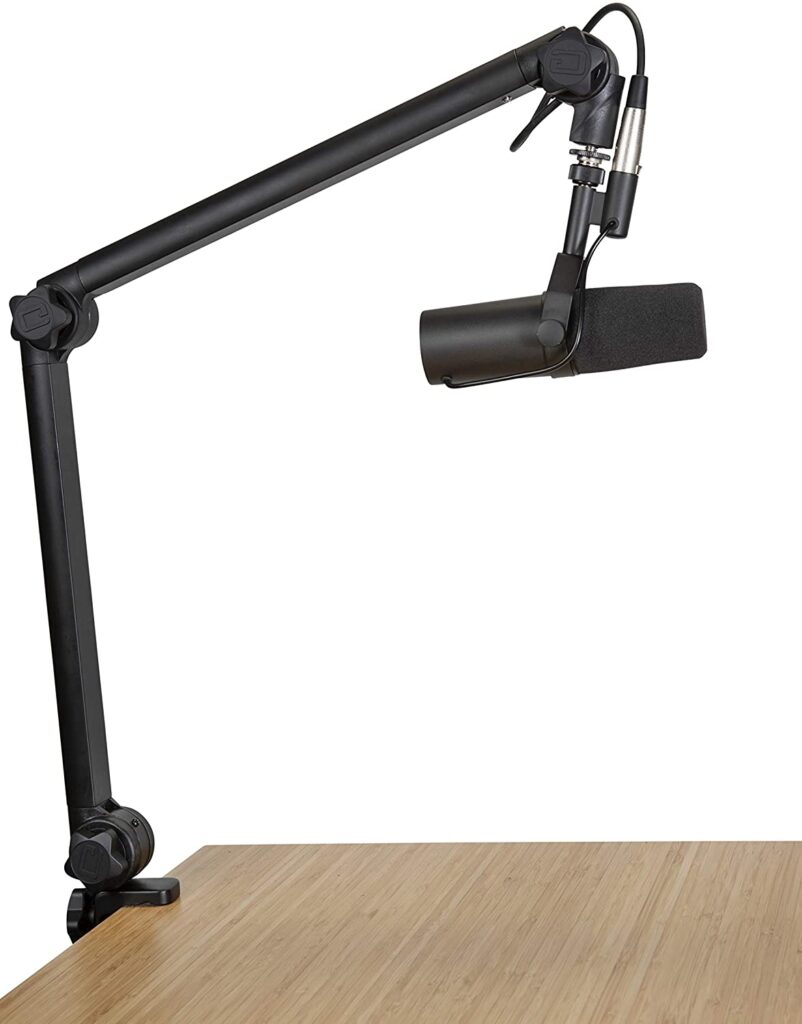 Gator Frameworks offers over 100 innovative types of stands, hangers, and other accessories for the music, audio, and home recording environment. And one of them is the Gator Frameworks Deluxe. Now we are going to put this pappy to the test and really see what is it all about.
Who is it best for?
There isn't much of a difference when it comes to this topic. I can just say it can either suit you at your home setup or your studio setup depending on your needs.
This can be the best microphone boom arm for all of you gamers out there. And don't get me wrong all the other products on our list can also suit all your needs. One of the reasons I would get this boom arm for gaming is because of its versatility.
I know when I play games I like to move my equipment a lot and I mean a lot (I can't ever find the right angle for my keyboard/all other equipment).
So if you also like to move your equipment around a lot this is the perfect product for you. You can move it as much as you like, you can rotate it at any angle (360-degree rotation) so you can find the perfect position for you.
Key features
When I first looked at it, the first thing that came to my eye was the enclosed tubular design. And above all the 10′ XLR cable is pre-installed and contained inside the tube, so everything looks clean.
The C Clamp is included but you can also choose between the 2 mounting options. The other one is the screw-in desk mount. The thing I concluded thru my testing is they could have built the C Clamp better. It can loosen up a bit because of the repeated movement.
The mic mount is 3/8 inch but also comes with the 5/8 adapter so you can have an easier time using it and is practically compatible with all mics and shock mounts.
The thing they got right is the spring that is loaded with tension adjustment, so you can lock it down if you don't want the arm to move.
The thing that worries me the most about this kind of product is the noise. And I can say this with ease that the operation is practically silent, so you don't have to worry about it when you record high-quality audio.
---
6. Neewer Desktop Boom Arm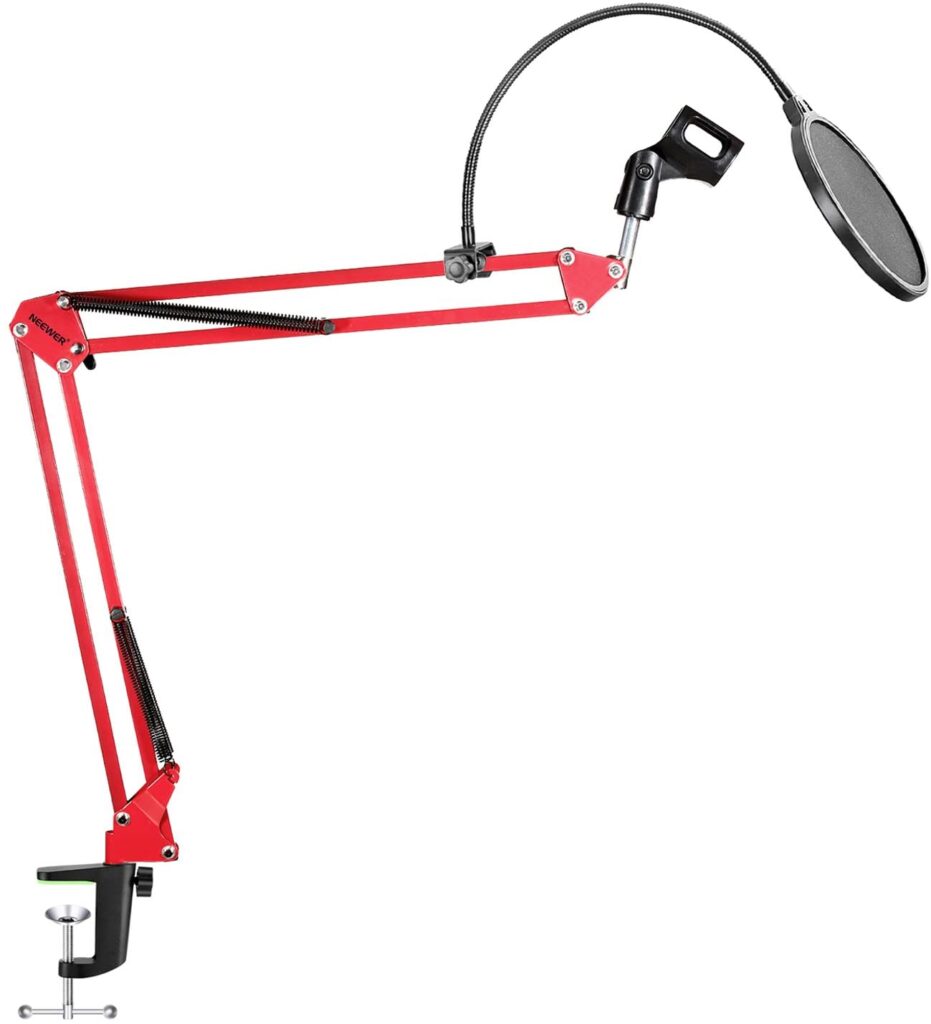 Here we have the Neewer companies Mic Boom Arm, this company aims to provide budget-friendly video and audio enhancement equipment for all people, allowing you to create your own projects with less money. Now we are going to see if this boom arm is up to the test.
Who is it best for?
This particular boom arm can't be even compared to the rest of the products on our list simply because of the price.
So if you are looking to buy a really solid boom arm within a certain budget this is the product for you. This can also be a good option for all of your beginners out there who are looking to start your campaign without spending too much money.
The rest of the products on our list are around 100$ and this product is only 16$. This necessarily doesn't mean it's the worst product. In my opinion it is better than half of the more expensive products out there.
This should definitely go into consideration for all you newcomers out there.
Key features
This product comes with the C Clamp which I can say is very well built; it grips to the table/desk very well (it doesn't move a bit).
The next thing we got is an arm that is very maneuverable and you can easily move your mic around. And above all at the top of the arm, there is an adjustable screw that allows you to move your mic from upside to downside position.
It also came with the shock mount, nowhere I've got the AT2020 but the shock mount doesn't seem to fit. It has a pinch collar that I tried to pinch down to get it around my mic and it's pretty tight (I could have forced it on my mic but I just don't want to scratch up my mic).
The cool thing about this product is even that it is cheap it has a pre-installed XLR cable, so you won't have to wire your own cables. It comes in all through the arm and is well hidden.
My personal opinion is that for the price you just can't beat it (it comes with all these cool features for only 20 bucks). Overall it's really well made, the things are holding in place the springs and the movement works well.
---
7. On-Stage MBS7500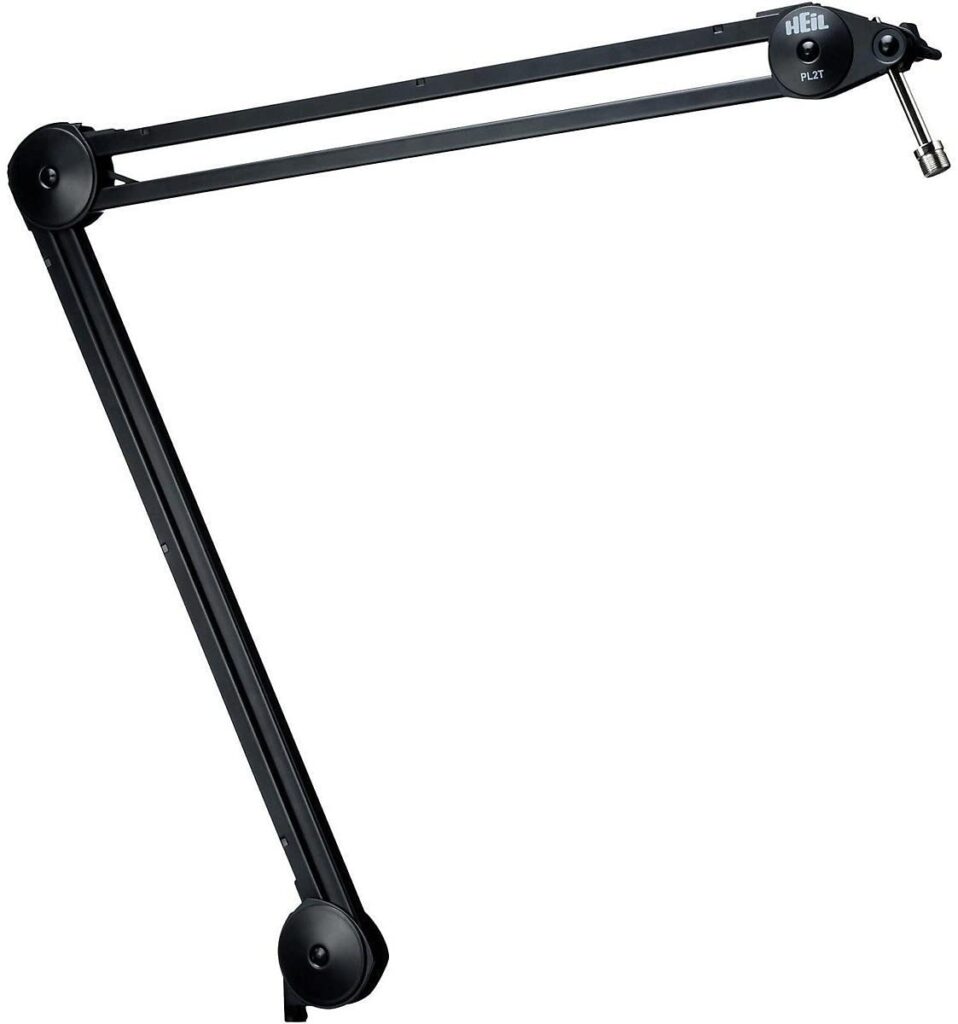 For the last product on our list, we have jet another boom arm from the On-Stage company. This being the last on our list doesn't mean it's the worst the positioning is totally random and this may be the perfect mic boom arm for you.
Who is it best for?
This mic boom arm is initially built for any suitable environment you choose. Its mechanical components are internal leaving a sleek contemporary look and takes up less space.
Therefore, it is suitable for your home setup. Either if you need it for gaming or if you are a professional or even amateur streamer this boom arm will fulfill all your needs.
To me, it looks and feels a lot better than the previous model that we have displayed on our list. So, if you can't make up your mind between these two products from the On-stage company I would suggest going for this one.
Key features
This is a classic piece that you can see in a lot of broadcast stations or radio stations. It offers an easy way to pull and push your microphone away from you as needed. It's very flexible since you can adjust it all over the place, side to side any way you want it (it can really make your job easier).
The microphone can also be twisted freely 360-degree so you can find the best position that suits you. It can be tightened down, but to me, the point is to stay a little bit lose because it has these springs so that you can really bring it anywhere you need it.
This product also comes with two mounting options. As you can imagine the C Clamp option and the screw-in desk option for better stability depending on what you plan to do with the boom arm.
The 20″ upper arm terminates with a swiveling steel stem compatible with all standard 5/8″-27 threaded shock mounts and mics. The steel tension cables work together to provide you with 150-degree articulation.
In general, it's very well built, I can't complain about the quality of the product, it's very sturdy and strong. As I said above this is a really superior model compared to the first On-Stage product on our list.
---
Things to Consider When Buying a Mic Boom Arm
1. Mount options (quality of the mount options)
To me, the first things you need to take into consideration are the mount options. For me personally, the C Clamp option is the go-to.
But there can be unwanted problems when it comes to the C Clamp, if it's poor quality your mic stand will loosen up and even fall apart, and then you will need to go for the screw-in desk option and that can obviously damage the table and who would want that.
So, first, check the quality of the mount option.
2. Compatibility
The next obvious thing to look for is the compatibility. You just wouldn't your mic to not be compatible with the stand, because then you will just waste money. Thus, always check for compatibility before you buy these kinds of products.
Conclusion
We have reached the end of our list, I hope that you guys could use some of the information that we displayed here and that you found it useful/helpful.
If I could pick one product from our list it would definitely be the Blue Compass premium, to me, it just left the best overall impression. Good buy and good luck to all of you streamers/gamers out there.
Related: Best Budget Microphone for Streaming
Frequently Asked Questions
We are sorry that this post was not useful for you!
Let us improve this post!
Tell us how we can improve this post?
Mic Stands
If you need to find other streaming gear, make sure to look at our Streaming Gear page. Here, you will find everything you need!
Post 7 of 7