Knowing who is watching your stream can be just as important as knowing the total viewer count of your Twitch account.
There are several benefits to these audience insights, from knowing when you are likely to get more viewers watching based on their time zone to knowing age range, preferences, etc.
This guide will explain several different yet effective ways to know who is watching your Twitch stream.
How to See Who Is Watching Your Twitch Stream?
There are several ways to find out who is watching your stream, each aimed at a specific statistic or group of statistics.
The data provided by these viewer stats can greatly enhance the quality of your game stream by showing you trends on your channel and what you need to improve to reach more people.
1. Using the Viewer Count
The first and simplest way to know who is watching your stream is by using the Twitch app viewer count ability. Here you will see some basic Twitch stats of your viewers, such as their total number in real-time and showing you the country they tuned in from.
The main upside of the viewer count is that it can be easily found, being right under the video player, and it can detect your viewers on Twitch whether they are logged in or not.
The downside, however, is that it is updated only once every several minutes or so, taking time to reflect the appearance of new viewers, and doesn't work as well on a mobile device.
In addition, the viewer count will not include any bots that you might have added to your chat or the server in general.
2. Using the Viewer List
Another simple way to find out who was visiting your Twitch channel and watching your stream is using the viewer list ability of the Twitch channel analytics.
This page allows you to see each viewer that ever tuned into your stream, whether they are currently active or not.
The main benefit of this feature is that you can have easy insight into your performance stats, average viewers count, and a complete list of people watching your streams.
Another important thing to note is that the viewers will need to first log in to their accounts before visiting your stream to connect to the chat; otherwise, they will not be seen on the viewer list.
If you want to see who is watching your stream in more detail, a channel analytics tool can be easily accessed from this page. You will find several categories in it, such as the average number of viewers, number of new followers and subscriptions, etc.
3. Using Twitch Live views
Twitch live views are an excellent way to gauge the overall popularity of your channel. Not only that it provides you with the exact number of views you had in total, but it can also do a whole host of other stream analytics-related things.
Some of the options provide:
Finally, there is the Unique viewers tab, which will only display each account once. Unlike the regular Twitch viewer count, this option will show you the total reach of your stream.
4. In SLOBS
If you are using OBS Streamlabs as your streaming software of choice, do not fret. There is a simple way to add a viewer count to your platform. All you need to do is go to the widgets page of your Streamlabs account and find a viewer count you like.
Many different widgets are created for this purpose, with varying capabilities, but the installation is relatively simple regardless of which widget you choose.
First, select the viewer count and then adjust it to your needs. Features such as font size, type, and color are adjustable, making the viewer count look more in tune with the rest of your stream.
Afterward, take the viewer count URL and save it somewhere, as you need it for the next steps.
Go to the sources page of your OBS platform, and add a new source, your Browser, as that is the program that will be using the URL. Name your new viewer count whatever you like, then connect it to the URL of your viewer count, and click save.
The SLOBS viewer count should now be active if you have done everything as intended.
5. On mobile
Last but not least, the number of mobile Twitch streamers has grown tremendously over the last few years as mobile games keep growing in popularity.
Unfortunately, that doesn't mean that you can actively search your Twitch stats when streaming from a mobile device.
However, the views achieved when streaming on mobile will still count towards your account's total progress, so the next time you turn on your stream on a desktop, you will be able to see who watched you.
How to See Who Watched Your Stream Once It Is Over?
If you want to see who was watching your stream after it was finished, for example, if you were streaming from a mobile device, there is a simple way to do that through your stream summary page.
The page will contain the date and time of every individual stream you did on your channel, with separate, in-depth stats for each one.
Stats such as the number of new and existing viewers and any numerical changes to your follower's list will be shown here.
Furthermore, you will be provided with charts for that specific stream instead of your whole Twitch account, which includes average viewers, new followers, max viewers, and more.
Another great thing is the top clips page, which selects up to five most viewed clips from any stream you select and shows them to you neat and organized manner. You can use this data to increase the number of people connected to and actively watching your stream and even spot view bots at times.
Finally, this is where you can find the Achievements page, tracking progress on any Twitch achievements you may be interested in.
Overall, the stream summary page provides incredible data on your viewers and even tracks where your views come from, including other platforms such as youtube.
Checking Followers on Twitch
The easiest way to see who is following your Twitch account and the entire follower's list is by using the creator dashboard found either in your Twitch app or on the app's website.
To access the dashboard, you will first need to login into your account, then select your profile icon on the top right of the screen.
Once you have navigated to the dashboard, look for the followers list page. It will be listed as a part of the Community drop-down menu.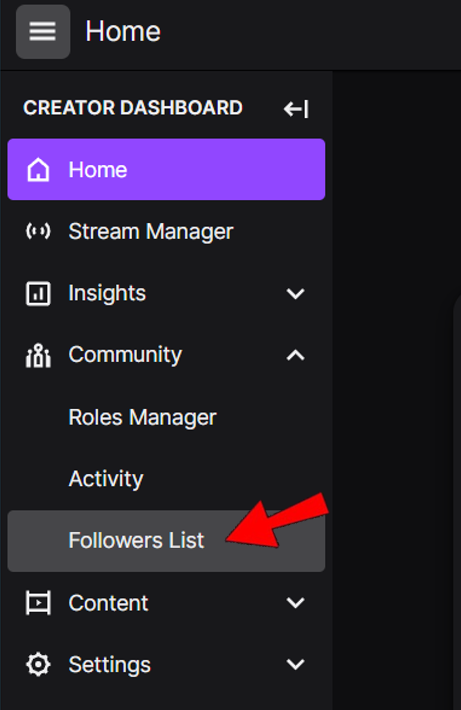 Additionally, you can check the stats on your dashboard to track any Twitch unfollowers. The usefulness of this tool must not be understated, as it gives you a way to know who disliked what you are streaming, giving you an insight on how to keep your remaining followers and grow the channel further.
Recognizing View-Botting
Many Twitch channels, regardless of their overall popularity, have been hurt by the existence of Twitch viewbotting.
The viewbotted channels lose their credibility, making actual new people less likely to follow them. Furthermore, view botting can sometimes even cause already existing followers to stop watching the channel.
Luckily, there are several ways in which you can spot these bots yourself, from checking for randomly generated names to looking for followers and viewers showing in a regular, consistent pattern.
For example, if a channel is getting a follower every several minutes, or five followers per hour for an entire day or even while they aren't live, it is likely that this channel is botted.
Another thing to know is that not every botting scheme is the channel owner's fault. While some streamers will use view bots to boost their stream artificially, these views can also result from a deliberate attack, usually by supporters of a competing streamer.
Lurkers
Finding lurkers are viewers who are actively watching your stream but do not appear active in the chat. These people usually watch several streams at the same time or play a video game while having your stream open in the background.
The important thing about lurkers is that they aren't actively hurting your stream. While you are unlikely to earn money from them via donations, they are still real users contributing to your viewer count and can make your Twitch stream popular overall.
And since you aren't hurt by their decision to lurk on Twitch, you should let them do it, occasionally attempting to entice them into joining the chat.
Conclusion
Knowing who is watching your Twitch stream is a very important step to success. It can improve your maximum viewer count and make your streams more consistent.
In addition, following the activity of your Twitch viewers can make it easier to create a youtube gaming channel and reap more significant benefits from Twitch affiliate programs. 
FAQ
Can you see who's watching your stream on Twitch?
There are several different ways to view who is watching your stream, depending on which platform you are streaming on and what you are looking to analyze. The potential of this feature is immense, and you should learn how to utilize it.
Is lurking bad on Twitch?
No, there is nothing innately malicious to lurking on Twitch. While lurkers are less likely to donate money to the streamer, they are still real people and might become more active as they continue watching the stream.
Does lurking help streamers?
Simply put, lurking is one way to get new viewers on Twitch. Many people will lurk on a stream for a while before they become active, and there is no downside to lurkers, who are real people, unlike followers provided by a viewbot.