Most streamers are fans of the Elgato cam link that provides them with perfect HDMI capturing, but this product tends to be very expensive, and you can really find great alternatives for half the price.
In case you want to get similar results but don't want to spend hundreds of dollars on your cam link, then you are in the right place. And to save you some time, BlueAVS is the best Elgato Cam Link alternative you will find out there, and I will explain why in this article.
I have tested some of the best Elgato cam link alternatives, and I'll try to offer some cheaper alternatives that will do just the same job without you breaking the bank.
QUICK OVERVIEW: Elgato Cam Link Alternative
HDMI video and audio
4k resolution

4k HDMI output
Low latency

Great UVC protocol
HDMI input of up to 4k 60Hz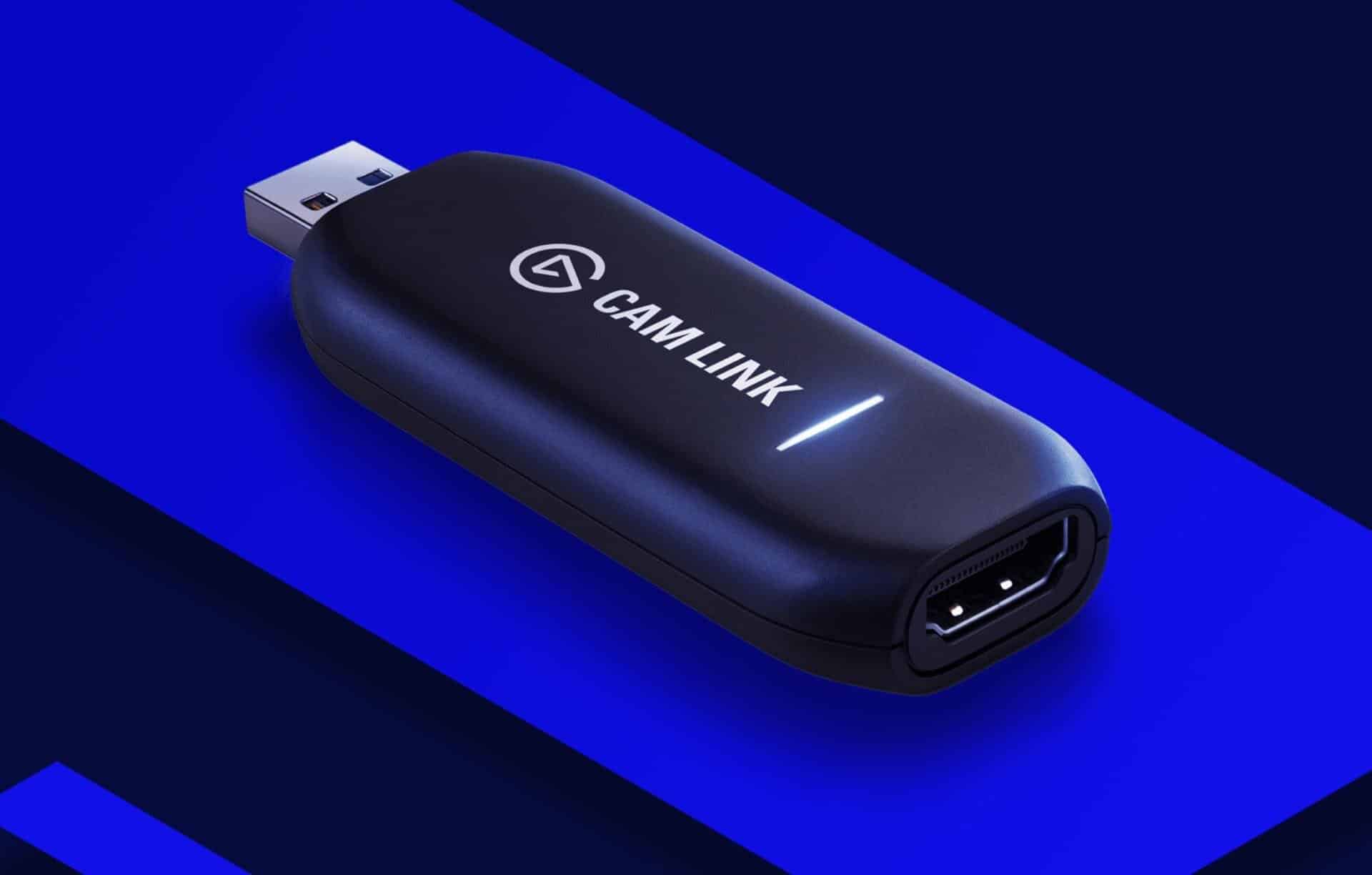 Best Elgato Cam Link Alternative
Tested & Reviewed
1. BlueAVS Card
Best Elgato Cam Link alternative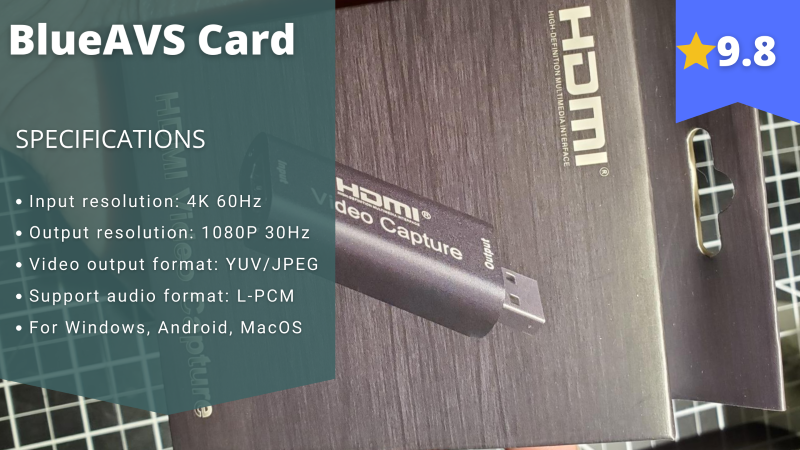 Stefan's Take:
In my opinion, the best alternative for Elgato Cam Link is BlueAVS Card. It's in the same price range, with just as many features as the Elgato one, if not even more.
I like its versatility – it worked on my PC and console, and I connected it to my DSLR camera without any issues. Moreover, it has an amazing output resolution and supports several video and audio formats.
| | |
| --- | --- |
| Compatibility | 10 |
| Latency | 10 |
| Video Resolution | 10 |
| Value | 9 |
This Blue AVS HDMI capture card is the choice of many streamers and gamers because it can support the 4k input resolution and give an output resolution of 1080p, almost the same as the Elgato one.
You can easily connect this video capture device to your PC, whether Windows or Mac, to your camcorder, action cam, or DSLR.
It can give you real-time feedback and provide you with access to many different tools that will allow you to control the whole experience with just a few clicks.
The HDMI output you will receive with this device is perfect, and you can connect it to all video devices there without problems.
One of the best things about it is that it can capture HDMI video and HDMI audio without problems, which is something not all capture cards have.
Even though it is a great option for streaming, many people also use it for teaching, medical imaging, and similar things.
Since it is built from special aluminum, it is also very enduring, so you will definitely get great use out of it.
This video capture card is not much cheaper than the Elgato can link, but I really believe it will give you better results merely because it is very long-lasting, and you can be sure it will work for years without problems.
In my opinion, this is the best Elgato cam link alternative and a capture card I would purchase for myself.
Pros
Enduring
Perfect HDMI output
HDMI video and audio
Wide compatibility
Cheap
2. Rybozen Capture Card
Best for DSLR cameras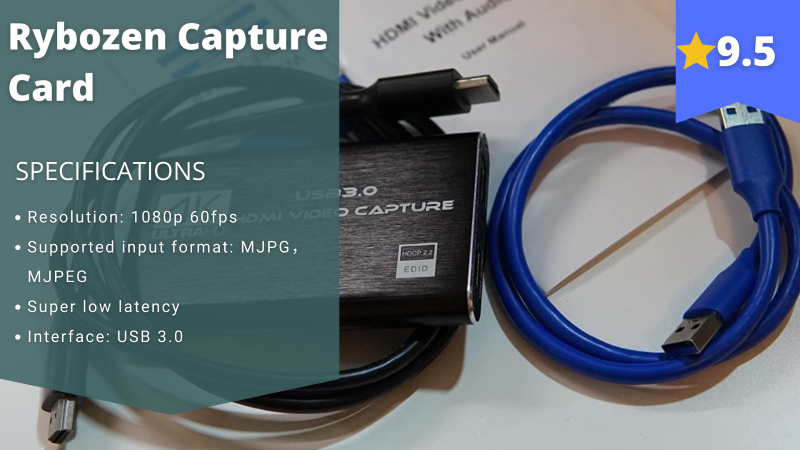 Stefan's Take:
I have tested Rybozen Capture Card with several devices, and while it's compatible with a variety of them, I was simply impressed by its performance with my DSLR camera. The setup was super simple, and you didn't have to install any extra software.
Also, I liked that I could stream directly on Twitch, Facebook, or YouTube, and there were almost zero delays between my stream and gameplay.
| | |
| --- | --- |
| Compatibility | 9 |
| Latency | 10 |
| Video Resolution | 10 |
| Value | 9 |
This is an HDMI video capture card that is highly coveted on the internet, and you have probably seen many people in the gaming niche using it too.
It is compatible with every video device you can think of, and it has a 4k HDMI output which is something you don't find on all capture cards. Moreover, it supports USB 3.0, which adds to its versatility.
Unlike the Elgato cam, this video capture card will allow you to start streaming and saving your videos directly to the hard disk of your PC.
It has a high transmission port that will make streaming in real-time a lot easier, and it will significantly improve the performance of your webcam.
This is also the reason why so many Youtube creators decide to use it, and even the audio you will receive with this one can't be compared to other capture cards on the market.
I got the best results with a DSLR camera which proves that its HDMI signal is suitable for streaming apps like Twitch.
It will also provide you with low latency, which is crucial for live streaming, and in case something happens, you can always reach out to their customer support and solve it.
If you have a new camera, then this is definitely the best choice for it because it is extremely reliable, and the live broadcast will go smoothly.
Even though it is not extremely affordable, it is still a great product and worth the extra cost. Especially in the long run, since it's very durable and will last you for years to come.
Pros
Great for streaming
High transmission port
Low latency
3. UCEC CAM NOVA
For high-quality output video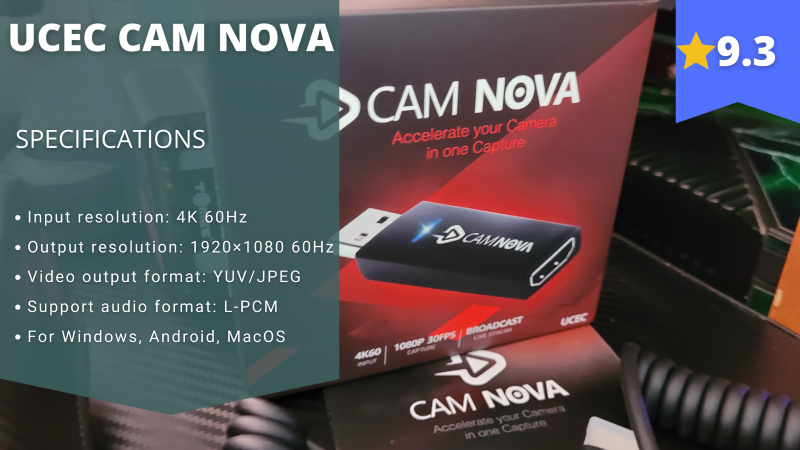 Stefan's Take:
When I started streaming with UCEC CAM NOVA, I was quite surprised by the video quality. I knew that the output resolution was 1920x1080p, so I expected a sharp, clear video, but the quality was far better than expected.
Another feature that caught my eye was a slot for a microphone. While I didn't need it, I tested it for the sake of science, and the output audio quality is decent.
| | |
| --- | --- |
| Compatibility | 9 |
| Latency | 9 |
| Video Resolution | 10 |
| Value | 9 |
The UCEC HDMI video capture card is also one of the most popular capture cards you will find on Amazon and similar retailers, and it can definitely work as a cam link for your Elgato cam.
This HDMI input this device can support is up to 4k 60Hz, which is regular among these devices, and it can provide you with an HDMI output of 1920×1080 60 Hz, which is really not the output max resolution, but it will work fine.
It is a great option for people who plan to engage in a live stream and need a good UVC protocol that will enable a high-quality video and image.
Many streamers wanting a flawless picture opt for this device because even though it doesn't have the highest output resolution, it is a great capture card that will make your video look amazing on all devices you can think of.
You will also receive two HDMI cables that will be used both for input and output, and they will be able to connect you with different webcams easily, including your Elgato cam.
When using this capture card, you will also be able to connect it to an external microphone which is really a great option for everyone, especially for streamers and Youtube creators who need both HDMI audio and video output.
The company provides you with a 1-year warranty, and they guarantee to get your money back in case you are not satisfied with the device, which is really an amazing thing.
Pros
Great UVC protocol
Works great with all webcams
Supports an external microphone
1-year warranty
Cons
Expensive
Only for professionals
4. IPXOZO
Capture card with fast technology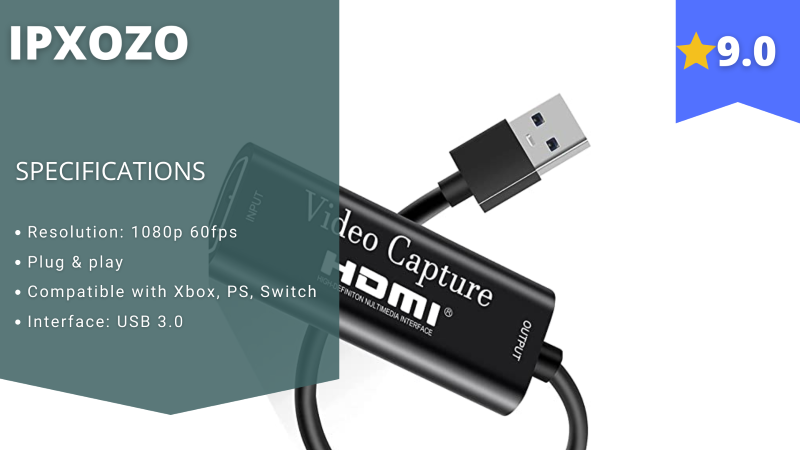 Stefan's Take:
My favorite feature of the IPXOZO capture card is the fast technology – streaming with zero latency while keeping the good quality of the videos will be appreciated by all competitive streamers.
This is another capture card with plug & play technology, so the setup is straightforward since no external drivers or software needs to be installed.
| | |
| --- | --- |
| Compatibility | 9 |
| Latency | 9 |
| Video Resolution | 9 |
| Value | 9 |
CHECK IT OUT
The IPXOZO capture card is probably the most popular HDMI video capture card on the market, and it is really a beast.
It is suitable both for Windows and Mac devices, has an HDMI converter, and can completely transform your gameplay, and especially your streams.
This device has high-speed USB technology, and it will provide you with an HDMI loop-out port which is something you will rarely come across with other capture cards.
It is based on simple plug-and-play technology, so you really won't need to install the software to start using it.
The USB technology will provide you with an extremely fast response, and it will allow you to pass through the information a lot faster than you would be able to do with regular capture cards.
It can capture one HDMI signal and give an HDMI output of 1080p but also support any third-party software that will capture the HD video, and those are some pretty cool stuff you don't come across often.
It will work perfectly with the Elgato cam, and you can easily use it with any computer, so I really believe this is something most people in the gaming niche should look out for, and it is a great Elgato cam link alternative.
Pros
HDMI converter
Wide compatibility
3.0 USB technology
Simple plug technology
Cons
Only for streamers and gamers
5. LEADNOVO
Great for beginners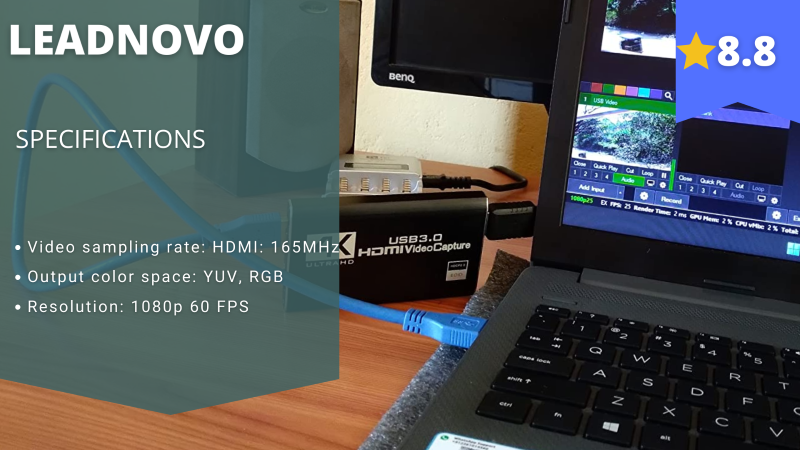 Stefan's Take:
LEADNOVO capture card features USB input and output, HDMI loop-out port, and it's widely compatible with different devices and OS.
You do have to install the software before using it. However, it's super simple to download and set up, and I think even beginners would easily navigate it.
Considering the features and the good video quality, I would say it's worth all the money spent.
| | |
| --- | --- |
| Compatibility | 9 |
| Latency | 9 |
| Video Resolution | 9 |
| Value | 8 |
This Leadnovo video capture device is an amazing portable video converter that is usually used for streaming and filming Youtube videos.
Even though many people completely ignore it when looking for the Elgato cam link alternative, this is probably one of the best cam link options on the market these days.
It has both the USB output and input system, which means you can connect it with any device you want, and it has only one HDMI input which can still be good enough for people who are not complete professionals in their field.
This one also has the HDMI loop-out port, and you will really enjoy the experience while using this amazing device.
It comes with one HDMI capture card and USB 3.0, and even though you need to install the software in order to start using it, you can easily do that through Google.
This capture card is also a lot more affordable than others I have mentioned before, and most people who are beginners in the streaming industry opt for this one.
However, it did cause problems with the latest Xbox series, so be careful if you plan on using Xbox consoles. The same goes for Mac devices.
Your play will still be of high quality, and it will work with different webcams, so I really recommend using this product if you want to start your own stream.
Pros
Wide compatibility
3.0 USB
HDMI loop-out port
Cons
Doesn't work great with Mac and Xbox devices
6. KKF Capture Card
Best for professional streamers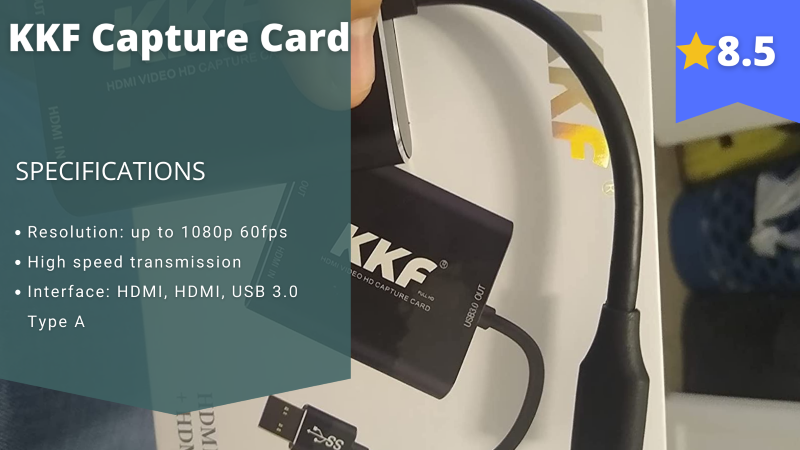 Stefan's Take:
Right from the get-go, I was amazed by how well the KKF capture card works. The resolution of my videos was superb, even when I was streaming using my webcam. Also, I didn't notice any lags or latency.
Considering that the capture card is compatible with different consoles and operating systems, I think it's a good choice for anyone, especially competitive streamers that need one compatible with different devices.
| | |
| --- | --- |
| Compatibility | 8 |
| Latency | 9 |
| Video Resolution | 9 |
| Value | 8 |
The KKF capture card is another capture card that provides the 4k output needed to create high-quality streams.
It is considered to be one of the professional video capture cards, and it can really elevate your stream and play to another level, especially if you have great input quality too.
The product comes with a USB 3.0, which will provide you with amazing speed and create a seamless experience.
Just like most other capture cards, this one also comes with HDMI input and output ports, and it will make your live streams on Twitch or Youtube perfect. The best part is that you won't need to plug in anything or download other programs in order to get a better-quality video.
Moreover, it can create an HD video no matter how good or bad your camera may be, and that's what makes it an amazing product.
It also has wide compatibility so that you can use it with all Windows and Mac devices, but also products from PlayStation and Xbox series.
The KKF capture card is also within the same price range as the regular Elgato cam link, so if you are looking for an HDMI capture card that is a bit more affordable, this probably is not the right option for you.
However, it is still an amazing capture card, and I highly recommend it to everyone, especially people who are willing to invest some money and become professionals in the streaming industry.
Pros
Affordable
Wide compatibility
HDMI loop-out port
3.0 USB
Professional capture card
Cons
Doesn't have an HDMI splitter
7. StarTech Adapter
Widely compatible capture card
Stefan's Take:
The biggest advantage of this capture card is the multiple ports which result in great compatibility with different devices.
I tested it with my PC, console, and camera and didn't notice any difference in its performance. Video quality was consistent, and the setup was straightforward.
| | |
| --- | --- |
| Compatibility | 9 |
| Latency | 8 |
| Video Resolution | 8 |
| Value | 8 |
CHECK IT OUT
This USB 3.0 to HDMI adapter is compatible with a wide variety of devices, which is probably the most important thing that you would search for in an adapter.
You can connect it to a lot of devices, and that includes projectors, TV, monitors, notebook computers, PCs, graphics cards, HDTV, and any type of audio/video device.
The USB connector is a Type-A port, and it can work with up to 4K 30Hz UHD. You can easily increase your productivity, as you can turn on extended mode with 2 displays, including your computer's screen. 
Of course, you can add more USB-A ports in order to have additional HDMI screens.
As it is compatible with a lot of types of devices, it's very easy to set it up and get it to work, so you probably won't have any problems, even if you've never worked with an adapter before. There's really not that much to it.
Devices like this one are lifesavers when you need to work with multiple monitors, as they work like USB external graphics cards. With this one, you will have great high-definition graphics on both of your monitors.
The adapter is also very lightweight, so it won't cause any significant additional clutter on your workstation. It can only increase your overall productivity levels, especially since it's able to get the resolution to be 4K.
Pros
Very lightweight
Compatible with a lot of devices
It can make 4K resolution
4GB RAM size
Cons
It gets hot fairly quickly
8. PENGO 1080p
User-friendly capture card
Stefan's Take:
What I liked about the PENGO capture card was the simplicity of the setup process. It's a plug & play device, so there is no hassle of installing additional software for a capture card.
When it comes to other specs, it's quite similar to other alternatives on this list: solid input and output resolution, good compatibility, and minimal latency.
| | |
| --- | --- |
| Compatibility | 8 |
| Latency | 8 |
| Video Resolution | 8 |
| Value | 8 |
If having everything be in 4K is on the top of the priorities list, but so is getting a frame rate of 60fps, then this might be the device you should look at. Something that doesn't happen a lot when it comes to video graphics, so if you've wanted it, here it is.
When it comes to compatibility, you can use this device with computers that have at least Windows 8.1 and higher, and if you're an Apple user, then you can get it for Mac OSX 10.10 and above. A great thing to know is that this also works on Linux devices.
As audio input can be quite important here, too, you should know that the audio input that this one handle can be 16-bit PCM encoded audio, that's at a wide variety of different sampling rates – 32kHz. 44.1kHz, 48kHz, 96kHz, and even 192kHz.
This is a plug-and-play device, and there is no need for an external power supply for this one, making it very user-friendly and also able to work wherever you might need it. Something that this doesn't support, though, is HDCP, so keep that in mind.
Besides PC gaming, you can also capture things from PS4 Pro and PS5, as well as from Xbox Series X|S. It is also compatible with all kinds of third-party apps, like Zoom, OBS, XSplit, and everything the sort.
As with most adapters, this one is sleek and lightweight, so it will cause little to no changes to your streamer setup.
Pros
Compatible with a lot of devices
Compatible with all third-party applications
Can have 4K graphics with 60fps
Cons
It doesn't work well with the USB-A adapter
9. Razer Ripsaw X
Great option for gaming
Stefan's Take:
In my opinion, Razer products are always a safe option: they have good quality and performance, and this capture card is no exception. There are no latencies, the output resolution is great, and you can use it with different devices.
However, considering what you're getting and the price, I think you can get the same for far less money. It's a solid Elgato Cam Link alternative but not the best one.
| | |
| --- | --- |
| Compatibility | 8 |
| Latency | 8 |
| Video Resolution | 8 |
| Value | 7 |
Razer is a company that's very well known and loved among the streaming community, so it's no surprise that a device of theirs has found its way on this list of cam links.
One thing to note is that this specific cam link is a bit higher in price than most of them, so maybe scroll to the next one if you're trying to stay on a budget.
If you're not on a budget, and you want to have a cam link that will provide you with a 4K resolution, then this can really be a great choice for you.
If you want to have the 4K resolution, your frame rate will be at 30fps, but if 60fps is more important to you, you can get that while streaming in 1080p.
This capture card works very fast, and it has HDMI 2.0 input and USB 3.0 connectivity. This results in every frame being delivered in smooth and detailed clarity, and it also works with ultra-low latency, so that won't be a problem either.
You don't have to worry about the storage, as you can stream directly from this, or you can just store everything on your hard drive.
Most importantly, this one is compatible with all kinds of streaming software, so you won't have any trouble. You can work on the resolution and the frame rate through the software.
Pros
Compatible with all popular streaming software
Compact design
Can have 4K resolution
Can reach 60fps with 1080p
10. AVerMedia Live Streamer Cap
Great video quality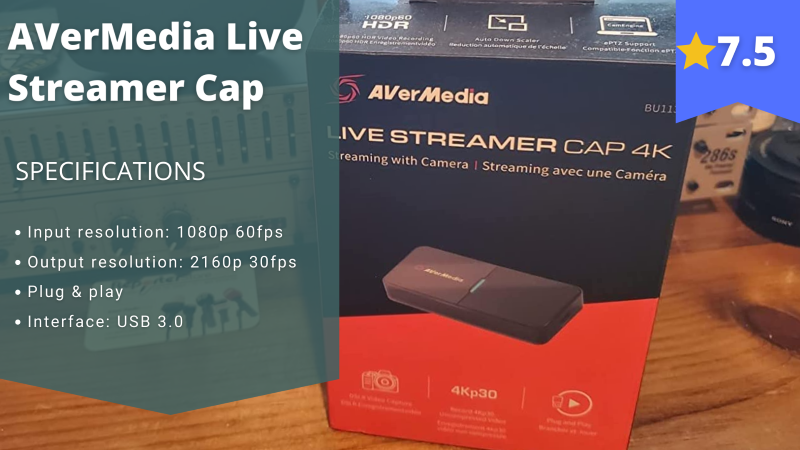 Stefan's Take:
The feature I was most excited to test was AI for better video quality. Once I connected the capture card and started streaming, I noticed an instant improvement in sharpness, smoothness, and color vibrancy.
Even without the AI, you can stream in 1080p at 60 FPS, so either way, you get a decent-looking video.
| | |
| --- | --- |
| Compatibility | 8 |
| Latency | 7 |
| Video Resolution | 8 |
| Value | 7 |
When it comes to the video quality that this device will provide you with, you can expect to have videos that have 4K resolution and a frame rate at 30fps, or, if reaching a higher frame rate is more important to you, then you can switch to 1080p resolution with 60fps. This type of setup has more or less become the standard.
There is no additional installation that you need to do before setting this device up, as it is a plug-and-play, so it will work seamlessly the moment you plug it in.
And you can plug it into your PC, a mirrorless camera for streaming, DSLR, camcorder, or any kind of action cam. 
You can connect it to both PC and Mac, so that won't be a problem, no matter what type of setup you have.
You will get real-time video broadcasting with very low latency. You also don't have a limit for the length of the recorded videos, which is very helpful, especially on the days when you decide to do long streams.
One interesting thing about this cam link is that it utilizes AI, so it is able to auto-frame with face or speech tracking, and it also enables digital pan and zoom. You can do this with up to 6 framings presets. 
Finally, and most importantly, this cam link is compatible with all kinds of live streaming software, as well as video conferencing apps, so you won't have any difficulties with that, either.
Pros
Works great with every resolution setting
It can make 4K resolution
Very sleek design
A very reliable device
Cons
It doesn't work with all DSLRs
Conclusion
As you can see, the Elgato cam is compatible with several cam links you can find on Amazon and similar retailers, and all of them are pretty much amazing.
You will be able to choose among hundreds of different HDMI capture cards, but these are just some of the best ones that will provide you with flawless gaming performance. Here are my top three picks:
BlueAVS Card as the best overall,
Rybozen Capture Card as the best for DSLR cameras,
UCEC CAM NOVA for high-quality streams.
If you are looking for an Elgato cam link alternative that will fit your cam perfectly, then you will definitely be able to find the right option for you and your device, and you can be 100% sure all of them will be able to work perfectly.
Related: Best Budget Capture Card