In case you have just created your setup and have bought the capture card you believe is compatible with your device, then you definitely want to get the most out of this device.
If you have never used a capture card before and you want to make sure it will work fine for you, then you definitely want to take a look at our guide and learn how to install and use it.
How To Use A Capture Card On A Console?
If you are a fan of video game consoles, and this is your preferred video capture device, then I believe you will have it much easier to find the right capture cards for them.
The setting up process is absolutely the same on your Nintendo Switch or Playstation 5 game console, and the moment you finish the hardware setup, you will be able to start using a capture card and streaming everything without problems.
If you are using an internal capture card, the process should be even more straightforward, and all you will have to do is complete the HDCP encryption and capture software that is needed.
After that, you will be able to capture footage and even share the screen on your streaming PC.
However, some newer devices like Nintendo Switch or Playstation may need a second HDMI cable so the capture device options can start working.
You can also try to connect it to a streaming computer just to check things out and ensure that you don't need any other external capture cards.
How to use a capture card is relatively easy, especially if you are using one of the newer devices, and no matter what kind of capture card you choose, a console should be compatible with every single capture card software there is.
I believe it is always better to get a console and choose an external capture card for your device because you can easily connect them through a USB port or just use a simple USB capture card you can be using on the go too.
Game capture cards are always great so make sure you know what you are getting for your money and read reviews about all of them before you make the final decision.
How To Use A Capture Card On PC?
Most gaming PC devices operate on an internal capture card, and they are usually the best choice for them.
They are built into the desktop PC, so you won't have to do anything in order to set them up, but most people don't settle for these devices.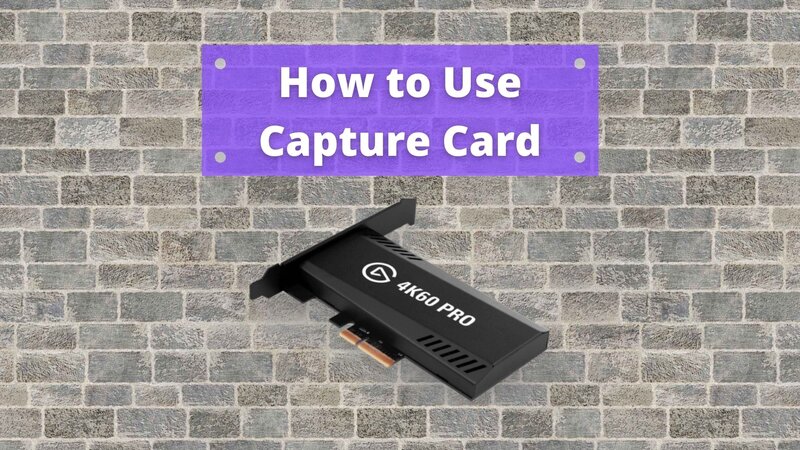 If you, too, have invested in an external capture card, then you will definitely want to learn how to connect it to your device through a USB cable or HDMI cable.
This is the easiest way to set up your capture card:
Setting Up the Capture Card
However, this doesn't mean that your capture card will start working out of nowhere the moment you install it.
You will need to make sure all the settings on your PC are set the right way and that you can start video streaming without any obstacles.
If you want to start streaming, you need to open your Display settings and make sure that you will be able to duplicate the screen.
This feature is a must because if you don't activate it, you will not be able to get a streaming PC no matter how much you may be trying.
You will also need to start sharing the screen for yourself first, and you can just start streaming for yourself in order to check out whether you will be able to play games without any obstacles this way.
If you cannot duplicate your display, then you probably didn't have a capture card connected through the right software, or you didn't put in the PCI-E slot the right way.
Choosing the Streaming Software
Also, if your streaming software compatibility is not good, you will not be able to share anything from your video capture card.
Some capture cards also have streaming software, so you will need to download it to your gaming PC if you want to start video game streaming.
For that reason, if you are buying an external capture card, make sure you control all of this before you splurge your money.
If you want to start video recording or streaming from your PC or any external device, you will need to have the streaming software activated at the same time as your browser or Twitch server.
However, if you don't want to struggle with things like this, I would always recommend you get a device with an internal capture card because this way, you won't have to worry about anything.