Most people usually associate streaming with PCs, but fear not, if you possess an Xbox you already have everything you need to start your streaming journey.
Although the Xbox series X console does not have any integrated streaming services, by following our simple steps you will be able to start streaming on your Xbox in no time.
---
Here is how to stream on Xbox series X:
Step 1: Link Twitch app with Xbox console
Download the Twitch app from Xbox Store, and log in using your Twitch credentials.
Step 2: Adjust the settings
Go to the "Broadcast tab" to set the stream bitrate, resolution, microphone, and audio.
Step 3: Go live
Tap on "Start streaming" when you're ready to go live and choose a game from the "My Games and Apps" tab.
---
Read on to learn how to stream on Xbox series X, add a chat feature, and customize your stream through Lightstream.
How to Stream on Xbox Series X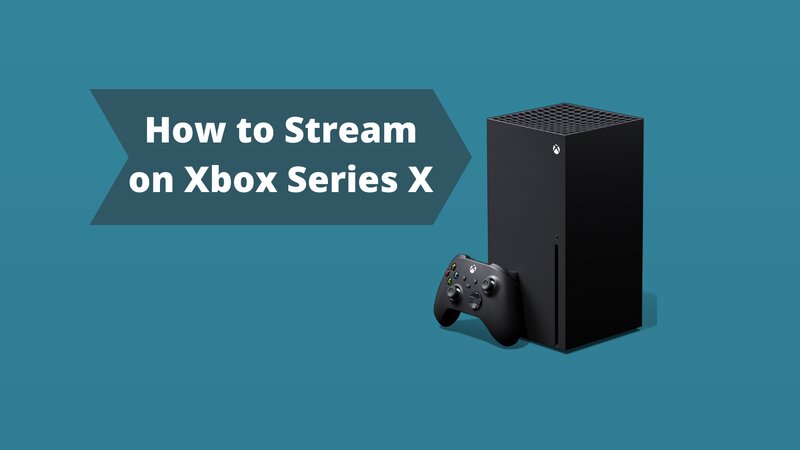 ❶ Linking your Xbox with the Twitch app
Xbox series X console can easily be used for streaming purposes by using the Twitch app, therefore if you have such aspirations you need to perform the following steps in order to start your stream.
You will have to download and install the Twitch app on your Xbox via Store>Apps.
After you have downloaded the app, you need to sign in using your Twitch account. You will receive a six-digit code on one of your devices that have an internet browser which you will have to enter in order to complete the sign-in process on your Xbox.
Please note that if you do not have a Twitch account you will have to make an account first by using an internet browser on one of your devices (cellphone e.g.)
❷ Personalizing your stream
Once you have successfully signed in, you should open the "Broadcast tab" where you can personalize your stream.
Through the "Broadcast tab," you can set and change all the crucial settings of your stream such as the name of your stream, the language of your stream, audio and microphone setup, and resolution.
If you wish to alter your settings you have to restart your Twitch app and then choose different settings.
Changes will be implemented immediately after you have launched the game again.
Bitrate and Stream resolution
Out of all settings present in the "Broadcast tab" the two most important for the overall quality of the stream are "Bitrate" and "Stream resolution.
The more you raise these two settings the more smooth your stream will be thus making it much more enjoyable for the viewers.
However have in mind that these two settings depend on the quality of your internet connection, therefore it is advisable to check how your stream is working by pressing the "Start Streaming" option.
If your stream is running unevenly you should adjust these two settings in accordance with your internet.
❸ Launching and maintaining your stream
If you are finished with the personalization of your stream settings, you are ready to begin the actual streaming.
To do so, you need to press the option "Start Streaming" and your stream will be launched.
From this point, you begin streaming live and all that you have to do is select the game that you wish to stream from "My Games and Apps" and begin playing.
A small blue bar will appear in the corner of your screen through which you can mute/unmute your microphone, follow your stream latency and see the number of viewers which are connected to your stream.
Please note that only the gameplay is visible to your viewers on the stream, once you minimize your game and enter the Xbox menu, for example, a static picture will appear on a viewer's screen and the stream will resume once you have entered the game again.
To finish your streaming session, open your Twitch app and simply press "Stop Streaming".
❹ Modifying your chat
If you desire to read and interact with your Twitch chat you will require an additional device beside you as the Twitch Xbox app does not include the chat option.
Automod
It is highly recommended to establish a positive and welcoming atmosphere in your chat as negative and disrespectful chat could possibly deter a potential viewer from watching your stream.
Automod is a great instrument that will monitor your chat and block any impolite or insulting messages.
In order to activate this tool you need to access your Twitch account via an internet browser, open the menu> preferences> moderation> Automod controls >Automod rulesets.
On this page, you will have the option to turn the Automod on. Automod already possesses built-in algorithms that automatically recognize improper language and block such messages.
In addition to this, you have the option to manually set the Automods settings and modify the rules of your chat.
Please note that besides the chat, you will also be unable to see potential donations and subscriptions from your viewers on the Xbox.
❺ Lightstream
You may have noticed that certain streamers have various visual effects, texts, or graphic designs on their streams, and, consequently, you may have noticed that such options do not exist in the "Broadcast tab".
Unfortunately, if you desire to enhance your stream with such effects you cannot do it through the Twitch app on the Xbox as the app does not support such options.
You would have to acquire the Lightstream tool which is compatible with the Twitch app on your Xbox and serves to alter your stream in these ways.
In order to activate it, you would have to log in to your Lightstream and your Twitch account on the computer.
The two accounts are then linked and you are able to customize your stream by using the Lightstream tool on your computer.
When you are finished with modifications you need to activate Lightstream on your Xbox Twitch app by clicking on the Lightstream option in the Destination menu.
Once you have done that, all the changes you have made on your computer will be applied to the Xbox stream immediately.
Please note that this service is not free, there is a monthly subscription that you will have to pay and the price depends on the number of elements that you are using for the customization of your stream.
Conclusion
Streaming has become a popular career path in the twenty-first century, among young people especially.
If you have an Xbox console in your room and you are thinking of starting a stream, you should go for it as the Xbox meets all the demands of the streaming business.
We sincerely hope that this guide has been helpful and wish you all the best in your streaming activities and potentially your streaming career.