Finding the perfect audio interface for your needs can be quite a challenging process, and although the GoXLR interface is the most popular one on the market, it is not accessible to everyone for many reasons.
Many people completely give up purchasing the GoXLR audio mixer and decide to find an alternative that is a lot more affordable and can be bought through regular retailers like Amazon or Target.
In case you are also someone who is looking for the perfect alternative to the GoXLR audio mixer, then you are in the right place because we have decided to gather some of the best alternatives to this product.
These devices are very similar to the popular GoXLR audio mixer, and they can easily be found on Amazon.
Our recommendations have been reviewed several times, and all of them are based on personal experience and hundreds of reviews you can find on Amazon.
Post 2 of 15 in the Streaming Gear
Best GoXLR Alternative
Reviews
QUICK OVERVIEW: Best GoXLR Alternative
LED peak indicators
XLR input

Creative Sound Blaster K3+

9 reverb effects
XLR phantom power

4 channels
Variety of filters and effects
1. Pyle Professional Audio Mixer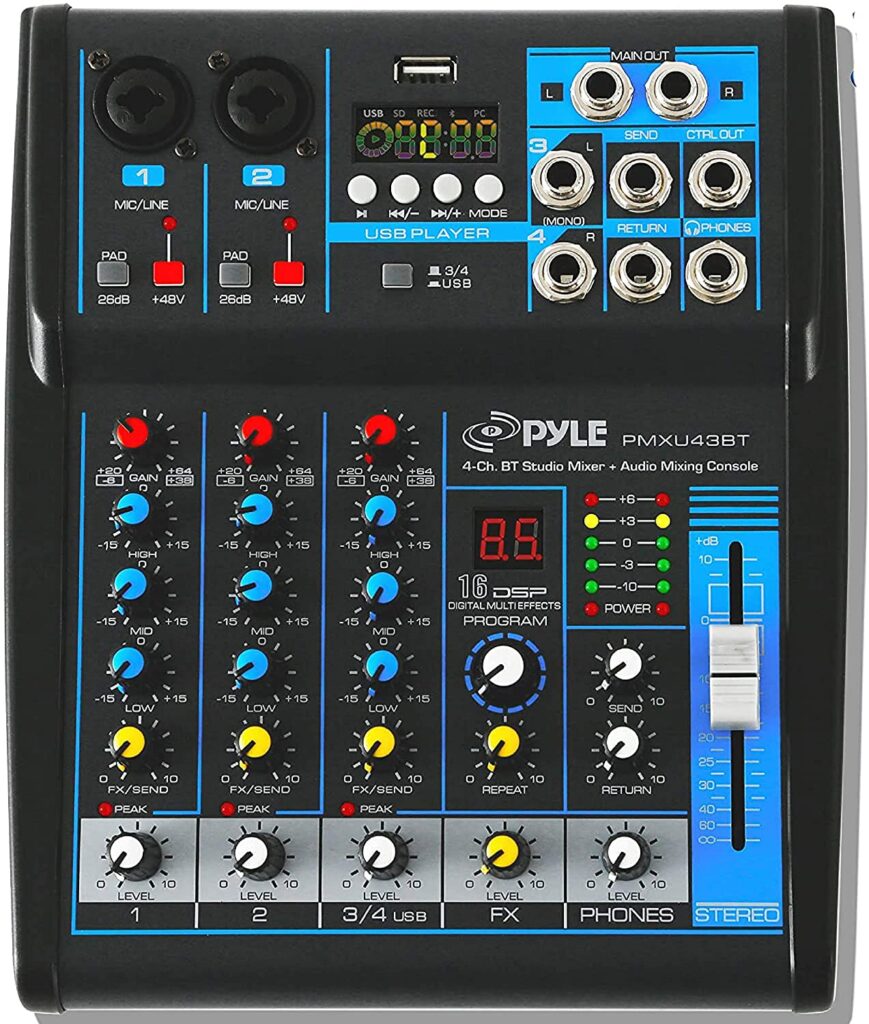 The Pyle Professional Audio mixer is definitely one of the most popular sound consoles on the market, and creators from different niches absolutely love it.
It is great both for experimenting with sounds and audio quality and creating an amazing warm and musical sound that will sound great on all devices and headphones.
This audio mixer is compatible with USBs, PCs, and all Bluetooth devices, so you can easily transfer the sounds from these devices to your mixer and vice versa.
The built-in controls will allow you to start and pause the recording whenever you want, but also to switch between modes and audio mixers effects.
It also supports the XLR input, but you can count on +48V phantom power, too, which is the key to a successful voice sound.
There are also LED peak level indicators that will make controlling a lot easier and allow you to create superior sound quality.
The high headroom mixer will make it really easy to use and provide you with great functionality while still allowing you to control each mono channel separately.
Its easy-to-use controls make it a good fit for beginners, too, so I highly recommend using this sound mixer.
In my opinion, this is the perfect option for podcasting, especially if you are a complete beginner, and I would highly recommend it to anyone.
Its software is also a lot more simple than the GoXLR software, so it is really a great fit for everyone, and you will easily become one of the great online broadcasters if you start using it.
The product is also very cheap, starting at 100 dollars which makes it one of the most affordable sound mixers on the market these days.
---
2. Creative Sound Blaster K3+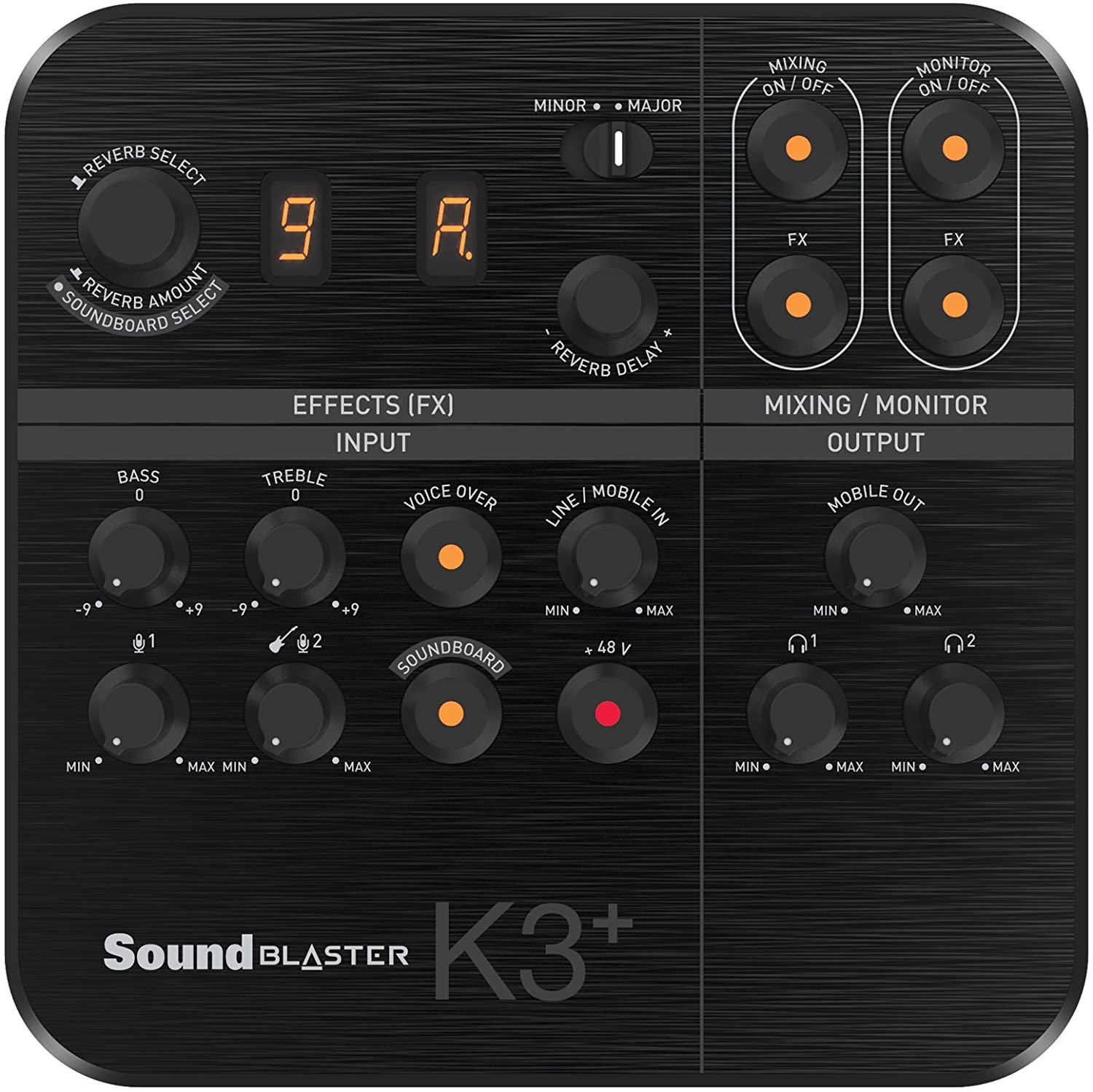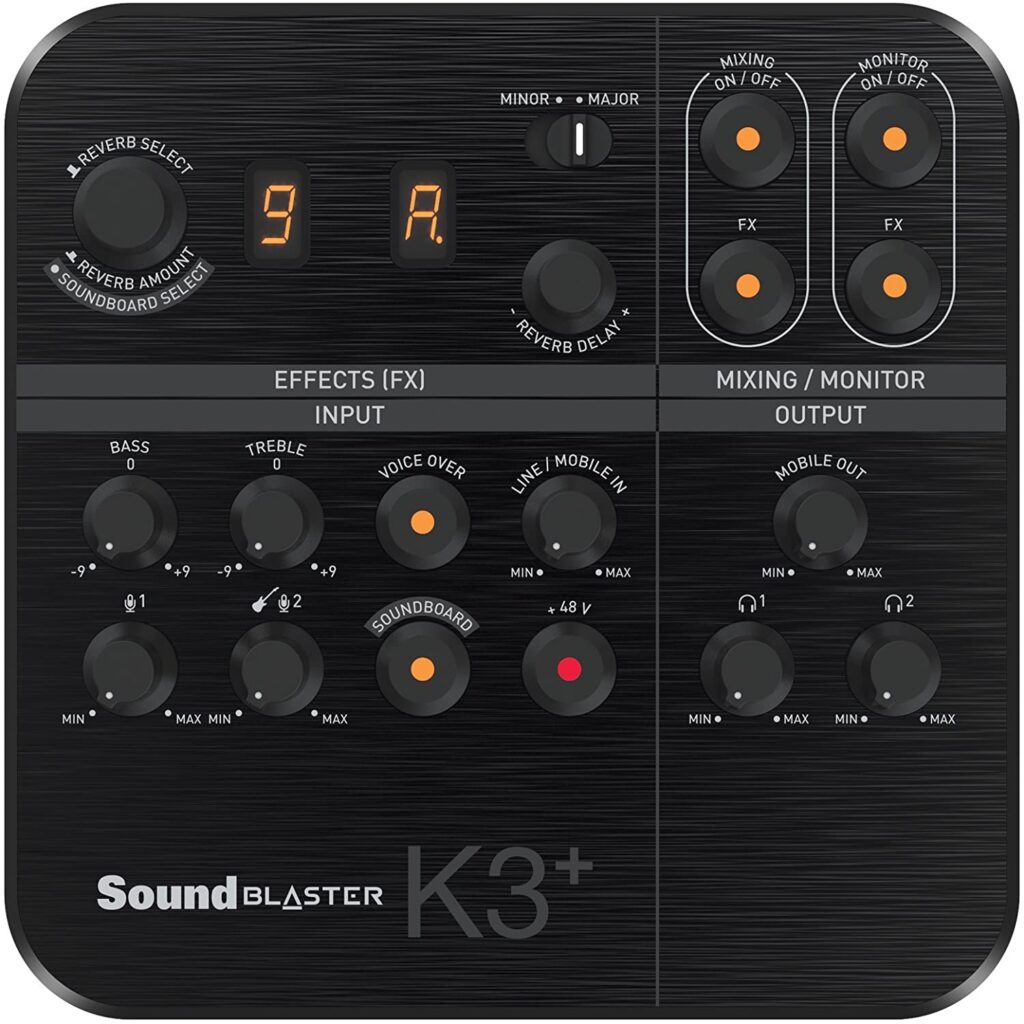 This USB mixer has become very popular among podcasters and Youtube creators in different communities, and it is known for its ability to do intuitive USB-based mixing.
It is a device that can easily get connected both to a PC and a laptop, and it allows you to broadcast the audio from your mixer to the computer with just one simple click.
There is also the XLR phantom power add-on that will provide you with 48v phantom power at all times and keep the sound from your condenser microphones 100% smooth, clear, and natural.
You can also choose among 9 different adjustable reverb effects that will make the audio flexible and allow you to change it and edit it as many times as you want.
These are really the advanced audio parameters that can be very useful to professionals, especially to podcasters and other online broadcasters.
You will get access to real-time audio effects and sound clips, but you will need to plug in the headphone jack if you really need it because this soundboard doesn't have one built-in.
However, the stereo line inputs remain great, and the phantom-powered XLR input works perfectly, so you definitely won't have any problems with it.
The USB connection is definitely amazing, and that is the biggest asset of this device and why so many people decide to buy it.
It is also a bit more affordable than most other sound mixers on the market, and it is one of the rare USB mixers, so I would really recommend it to anyone.
---
3. RODECASTER PRO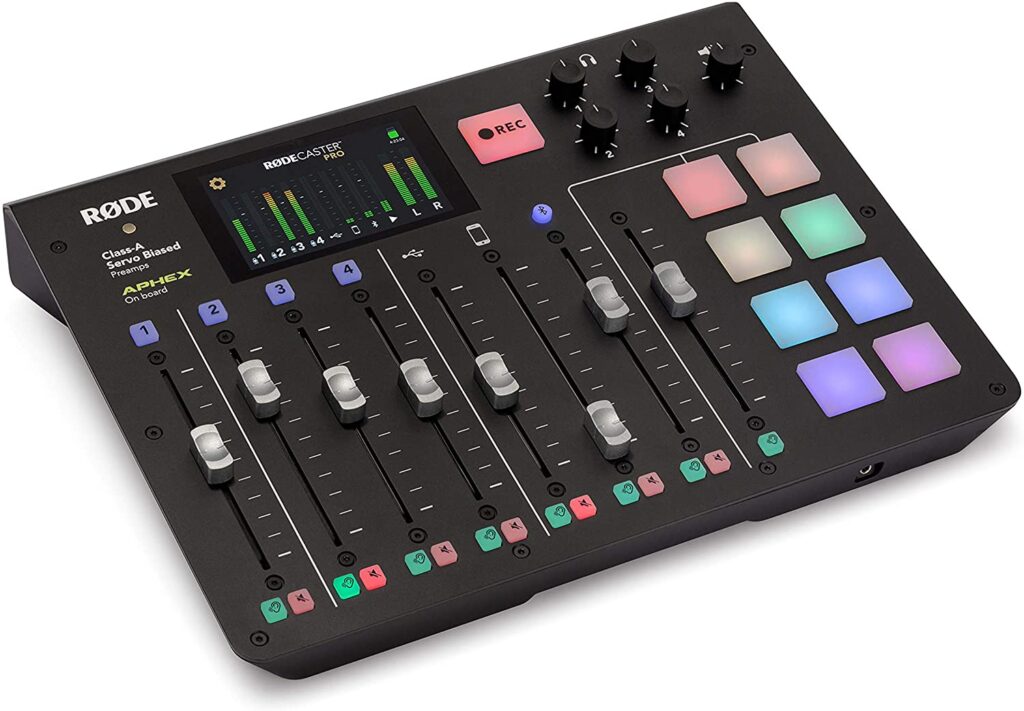 The Rodecaster Pro Production Studio is mainly made for filming podcasts or doing voice-overs, but it is also the choice of many streamers pretty often.
This audio mixer will give you instant control over your own audio files, and you will get 4 high-quality channels for condenser mics.
You will also receive access to 8 programmable sound effects that will allow you to control sound quality at all times and record audio from different pads at the same time.
The XLR mic input is amazing, but you can also connect the device to it through USB or Bluetooth, which is probably a better option, especially for streamers who struggle with too many devices and cables in their environment.
While filming, you can choose whether to save your voice or podcast to a USB or microSD card, which is also a great feature.
In the post-production part, you will be able to mix many different audios, completely transform the audio levels and create the perfect sound for your podcast, video, or stream.
This is a pretty versatile mixer for different options and filters you will be able to use, and you will also be able to broadcast audio directly from this device.
However, adding too many effects and filters can really have a negative impact on your sound quality and can cause the input channels to mix and create a weird sound that no one would want to hear.
It is an easy-to-use mixer, and I especially recommend it to complete beginners who don't really know how to get full control on those complicated, professional home studios like GoXLR mini.
This product is also very expensive, and starting at around 600 dollars, it is definitely one of the best voice studios you can find on the market, but it is certainly a product aimed at professionals.
Unless you are someone who earns a living by filming podcasts, Youtube videos, or live streams, then you definitely don't need to spend that much money, and you can find a cheaper alternative to this product.
This is definitely the best alternative to the GoXLR audio mixer because their specs are almost the same, and this one is also a professional voice transformer, so I highly recommend it to everyone who is looking for a GoXLR alternative.
---
4. YAMAHA MG10XU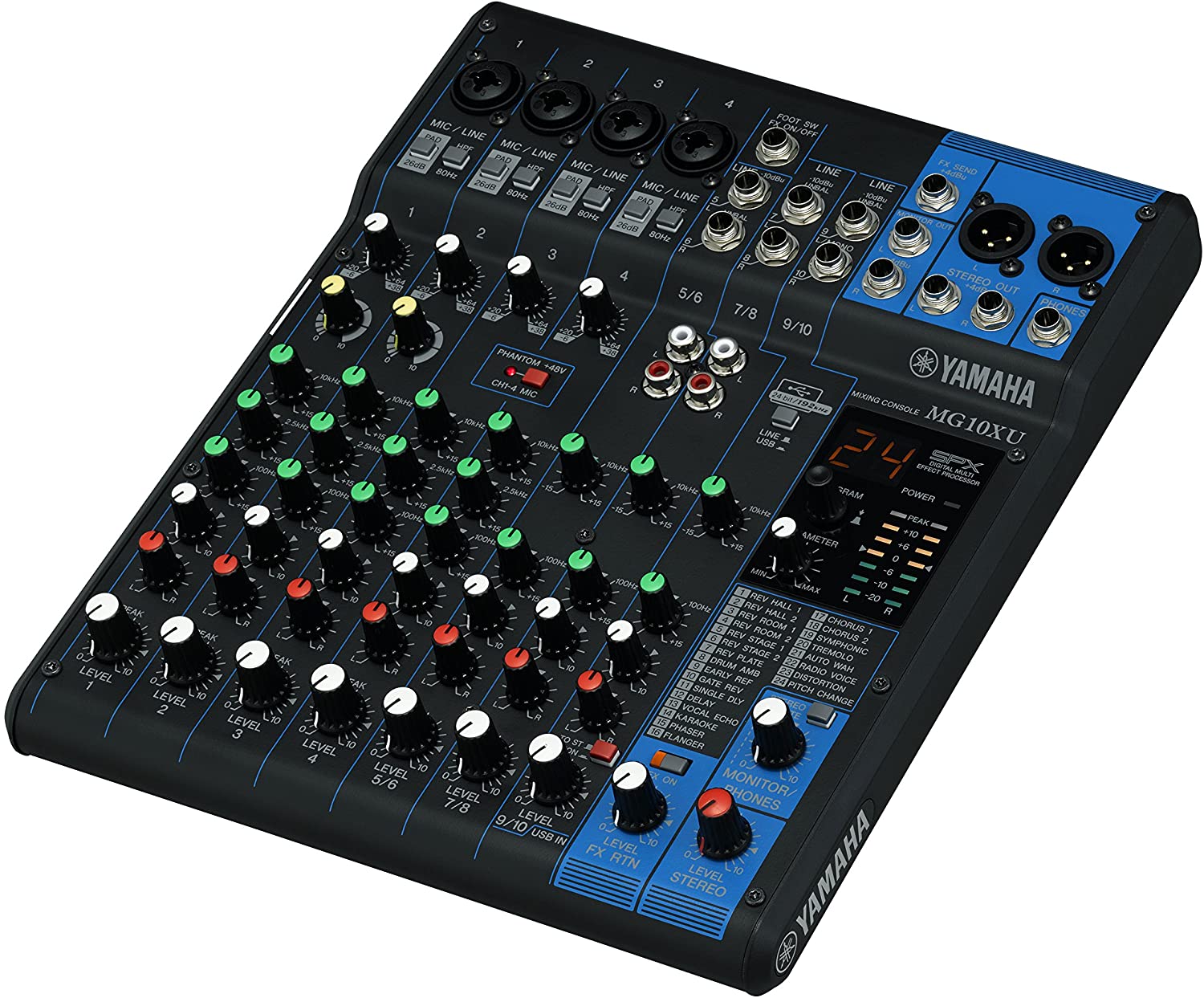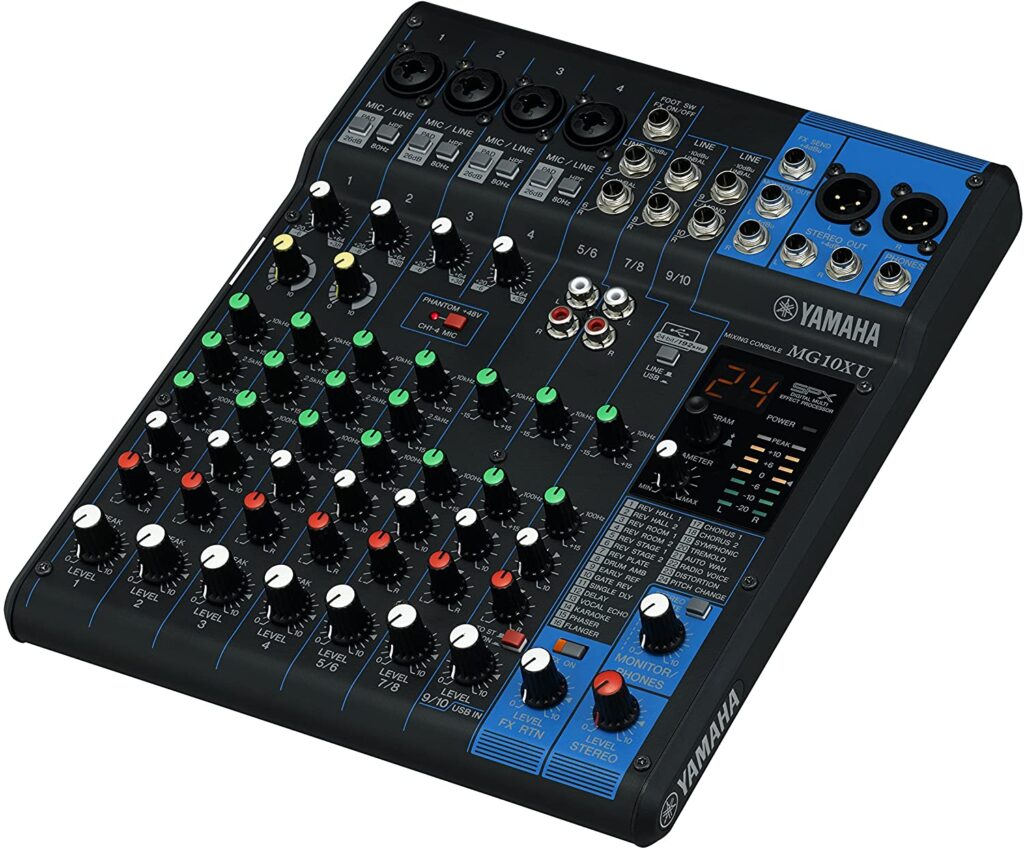 This Yamaha MG10XU stereo mixer is a popular tool for creating a musical sound and filming podcasts and videos of different kinds.
The Yamaha mixer has 10 channels with 10 different SPX and USB effects and a 3 band EQ that will give you full control over the device and control audio levels and mono channels.
Voice effects and digital effects you will receive with this device are similar to those you can access through the GoXLR mini-app.
There are also high-pass filters that allow you to create smooth audio by eliminating low-frequency noise and creating a natural-sounding bass.
Compression is a very important part of recording anything, and it allows you to control audio dynamics; and with this 1 knob, you will be able to create a cleaner sound, add more bass, control the mic, and eliminate unwanted noise easily.
You will also only be able to add one effect at a time, so be aware of that, and never go for the ultra-low noise because users complain that their sound tends to disappear with this effect completely.
Musical instruments can also get connected, but I do not recommend connecting more than two simultaneously because it can disturb the high headroom mixer and create noise problems in the audio.
While Yamaha was offering an app for this device before, it is not available, but we can still hope it will get back on the internet sometime in the future.
Overall, this is a great alternative to our beloved GoXLR product, but you should be aware that it isn't of amazing build quality, so you will have to be very careful unless you don't want it to get broken into pieces just a year of use.
---
5. Neewer Mixing Console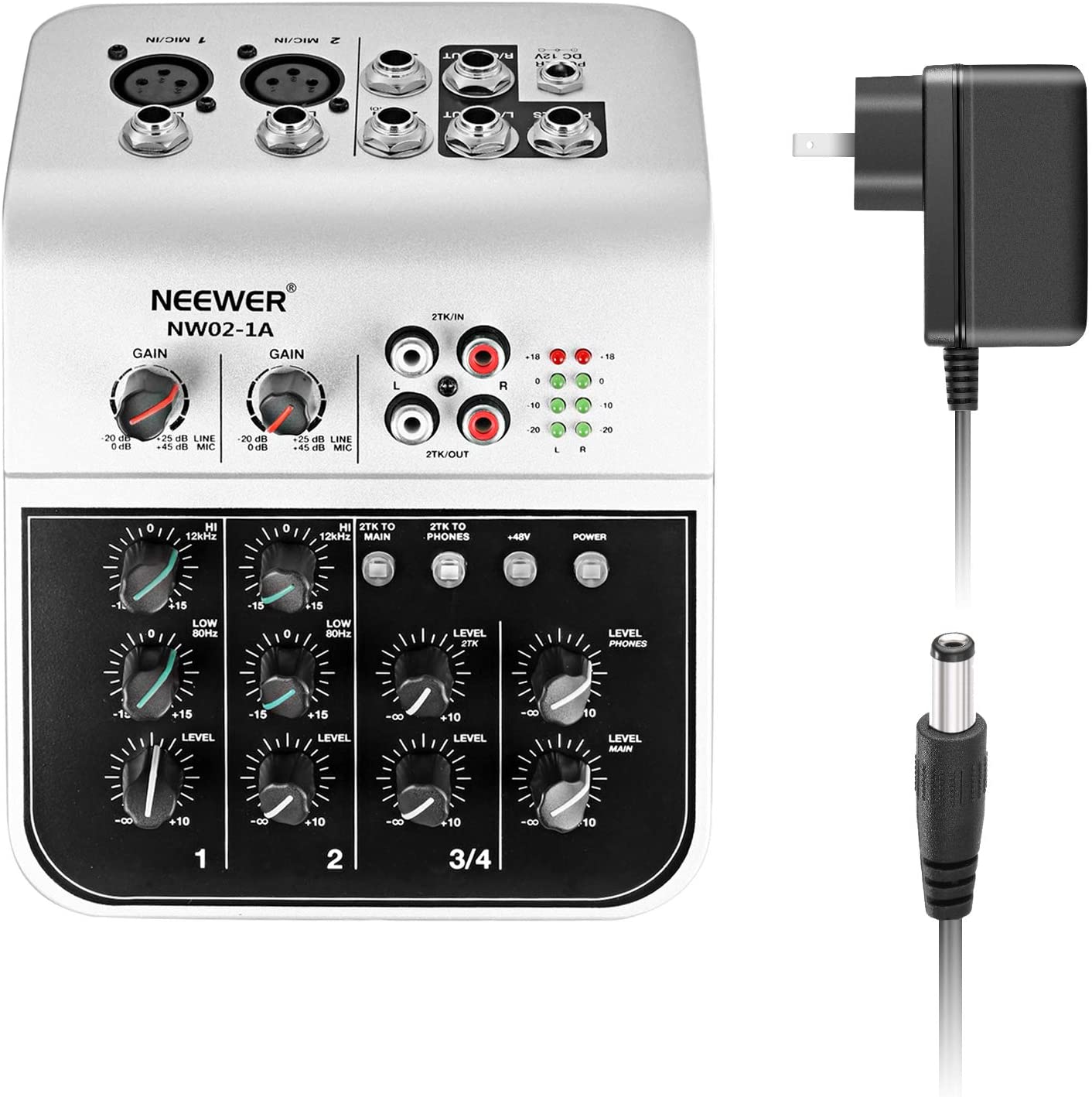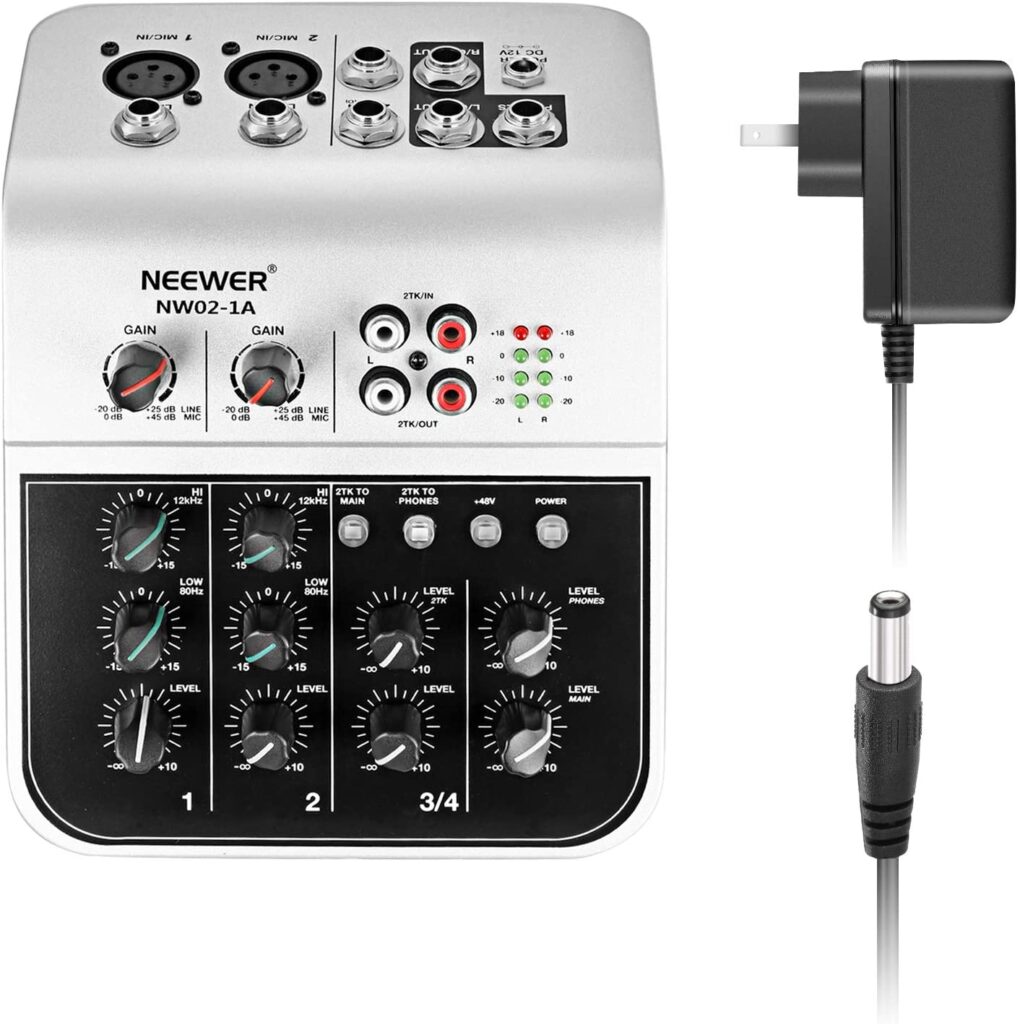 This Neewer mixing console used to be a very popular audio mixer a few years ago, and even though it is a bit outdated, it still has amazing audio controls and voice effects.
It is a regular multi-channel mixer that can accept up to 4 channels, and it works best with condenser microphones, so it is pretty similar to our favorite GoXLR audio mixer.
The Neewer sound mixer has a high headroom analog mixer and portable battery pack that makes it very practical and functional, especially for people who tend to move around a lot.
It has a 2 band EQ and a compression knob that will allow you to do audio routing and add different effects, fades, and bass to the sound.
Like most other mixers, this one also has the XLR input and phantom power, and you can control the mic easily through the buttons on the board.
This makes it a lot easier for beginners to handle it, and even though it is a bit older technology, it still seems to be working perfectly.
You will need just a push to fine tune or take control over the dynamic range, so this is a really amazing product for audio mixing, and it also comes at an affordable price.
This device is a lot cheaper than most other sound mixers because it is a bit older, but in general, it will give you the same results as the Pyle professional audio mixer or GoXLR mixer.
However, you will need an adapter to connect it to Mac devices because it doesn't have a suitable port, and it can cause some problems with the connection.
In my opinion, this is still a great investment, especially if you don't have too many skills and you are just starting in this field.
---
6. Alto Professional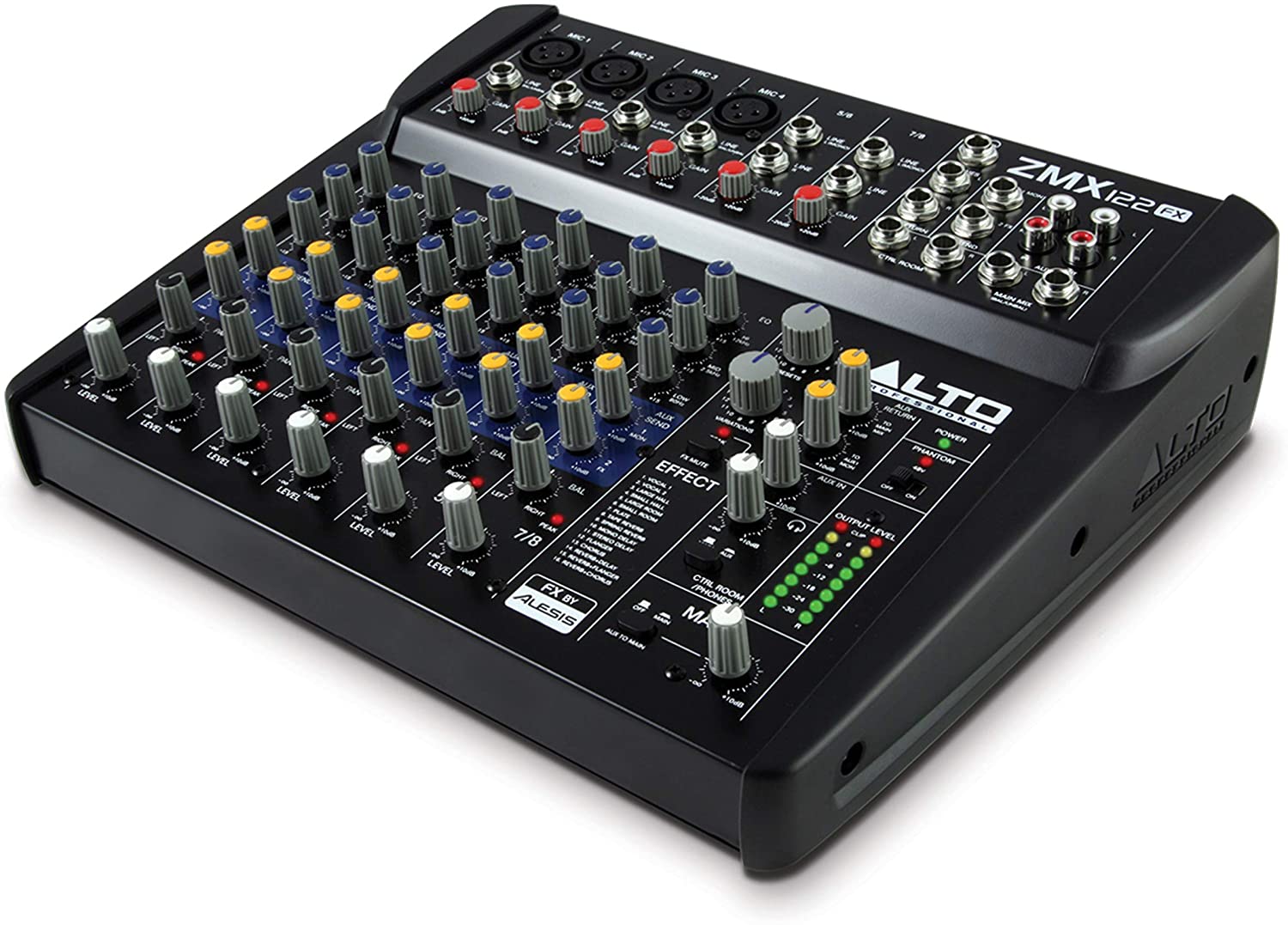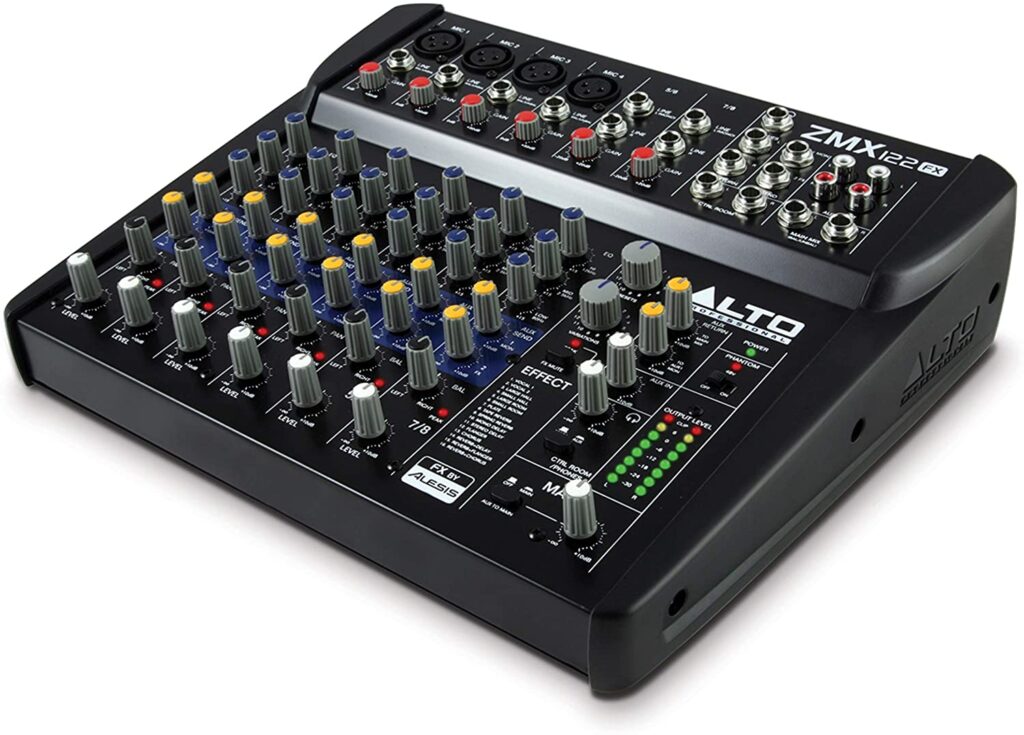 The Alto professional capable mixing console is one of the most popular soundboards on Amazon and people seem to love it absolutely.
It is a great choice for people who are into audio production but also for streamers, podcasters, and Youtube creators, so it is really an amazing product.
This device also has the best PC app for audio mixing, and it allows you to connect it to a USB microphone and start recording immediately without problems.
The audio interface is highly professional, and you will receive a total of 6 inputs, which is even more than you will find on the GoXLR device.
You can be sure that the phantom power will allow your XLR mic to sound great, and you will probably get an even better sound quality than you would with GoXLR mini.
Its versatile inputs and outputs will allow you to connect everything – from musical instruments, headphones, microphones to a DVD player.
This audio mixer also has LED indicators to make it easier for you to start the mixing process and make it a great product, even for dark venues.
It is really a professional audio mixer, and in my opinion, it is one of the best audio mixers on the market, maybe even better than the GoXLR mini one.
Alto has a PC app that lets you control the whole process, preview it on preamps, control all the inputs and your XLR microphone, which really are features only professionals will need.
In my honest opinion, this is the best GoXLR alternative, and I highly recommend purchasing it. You definitely will not regret it.
---
7. Mackie Mix Series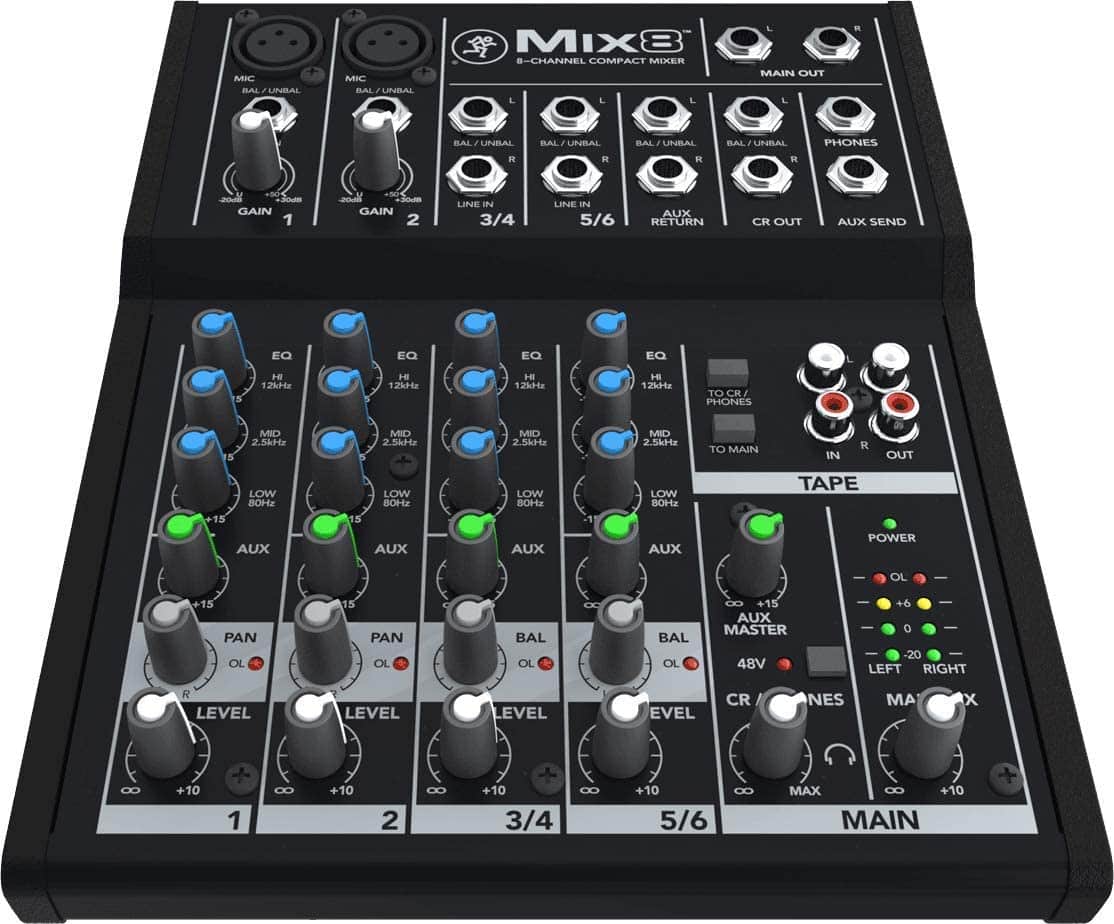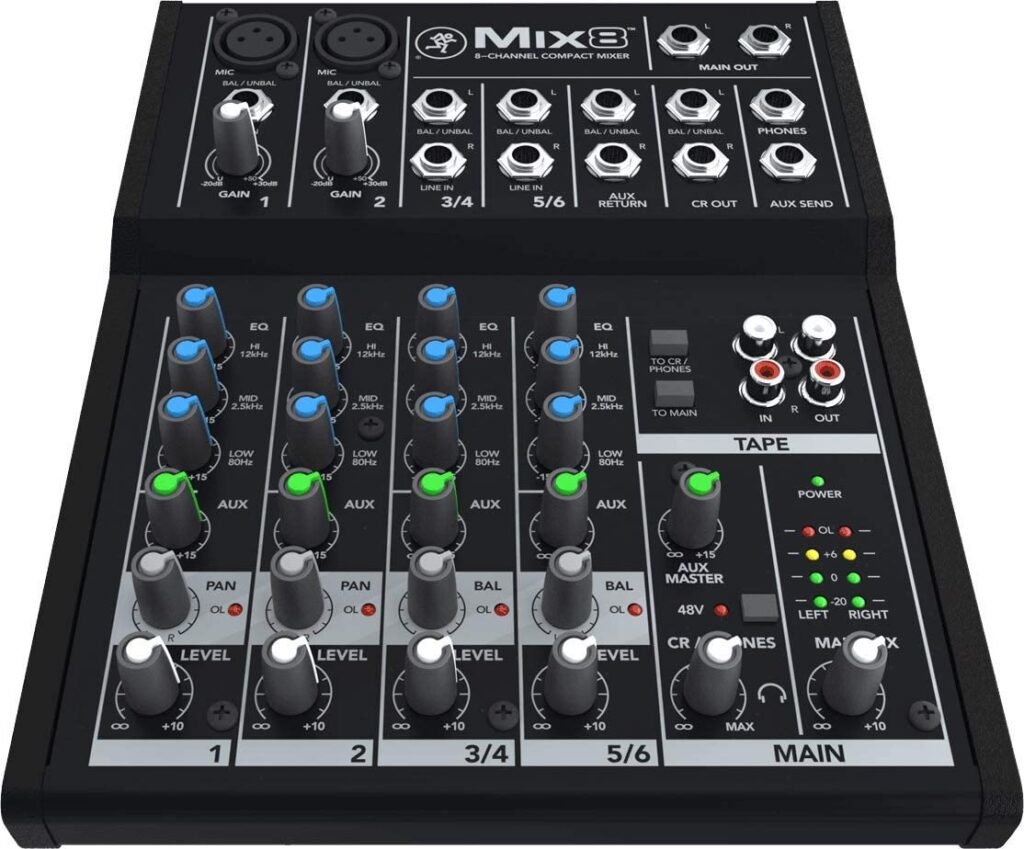 The Mackie mix audio mixers are devices that will provide you with studio-level quality and make sure your sound is absolutely perfect.
Even though it looks like a simple channel mixer, this device can support up to 5 different channels at the same time, and it is considered to be a professional audio mixer.
Probably the best thing about it is that you can choose among different versions of it and get the one with 5, 8, or 12 channels which are really something you won't come across with other brands.
This GoXLR alternative is perfect for voice transformation but also for different types of audio mixing, and it will provide you with amazing audio quality even when the sound is really not the best.
Just like most other soundboards, this one also comes with phantom power so that you can use your condenser mic without any obstacles.
It also has a dedicated community voice FX, and the fact that it works perfectly with phantom power means that you are guaranteed with best audio quality while using it.
You do need a bit of skill in order to create the perfect sound with this device because you will need to know how to handle the motorized faders, create perfect bass or go for premium ultra-low noise.
It is also one of the cheapest audio mixers you will ever come across, and the Mackie soundboard with 5 channels is just 70 dollars which is a real bargain.
Even though it doesn't look like a great device and its effects are pretty limited, this is a real professional board that allows you to do anything with the sound, as long as you have the skills for that.
For that reason, I would recommend everyone to purchase this product and give it a try because you can really become a great audio mixer yourself if you take some time.
---
Conclusion
As you could see, the GoXLR mini audio mixer is really not one of a kind of product that can't be replaced, and there are several other sound mixers that are just as good or even a lot better.
I believe the GoXLR products are really overhyped, and people spend too much money on them even though they can find a similar device for half the price, or even less than that.
In my opinion, all the products on our list are an amazing GoXLR alternative, and they will definitely serve you for a long period of time and help you maintain a high-quality performance at all times.
All of them are in different price ranges and have different assets, but overall, they can be used as your audio mixer, and they will definitely provide you with great results.
The rest is up to you and you will have to choose the device that will fulfill all of your needs!
Related: Best Mixer for Streaming