When your livelihood or just your hobby depends on good quality streams, you want to get the best equipment to achieve the quality necessary to deliver good content.
Producing high-quality sound is an important part of that process which is why you need to have a perfect microphone that will give you the quality you require.
To help you, I looked for the best streaming mic under 100$.
Best Streaming Mic Under 100$
Reviews
To provide the best mic under 100, I have conducted extensive research on the subject.
I checked out some impressive reviews and tested those microphones on my own to ensure that the content I provide is genuine.
So, take a look at my list.
QUICK OVERVIEW: Best Microphone Under 100
Signal-to-noise ratio 78 dB
Unidirectional polar pattern

16mm diaphragm
Built-in quality chipset

Pickup pattern switch
Thread Mount
1. Fifine Metal Condenser Recording Microphone
FIFINE Company is relatively young on the market, founded in 2009, but it has proven to be one of the most successful companies producing high-quality audio equipment. That's why I included one of their models on my list.
It is an international company priding itself on delivering products of great value and customer-friendly service.
FIFINE's USB Mic is one of the best mics under 100 currently on the market. It has excellent performance reviews and is versatile in use.
On Amazon, it has the flattering 4.5 out of 5 stars which tells the story of many satisfied customers.
Who is it best for?
My conclusion is that this microphone is suited for versatile use, from podcasting and voice acting to YouTube and Twitch streaming, voiceovers, and a home studio recording device.
So, whichever your field of interest may be, this could be the best USB mic under 100 for you.
The extended frequency response enables you to create high-quality recordings without excessive background noise.
The sturdy tripod makes sure that your mic will not be easily knocked over, and the long cable lets you move further away from any noise (i.e., your PC's buzzing).
Key features
FIFINE's USB mic can be easily plugged into your computer using a USB port. This allows you to use it with Windows (Vista, XP, and 2000) and MacOS X.
The microphone has a volume knob that allows you to control the volume of your voice input.
There is also no need to yell when you are recording, as the device will make you sound crystal clear when you are speaking in your everyday, relaxed voice.
The device comes with a tripod and a 5.9 ft long cable. The mic's head can be adjusted, so the angle suits your needs.
It is a condenser mic that provides digital recordings. The pickup pattern is cardioid which means that it records only vocals and eliminates background noise.
2. TONOR Q9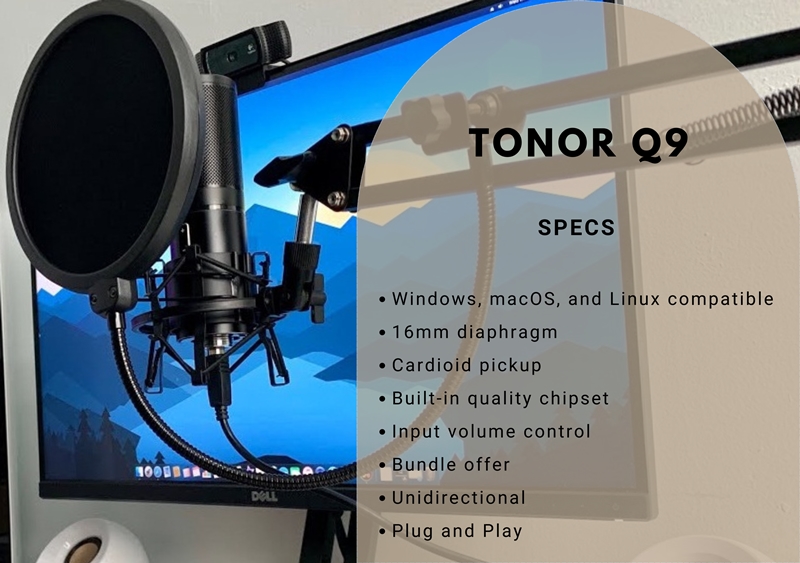 TONOR Company states that they are a company "supporting performers and homegrown artists."
They produce various audio equipment (mics, mixers, equalizers, and so on), designed to deliver high-quality recordings at an affordable price.
TONOR Q9 mic gives you the experience of a professional studio for under 100$. It has impressive reviews, especially regarding value for money.
Who is it best for?
Considering all of its features and the price in combination, I can say that this is one of the best budget mics currently available for purchase.
Since it canceled almost all background noise and has versatile use, it is appropriate for recording, gaming, voiceovers, and podcasting.
So, if you are on a tight budget and need a mic that comes with all the additional equipment required for, say, Twitch streaming, then TONOR Q9 could be the right choice for you, in my opinion.
Key features
With the USB cables, the mic can be plugged into your PC exceptionally simply. It is compatible with Windows, Mac, and Linux without the need to install any additional software and audio interface.
The mic allows you to capture and record clear sound without any excessive background noise due to the cardioid condenser capsule.
It comes with an extendable boom arm (up to 27.5 inches vertically) that allows you to adjust the angle for maximum quality.
The mic itself has volume up and volume down buttons so you can adjust the input volume.
It is a bundle offer, making this mic extremely affordable since other manufacturers usually offer this equipment separately.
3. Blue Yeti Nano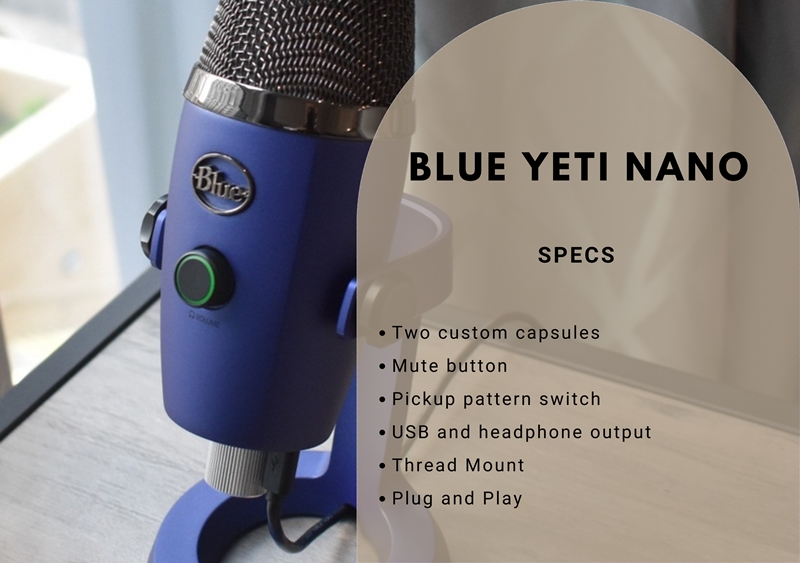 Blue has been on the audio equipment market ever since 1995. It helped shape the '90 recording scene, especially in the early beginning of home recording practices for aspiring musicians.
Their product is highly recognized among vloggers all around the world, although the company is USA-based.
Blue Yeti Nano is similar in construction to its larger and heavier predecessor – Blue Yeti. It has been remodeled, and some of the features were removed (i.e., Gain control).
However, the mic is still among the best mics under 100$.
It has pretty good reviews but it is on the pricier side of my list.
Who is it best for?
Suppose you are into game streaming or Twitch streaming, creating YouTube videos, podcasting, or just want to have excellent quality (conference) calls.
In that case, Blue Yeti Nano is a possible choice for you. With the two pickup patterns, it is genuinely adequate for all uses.
It is a vintage-looking mic with great aesthetics, which is essential if you are creating videos and your mic is a part of your frame.
When you are looking to upgrade from a budget to a high-end microphone, this is the best $100 microphone you can find to check if you need better quality equipment for your line of work.
Key features
As I already mentioned, Blue Yeti Nano comes with both Cardioid and Omni pickup patterns, and you can easily switch between them directly on the mic.
Cardioid is excellent for sound coming from one direction (i.e., gaming or streaming), while Omni is perfect for multi-speaker podcasts.
It is a plug-and-play mic and compatible with both Mac and PC; however, it needs an additional software installation for fine-tuning and gain control.
A great thing about it is that you can easily use the built-in headphone output to monitor recordings without any latency.
It has a volume and mute button on the body, so you can quickly mute it if, for example, you need to cough mid-stream.
It does have additional equipment like mounts and stands, but they are sold separately.
4. Blue Snowball USB Microphone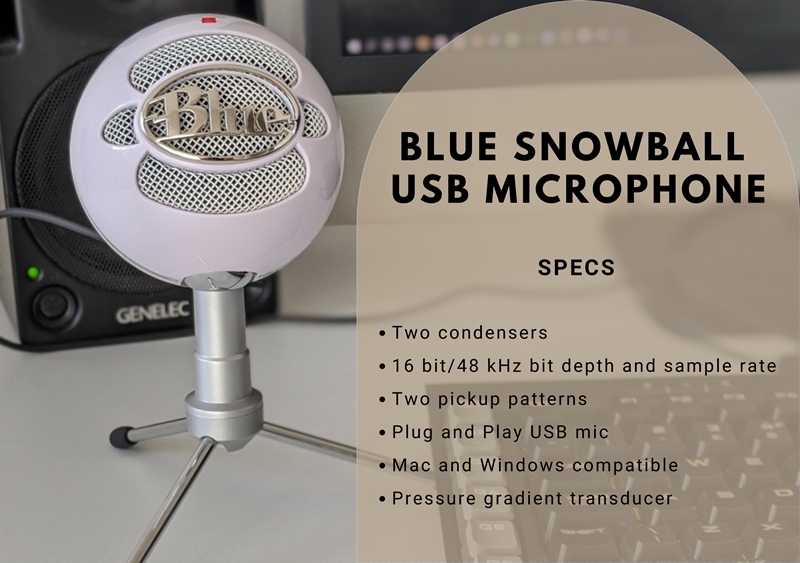 Blue is a longstanding mic manufacturer. They aim to deliver high-quality equipment on a budget, and snowball was one of their first products aimed at the internet and live recording.
The story behind Blue snowball's design is credited to the daughter of one of the founders, an aspiring musician wanting to share her music on the internet in the '90, who asked for a mic with such characteristics and shaped her hands into a ball – hence snowball.
Blue Snowball is one of the mics that is widely recognized around the world. On Amazon, it has very good reviews and is highly praised in terms of durability, quality, and value for money.
Who is it best for?
Blue Snowball can be used for anything from Twitch streaming to multi-speaker podcasts due to its many features and two recording directions.
It is a great starter mic for anyone looking for the best recording mics under 100 dollars.
The setting of -10 dB PAD eliminates background noises and lowers the mic's sensitivity. This is perfect if you are one of those gaming streamers who like to shout or occasionally scream.
For instance, when exciting things happen in the game, the mic will eliminate the excessive sounds so your viewers wouldn't get startled.
It is also good if you are a girl and have a naturally higher voice. My girlfriend can confirm this.
Key features
The two condensers enable you to have that rich audio characteristic for studio mics. The -10 dB PAD that reduces the mic's sensitivity is excellent for loud or high tones and controls gain.
It has two pickup patterns – Cardioid and Omni, which let you record audio from one or multiple directions.
It is a USB "Plug and Play" microphone, compatible with both Mac and Windows without any additional installation.
However, you can install the Blue Sherpa app that will let you edit your audio right there. It comes with a sturdy, adjustable metal tripod and can be attached to a regular mic stand.
All the other additional equipment, i.e. the boom arm is sold separately.
5. Behringer B-1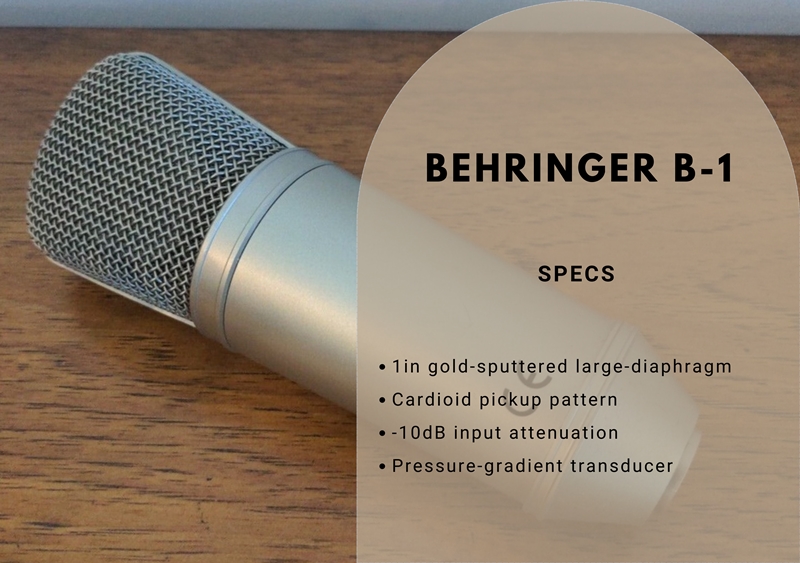 Behringer is a company with a longstanding tradition in manufacturing audio equipment. It is dedicated to delivering professional quality equipment at an affordable price.
Behringer is a winner of many prestigious awards in its category and has produced various audio equipment ever since 1989.
Behringer's B-1 has found its place on my list. The exclusive-looking Behringer B-1 XLR mic has great reviews and is worth your money.
It is a perfect combination of purpose and durability and a crossing between budget and professional studio microphones.
Who is it best for?
If you need a durable, heavy-duty mic that you would use for years to come despite its relatively affordable price, B-1 is your possible choice.
It is the best XLR mic under 100 dollars I have tested. It looks quite high-end because it is gold-plated.
It produces clear and detailed sound coming from one direction, which means it is perfect for all of you who make Youtube content or stream on Twitch.
Since it comes with a -10db input pad, it is great for capturing high-volume high-frequency sounds.
Key features
It is a single-diaphragm condenser mic. Its construction is sturdy and rugged which enables longevity.
It eliminates background sounds since it is Cardioids and uses ultra low-noise transformerless FET input that eliminates low-frequency distortion.
A gold-plated XLR output connector ensures the perfect transmission signal.
It includes a windsock and a round shock mount that eliminate plosive sounds when speaking or from the background. It also comes with a carrying case.
6. Behringer C-1U
With Behringer's reputation and over three decades-long traditions, C-1U is the budget mic to watch. On this list, it is right next to its cousin, the B-1.
Their pricing is similar. However, the type is different. The C-1U is a USB condenser mic, while the B-1 is an XLR mic.
It has quite good value for money, and with decent Amazon reviews, it is worth considering as a beginner recording microphone.
Who is it Best for?
It is a great upgrade from any best dynamic microphone under 100 dollars that you might be using right now.
It is a good starter condenser mic if you look for something that will provide you with sturdy construction for heavy-duty handling.
It has good value for money. However, it delivers sound quality that is not as good as other USB mics in the same price range.
I recommend it for beginners who are just getting into streaming or recording (voice or music). Due to its sturdy construction, it is great for heavy-duty usage.
Key features
The C-1U comes with a pressure-gradient transducer and shock-mounted capsule, eliminating background noise.
It is a Cardioid mic which means that it is suitable for one sound source, i.e., one vocal coming from one direction.
The built-in USB interface allows you to plug the mic into your PC or Mac and start recording right away.
The mic has great feedback rejection and produces good-quality sound. It has a flat frequency response producing rich-sounding audio output.
It requires additional software that can be downloaded for free from the manufacturer's web page.
7. Audio-Technica AT2020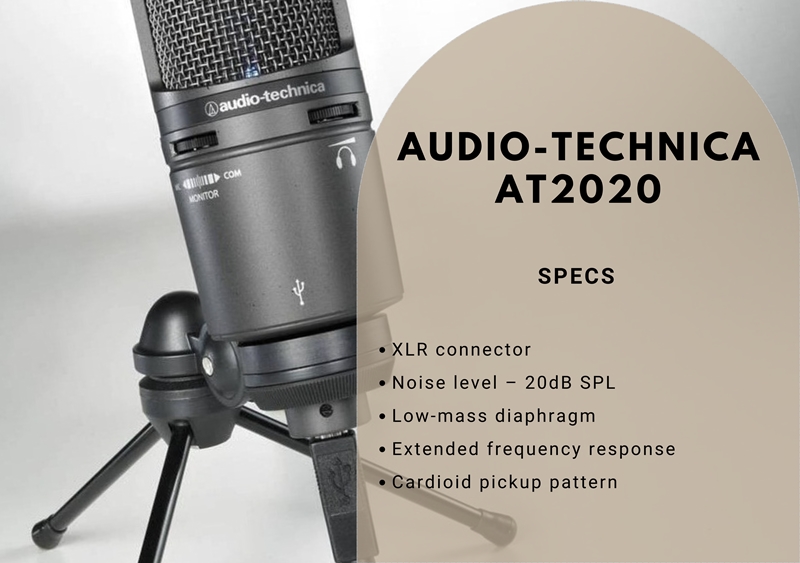 Audio-Technica is a Japanese company established way back in 1962 and has produced high-quality audio equipment.
Their products range from mics and headphones to phonographic magnetic cartridges. The AT2020 is one of their newest condenser mics that immediately caught my attention.
The AT2020 has a very high score on Amazon with great reviews across all categories.
What little critical reviews it has mainly address Amazon and not the product. The others come from people not knowing how to use an XLR mic.
Who is it best for?
It is advertised as the "best project or studio" microphone.
So, if you are creating a home studio or just want high-quality streaming and recording for your Twitch streaming, you can go for Audio-Technica AT2020.
It has a Cardioid pickup pattern that is suitable for a one-direction sound source. Also, It isolates the source and eliminates background noise and feedback.
It is supposed to be an upgrade from the less expensive USB condenser mics.
Key features
AT2020 is an XLR connector type mic, which means that it takes more time to set up since it requires additional software to work on a PC or Mac.
It should be noted that this particular offer does not include the XLR cable, which entails extra money spent on that if this is your first XLR.
It is a Cardioid condenser mic with the ability to be used for various home-based applications.
Apart from that, it has good background sound, white noise, and feedback sound isolation making it excellent for streaming, gaming, recording, or voiceovers.
8. Samson Condenser Microphone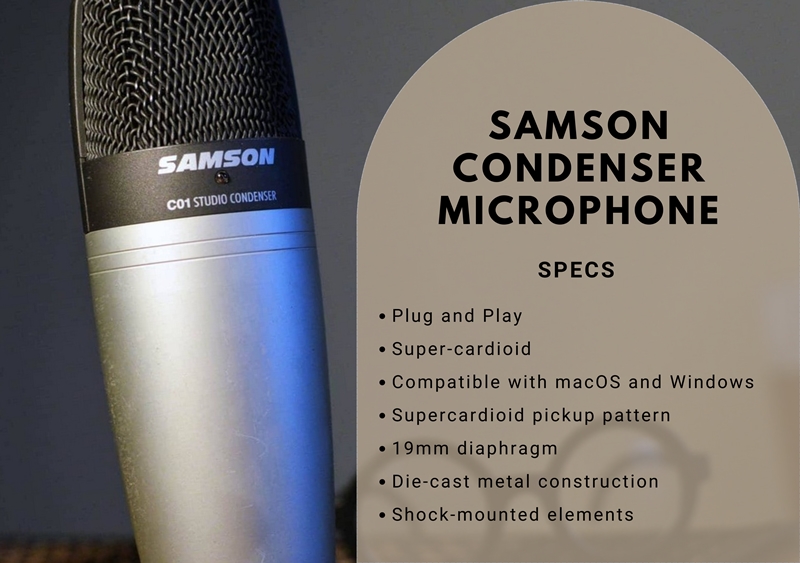 Founded in 1980, Samson has been producing audio equipment for both professional and other users for decades. This testifies to the products' quality; otherwise, it wouldn't last this long.
Samson Condenser mic is one of the best mics for under 100 dollars currently on the market. It has positive reviews across all categories.
Who is it best for?
If you are looking for precise sound input from one direction, you will make no mistakes with the Samson Condenser mic.
Due to its background noise-canceling abilities and monitoring through headphones, you will ensure that your recording quality is pristine.
It is perfect for those streaming on Twitch or creating Youtube content, podcasting or voiceovers.
Also, it is the only one on my list that can be used with your phone. So, if you like to record or stream on the go, this is your best choice.
Key features
It is said to produce professional studio sound quality in your home. It has headphone monitoring with no latency so that you can control your recording in real-time.
The output is rich, and the mic captures all the details while eliminating the background noise thanks to the super-cardioid pickup pattern.
It is compatible with both Mac and Windows. It is also compatible with iPads and iPhones, provided that you are using Apple's Lightning USB Camera Adapter.
The microphone comes with a desktop tripod and a swivel mount. It can also be equipped with a shock mount to eliminate handling noise.
What to Consider when Buying a Mic for Streaming
In this section, I wanted to teach you how to do this kind of research yourself, so I created a list of the most important things you need to look for in the best mic under 100.
1. Pickup Pattern
The pickup pattern on a mic can be Cardioid or Omni. You will choose one or the other depending on your recording conditions.
Cardioid is best for one source and noise-canceling, while Omni is better for multi-source sounds.
2. Gain Control
Some mics come with built-in gain control, while others require post-recording editing. Which one you choose depends on how experienced you are in editing your audios.
This relates mostly to high-frequency and/or loud sounds that come suddenly and unexpectedly.
3. Condenser vs. Dynamic Mic
The main difference here is in use, and if you are looking for a home studio mic, a condenser is a better, cheaper option.
Dynamic mics are used mostly for live performances.
Conclusion
After close inspection and hours of examination of the products, my verdict is that TONOR Q9 could be one of the best microphones under 100.
This is because it is versatile, has an excellent quality sound output, and is user-friendly.
However, the choice you are going to make is based on your needs.
If you do not like any of my suggestions, feel free to research on your own and share your opinion.
I hope that this guide will point you in the right direction.
Frequently Asked Questions
Are XLR mics better than USB mics?
Technically, they are more versatile and can be plugged into non-digital equipment.
How to position your mic?
Position the mic, so it is one to three inches away from your mouth. Also, ensure that it is not directly in front of your mouth – a bit to the side, lower, or even higher from your mouth is ok.