Content creators often have to deal with a plethora of problems, of which one of the most common ones is dealing with background noise.
To help battle that, I suggest using Blue Yeti USB Mic. In my opinion, this is the best mic for noisy environment, because it has a polar pattern that effectively reduces background noise.
In this article, I will cover some of the best microphones for working in environments with a lot of unwanted noise and some of the most common queries you might have if you decide to purchase one for yourself.
QUICK OVERVIEW: Mic for Noisy Environment
Full metal construction
Measurements: 4.92 x 4.72 x 11.61

Cardioid pickup pattern
Off-axis suppression function

Aluminum construction
Y splitter connector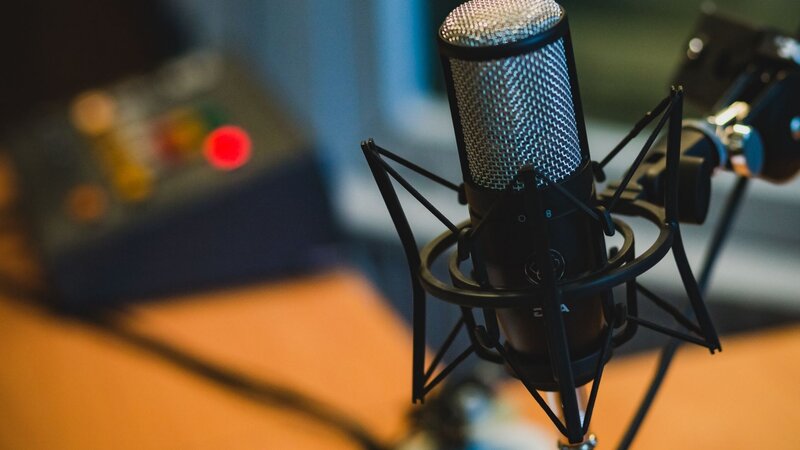 Best Mic for Noisy Environment
Reviewed & Tested
---
Picking the right microphone for your needs is quite complicated.
Should you select a dynamic or condenser microphone? Which will give you the best audio quality in a noisy environment? What kind of polar patterns should they have? And what about frequency response? There are so many questions.
The truth is, both the condenser and a dynamic mic can offer you high-quality audio in certain situations, depending on their numerous available functions.
Some are better than others in their respective categories, so I'll attempt to cover the best of both worlds to try and help you make that critical decision.
After testing a bunch of different models, I have created a list of 7 different microphones.
So let's check out their pros and cons, and some of the reasons you should consider them if you work in loud and noisy environments.
1. Blue Yeti USB Mic
Top choice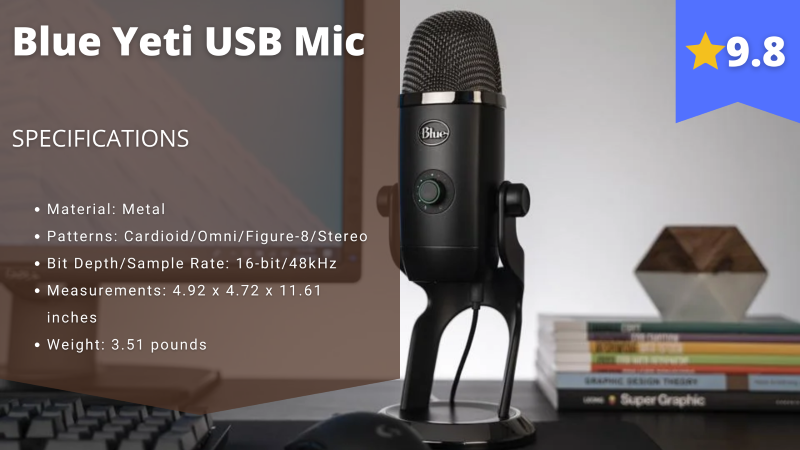 Stefan's Take:
I have been using this Blue Yeti microphone for quite some time: streaming, voice-overs, and vlogging, and it's probably one of my best investments.
The sound is crystal clear, even in a louder environment, plus it is easy to set up with plug & play, and multi settings come quite in handy.
| | |
| --- | --- |
| Noise-Canceling | 9 |
| Audio Quality | 10 |
| Polar Pattern | 10 |
| Price | 10 |
There's no better way to start any microphone list than with the Blue Microphones, and this creation comes in the form of a Blue Yeti USB recording microphone.
This blackout-colored, complete metal construction professional mic offers brilliant and transparent sound quality thanks to its custom three-capsule array.
With the downloadable G-hub app, you can gain access to Blue Voice software, with which you can add all manner of different effects, modulation, and HD samples.
The best thing about this model and what can serve you best when dealing with background noise is that it has astonishing four polar patterns that you can pick.
It comes with cardioid, Omni, bidirectional, and stereo pickup patterns.
If you're working in a specifically noisy environment, you can switch to a cardioid polar pattern, which will help reduce background noise.
You can do that via onboard audio controls, which allow for instant mute, mic gain, and headphone volume control so that you can have complete control over your experience.
All that and more makes this Blue Yeti the best noise-canceling plug-and-play USB recording microphone.
Pros
Good construction and slick design
USB port, easy to plug and play
Extremely versatile for use
Has practical onboard audio controls
Cons
Mute button can sometimes be fiddly
2. TONOR TC30
Best microphone for podcasters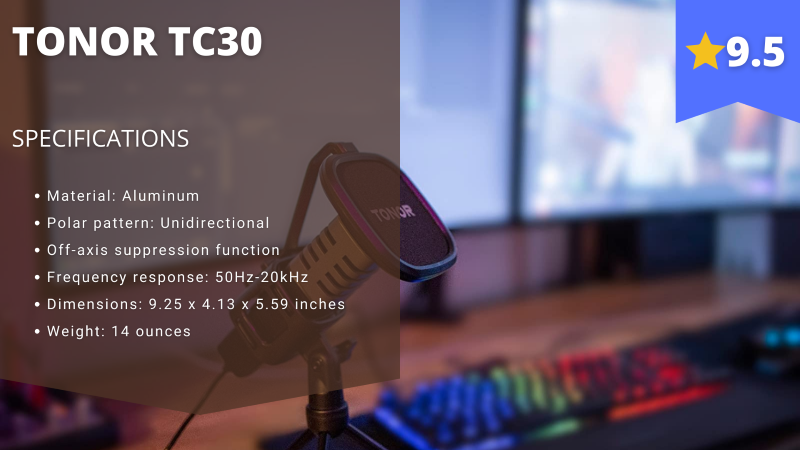 Stefan's Take:
Even though this mic has two noise-reduction features, I still noticed a bit of ambient noise in my videos and streams. Luckily, repositioning the microphone and pop-up filter, and a bit of editing resolved that problem. Overall, the audio in my videos was clear.
The only feature I would like it to have is a mute button, but you cannot get it all for $25.
| | |
| --- | --- |
| Noise-Canceling | 9 |
| Audio Quality | 10 |
| Polar Pattern | 9 |
| Price | 10 |
Next on the list is TC30, Tonor's excellent cheap, and widely applicable USB condenser microphone.
TC30 is a somewhat unusually shaped cardioid microphone with an attractive design.
This condenser mic is excellent at reducing background noise for two main reasons.
First and foremost, it possesses a cardioid polar pattern with an excellent off-axis suppression function, which allows it to capture clear and natural sound while simultaneously suppressing any excessive background noise.
The second noise reduction feature comes from the upgraded concealed shock mount, which additionally reduces any background noises coming from the mouse, keyboard, or by touching the microphone.
I like that mic itself is stupidly easy to set up and use.
You only need to unfold the stable tripod stand, attach the pop filter, and plug in the USB cable, and you're ready for youtube or twitch streaming, conference calls, gaming, and everything else that comes to your mind.
TC30, in short, is a tremendous noise-canceling microphone at a very affordable price.
Cons
Would benefit from a mute button
3. ZealSound Studio Recording Mic
Best budget microphone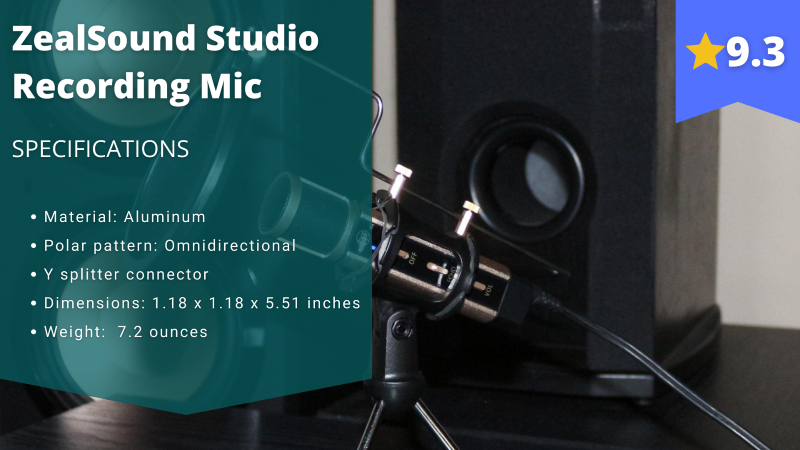 Stefan's Take:
When it comes to design, this is just a slight upgrade to the previous model. The buttons for audio adjustments are a big plus, but I had the same problem with ambient noise as with TC-30.

While the mic is designed to reduce unwanted noise, some of it will be picked up. And it's probably due to the poor build of the pop-up filter – it was brittle, and I couldn't position it to get the wanted audio quality.
| | |
| --- | --- |
| Noise-Canceling | 9 |
| Audio Quality | 10 |
| Polar Pattern | 9 |
| Price | 9 |
Now I'll cover one best budget condenser mics on the market.
It stands just north of 30 dollars, but don't get fooled by its price. ZealSound's Studio recording condenser microphone represents a surprisingly good deal.
It is adorned with a fresh and unique design. It has an aluminum body with a rather exciting gold and black pattern.
It's a highly user-friendly mic that doesn't require any advanced technical knowledge to put it to work.
It comes with Y Splitter for two separate microphones and earphone ports.
One is a stereo 3.5mm jack for latency-free real-time monitoring, with the other one being a combo microphone and earphone port.
Its omnidirectional polar pattern captures sound from all directions and provides satisfying sound quality.
The most helpful feature of this condenser microphone is simultaneously the most crucial reason why it finds its place on this list.
A built-in sound card with VC Noise Reduction Technology allows you to record natural crisp sound while doing a more than decent job at handling noise.
Plus, it's worth mentioning that it has volume and echo slide buttons for additional adjustments.
And while it's perhaps not on a professional level, it still offers excellent value for a minimal price. Therefore it is ideal for voice-overs, video commentary, or recording music.
Pros
Pleasing to the eye
Compatible with many devices
Good performance-to-price ratio
Cons
The pop filter is a little brittle
4. Shure SM7B
Best dynamic microphone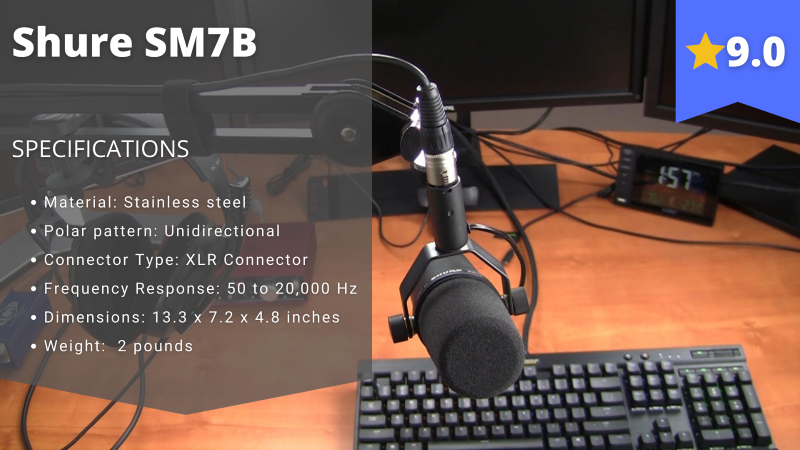 Stefan's Take:
The best feature of this microphone is the sound – I tested how it captures different sound levels and was amazed by its smooth frequency response. And when it comes to noise reduction, it works just as well!

However, you should keep in mind that it's not for everyone. The setup was a hassle and all of those superb features come at a high price, so if you're not a pro, I don't recommend getting it.
| | |
| --- | --- |
| Noise-Canceling | 9 |
| Audio Quality | 10 |
| Polar Pattern | 9 |
| Price | 8 |
SM7B is a premium XLR dynamic microphone made by a company known for its exceptional audio solutions.
This 400 dollars beast is the hardware of choice for many famous streamers, podcasters, and singers.
Shure SM7B is an all-in-one solution for everything, from amateur vocal recording to professional-level studio work like recording music.
Shure SM7B mic screams class, with its high-quality build and an all-black color scheme, plus it's jammed packed with features, which is to expect at this level.
It uses an XLR connection, and it's not a plug-and-play solution, so it requires an additional audio interface for streaming to function.
A dynamic cartridge with a wide-range flat frequency response enables Shure Sm7B to produce immaculate audio recordings of both voice and music.
Its cardioid polar pattern is made with uniformity in mind so that your voice-overs and audio quality are always top-notch.
As for Shure SM7B noise cancellation abilities, this dynamic microphone uses air suspension shock isolation and a high-quality pop filter to eliminate everything, from breathiness to mechanical background noise.
It also utilizes advanced electromagnetic shielding to deal with unwanted noise from all sorts of studio equipment.
Shure SM7B is one of the better premium dynamic microphones on the market, but it also comes with a premium price, which might turn away anyone but dedicated professionals.
Pros
Stylish look
Excellent sound quality
It doesn't require phantom power to function
The choice for many professionals
Cons
It has a relatively low-noise floor
The price is still a bit steep
5. SAMSON C01U Pro
Best microphone for streaming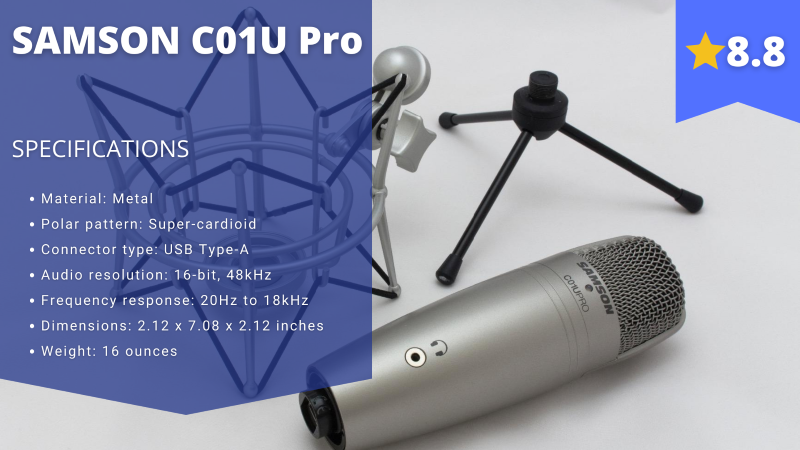 Stefan's Take:
I was a bit unsure how well this mic will perform since it doesn't have a pop-up filter, but the design and polar pattern do a great job of reducing noise. It picked up even the smallest details, but still filtered the unwanted ones. 
Even though it is plug & play, and the computer recognized the mic without any trouble, I still had problems with the setup because of the short cable.
| | |
| --- | --- |
| Noise-Canceling | 9 |
| Audio Quality | 9 |
| Polar Pattern | 9 |
| Price | 8 |
Now we're going to dial down a bit with something more manageable for your wallet. C01U Pro is an outstanding condenser microphone coming from Samson.
This great mic gives a sleek and professional feel with its silver color and complete metal construction.
No additional audio interface or driver installation is necessary. This USB microphone is a plug-and-play solution, and it is therefore entirely user-friendly and easy to use.
C01U Pro has a 19mm large-diaphragm mic element that will competently perform in any task you throw at him, from a simple podcast to recording instruments.
It has a flat frequency response of 20Hz-18kHz, and a 3.5mm audio jack for latency-free monitoring.
C01U Pro handles its unwanted background noise well thanks to its supercardioid polar pattern and solid die-cast metal construction.
Supercardioid polar pattern is fantastic at picking up audio recording specifically from the front of the microphone while simultaneously rejecting any unwanted noise coming from other directions.
Meanwhile, its sturdy metal construction, with a sturdy tripod stand and a shock mount, minimizes background noise from vibrations and handling.
This condenser mic is well worth your attention, and it offers outstanding performance while going easy on the pocketbook.
Pros
Easy to plug and play
Clean and warm sound
Headphone jack for zero-latency monitoring
Excellent price
Cons
The cable's on the short side
6. Shure Super 55 Deluxe
Best microphone for professionals
Stefan's Take:
The frequency response of the Shure Super 55 Deluxe is great, and the mic easily picks up different tones and delivers great-quality audio, while reducing unwanted noise. I didn't really enjoy the design and was accidentally turning it off but maybe that's just me.

Considering the price, I would say that this is another mic for professionals since it's a big investment.
| | |
| --- | --- |
| Noise-Canceling | 9 |
| Audio Quality | 9 |
| Polar Pattern | 9 |
| Price | 7 |
Super 55 is an excellent dynamic microphone that combines that vintage old-school design with a modern sound and pretty cool features.
Super 55 is, without a doubt, one of the best-looking dynamic microphones around.
Build quality is top-notch, as per usual when it comes to Shure. Chrome-plated entire metal construction with rich blue foam underneath makes up for that timeless iconic look, and that's hard not to appreciate.
This dynamic mic has a specifically tailored wide-frequency response that's great for recording both vocals and audio.
Super 55 also has several ways of handling noise cancellation.
It uses a supercardioid pickup pattern for super-focused sound input, as well as a shock-mounted cartridge that minimizes noise transmitted from the stand, thus enabling quiet operation.
I don't enjoy the way they handled the positioning of the off switch. The mic can sometimes be accidentally turned off, which is something to bear in mind in the long run.
All in all, this dynamic microphone can certainly stand on its own with some much pricier heavy hitters, and it's well worth the money.
Pros
Exceptional build quality and durability
Natural and crisp sound quality
Cons
Sensitive to plosives without a pop filter
7. CAD Audio E300S
Best condenser microphone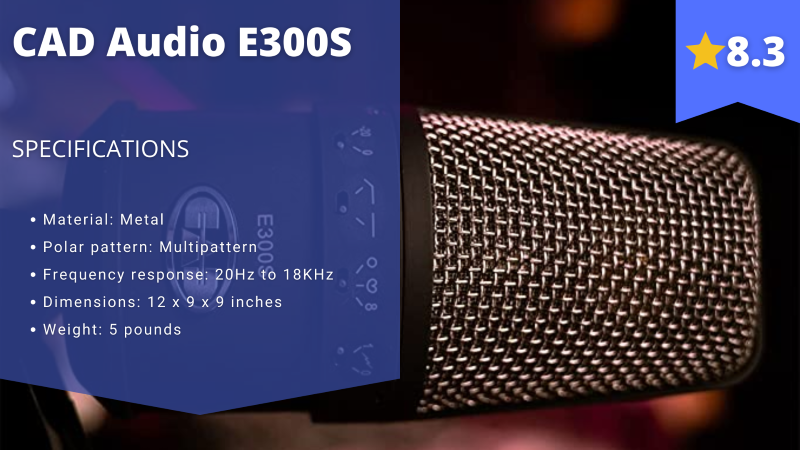 Stefan's Take:
What I liked the most about this mic was the option to switch between polar patterns and get the best audio quality no matter the environment in which I'm recording. The design is also neat with many handy, on-board controls.

The biggest downside was the phantom power – 48V is required for the best mic performance.
| | |
| --- | --- |
| Noise-Canceling | 9 |
| Audio Quality | 9 |
| Polar Pattern | 8 |
| Price | 7 |
This ruggedly built condenser mic has a formidable presence without being bulky.
E300S offers ideal performance in studio conditions and live recording performances.
It has helpful onboard controls like an on/off switch with an auto power shut-off feature, a hi-pass filter, and a 20dB pad, as well as a wide frequency range.
It functions on an externally based condenser principle, and it features three different polar patterns that you can use according to your need to best deal with a noisy environment.
E300S also comes with a decent shock mount to help with unwanted background noise from handling and vibrations.
You should have in mind that it requires 48V phantom power, and it is a bit pricey, but it still offers brilliant performance, and it's one of the best noise-canceling microphones around.
Pros
Produces superb natural and worm sounds
Imposing look
Flexible in its use
Cons
Requires phantom power for best results
What to Look For When Buying the Best Mic for a Noisy Environment
Type of technology
Deciding on the best microphone that is also good at reducing background noise is not a small task. There are many things to consider, and it's always best to familiarize yourself with the topic at hand.
Firstly you need to pick between a condenser or a dynamic microphone.
Condenser mics are generally more sensitive to background noise, or any sound for that matter.
But still, you can't rely solely on that, and there are a few more things that could help you decide what is the best microphone for your needs and decide between these two.
For instance, how to pick a mic with the proper polar pattern.
Choosing between all the different directional microphones could be that difference-maker and an excellent way to reduce background noise further.
Having a mic with a cardioid or supercardioid polar pattern is a wise decision if you want to focus mics attention specifically on what's in front of it.
Connectivity could also play a significant role. If you're not tech-savvy and want something that you can more easily work with, a USB microphone might be more up your alley.
You should also be aware of the type of audio chipset they come with because they could have noise-reducing technology built directly inside.
Some dynamic or condenser mics can also come with unique custom-built noise-reducing shock mounts, so it's something to consider.
Levels of Unwanted Background Noise
The vital thing to focus your attention on is also your working environment. Are you recording predominately from your room, are you more often outside, or perhaps in a professional studio?
Recording vocals might be near impossible with a budget-friendly microphone if you're doing most of your work in public spaces or even poorly sound isolated rooms.
You would then probably have to get a microphone specialized for that sort of work, and it would likely require you to invest significantly more money than you might have originally planned.
On the mirror side of things, you could be working from a recording studio, or maybe a basement or a bunker, where the most unwanted sound that you have to deal with might come down to electromagnetic hum from a PC monitor, or even just the sound of your nearby laptop fan.
Sound Quality Needs and Budget Limitations
Budget is something that most of us have to consider, at least those not sitting on the big pile of cash.
Those considerations usually consist of making a healthy midpoint of getting the best microphone for the least amount of money or at least getting the best deal possible.
That's why it's essential to consider both of the points above.
Once you decide what you'll be using your dynamic microphone for, your choices regarding types and their specifications, and where you'll be conducting your affairs, things will start to clear up.
It would be best to be mindful of mics capabilities, where and what you'll be using it for, and even what kind of additional equipment comes with it.
Microphones like Shure SM7B may objectively be overkill for your requirements.
The general rule is that you usually get what you pay for, but there are certain compromises that you could get away with if you plan things properly.
Conclusion
That is my list of the best microphones for a noisy environment. Here is a short overview of the top three products:
Blue Yeti USB Mic as the best overall,
TONOR TC30 as the best for podcasters,
ZealSound Studio Recording Mic as the best budget option.
I hope that I have made your search for the right mic just a bit easier. Have fun creating new content!
Frequently Asked Questions
Is there a microphone that cancels background noise?
While there might not be completely noise-free microphones available, there are, of course, some that are better at it than the others.
You will not find the same features in a random, cheap USB microphone as in some expensive branded professional XLR microphone that can cost up to hundreds or even thousands of dollars.
The best mics for the job are the ones with some noise-canceling technology built-in directly inside of them, as well as those equipped with the right kinds of polar patterns and noise levels in mind.
How do I stop my mic from picking up background noise?
There are a few solutions that can help your case. The first thing you can do is place yourself closer to the microphone.
That way mic will read you better, making your voice sound clear and more powerful, overcoming the noise around you.
Also, unless you are using some cheap wireless headset, you'll have access to software or a hardware equalizer that you can use to fiddle with the frequencies, thus helping you get clear audio in your recordings.
And finally, you can use microphone windshields and shock mounts. The former will help reduce the noise from vibrations of the mic itself, while the latter will directly influence the level of background noise from ambient air, wind, or breathing.
How do you record a noisy environment?
The best thing to help yourself in those situations is to do whatever you can to reduce the background noise that's bothering you.
If you're recording from your room, close the doors and windows, thus reducing noise levels from passing cars, pedestrians, and households.
If you're doing your work outside, reduce background noise by moving to a quieter place. And if you're in a studio of some sort, shut down all the unnecessary equipment.
Move away from air vents or air conditioning devices, and even be mindful of led lights or computer monitors electromagnetic hum because they too can cause significant interference.