If you have ever used your laptop's integrated microphone or a low-end headset to make a discord voice (or video) call, you know that the sound quality on these devices isn't really satisfying.
To remedy this problem, you'll need to get a standalone microphone that'll catch your voice and filter the background noise, and provide a much clearer version of your voice. And the best mic for Discord that can do that is Blue Snowball Ice.
Knowing that buying a microphone can be quite a daunting prospect, I have decided to create a list of the best microphones for Discord for you to choose from.
QUICK OVERVIEW: Best Mic for Discord
Connectivity: USB
Size: 10.6 x 5.5 x 9.1 inches

Connectivity: USB
Compatibility: PC, Laptop, XBOX, PS4

Compatibility: PC
Color: Black
Best Mic for Discord
Tested & Reviewed
---
1. Blue Snowball Ice
Best overall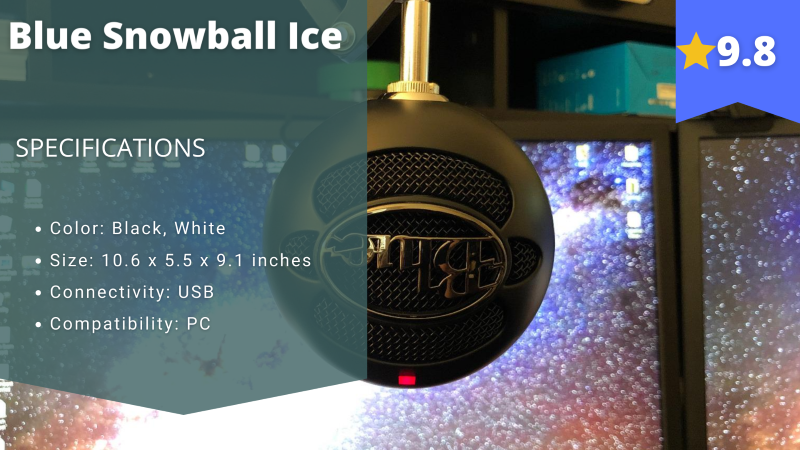 Stefan's Take:
This mic is my favorite for several reasons: it's plug and play, therefore super easy to set up, it comes with a tripod, which blocks all desk vibrations, and the sound is clear and crisp.
While there is no built-in mic control, I still found managing the sound for Discord relatively easy since Discord has plenty of features, such as noise suppression, so I don't think this is a big flaw.
All in all, it's an incredible mic that produces quality sound while being pocket-friendly.
| | |
| --- | --- |
| Audio Quality | 10 |
| Noise Suppression | 9 |
| Compatibility | 10 |
| Value | 10 |
I am beginning this list of best microphones for Discord with Blue Snowball Ice, a USB microphone that, despite being on the lower end of the price range, boasts some pretty respectable capabilities.
Why do I think Blue Snowball Ice is the best among these?
First of all, because of the visual appearance of this condenser microphone. It looks like a large ball (black or white) mounted on a tripod stand that can be placed on any surface you desire, though a computer table would be best.
The cable is also decently long and allows you quite a bit of freedom when choosing the best spot to place your microphone.
But the key selling point of this mic is the sound quality. It's superb, considering that you're getting a USB mic at a lower price range.
Its 44.1 Khz and 16-bit are just enough to provide near crystal clear sound and decent noise cancellation.
I am actually quite a big fan of this microphone, as its great sound quality, USB connectivity, and above all else, the cardioid polar pattern makes it quite a decent mic for my discord voice chat.
In the end, if you are looking for a device featuring an elegant design, functional microphone stand, and good sound quality, Blue Snowball Ice is a great USB microphone for you.
Pros
Low price
Great tripod
Very elegant
2. Blue Yeti USB Mic
Great plug-and-play microphone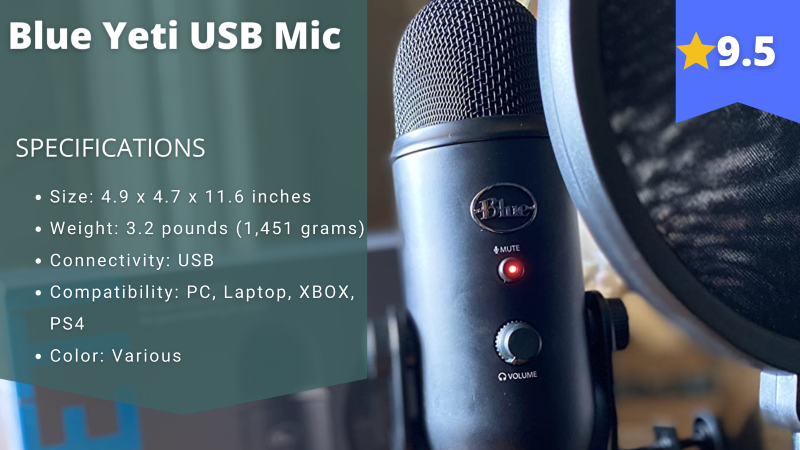 Stefan's Take:
I'm a big fan of the Blue Yeti USB Mic – it's one of the first mics I used for streaming and recording. This mic can produce studio-quality audio, but you won't have to spend more than 100 bucks for that feature.
The four different polar patterns and noise-suppression features are responsible for such good audio quality.
Additionally, it has several built-in volume controls (just basic ones, like the mute button and turning the volume down or up) that come in handy when you're live and need to readjust your audio settings quickly.
| | |
| --- | --- |
| Audio Quality | 10 |
| Noise Suppression | 9 |
| Compatibility | 10 |
| Value | 9 |
Blue yeti USB Mic is a high-quality microphone for Discord and one that can almost match the stereo-quality sound.
While not the best gaming microphone out there, it is still a respectable choice for this use, too, providing better sound quality than most other solutions on the market available in a plug-and-play microphone.
Speaking of its qualities, Blue Yeti USB Mic is specifically built to be a microphone for Discord and other voice chat applications.
As a result, it has more than just a standard cardioid condenser polar pattern, adding three more: omnidirectional, bidirectional, and stereo polar pattern.
Said microphone features make it a great all-purpose device, allowing for excellent sound quality even when you are focused on your game or movie and not on the call itself.
Furthermore, the omnidirectional pickup pattern will allow multiple people to use the microphone at once if needed, making it great for group discord calls.
Mic sound and voice sound remain great even in conditions of background noise, and the headphone jack makes it easy to couple this USB mic with a gaming headset.
Finally, the presence of the gain control knob on the back of the microphone and a very functional desktop stand make this device one of the best microphones for Discord currently available for purchase.
Unfortunately, there are some compromises that you will have to agree to if you buy a Blue Yeti Mic.
First of all, the device is quite bulky and has considerable weight to it, making it somewhat difficult to move while playing a game or engaging in a heated discord argument.
Still, I would personally recommend this microphone to anyone who intends to use its multiple polar patterns or pair it up with a good gaming headset.
Pros
Four different condensers
Wide compatibility
Excellent noise suppression
Plug-and-play
3. Amazon Basics Desktop Mini
Great microphone for beginners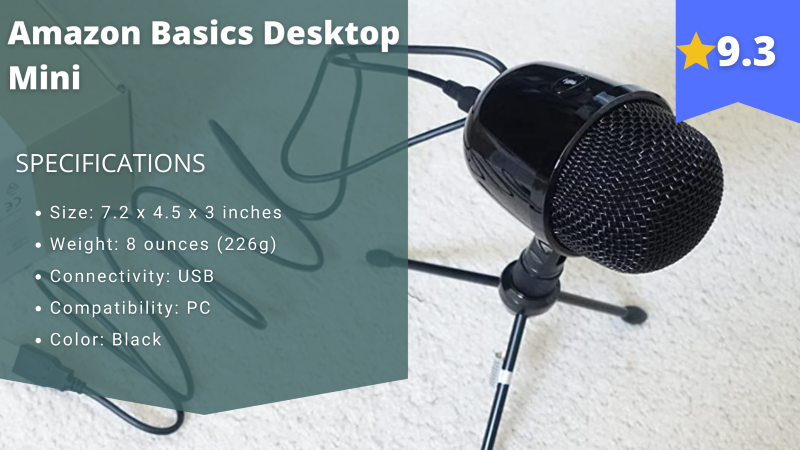 Stefan's Take:
This mic has plenty of good features, such as a tripod that blocks desk vibrations, decent audio quality, and easy setup, thanks to plug-and-play features.
Also, it has a noise-suppression feature but how well it will work depends on the environment. Considering that it is a budget microphone, it's not flawless, and if you're recording in a quiet room, you'll get great sound quality easily.
| | |
| --- | --- |
| Audio Quality | 9 |
| Noise Suppression | 9 |
| Compatibility | 10 |
| Value | 9 |
Amazon basics desktop mini is an affordable microphone for Discord. It features a mic stand, impressive sound quality for its price range, and great background noise cancellation.
As with all USB microphones, this one isn't really meant to provide studio-quality sound.
Instead, the audio quality of an Amazon basics microphone is meant to be just good enough to make it an excellent option for discord voice and video calls and amateur streaming, something that it accomplishes effortlessly.
 Still, the microphone has some glaring weaknesses, not the least of which is its design. When compared to its competitors, such as Blue Ice, Amazon's desktop mini just doesn't look as sleek.
Furthermore, the fact the condenser only blocks some of the noise from behind the microphone and not all background noise makes it pretty basic, especially when you add the fact that the tripod isn't the best.
It's not bad, though, and the audio quality is pretty darn impressive for a low-end USB microphone. It's just that you will have to give up on some quality-of-life options that its competitors may have.
My personal experience with this microphone was very much a mixed bag.
On the one hand, it provided great sound quality while I was sitting in a mostly quiet apartment talking to my guildmates on Discord.
On the other hand, when I attempted to do the same thing with my family home, the background noise made it pretty hard for the other people on the call to hear me.
In the end, if you are looking for a low-end microphone that has its own USB port and is a significant upgrade over your webcam, you are good to go.
But if your goal is to do something more advanced, such as lead an in-game activity in a discord call while fending off annoying roommates, you might need to look for a different device.
Pros
Simple to use
Decent sound quality
Very affordable
Cons
Visually unattractive
Not the best noise suppression
4. Shure Microphone
Microphone with the best noise suppression
Stefan's Take:
I was excited to get my hands on Shure Microphone since I knew I wouldn't be disappointed. The microphone looks elegant and futuristic, with a plethora of features that will produce outstanding sound quality.
One of its best features is noise suppression, which works even in louder environments. Additionally, there is no latency, which is the most important for Discord calls, streaming, and gaming.
| | |
| --- | --- |
| Audio Quality | 9 |
| Noise Suppression | 10 |
| Compatibility | 9 |
| Value | 8 |
Shure microphone is quite a unique device and a very good microphone for Discord.
First of all, the futuristic design of this device is very elegant and appealing to a consumer's eye, making it an interesting prospect right from the start.
The silver-colored desktop stand with a ball-shaped mic on top, the device is very iconic yet takes so little space when put on a desk (it is only 14 cm tall along with its stand).
The audio quality of this device is great. The noise suppression works wonders, and the fact that the capsule is custom-tuned allows you to focus the input just the way you want it to, which is great when you are on a discord call in a noisy environment.
Next, this device is compatible with IOS, something not many USB microphones can boast with, meaning that you will be able to use it with your Macintosh without needing to install additional drivers or tweak some settings you might not be familiar with.
The desktop stand is very well balanced, equally as just about any tripod, and allows for a great degree of adjustment when choosing the right angle for your microphone.
Even more importantly, this microphone features zero latency, meaning that it can be easily paired up with a gaming headset or just be a really good mic for Discord on its own.
The voice recognition is also good, better than in most other USB mics in this price range, making the Shure microphone a great choice for a gaming mic, at least if you are looking for sound quality over everything else.
Pros
Excellent desktop stand
Great sound quality
Very light and easy to use
Compatible with iOS
5. Rode NT-USB
Best microphone for professionals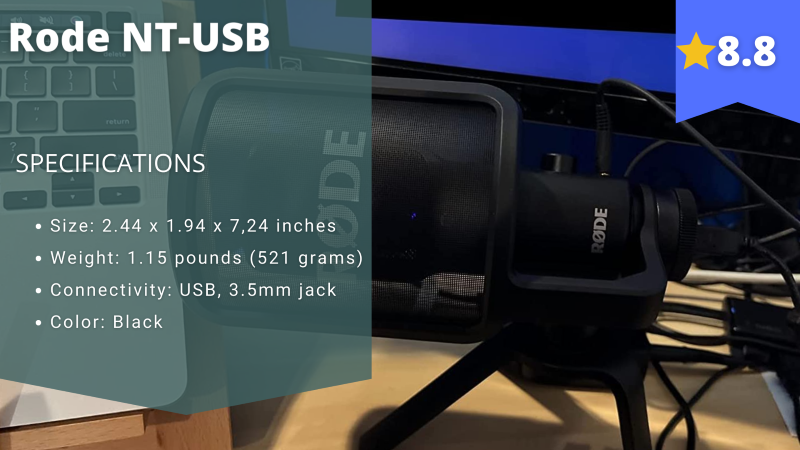 Stefan's Take:
What stood out to me was the dynamic range and quality of the microphone. I could quickly tell that a lot of thought was put into building this microphone and choosing the patterns that would create the best sound quality.
It features voice recognition that works superbly and noise suppression, so even if there is some background noise when recording, you don't have to worry about it disturbing your sound.
The tripod comes in handy and allows you to position the mic as wanted, but you can also place the mic on the boom arm if that's what you prefer.
| | |
| --- | --- |
| Audio Quality | 9 |
| Noise Suppression | 9 |
| Compatibility | 8 |
| Value | 9 |
Rode NT-USB is an amazing condenser microphone that provides amazing voice recognition and noise cancellation and is by far the best microphone for Discord that costs less than $200.
The Cardioid capsule of this microphone comes with an excellent tripod that will help you maintain the best sound quality even in suboptimal conditions.
Furthermore, you can order a shock-resistant desk stand or even a suspender, as the microphone is compatible with both, but you are unlikely to need either if your plan is to use the Rode NT-USB for regular discord calls. Still, it is nice to have the option.
One great thing about this USB microphone is the quality of its components, especially the capsule. The microphone has an omnidirectional pickup pattern as an option, but it is rarely used due to its tendency to pick up absolutely everything around it.
Nevertheless, Rode NT-USB has my approval as a high-quality condenser mic and a gaming microphone for Discord, even If you won't be using some of its features most of the time.
One such feature is this microphone's connectivity via a 3.5mm jack in addition to USB, which gives it an extra degree of compatibility when compared to some less advanced options.
In the end, this is truly an amazing microphone. It does everything its competitors can do, but better. However, I feel like some of its many qualities might be wasted on use as Discord calls.
Pros
Amazing audio quality
Excellent tripod
3.5 mm jack included
High-quality components
6. JOUNIVO PC Microphone
The cheapest option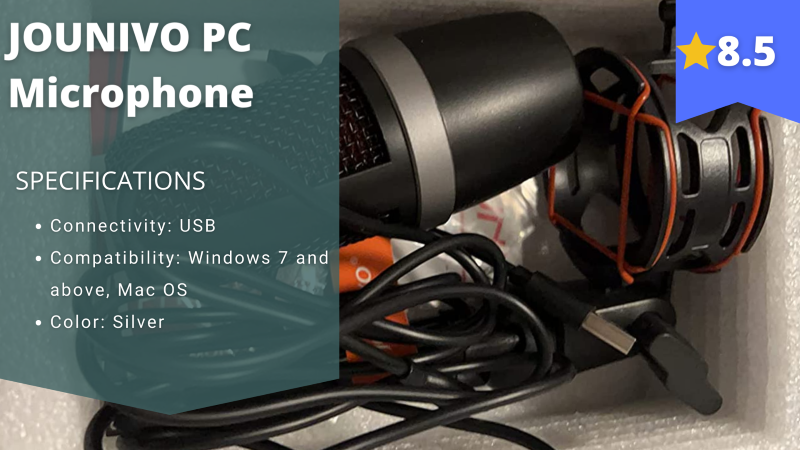 Stefan's Take:
I was a bit skeptical about how well this microphone would work, but it was a nice surprise. The audio quality is amazing, and you can easily change the settings through software.
It even does a decent job at filtering your voice from other sounds in your room, so it shouldn't be a big deal if you're working in a bit noisier environment.
| | |
| --- | --- |
| Audio Quality | 9 |
| Noise Suppression | 8 |
| Compatibility | 9 |
| Value | 8 |
While not the most advanced in terms of features it possesses, this JOUNIVO device remains a strong contender for the spot of the best mic for Discord due to its incredible simplicity.
First of all, the device is completely plug-and-play with no additional drivers whatsoever. Instead, your operating system (Windows or macOS) is the one that you will use to adjust the microphone's volume and other settings.
In fact, the microphone only has a mute button; everything else is controlled via software.
Another great feature of this simple yet incredibly useful device is its natural sound quality.
The quality audio of this thing is simply incredible for something as streamlined, and the lack of volume control and other audio customization options don't really hurt, as you can still do those things on your computer.
 Nevertheless, this microphone still beats just about any wireless headset when it comes to sound quality, especially with its omnidirectional pickup.
Unfortunately, it is only compatible with PC (Windows 7 and above) and macOS. You will not be able to use it with gaming consoles, nor any Blackberry or Android devices.
In the end, my opinion on this device as a mic for Discord is mostly positive.
Not only is it made of metal and quite resistant (something that I find very useful when I get excited while playing my favorite MOBA), but it is also incredibly simple to use and very lightweight. The incredibly long (6ft) cable also helps.
Pros
Very cheap
Good audio quality
Long cable
Simple to use
7. ZekPro USB Microphone
Good budget microphone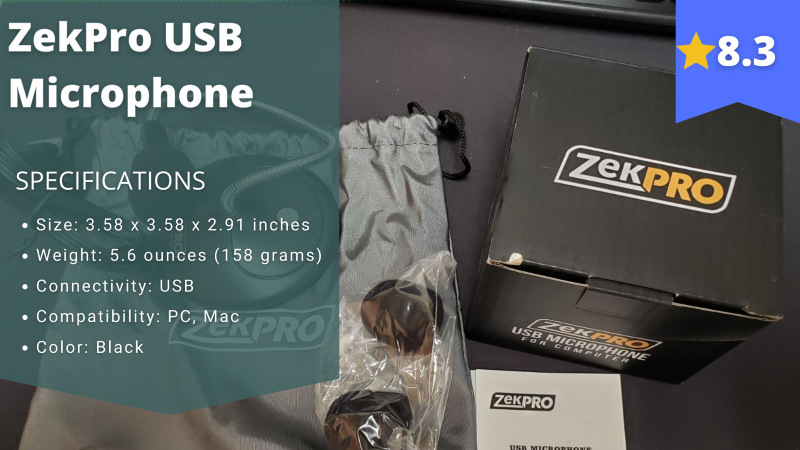 Stefan's Take:
What I liked about this microphone was the plug & play feature, a long cable that allowed me to position it wherever I wanted, and its lightweight construction so that I could use it even on the go.
It produces a decent sound quality, even better if you aren't too impatient to adjust the volume in the software a bit, and due to the low price, I think it would be a great microphone for someone just starting.
| | |
| --- | --- |
| Audio Quality | 8 |
| Noise Suppression | 8 |
| Compatibility | 8 |
| Value | 9 |
This plug-and-play microphone from zero is quite a popular choice among those who use discord and other voice and video communication apps for their business or gaming.
There are several factors contributing to this consumer's decision. First, the device is quite attractive with its metal components and relatively easy to adjust with its light desktop stand.
Next, the audio is quite high quality for such a low-end gaming microphone and is better than that of any wireless gaming headset, which is to be expected, seeing as we are talking about a standalone, corded mic. Nevertheless, it will be a nice upgrade if you are currently using a wireless headset.
The built-in sound card makes this microphone completely plug-and-play. Once you buy a zek pro computer microphone, the driver installation will become a thing of the past.
Naturally, there are some drawbacks that come with the device's low price. First of all, it comes with a desk stand and not a tripod, which can make it a lot less shock-resistant.
Another problem is the lack of volume control on the microphone itself. Instead, all the volume adjustments are made through your PC, while the mic has only a mute button.
Is this the best mic for Discord out there? Hard to tell. It very much depends on your needs, whether you are a casual or a more professional user. Still, it is quite a respectable device.
Pros
Plug-and-play
Low price
Good audio quality
Led mute indicator
What to Consider When Buying a Microphone for Discord?
As with all other gadget purchases, choosing the best microphone for you personally can be quite complicated. There are a lot of factors that you ought to consider, after all.
Firstly, are you satisfied with a basic plug-and-play device that you will be able to get average results on, or are you aiming for a high-end microphone with multiple captures and an anti-vibration shock mount?
Do you plan on simply calling your s/o or leading a large raid in an MMO? Do you live alone, or do you have loud roommates or siblings that would require you to have good noise cancellation on your mic?
Finally, will discord calls be the microphone's only use, or do you intend to stream as well? All these factors contribute to your ultimate choice.
Conclusion
To summarize, my top three mics for Discord are:
Blue Snowball Ice as the best overall,
Blue Yeti USB Mic as a great plug-and-play mic,
Amazon Basics Desktop Mini as a great choice for beginners.
Each mic has its pros and cons, and whether it will be the right choice depends solely on your needs. I'm sure you'll be happy with any of the seven presented options. Have a nice day!
FAQ
What is the best mic for Discord?
There is no singular answer to this question.
To truly know what's the best mic for Discord, you need to decide what are features you intend to use, how much you are willing to pay, and whether you intend to use your microphone only for Discord or will it have other uses as well.
That being said, we have written a guide containing all the relevant information about the most popular microphones on the market right now that are primarily used for discord calls and streaming.
In this guide, you will find a number of high-quality devices that can be used for voice and video calling.
All these microphones are compatible with Windows and macOS, the operating systems most commonly used with discord apps.
Any of these microphones would be a good choice for you.
How do I get a good mic on Discord?
Honestly, this is a very interesting question. Many microphones can be used for making a discord call, but how do you know which ones are better than others?
Other than trial and error, which might be expensive and thus not really a good idea, you can always look at guides such as this one for recommendations.
We have tried every single one of these microphones, testing them extensively, and have collected an abundance of data that will help you make the correct and informed choice.
In the end, the best microphone for Discord is one that suits you personally, satisfying all your needs as a user (whether casual or professional) while remaining reasonably priced.
You do not need a studio-level microphone to make a discord call, after all!
Does Discord make your mic sound better?
Yes and no. Discord app has a number of ways to adjust your microphone's performance to your desires, but in the end, it is only as powerful as the microphone itself is.
You cannot expect amazing results from a bad microphone, but what you can do is improve the performance of an already high-quality device.
Still, some of the microphones on the list come with their own software (or a sound card), and in that case, it is usually the microphone's commands that will have more impact on its overall performance than Discord's built-in controls would.
As a rule of thumb, you should first check how your microphone sounds under default settings, and only then, if you are not satisfied with its performance, try to tweak them in order to find ones that will be better suited to your needs.