If your job or hobby involves streaming, video conferencing, or Zoom calls a quality external webcam is a necessity for you.
However webcam alone is not enough to produce top-notch video footage, it is imperative to have a good webcam stand or a tripod which will ensure the stability of your video and enable you to reach a perfect angle.
This article will provide you with numerous webcam stand and tripod reviews and hopefully, it will facilitate the process of choosing if you have decided to buy one.
Furthermore, we will provide you with general information on what you should be looking for when getting a webcam stand or a tripod.
Therefore, two points shall be discussed in this article:
Post 9 of 18 in the Webcams/Cameras
Best Webcam Stands and Tripods
Reviews
---
This article includes a variety of webcam stands and tripods that can meet the demands of both the professionals who require them for their jobs and people whose hobbies require them.
QUICK OVERVIEW: Webcam Stands and Tripods
<!—INSERT CODE BLOCKS BELOW—>

Weighs 70 grams
Made of high-quality aluminum alloy

Neck length is 64 centimeters
Maximum thickness: 6cm

Gooseneck length is 53 centimeters
Weighs 630 grams
1. MamaWin Mini
---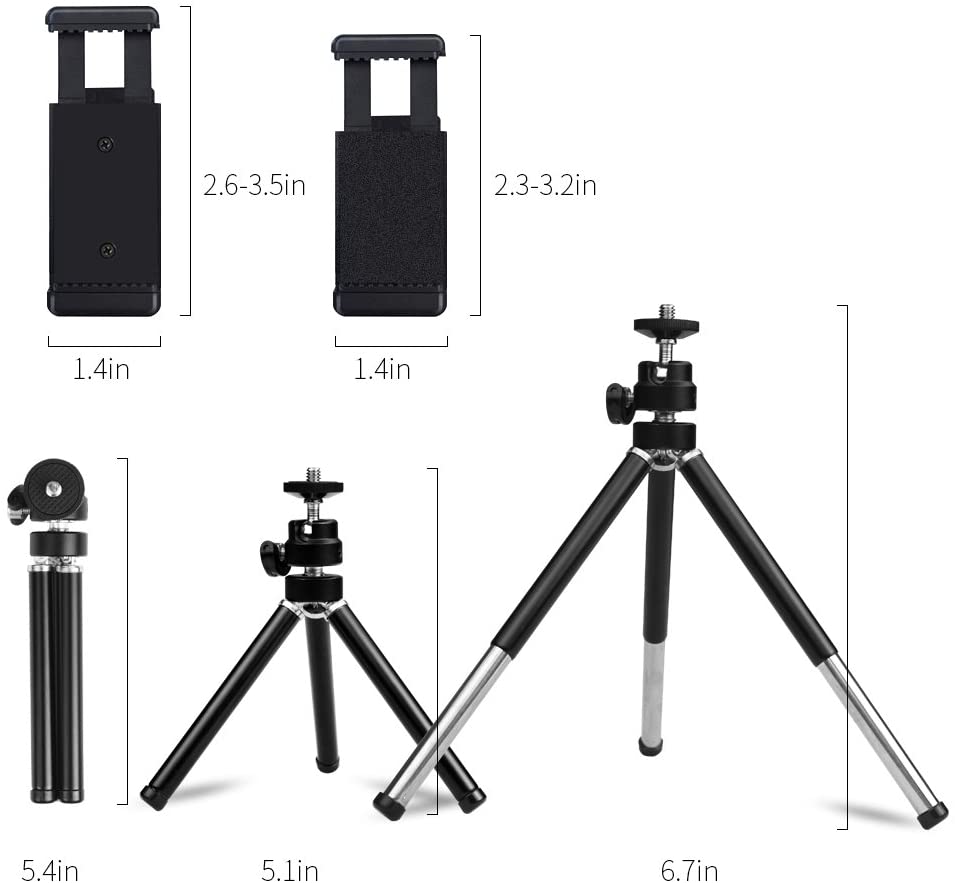 ---
Description
An affordable tripod that supports smaller webcams, GoPro cameras, and smartphones.
The height of metal legs can be readjusted and the bases are covered with a rubber layer.
The tripod head has a 360-degree rotation.
In my opinion, the best aspect of this tripod stand is the price.
If you are thinking about making videos, starting a stream or you simply need something for some basic video calls or zoom calls you should consider this tripod. It is great for newbies and it can satisfy the basic needs of your webcam.
Other great attributes are its compactness and lightweight.
2. Pipishell 25-inch Webcam Stand
---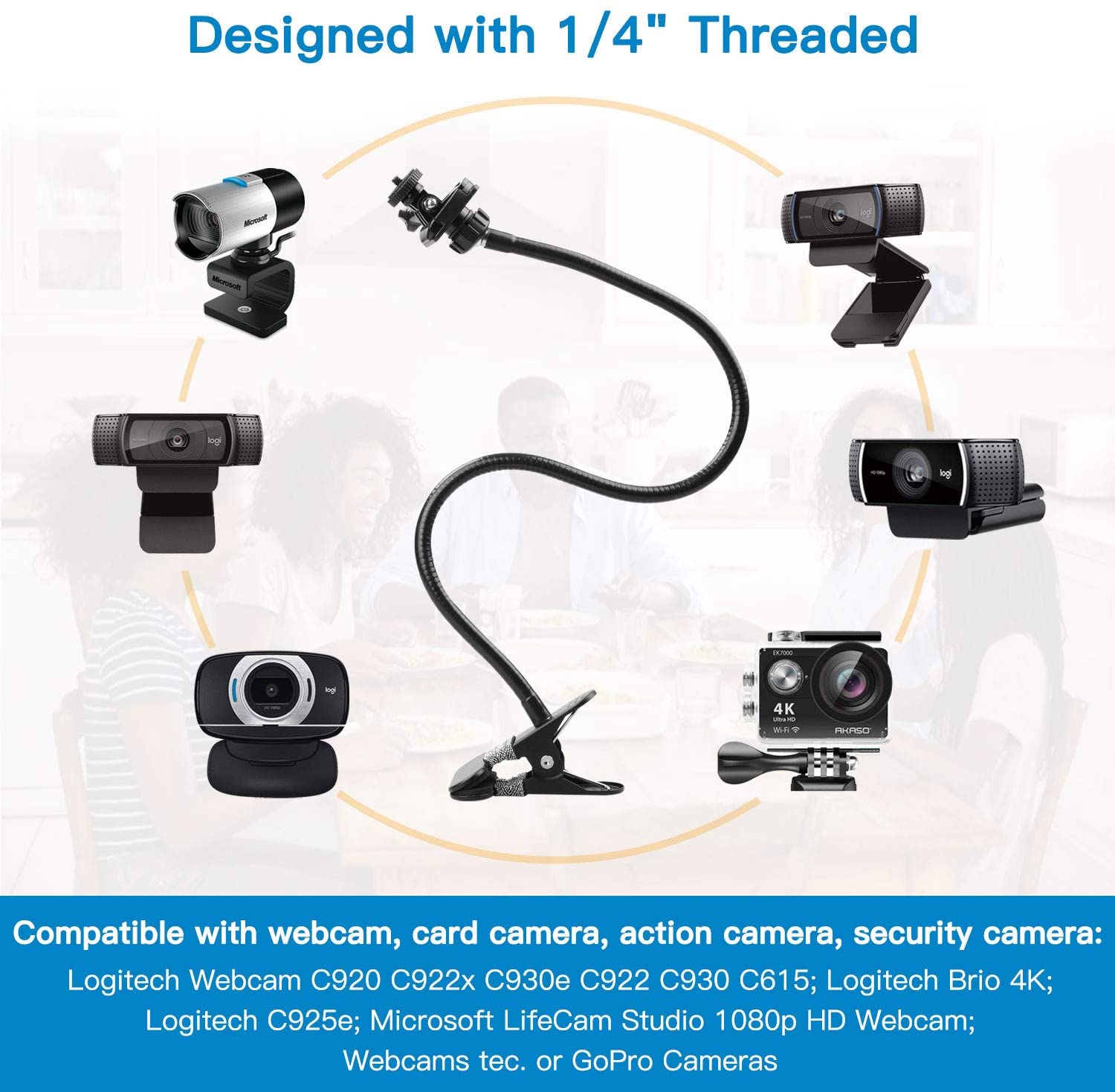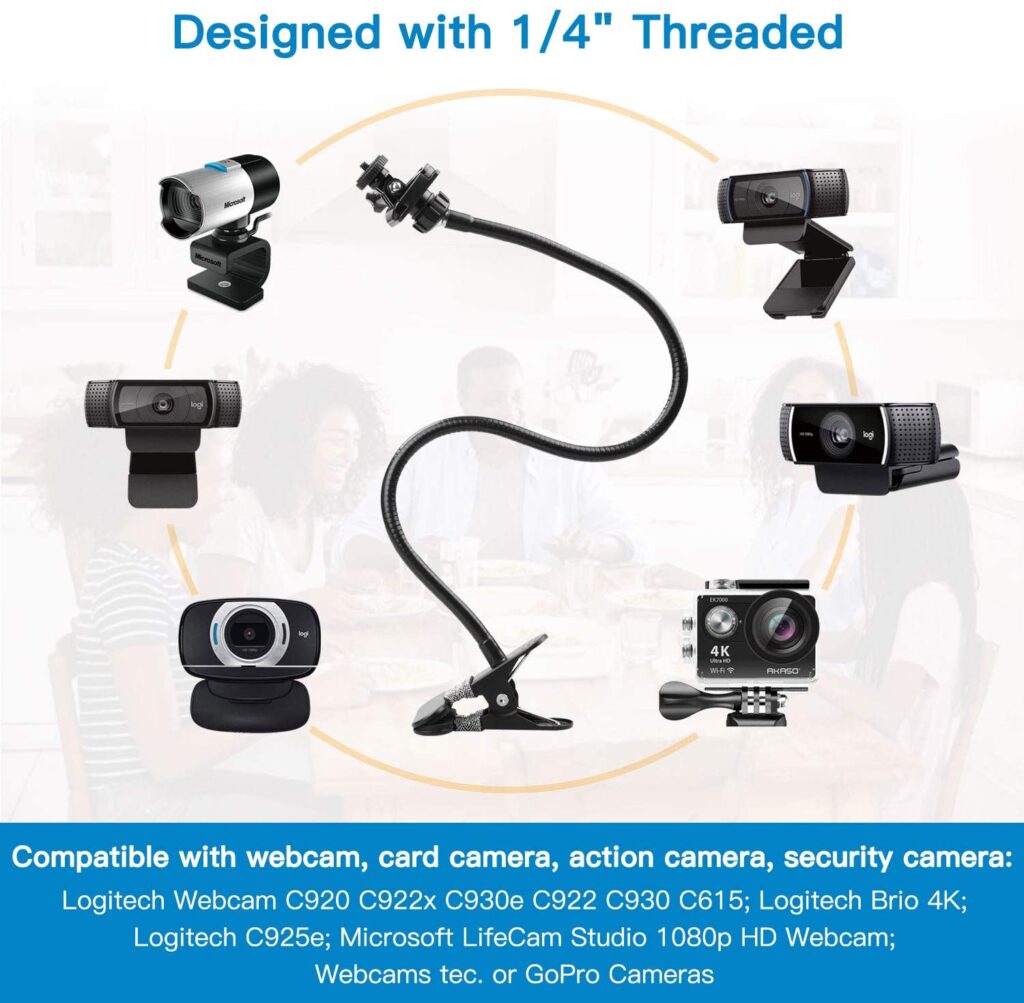 ---
Description
A flexible webcam stand with a gooseneck that can be swiveled and bent according to your needs.
It can be attached to a wide range of surfaces and its c clamp has a soft layer that protects the surface to which it is clamped.
In order to achieve the highest possible stability, you should bend the neck into an S shape.
Supports all 1/4 screw webcams.
Has a 360-degree rotation.
The Pipishell 25 inch webcam stand possesses has a great degree of maneuverability and sturdy clip. So if you need a webcam stand possibly for zoom meetings, this webcam stand goes great with a PC or a laptop.
It is highly stable if you attach it to a small desk for example.
3. Innogear Webcam Stand
---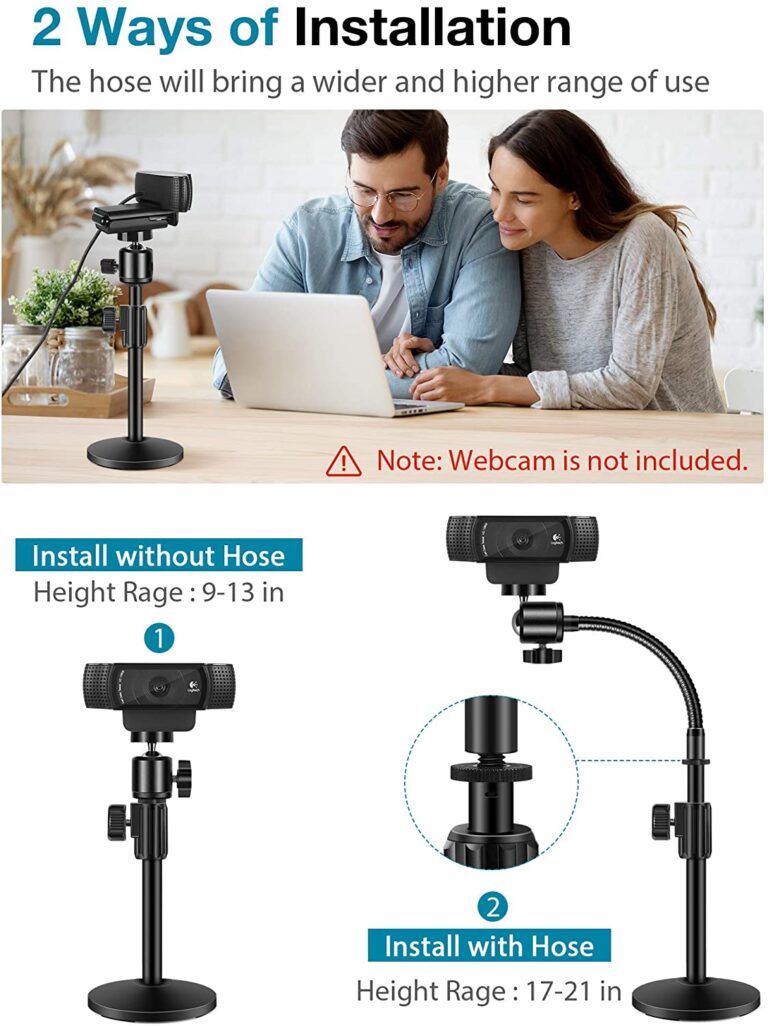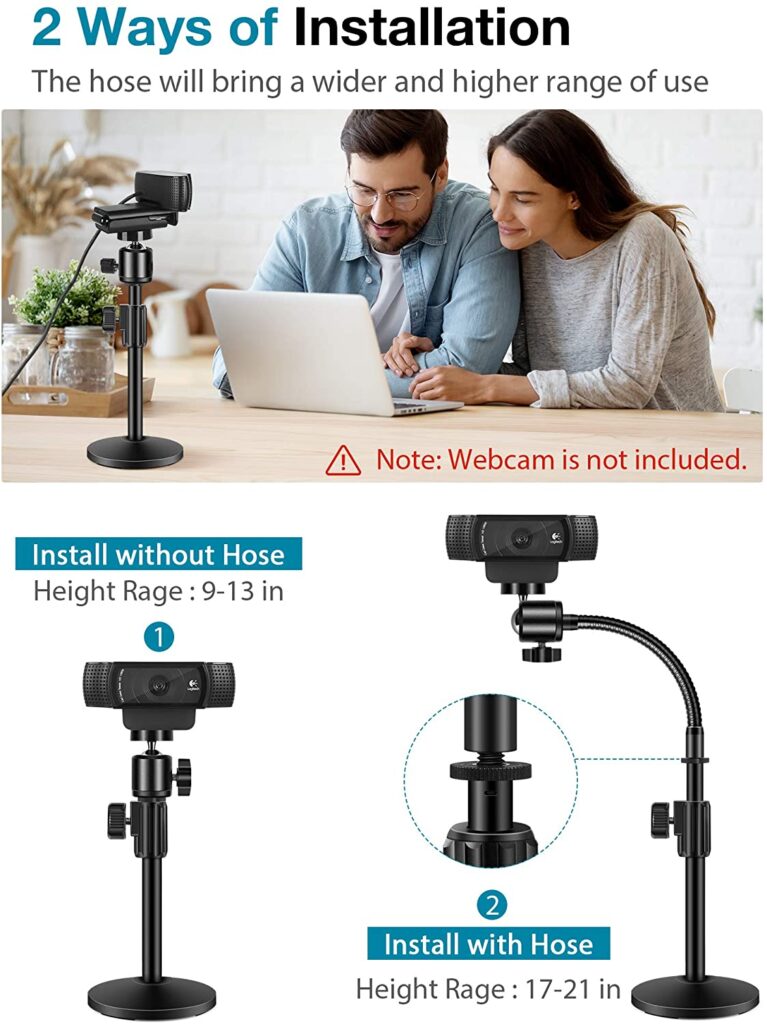 ---
Description
A webcam with great stability that has a metallic base and an adjustable gooseneck.
It has a tripod head that supports 1/4 screw webcams but it is mostly used with Logitech webcams.
Has a steel ball head with a horizontal 360-degree rotation and vertical 140-degree rotation.
The metallic base is covered with cotton layers which give complete stability and protect the surface on which the webcam stand is placed.
In my opinion, this webcam stand has a great price when you take into account what it can provide. It is really suitable for streaming activities and its universal compatibility for recording devices makes it a safe choice for beginner streamers.
Furthermore, the adjustable height makes this a great stand when used with a PC setup.
4. Smatree Mount
---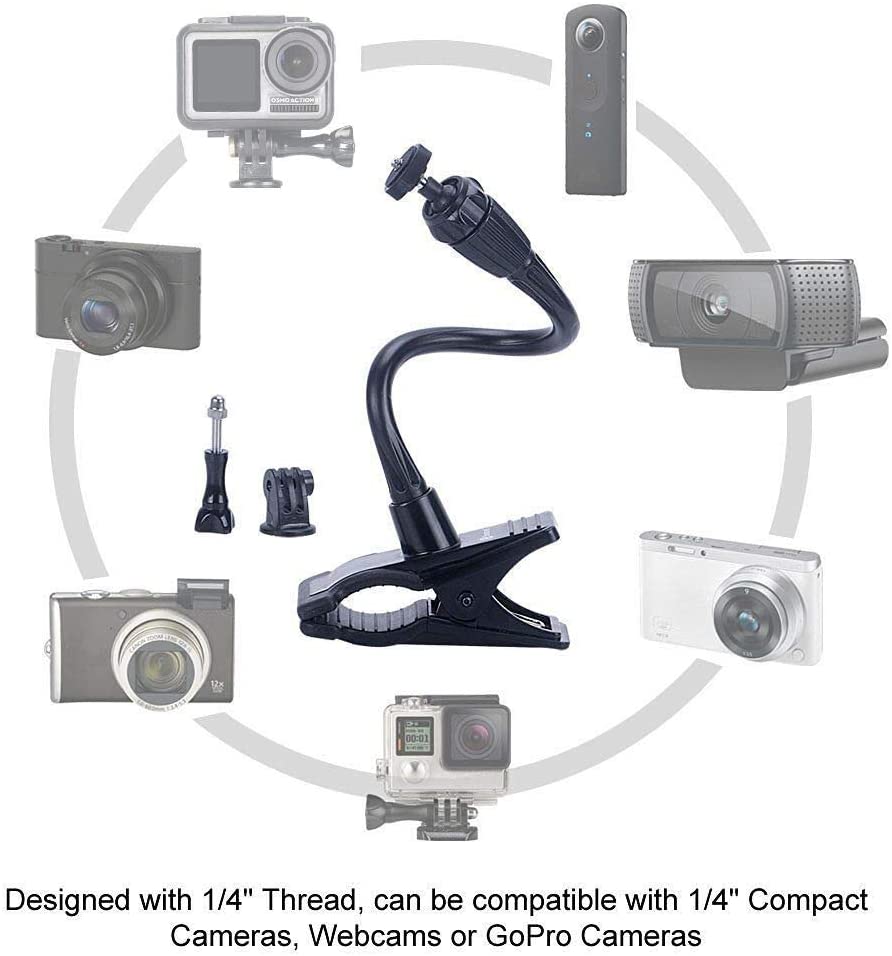 ---
Description
A webcam mount with a flexible gooseneck and a clamp.
Its tripod head has a 360-degree rotation.
The clamp can open up to 1.8 inches and for maximum quality of the picture, this webcam stand needs to be attached to a stable surface. Any sort of vibrations can lower the quality significantly.
This webcam mount only supports Logitech Webcam C925e/C922x/C922/C930e/C930/C920/C615/ GoPro Hero 10/9/8/7/6/5/4/2018/ Arlo Ultra/Pro/Pro 2/Pro 3
If you have any of the Logitech webcams or other devices that this mount supports, this could be a good choice for you. This mount can create extra space on your desk as it can easily reach and be attached to a small part of a surface.
The gooseneck is also pretty strong and durable.
5. Smatree 3 Way Foldable Pole
---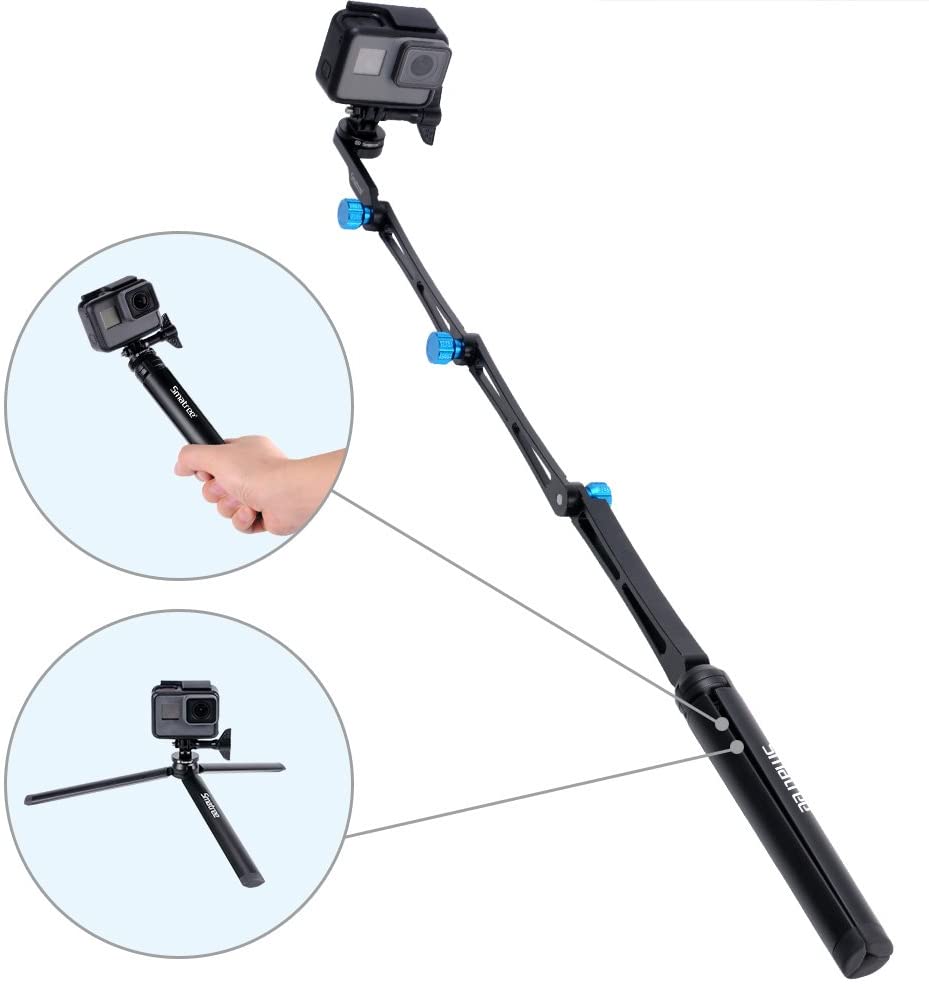 ---
Description
A webcam stand with a foldable design.
Its tripod head type is a ball head that provides a 360-degree rotation.
The design is compact and great for traveling.
The pole also possesses a flexible arm onto the webcam or phone holder is situated. The flexible arm provides great possibilities for recording at different angles.
This webcam tripod supports only these recording devices: DJI OSMO Action 2/GoPro Hero 10/9/8/7/6/5/4/3+/3/2/1/Session Cameras / for Ricoh Theta S, M15 Cameras/ Compact Cameras(1/4″ thread) / Mobile Phones(56mm-80mm)
If you have a webcam or a recording device that this stand supports, then this could be a great choice for you. The compactness of this stand is exceptional and the motion of its flexible arm is smooth. However, you should be careful with it when you use it as its material is prone to dents.
6. OXENDURE Webcam Stand
---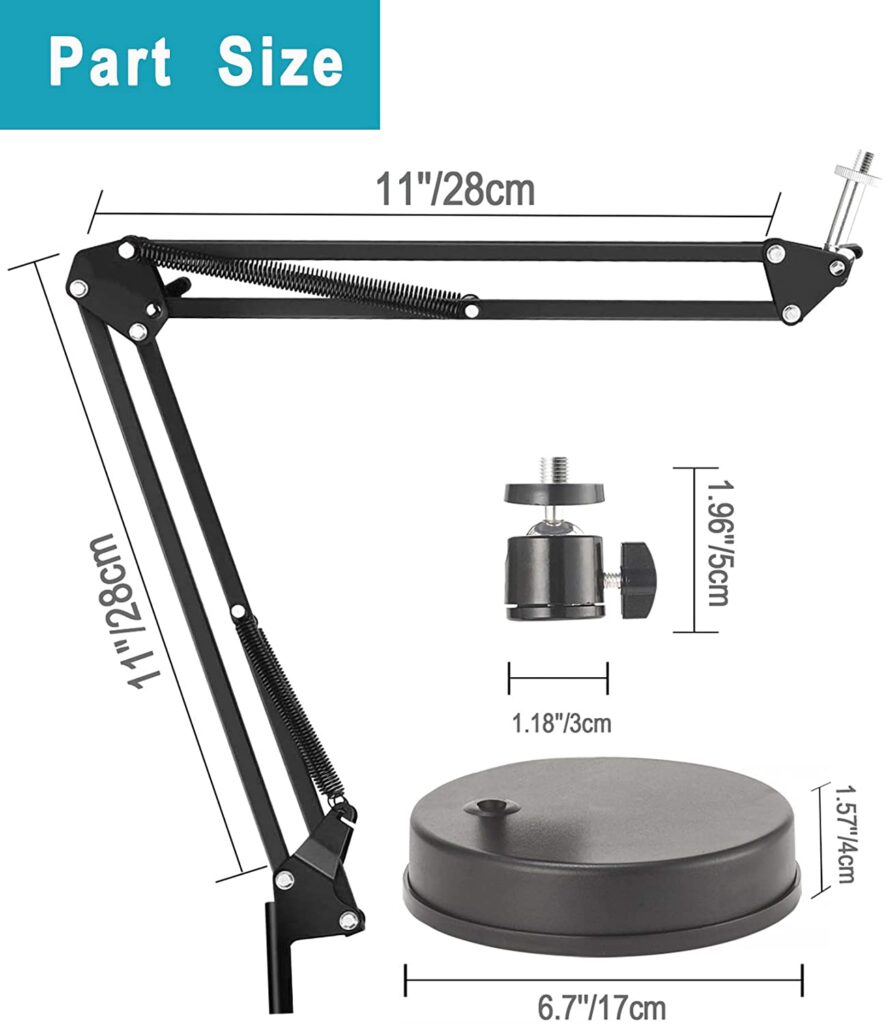 ---
Description
A sturdy, all-metal webcam stand that possesses both a turntable and a flexible arm.
Both the turntable and the tripod head can be rotated for 360 degrees.
It supports all devices that have a 1/4 webcam screw hole.
For additional stability, the flexible arm has two suspension springs.
The parts can be folded and disassembled which is convenient for carrying.
If you want to invest in a high-quality and durable webcam stand this might be the right choice for you. Its foldable height makes it quite versatile and it can be used for a variety of activities. Furthermore, it supports most of the webcams for streaming.
This is truly a flexible webcam stand and its double-braced arms and turntable provide great stability.
7. Amada Homefurnishing Webcam Stand
---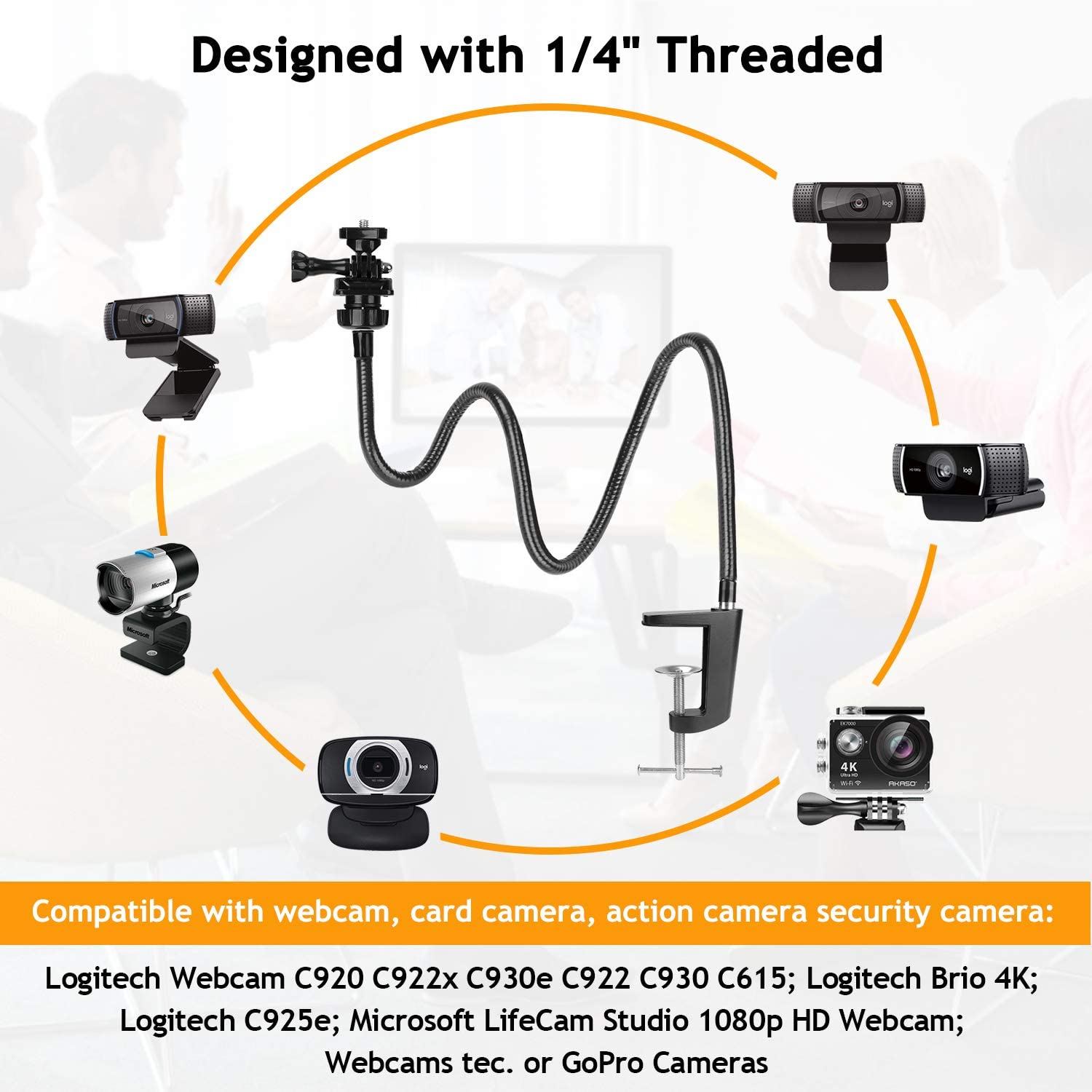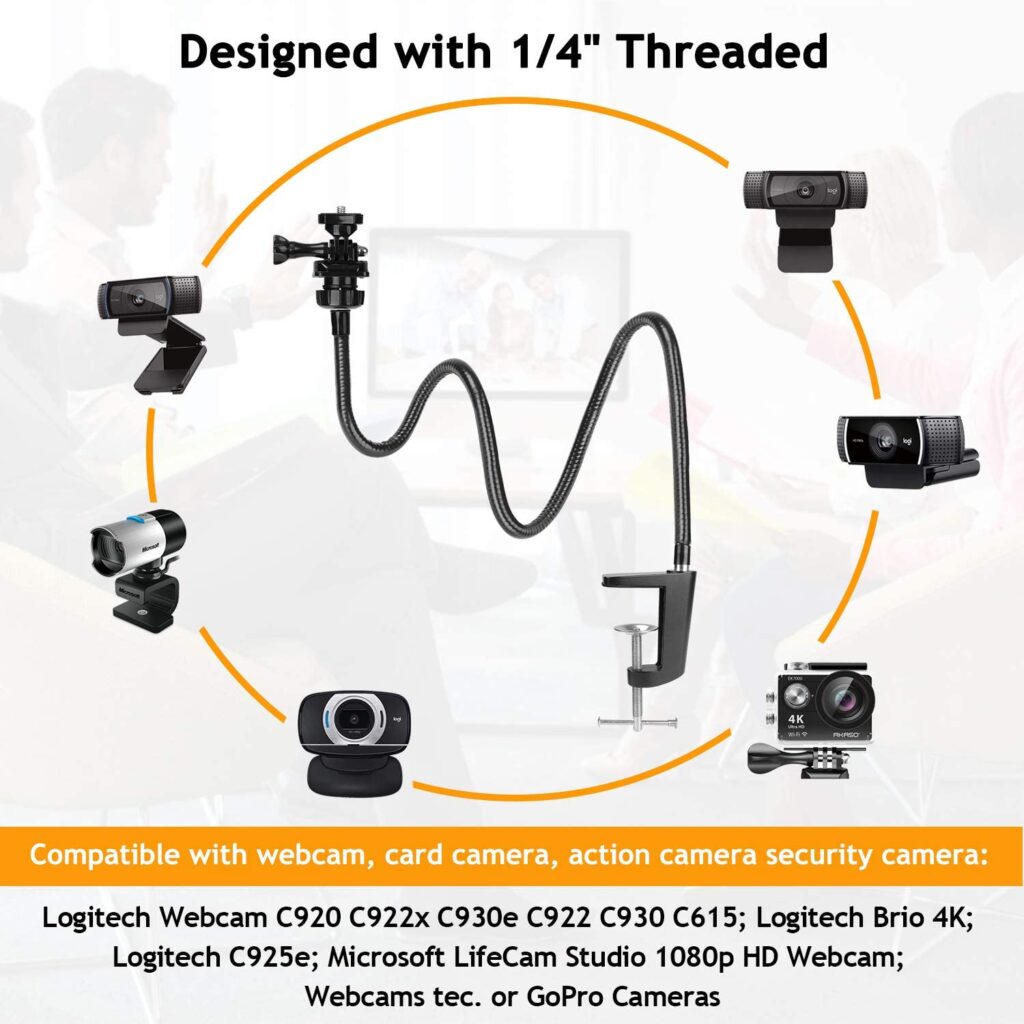 ---
Description
A webcam stand with a gooseneck camera mount.
It has a Desk C clamp which is suitable the most for wooden surfaces such as desks, tables or sideboards.
Has a mini tripod head with a 360-degree rotation.
Supports all webcams and other devices with a 1/4 screw hole.
This is a great choice if you need a webcam stand with a long reach. So if for any reason you cannot place your webcam stand close to you, this one will provide you with that possibility. Furthermore, for its size, it has a great level of stability and its clamp is quite durable.
However, bear in mind, that due to the size of its neck it is not made for minute adjustments and bends.
8. NexiGo Stand
---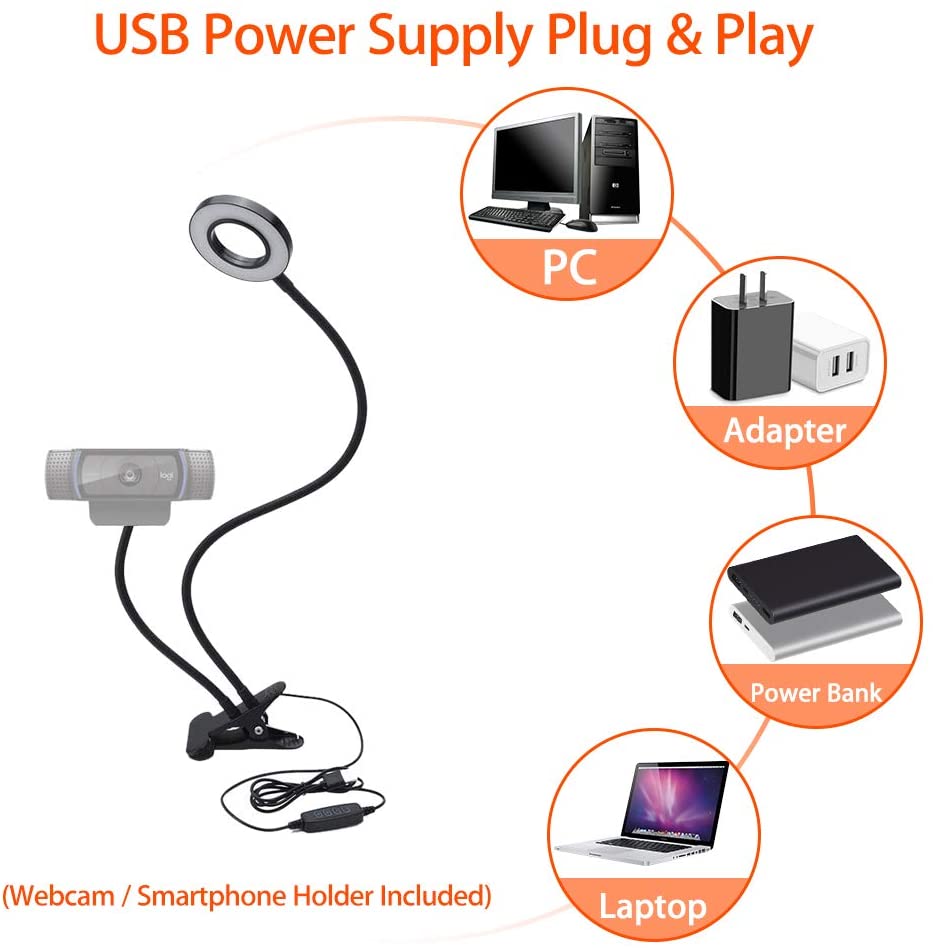 ---
Description
A webcam light stand with a flexible gooseneck.
The ring light has 3 modes of color and the brightness settings have 10 levels of dimness.
The clamp is sturdy and can be attached to a maximum thickness of 2.2 inches. It is covered in a protective layer of foam which helps you preserve your surfaces.
This webcam light stand is USB powered therefore it is pretty convenient for a desktop computer.
It has a universal screw mount for any device with a 1/4 screw hole.
If you have just begun to stream and you require a light stand in order to enhance your lighting effects, this is a great choice for a beginner. It is versatile, it is powered by USB, and comes with a phone holder so you will have everything you need for your stream.
A great, budget light stand that will you help you learn the craft of streaming.
9. GoPro 3-Way 2.0
---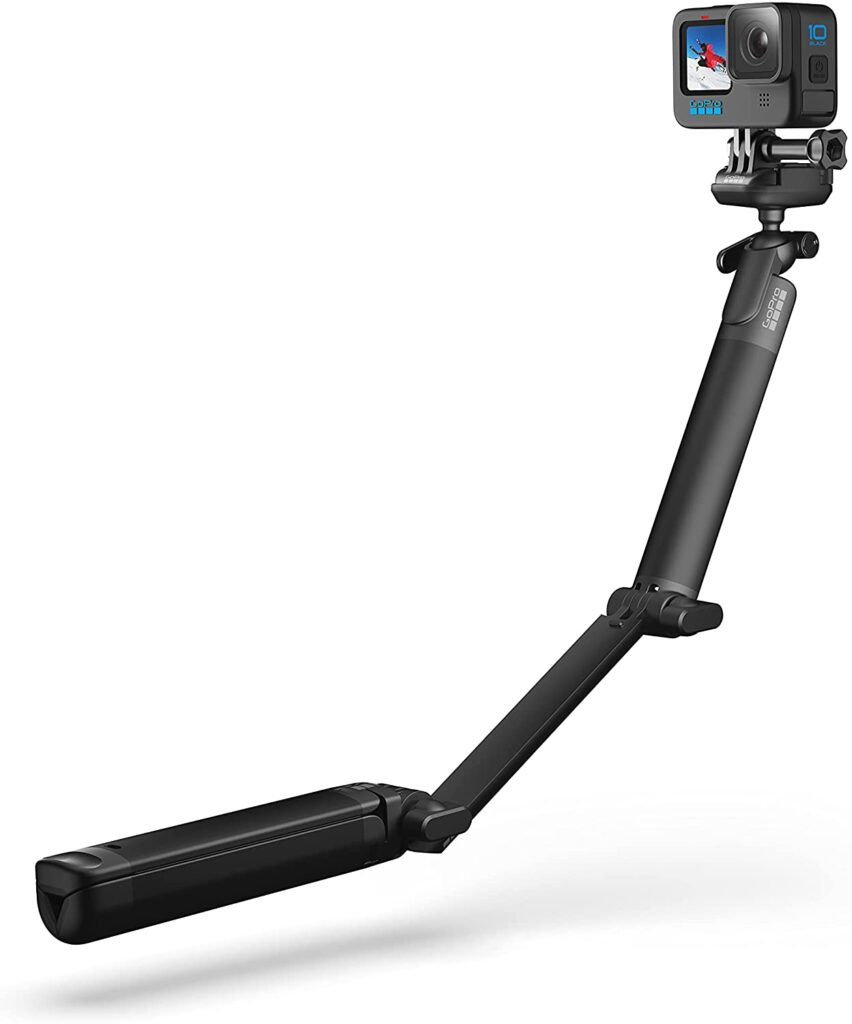 ---
Description
This is a flexible stand that has a 3 in 1 design. It can be a camera mount, a tripod stand, and an extension arm.
Therefore this mount can be used both for static video making and while performing an activity.
It has a ball joint that enables the 360 degrees rotation of your recording device without moving the mount.
If you are a GoPro owner, then naturally this can be a great accessory for you. Its versatile design makes it great for a wide range of activities from video conferencing to scuba diving. Furthermore, it has a high level of compactness.
10. Desktop SIGSIT Webcam Stand
---
---
Description
A webcam stand with a round base and a flexible arm supported with springs for greater stability.
The round base and the arm can be disassembled which makes it convenient for carrying.
Supports all 1/4 screw webcams.
It has a flexible ball head with a 360-degree rotation.
This is a truly versatile webcam stand that has great options for adjustment. It is quite compact and it can easily be placed in tight spaces. The round base is sturdy and provides great stability for your video. Overall the price is great, especially when you take into consideration that it supports most of the webcams.
However, bear in mind, that the plastic frame can easily be dented so it needs to be handled with care.
What to Know Before Buying a Webcam Stand or a Tripod
Your personal requirements
Before buying a webcam stand or a tripod you need to decide what you will need it for. The most important thing to know is whether you will need it just for one place or you will have to frequently carry it to other places.
However, all other aspects need to be taken into consideration.
You need to know how much free space will you have for your stand, on what surface is the stand going to be attached, and what length and height will meet your demands.
The aspects of your webcam or other recording devices
You need to whether your webcam or any other recording device that you are going to use is compatible with a webcam stand or a tripod that you are going to buy. You need to check if that particular stand or tripod is compatible with your device.
It may happen that your device cannot be attached to that particular stand or a tripod so you need to be careful not to waste money.
In addition to this, you need to check whether a particular stand or a tripod can support the weight of your device. It may happen that your webcam is too heavy for a stand and if that is the case then your webcam stand or a tripod is completely useless and the only thing you can do is buy a new one.
The strength of the clamp
For most webcam stands and tripods, a stable surface is a necessity in order to produce a quality video image.
However, you may need a stand that will be able to produce a steady image when attached to something more wobbly.
In that case, you should look for stands that have strong grips as the ones that are not made for such circumstances will not be able to ensure a steady image. The slightest vibrations can be highly detrimental to the quality of the picture.
The strength of the material
If you know that you may need to place your stand in some less accessible spaces or that there may be some unwanted contact with the stand, you would want to consider the durability of the stand.
Many stands have plastic frames which can be easily damaged and if you do not handle the stand with the care you could possibly create some irreparable damages.
Price
You should definitely consider the price when buying a webcam stand or a tripod. If you require one for some basic actions like Zoom calls, meetings or you have just decided to establish a live stream, you certainly will not need an expensive stand immediately.
The more inexpensive stands can easily satisfy all your basic needs and they will assuredly have the same performance as the expensive ones. Naturally, as you master your craft you will also look for something that will accommodate your needs.
Frequently Asked Questions
---
Can a webcam be attached to a tripod?
Yes, a webcam can be attached to a tripod stand. Tripod stands are great for people who need stable video shooting as their legs provide a great balance for the webcam or any order recording device.
How do you attach a webcam to a webcam stand or a tripod?
Most of the webcam stands and tripods will come with an instruction manual which greatly facilitates this process. The usual stands will have a ball head onto which you are supposed to screw your recording device.
Your webcam for example will have a screw hole. However, there are some webcam stands and tripods that have a quick release clip that will enable you just to slide to your recording device in and out.
Therefore before you buy a certain stand you should see what kind of connection does that stand has.
Are webcam stands and tripods universal for all webcams?
No, you need to be careful and check whether your webcam is compatible with a certain stand. If that stand does not support your webcam then you will not be able to use it.
Luckily, most stands and webcams follow the 1/4 screw hole convention so there are a lot of options for you to consider.
Is it necessary to buy a webcam stand or a tripod stand when streaming?
Buying a webcam stand or a tripod stand is not necessary for the success of your stream.
However in many cases, you will not be able to reach the desired angle of your video and if that is the case, you will need to buy one of these two items.
Webcam stands and tripod stands can greatly facilitate the process of streaming and improve the overall quality of your stream as it will enable you to modify the angle of your video.
What does a light stand provide for my video?
A light stand is designed to carry light rings that modify the lightning of your environment.
This can greatly enhance the quality of your videos or streams as the light stands have many lightning options that can be adjusted and many colors which you can choose.
The best thing about light stands is that even the simplest and most inexpensive version can significantly change and improve your video or stream.
Conclusion
We hope that these reviews have helped you decide what webcam stand or tripod you want to buy.
If you are a beginner and still unsure of what to buy, you should definitely opt for more affordable stands like Smatree 3 Way Foldable Pole, Pipishell 25 inch Webcam Stand, or Innogear webcam stand.
You will not spend a lot of money and you will be able to discover all the capabilities of these gadgets that can be quite useful.
---
Join our Discord Group. Ask questions, team up with fellow streamers, share memes, and more!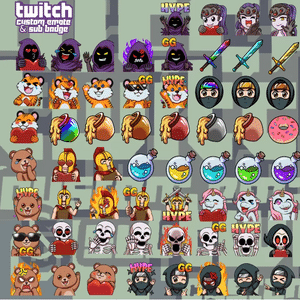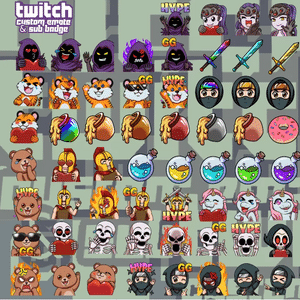 Claim for FREE:
FREE Emote PACKS
A book on growing your audience