The quality headset provides you with better sound effects, but it's also essential to the gameplay itself in competitive games.
My personal favorite and the best gaming headset under 50 is Logitech G432 because of the good sound quality and great mic that ensures good real-time communications in competitive games.
In this article, I will present you the top 6 gaming headsets for under 50, so you can have a full in-game experience, even on a tight budget.
QUICK COMPARISON: Best Headsets For Gamers Under $50
7.1 surround sound increases sound quality
Additional features: rotating ear cups

Very intuitive design
Additional features: swivel-to mute noise cancellation

Detachable mic for easy use on the move
Additional features: padded ear cushions, very durable frame
Best Gaming Headset Under 50
Tested & Reviewed
I have realized that despite being one of the most important gaming accessories for short and long gaming sessions, many people will decide against purchasing a PC gaming headset because of the price tag.
To fix this, I have decided to write up a guide containing several budget gaming headsets that have proven their quality during testing based on several factors such as sound quality, mic quality, surround sound, connectivity, and others such as the brand and the materials each headset is made of.
1. Logitech G432
Best overall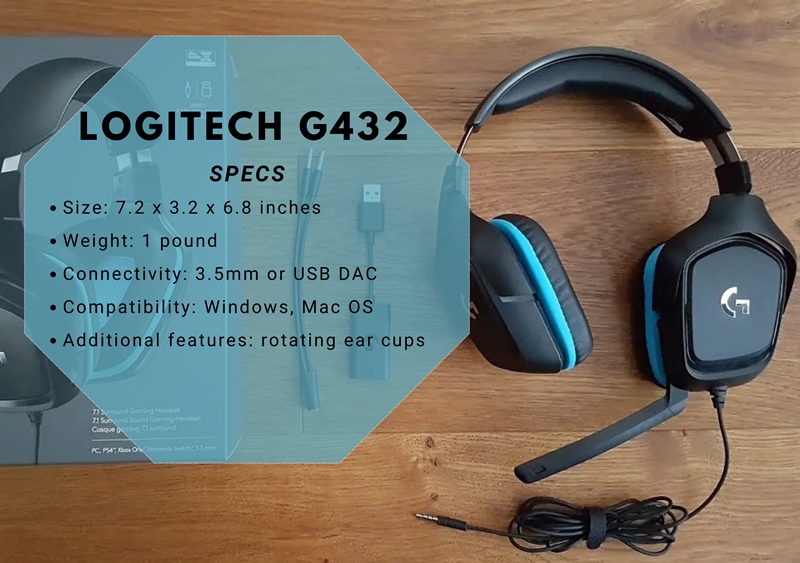 Stefan's Take:
I have been using this headset for several months now, and they have become my go-to wired headset for streaming and gaming.
The sound is clear and accurate, which improves my gaming experience. I also like the volume scroll and flip-to-mute features to adjust the sound easily. The simple and ergonomic design is another big plus.
| | |
| --- | --- |
| Sound Quality | 10 |
| Microphone Quality | 10 |
| Comfort | 9 |
| Compatibility | 10 |
Logitech has for a long time been considered a premier manufacturer of gaming equipment across all price ranges, and for a good reason.
They offer a wide range of budget gaming headsets, among which the Logitech G432 has stood as one of the most impressive.
What makes it the best PC headset in this price range is high-quality plastic and leatherette ear cups that allow for very comfortable gaming, even during long gaming sessions. The sound quality beats just about any wireless headset.
Furthermore, this wired gaming headset features a mute mic switch that allows you to easily get in and out of a voice chat at a moment's notice, which I find very useful and practical.
Additionally, the 7.1 surround sound promises excellent quality and a more immersive gaming experience, which is only boosted by the 50mm audio drivers and the integrated microphone's overall performance.
Your voice will be transmitted clearly with minimal background noise, and you will likewise hear your teammates without any issues.
All in all, I consider this high-quality headset to be the best option available to those operating on a tight budget and recommend it to any and all PC gamers whose primary concern is audio quality.
Pros
Excellent sound quality
Multiple connectivity options for ease of use
7.1 surround sound increases sound quality
Cons
A boom mic would be better and more convenient to use
2. HyperX Cloud Stinger
The most comfortable headset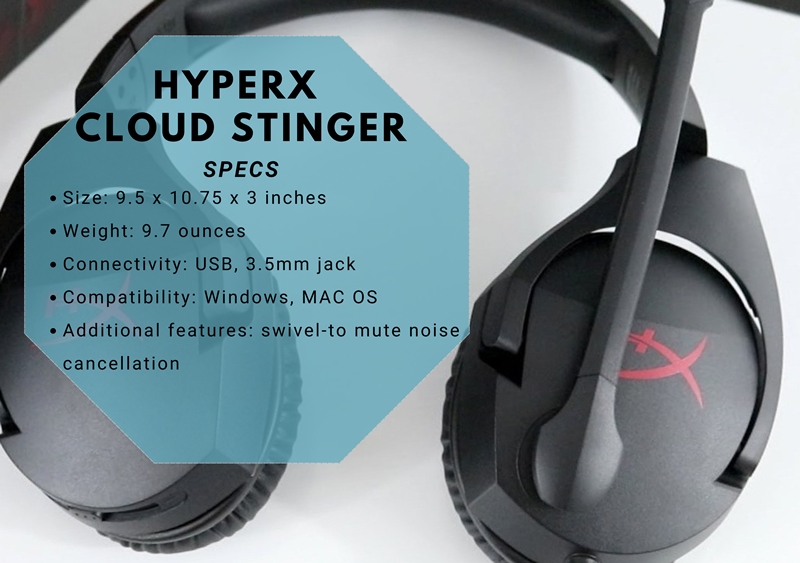 Stefan's Take:
What I liked about this headset is its built quality. I often sit behind my desk for hours, either streaming, gaming, or working. It's nice that this headset doesn't cause any discomfort even after wearing it continuously for several hours.
The intuitive design is another great feature, and if you often play games with your friends, you'll be glad to know that the microphone clearly transmits your voice.
| | |
| --- | --- |
| Sound Quality | 10 |
| Microphone Quality | 9 |
| Comfort | 10 |
| Compatibility | 9 |
HyperX is usually associated with high-quality, high-cost equipment, but that does not mean the manufacturer is unable to make a great budget headset.
The best proof of this is the HyperX Cloud Stinger.
This headset comes at a very low price while still offering some of the best sound quality for its category and even outperforming some more expensive gaming headsets from other companies.
The light and fully rotating ear cups provide excellent comfort when gaming, with the 50mm audio drivers taking care of the sound quality in a great way.
Furthermore, the memory foam ear cushions are some of the best available in this price range, further increasing the luxurious feeling when using these admittedly cheap headsets.
Next up, the volume control is on the headset itself, making adjusting sound intensity very simple.
The swivel to the mute button is another great feature of this headset, as it allows you to have an obvious way to know if you are muted or not.
Both a 7.1 surround sound and stereo versions are available, which, combined with the fact that this budget headset is compatible with all the gaming systems of the current generation, make it an excellent choice for any PC or console gamer.
In the end, my personal opinion of this headset is overwhelmingly positive. Its reliability and game audio quality make it an excellent choice for console and PC gaming alike.
Pros
Comfortable to use
Very intuitive design
7.1 surround sound and stereo
Cons
The mute button tends to stop working
3. SteelSeries Arctis 1
The best headset for gamers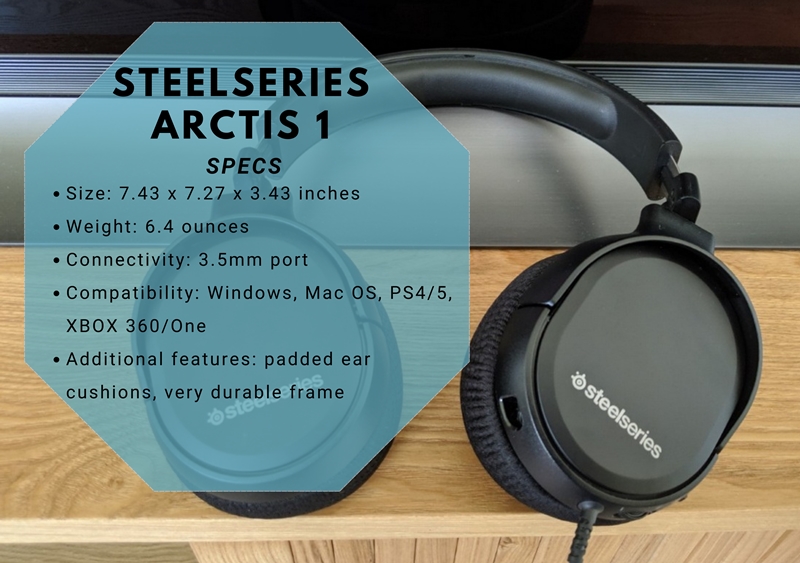 Stefan's Take:
What stood out about this wired headset is compatibility: I have tested it on my Play Station console, as well as Xbox and PC, and it worked on all devices.
The sound was impeccable regardless of the streaming device, and the volume control buttons were also quite practical. It was comfortable to wear even during longer streaming sessions, and I used it on a day-to-day basis just to enjoy my favorite Spotify playlist.
| | |
| --- | --- |
| Sound Quality | 9 |
| Microphone Quality | 10 |
| Comfort | 9 |
| Compatibility | 9 |
Its incredible compatibility is the first among many great features of this wireless gaming headset. Not only is it a great PC headset, but it also works with PS4 and PS5, as well as the corresponding generation of XBOX consoles.
Next up, the in-game audio is incredibly realistic, meaning that you will be able to enjoy some of the best gaming music there is or simply listen to Spotify tracks while playing with zero issues.
Additionally, just as the name implies, the headband is made of steel, making this headset incredibly durable while not taking away any comfort due to the padded ear cushions.
Finally, the detachable mic is impressive and makes this headset usable not only with a gaming headset but also for a multitude of other tasks in which a mic might be cumbersome.
In the end, my personal opinion on this headset is positive for the most part.
The only downside to it is of a purely aesthetic nature, as I prefer brightly colored headsets, but that is just my personal opinion. In terms of functionality, the SteelSeries Arctis 1 is pretty damn good.
Pros
Steel frame provides extra durability
Detachable mic for easy use on the move
Excellent build quality makes it comfortable to use
4. Corsair HS60 PRO
Best sound quality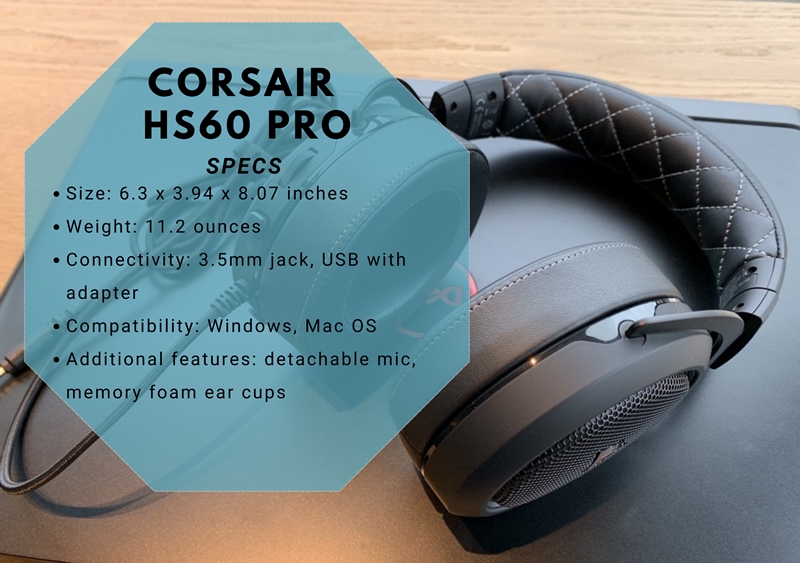 Stefan's Take:
The biggest advantage of this wired headset is its sound quality. I was blown away by its surround sound and how it brought the game to life.
The mic works fine and picks up just a bit of the background noise. It has other perks like good built quality and on-ear volume control, but most models do, so it's not really special in this way.
| | |
| --- | --- |
| Sound Quality | 10 |
| Microphone Quality | 9 |
| Comfort | 8 |
| Compatibility | 9 |
As its name says, Corsair HS60 pro is meant to be a professional-grade gaming headset. But can it achieve this status at such an affordable price?
Most budget headsets are made to be affordable solutions that sacrifice some performance to remain at a consistently low price.
This one, however, turns that entire idea on its head. It was made for performance first and remains cheap simply due to the company's decision to make the gaming headset even more attractive.
Starting with the ear cups, the interior is made of plush memory foam, which provides great comfort when playing your favorite video games.
This makes it suitable for all gaming genres, including highly competitive games.
Next up, the sound quality provided by the 50mm audio drivers is superb, perhaps the best sound quality out of all the devices on my list mentioned so far.
The same goes for the fully detachable microphone. The noise cancellation is great. Unfortunately, the mic is unidirectional, which may disappoint some users, but usually, it is not a big issue.
Another great feature is that both the volume control and the mute functions are on-ear, allowing for quick adjustments while gaming.
Finally, the wide range of compatibility makes it so you will only need this one headset, no matter how many gaming systems you play on.
I find this headset to be an excellent choice for any gamer, as it provides even more than one would expect from such a budget solution.
Pros
Incredibly comfortable to use
Widely compatible with different devices
Great sound quality
Great microphone quality
5. Turtle Beach Ear Force Recon 50
Best for new streamers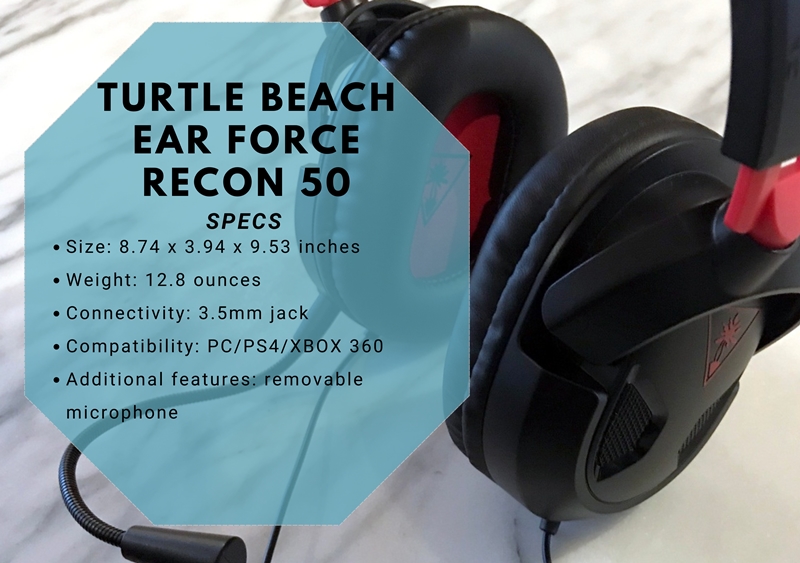 Stefan's Take:
When I tried this headset, I got the most praise for the microphone – my voice was crystal clear and loud, making communicating with my friends much easier.
I also enjoy the great sound quality. It doesn't perfectly pick up all tones, but you'll still get a clear sound for gaming and streaming. The headset is comfortable and lightweight, and considering the price, a great choice for beginners. 
| | |
| --- | --- |
| Sound Quality | 9 |
| Microphone Quality | 9 |
| Comfort | 8 |
| Compatibility | 9 |
Penultimate entry on my list of best gaming headsets under $50, Turtle Beach Recon 50 is a great choice for anyone looking to purchase a great headset without paying too much.
The first great feature of this headset is its incredible mic performance. The voice is loud and clear despite any background noise and will allow you to communicate easily with your teammates.
The 40mm speakers are smaller than the usual 50mm ones, but that is a small price to pay for the crystal clear sound and the plethora of sound effects this headset provides.
The fact that device is fairly lightweight and extremely comfortable, with synthetic leather wrappings on the ear cups.
Additionally, controlling your headset is fairly easy due to conveniently placed volume and mute buttons, meaning you will not be distracted from your gameplay.
Likewise, these over-ear headphones are equipped with surround sound capabilities, providing excellent sound quality during gameplay, allowing you to enjoy theme music in your RPG games, or use sound for situational awareness in an FPS game.
Overall, this headset is a very good choice for anyone looking for the best value for the price, though there are some better options if you are willing to invest a bit more money.
Pros
Quality ear pads provide extra comfort
Ease to use due to intuitive controls
The excellent microphone makes it easy to talk to your team
Cons
A gamer used to professional-grade equipment will be disappointed by the lack of options
6. PDP Gaming LVL50
Best for PS console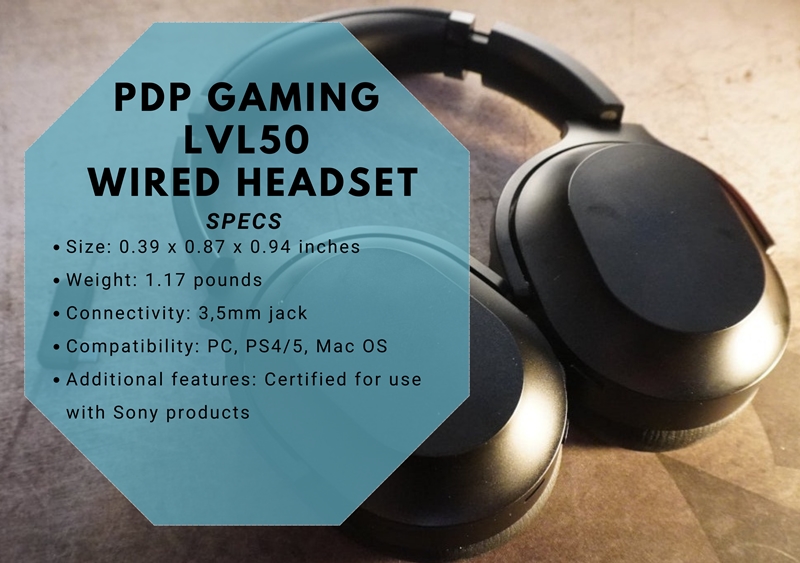 Stefan's Take:
The words I would use to describe this headset are lightweight, modern, and comfortable. I don't work in a loud environment, so I didn't mind that the headset wasn't noise-canceling.
On the other hand, the mic is noise-canceling and does a great job at transmitting your voice, but some surrounding noise is transmitted too.
It's marketed as a headset for the PS console, but it's compatible with other devices – I used it on my PC and had no trouble connecting it.
| | |
| --- | --- |
| Sound Quality | 9 |
| Microphone Quality | 9 |
| Comfort | 8 |
| Compatibility | 8 |
There are many features this PDP gaming headset offers that are unique to it in this price range, making it an incredibly good choice for a specific subset of gamers.
First, this headset is officially recognized by Sony for use with its PlayStation consoles, meaning that it will always remain an excellent choice for any of those.
Furthermore, it is also compatible with PC and Mac builds and some mobile gaming consoles, making it an incredibly versatile piece of equipment, even more so than a typical gaming headset.
Likewise, this great gaming headset offers considerable comfort due to its lightweight memory foam ear cushions.
Another great thing about this headset is its noise-canceling boom mic, which provides clear sound transmission to make your gaming communication much easier.
Finally, the 50mm audio drivers provide excellent audio quality and some of the most fine-tuned surround sound for the newest PC and console games.
All in all, these are some of the best budget gaming headphones available on the market right now, especially for someone who uses a PlayStation console as their main gaming device.
Pros
Very durable and will last you a long time.
PlayStation-certified, perfect for any PlayStation console gamer
An excellent microphone that always picks up your voice clearly
Cons
Not loud enough even when the sound is on max volume
What To Look For In A Best Gaming Headset Under 50?
1. Durability
When purchasing a budget gaming headset, you are usually looking to get one that will last you a long time – because of this, choosing one made of highly durable materials is a priority.
Thankfully, there are several such gaming headsets under $50 available in my guide, with all the relevant information that will help you choose the best one.
2. Brand
Often times it is the brand of headset that makes a significant difference when choosing the correct one. Simply put, well-known brands are usually far more reliable than those more obscure ones, which makes such a purchase much safer.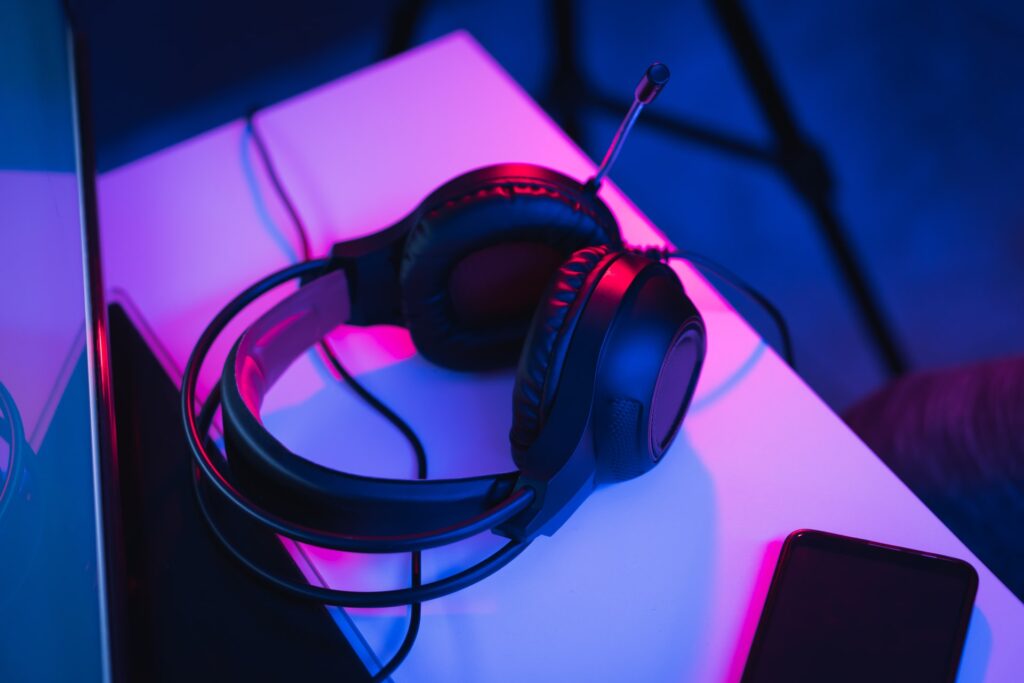 All the devices on this list were made by trusted manufacturers with great reputations, meaning you can rest assured they work properly.
3. Comfort
While some sacrifices in performance are inevitable, one thing you should never sacrifice, even when buying a cheap gaming headset, is comfort.
Simply put, a headset that is uncomfortable to use makes entire gaming sessions less enjoyable. Because of this, I have thoroughly tested each of the products on the list to see if they feel good to your ears during long gaming sessions.
Conclusion
Finding the right gaming headset can be tricky, especially if you don't have hundreds of dollars to splurge. As you can see, there are plenty of budget-friendly options.
To summarize, these are my top choices:
Logitech G432 as the best overall,
HyperX Cloud Stinger as the most comfortable,
SteelSeries Arctis 1 as the best choice for gamers.
I hope one of these gaming headsets suits you and you can take your gaming experience to the next level.
FAQ
What is the best gaming headset on a budget?
There is no singular answer to this complex question. First of all, you need to ascertain what exactly budget means to you, and even then, there are differences based on what games you play and what platforms you play them on.
If you are looking for a good gaming headset under $50, there are several options in my guide, all of them reliable and made by trusted companies with a stellar reputations.
What headsets do pro gamers use in 2022?
The answer to this question depends on whether they are sponsored by a gaming company or not as well as on the type of gaming system they use.
 
Furthermore, it is not something you should dwell on when making a purchase; rather, you should look at which headset fits you as a person the most.
In this guide, you will find some of the best headsets for those operating on a budget, complete with specifications and my personal experience using them.
What is the best gaming headset under 50 dollars for PS4?
Any headsets compatible with PS4 and PS5 are a good choice, but if possible, you should look for one that was certified by Sony for use with PlayStation devices.
There are many such headsets by a number of manufacturers available for sale, and my recommendation is PDP Gaming LVL50.