In the right hands, the chatbots represent an excellent way for users to confidently and routinely manage the chat on their Twitch channel, and an online-only WizeBot is no exception to that rule.
As one of the most well-known Twitch chatbots available, the WizeBot provides many top-tier features to satisfy even the most demanding user and helps with tidying everything chat-related to mere perfection.
With this instructional text, together, we'll go through the most prominent WizeBot commands and clarify some basic facts about WizeBot through the FAQ section.
All WizeBot Commands
I'll list all the WizeBot commands for your convenience below. The mandatory command codes will be represented in bold text, and I'll write the optional in italic.
I'll note the permission in brackets at the end of each command line.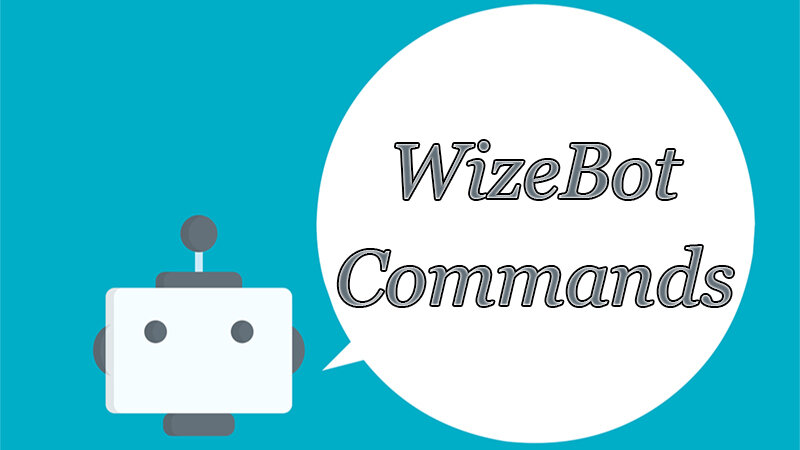 Global Commands
These commands generally require viewer permission to use, but some of them could need to be activated by streamers. Therefore they might not work accurately.
Streamer Chat Commands
If you'd like to re-activate WizeBot, you'd have to go through a dedicated WizeBot panel.
Mod Commands
With this link, you can use @ character to momentarily recover the name of the chat's current channel.
A viewer doesn't need the arguments to write this command and display the latest created MultiTwitch. Also, mods can reset this with the !multitwitch reset code.
Overlay Management Commands
Warning System Commands
Permit System Commands
Command System
The command creation system is deactivated by default, and you can re-activate it via the WizeBot control panel.
Notification Area Commands
Quote System Commands
Virtual Currency System Commands
Ranks and Levels Commands
Song Request Commands
Subscribe Commands
Bingo Game Commands
Alias System Commands
Aliases allow you to create keywords you can use to speed up certain operations later.
You can create a new alias from the chat and the WizeBot panel incorporating numbers and letters in short combinations.
Draw System Commands
The draw system manages virtual money and multi-ticket engagement.
Betting System Commands
This system allows viewers to bet on particular results to earn virtual cash.
Twitch Prediction Management Commands
This premium account-only system allows for the commands-based management of Twitch predictions and Twitch predictions template creation.
Twitch Poll Management Commands
This system enables commands-based Twitch poll management.
You can use WizeBot in the creation of pre-defined Twitch poll templates.
Automatic giveaway system
This system allows for a periodical automatic giveaway launch draw, which means the draw takes place without your direct involvement.
Magic 8-Ball commands
Games
Conclusion
There it goes. This list contains all the best WizeBot commands to help you manage and supervise your chat in the most efficient way possible.
All left is for you to decide what you'll use and in what way to customize your experience in a manner best suited to your style and needs.
The WizeBot is undoubtedly a service well worth trying, and with a list of commands at your fingertips, your work is halfway done.
FAQ
What exactly is a WizeBot?
A WizeBot is an online tool or a service made with the sole purpose of helping you with chat management on your Twitch channel.
This chatbot will help analyze chat and display numerous notifications, and it offers many background systems to manage your online discussions, subscribers, followers, viewers, and more.
Why should you get WizeBot?
WizeBot is a dependable solution in a sea of shady Twitch bot clients, and its quality is backed by years of rigorous testing.
It doesn't require installation, and it's accommodated for easy use regardless of tech know-how, all while providing a wide array of valuable features making chat moderation a breeze even for highly-demanding streamers.
Is WizeBot service free?
While the installation is free of charge, the WizeBot offers streamers two account models: the premium lite and a standard premium account.
The former offers some excellent options for beginner streamers with 100 or fewer subscribers at a knockdown price, while the latter is more costly and richer with functions.
What features do you get with a WizeBot premium account?
WizeBot as a service has enough quality features you can implement in chat on a Twitch platform. Some of the most notable are:
-Notifications
-Games and giveaways
-Random announces
-Lists of subscribers, followers, and unfollowers
-Customizable level and rank systems
-Live Twitch extensions
-Donation feature and much more