Your profile picture on Instagram is the first thing people see when interacting with your profile, so it's very important to have it down, especially if you have a business account.
IG profile pictures can't be just any photo from your phone's photo library or camera roll; it's best to have something done specifically for that, so that's why there is a section about everything you should look into when taking photos.
---
Key tips for Instagram profile pictures
1. Use either a headshot or brand logo, if you have a business account.
2. Take an image in the right lighting for the best results.
3. Use contrast and textures to make it stand out.
4. Use colors to create a specific mood on your profile that your followers can relate to you and your brand.
5. Use photos of high resolution.
6. Make sure your photos are the right size – Instagram profile pictures should be 1080×1080 pixels.
7. Always keep in mind what your brand is about.
---
If you already have that and want to change your profile picture, don't worry; I've got you covered.
So, let's get right into it!
Tips For Choosing The Best Profile Picture For Your Instagram
There are many different tips that you can find when looking for what you should do when finding the perfect Instagram profile picture for your account.
However, these 7 tips integrate all of that into straightforward tips you can incorporate when deciding on your next one.
So, let's get into it!
1. Headshots And Brand Logos Are The Way To Go
Depending on your Instagram profile's main focus, different things will be fitting as a profile photo.
However, one general rule that never fails is that if you, as a person and a figure, are the main focus, your Instagram profile photos should be headshots.
On the other hand, if you have a business account for your brand, the profile photo you go with should be the brand logo.
What's the same between these two options is that they are simple but direct, and they clearly show the profile's main deal.
It's something that's easily recognizable and doesn't need much space, which is important since your profile photo on Instagram is usually very small.
Headshots should be taken by someone else, which is an investment that usually pays off in the long run, as you will find yourself using them for many different things.
The same goes for your business logo, but I will assume that you already have that covered.
2. Good Lighting Is Your Best Friend
You don't want a dark profile picture with bad lighting, so your face is not visible at all.
People need to recognize you even when the Instagram profile picture is completely small, and being all in the dark won't be of help.
Also, when the lighting is good, you will look your best overall, which is something to consider.
This is a photo everyone will know you by, so having it look the best can make a world of difference.
3. Always Go For High-Resolution
It goes without question that the profile picture you choose should be one that's taken in high resolution.
Having a profile photo where it's obvious that the quality is subpar will look extremely unprofessional. I would assume that that's not something you want people to think about when they see your photo.
4. Make Sure To Crop The Perfect Size
Since Instagram profile pictures are circular, the best photo to go for will be the one that's a 1:1 square.
When taking photos for this purpose, make sure that everything you want to be seen is in that frame.
Also, make sure that you're the focus of that frame rather than being on the side.
So, overall, the perfect Instagram profile picture size is a square, but a square that's high resolution, so something like 1080×1080 pixels.
The most important thing is that it is a square.
5. Make The Most Out Of Contrasts
Since Instagram profile photos tend to be very small, and you can't view profile pictures zoomed in, the new photo you choose should have a more intense contrast.
This is especially important to consider when you're trying to decide on a background.
Mix and match different colors, even ones that you might not think really go together.
But you shouldn't forget when creating this dynamic that the focus of the photo should be you or your brand logo and not the backdrop.
Besides colors, you can also use different textures to create that contrast.
6. Your Brand Identity Should Be The Focus
The first two things people will know you by are your Instagram bio and the profile pic accompanying it.
These are the main building blocks of your brand identity, so make sure that you get that across in the profile picture.
If you are someone who's generally warm and cozy, then the colors you add to the profile pic should be in tune with that.
On the other hand, if you're all about colors and are always in a new crazy outfit, then be sure that that makes its way into the profile picture.
Be as similar as you can to the rest of your Instagram app photos, as the profile picture is an extension of your content.
7. Don't Be Afraid Of A Pop Of Color
By incorporating different colors into Instagram profiles, as well as the profile image, people are able to create a specific mood on the profile and communicate what it is that their profile is about.
Having a specific pop of color can also enhance your brand identity. When you choose that specific color, people will be able to remember your Instagram profile just by looking at that color.
These simple yet effective things are ways in which you draw attention and also build a stronger brand image.
You will stand out but also communicate something more about what are the vibes and the overall mood of your profile.
So, if you have a specific color that you like and that you would want to have connected to you, don't be afraid to use it in your branding and imagery.
How To Change Your Instagram Profile Picture
Adding a new profile picture takes only a few steps, and it can be done on both the mobile app and the desktop version of Instagram.
You can go for whatever works better for you, and here are the steps for both options.
Changing Profile Picture On Instagram Mobile App
Open the Instagram mobile app.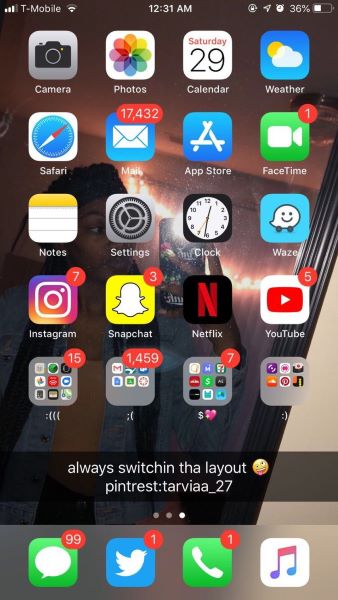 Open the section where your profile is by tapping on the icon in the bottom right of the screen.
When you open your profile, you will see an Edit profile button just below your profile pic and bio – tap on that button.
Once the page for editing your profile is opened, tap the Change profile photo section.
A pop-up menu will appear, and you will be asked whether you want to take a new profile picture, import your Facebook profile picture, or choose a picture from your library.
Choose the last option and tap on that.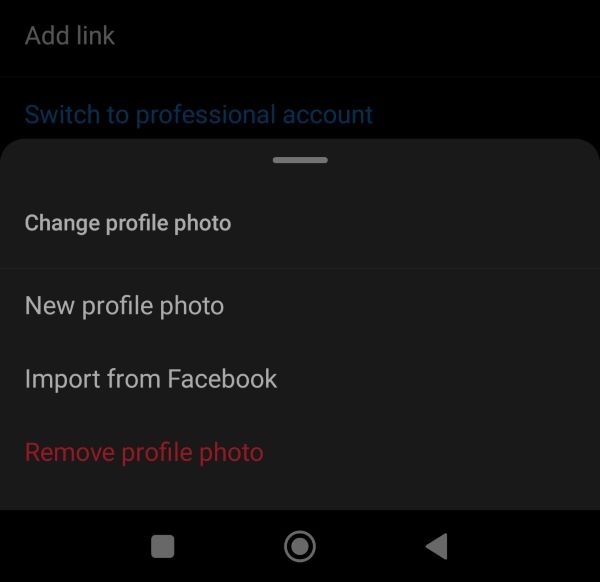 Now, you will be in your camera roll, and you should choose your new photo from there.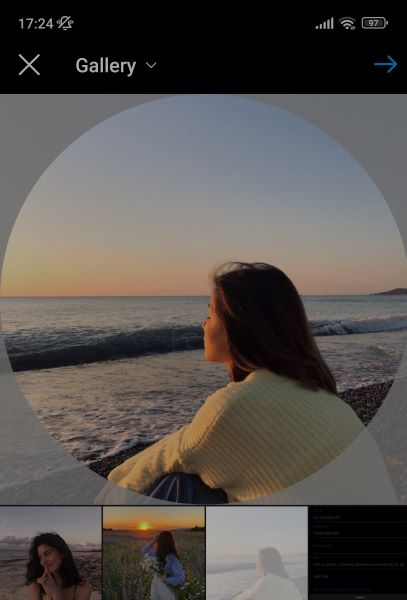 Once you're done cropping out the photo to fit the circle, just tap the Blue arrow in the upper right corner.
Your changes are now completed.
Changing Profile Pic On Instagram Desktop App
Visit the Instagram website.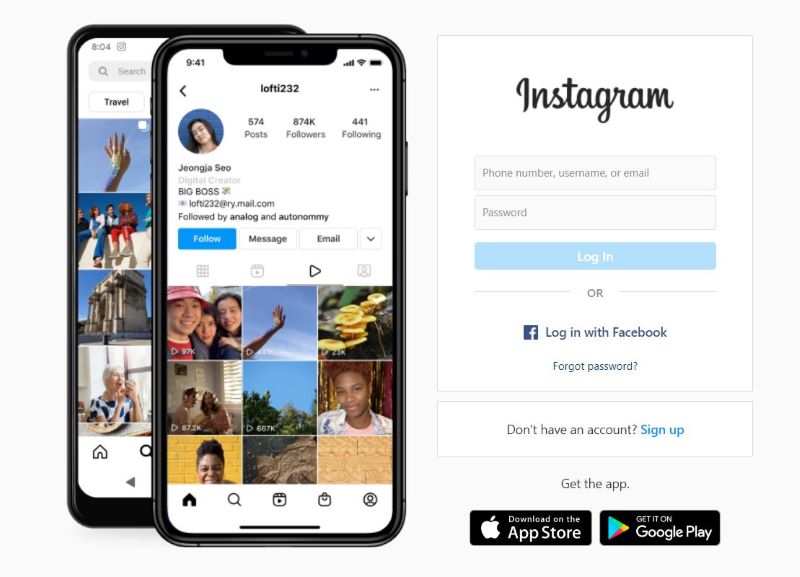 Log into your profile using your username and password.
On the right side of your screen, you will see your username; click on it.
This will open your profile page, and under your existing profile picture, you will see the Edit Profile button – tap on it.
On the page that opens now, you should see a button that says Change Profile Photo, and that's what you should click on.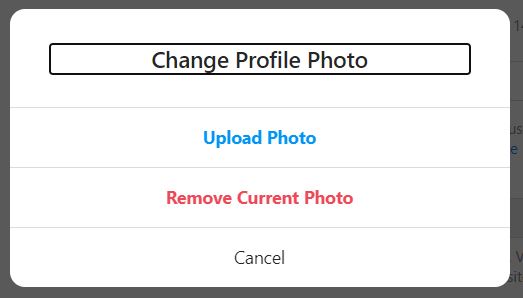 Click on the Upload Photo option.
This will open your files, and all you need to do is find the exact photo you want to have as your profile picture, and you should select it by clicking on it and then on Open.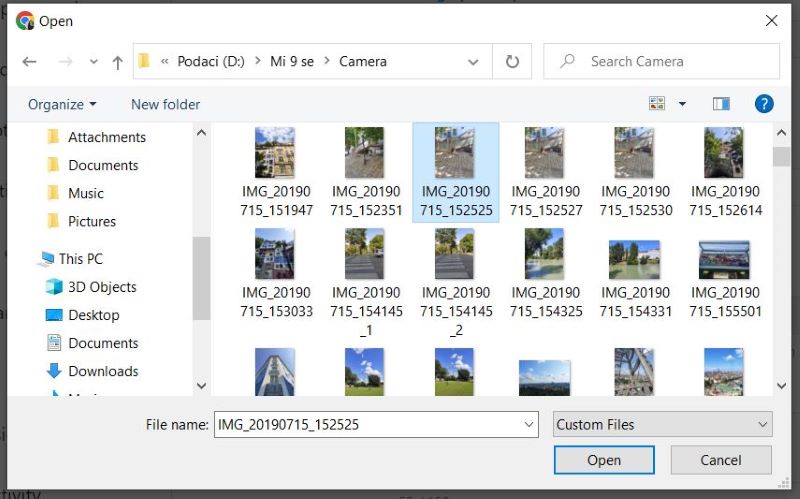 After this, your profile picture will be changed.
Conclusion
Instagram profile picture represents you and your brand. It attracts new followers, brand deals, sponsorships, and clicks you need to grow your profile. That's why it's important to take time when creating and picking yours.
I hope you found this article helpful and are ready to take your Instagram profile to another level.
FAQ
What is Insta PFP?
Insta PFP is an abbreviation that stands for "Instagram profile photo."
What is the size of your Instagram profile picture?
The perfect size for a picture that's an Instagram profile picture is 1000x1000p, but the most important thing is that the ratio is 1:1.