With so many options for broadcasting software available, it is difficult to pick the right one. Today, we'll match vMix vs OBS, to help you decide which streaming software to choose.
Does OBS has all the features you need or should you consider another software? Maybe vMix is better than OBS?
Let's compare the two in this vMix vs OBS guide.
OBS
Price, Installation, and Features
I will start with OBS, the software every streamer has heard of.
OBS was launched almost a decade ago, in 2012, and to this day, it is a great streaming software.
What makes it so good? Let's take a look.
Price
OBS is free from the start.
Developers decided to keep the code unlocked, and allowed streamers from all over the world to alter it.
So, thanks to its users, it is improving constantly.
Installation and Setup
So, how to use OBS for streaming on Twitch?
Well, the installation is easy.
Firstly, go to the OBS website and find the right link – this software is supported by all operating systems, so just choose the link suitable for the OS you are using.
Once it is installed, the auto-configuration wizard will pop up.
OBS will choose the best settings for either streaming or recording – this depends on your choice.
Then you can start changing these settings.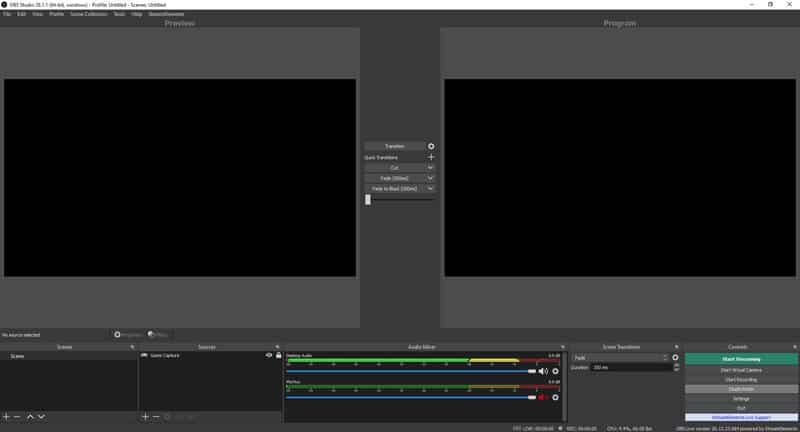 You will find multiple tabs in the Settings menu.
Firstly, open the Stream tab – choose the service, add the ingest server, and connect your account.
Then move on to other settings.
If you aren't sure which FPS or bitrate to choose, it is best to keep the default settings.
Also, setting up Hotkeys might be a bit more difficult, so you can add them later when you learn more about how the program works.
In the end, make sure that OBS has recognized all external devices, and add Sources and Scenes you need for streaming.
Features
One of the biggest downsides of OBS is the lack of features.
Even though it was developed years ago, and many people are constantly working on the code, not many new features were added.
However, you can still deliver high-quality content to your viewers, if you spend some time learning about the program and suitable plugins.
Let's see which recording features you have:
Game capture is one of the best for showing gameplay. Unfortunately, it doesn't work for all games.
Desktop capture is great when Game capture doesn't work. In this way, you can record everything that is happening on the screen.
Window capture is used for recording one of the open tabs. Instead of showing everything on your screen, you can select just one of the windows.
When it comes to video mixing, you have multiple options as well. After all, scenes are added, switching between them is quite easy. You are also getting a variety of editing tools and cool transitions such as Fade of CloudWipe.
Audio mixing is enabled as well – even though audio files cannot be added, you can connect external audio devices, adjust the sound, and get clear tones every time.
OBS has over twenty plugins, so you can add anything you want to the streams easily.
Advantages of OBS
1. Multistreaming
OBS can be connected to numerous streaming platforms, and it also allows you to stream to more than one platform at once.
2. Files are easy to process
OBS compresses files automatically – they don't take up so much space, so upload is usually fast.
3. Low CPU usage
OBS will work on i3 CPU – it doesn't use CPU as much as other software, so even on average computers, it runs smoothly.
Disadvantages of OBS
Doesn't have any presets
If you decide to use OBS, you will have to use other programs as well to create certain things.
For example, many software has incorporated images for overlays in their media library.
Since OBS doesn't have a media library, you will have to create these images in Photoshop or another program on your own.
The same goes for alerts or other widgets – find a program to create it, and then find a way to add it to OBS software.
vMix
Price, Installation, and Features
So, what is vMix?
Streamers claim that vMix is one of the most reliable and powerful broadcasting software on the market.
Creating content via vMix is easy, so the software is suitable for beginners as well. You get access to some of the most advanced and powerful editing tools.
Price
Is vMix free?
There are six versions available.
So, if you don't want to spend any money, download the Basic version.
Other versions (from Basic HD to vMix Pro) are paid – the cheapest is only $60, and vMix Pro costs $1200.
Installation and Setup
Firstly, let's talk about the OS that supports vMix.
Currently, vMix is compatible only with Windows (you need Windows 7 or a newer one), but you can get vMix for Mac through Bootcamp.
The process will be lengthier, and in this vMix review, I will stick to installation for Windows.
It is best to download vMix from the official website – there you will find the links for the free trial and paid versions.
So, click on the link, and then open the downloaded file.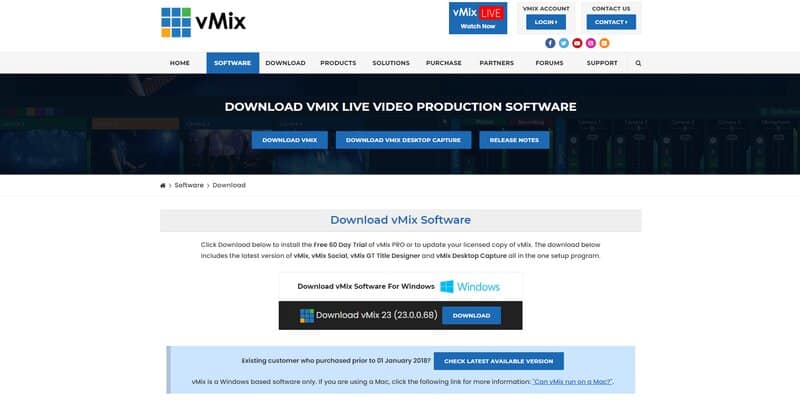 To install vMix, just follow the steps in the installer.
When you launch vMix for the first time, it will ask you for a registration key. This key is unique and you should have received it upon payment.
The software will ask you to choose the preset – it doesn't really matter which preset you chose, because it can be changed at any moment.
If you want to see the output bitrate, resolution, or FPS, go to the Settings menu – it is placed in the top right corner.
There are several tabs, so go through each to alter settings to match your preferences.
Features
As said, vMix has a lot of advanced tools, and I will mention some of the most important.
Let's begin with 4k streaming. Viewers appreciate high-quality videos, and with 4k streaming, they will be able to see even the tiniest details. 4k streaming is enabled for all recording devices.
Furthermore, you can invite other people to edit your videos. This feature is called Remote video production. Your guests can play with both video and sound.
Some features are similar to OBS features – with vMix you also get a Chroma key, so you can add the green screen, and color correction. It has scene transitions as well.
However, vMix has a multi-view as well – if you have connected multiple cameras, you can show recordings from different angles. Also, vMix has presets, so you don't have to learn how to create your own in Photoshop.
Advantages of vMix
1. Studio quality videos
With 4k streaming, multi-view, and remote video production, you will deliver high-quality content that will amaze the viewers.
2. Graphic overlays
As said, vMix includes preset, so creating overlays is simple.
It also has overlays for social media – you can add comments from Facebook or Twitter to your live streams.
3. Configuration for a controller
Configuring vMix for a mini controller is a bit trickier, but once you've done it, you will love the results.
This will enable you to start recording and edit videos with just one click.
Disadvantages of vMix
 1. Not compatible with Mac
This powerful software is available only for Windows.
2. Not for beginners
All the advanced tools are amazing, but beginners might be overwhelmed by them.
So, if you are an amateur, learn the basics on a simpler program, then install vMix.
OBS vs vMix – which to choose?
This depends on your needs and knowledge.
In my opinion, OBS is more suitable for beginners – it doesn't have many features, so it is great for learning the basics.
Later, you can consider switching to vMix.