Have you ever wanted to watch or stream something online and couldn't enjoy it because your picture was not clear enough or was lagging?
In order to avoid this kind of problem, you need a good router, and the best router for 4K streaming is NETGEAR Nighthawk R7000 because it has specifications and performances which can, in the best way, meet the expectations and challenges that 4K streaming sets.
In this article, I am bringing you the list of the 8 best routers for 4K streaming.
QUICK OVERVIEW: Best 4K Router for Streaming
AC1900 speed
1800 square feet wireless coverage

1 Gigabit WAN and 4 Gigabit LAN ports
750MHz processor

1.7GHz quad-core CPU
SPF+LAN port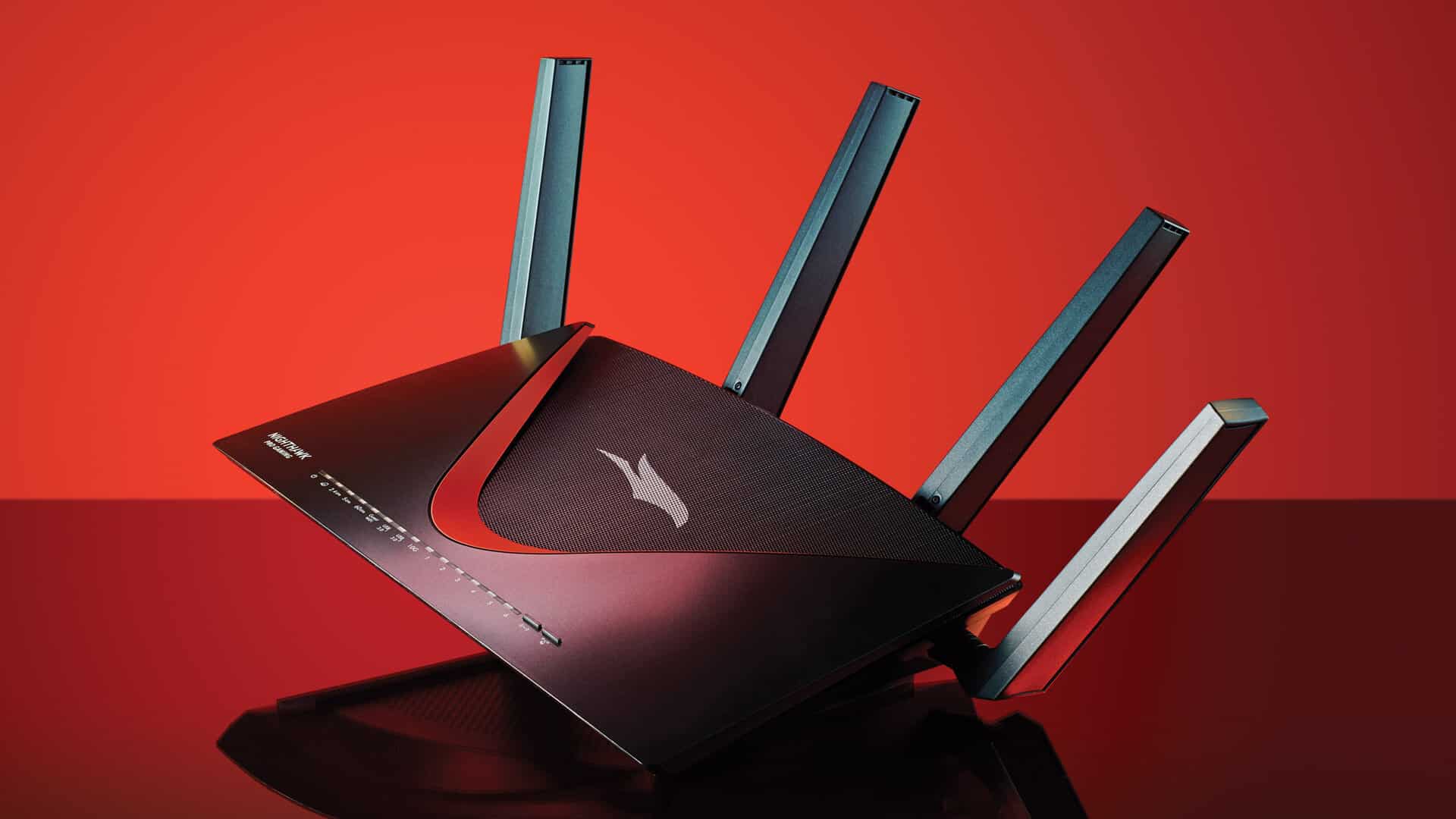 Best Router for 4K Streaming
Tested & Reviewed
Finding a 4K router is not easy at all. It has to include a lot of thinking, research, and consultations.
I wanted to make your decision-making process easier, and that's exactly why I created this list of the best 4K routers based on my experience and tests.
1. NETGEAR Nighthawk R7000
Best overall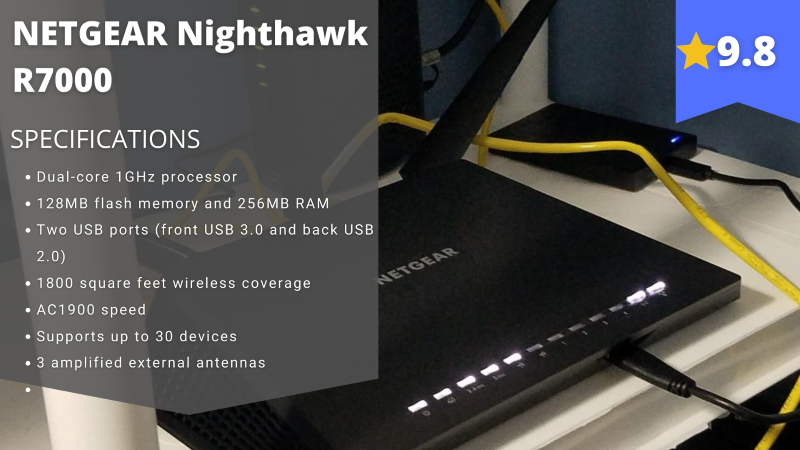 Stefan's Take:
This was one of the first NETGEAR routers I tested, and it became my favorite one and part of my streaming setup.
The best feature of this router is the coverage – three antennas are more than enough for any home or workspace. Also, it has an excellent user interface and a dedicated NETGEAR app for different devices. Another feature that stood out to me was the high level of protection.
| | |
| --- | --- |
| Maximum Speed | 10 |
| File Transfer | 9 |
| Ports | 10 |
| For Streaming | 10 |
According to NETGEAR, their products are smart, powerful, and easy to use and in addition to that affordable, and easy to maintain.
They claim that users will have a great networking system, which they can use at home or at work for business and they guarantee great performance, range, and speed when it comes to their products.
And NETGEAR Nighthawk Smart Wi-Fi Router backs up all of their claims. Let's check out its specs.
Who is it best for?
This particular router can be used at home when you want to spend some quality time with your family or perhaps to work from home.
Additionally, you can use it for streaming as well, without even having to worry about your wireless connection.
In conclusion, I can basically, promise that this router won't let you down wherever you are and wherever you intend to use it and that's why this is the best router for streaming 4K.
Key features
Firstly, the main and most important feature of NETGEAR Nighthawk Smart Wi-Fi Router (R7000) is amazing performance when it comes to video streaming which is, actually, the main reason why it made it to this list.
Additionally, there is an option of optimizing downstream or upstream Internet traffic, depending on whether you would like to watch video streams or play games.
However, I have to mention that the test didn't start well – I had issues regarding the configuration of downstream custom rules.
Finally, with this router, you can count on beamforming, which is a very interesting and useful thing.
Because, with it, there is no spreading signal in all directions. Instead, the signal from your modem focuses on one particular receiving device.
Pros
Excellent quality of service
Stability
Long-range
Front and back USB ports
Fine design
Affordable price
Cons
More difficult setup
Slightly larger size
2. TP-Link AC1750
Best for smaller spaces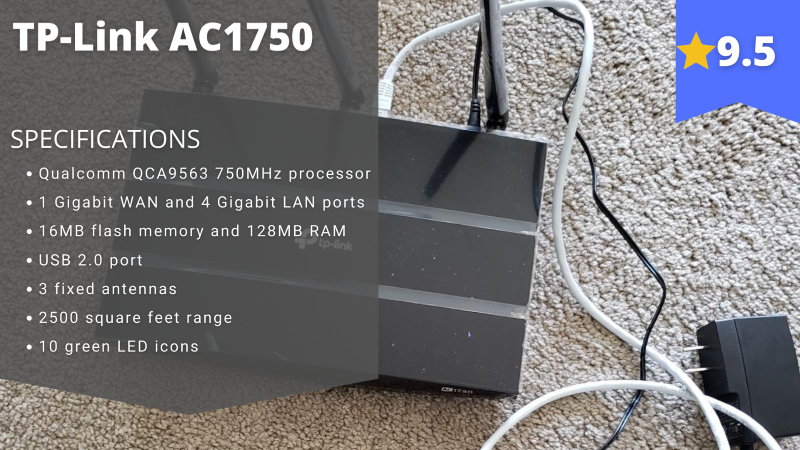 Stefan's Take:
If I still lived in a smaller apartment, I think that TP-Link AC1750 would be my go-to router. It is ideal for 4K streaming, with an outstanding close-range performance.
Three antennas easily cover a small apartment, house, or office, and you can connect up to 50 devices, which is more than enough. Also, the setup is quite straightforward, so that is another plus.
| | |
| --- | --- |
| Maximum Speed | 10 |
| File Transfer | 10 |
| Ports | 9 |
| For Streaming | 9 |
TP-Link is a company which was founded in 1996 and has a very good reputation since the analyst firm IDC ranks it as one of the best providers of Wi-Fi devices.
TP-Link points out stability, reliability, value, and performance as its products' most important characteristics.
As for TP-Link AC1750 Smart WiFi Router (Archer A7), the very TP-Link company claims that this is perhaps its best modem for 4K streaming.
Who is it best for?
TP-Link AC1750 Smart WiFi Router (Archer 7) is a router that is one of the best bargains among all the others.
Considering its price, this modem is perfect for people who want a decent modem of good quality, but also don't want to spend a lot.
Therefore, this router is a great option for smaller or regular households such as smaller houses or apartments where its 4K streaming abilities can be used both for entertainment and for streaming on the Twitch platform.
All these features put TP-Link AC1750 Smart WiFi Router (Archer 7) among the best routers for 4K streaming, especially in terms of a price-quality relationship. 
Key features
Archer 7 has great results on the 2.4GHz band and a little weaker when it comes to the 5GHz band, although considering the fact that this wireless router belongs to the group of so-called budget routers, this weaker result becomes satisfactory.
According to my tests, this modem's performances are mixed. Close-range performances proved to be very good. However, long-range performances were mediocre.
The installation and managing of this router can be done either by using TP-Link's Tether mobile app or a web console.
The very setup and installation processes are very simple, so they shouldn't be problematic for anyone.
As for its capacity, it connects up to 50 devices. Subsequently, some other significant positive features of Archer 7 are Amazon Alexa integration and the fact that it's economic, since, while working, it uses only 4.3 watts of power.
It is important to mention that it doesn't support beamforming and that there is no anti-malware option as well as that the file transfer option didn't provide satisfactory results during testing.
Although it's a bit larger than some other modems, Archer 7 has a nice design and 10 LED icons only add to it.
Pros
Extremely affordable
Easy to install
2-year warranty
Cons
Only 1 USB port
Limited range
3. NETGEAR Nighthawk AD7200
Best for VR gaming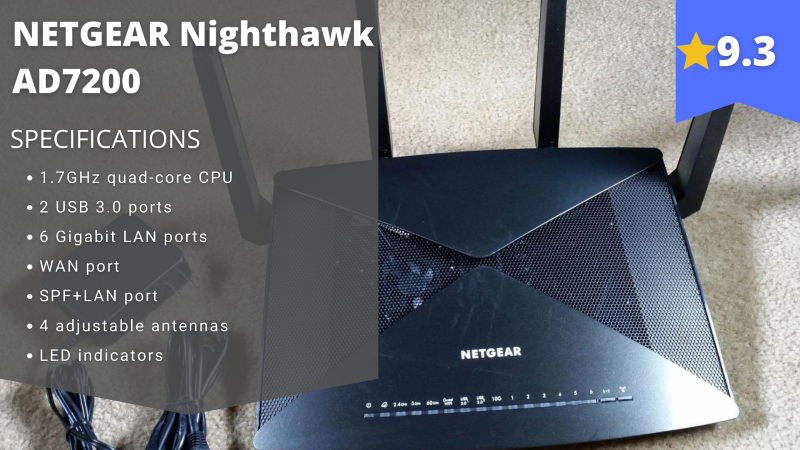 Stefan's Take:
Considering the price, I would say that Nighthawk isn't for everyone. It's a powerful router that can reach up to 800 Mbps, which is ideal for gaming and streaming in 4K, but you have to make sure that your PC can support it.
I have tested its speed and close and long-range coverage, and the results are impressive. It has four antennas, and it suits a bigger space.
| | |
| --- | --- |
| Maximum Speed | 9 |
| File Transfer | 9 |
| Ports | 10 |
| For Streaming | 9 |
When it comes to the Nighthawk X10 AD7200 router, NETGEAR Company claims that this is one of their best routers for streaming 4K and virtual reality gaming.
Another feature of this particular router that NETGEAR underlines is its interesting design.
Who is it best for?
Firstly, it has to be mentioned that this modem is for people with deeper pockets, considering its price. However, if you are able to afford it, you will find out that it is totally worth it.
Although it can, of course, be used as a router for family use at home, such a strong, powerful, and expensive router as Nighthawk X10 AD7200 is an ideal solution for 4K streaming on platforms such as Twitch.
Therefore, if you are interested in 4K streaming, besides other streaming gear, you will need a reliable router and X10 will solve all connection problems you have ever had and you won't experience them ever again.
Key features
Nighthawk X10 AD7200 can hit up to 1733Mbps on the 5GHz band and up to 800Mbps on the 2.4GHz band, which are great results.
Additionally, it performs really well at both, close and long ranges and its result at a distance of 30 feet of 392Mbps is one of the highest results ever.
Besides, regarding its magnificent file transfer performances, Nighthawk X10 AD7200 is perfect for transferring big blocks of data.
The installation process is easy and there are Genie mobile app and NETGEAR Genie web console which can be used for managing the router.
It supports beamforming and MU-MIMO data streaming and its parental control are very good.
Even though Nighthawk X10 AD7200 supports both 802.11ac and 802.11ad Wi-Fi standards, not everyone will be able to use the latter one.
Therefore, users who would want to purchase this particular modem need to keep in mind that they will need to have appropriate equipment, such as an 802.11ad enabled laptop, in order to use this feature of the modem.
Sizewise, Nighthawk X10 AD7200 is a giant comparing to other routers. Nevertheless, it looks really good.
Four antennas give it a very interesting look and all of them have LED indicators on them. LED indicator can also be found on the front edge of the modem itself.
Pros
Very powerful
Amazing 5 GHz performance
Supports 802.11ad
High file transfer speed
Cons
Extremely expensive
A bit bulky
4. Linksys EA9500
Best theoretical maximum speed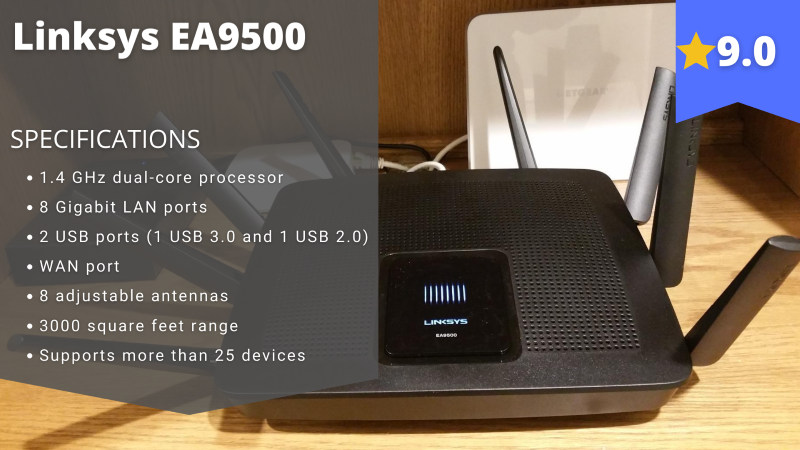 Stefan's Take:
As soon as I read that EA9500 can reach up to 1000 Mbps, I had to try it. And the speed is truly impressive. Even at long distances, the file transfer is still swift. The eight antennas provide coverage for larger apartments and homes.
Also, it features beamforming and MU-MIMO data streaming, so streamers can enjoy top-quality recordings.
| | |
| --- | --- |
| Maximum Speed | 10 |
| File Transfer | 9 |
| Ports | 8 |
| For Streaming | 9 |
Linksys is a high-performance router brand owned by Belkin International. Belkin states that its products, which are sold in more than 50 countries all over the world, ensure connectivity, productivity, protection, and power.
Linksys refers to EA9500 as one of their most powerful tri-band routers, which will meet your needs regardless of what you intend to use it for.
Who is it best for?
Linksys EA9500 is a router that is, so to say, an all-rounder. It is equally good and appropriate for using it as a wireless modem in your household and also for 4K streaming.
Although it is a little more expensive, it will pay off with its performance.
Regardless of whether you have a larger family with a lot of devices to connect to, or you want to stream 4K videos on Twitch or any other platform, this router will make your life easier, since it is very powerful and easy to use.
Key features
The theoretical maximum speed of Linksys EA9500 on the 2.4 GHz band is 1000Mbps and on 5.0GHz 2166 Mbps. With its magnificent results in throughput tests at both close and long ranges.
Namely, according to my tests, EA9500 at a distance of 30 feet delivered approximately 79Mbps on the 2.4 GHz band and 450 Mbps on the 5GHz band.
Therefore, this modem has qualified itself as one of the best solutions for current or future streamers. The fact that it supports both beamforming and MU-MIMO data streaming, only adds to this statement.
When you add a quick and easy installation process, which won't take you more than 5 minutes and managing via Smart Wi-Fi mobile app, you get an ideal router for home as well as for business.
In terms of design, I can't deny that the modem is really large, but apart from that, it looks very eye-catching with a nice display with 8 LED bars.
Some may think that 8 antennas are too much, but in my opinion, it only adds to stylishness.
Pros
Excellent performance and speed
Abundant LAN ports
MU-MIMO capability
Cons
Expensive
Large and bulky
5. Zyxel Armor Z2 AC2600
Best for gaming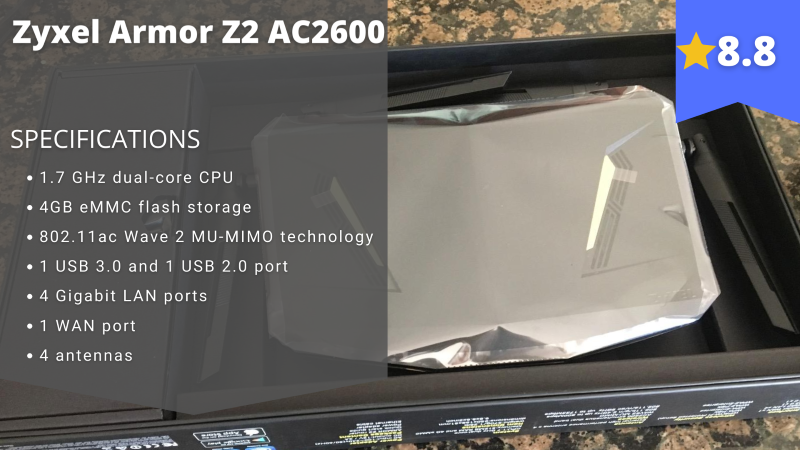 Stefan's Take:
In my opinion, this router is simply built for gaming. From design to speed and protection, it looks like a gamer himself made it.
The theoretical maximum speed is lower than other models on this list but still good enough for gaming and quality streaming. It also has MU-MIMO capability and supports 4K streaming.
I wasn't too pleased that it's a cable modem, but considering other features, this one can be overlooked.
| | |
| --- | --- |
| Maximum Speed | 9 |
| File Transfer | 9 |
| Ports | 9 |
| For Streaming | 8 |
Efficient, fast, and seamless connectivity always and everywhere is what you can expect from Zyxel Communications.
They keep up with the newest technologies and innovations, such as WiFi 6, Mesh, 5G, GPON, etc. so they declare that they are able to fulfill all their users' needs.
They describe Zyxel Armor Z2 AC2600 as powerful, fast, and reliable and recommend it for online gaming and UHD video streaming.
Who is it best for?
Zyxel Armor Z2 is a modem that can be used for various purposes. Basically, it's a do-it-all modem that can be used for surfing, 4K streaming, or downloading, but its specifications, design, and performance imply that it is an ideal option for gaming.
Namely, its speed, power, and safety are everything that a gamer would wish. In addition, the design of Armor Z2 would fit in perfectly with a gaming PC.
On the other hand, if used as a streaming router, Armor Z2 would also prove itself as one of the best cable modems for 4K streaming that you can find on the market since its features are fit for this function as well.
Key features
When tested Armor Z2 had extraordinary results on both, 2.4 GHz and 5.0 GHz bands at closer ranges, delivering 97.2Mbps (2.4GHz) and 558Mbps (5GHz).
When it comes to longer ranges, results were neither amazing nor disappointing, so I could say that it had all in all solid performances.
Another category in which Armor Z2 had average but solid scores was file transferring.
Z2 can be set up using an app or a browser. However, since some users experienced certain connection problems with the app, the browser would be a better and safer option for this modem's setup. Other than that, the installation is quick and easy.
It looks like even the design was created the way gamers would like it. The entire router looks like the front of a race car and 5 LED indicators make it even more attractive.
Additionally, the manufacturer created vents that ensure airflow and cool air circulation through the router itself. Thus, this way you can game for several hours without risk of overheating.
Whereas performance and design were very good, MU-MIMO effectiveness didn't live up to expectations and that is one of the rare weak points of this router.
Pros
Good speed and performance
MU-MIMO capability
Attractive design
Cons
Slightly expensive
Mediocre MU-MIMO performance
6. NETGEAR Nighthawk RAX40
Great household router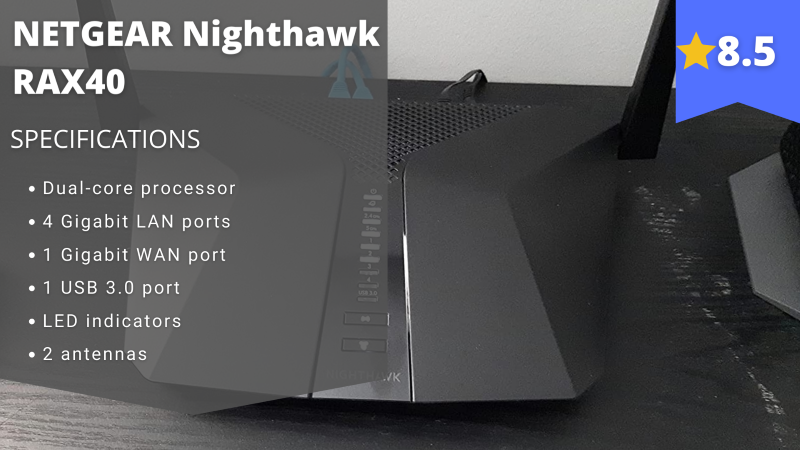 Stefan's Take:
RAX40 supports two standards: 802.11ac and 802.11ax, and a maximum speed of 600 Mbps, which is good enough for streaming, even in 4K.
One feature that stood out, in particular, was the download speed. Considering that close and long-range tests were odd, I wasn't sure what to expect when downloading. However, there were no hiccups, and the download speed didn't depend on distance.
| | |
| --- | --- |
| Maximum Speed | 9 |
| File Transfer | 9 |
| Ports | 8 |
| For Streaming | 8 |
According to NETGEAR, by using this router you will take your online experience to a whole new level. Its performances are increased and it will fulfill all your needs since it is equally good for streaming, gaming, video conferencing, or downloading.
Therefore, I could say that NETGEAR, as they say, one more time created a router which, with its great performance and speed, can satisfy even the pickiest users.
Who is it best for?
Although it can be used for a bunch of different stuff as presented by NETGEAR, after some tests, the conclusion is that Nighthawk AX4 should primarily be used as a household router, specifically for smaller homes.
Of course that it can be used for 4K streaming on various platforms or for downloading, but its results may not be as good as the results achieved by some more expensive routers.
However, regarding its price, it is definitely a favorable option. Therefore, I could say that if you want to start streaming and don't want or have a lot of money to spend, Nighthawk AX4 may be an ideal solution for you.
Key features
Nighthawk AX4 has (theoretically) the maximum throughput of 2.4Gbps on the 5GHz band and 600Mbps on the 2.4 GHz band.
Since it supports both 802.11ac and 802.11ax standards, logically, both of them were tested and the results were quite unequal.
With 802.11ac AX4 had fair results, especially at closer ranges, while results at longer ranges were declining.
On the other hand, with 802.11ax the speeds were much higher, but even those scores weren't as good as a router with 802.11ax is capable of.
Similar to the situation with 802.11ac, long ranges were an insurmountable obstacle for AX4 with 802.11ax standard.
One thing in which Nighthawk AX4 was almost flawless was downloading. Its downloading performances were amazing and didn't depend on distance at all.
Another positive thing which has to be mentioned, since nowadays it is especially important to people, is its price.
AX4 is very affordable, so if you want to purchase a router, but as well take your budget into consideration, this could be a nice option for you.
The installation process is very quick and easy, which is the thing with almost all NETGEAR products.
The design is very interesting and modern and it would fit really well, especially alongside gaming equipment. As for its size, AX4 is a bit larger than usual routers, but for that size, it's not so heavy.
Pros
Good speed with 802.11ac
Relatively cheap
Cool design
Cons
Bad performance with 802.11ax
No MU-MIMO
7. MOTOROLA AC2600
Router with a good firewall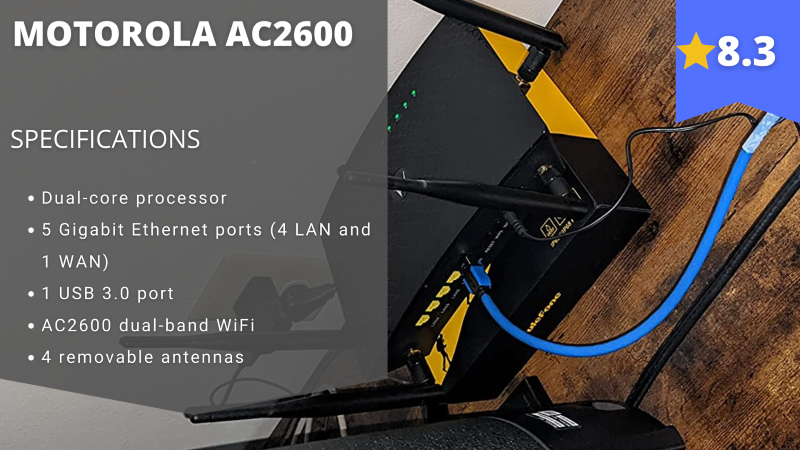 Stefan's Take:
When it comes to AC2600's speed test, nothing stood out in particular – the speed of file transfer is satisfactory, and it reaches up to 800 Mbps, as many other routers on this list.
What caught my eye was a firewall. AC2600 supports two different protocols, and the setup is quite easy, so your protection is guaranteed.
| | |
| --- | --- |
| Maximum Speed | 9 |
| File Transfer | 8 |
| Ports | 8 |
| For Streaming | 8 |
Even though being known for their production of mobile phones, Motorola is also a renowned brand of cable modems, which they have been producing for more than 20 years.
They describe their products as high quality, easily installed, and professionally supported.
Subsequently, according to Motorola, AC2600 guarantees outstanding wireless performance no matter which device you use it with and recommend it for larger homes as well as for gaming or 4K streaming.
Who is it best for?
Since this is a very powerful router it is recommended for bigger homes. Apart from that, it is an amazing solution for anyone who wants to game online or stream in 4K on Twitch.
With this particular router, 4K streaming will be possible without a single problem and that's why AC2600 is one of the best wireless routers for 4K streaming.
Key features
AC2600's maximum theoretical speed is 800Mbps on the 2.4GHz band and 1733 Mbps on the 5.0GHz band which initially shows that we are talking about one of the most powerful wireless modems.
Its speed and performance are very good at both close and long ranges.
Furthermore, according to my tests, its range on 2.4GHz is approximately 4000 square feet, while on 5.0 GHz is around 800 feet, which is way better than some other routers which are at a similar level in terms of specifications.
File transfer speed is satisfactory as well.
What dramatically adds to AC2600's quality is the fact that it supports beamforming, which makes your Wi-Fi faster and extends range, and MU-MIMO technology, which will increase your wireless connection speed.
It also supports IPv4 and IPv6 protocols and its protection is great thanks to a user-friendly firewall.
Finally, AC2600 is made from quality material and its design is modern and stylish and this router would look nice either in your living room or in a gaming room.
The setup process is extremely easy and quick and it shouldn't take more than a couple of minutes. The only flaw regarding installation is the fact that there is no mobile app for this router.
Pros
Very fast
MU-MIMO
Very good range
Good price-quality relationship
2-year warranty
Cons
Only one USB port
No mobile app
8. NETGEAR Nighthawk RAX120
Great for streaming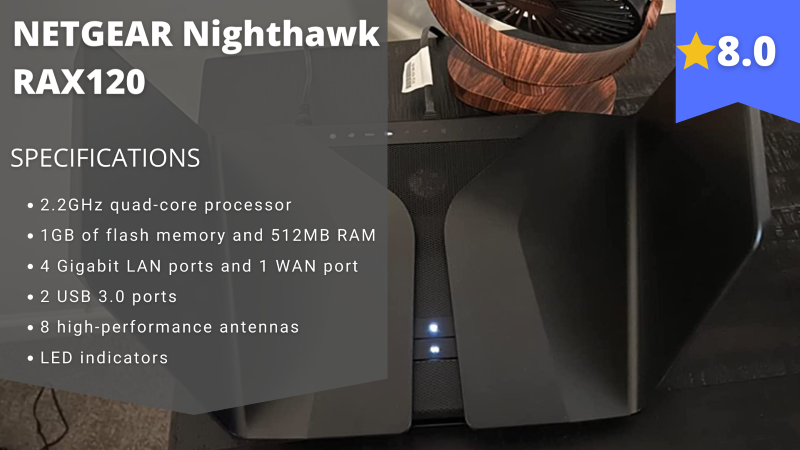 Stefan's Take:
The first thing that caught my eye was the futuristic design of the router. And then I plugged it in.
When it comes to performance, RAX120 is an amazing router, like other NETGEAR routers from the Nighthawk series. I was impressed by the speed it can reach, file transfer, and long-range coverage.
However, the lack of malware protection was a big downside for me, especially considering how expensive this router is.
| | |
| --- | --- |
| Maixmum Speed | 8 |
| File Transfer | 8 |
| Ports | 8 |
| For Streaming | 8 |
With this router, NETGEAR promises super-fast speeds, all kinds of devices that you can connect, and suggests you forget about buffering or dead zones because you won't experience those troubles with Nighthawk AX12.
All its features and specifications prove one thing: this router is one of the most powerful and best routers for 4K streaming that you can find.
Who is it best for?
Although a bit more expensive, this router is totally worth it. An extraordinary, extremely powerful router is an amazing option for all gamers and streamers.
Having in mind its price, this may be a better option for some experienced streamers who have definitely decided to do this on a more professional level.
But of course, if you are a streaming rookie and you want a strong start with top-notch equipment, with AX12 there is no room for error.
Key features
AX12's results in tests were quite outstanding. At close range, it delivered 125Mbps on the 2.4GHz band and spectacular 839Mbps on the 5.0GHz band.
Long-range results were not bad either. On the contrary, they were impressive. At a distance of 30 feet, AX12 managed to deliver 63Mbps on 2.4 GHz and 417Mbps on the 5.0GHz band. File transferring performance was superb as well.
Except for the fact that it supports 802.11ax technology, AX12 also supports a number of others such as beamforming, 8×8 MU-MIMO data streaming, OFDMA data transmissions, and 1024-QAM.
On the other hand, a negative feature of this router is the lack of anti-malware or parental control.
Configuration can be done either online or via a mobile app. It is pretty easy and it doesn't take you much time, which is the case with almost all NETGEAR routers.
Concerning the design, I have to admit that it is very unique. AX12 reminds me of some kind of space ship and, honestly, this is one of the most divergent routers I have ever seen.
Lastly, the only problem with this particular router can be its price. If you need a common household router, you could stick with cheaper options.
However, if you need a powerful router for streaming in 4K and you want to invest in it, AX12 is perfection.
Pros
Extremely fast throughput
Very food file transfer performance
MU-MIMO
Ultra-modern design
Cons
No malware protection
Expensive
Things to Consider when Buying Best Routers for 4K Streaming
1. Performance and speed
If your goal is 4K streaming, you will need a powerful router. Its power completely depends on its throughput performance and speed.
With faster routers, you won't need to think about lagging, buffering, or similar things and you'll be able to completely focus on streaming without any worries.
How powerful a router you will choose, will most definitely mostly depend on your financial situation. After considering your budget, you'll be able to decide which router you can afford.
But of course, there are some routers which have an affordable price and yet can meet your expectations.
2. Price
Price is directly connected to the quality of not only the router but every product you wish to buy. There are routers which are cheaper and cost around $100, but also the expensive ones which can cost $500+.
It is up to you and your budget which you will choose and we only hope that this list has helped you to realize which routers have a good price-quality relationship and which ones are a good bargain.
3. File transfer performance
Internet speed and performance are very important to every user and especially to 4K streamers. Having a good file transfer performing router really is a blessing.
Of course, if you are willing to wait longer in order to download something you basically don't have a problem.
However, if you are an impatient type of person you should look for routers with faster downloading performances.
4. Number of ports
A number of ports (LAN, WAN, USB) directly determines how many devices you will be able to the plugin.
On this list, the average number of ports in total is around 5 or 6 (4-5 LAN/WAN and 1-2 USB), so that could be a satisfactory number of ports that you could look for.
5. Design
To most people design could be the least important feature. But there are always people who are aesthetes who want their modem to look nice on the shelf in their living room or next to their PC in their gaming room.
At the end of the day, the design and look of a certain router is the first thing that you see. All other features come after it.
Conclusion
Hopefully, this list was helpful to you and will make your choice easier. Your choice will definitely depend on your preferences as well as on your financial situation.
Here is a brief summary of my top three choices:
NETGEAR Nighthawk R7000 as the best overall,
TP-Link AC1750 as ideal for smaller spaces,
NETGEAR Nighthawk AD7200 for VR gaming.
Even though some of these options aren't cheap, if you save some money and decide to invest in 4K streaming gear, these routers will pay off.
Frequently Asked Questions
What kind of router do I need for 4K streaming?
Routers with 802.11n standard can provide you solid quality, but it would be much better if you had a router with at least 802.ac standard or Wi-Fi 6 if you are able to afford it.
What minimum Internet speed do I need for 4K streaming?
The minimum Internet speed that you will need to have in order to stream in 4K is 25Mbps.