A stream deck is a very useful output device, and it can be used for a variety of purposes. This is especially true while integrating plugins to your deck for improved functionality during the recording.
One of them is the ability to play audio effects and play sounds during your stream.
That's why in this article, I'll go through everything you need to know about using your stream deck as a soundboard to play sound effects during your streams and videos.
Adding Sounds to Streamdeck Soundboard
Doing this with your device is actually extremely easy to set up, so there aren't really too many details that you have to be aware of in order to have these audio settings work.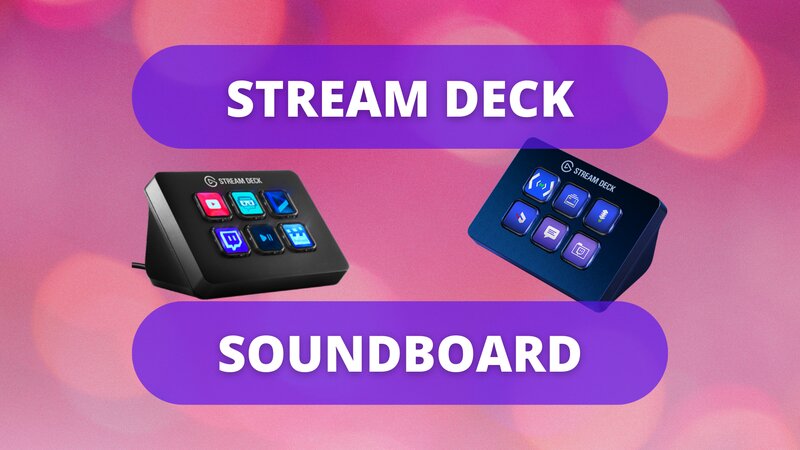 Here are the steps and the route you need to take in order to set this up:
Now that that's done, all you need to do to have that sound appear in your streams and videos is to click the selected button on your deck.
Just keep in mind that with this setup, once you click the button, the entirety of the sound will be played, so when you don't want that to be the case, just click on the button again at the moment when you want it to be finished.
Another great thing that you should be aware of is that you can add a lot of different sounds and sound effects to the deck and play them whenever you need them.
If you have a stream deck pedal, that can also be a very useful addition here.
Adjusting the Volume
Changing the volume of your sound effects on the stream deck is very easy to do, and here are a few simple steps that you need to take in order to deal with the sound volume on your computer:
You can search a bit between these options to create the perfect volume intensity of the audio clips that you plan on playing.
Where to Get Sounds
While some talented people know how to create these sounds depending on what they have in mind, your best bet will probably be to download them for free.
Of course, there are also paid options that you can choose to go for, which might not even be a bad idea.
Even if you don't have much money reserved for investing in your Twitch account, these usually don't break the bank and should be put into consideration.
So, let's see what websites you have available to you, in order to find the best sounds to play to your audience.
1. Sound Bible

Depending on what you prefer, you can find sounds that are either in mp3 or in the wav format.
Sound Bible is genuinely a huge library of both free and paid sounds that you can use, so you will have options that fit your budget completely.
No matter what you wish to have added to your Elgato stream deck, it's very likely that you will find it here and that's the reason why I like to recommend this as a resource to search for the best soundboard sounds.
2. MyInstants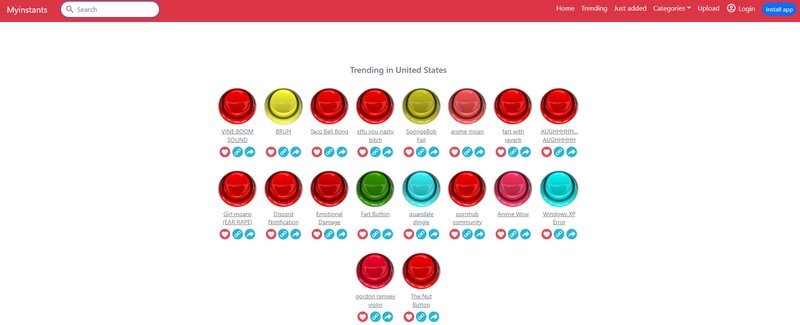 MyInstants is another website where you can find these sounds, and one of the main upsides when it comes to this one specifically is that its library is full of sounds that are coming from popular games and shows, as well as memes, so it can be really fun to add something like that in your stream.
All of the sounds from this website are free, but just be mindful, as some sounds that are from shows or songs could be under some rights that you could violate with unfair use.
Conclusion
Using your stream deck as a soundboard for Twitch streaming is a great idea because it's highly practical in many different ways.
Firstly, you won't have to buy a whole new device for something that will highly improve the quality of your streams, and secondly, you won't have to spend any additional money.
As you probably know, when you're streaming, you can gather quite a lot of devices for your setup quite fast, so having something be a 2in1 can be a huge benefit, as you won't have even more things blocking your desk space.
Since it's very easy to do this, if you already have a stream deck, you should definitely incorporate these functions into it.
And, if you're wondering whether to buy a soundboard, and your budget is short, then this shows that you don't have to do it, and a stream deck is way more versatile.
FAQ
How do I use a soundboard with stream deck?
To use your stream deck as a soundboard, you need to select the Play Audio function to be on one of the buttons on your deck. After you set that up, you can use the deck as a soundboard.
How do you get a stream deck soundboard on Discord?
There are different mods that you can download in order to use the stream deck as a soundboard on Discord, but it can be done. Once you do, your friends will be able to hear your sound effects on Discord.
Can you put sound effects on stream deck?
Yes, you can put sound effects on a stream deck and use it as a soundboard from which you can play sounds during your streams. You can add as many as you need, and it's a great idea to use your deck like that.