You want to start streaming but just can't decide which streaming deck would be the best for you? You want to purchase one, but you find it very difficult to decide which?
For that very reason, we have decided to create this list of best stream decks which will, hopefully, help you throughout your selection process.
Post 7 of 7 in the Stream Deck
Best Streaming Deck
Reviews
After a lot of research, we've managed to pick the best streamer decks and compose a list based on users' online reviews.
Therefore, if you are keen on streaming, you should check out this list, since it will save you time and help you pick a streaming deck that suits you best.
QUICK OVERVIEW: Best Streaming Deck
<!—INSERT CODE BLOCKS BELOW—>

Dimensions: 118x84x21mm
15 LCD buttons

Mecha-Membrane technology
32 programmable keys

25 keys (including 1 programming button)
Weight: 285 grams
1. Elgato Stream Deck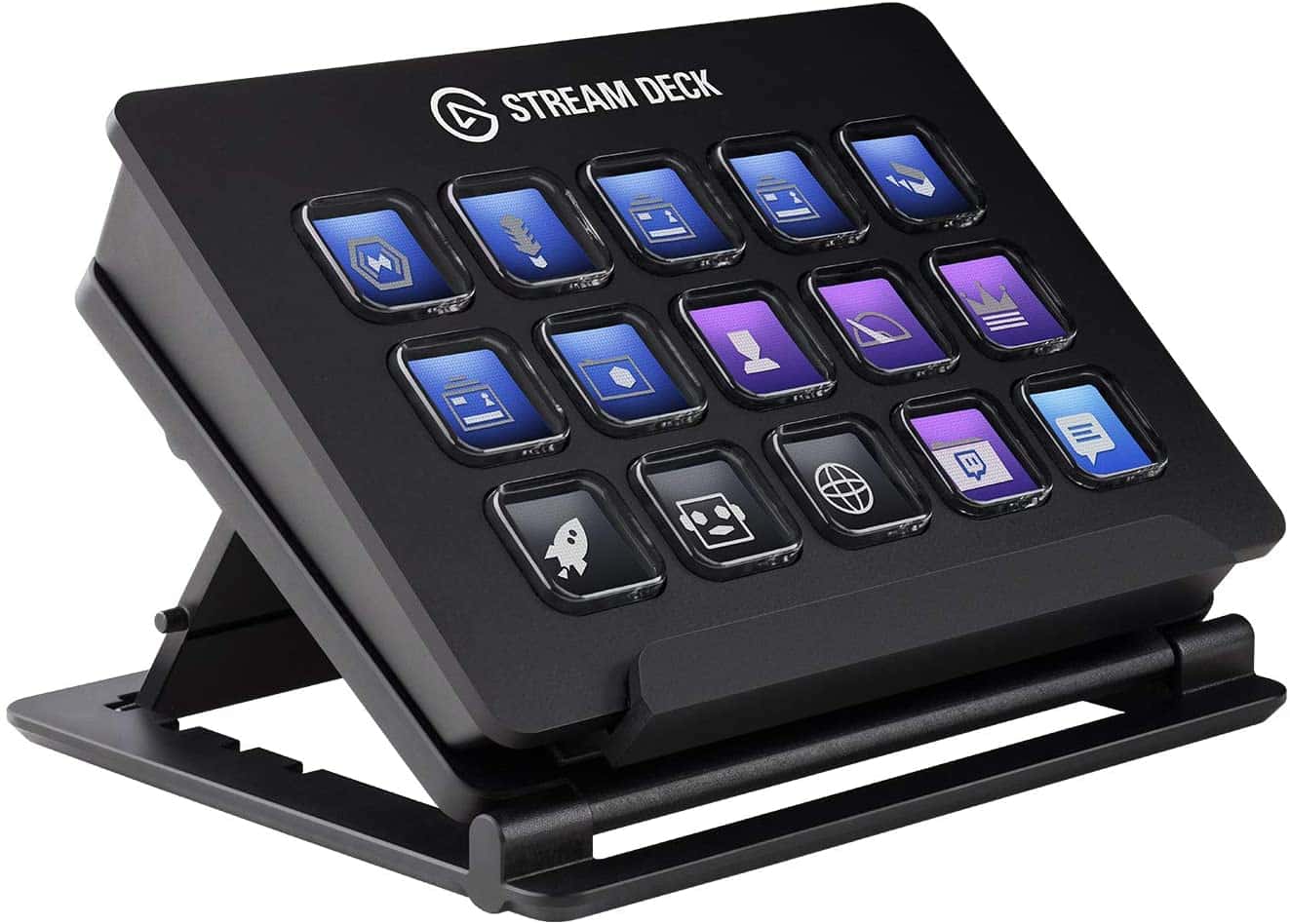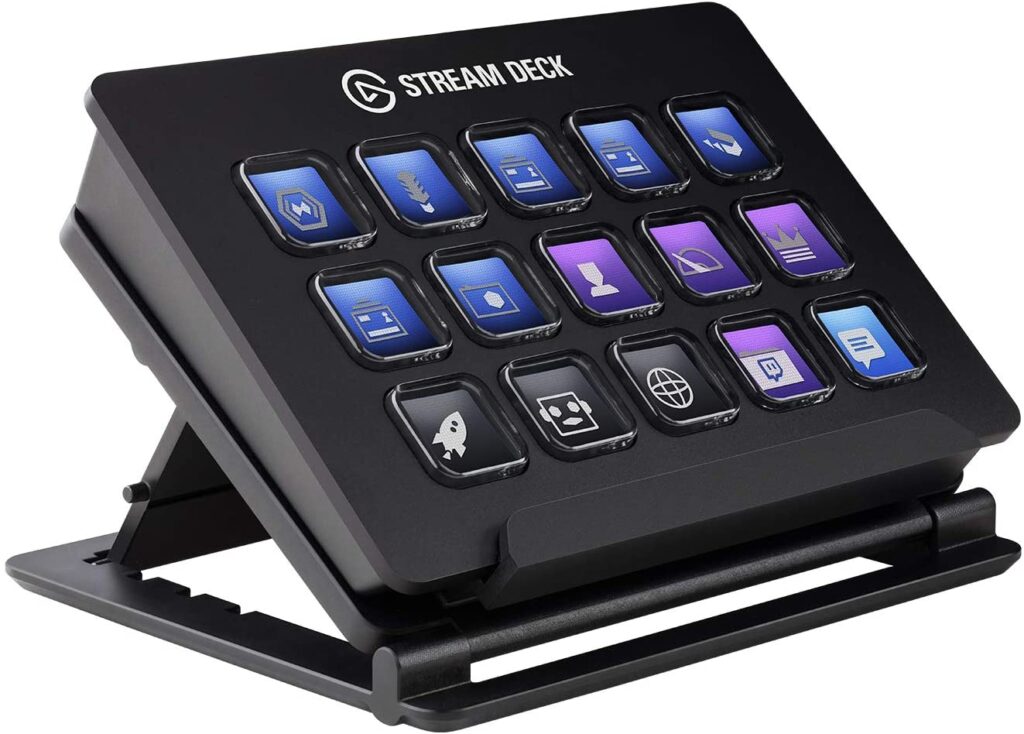 Elgato is one of the best and most famous providers of equipment intended for content creators.
According to Elgato, their products are professional, high quality, accessible and powerful. Additionally, their products are sold in more than 80 countries.
As for Elgato Stream Deck, they describe it as the best stream deck, a game-changing tool, which will give you control and allow you to focus on your creativity and your audience.
Who is it best for?
As stated by Elgato, this deck is equally good for both beginners and veteran streamers. On the other hand, according to some reviews, regarding this deck's price and features, it would be most useful to experienced streamers.
Not that some rookie streamers shouldn't buy it, but it would be better to gain some experience and develop an audience first.
Thus, Elgato Streaming Deck is mostly recommended to at least semi-professional and serious streamers, since they will be able to exploit all of its potentials.
Key features
The installation and customization process is very easy and quick. The only thing you would have to do is downloading and installing Stream Deck software which you can find on Elgato's website.
After you run the software you will notice that some of the most popular streaming platforms such as Twitch, YouTube, Mixer, etc. are already in the side-bar menu and ready to use.
As for Elgato Stream Deck's functions, they will make your streaming process easier. Namely, you can switch camera angles, pause your stream, change platforms, share your videos on Twitter or turn on or off the chat in just one click.
These features help you to remain focused. You, basically, get the feeling that you are controlling everything with just one push of a button and that is a really cool feeling.
Furthermore, there are several plugins that you can add, and all of them you can find by clicking "More Actions" button. Some of the abovementioned plugins are Stopwatch, VoiceMeeter, SuperMacro macro recorder, Nvidia Shadowplay, and others.
In terms of design, there are several angles in which you can adjust the device and then lock it at the angle that you prefer. The deck itself is black and 15 buttons are arranged in 3 rows of 5 buttons.
Although the design is very astonishing, some streamers agreed that the deck itself could've been wider and more similar to a keyboard.
Another negative feature is the fact that the USB cable is short and neither detachable nor solid and firm, so it could get damaged after a while.
---
2. Razer Tartarus v2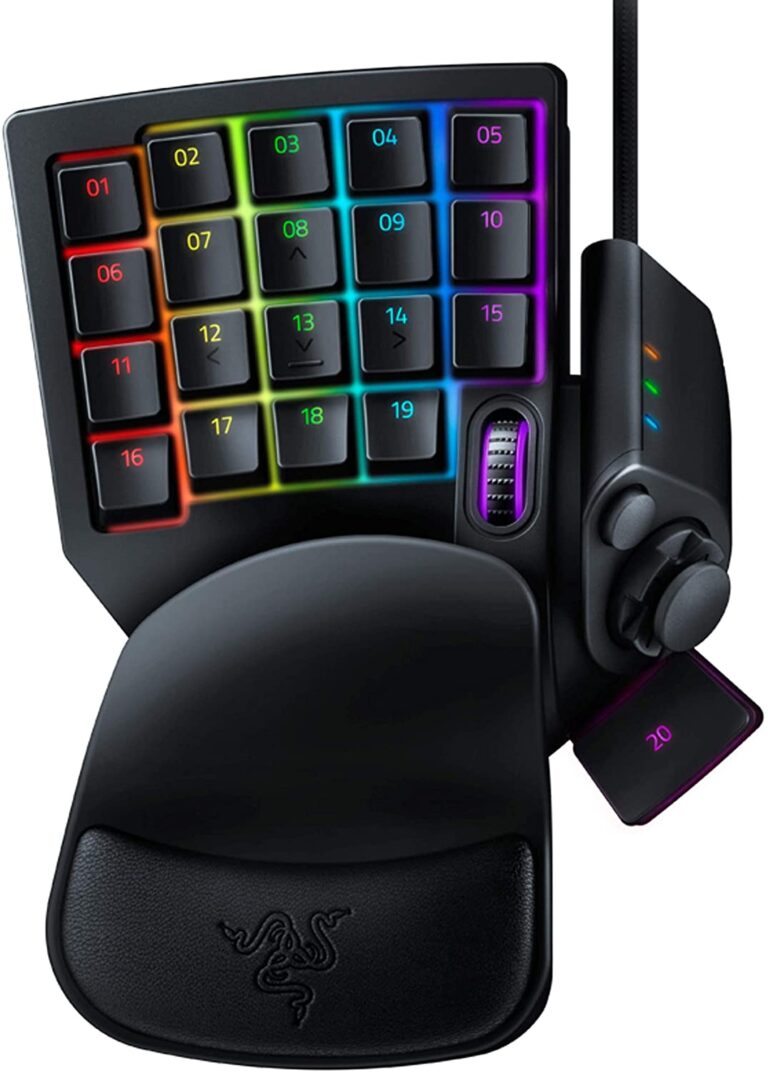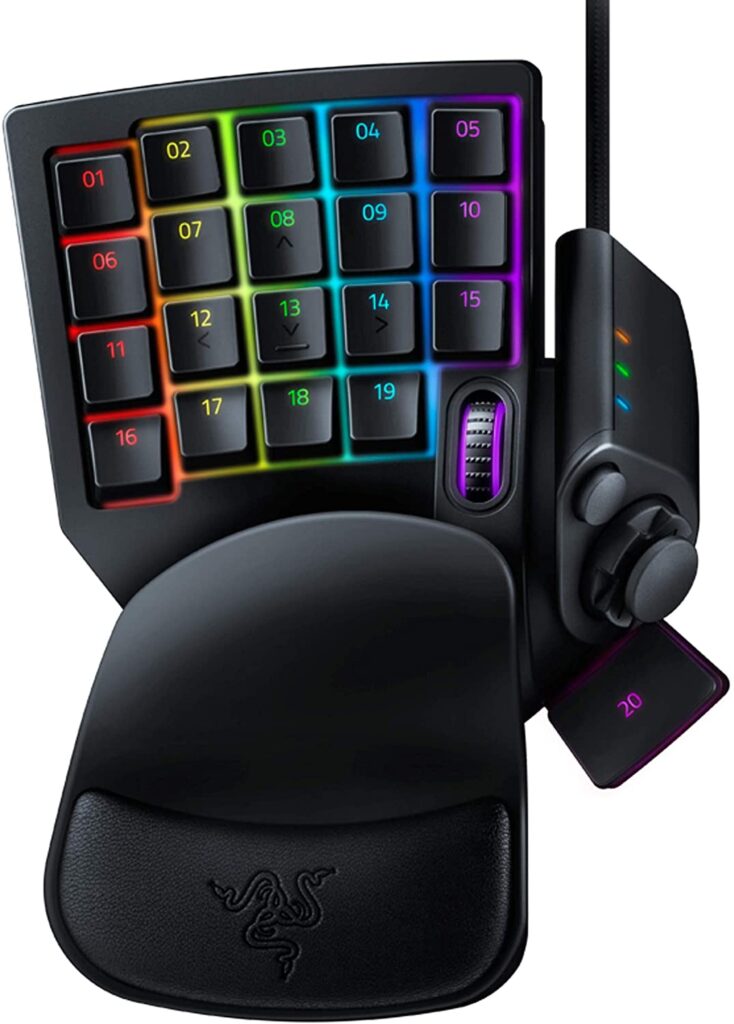 Razer presents itself as a leading brand in the gaming and eSports world. They offer award-winning products which provide high-performance and are perfectly fit for each gamer.
They claim that with Tartarus v2, which has 4.4/5 stars on Amazon, you can count on amazing speed, perfect design, and a great number of possibilities.
Besides, with this deck, Razer provides a 2-year warranty and if you buy it online from their store, you have 14 days to return the product if you are not satisfied with it.
Who is it best for?
Tartarus v2 is suitable for both experienced and rookie streamers. Nevertheless, experienced streamers will find it easy to get used to it, since it has more stream deck buttons than some other decks.
At the same time, this characteristic can be useful to inexperienced streamers as well. Given that switch from keyboard to a streaming deck can be tricky for beginners, this number of buttons can make that transition much more painless.
Key features
Tartarus v2 is an ergonomic keypad and apart from keys, there is also a scroll wheel, D-pad with eight directions, a thumb button, and a circular button.
There is a wrist rest as well, which is supposed to make the use of the deck more comfortable, but if it doesn't work for you, you can simply remove it, given that it's detachable.
As for the keys, instead of the usual mechanical keys, Tartarus v2 uses a Mecha-Membrane technology.
That means that there is a spongy membrane under the keys, although the intention is to achieve the same feeling while pressing buttons as with regular mechanical keys.
It is important to mention that several users had problems with keys which tended to break easily after a month or two.
There is, also, a possibility of transition between three different keypads as well as the possibility to turn on the Hypershift function, which means that you can change the function of all the buttons, only by pressing or holding one particular key which you had previously chosen.
On the other hand, the negative side of these features is that if you want to use them, you will have to program them yourself. The very programming process is not complicated but it will take you some time.
---
3. X-keys XK-24
X-keys is a brand created in 1997 by P.I. Engineering Company which was founded in 1993. P.I. Engineering describes its products as innovative and adaptive and they claim to be one of the global leaders in the computer input hardware field, with a good reputation.
Concerning XK-24 P.I. Engineering asserts that it is one of their most popular and best-selling products. Additionally, XK-24 is suitable for various applications and uses, as stated by P.I. Engineering, and has very good 4.4/5 stars on Amazon.
Who is it best for?
Primarily, XK-24 is a very versatile device. That versatility is expressed in several ways. First, it can be programmed in various manners so that it can meet the expectations of all kinds of users. Second, it can be programmed in hardware and software mode, depending on users' wishes.
Hence, we can conclude that this device is suitable for different kinds of users, from beginners to professional ones, since it can be configured to be perfect for literally anyone.
Key features
First of all, keys on XK-24 are programmable and can activate numerous things, such as shortcuts, Macros, or applications.
It is compatible with Android, Mac, Windows, and Linux devices, basically, any device supporting USB. Moreover, it is suitable for desktop, mounted, or handheld use.
The device is easily programmable, the configuration is quick and easy. Nevertheless, in case of any problem regarding this matter, tech support is very reliable.
Additionally, there is a free tutorial on the manufacturer's website. Another important feature is that the USB cable's length can be increased by using a USB extender.
XK-24 is, like most X-keys products, high quality, reliable and dependable. Therefore, it won't break down often.
Subsequently, it is very effective, so it can be used for various tasks, even for opening directories, websites, emails, files, or for selecting tools.
As for the design, XK-24 is very small and lightweight and, thus, easily transportable, which is a feature that almost all users like.
The device's foot is detachable as well as angled, which should add to easier use. Furthermore, each of the 24 keys has a backlight which can be either blue or red.
---
4. Koolertron 9 Keys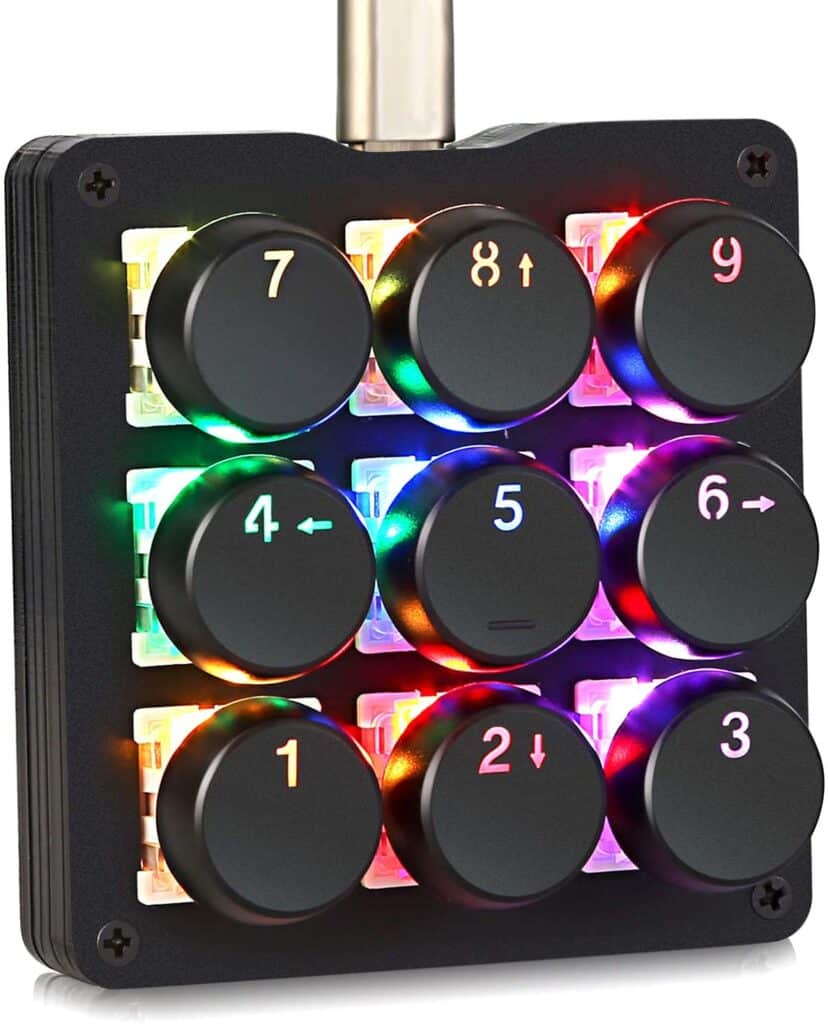 Koolertron is a company that was founded in 2009 in Hong Kong and China. They produce many different electronic products and claim that their products are fashionable, advanced, cool, ultra-modern and that they offer a superior experience.
Koolertron considers One Handed Macro Mechanical Keyboard to be one of their best products which will make your streaming easier as well as increase your enjoyment while playing games.
Who is it best for?
Taking its size and number of buttons into consideration, Koolertron One Handed Macro Mechanical Keyboard is more suitable for streamers who have recently started or plan to start using stream decks.
Since there are only 9 keys, it would be easier for beginners to familiarize themselves with using a streaming deck with this particular deck, than with some more complicated decks with a greater number of buttons.
Subsequently, its price is very fair, so even those streamers who are not professionals and don't earn a lot from streaming will be able to afford it.
In addition, it is recommended not only to streamers and gamers but to video editors and designers as well.
Key features
Firstly, even though there are only 9 keys, each key can be programmed to various functions. Thus, these 9 keys can function as 104 regular keys, Windows and keyboard locks, 8 multimedia shortcut keys, and as many web navigation keys.
This deck also has 24 macro functions (12 quick and as many advanced) which can support a maximum of 792 different commands.
Therefore, you can effortlessly handle numerous scenarios and another feature that adds to this is the capability of saving 4-layer of configuration.
There are 4 LED color modes, which are very bright so it can replace a lamp at night. This brightness can, of course, be adjusted and switched off.
The deck itself is very small, so it won't take much place on your desk and the USB cable is detachable, which is very important since that capability can save the cable from damage.
As for disadvantages, several users stated that keys were fragile and low-grade. Some of them also mentioned problems concerning the configuration process.
Additionally, users who use MacOS had issues with programming the deck, whereas users who use MacOS Catalina couldn't program the deck at all, since programming software didn't work with this particular operating system.
---
5. Koolertron 23 Keys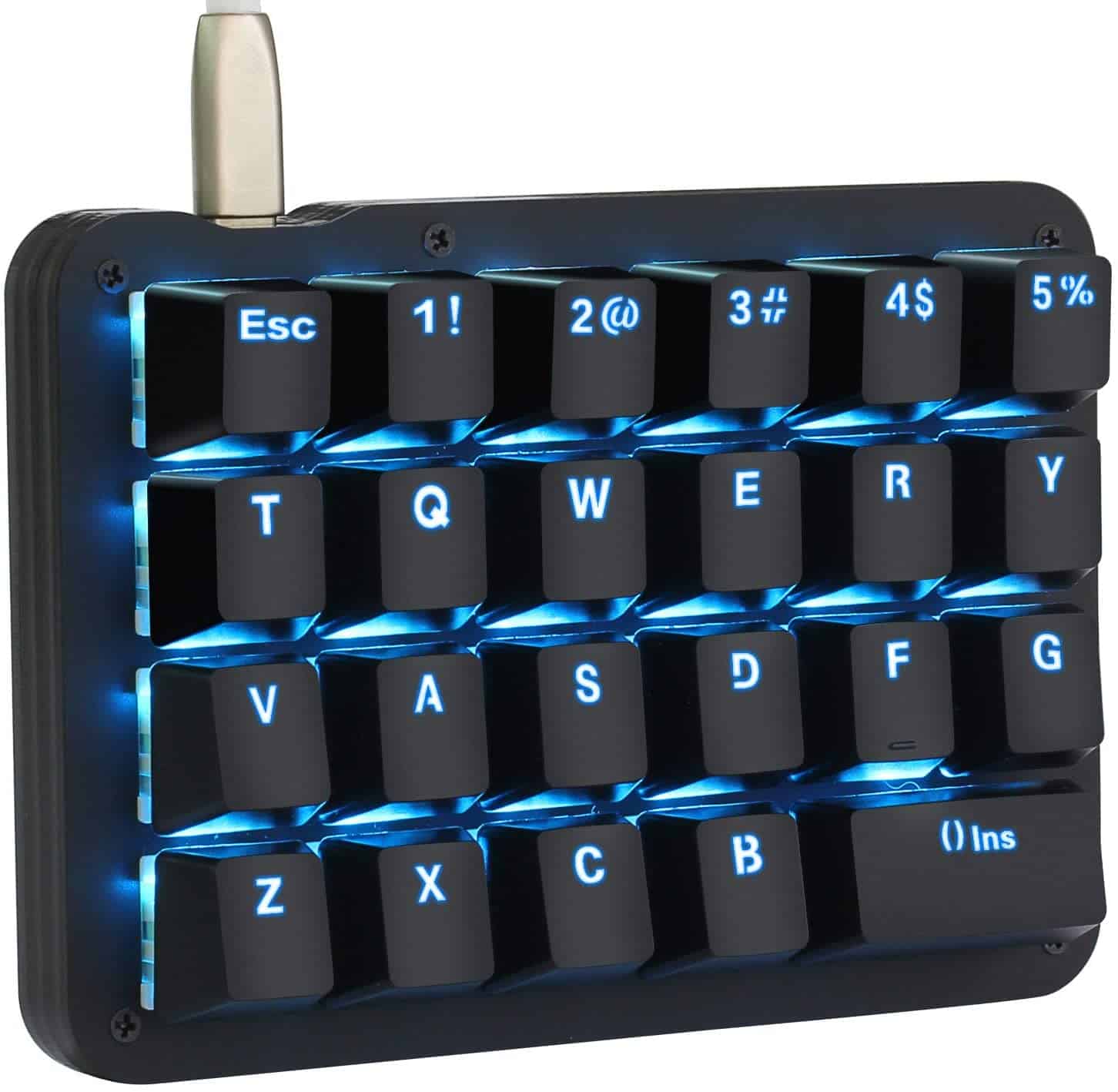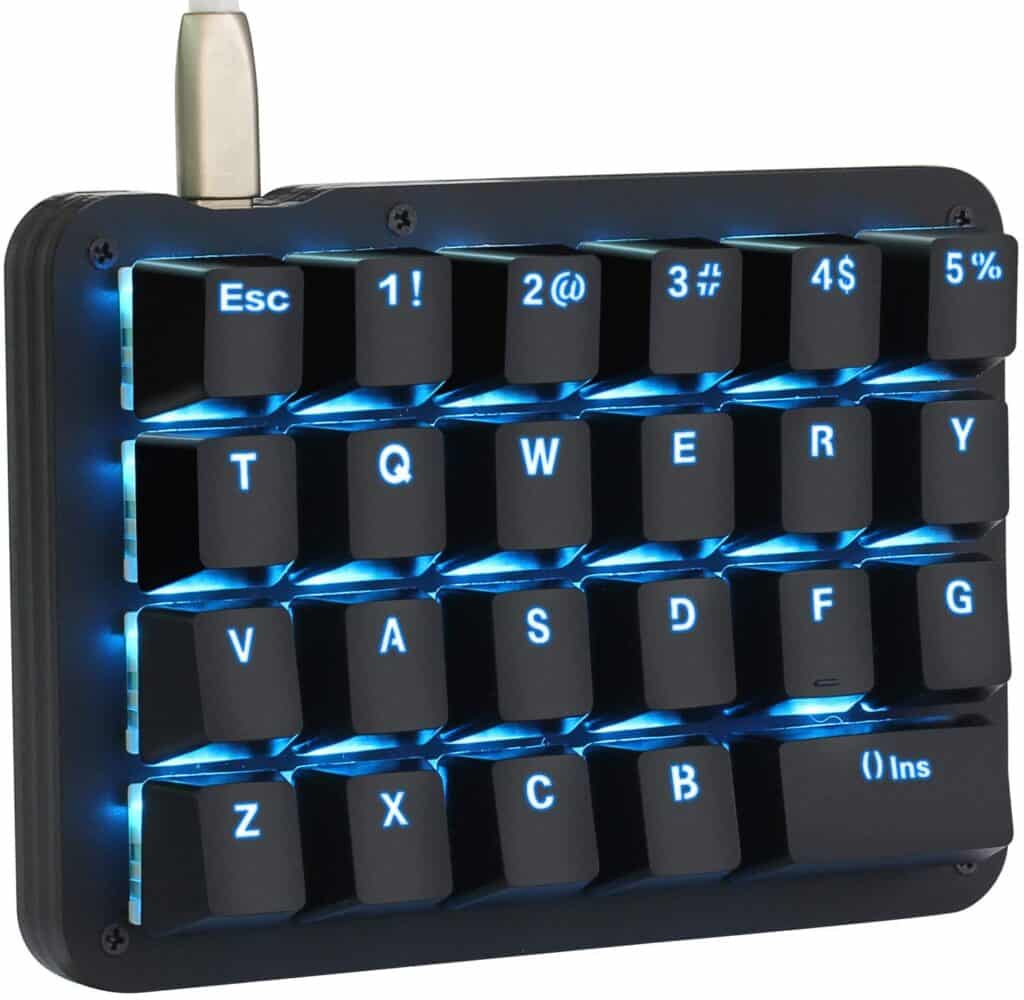 As mentioned before, Koolertron is a Chinese company that guarantees new-fashioned, modern, trustworthy, and loveable products.
They also promise affordable prices and are completely committed to building a reputation.
Their One Handed Macro Mechanical Keyboard with 23 keys is a better version of their 9-key keyboard and it could even be said that this is their best stream deck. According to a bunch of positive reviews and 4/5 stars on Amazon, users share the company's opinion.
Who is it best for?
Users describe this Twitch deck as a deck that can be used by literally anyone. No matter if you are a novice or an experienced streamer. It won't take much space as a regular keyboard does and still, it will be as useful.
This streaming deck could be the ideal one if you are still getting used to using a deck instead of a keyboard.
It can give you the necessary experience and prepare you for purchasing a better and more professional streaming deck. Its design and color-changing keys can fit in different rooms and environments.
Key features
Essentially, this Koolertron 23-key deck is not much different from their 9-key deck, apart from size.
Same as the 9-key deck, you can use this deck's buttons as regular, web navigation buttons, or as multimedia shortcuts.
Another same feature between these two decks is the fact that there are 24 macro function buttons, 12 quick and 12 advanced and each macro can note a maximum of 42 characters.
You can set up 4 different kinds of 4-layer configuration: FN, FN2, FN3, and normal. Thanks to this feature, right after setting up this 23-key keypad basically becomes a keypad with 92 keys. Additionally, you can switch between these layers just by pressing a toggle button.
USB cable is detachable and 1.5 meters long, which is quite a good length. This deck's software is compatible with Android, Mac OS, Linux, or Windows 10, 8, 7, XP.
What users according to their reviews liked most is the size, which saves a lot of space, an easy configuration process, extremely bright backlights, and the price, since they claimed that this deck is a good bargain.
On the other hand, several users complained about the quality of the keys and the material which the keys were made of. Furthermore, some users had problems with changing the colors of the backlights.
---
Things to Consider when Buying Best Streaming Deck
1. Number and quality of keys
The number of keys is always important when it comes to stream decks. Some people like more buttons and, thus, a deck similar to a regular keyboard, while some people like fewer buttons.
It also depends on your level of experience, since users who are used to the PC keyboard and don't have much experience with decks, will find decks with more buttons easier to use. Finally, it is fundamental to check whether the keypad is a mechanical or soft touch.
2. Size
Most streamers and gamers like to have more space on their desk. That is one of the reasons why they change the keyboard with the deck, in the first place. That's why size is very important to them and that's why most users choose decks that are as small as possible.
3. USB cable
When it comes to USB cables, there are two main essential features. First is the length and usually, users' opinion is the longer cable the better. The second important feature is whether the USB cable is detachable or not, given that non-detachable USB cables can get damaged more easily.
4. Design
Design is probably the least important characteristic on this list, but still, every streamer likes to have cool equipment and, thus, wants to find the most attractive deck there is.
Conclusion
In conclusion, we hope that we have helped you to make the decision about which deck is most suitable for you. We have made an effort to present to you each deck's advantages and disadvantages.
Your final choice will, of course, depend on what your preferences are and what amount of money you want to spend. In our humble opinion, Elgato Stream Deck is the best one on this list.
Frequently Asked Questions
Join our Discord Group. Ask questions, team up with fellow streamers, share memes, and more!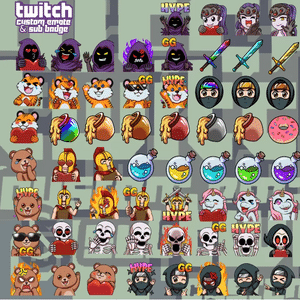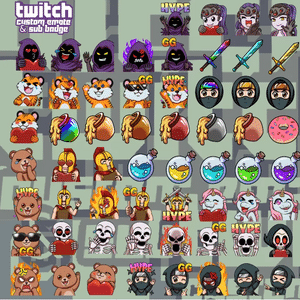 Claim for FREE:
FREE Emote PACKS
A book on growing your audience