Loupedeck is one of the most popular editing devices that allows users to edit photos and videos easily.
However, the Loupedeck panel is not the only panel that offers this type of option and assets, and there are plenty of alternatives to this product. One of the best is Behringer X Touch Mini.
If you want to see other best Loupedeck alternatives that are much cheaper than the original panel and will provide you with an amazing experience and great results, read my guide below.
QUICK OVERVIEW: Best Loupedeck Alternative
8 Rotary Encoders with LED Collars
2 Control Layers

Two 5 inch displays
USB C technology

15 functional keys
Video and photo editing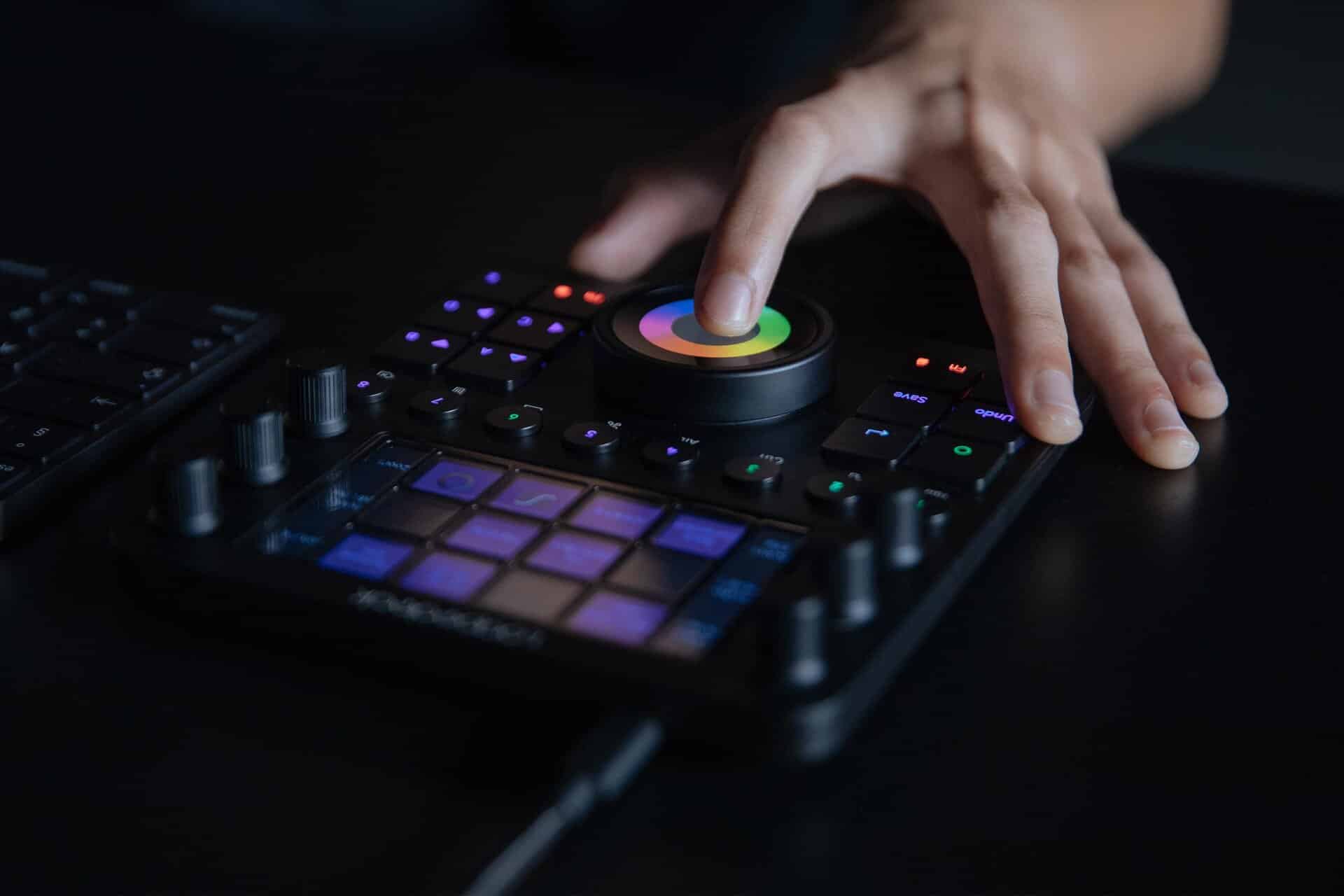 Best Loupedeck Alternative
Reviews
1. Behringer X Touch Mini
Best Loupedeck alternative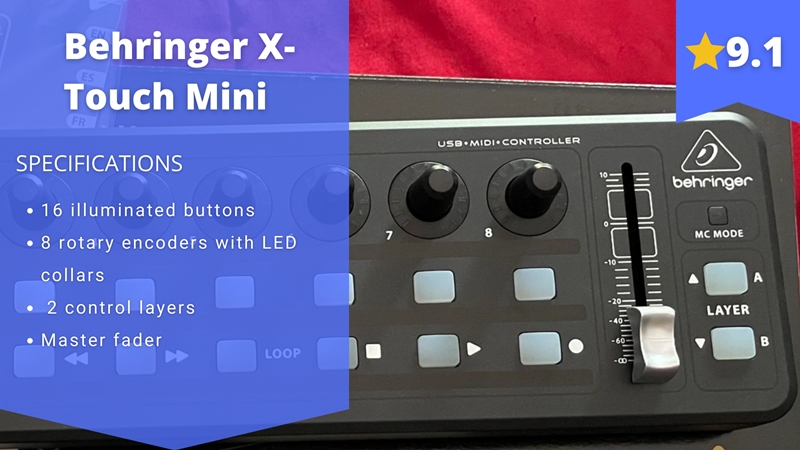 Stefan's Take:
This is definitely the most popular Loupedeck's alternative you have seen everyone raving about – yes, it is the Behringer X Touch Mini controller.
It will give you universal control and access to all instruments, applications, and effects that can be used on your device, and you will even be able to use Final Cut Pro, Lightroom Classic, and Premiere Pro through it. The X Touch Mini guarantees you high precision, so you will easily make all the changes and adjustments with one click. Overall, I liked it the most of all alternatives and it's definitely on another level with its keyboard shortcuts.
| | |
| --- | --- |
| Quality | 9.0 |
| Features and Presets | 9.3 |
| Compatibility | 8.8 |
| Buttons | 9.2 |
The X Touch Mini controller is known to be one of the highly coveted products among gamers that will allow you to speed up the whole process and customize photos and videos in an instant.
Its software is similar to the Loupedeck one, but it also has an integrated Mackie controller that will make it compatible with any audio software there is these days.
On the official Behringer website (through one of the links), you can also download their special program for X Touch Mini that will allow you to layer audio and control all elements of your sound.
Even though it connects to your device through a USB, you will still need to install this software on your computer, which is lame.
Your workflow will be amazing, and you definitely won't have to reset the controller if it takes a bit longer, which tends to happen with the Loupedeck controller.
There is also a master fader that will allow you to control all aspects of photo editing and connect your PC mouse.
However, there are no buttons or a function that would allow you to modify the Mackie controller during the process, so you will have to take some time using this add-on.
The setting on X Touch Mini can be easily navigated, and you can really create the perfect deck for yourself if you press the right button.
In my opinion, this is definitely the best Loupedeck alternative you can find on the market, and the price is really reasonable, so it can be a great option both for professionals and people who are just getting into this world, due to things that I explained above.
Pros
Can be customized
Great for all types of video and photo editing
High precision
Affordable
Cons
Requires a special Behringer software
Mackie controller needs to be adjusted manually
2. Blackmagic Design Davinci Resolve Mini Panel
Best panel for professional colorists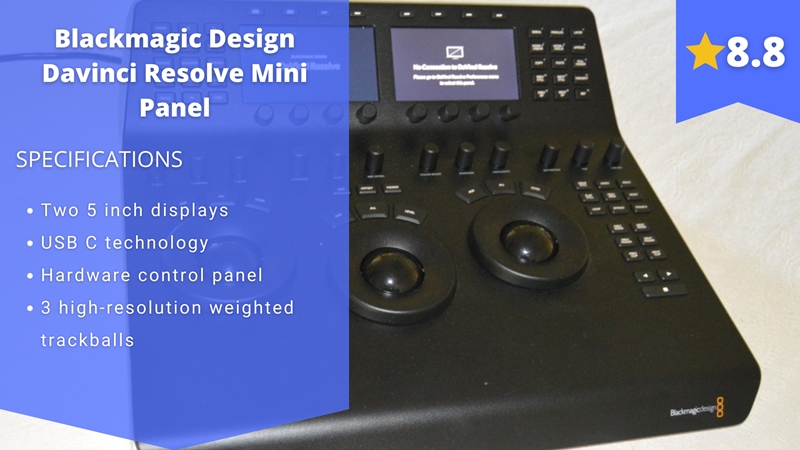 Stefan's Take:
The Blackmagic Davinci panel is one of the most famous alternatives to the Loupedeck panel, and even though it is not very affordable, many people decide to purchase it.
There is a massive number of controls and features, and even though it is not the best professional panel on the market, it is definitely among the best ones.
| | |
| --- | --- |
| Quality | 8.9 |
| Features and Presets | 8.4 |
| Compatibility | 9.2 |
| Buttons | 8.8 |
This compact hardware panel will provide you with different functions – from adding colors, navigating the timeline, and switching noise and tones.
It is a very popular and practical product that is a great option for all streamers and creators who tend to move around a lot and need a very portable device that can fit into a bag.
The tools on this one are similar to those on a Loupedeck, and it has more buttons than a computer keyboard, so you will really need some time before you become used to it.
With this device, you will be able to access almost a hundred features – from adding contrast and shadows to photos or videos to making the RGB colors a lot more vibrant.
12 special buttons are made for color correction, 18 buttons for transport and navigation, and 3 weighted trackballs that will provide you with the highest resolution possible.
It has an upper deck with two small displays of 5 inches and 8 knobs that will allow you to smoothen the picture or video as much as possible.
You can count on 8 original buttons made for switching between the nodes, navigating the timeline, and controlling the dials and presets.
This deck also has a special USB C technology that is in sync with the newest computer technologies and makes this panel a great option for different kinds of PCs – whether they are Windows or Mac ones.
It has simple power connections like AC and an XLR connection, but sadly, it doesn't have phantom power.
This device will work great with the Linux system, so it is one of the rare tech products that are compatible with it.
All panels have the same layout, so switching between them is very easy even for complete beginners (I see a lot of comments in our community), making it a lot better option than Loupedeck.
However, this is one of the most expensive panels on the market, and its starting price is around 3000 dollars, so it is a really big investment and something usually only professionals opt for.
Pros
Two 5-inch displays
Compatible with all PCs
USB C technology
Over 30 different buttons for color coordination, navigation, etc.
Cons
Very expensive
Doesn't have enough presets and effects
3. Elgato Stream Deck
Best gaming panel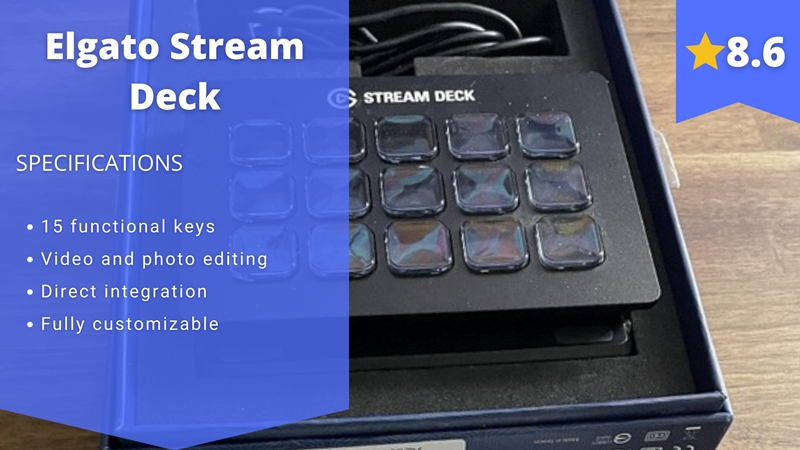 Stefan's Take:
There are 2 versions of this device – one has 15, and the other has 32 keys, so you can basically choose the one that works best for you and save some money.
This is a midi controller, and it will really fit into any space and help you with editing immensely.
| | |
| --- | --- |
| Quality | 8.1 |
| Features and Presets | 8.7 |
| Compatibility | 9.1 |
| Buttons | 8.4 |
This Elgato Stream deck is one of the most popular panels among gamers, and it provides them with the ability to do video editing, develop presets, and adjust different applications and programs through it.
It is also completely customizable, and all you will have to do is find the right setting and create a console that will work perfectly for you.
It also allows you to streamline your setup by connecting the device to your Twitch, Twitter, XSplit, Youtube, or Mixer and integrating the tools that will allow you to control the whole process.
This deck will also automatically recognize different types of media and allow you to engage in video and photo editing easily.
You can choose to upgrade and get configured your whole experience on streaming platforms by adding different images, gifs, and videos to your streams, and all of that can be done with one simple click on your deck.
If it is more convenient for you, you can always turn your deck buttons into different folders and create a different configuration for every game, so you can switch between the modes.
Just one key can be assigned to more than 10 actions, which is amazing, but can be quite confusing for people who are just starting out with this device.
It also comes with an adjustable stand, so you will be able to keep it where it works best for you and make sure that it is the right area for your photo and video editing.
Unfortunately, users complain that this deck really can't last a lot and that it usually slows down a year and a half after you have purchased it, so keep this in mind too.
However, this deck is a lot more affordable than all other Loupedeck alternatives, and the 15-key version will cost you around 150 dollars which is really a good price.
Pros
Affordable
15 functional keys
Video and photo editing
You can create your own configuration
Compatible with every streaming platforms
4. FEELWORLD LIVEPRO L1 V1 
One of the best midi controllers on the market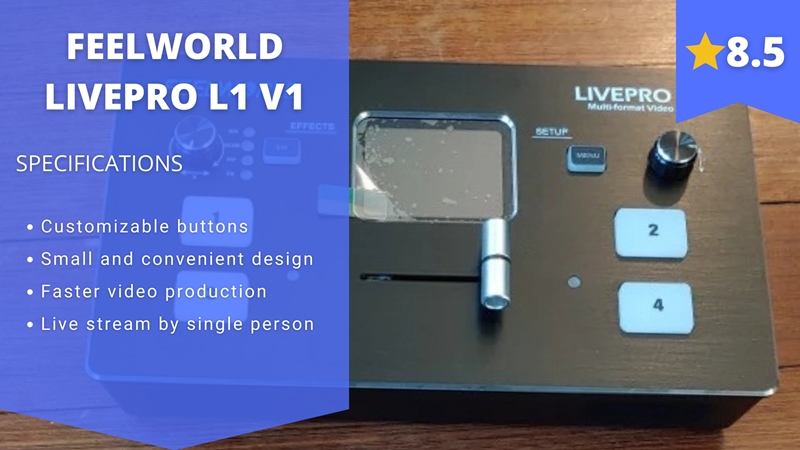 Stefan's Take:
This Feelworld Livepro device is a multi-camera video mixer that will allow you to do anything and everything with your video or live stream.
It will not provide you with the same functionality as Loupedeck, but you will save a lot of money. So if you have already spent a few hours looking for an Loupedeck alternative but don't know what to do, this can be the right choice for you.
| | |
| --- | --- |
| Quality | 8.2 |
| Features and Presets | 8.9 |
| Compatibility | 8.7 |
| Buttons | 8.2 |
This device has 4 HDMI inputs and 1 output, and both of them will be able to support videos up to 1080p resolution without problems.
This board also has a USB 3.0 technology that will allow you to live stream flawlessly and eliminate the need for any other software.
Once you have connected this deck to your PC or laptop, you will be able to switch between 4 different camera inputs with just one click and save time you would have spent manually going from one camera to another.
This is a very small product that can fit into any space, which is highly appreciated because gamers and streamers usually don't have too much space suitable for big devices.
You can also switch between different sliders, pictures, and presentations on your device and adjust the volume however you want during the live stream.
The open-source software also allows you to do video editing, and you can make your idea come true in a matter of a few minutes, and your workflow will remain amazing.
All the adjustments can be made during the stream, and you can configure all the buttons and sync them with the game you are currently playing.
Users tend to complain about the fact that they can edit just one photo at a time, which can be very exhausting, but it works the same way as on other boards, so it isn't that bad.
These customizable buttons, unfortunately, are not very responsive, so you will really need to click hard if you want to activate fine-tuning or open Adobe Lightroom.
This is probably the biggest disadvantage to the product because gamers and streamers are usually looking for decks that can easily be activated and navigated through.
Pros
Great for video and photo editing
Customizable buttons
Adjusting during the stream
Small and convenient design
Cons
The buttons are not very responsive
You can edit just one photo at a time
Conclusion
Even though Loupedeck looks like the best product on the market, there really are a lot of alternatives that are equally as good, if not even better, than your Loupedeck.
My personal choices are:
Behringer X Touch Mini (as the first Loupedeck alternative because of its versatility).
Blackmagic Design Davinci Resolve Mini Panel (as a second Loupedeck alternative, I recommend it for professionals).
Elgato Stream Deck (as a third Loupedeck alternative, this is a great choice for gamers because of its easy-to-use interface).
You can find precise open-source software among these products and get the right tool for yourself that will help you enhance your gaming and streaming process immensely.