The stream deck that Elgato came out with has easily become one of the most-loved parts of streaming equipment today.
It's actually not loved only by streamers but by many other people, like designers.
You can have a wide variety of plugins on this stream deck, which you probably already know.
But, just in case you don't, or that you're unsure of which ones you should choose, I have a list for you that explains what the best stream deck plugins are and why you should consider them.
Post 1 of 6 in the Stream Deck
14 Best Elgato Stream Deck Plugins
Among all the different kinds of stream deck plugins and stream deck app features that you have on your Elgato deck, here are the 14 plugins that will probably be the most useful for you.
1. Control Center
This plugin is mostly dedicated to light control, so in case you have a key or ring light that is also made by Elgato, this one will be very useful for controlling that,
With this plugin, you'll be able to control several different aspects of your light.
You will be able to control brightness and color temperature, as well as RGB in the case if that's something that's supported by the light device itself.
There are also some lights made by different manufacturers that are still compatible with this, so even if you don't have these lights specifically, you'll be able to control some aspects of it.
Besides the lighting, you'll also be able to have some multi-actions, which means that you'll be able to combine the control over light, visuals, and audio.
2. Twitch Studio

If you are a streamer, no matter if you are a beginner or have been doing this for some time now, this plugin is probably the one that interests you the most.
With it, you are able to deal with Twitch Studio settings directly through the stream deck.
Some of the functions that you can do directly from the stream deck are going live, so you'll be able to start your live stream directly from the stream deck. Then you'll be able to control your audio input and mute and unmute however you might need to.
Of course, you will be able to start and end the recording, control which layers are shown and which ones are not, and finally, switch between scenes.
Generally, this is a good plugin, but if you use a different streaming software, then this is probably not that useful for you.
For OBS users, you'll learn what the OBS plugin does just a bit more down below.
3. Spotify Integration

Even if you're not a streamer, there are very high chances that you are using Spotify, so having it be a stream deck plugin will very likely be useful.
But, if you are a streamer, you probably play a lot of music during your streams, and you probably do it using Spotify.
So, why not make it a plugin?
You will be able to control what songs are playing directly from the deck.
One small note that I have to add here is that to be able to use this plugin, and you need to be a Spotify Premium user.
4. OBS Tools

So, your streaming software of choice is OBS, and you would like to have shortcuts that will ease the use of it while you're streaming?
You don't need to worry at all!
With this plugin, you'll have access to different tools and commands that you probably need often.
Some of the commands that you get with the stream deck plugin are stream replay, audio source volume modifications, OBS CPU usage, and quick scenes toggle.
You will also be able to change transitions and set filters with this plugin.
5. Stream Counter

Whenever you're in a situation where you need to track something during your stream, this stream deck plugin will be one of your best friends.
For example, if you're counting down your sub count, then you will need this type of sub counter plugin.
You might want to track something that's happening in your gameplay, like how many times you have died; well, that can be done with this one, too.
6. Predictionbuttons

With these buttons, you are able to set predictions in your Twitch chat, and these predictions can be related to anything you want.
When you use these predictions, you will automatically enhance the quality of the conversation that's happening in your chat, as these things get people excited and more eager to engage, so it will be a great push for your engagement and site statistics.
7. Voicemeeter Integration

You might not know about this app yet, but Voicemeeter is an app that has the main function of controlling the audio.
One of the great things that it does is that it can control audio from different sources separately, which is extremely useful when you're streaming gameplay.
8. Audio Mute
This stream deck plugin is quite self-explanatory.
What it does is that it gives you the ability to easily toggle mute for both your speakers and your microphone.
You will never need to go through numerous windows in the search for what's playing, between the game you're playing and the videos you watch.
9. CPU

One of the main things that everyone knows about streaming is that it takes a lot of things to be open all at once.
No matter if you're using a Windows PC or a Mac, it's inevitable that overheating will happen.
That's why tracking what's happening with your CPU is essential.
This plugin will provide you with exactly that – you'll be able to control what happens with the CPU with just one press of a button and then act accordingly.
10. App Switcher
As I already mentioned, streaming involves quite a lot of windows and apps running at the same time, and sometimes it can get a bit confusing when you try to change between the screens.
So, why not make it easier for yourself with one of the stream deck plugins?
The main use of this plugin is to quickly change between apps, and I assume that's something that you will use a lot.
11. Audio Switcher
Other things that streaming usually has a lot of are audio input and output devices, and in a lot of situations, you will need to change between them quite quickly.
This plugin for your stream deck will make that process way easier.
12. Countdown Timer

During your streaming career, there will probably be a time when you will need some kind of a timer to count down to something.
When the time comes, you will have a plugin for that, and depending on your settings, once the time is over, it will start to flash a color of your choice.
13. World Time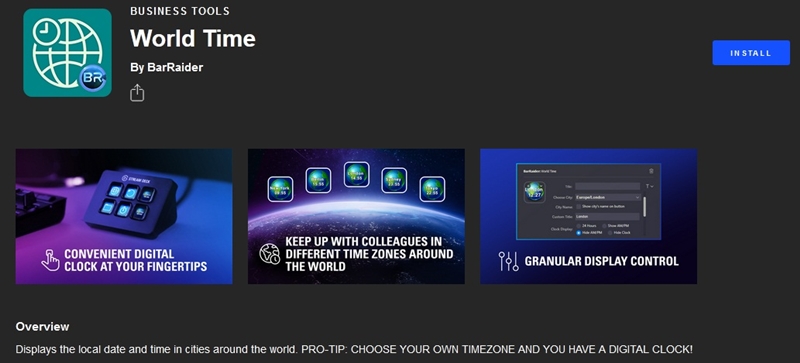 World time is a bit of a specific one and might not seem really useful at first, but hear me out.
A lot of the time, even though the majority of your audience might be from the USA, maybe a big chunk of them is not.
Having world time available to you and knowing where your viewers are coming from will be a very interesting addition to the community and might even bring people closer.
14. VoiceMod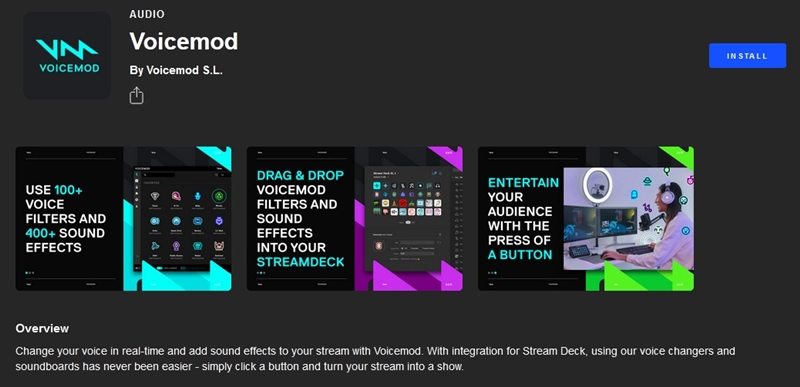 If you are among the big number of streamers who modify their voices once their stream starts, then you should definitely consider VoiceMod as one of your stream deck plugins.
This plugin is used to change your voice in real-time, and besides the voice modification, it also comes with a huge library of sound effects that you can use to make your stream even more entertaining.
How To Install Elgato Stream Deck Plugins
Now that you know what plugins are available for your Elgato stream deck let's see how you install them.
Here are the steps that you need to follow in order to add plugins to your Elgato stream deck:
Make sure that the Elgato stream deck is plugged in
Open the stream deck app
Find the Install button, and click on it
A lot of different options for stream deck plugins will appear, so when you find the one you need, choose to download it.
Find the plugin file on your computer
Open said file by double-clicking on it
The Elgato stream deck app will launch it, and the plugin will be loaded in the header under Custom Actions
Once it's loaded, just drag the plugin on the button of the stream deck that you want to be dedicated to it
That was the very simple process of how you install plugins on your Elgato stream deck.
Conclusion
A stream deck is a device that generally makes the process of streaming extremely easier, and the quality of those services that it provides you with only grows when you choose the right stream deck plugins for you.
Once you choose ones that will make your streaming experience easier, it will be very easy to integrate them into your routine, as they will be an intuitive addition that will help you out a lot.
FAQ
How do you add plugins to Stream Deck?
To add plugins to your stream deck, all you need to do is go to the app that controls the stream deck, find the Install section, choose the plugin you want, download it, and then open it.
After the app opens, you simply put it in the spot where you want it to be on the deck.
What software works with Stream Deck?
A stream deck can work with both Windows and iOS; however, there are some stream deck plugins that work only with one and not the other, so you have to check that before installing.
We are sorry that this post was not useful for you!
Let us improve this post!
Tell us how we can improve this post?