The common complaints" Twitch won't let me change my username" or" I can't change Twitch username" are going to be a thing of the past after this article that will demonstrate the step-by-step process to resolving this problem within a matter of minutes.
---
There are 2 simple steps and 2 different methods to change Twitch name. First check if you are eligible to change it, and afterward you can do it either through the browser or through the app.
Check if you are eligible
Go to settings, and under profile tab and within the username, you should see if your username is eligible for change.
Change Through Browser
Click on your profile, go to settings, and under profile menu you'll see the "username" tab and on its right side an "edit" option (pencil). Click on it, change your username and click "update".
Change Through APP
Open your profile (top right corner), go to settings, and under profile menu, you'll see the "username" tab. Click on it, edit with a new username and click on "update".
---
Check if You Are Eligible for Name Change
Before we dive deeper into how to update Twitch username, we need to see if you qualify for a name change, to begin with!
In most cases, the only prerequisites that need to happen are the passing of 60 days since your last name change and for your new chosen name to be free.
According to Twitch's official policy regarding username regulations, there are three golden rules:
If a username violates a registered trademark, it will be subsequently removed
Accounts that are engaged in the acts of impersonation (this does NOT include situations where your desired username is taken) will also be removed, and their name freed up
Accounts that are classified as inactive on the platform (no login or viewing activities for 12 months) will be removed, and other users will be able to change their username on Twitch to that of the deleted account.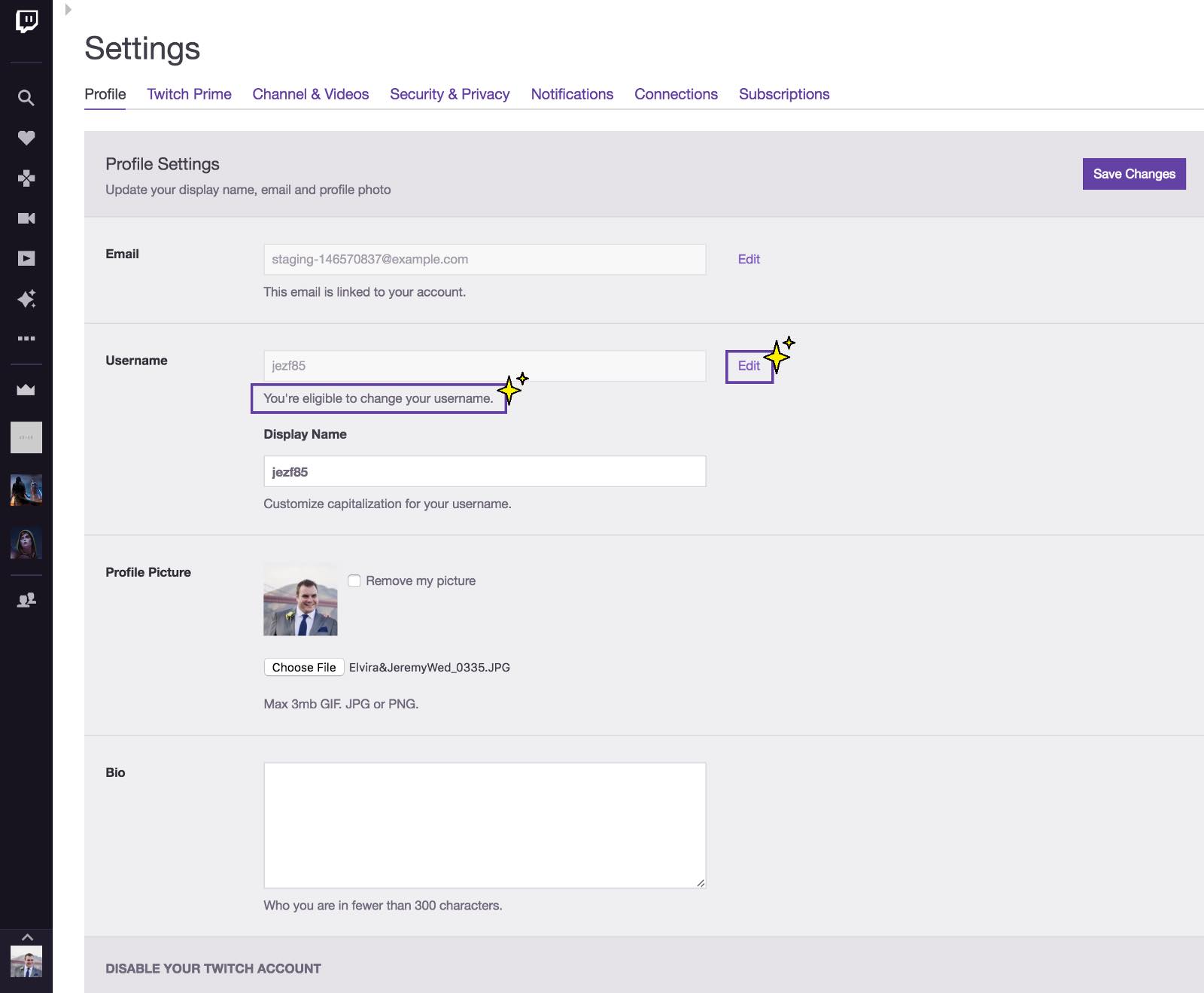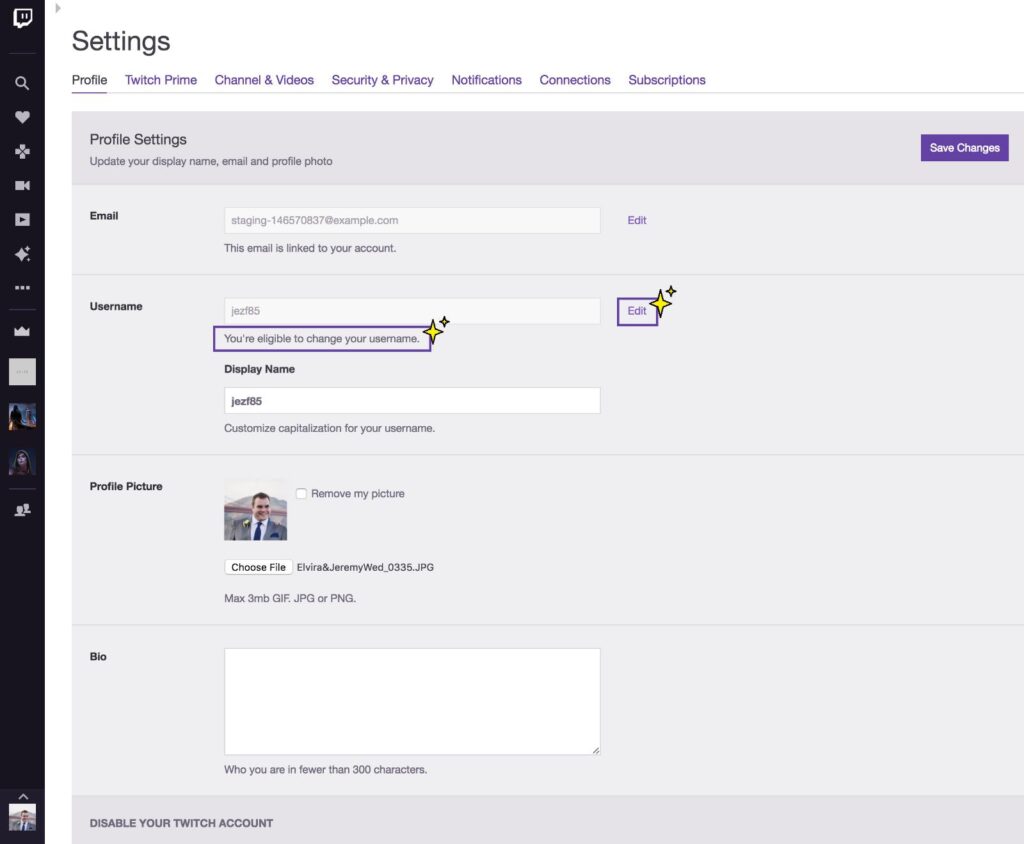 If you see the message that you are eligible for a name change, you are good to go!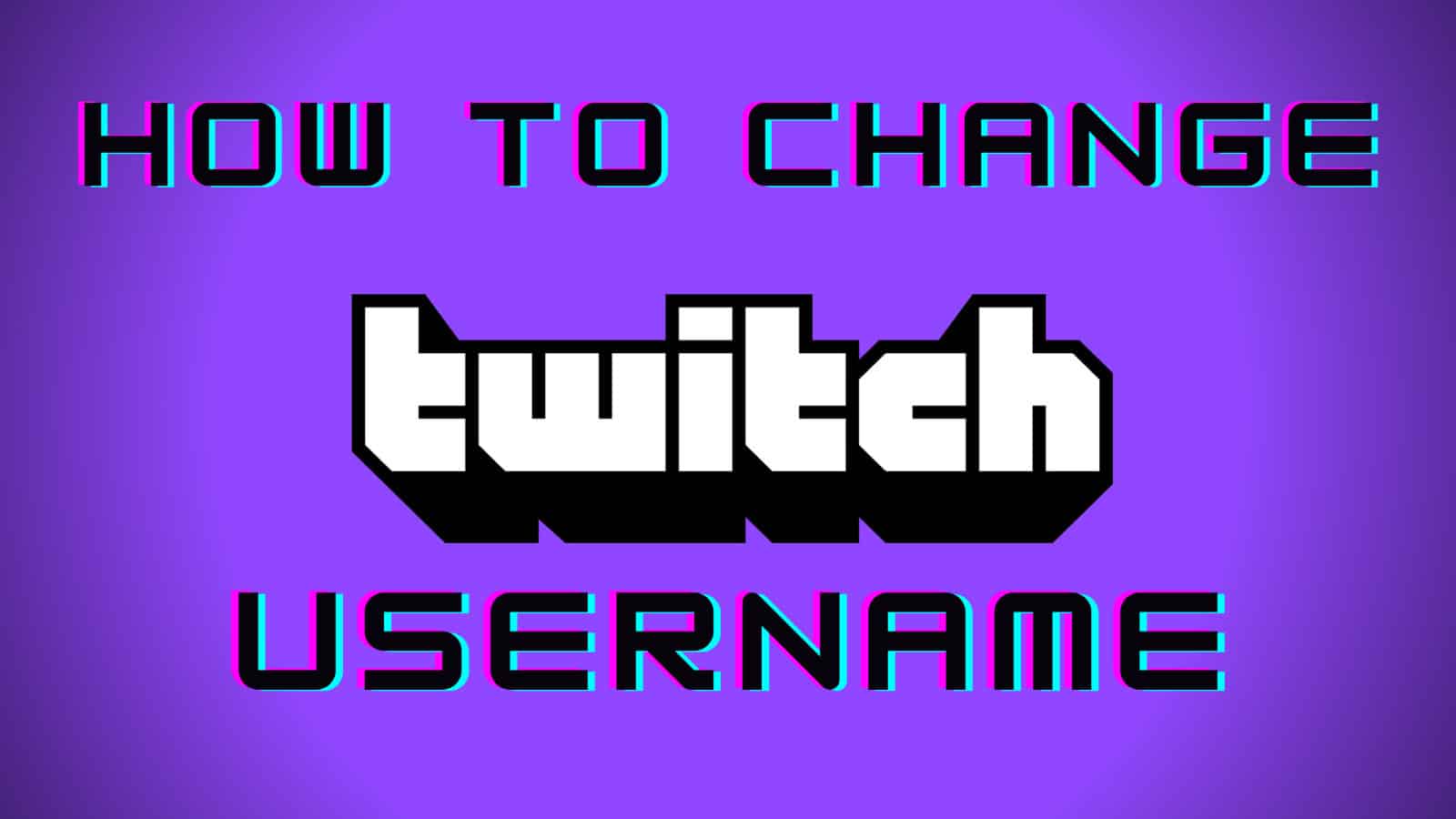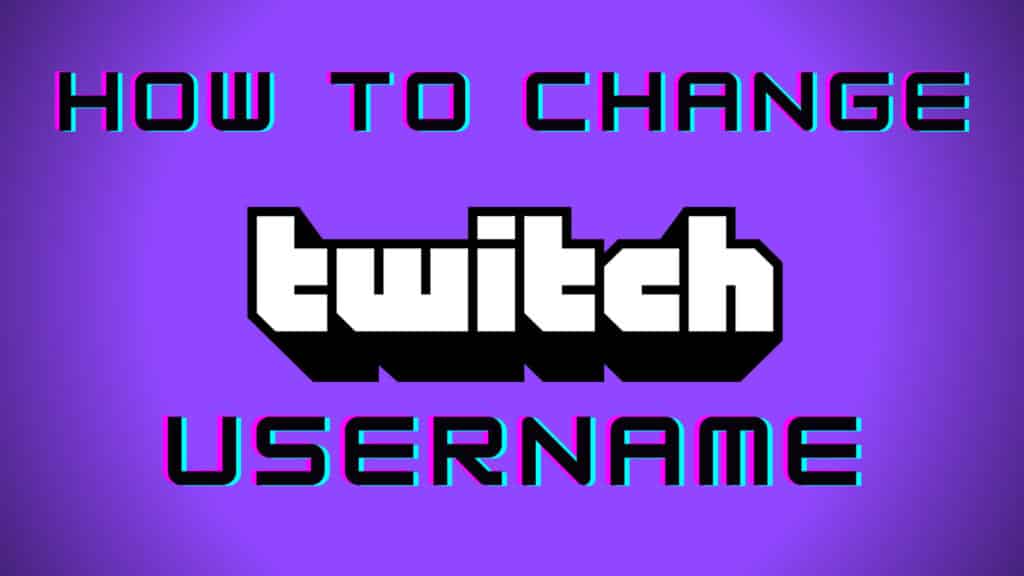 How to Change Twitch Name
Now that we got down to it, changing your Twitch name will be a piece of cake, so let's walk you down the basics.
Browser version
1. Accessing Twitch – it is recommended that you do this through your computer's browser as it does not rely on the platform in the same way as the app version does.
A special kind of rule applies if you are changing your username through your phone, as you will need to do the following;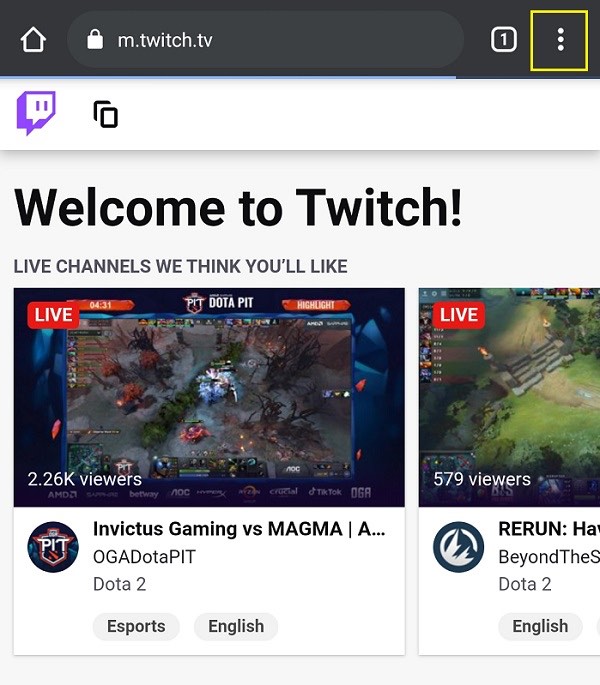 See those three dots highlighted in the yellow cube? Click on them to access the options screen. You need to enter the site's desktop version as the name changing feature is not supported in the mobile Twitch browser version.


Now, click on the "desktop site" option.
When that step is taken care of, we move on to the settings.
2.  Changing the name – By clicking on the profile icon (located at the top right corner) and scrolling down to the settings button, as detailed in the picture below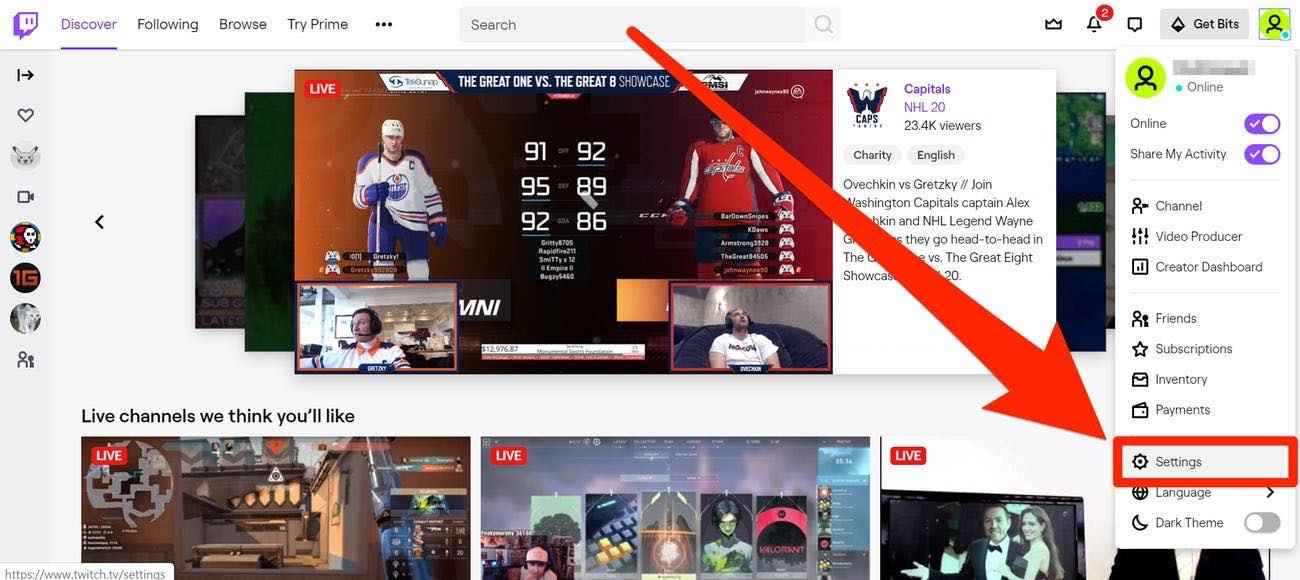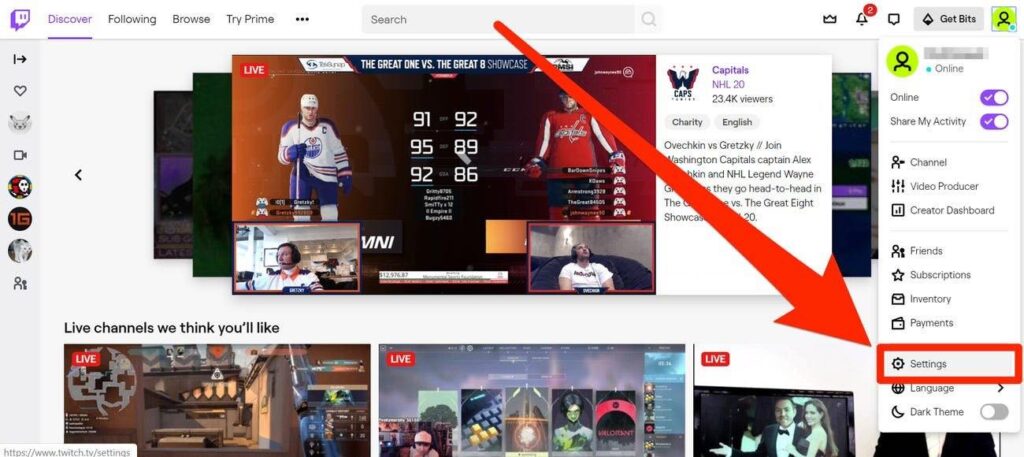 You will need to click on the pencil icon to get to the name change screen.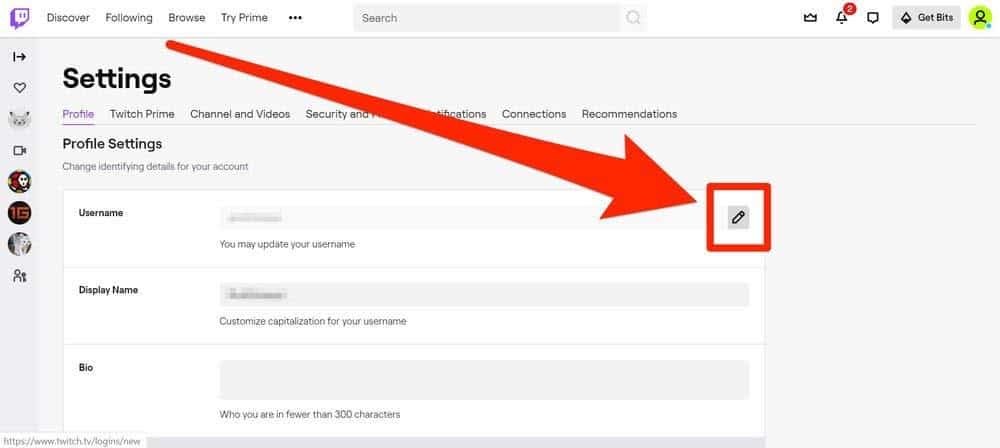 After you get through these steps, you will be directed to the username change screen that looks like this;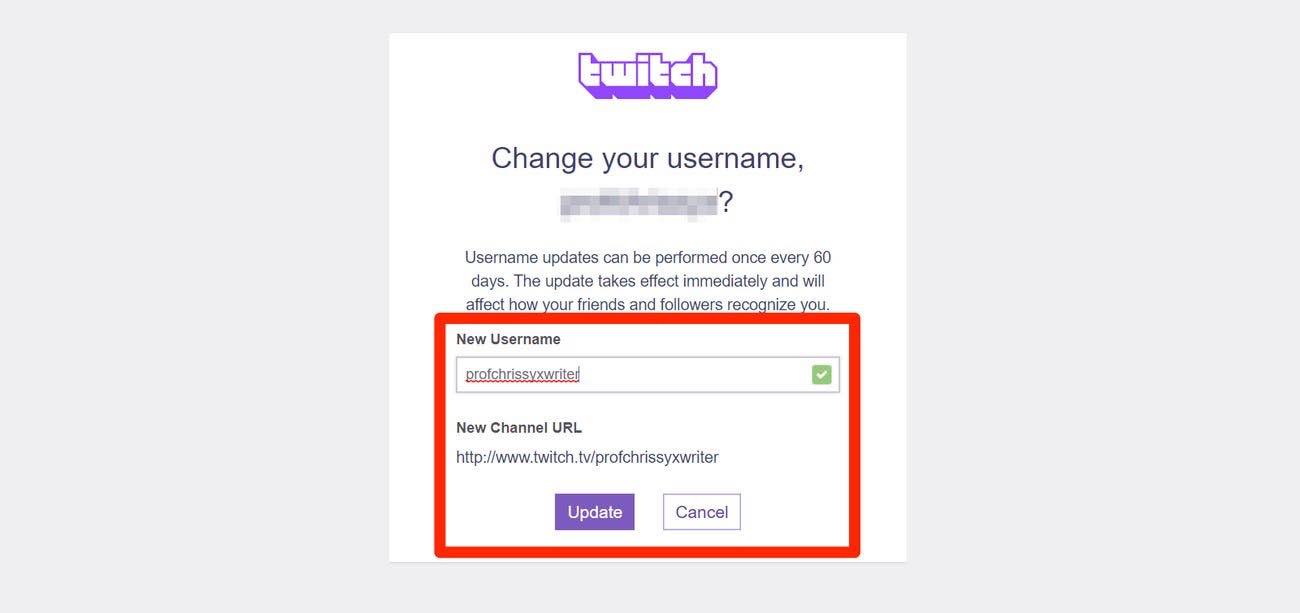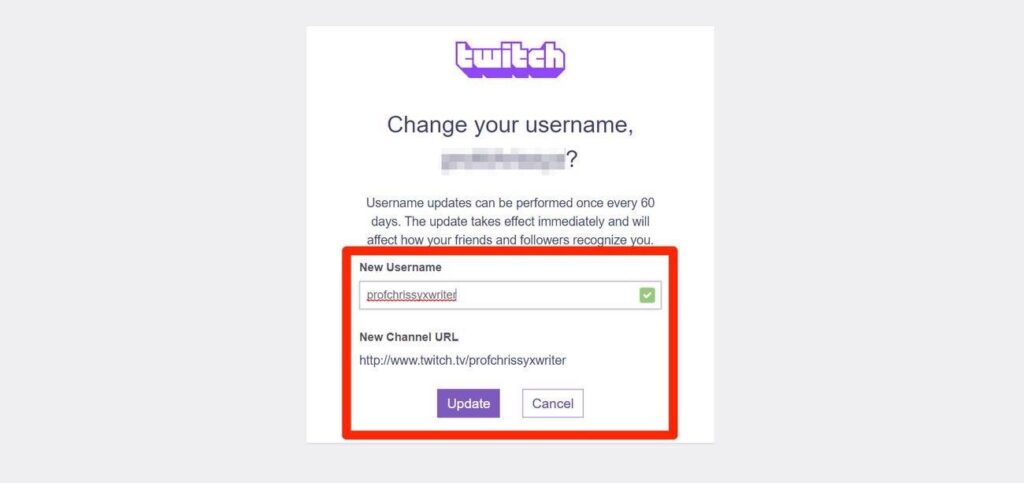 You can now pick your new callsign from the pool of available names that are continuously updated.
After each name change, your channel's URL will need to be manually updated.
 Every 6 months, accounts that are claimed by Twitch are added to this list, and the 6-month process extends to name changes as well, so you won't be able to swap names on both your accounts immediately.
It is also mandatory to have a verified email address. If you decided to use two-factor authentication, your inbox receives an email to confirm the name change for the process to be completed.
App Version
Can you change your Twitch name through the official application? You sure can! The process is similar to the browser version, so this should be a cakewalk;
1. Logging in – After you click on the desktop application, log into your Twitch account.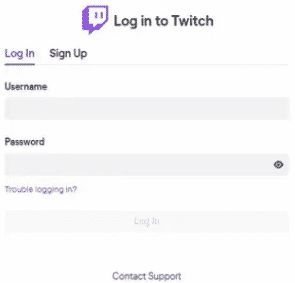 2. Accessing the name change screen – Once you are logged in, access your profile settings by clicking on the top right corner portrait

And by going all the way down to the settings option
You will be directed to the main settings menu, which acts as a control hub for most of your profile's activities, so when you get there, just click on the profile section:
After you get through these steps, the rest is pretty much the same as the browser version.
Relevant Information Regarding Name Change Policies on Twitch
Twitch accounts spring up in large numbers every day, so it is no surprise that there are many rules to keep in mind regarding name change policies. The platform has made numerous improvements to provide the best possible service.
Here are the most essential details regarding the name change policy, as well as information on how it works;
1.The URL of Your Channel Will Change
This is one of the most important things to keep in mind, especially if you are an active streamer with a large following.
The moment you change your name, the URL to your channel will be adjusted according to the new name you picked. This can be daunting for most broadcasters as their following can decrease, so make sure you update it wherever you use it.
2. Your Revenue Won't Be Affected by the Name Change
If you are committed to the partnership program on Twitch, your revenue will not suffer from the name change. This includes all income from ad revenue, as well.
In most cases,  there might be a slight delay in how fast you receive payment on the day you change your Twitch username, but this is only temporary, and the rest of it will show up on the following day.
3. Your Old Name Won't be Recycled by Twitch the Moment You Change It
Not immediately, at least, as every name that goes through this name change feature does get re-used after 6 months- the same amount of time you need to wait before you can use this option once again.
 Suppose you do change your mind and want to get your name back. In that case, it's a dice throw at this point- if no one claims it after precisely 6 months pass, you can try your luck and see how it goes, but there are no guarantees that can make it reserved for your use again.
 4. Name Color Can Be Changed Anytime
As everyone who has spent some time in different live streams on Twitch will tell you, colors make a big difference.
You can do this in a few simple steps:
– You can check out all the different Twitch name color selections you can choose from by typing in /color in the command to the bot. It will look something like this: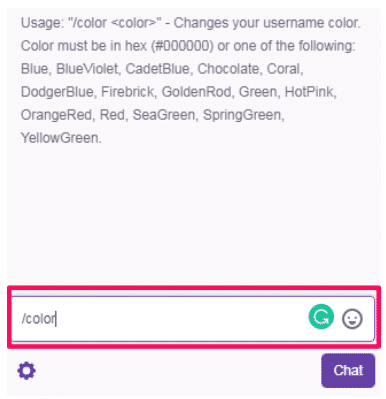 – Once you have decided upon the coloration you would like your name to adopt, insert the appropriate command in the chatbot.

This process is not possible on the Twitch mobile app. You can remedy this problem by accessing Twitch directly through the mobile web browser and follow the same process listed above to achieve the desired effect.
What to do if Twitch Won't Let me Change Username?
While you will rarely come across issues during this simple step-by-step process, errors can occur from time to time. To get over the most common problems, here are some ways you can fix almost any issue that prevents you from changing your username.
1.  Clean Up All Your Cookies and Browser Cache
Arguably one of the most common reasons you could run into one of the "I can't change Twitch username" problems, cleaning up your cache and cookies resolves many problematic situations of this nature.
Since this applies to the browser method of accessing Twitch, this method will showcase the step by step instructions on Google Chrome as an example;
1.As soon as you open Chrome, press the three dots on the upper right corner
2. Click on the "More tools" option and select the "Clear browsing data" option; it should look like this: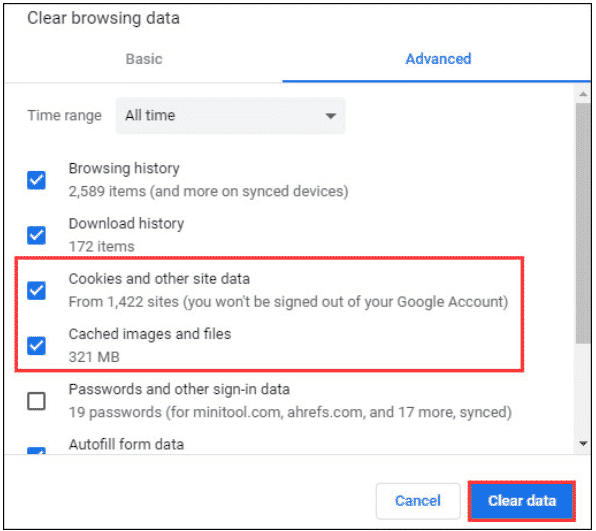 Restart your browser afterward and try changing your Twitch name.
2. Access Twitch in Incognito Mode
If the error persists, you can use Chrome's Incognito mode to try and access Twitch and try again. Here is what you need to do;
1. Open Chrome and click on the three dots, same as with the previous method.
2. Pick the option "New Incognito Window";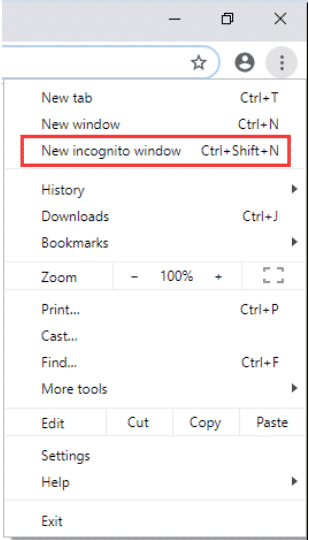 You can alternatively press Ctrl + Shift + N as a shortcut to access the Incognito Window. You can also access links in this mode by right-clicking on them and selecting "Open link in incognito window."
This also works on Android devices that run Chrome apps, so feel free to use any of these two methods in cumulative effect in case of any errors.
3. Pick a Different Browser
If all else fails, you can always switch the browser you are using.  If the issue persists even after all of these measures, feel free to contact Twitch support for additional technical support.
Frequently Asked Questions
While it is quite simple to get around this process, it is worth addressing one of the more significant questions that pop up quite often around this topic.
1. Changing Twitch name across accounts – is it possible?
Only after the recycling timespan has passed since you replaced your last name. Swapping names between accounts is not possible.
2. Can I know when new usernames are made available?
Sadly, no. Twitch updates their pool of available names regularly, but no user is ever informed that a specific number of names is available for use. Your only way to find out is to create a new account or try to change your existing name to a new one to find out.
3. If I change my username, will anything happen to my display name?
No worries, display names are unaffected by username changes
4. If my account, for any reason, becomes reclaimed by Twitch, will the new owner of my former username have any information regarding my account?
Twitch takes your personal information very seriously, so no leaks will be exposed to anyone elseeven if your account happens to be claimed at some point.