Recognizing a business opportunity, companies such as Lenovo, Dell, and others have begun to fill a gap in the market by manufacturing prebuilt PC computers specifically tailored toward streamers.
One of the best prebuilt streaming PC you can buy for yourself is Dell Alienware Aurora R10 whose performance simply amazed me. However, there are several more interesting pieces on the market.
These machines are quite a bit more powerful (and more expensive) than your run-of-the-mill PC, with their own high-end hardware and sometimes even custom drivers for that hardware. That's why I decided to write a guide to help you choose the right prebuilt PC and set it up.
QUICK OVERVIEW: Pre-Built Streaming PC
Dell Alienware Aurora R10

Processor: 3.7 GHz Ryzen 5
OS: Windows 10 Home

RAM: 16 GB DDR4
Graphics: GeForce RTX 3080 10GB GDDR6

Processor: 3.6 GHz Ryzen 7 3700x
Weight: 25.3 pounds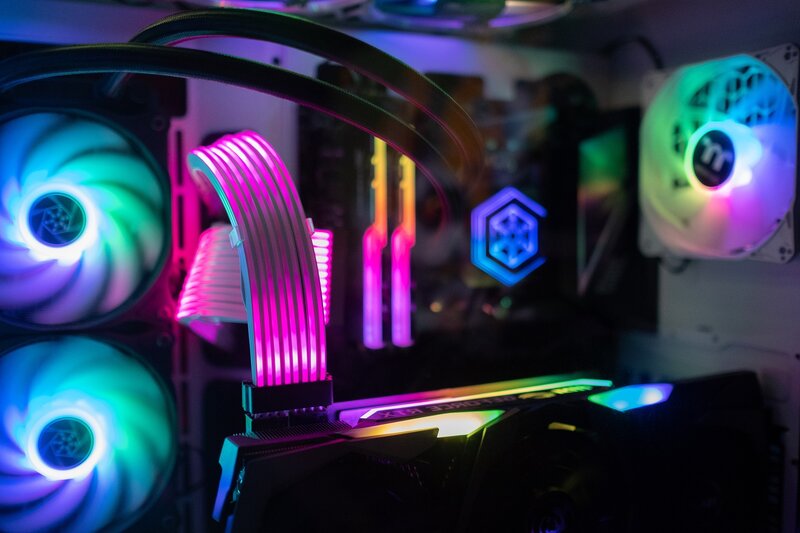 Best Prebuilt Streaming PC
Test & Reviews
---
First of all, why would you even want (or need) a pre-built streaming PC?
Well, getting a prebuilt PC means you won't have to worry about how the components in your machine work together. Simply put, getting a prebuilt PC means you will be able to get into streaming right away. 
That being said, you should only buy such a PC from a well-known manufacturer, as some shadier companies will often try to save up money by adding lower-quality components.
1. Dell Alienware Aurora R10
Best prebuilt streaming PC on my list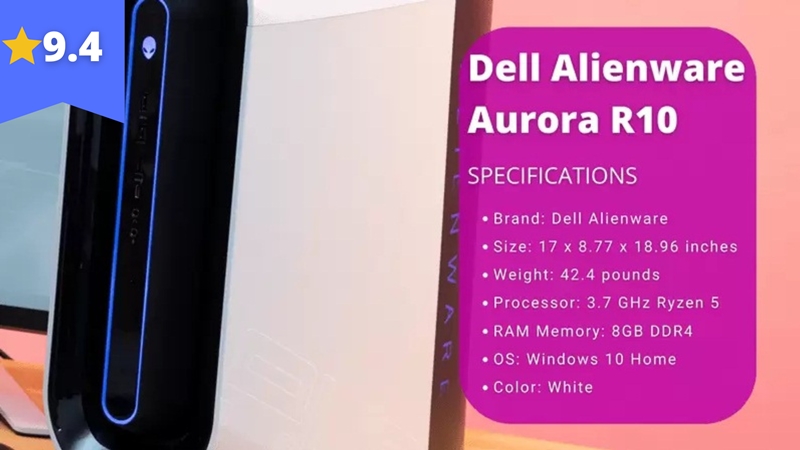 Stefan's Take:
If you are looking for a high-end streaming PC that will satisfy all your needs for a long time to come, then look no further!
Alienware Aurora is an amazing solution for anyone who intends to play and stream AAA games, with a powerful dedicated graphics card, AMD Ryzen RX processor, and a plethora of quality-of-life options specifically designed to make streaming as smooth and hassle-free as possible. A big bonus is the ultimate connectivity of this device.
| | |
| --- | --- |
| Performance | 9.8 |
| Price | 8.8 |
| Compatibility | 9.5 |
| Upgrade Capacity | 9.3 |
This Dell Alienware desktop is one of the best gaming PCs to be released in a long time, with stunning game graphics provided by its NVIDIA GeForce RTX 3080 graphics card, which has an amazing 10GB of dedicated video memory. 
This is more than enough for even the most demanding games and system-intensive tasks, with plenty of power remaining for your live streaming. 
The processor is AMD Ryzen, a brand known for its reliability, so you can expect the machine to last for quite a long time, no matter what you put it through. 
Every modern PC should have at least four cores in order to function properly; this is doubly important for prebuilt gaming PCs, as they will both have to handle intensive tasks while also being somewhat difficult to upgrade due to their nature. 
Thankfully, Alienware Aurora has not just four but 6 cores, all of them with a maximum clock of 4.6 GHz. 
Even with the games becoming more and more demanding as time goes on, this processor will remain ahead of the curve for a few more years at least. 
The 8GB of DDR4 RAM might seem too little, but the fact that it is clocked at 3200 MHz makes it quite enough for the majority of tasks, and the memory drive can be expanded to 128GB.
Next, another great aspect of Alienware Aurora is its vast 1TB storage HDD, though it should be noted that adding a separate SSD to the machine would improve its benchmarks while streaming even further. 
With plenty of USB ports of various sizes, a high-quality internal Ethernet card, and a full-size Display Port, you will be able to connect this beast of a prebuilt gaming PC to just about any device you might have in your setup. 
Wireless LAN and Bluetooth connectivity are also included with the PC in case you are one of those people who like to play games locally with their friends or simply move a ton of photos and videos from your mobile devices to the computer and vice versa. 
Pros
Very powerful graphics
6-core processor
OS included
Great connectivity
Cool design
2. Skytech Gaming Chronos
Best gaming prebuilt PC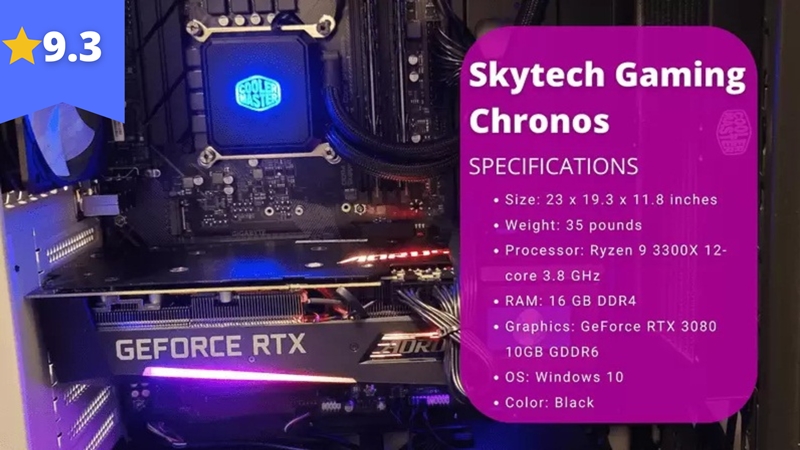 Stefan's Take:
Skytech Gaming is well-known for manufacturing high-end prebuilt PCs that are sure to fulfill the needs of just about any gamer or streamer and can handle competitive gaming with ease.
Chronos is no exception to this rule. This great streaming PC comes quite pricey, but the experience you will have while playing and streaming on one is without comparison.
| | |
| --- | --- |
| Performance | 9.9 |
| Price | 8.6 |
| Compatibility | 9.4 |
| Upgrade Capacity | 9.2 |
I always recommend Skytech Gaming Chronos to anyone looking for a PC to host gaming events on, and for a good reason. 
Featuring a Ryzen 9 3900X 12-core processor with a 3.8 GHz base and 4.6 GHz max clock and an NVIDIA GeForce RTX 3080 graphics card with 10GB of GDDR6 dedicated video memory, this is without a doubt one of the best prebuilt systems out there.
It also comes with double the RAM of the previous entry on my list (I already mentioned it has twice as many cores, as well). 
The video card is high-quality, and the processing power is simply off the charts. 
Apex Legends, League of Legends, PUBG, and Fornite, the machine handled them all even at the highest resolution and with all settings on maximum without any decrease in FPS whatsoever. 
Indeed, Skytech gaming has graced us with an incredibly powerful pre-built PC, comparable if not superior to most custom-made ones. 
The connectivity of the machine is also great, with both HDMI and Display ports allowing for multi-screen setups and HD audio and video support.  
Furthermore, the PC comes with its own gaming keyboard and mouse when purchased, which, while most likely unnecessary as you will already have a favorite set of these two devices, is quite a nice touch. 
One other thing I should mention is the fact that the PC remains very quiet while working even with its enormous 850 Watt power supply, and the 360mm ARGB cooler keeps it cold as well, preventing the loss of computing power that comes with overheating. 
It also has a 1TB SSD of the 4th generation. Its performance could be better, but it is fast enough not to impact gaming performances.
Pros
12-core processor
Includes mouse and keyboard
Incredible graphics
Very quiet
3. HP OMEN 25L
Best budget prebuilt PC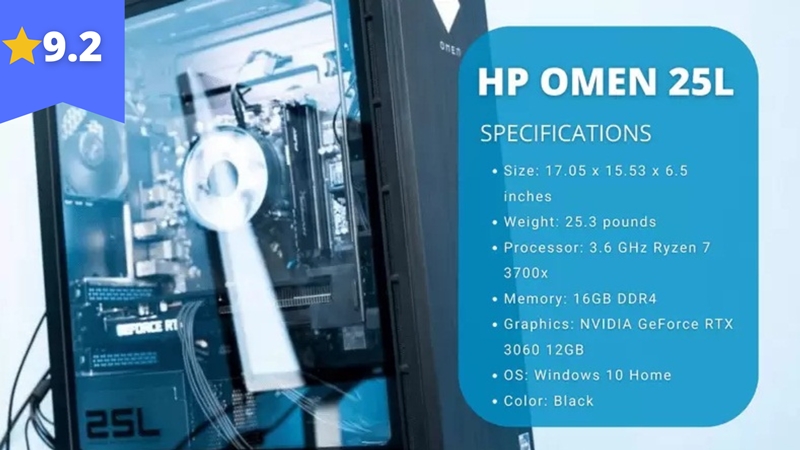 Stefan's Take:
If your primary concern is enjoyable gaming and streaming experience, this machine will ensure that you have nothing to worry about.
HP OMEN 25L is a cheap prebuilt gaming PC that packs some serious power under the hood, allowing you to stream content in full HD resolution and even featuring SSD storage capacity, which is often absent even in the more expensive machines.
| | |
| --- | --- |
| Performance | 9.1 |
| Price | 9.5 |
| Compatibility | 9.2 |
| Upgrade Capacity | 9.0 |
This machine from HP is a fully-fledged cheap streaming PC, coming at just over half the price of Skytech Gaming Chronos without sacrificing too much in terms of performance.
HP OMEN 25l is an excellent streaming PC featuring an octa-core AMD Ryzen processor of the 7th generation with a maximum clock of 4.4Ghz that provides ample computing power for your video games.
The eight cores allow it to perform admirably even with the most demanding of games, allowing it to run just about anything at maximum or near-maximum settings without any delays. 
The second main reason behind its power is the graphics card. HP OMEN 25L contains NVIDIA GeForce RTX 3060 12GB dedicated graphics that, while slightly less powerful than the 3080 version, still perform incredibly well. 
The PC comes with 16GB of DDR 4 RAM memory (2x8GB), expandable to 32GB (2×16), which is admittedly on the low end for a streaming PC but still enough for most users. 
On the other hand, this prebuilt PC contains two hard drives, one being a standard 1TB SATA drive and the other being a 512GB PCIe SSD. 
The combination of these two storage drives ensures that you will have all the space you need for your many games and corresponding footage while also being able to boot your machine in just a few seconds.
The combination of an HDMI port and 3 display ports allows this prebuilt PC to be the heart of a large, multi-screen setup with ease, making it especially suitable for anyone who, for example, wants to play on one screen while being able to look at their own live stream on one or two others.
A number of USB ports are also present, including a super-speed USB type-C on the rear. 
The same goes for headphones and microphone jacks that are conveniently placed on the top of this tower-sized PC.
Finally, the PC has its own keyboard and mouse included with the packaging, which will allow you to just plug it in, boot it up, and start streaming. 
Pros
8-core processor
Includes an SSD
Keyboard and mouse provided
Features USB-C port
4. Skytech Shadow 3.0
Best prebuilt PC under 1500$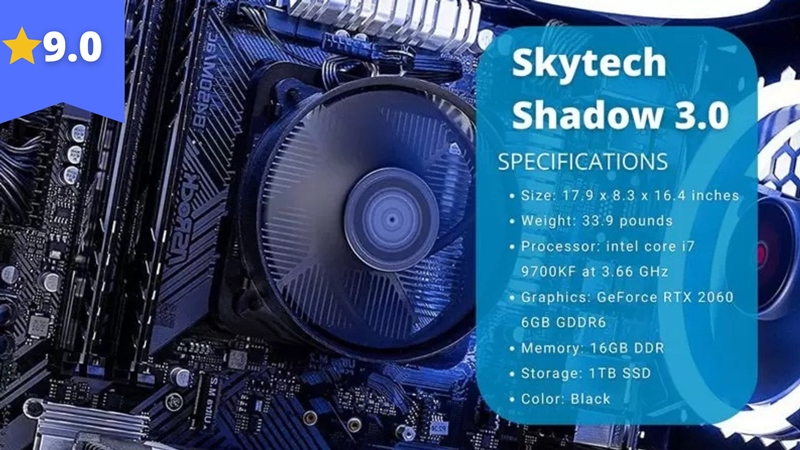 Stefan's Take:
The Intel core inside Skytech Shadow 3.0 is very powerful and reliable, just not as powerful as the much newer AMD Ryzen cores
But, if you are a PC gamer that is looking to get into streaming and feels more comfortable getting a cheap prebuilt gaming PC than building your own one, then Skytech Shadow 3.0 is an excellent choice for you. 
| | |
| --- | --- |
| Performance | 8.9 |
| Price | 9.6 |
| Compatibility | 8.5 |
| Upgrade Capacity | 8.8 |
Unlike all the previous entries on this list, Skytech Shadow 3.0 features an Intel processor, specifically an intel core i7 9700KF at 3.66 GHz. 
This alone makes it quite a bit different than the other Skytech machine I have reviewed, the Skytech Chronos, and the stark difference in price reflects this situation. 
Still, the fact that it is quite a bit cheaper doesn't necessarily mean that Skytech Shadow 3.0 doesn't belong on the list of best prebuilt streaming PCs.
The said Intel core is paired up with a GeForce RTX 2060 6G GDDR6 graphics card, and a powerful dedicated video card. 
I have tested it by streaming on both Discord and Twitch, and it was flawless. 
The next thing that really impressed me about this prebuilt gaming PC is the 1TB SSD drive it contains.
People often overlook just how much faster their gaming becomes with an SSD compared to a SATA or an HDD drive. 
Not to mention that your OS will boot in an instant with this thing. For any impatient, gaming-obsessed soul, this is a huge blessing.
The coolers and power adapters are also great, ensuring that you will have a quiet, comfortable experience with this gaming PC regardless of the type of game you are playing or streaming on it.
One thing I feel could be improved is the lack of a mouse and keyboard in the box. Still, it is but a minor complaint about an otherwise excellent PC for streaming. 
Both gaming and streaming on this thing are extremely smooth, and it boots faster than any other device on the list so far. 
Pros
Huge 1 TB SSD
Very affordable
Incredibly quiet
Cons
Intel Core i7 9th gen is a bit outdated
A newer GPU could be included
5. CYBERPOWERPC Gamer Xtreme VR
Best performance prebuilt PC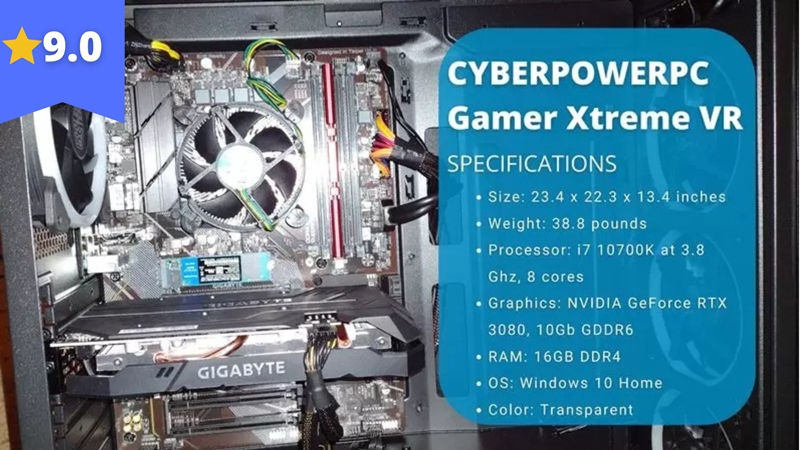 Stefan's Take:
As for my personal experience when testing this machine, it was, for the most part, positive.
Gaming and streaming are both completely smooth, even at max settings of all my favorite games, and the only bad thing I could say about this PC as a whole is that it really should have more RAM, considering how much it costs.
| | |
| --- | --- |
| Performance | 9.7 |
| Price | 8.1 |
| Compatibility | 9.2 |
| Upgrade Capacity | 9.1 |
The instant I unpacked my CyberpowerPC Gamer Xtreme VR from the box, I thought: "now this looks cool!" And indeed, this prebuilt PC was tailored not just for performance but also for visual appeal, with beautiful, transparent glass sides and plenty of colors that give it a high-tech feel.
Still, this care for the visual doesn't mean that the PC is any less powerful than its competitors. On the contrary, the very name of this pre-built PC has power in it, and it does not lie.
The water-cooled intel core i7 10700K at 3.8 GHz is one of the most powerful Intel processors on the market right now, and its performance in video games is almost without equal. 
The water cooling allows it to maintain low temperatures even in the most demanding gaming situations, ensuring that you will never lose a single frame to overheating.
The graphics card follows the same idea: performance is the name game here, and NVIDIA GeForce RTX 3080 is the best gaming-oriented graphics card in this price range with its 10GB of GDDR6 dedicated video memory. 
The RAM memory of this PC is also of good quality, with 16GB of DDR4 that can be expanded up to 32GB (2x 16GB instead of 2×8). 
Still, it would be nice if I could expand the memory to 64GB, at least if looking long-term. For now, even 16GB is more than enough for most games.
The PC features a large enough 500GB SSD paired with a 2TB HDD as a secondary drive.
Pros
Powerful CPU
Powerful GPU
Water cooling
Great design
6. ASUS ROG Strix G15CE
Prebuilt PC with the strongest CPU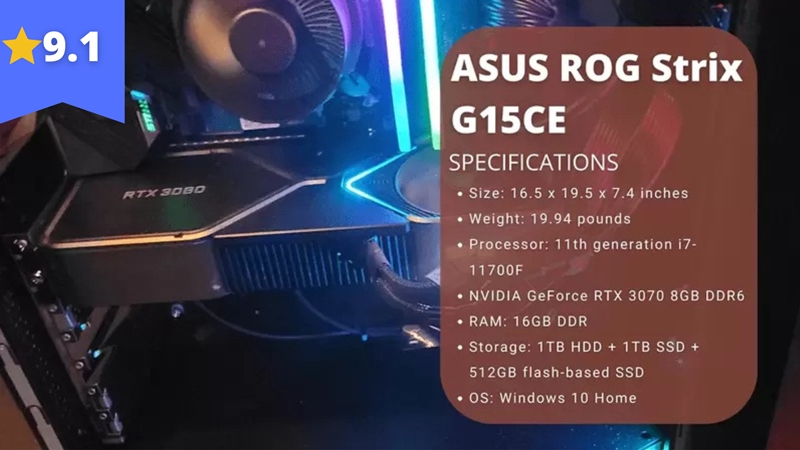 Stefan's Take:
Asus ROG Strix possesses a processor of the newest generation that comes with all the best drivers and other software that Intel has to offer, which can be quite useful if you like micromanaging your PC.
This PC performs admirably while gaming or streaming, has no FPS drops or bloatware on it and includes a Windows 10 Home operating system that will allow you to turn it on as soon as it is unpacked, quite a good thing if you are as impatient to try out your new toy as I am.
| | |
| --- | --- |
| Performance | 9.4 |
| Price | 9.0 |
| Compatibility | 8.8 |
| Upgrade Capacity | 9.0 |
As for the final entry on this list of best-prebuilt gaming PCs, I bring you the ROG Strix computer from ASUS.
The first thing you will notice upon taking a look at this device is the big ASUS logo on the box, as well as its vibrant colors. 
Immediately after that, you will realize that the computer features the newest Intel core processor, the 11th generation i7-11700F. 
This is a big plus, in my opinion, even if the clock is slower than on some of its competitors. I am talking about an eight-core processor with a 2.5GHz speed (each of its 16 threads has a maximum boost of up to 4.90GHz). 
Another great thing about this PC is its graphics card. 
The setup contains an NVIDIA GeForce RTX 3080 graphics card with 8GB of GDDR6 memory, which is proven to be a very popular, high-quality card that is often featured in streaming PCs for its ability to run just about any game at maximum settings with ease while simultaneously maintaining an HD resolution stream. 
I can personally attest to the card's quality, having had ample opportunity to test it in a number of different configurations, not to mention that I have one on my own PC.
The RAM in this device is excellent as well, with 16GB of extremely fast (3200 MHz) DDR4 RAM that can be further expanded upon if needed. 
While lower than in some other prebuilt PCs, the amount of ram is still more than enough to run all the games of the current generation. 
Finally, this thing has several hard drives! This alone makes it better than many other entries on the list, as being able to boot your device from a drive that has nothing else on it is proven to increase the booting speed of your computer. 
I am talking about a 1TB HDD, another 1TB SSD, and a third, flash-based 512GB SSD designed specifically for booting your device.
Pros
Newest generation processor
Great GPU
Three hard drives
Has its own OS
Cons
Quite noisy
More RAM would be better
What to Look for When Buying a Pre-Built Streaming PC?
Compatibility
When buying a prebuilt PC, you need to make sure that all the components in it work well with each other. 
This usually isn't an issue, but sometimes the power might be too low, or a weird interaction between two or more components causes the performance to drop. 
This isn't the case with any of the entries on my list, so you will be safe there.
Price
Prebuilt PCs can often be quite a bit pricier than ones built from the same or similar components. You should always buy such a PC from a trusted brand to avoid being charged extra for no reason at all. 
Long-term solution
You do not buy a streaming PC every day. Because of this, you should always make sure that your PC will stay ahead of the curve for at least a few years after purchase so you can continue to stream the best quality content even after a new generation of games gets released. 
Conclusion
To truly know which one prebuilt PC is the best, you would have to test hundreds of devices, and even then, it would still depend heavily on the type of content you intend to stream, the resolution you are going to stream in, the target audience, and so on and so forth.
But from the test I prepared for you the final conclusion is:
Dell Alienware Aurora R10 – the best choice for full-time streamers;
Skytech Gaming Chronos – the best choice for streamers who are also hardcore gamers;
HP OMEN 25L – the best choice for streamers on a budget.
When choosing a computer, you should look for a group of PCs that are made with streamers in mind, such as the ones on this list, then choose one whose specifications are sufficient for your needs.
You should also make sure that your new computer will stay relevant in the years to come, as a streaming PC is a mid to long-term investment. 
FAQ
Are prebuilt PCs good for streaming?
It all depends on the components under the hood. While PCs built for office use are likely to fall short of the specs required for a task as demanding as streaming HD-resolution content, a number of high-end PC manufacturers have assembled configurations specifically tailored for gaming and streaming.
If you are looking for a good prebuilt streaming PC, I have compiled a list of such machines that will help you make an informed choice for yourself.
Each of the machines on the list comes from a certified brand, and they have been tested in-house to ensure the best performance possible.
I have done further testing prior to writing this guide in order to provide you with the best information. 
What is the best prebuilt computer company?
This is a difficult question to answer, as the number of companies that are constantly coming up with new and better solutions is quite large.
Still, all of the brands mentioned on my list of best prebuilt gaming PCs are strong competitors for this exclusive top spot, with each of their machines being an excellent tool for any prospective gamer or streamer, as well as hardcore professionals who are looking to improve the quality of their content.
The differences between the companies' products are relatively small and usually tied to either price or the customers' personal preference rather than the company itself. 
---