Mic Stands
If you need to find other streaming gear, make sure to look at our Streaming Gear page. Here, you will find everything you need!
Post 4 of 7
Elgato wave 3 is a high-quality, streamer-oriented microphone for the company with the same name, first released in June of 2020. The audio quality provided by this microphone is superb, making it a popular choice among home users and content creators alike.
Unfortunately, the Elgato wave 3 doesn't come with a boom arm or a shock mount of its own, forcing its users to look for one elsewhere if they need one.
Knowing this, we have personally tested a number of boom arms compatible with this microphone and compiled a list that will help you choose the best microphone boom arm for your Elgato wave 3, which in itself is one of the best microphones released to the market in the past few years.
Post 4 of 7 in the Mic Stands
Best Boom Arm for Elgato Wave 3
Reviews
---
QUICK OVERVIEW: Elgato Wave 3 Boom Arms
Size: 16.08 x 6.74 x 3.9 inches
Weight: 4.5 pounds

Materials: Metal
Weight: 3.83 pounds

Size: 43.9 x 2 x 2.5 inches
Materials: Metal
1. TONOR Adjustable Mic Stand
---
---
This particular microphone boom arm is very sturdy but also elegantly made, with a number of features that make it extremely suitable for any Elgato wave 3 user.
Firstly, the desk clamp (table mounting clamp) of this microphone of this mic arm has been heavily upgraded in comparison to the ones included with previous models of this boom arm, making its hold on the surface rock solid.
It can easily support the weight of your Elgato wave 3 microphones with its sturdy steel construction, and once you tighten it, you won't have to worry about the clamp getting loose.
Furthermore, it is easy to adjust the position of the microphone as the spring system of the boom arm is surprisingly flexible.
Another great thing about this mic boom arm and one that makes it better than other boom arms is the fact that it is essentially an all-in-one combo.
The packaging of the device contains a number of useful tools, including a mic clip, a pop filter, and a foam cover, both of which help improve your sound when talking, and four cable ties that work just as well as a cable sleeve would.
All the above makes this TONOR microphone stand a very good boom arm for your Elgato wave 3 mic. 
2. RODE PSA 1
---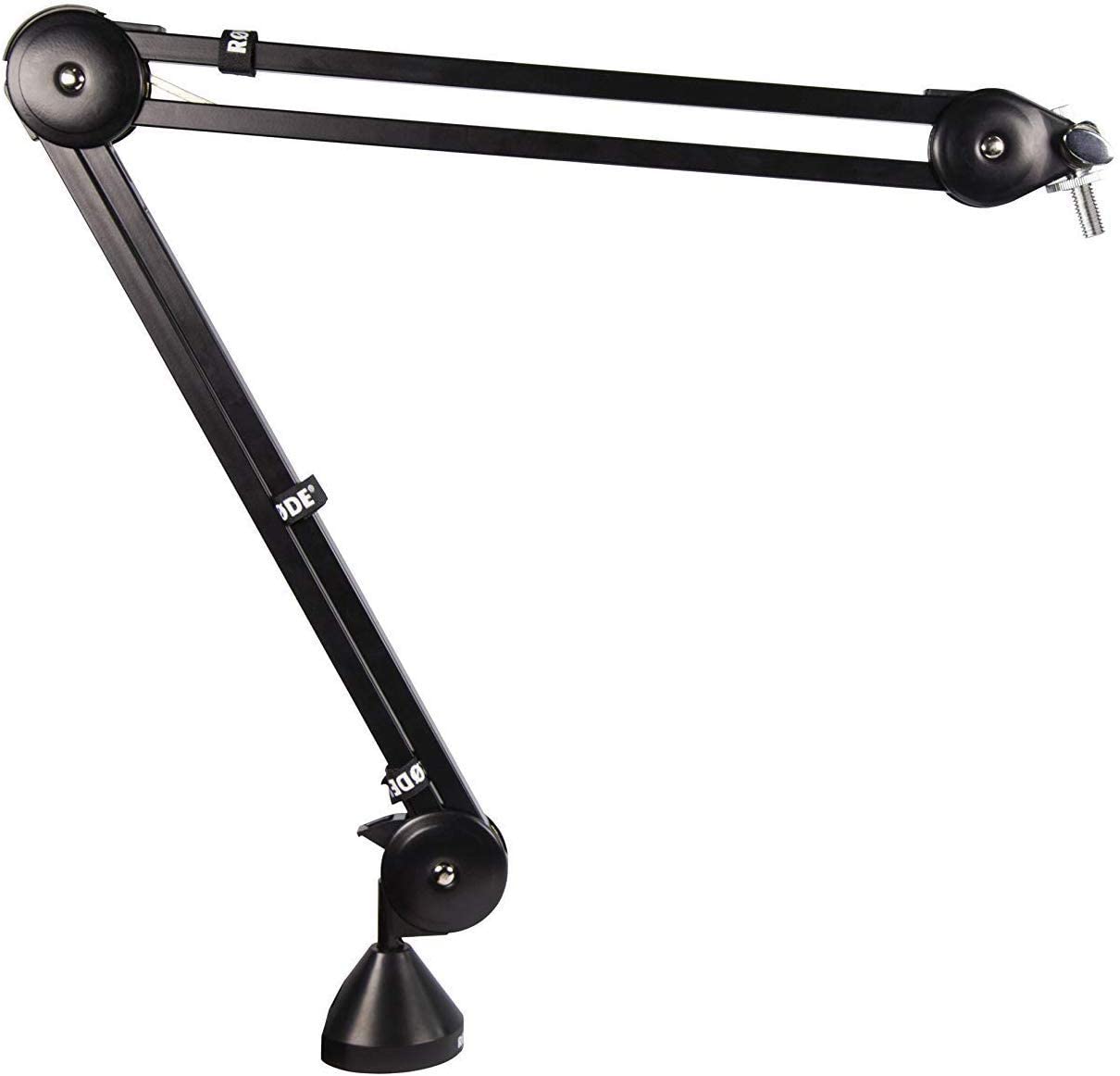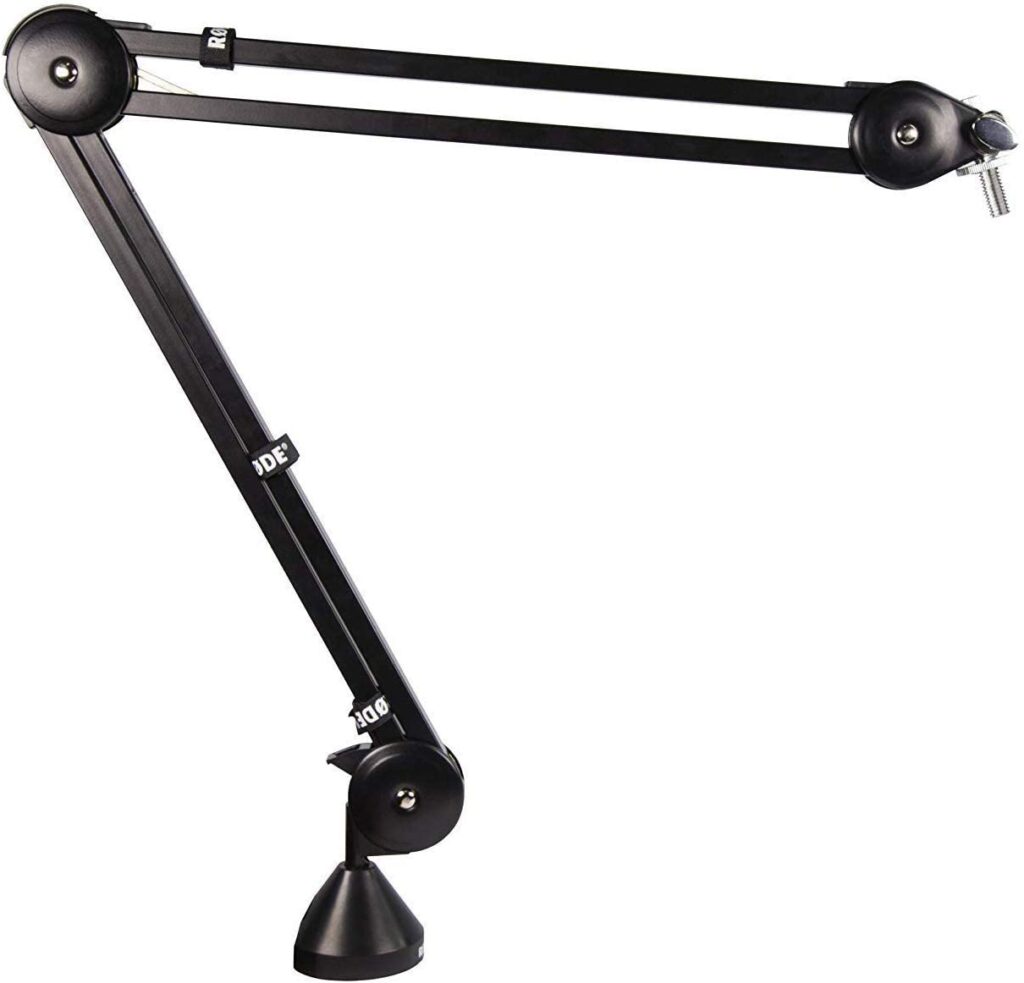 ---
Simply yet elegantly designed, this boom arm from RODE is perhaps the best boom arm for Elgato wave 3, for no other reason than the fact it is rock solid once you use its table mounting clamp.
Vertical reach is surprisingly good for such a simple boom arm, allowing you to reach just about any position desirable with your microphone. Furthermore, the arms stand is quite resilient and works much better than some other boom arm holds when pressed for desk space.
The simplicity of this suspension boom arm has one more advantage to it: you will need less than five minutes to set it up, after which you can promptly begin with your broadcasting without further ado.
One fault of this boom arm is that it comes without a pop filter or some other more advanced and quite useful parts, but at least the cable management is elegantly solved.
In my personal experience of using the RODE PSA 1 Swivel boom arm, it protected the mic from shock surprisingly well. Thus I believe it to be a great option for your Elgato wave 3 as it is one of the best boom arms in its price range. 
3. Blue Microphones Compass Premium
---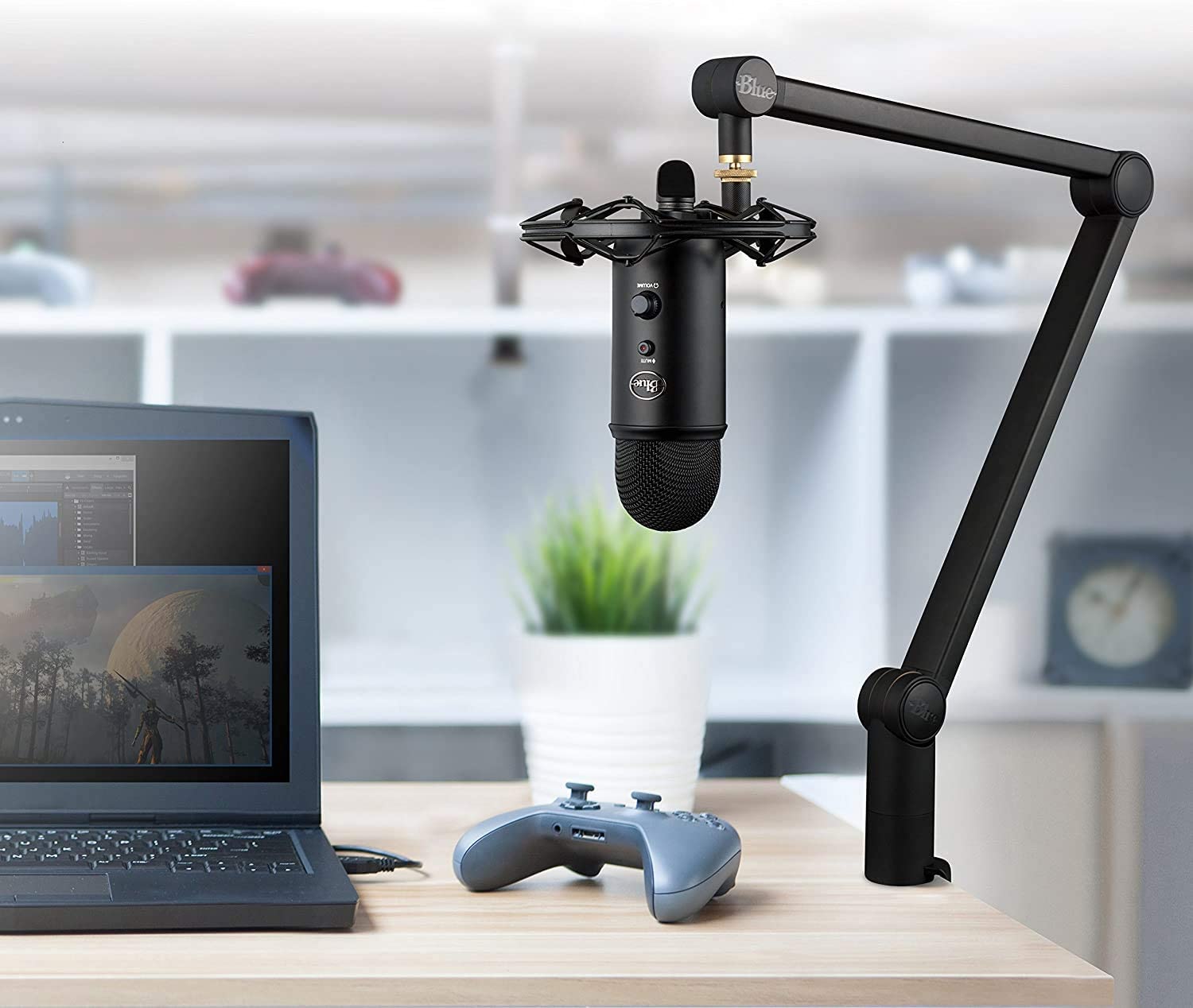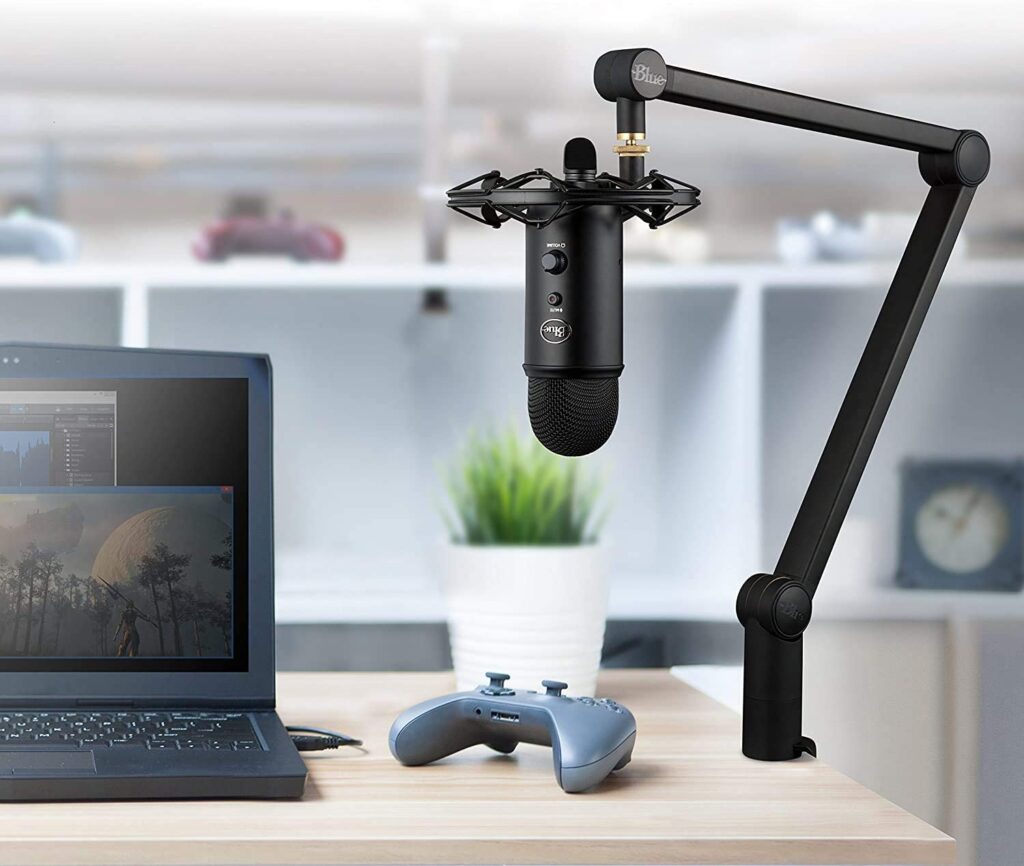 ---
Blue Microphones is generally regarded as the best audio equipment manufacturer in the world, so it is only natural to see one of their products on this list. That being said, we have chosen blue compass as it is an amazing tube-style, studio-grade microphone boom arm that beats its competitors (even ones made by the same company) in just about every aspect.
Firstly, despite the fact it was primarily constructed to be durable, this mic boom remains both very elegant and quiet when moved, largely due to its internal springs.
In fact, the tension system of this mic stand is one of the best mounting options I have seen, providing excellent shock resistance in just about any position.
The same can be said about the device's compatibility: the maximum weight hold is just enough for not just Elgato wave 3 but also a number of other popular streaming microphones.
Finally, I feel like I should mention that this arm stand comes at a very reasonable price for a piece of blue gear: those things tend to be on the expensive side most of the time, but that isn't the case with blue compass premium: while it costs more than its competitors, it is worth every cent.
4. InnoGear Microphone Arm Stand
---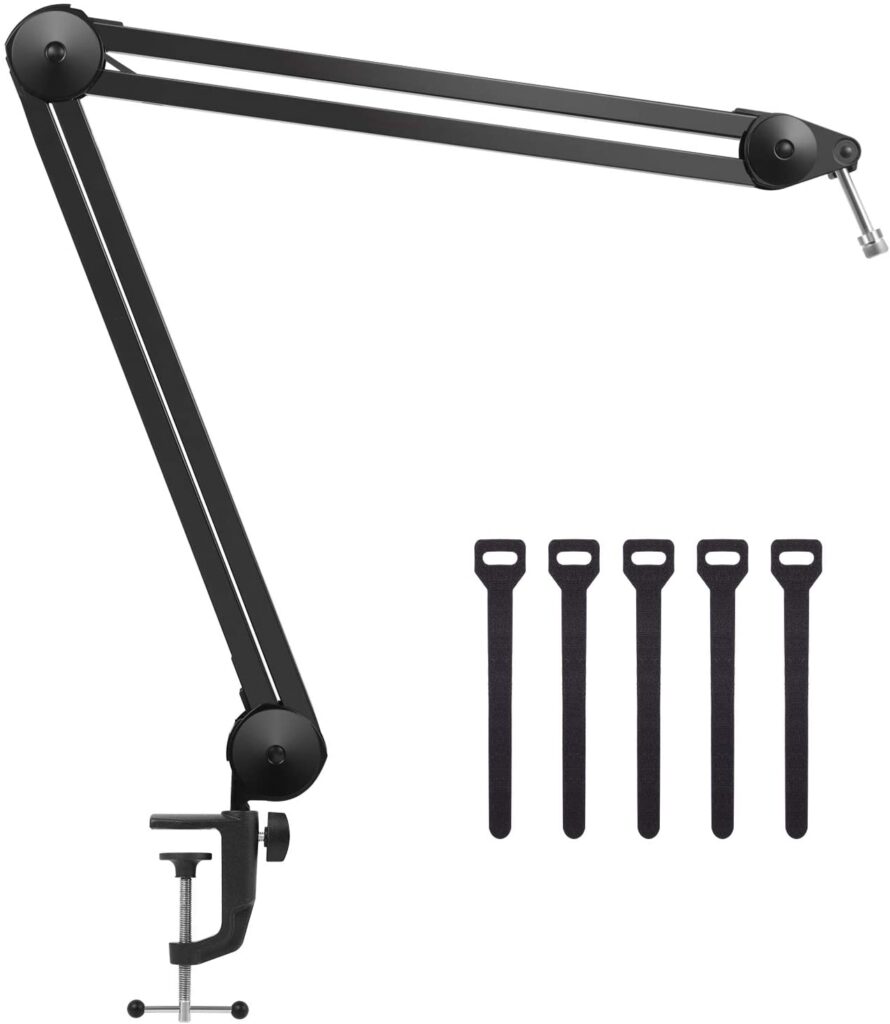 ---
InnoGear Microphone arm stand is a professional, heavy-duty boom arm with not one but two mounting options, meaning you can adjust its position in many different ways.
Most importantly, the strong spring allows this boom arm to sustain most microphones, even heavier ones, with ease.
Next, its foldable nature saves a lot of desk space while not having any impact on the flexibility, and thanks to the superbly solved cable management, you will have absolutely no issues moving your mic around, the mic power cord will be safe and secure inside the boom arm, protected by the sturdy metal frame.
Additionally, the microphone boom arm comes with five cable ties which will help further customize the way you keep your cord, allowing you to save even more desk space and prevent some awkwardness when changing the mic's position.
One complaint I have about this mic stand is its size: despite all the solutions to save up desk space, it is simply not built for a small room.
5. Neewer NW-35 Arm Stand
---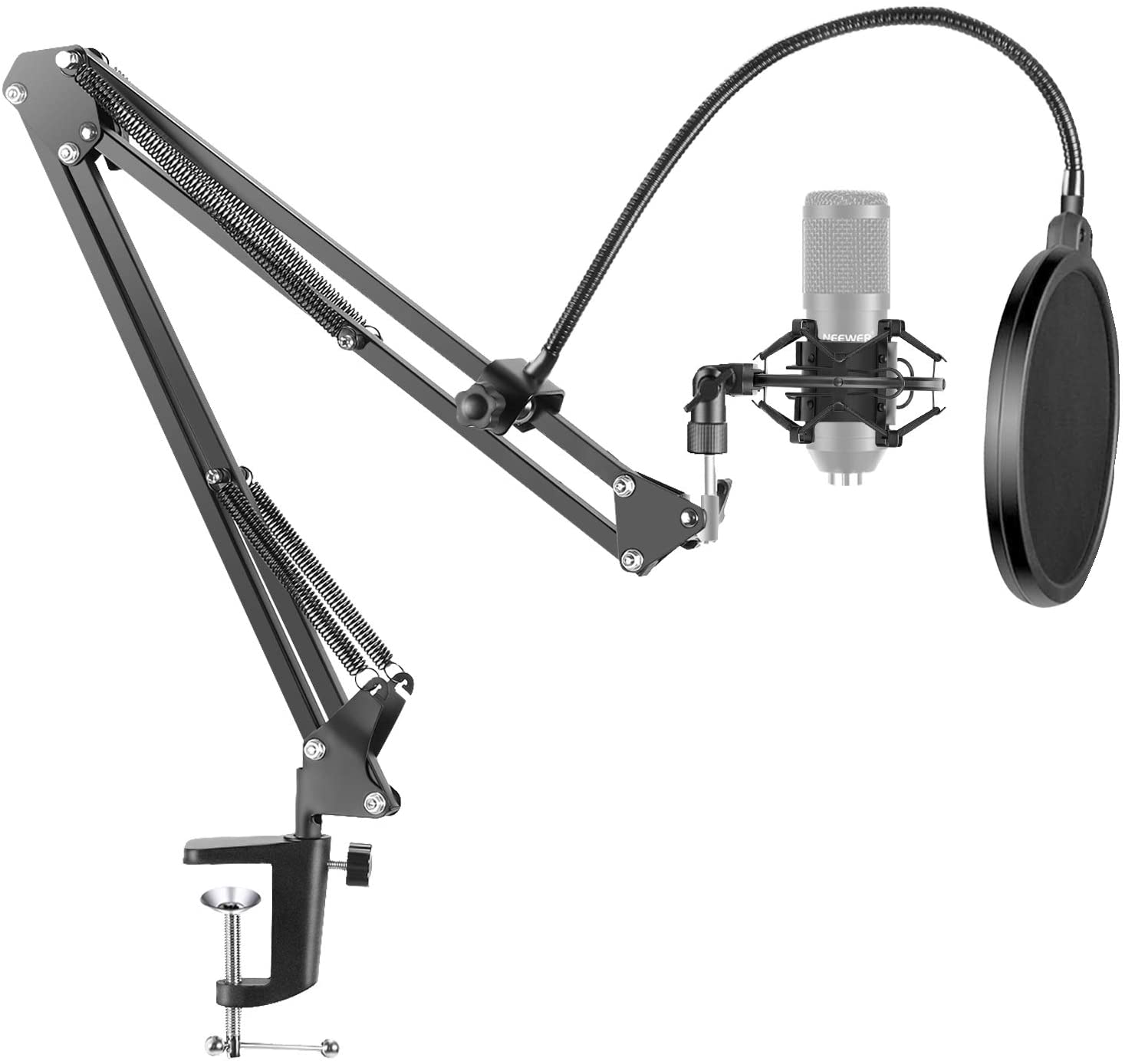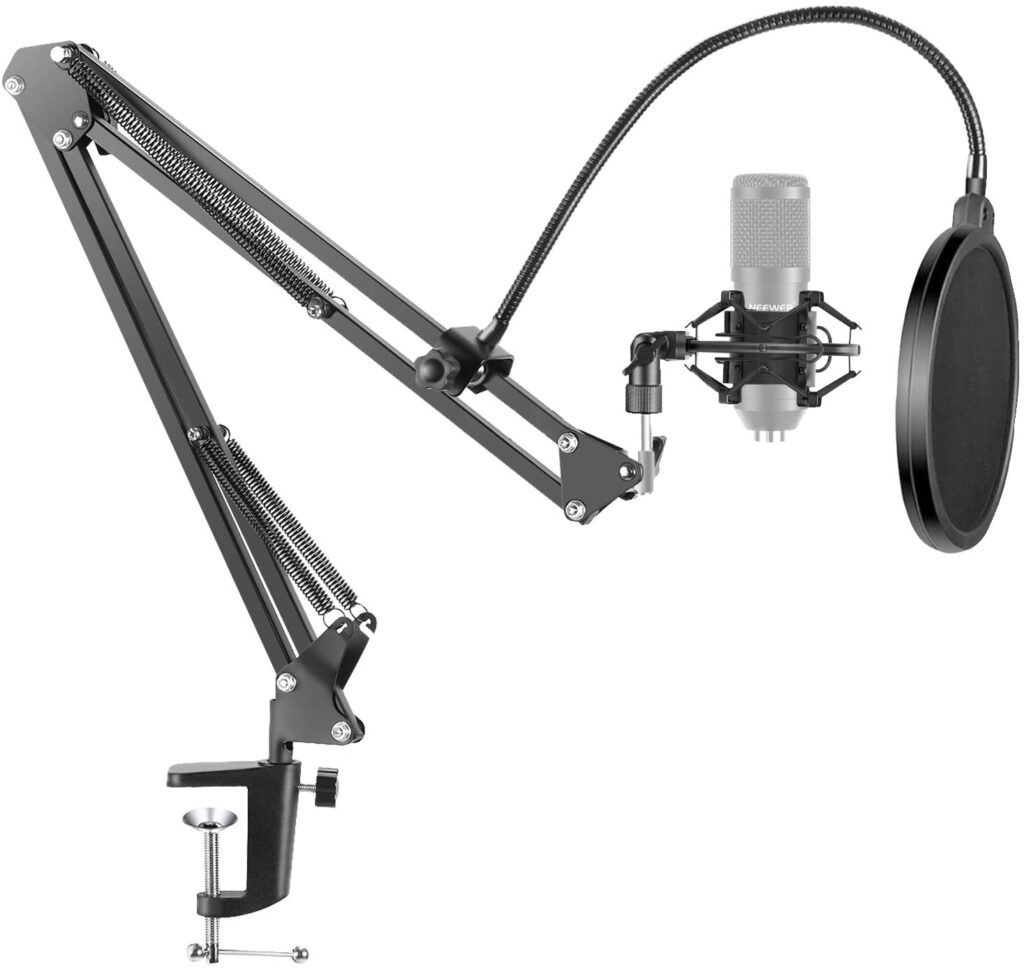 ---
Neewer is well known for manufacturing studio-grade audio equipment, and this boom arm is no exception to that rule.
It contains just about everything you might need in a mic stand: a table mounting clamp, a pop filter, and a high-quality shock mount. 
Furthermore, the entire thing is made from high-quality industrial steel, making it incredibly durable at a slight cost of reduced elegance. Functionality is the name of the game. However, such a small flaw is barely worth mentioning.
Dual suspension strings allow for maximum flexibility hold of your microphone and keep its movements quiet, while the pop filter prevents plosion.
Because of this, you will be able to enjoy the full capabilities of your Elgato wave 3 without having to worry that a squeaky boom arm might mess up the sound.
I feel like I should mention that I personally use NEEWER NW-35 as a part of my default setup, as I have found it to be an excellent choice of a boom arm regardless of what I am doing in my studio.
In the end, if you are looking for a suspension boom arm to couple up with your Elgato microphone, this might be one of the best choices on the market right now.
What to Look for When Buying a Boom Arm for Elgato Wave 3
Durability:
Boom arms are meant to last a long time once purchased. Because of this, you should look for one that is made of high-quality materials, such as industrial-grade steel.
The quality of the finish is also important, as all the moving and adjustments can cause the material to lose its strength over time. Always make sure that your boom arm is reasonably well-made.
Carrying capacity:
Not all boom arms can support the same weight. When choosing a boom arm, you should always make sure that it is compatible with your microphone, as well as any future microphones you might use. People often make the mistake of buying an incompatible boom arm. Because of this, we have compiled a list of ones that go the best with Elgato wave 3 mics.
Price:
Just as all other audio equipment, boom arms vary in price from one manufacturer to another. Thus it should come as no surprise to anyone that you should check the price before buying a boom arm, though you should value quality over a price tag.
FAQ
---
What boom arm is compatible with Elgato wave 3?
There are a number of boom arms of various manufacturers that are compatible with your Elgato microphone. That being said, they are not all of the same quality, with some of them being significantly better than others.
Realizing this, we have decided to make a list of the best boom arms for you to look through, allowing you to make an informed choice when purchasing your boom arm.
The guide is based on the personal experience of our testers and contains all the relevant information about each of the products.
How do I connect my Elgato wave 3 to a boom arm?
That, frankly, depends on the type of boom arm you own. Different boom arms have different methods of attaching microphones.
What is the same with all of them is that they will provide you with additional mobility for your input device, as well as allow you to save space in your studio.
If you need information on how to connect your microphone to a specific boom arm, the best thing to do is to check the manual you have received with the said device or simply take a look at our guide.
It contains everything you need to know. I give you a warm recommendation to check out the contents of the guide.
It was created by a team of professionals with several years of experience in content creation and will be sure to help you make the best choice for yourself. 
Do you need a shock mount for Elgato wave 3?
Well, the answer to this question depends on the type of environment you are using your Elgato microphone in. Is it a calm, quiet room with not much to disturb you when you do your job?
In that case, buying a shock mount might be redundant.
On the other hand, if you are a streamer who often rages at the screen while playing their favorite video game (just like Tyler1), then a shock mount might be all but required for you.
It all boils down to your personal needs, and there is no written rule. Do what is best for you.
---
We are sorry that this post was not useful for you!
Let us improve this post!
Tell us how we can improve this post?