As you blend two terms, you come up with a new term. For instance, as you blend the words 'telephone' and 'marathon,' you come up with the term 'telethon.' Similarly, upon combining terms 'subscribe' and 'marathon,' you receive the term 'Subathon.' 
In the modern era of streaming, Subathons have become increasingly popular and a tool for fun. While it might not be a dictionary term, it is still gaining immense popularity within streaming communities.
Let us help you understand its meaning and how you can organize a Twitch Subathon on your own with amazing sub goal ideas!
Top Sub Goal Ideas
Do you wish to boost the Subs on Twitch? Whether you wish to achieve more subscribers or push for affiliates, you can check out some of the interesting Subgoal overlay ideas to receive an instant boost on your Subathon on Twitch.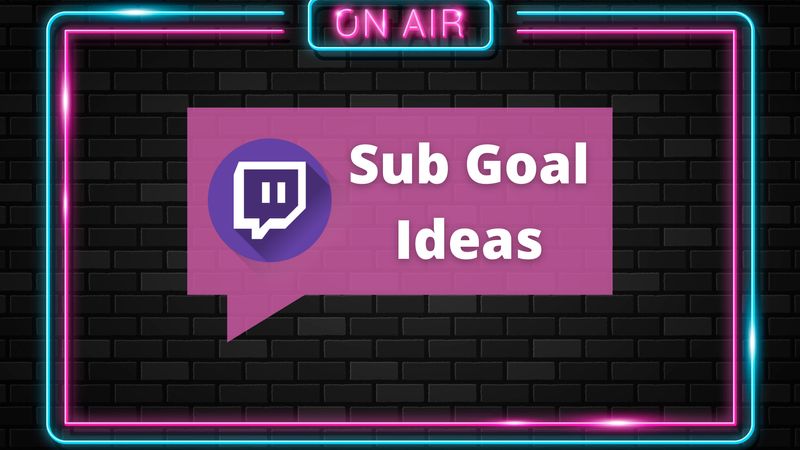 Here are some great ideas:
1. Equipment Sub Goal
Are you a small streamer who has just started on a budget? An equipment goal can be a great way to benefit both you and your Subathon and the audience.
In addition to the gameplay and your personality, the overall quality of the setup is another aspect that will attract people to your IRL stream.
If you wish to enhance the overall viewing experience of subscribers, you should focus on equipment sub goal.
2. Emotes
According to most viewers, the more Subs you will receive, the more Emote slots you will unlock. For example, if you wish the viewers to be excited about this subgoal, you should create Twitch emotes before unlocking the slot and displaying it right next to your twitch sub goal.
This will face reveal to the viewers what they will be unlocking while being excited about it at the same time. This is also one of the most popular sub goal ideas.
3. Community Games
If you wish to bring the entire community together, it is a great sub goal. You can think of setting a particular day to play games with the entire community. In addition to delivering maximum fun and entertainment, the next game sub goal also serves as great goal ideas to connect with the community deeply.
4. The 24-Hour Stream
Viewers love coming together in the chat to achieve a specific goal. They are fond of a challenge in the stream. When you set a 24-hour stream target, it will be immensely exciting for the viewers.
For example, if the viewers are fond of you, they will want to see more streams from your Subathon. Most importantly, they will like to see whether or not you last 24 hours.
5. Giveaways
You can offer giveaways to achieve a specific sub goal. Giveaways can be in the form of a specific game you are playing, a gift card, or some new equipment for gaming. You can be as creative as you want.
You can ensure additional profits through interesting giveaways while gaining subs to stay there for the long haul. Moreover, subscribers can also get a lucrative chance to win something through your stream. It's a fantastic goal idea.
6. Cosplay Stream
Viewers love seeing you dress up and be in favorite character in the game. It becomes slightly funny while creating hype within your stream for the game.
While some small streamers do it daily, you can set it as a big event on your next stream. Subscribers will eventually be excited about the big event.
When you use this sub goal, this is one of the fantastic sub goal ideas that will drive more twitch subscribers. This will certainly create more hype.
7. Drinking Stream
If you are 21+ and you drink responsibly, you can make use of this sub goal. If you feature a mature drinking audience, it is one of the great sub goal ideas to engage with the audience. With this sub goal, your audience can also have a great time the next day.
8. Streaming Specific Game
If there is a specific game that your community wants you to play, you should set it as a sub goal for your channel for the audience. If the viewers are indeed keen on watching you play a particular game, you can achieve more subscribers in no time. This will get helpful to generate more money which is also a great goal idea.
9. Karaoke Stream
If you plan at indulging in Karaoke this weekend, you can add the Twitch sub goal ideas to your Twitch stream. Viewers would love to see you being funny. Make sure that you are having fun in this sub goal as well for the week. 
10. Horror Games
The option to stream horror games is increasingly becoming a staple sub goal on Twitch.
A horror game is such a Twitch sub goal idea that always make up for a fun night within the chat. 
11. Sleep Streams
While these are slightly awkward, still sleep streams are becoming increasingly popular sub goals on Twitch. Typically, you allow the viewers to watch yourself sleep. Meanwhile, they can consider donating YouTube videos or play sounds.
12. IRL Stream
Using a face cam is one of the great twitch sub goal ideas for sub goal on Twitch. Viewers like to be invested in your stream. Therefore, it is important to reveal your face. If you have already revealed your face, you think of indulging in an IRL or chatting stream.
13. Dance Stream
While we have seen it all, viewers cannot do without watching you dance on the stream. It is a great way to ensure maximum engagement on your Twitch sub goal channel.
14. Watch Party
Watch Party or Movie Nights are indeed fun ways to engage with the audience. As your community will love engaging in a movie night, you can consider streaming movies on Twitch.
How to Do Subathon?
Subathon stands for Subscriber Marathon. These types of marathons will not feature any limited duration unless the streamer will explicitly want to set a specific limit. Typically, most of the streams are known to play 24 hours to several days. 
Once you start gaining popularity on your Twitch channel, you can think of organizing a Subathon. However, you must have your own twitch sub goal ideas. A Subathon is defined as a type of event on Twitch organized by event Twitch streamers.
In this type of event, the streamers typically receive the length of the entire stream when they have a Streamlabs account. The streamer can go ahead with setting up a proper Subathon timer to play. It can increase in multiple increments for every Sub tier. 
When a streamer hosts a Subathon, it is typically expected to select a specific trade action for subs. The actions will vary from one stream to another.
For instance, a streamer in games can consider adding a fixed amount of time to the particular stream to play or doing something special on receiving a specific amount of Subs.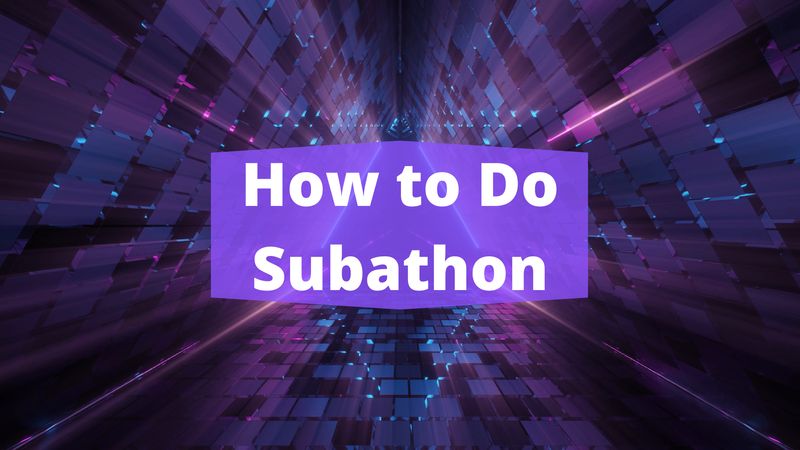 Some of how you can set up a Subathon on Twitch are:
Planning the Stream Events Beforehand
Have you decided to host a Subathon? What are your subathon goal ideas? You should dedicate some time planning your intentions in games and the incentives used to draw people's attention to the sub for more fun.
You can consult with your community about the games to receive hints on what they would like to observe in the long run.
Once you have a proper plan, you should analyze the subs for every incentive and the time every sub should include in the stream. Some streamers also consider adding a time limit they will be staying live. Typically, it is between 24-26 hours of fun.
Announcing the Subathon
You should announce the Subathon to your entire community. You can also announce it on social media accounts. Ensure that there are multiple announcements over a period of 7-10 days.
It will help in putting the Sub goal ideas into the minds of the loyal viewers of your stream. This isn't a bad idea at all.
Installing a Subathon Timer
If you wish to increase your Subathon live stream time with every stream, you can include Subathon Evolved Timer. It helps in keeping track of the total time you are expected to stream.
You can also consider customizing it. There lies a good opportunity in setting specific time limits and showcasing it on the stream. 
Creating Panels & Commands
You can create a dedicated Twitch panel for explaining the event. It should also explain the worth of every Sub tier and the incentives for meeting specific goals. This will allow you to scroll down to learn more about the Twitch sub goal. 
Create commands to explain the Subathon goals
Let the audience know the details if you wish to receive assistance answering particular questions on subscriber goal ideas.
Going Live and Following Through with the Incentives
Once you have set up everything, you can think of going live and following through with what you had promised to the viewers.
For instance, if you have committed to streaming for 24 hours or more, ensure that you rest properly before starting out. 
What to Avoid in Sub Goals?
When you are setting sub goals for your channel, you should keep in mind things that make you energized and happy at the same time.
If you are not excited about a specific sub goal reward, simply do not set it. Streaming is a labor-intensive form of quality content creation.
Therefore, you should be cautious of your energy levels to avoid any burnout or pull-out. 
At the same time, it is recommended not to go too far while creating sub goals for your Subathon. Activities like heavy consumption of alcohol can put your overall health at risk.
You should be aware of Twitch drinking rules as well. While setting the sub goals for your Twitch account, always go through the Terms of Service. 
Conclusion
As a Twitch sub goal content cocreator, you should always be grateful to your community members. When you do so with the best content, you can encourage more subscribers and donations on your way.
FAQ
What do you do at a Subathon?
A subathon is a special event organized by event streamers on Twitch to extend the length of the special stream on every sub received.
What is a good sub goal on Twitch?
Any sub goal that receives appreciation from the subscribers and helps you gain more traction is a good sub goal. This will help you to get more subs.
How do I turn on sub goals on Twitch?
In the Stream Manager section of Quick Actions in Twitch, you can select the type of sub goal with want to set. 
What does a sub do?
A subscription will allow a viewer to pay a minimum monthly amount to support your Twitch channel. As a result, to support is a great idea.