GoPro cameras were a novelty when they came out in 2002. Today, a GoPro cam is the very definition of a versatile action camera built for mobile filming, including live video capture.
The best GoPro for live streaming, in my opinion, is GoPro Hero 7 Silver because of its outstanding image stabilization technology.
If you plan to start streaming with one of these beauties, you're in luck – I have tested several models and picked out top 5 GoPro cameras to help you pick the right one!
QUICK OVERVIEW: Best GoPro for Live Streaming
1440p video capture resolution
Wide-angle lens

5K video capture resolution
30 frame rate

4K60 plus 1080p240 resolution
Hypersmooth 2.0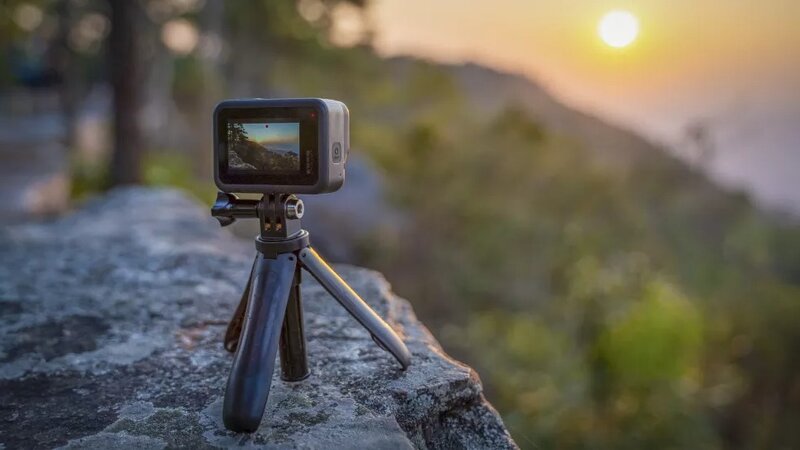 Best GoPro for Live Streaming
Tested & Reviewed
It is a nightmare to get the best bang for your buck out of an overloaded market.  With so many choices, what action cams that support streaming offers the best value for the price?

The answer is GoPro cameras!
I have tested many models in various conditions and here are my top five choices:
1. GoPro HERO 7 Silver
Best overall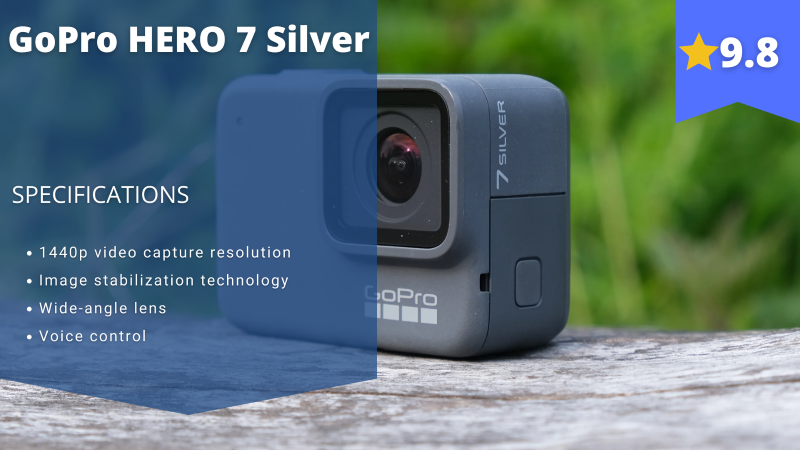 Stefan's Take:
I tested this camera while skiing and after rewatching the footage, the feature that stood out was video stabilization – shaking didn't compromise the HD video quality, so for those that like to share their wild adventures on Facebook or YouTube, this is a piece of equipment you need!
Additionally, GoPro App is quite handy for going live or sharing your videos, so this is the ultimate GoPro for live streaming in my books.
| | |
| --- | --- |
| Resolution | 10 |
| Image Stabilization | 10 |
| Battery Life | 9 |
| Weight | 10 |
Why do I think GoPro Hero 7 Silver is the best among these?
GoPro did a phenomenal job of implementing all of the pros of a mobile device with the qualities of a modern action camera, and GoPro Hero 7 is your ticket to HD video streaming.
Naturally, to accommodate the extreme needs of every possible situation, the touchscreen controls are streamlined and intuitive. Capture every moment in 4K resolution with just a tap!
This tried and tested GoPro camera features a frame rate of 1080p240 video that you have the option to slow down 8x or speed up to 30x to relive every moment with laser-sharp precision, down to the tiniest of details.
Initially built with extreme watersports in mind, you can rest assured that this action camera can make quality footage in 12MP and 4K60 live video quality even during high-speed movement through a rocky landscape or when you are riding the ocean waves.
HyperSmooth video stabilization is one of the epicenters of the best GoPro cameras that this classic embodies. It automatically adapts to your movement and delivers HD footage instantly.
You don't even have to use your hands to take full advantage of this video camera. With more than 10 commands at your disposal, you are free to shift your attention at the moment at hand while the GoPro does all the work for you.
Everything said so far sounds great, doesn't it? But pure specs can't be everything in an action camera; dimensions, weight, and battery life are equally as important as the specs.
This action cam weighs 4.2 ounces and its dimensions are 2.4 x 1.3 x 1.8 inches. The rugged construction, combined with quality materials and a lightweight frame, make it ideal for travel.
Lithium-ion batteries are a golden standard in powering portable electronic devices. With this video camera, however, there is a lot of room for improvement in this category.
At maximum settings, you can expect about an hour of use without a recharge. The battery in this video camera is not removable, but you can extend its operational time with an external battery pack.
Moreover, I really liked how easy it was to share my adventures in real-time.
With the GoPro app installed on your smartphone, you can connect it with your GoPro Hero video cam and stream on Facebook Live.
Overall, this is a high-end streaming camera that specializes in 4K video capture during high-speed movement in any terrain or environment.
If lackluster battery life isn't an issue to you, it is the best GoPro camera for people who want a taste of what the GoPro Hero series has to offer.
Pros
Extremely reliable and lightweight
Very affordable
Waterproof
2. GoPro HERO9 Black
Best battery life
Stefan's Take:
I was so happy that GoPro finally decided to resolve the issue of battery life with this model. I do have to note that I didn't test it in extreme conditions, but 2+ hours of battery life in standard conditions is quite amazing.
However, the more powerful battery resulted in a heavier and bigger camera, and I do prefer something less heavy to carry with me when I am out and about.
| | |
| --- | --- |
| Resolution | 10 |
| Image Stabilization | 9 |
| Battery Life | 10 |
| Weight | 9 |
From the maximum (1 millimeter) to minimum (20 millimeters) focal length to the abundance of image capture technology, this action cam is like a love letter for digital photographers who want to capture every scene in its full glory on the go.
The GoPro Hero9 Black is the first model that surpassed the lackluster battery life that was all too common within the GoPro Hero series; you can keep filming non-stop for more than 2 hours, which is a massive improvement from the previous model.
Another feature that simply must be mentioned is the In-camera horizon leveling.
While the same feature is also available on the GoPro Hero 8, it can only be used through the GoPro app, while this model can take full advantage of this feature right out of the box. 
By far, this action camera has some of the best video resolution modes that you can come across; from 5k and 4k video capture to 2.7k, 1440p, and even 1080p!
Whether you want to save space on your sd card or create videos in different resolutions, the GoPro Hero9 is extremely versatile in every regard.
Famed for its superb image quality, the GoPro Hero9 sports 20MP alongside RAW, SuperPhoto, and HDR software that works based on intelligent image processing algorithms.
As you can already tell, the prime idea behind this cam lies in automating image processing and angle adjustments tasks as much as possible, leaving the user free reign to record video and capture photo content.
Hands-free technology went miles ahead in just a few years without any sign of stopping. You can control the camera with voice commands, schedule when you want it to record video and for how long, and much more.
For dedicated streamers, GoPro's app contains an integrated streaming feature.
At 1080p record quality, you can stream live and share your best moments over social media whenever you like as long as you have a personal hotspot via a router, smartphone, or laptop.
A highly valued feature first introduced into this iteration of the series is the option to install media mods. With this mod, you can install a stylish external microphone without an external adapter.
With the innovative Slo-Mo technology, you can view fast-paced moments 8x times slower up to 240 fps.
If you need to speed things up, TimeWarp 3.0 is the right tool for the job!
Used extensively for filming professional-grade scenery, the GoPro Hero9 Black shows its proficiency with on-the-spot editing right off the bat.
You can carry this action camera anywhere, even up to 33ft underwater! GoPro Hero series webcams are tough as nails and waterproof, making them excellent companies for any adventure.
Pros
Fantastic price points
Drastically improved front-facing screen
Superb build quality with premium materials
Cons
Slightly heavier and larger
3. GoPro HERO8 Black
The most customizable GoPro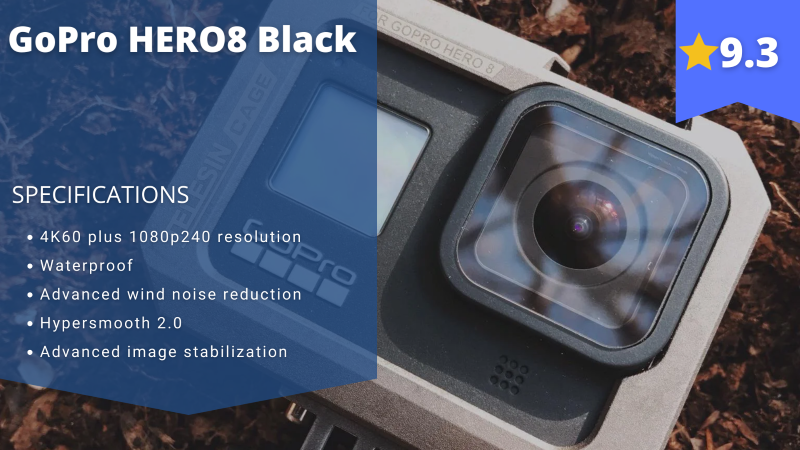 Stefan's Take:
I knew that this GoPro has 4 different digital lenses and I tested all of them underwater. And the videos were superb! Switching between different lenses really added some dynamics to my clips. So if you like to test different angles, this is the best choice.
I just wished that I could play with all of its features a bit longer, but GoPro kept the old battery.
| | |
| --- | --- |
| Resolution | 9 |
| Image Stabilization | 10 |
| Battery Life | 9 |
| Weight | 9 |
Although the gap between the Hero 7 and 8 action cameras is minuscule in terms of aesthetics and image quality, the GoPro Hero 8 has a couple of extra features. But is it worth it?
GoPro Hero 8 is a highly customizable camera with vast potential.
While aesthetically almost identical to the GoPro Hero 7 with identical image quality, the GoPro Hero 8  introduces official GoPro mod add-ons that give the user an immense advantage.
The Media Mod includes a 3.5mm external microphone port, built-in directional mic, HDMI-out port, and 2 cold-shoe mounts.
One of the main selling points of this mod is that it allows you to install non-GoPro equipment on your setup.
If you want to install any of the other mods, this is a must-buy.
The Light Mod equips you with LED lights with a power of 200 lumens and a separate rechargeable battery (6 hours).
With this mod, you will always have the best lighting conditions no matter where you are.
With the Display Mod, you can see yourself while filming on a miniature foldable LCD screen.  Custom-built for professional vloggers, this mod is tailored to their needs.
GoPro Hero 8 was the first iteration of action cameras to introduce this level of customizable modular add-ons.
The modular qualities of the GoPro Hero 8 drastically improve the filmmaking qualities of this camera. If you are feeling creative, you can create your own custom mod builds.
Aside from numerous  GoPro mounts and accessories (over 45 additional separate customization add-ons),  the GoPro Hero 8 is technically superior in many essential categories.
GoPro Hero 8 benefits from higher a higher bitrate (100 MB/s) compared to other GoPro cameras. This upgrade improves data encoding and improves image quality immensely.
This camera also includes a RAW output format. This addition is a novelty that most professional photographers will appreciate.
While the default video capture resolution is the same (4K), live streaming on this camera is far superior compared to the previous model with the default resolution set at 1080p. 
GoPro has improved the highly acclaimed TimeWarp that made GoPro Hero 7 a market favorite. With TimeWarp 2.0, you can capture super-stabilized time-lapse video content of higher quality.
The digital lenses are your new and improved!
You can take your shots with either Linear, Narrow, Wide, or SuperView lenses. If you like to switch styles and add variety to your shots, these additions will be a treat!
The battery life, however, remains unchanged (1,220mAh). This is a  major reason why many people didn't want to upgrade from their GoPro Hero 7 camera, and why I think GoPro Hero 7 is the better model.
The ISO range (100-3200) and camera controls remain the same. The GoPro Hero 7 model also comes with a built-in HDMI port that is absent from the GoPro Hero 8.
If you decide to buy the GoPro Hero 8, it is recommended that you invest in a couple of mods and add-ons. With the right modifications, this is the best camera within the mid-tier range.
Pros
Compatible with over 45 accessories and mounts
One of the most customizable GoPro cameras
Great all-around specs
Cons
Expect to invest in additional mods
4. GoPro HERO10 Black
Best for live streaming
Stefan's Take:
When it comes to video quality and resolution, this camera is quite similar to other models, but some extra features make it more suitable for live streaming.
The display mode is built for vlogging, and the front placement microphone really improved the audio. The wind noise was still present in my clips, but significantly less compared to videos shot with other models.
| | |
| --- | --- |
| Resolution | 9 |
| Image Stabilization | 9 |
| Battery Life | 9 |
| Weight | 9 |
The GoPro Hero 10 represents the qualities of the best GoPro cameras.
It has the best built-in microphone out of all previous models with the build quality suited for a luxurious camera of its class.
Everything you know and love from previous generations of Hero cameras are present and improved; from the front-facing screen to the voice control options, this camera features superb build quality and improved responsiveness.
GoPro often boasts how the Hero 10 series is the most durable set of cameras it ever produced, and it's not just empty talk; these video cameras can go up to 33ft deep and can withstand falls on hard surfaces, often without a scratch!
This is not only a professional sports cam for live streaming; it also serves as a webcam for streaming.
You can use the full features of this streaming camera with software from all leading digital publisher giants such as OBS – all without the need to get the best capture card for OBS!
The sheer power contained within this camera grabs as much attention as its versatility; shoots 5.3K60 + 4K120 ultra-sharp resolution video with advanced low-light performance software!
HyperSmooth was arguably one of the most iconic features on a GoPro camera, and the company invested heavily to bring you the most advanced version of this software yet; HyperSmooth 4.0.
This software includes horizon leveling from 27° to 45 ° and automatic image stabilization on a level never before seen on video cameras. No matter what you do, the video image is always stable.
The GoPro Hero 8 camera was the first in the series to include a wide range of modifications, but this model overshadows the Hero 8 with even more modular add-ons that give you a massive advantage.
Owning up to its reputation as the best GoPro camera for sportsmen and filmmakers, it features an 8x Slo-Mo at 2.7k resolution. Never again you will be forced to cut back on video quality during previews.
Upload all your content to an endless cloud storage space over the built-in USB C cable or the Quik app. This camera gives you almost unlimited options to supply your live-streaming endeavors with the highest quality.
Even if this product holds the title of one of the Best GoPro cams on the market, the included batteries don't last that long.
You can expect up to 40 minutes of recording at 1080p with periodic overheating.
I also had problems with overheating, and after a few tests, figured out that the optimal use time is 10-15 minutes.
Pros
Arguably the best camera in terms of overall specs
Extremely customizable and durable
One of the highest frame rate ratios to date
Cons
The unit tends to overheat if used for too long without a break
5. GoPro MAX
Best video resolution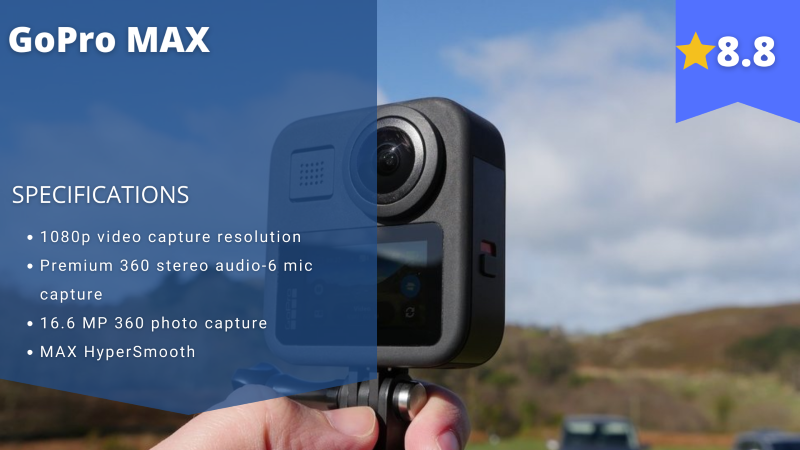 Stefan's Take:
Even though this model doesn't have 4K recording, because of its other features (MAX TimeWrap, MAX HyperSmooth, and MAX SuperView), you can record high-quality videos. Plus, I liked that I didn't have to edit the audio too much, because it was quite good thanks to those six microphones.
However, the battery issue is present, and the camera seems fragile, so I wouldn't recommend using it really harsh conditions.
| | |
| --- | --- |
| Resolution | 9 |
| Image Stabilization | 9 |
| Battery Life | 9 |
| Weight | 8 |
When you hold a GoPro MAX in your hands, you immediately know that this is not your average everyday camera.
Merely calling it a high-quality live stream video camera wouldn't do it justice either.
This is the best GoPro for artists on the go;  it features 6 mini microphones and a highly-responsive voice control system that places it leagues above most cams in terms of audio.
Want to take the perfect selfie? An artistic scenery?
GoPro MAX has you covered with PowerPano; take 270- degree photos of any scene and it will look like it was taken from an art gallery!
Most users are familiar with digital lens modes that include Wide, Linear, and Narrow modes, yet GoPro MAX introduces a new option- MAX SuperView. To date, this is GoPro's widest view introduced in commercial camera units.
The iconic GoPro deal-breaker, HyperSmooth, is completely reworked! Introducing MAX HyperSmooth; a customized version of the legendary software that uses  180-degree capture as a buffer!
GoPro MAX is intended to capture the widest footage out of any GoPro to date, and it does so with flying colors!
Next to MAX HyperSmooth, we have MAX TimeWarp! The name is familiar, yet this version of the famous software similarly pushes the boundaries beyond everyone's expectations.
Slow down fast-paced videos to a snail's pace and take in every captured moment.
The cam's HERO mode activates the GoPro MAX sensors to adjust the scene based on external factors such as lighting and motion to bring you the most detailed scenes that will amaze you at every turn. 
This cam is a dream come true for bloggers as well; with a top-of-the-class front-facing screen and integrated mic systems, you can record content to your heart's content and stream in 1080p.
The best part? You don't have to move the cam to the left or right to take beautiful scenery footage at 270 degrees. All you need to do is point the lens at the scenery and click- it is that simple.
But there are also several downsides…
For starters, there is no night mode installed in this unit. It is intended exclusively for daytime filming and photography.
When night falls, unless you have strong lights with you, the cam's performance will dwindle.
The GoPro MAX is noticeably more fragile than previous models- without a protective case, you should avoid getting in a pool with this unit. 
Exposing the unit to extreme conditions without protection is also more likely to end badly compared to more durable models like the Hero 10 Black.
There is no 4K capture. All of your shots will either be in 1080p or 1440p. Most mods feature 60 fps, with the lowest being 30/24 fps.
As usual, this model (like most GoPro cameras) uses up battery power very quickly. Features such as TimeWarp can eat up 1/5 of your battery within a couple of minutes of use. 
Pros
Uncontested in terms of image stabilization and horizon leveling
The best cam out there for capturing audio
Fantastic on-the-go video editing
Cons
Most features drain the battery quickly
Lacks a night mode
What to Look for in GoPro for Live Streaming?
Today's best deals feature options upon options, and your perfect choice will depend on what you plan to do with your GoPro, but there are a couple of universal qualities to look for.
1. Resolution
Video resolution is arguably the prime quality of every video production. Video and sensor resolution determine the maximum performance of your cam.
The resolution affects how crisp and clear your videos and photos end up, the color quality, and the elimination of video artifacts.  This is an essential quality that you should never cut back on.
As 4K video capture becomes the norm in both commercial and professional settings, the standards will keep going up, but, in most cases, a 1080p resolution is a bare minimum you should go by.
2. Hypersmooth
EIS (Electronic Image Stabilization) technology is what allowed GoPro to dominate the action camera market. With good EIS tech on your side, you can ski down mountains and still catch phenomenal footage.
For instance, the Hero 7 Black doesn't come with EIS. This is fine if you want an affordable, miniature cam but, if you plan on stunts like paragliding or mountain biking,  Hero 9's HyperSmooth 3.0 is ideal.
3. ISO
Simply put, ISO is a setting that affects how dark or bright your images can be. It is a value that shows how sensitive your device is to light.
For night photography, a high value is incredibly important, right next to a cam's resolution. For photography in broad daylight and lit areas, a low ISO ratio is preferred.
4. Weight
Action cams are usually lightweight; it is the defining feature of recording equipment in that class. How light a cam is can be a dealbreaker depending on what you intend to use it for.
A Hero 7 weighs just 116 grams compared to the technologically superior Hero 10 which weighs 158 grams. It may not sound like much but if you don't need the features of the latter, weight can be a deciding factor, especially in highly mobile filming settings.
5. Price
Build quality, features, and specs might be among the first things on your mind when buying a GoPro, but let's face it; not every budget can handle a GoPro MAX or Hero 10.
The most expensive options should be avoided if a more affordable cam can get the job done. 
Conclusion
I hope you find this article helpful and have found the model that meets your needs.
Here is an overview of my three favorite ones:
GoPro Hero 7 Silver as the best overall,
GoPro Hero9 Black with the best battery,
GoPro Hero8 Black as the most customizable one.
Whichever one you choose, you won't make a mistake. Have fun on your exciting adventures with the new gadget!
FAQ
---
1. Do I need a capture card for streaming?
Most cameras built for streaming can function without the need for an additional capture device. If you plan on using a DSLR or two PC set-up, then it is worthwhile to invest in a capture device.
2. Can you use a DSLR for streaming?
It's possible to use DSLR for streaming, but it's not ideal nor is a DLSR meant for streaming. If you feel adventurous thought, find a model that has an HDMI output and a battery that can keep the camera online during your streaming sessions.
3. Which GoPro can live stream?
Most of the newer models are more than ideal for this task, but we would recommend Hero8 Black, Hero9 Black, and GoPro MAX.
---