If you need a cheap webcam that will work well for various uses, getting stuck between the Logitech C920 and NexiG0 webcams makes a lot of sense since they are both in that exact range. NexiGo comes with the benefit of being a very inexpensive webcam, and the Logitech C920 has been a well-loved all-around product for quite some time.
After reading this inexpensive webcam buying guide, you will know which webcam is the better choice for you, is it worth it to get the additional $30 for the Logitech one, or if you should keep it on the down-low and go with the decent webcam that NexiGo has.
Let's get into it!
Nexigo vs Logitech
Comparison
Specifications
Resolution: 1080p/30fps

Field of view: 90°
Focus: Auto focus and manual focus
Light correction: Low light setting correction
Microphone: Stereo built-in microphones
Connection: USB 3.0
Resolution: 1080p/30fps and 720p/30fps

Field of view: 78°
Focus: Auto focus
Light correction: RightLight 2
Microphone: 2 omnidirectional mics
Connection: USB-A, plug-and-play
NexiGo AutoFocus 1080p vs. Logitech HD Pro Webcam C920 Webcam – What's The Difference
The main difference that you'll notice about these webcams is their price, with the NexiGo being considerably more affordable. Compared to many other webcams, that really is a bargain. Still, I'm sure that you're not sure whether the price comes with some drawbacks that might affect the video quality, which is very important to consider if you want to use your webcam for more than just video conferencing and video calls.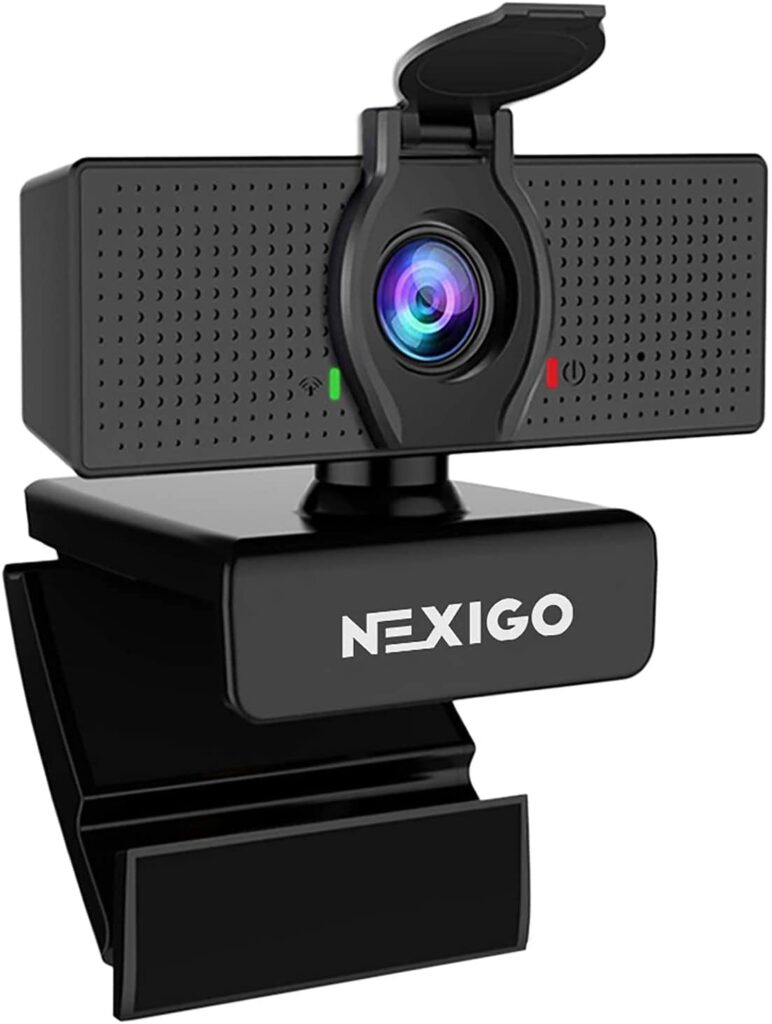 The Logitech C920 has been proven to work well even for video recording and streaming, with even the video and sound quality being good. This might not come as breaking news, considering that Logitech has been a leading digital publisher for quite some time now. Besides C920, there are many other cameras made by them that are very well-loved, excellent quality products that give better performance than you would expect from a webcam.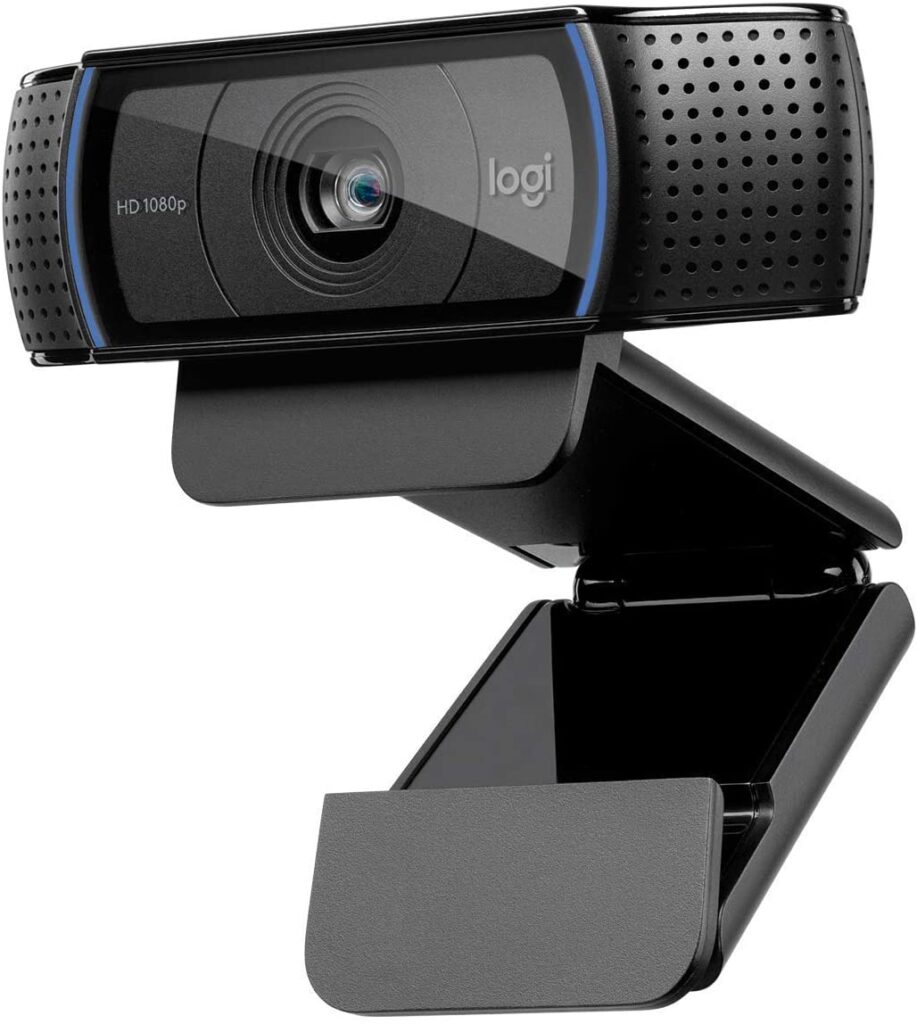 Both of these webcams are highly compatible with any operating system and video conferencing platforms like Zoom, Skype, Microsoft Teams, and so on. If you only need a webcam for video calls, either one of these will give you better sound quality and image quality than whatever you have built-in above the laptop screens.
Product Quality
When it comes to the quality of the products, both of these are very similar in design. They actually look very similar and are made from similar plastic.
They also both have glass lenses, so you don't have to worry about cheap plastic lenses with these. If you need a webcam that will go on a tripod mount, both can do that and are very stable once placed on a tripod mount.
Something the Logitech has, and the NexiGo doesn't is a built-in privacy shutter, which might be a dealbreaker to some people, as having a privacy shutter can be a nice feature. However, if that's the only thing that the NexiGo is lacking, and you don't wish to spend more on Logitech's additional features, getting a detachable privacy cover for it can work, too. And, you can keep the separate privacy shutter for all other future brands of webcams you might have.
Resolution
When it comes to the resolution that you can get from these webcams, they are the same. Both are a 1080p webcam, but if you need your video quality to be lower for some reason, if you need video compression, then each camera captures in 720p, as well.
If frame rates are important to you, and if you specifically need the frame rate to be 60fps, then neither of these can help you, as they both film with 30fps. If you don't need to capture details that are important and need to be in 60fps, a 30fps webcam will be a solid camera for you, and more than that.
Field Of View
The NexiGo webcam has a very wide angle of view. It's at 90 degrees, while the Logitech C920 has the expected, basic 78 degrees that most other webcams tend to have nowadays. And most often, that's what you need from a web camera lens.
Depending on what you are filming with the webcam, whether it's a horizontal or vertical video, you will need different degrees. If you need a lot of the background to be included, and it's a very integral part of what you're filming, then the NexiGo will be the better choice. Also, if you work in large meeting rooms that need to be included in the conference, then go with 90 degrees.
But, if you are the type of person who will use a background replacement anyway, then something with a more narrow field of view will work better.
Image Quality
I've already talked about resolution and the fact that these two webcams have the same image quality when it comes to that. However, image quality is not related only to that. More factors are important for making everything look good.
One of these things is the auto light correction. You might be working in a low-light environment, and light correction is, therefore, crucial for you to look on point on camera. Both of these webcams come with some kind of light correction features, so you will get the correction either way, but the way Logitech's camera does this is far better.
If you don't have enough space for a ring light, or your budget is too low to get that, or a webcam with built-in lighting, then the Logitech C920 will be the better choice to make here. Ring lights can add up to the price of your setup, and they also take up a lot of space, so having this instead of an adjustable ring light will probably work well.
Of course, there are webcams like the Razer Kiyo that have an integrated ring light and work wonders, but this probably isn't something that's in your budget just yet. Or again, you simply just might not need it.
Besides having flattering lighting, another important factor to consider when talking about image quality is the autofocus feature. This is especially important if you're doing a stream and don't want the focus to get lost on something in your background. If you're a teacher, fixed focus can also be very important.
Both of these have autofocus, but it seems like the Logitech is a tiny bit better at that as well, especially if you're streaming or creating any type of video content. The glass lens is something both webcams have, but they obviously work better with the Logitech, so in that sense, it seems that it might be better to get the additional funds and go for this one.
Microphone
Both of these webcams come with 2 built-in microphones. However, the mics are a bit different from each other.
With the C920, you get 2 omnidirectional microphones made to catch voices from several different directions with minimal ambient noise included. On the other hand, NexiGo has stereo audio microphones that are just a bit more prone to catching background noise.
But, when it comes to integrated microphones, I'm not really sure if I could advise you to rely on them. They might be average at canceling background noise, and they can catch what needs to be caught, but the stereo audio quality can't be compared to what you get when you purchase a separate microphone.
It might seem that having a better sound quality and microphone might be more important for a streamer. However, I'd say that it's equally important for a Microsoft Teams work call. Why? Well, because it's irritating to have to repeat the same point several times during a call, and even worse, to have to ask people to repeat what they said. And you don't want to be on either side of that.
So, after you decide what great webcam you'll purchase, you should definitely start considering a better quality microphone because no matter how many helpful tips you try, webcam mics always end up sounding subpar.
Software
Both of the webcams in this comparison are compatible with the most commonly used video conferencing software, which is something that you would expect from any webcam, not just the best webcam. Whatever software you're using, both the Logitech C920 and the NexiGo will work as plug-and-play.
When it comes to the operating systems that these two are compatible with, the only different thing is that the NexiGo doesn't work with Linux devices, while the C920 does, and it works very nicely. So, if you happen to be using Linux, then this will be a very simple decision.
Speaking in terms of streaming software, Logitech's software is very commonly used among people who use webcams made by them. The NexiGo doesn't have anything like that, so if you decide to go for that one, you will have to use additional third-party software for having better camera controls.
If you've already found software that works well for you, then you can just continue using that and have instant access no matter which webcam you decide to buy.
FAQ
Is NexiGo the same as Logitech?
NexiGo looks quite similar to Logitech's C920, which is considered to be the overall best webcam for a wide variety of different uses. They also have some similar features, like autofocus, 1080p resolution, frame rates at 30 fps, and the overall design is very similar.
However, as expected, the Logitech webcam has shown to be slightly better, in the sense that the videos you get from it have a better look to them. Some other features that this one has are the privacy shutter and a special RightLight 2 light correction technology, which is much better at what it does.
If you need an inexpensive webcam that you'll use every day for some typical needs like calls, then NexiGo can be a great choice, but if you plan on doing something more, Logitech is the better choice.
Is NexiGo a good brand?
NexiGo is a great brand to go for if you need affordable webcams for typical, everyday use. This is also probably the best webcams choice nowadays when all of us are in need of a webcam way more often than before.
They, of course, have some devices that are more advanced and have more features, but so far, they have shown to be the best webcam brand for best webcams at a lower price point. So, if that sounds like something that you need, then opting for this brand can work great for you.
Which brand is best for webcam?
Some of the industry favorites nowadays mostly come from Logitech, Razer, and Elgato, and they all have different webcam devices that are very deserving of the love that they are getting. For example, the Razer Kiyo webcam is very famous for its built-in light ring that makes life much easier if you're a streamer.
Logitech has probably the widest range of products that you can choose from, no matter if you need something for every day or something that's a bit more pro-grade for streaming and creating both horizontal and vertical video content.
Basically, whichever one of these bands you decide to go for, you will most likely have a great experience and get a webcam that will serve you well.
Conclusion
Like many in-depth reviews will tell you, the final decision comes to what you need the product for.
If you need a webcam for more than just video calls, if you want to get good streams and video content from these webcams, then going for the Logitech C920 is definitely the better choice. Getting the NexiGo will potentially require some more fine-tuning of the image quality and audio quality. The Logitech also has a better auto light correction, fitting for low light situations.
If you only need a webcam to help with online workdays and school, then you don't need to look further and purchase the NexiGo. The image quality is just about right and enough for needs of that kind, and the low price is unbeatable. Maybe it's not one of the best webcams, and there are other webcams with extra features that make everything more exciting, but that's not something you always need.