When choosing the microphone for YouTube gaming, you need to think a few steps ahead because this is one of the most important decisions for everyone looking to become a YouTuber.
Finding the right microphone for YouTube Gaming can take a lot of time, but I'm here to help. My top choice is Razer Seiren Elite because of the impeccable sound quality and plug-and-play feature.
If you are eager to find out the best microphones for YouTube gaming, you are in the right place because I have tested some of the most popular microphones for YouTube, and one of them might become an essential part of your kit.
QUICK OVERVIEW: Best Microphone for Youtube Gaming
USB microphone
16-bit/48kHZ Resolution

192 kHz - 24-bit sample/word
17 to 22 kHz frequency response

Corded electric power
120dB audio sensitivity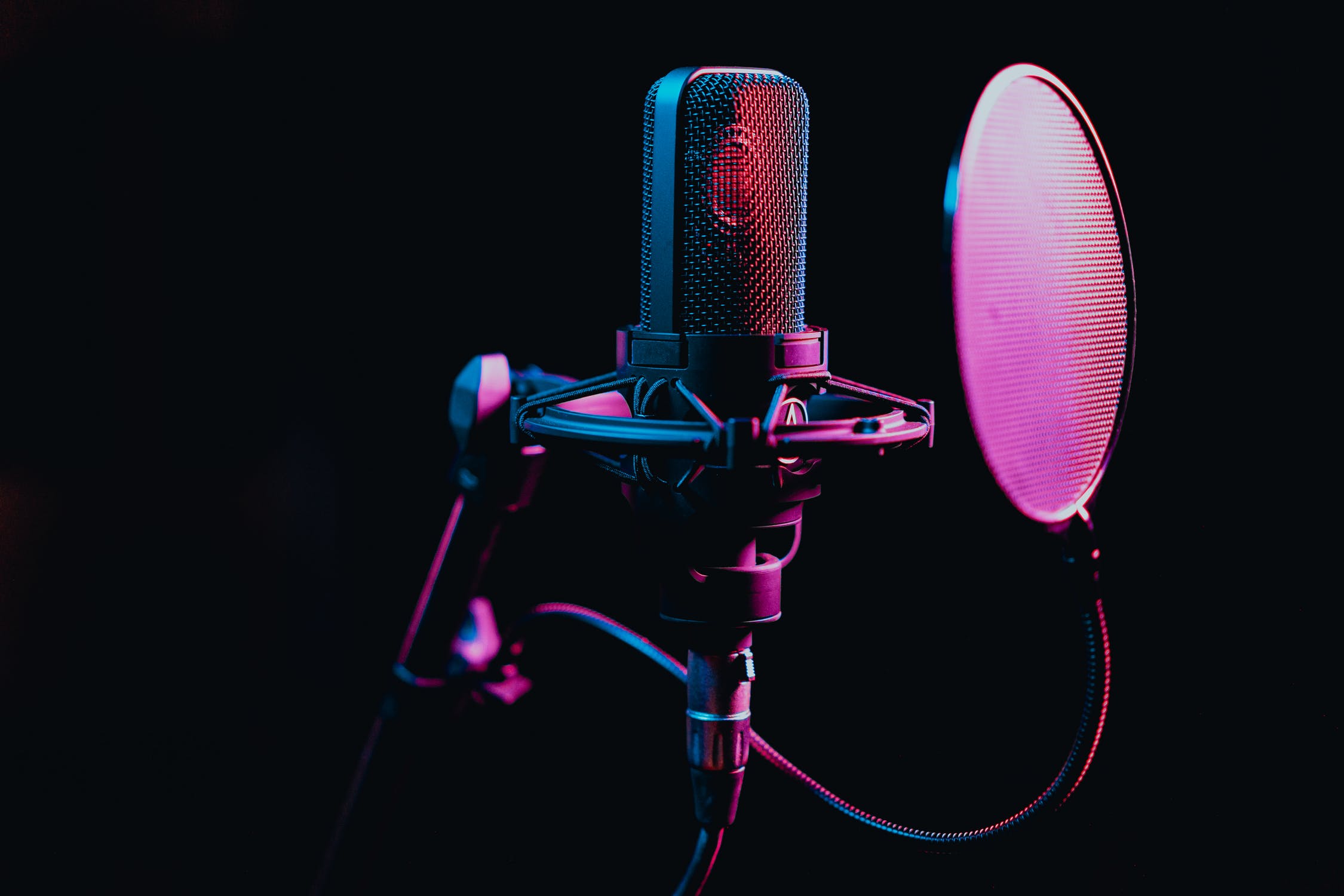 Best Microphone for YouTube Gaming
Tested & Reviewed
I understand that you have different preferences and that one microphone won't fit everyone.
Some people are looking for a USB mic, some are looking for a condenser mic, and others want to find a budget microphone for themselves.
For that reason, I have gathered the 6 best microphones on the market and decided to provide you with an honest review on all of them, which will help you choose the right one for your Youtube gaming channel.
I hope that one of these mics will meet your requirements!
1. Razer Seiren Elite
Best overall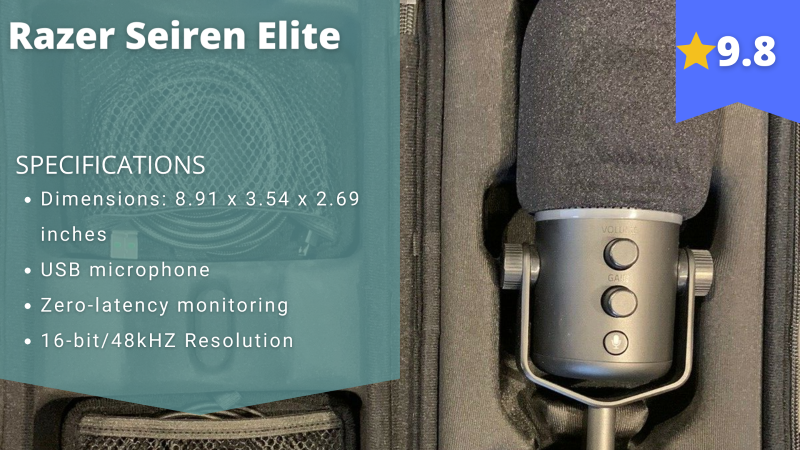 Stefan's Take:
This is the mic I use when recording my YouTube videos. It really took my content to another level.
 The sound is crisp and clear in my voiceovers and other videos, and all low-frequency vibrations are removed, which additionally improves the audio quality.
Plus, I like that it's a plug-and-play mic: when I need to record something, I can set it up in just a few minutes.
| | |
| --- | --- |
| Sound Quality | 10 |
| Polar Patterns | 10 |
| Noise-Canceling | 10 |
| Value | 9 |
Why do I think Razer Seiren Elite is the best among these?
Razer Seiren Elite is a streaming microphone that will provide you with a rich sound and perfect audio quality.
Popular YouTubers swear by this device and claim that it is one of the best microphones for YouTube that has been released lately.
Well, let's see what it has to offer.
Who Is It Best For?
I recommend this Razer Seiren microphone to online video creators and streamers because that is its primary purpose.
This professional dynamic microphone was created for people creating content for their YouTube channel or streaming different games on Twitch, so it definitely wouldn't work for any other purpose except these.
It will take the quality of your video and your stream to another level. Moreover, it is a real gaming microphone that will eliminate background noise and provide you with a high-quality audio recording even when you are not filming in the best conditions.
Your vocals will be rich and warm, and you will get good sound quality and create a YouTube commentary that will be free of any additional sounds or background noise.
This Razer Seiren microphone will allow you to film any video quickly and get crystal-clear audio without any obstacles.
Key Features
Razer Seiren microphones are known for their practical design, making recording audio quite easy, even if you have never dealt with such a good microphone before.
What makes it stand out is a high-pass filter that controls the sound and is also equipped with a digital and analog limiter that guarantees clean audio and amazing recording quality.
This filter will cut out all low-frequency vibrations, making the audio recording extremely clean.
Even though it has a single dynamic capsule, it is great for filming YouTube videos because it will provide you with minimal electronic interference, which is one of the essential additions to every YouTube microphone.
It is also a condenser mic so that you can take care of volume control, and since it is one of the USB mics, you can move it around without any problems.
Since it is based on the plug and play technology, it will be very easy for you to install it on your device, and you will be able to start filming your gaming commentary immediately.
Pros
Plug-and-play technology
Condenser mic
High-pass filter
Dynamic capsule
Cons
One of the most expensive microphones for YouTube gaming
2. Blue 1967 Yeti
Best for gamers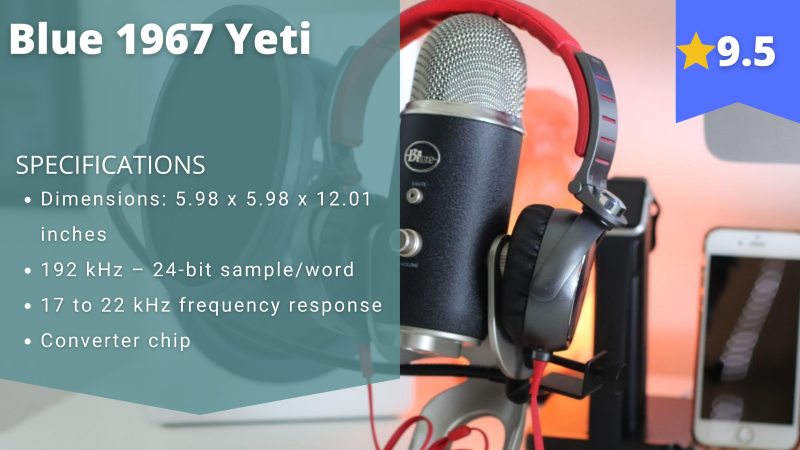 Stefan's Take:
In my opinion, the biggest upside of this microphone is its versatility. If you constantly have to readjust the positioning of the mic, you'll be glad to know that sound quality won't be affected by this frequent movement.
Also, I liked that it comes with a stand since it makes setup much easier.
| | |
| --- | --- |
| Sound Quality | 10 |
| Polar Patterns | 10 |
| Noise-Canceling | 9 |
| Value | 9 |
Blue Yeti microphones have been on the market for years. It was the first USB microphone to appear on the market and can create better sound quality than most regular microphones.
Who Is It Best For?
A Blue yeti microphone is always aimed at streamers and YouTube creators who want to maintain excellent sound quality while still being able to move their microphone around.
Since it is a USB microphone, it is one of the mics that will provide great results no matter how much you may be moving around or moving it across your working space.
It is the best option for all of you who don't want to use a mic stand and would rather have your mic in your hands.
It is also one of the most frequent choices of those just starting in the world of YouTube and allowing for the best budget microphone because they don't have hundreds of dollars to spend on a device like this.
Key Features
Blue Yeti 1967 is one of the rare USB microphones, which is also a condenser microphone with analog XLR output.
Since it is a USB microphone, you will not need to install it because it works on the plug-and-play principle. 
It has 3 custom condenser capsules and 4 different pattern settings, guaranteeing exquisite audio quality.
Like every great microphone, it has a built-in polar pattern with 4 different settings – cardioid polar pattern, stereo, omnidirectional, and bidirectional polar pattern.
This is a condenser microphone so that it can produce digital audio even clearer than those on CDs.
There is an A-D converter chip that will work amazingly in sync with professional mic amps, preamps, and studio mixers.
Like every other microphone for YouTube gaming, Blue Yeti 1967 also has zero-latency monitoring and easy-to-use direct controls for pattern volume, headphone volume control, pattern selection, and mute.
These are very useful addition that will make the process on this Blue Yeti USB microphone much easier and will save you a lot of time while streaming.
The Blue yeti USB microphone makes a difference in sound, and you will get stunning audio quality with this USB mic even if you are filming your video outside, where there is a lot of noise.
All of the modes can easily be selected, and you can switch between them on this USB audio interface for streaming.
They also come with a mic stand, so if you find it easier to film this way, you can always incorporate it into your workspace.
It is one of the rare USB microphones that can be used on any occasion, so I highly recommend it to everyone.
Pros
Affordable
4 recording modes
USB microphone
Stand and cables included
Cons
Lacks some features professionals on YouTube need
3. Blue Yeti USB Mic
Best sound quality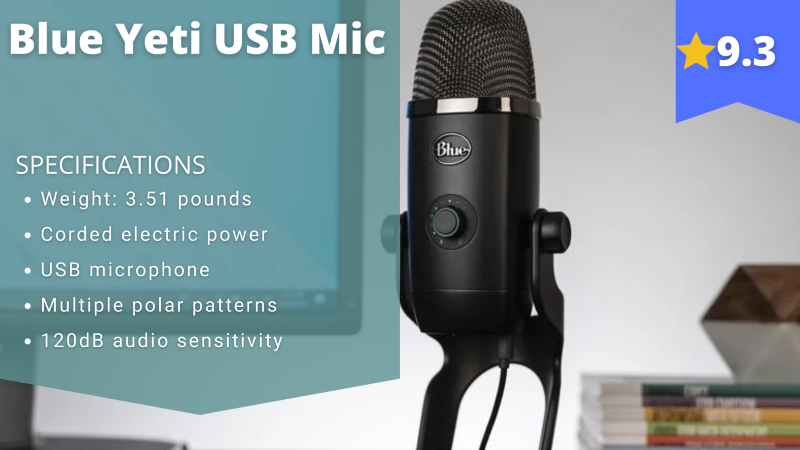 Stefan's Take:
When it comes to sound quality, I think that Blue Yeti USB mic is unmatched! The multiple patterns ensure good sound quality no matter how you use your mic.
Additionally, onboard sound controls help with adjusting the settings and getting the most out of it, even when you're recording in your room. It's one of the bigger and heavier mics, but I don't mind that since my boom arm can hold it. 
| | |
| --- | --- |
| Sound Quality | 10 |
| Polar Patterns | 9 |
| Noise-Canceling | 9 |
| Value | 9 |
This Blue Yeti mic offers amazing sound quality as well. But it differs from the Blue Yeti 1967 a little bit. Let's check out how.
Who Is It Best For?
Like all Blue Yeti USB microphones, this microphone for YouTube gaming will provide streamers and YouTube creators with amazing sound quality.
If you ask hundreds of YouTube creators, they will tell you that this is the best microphone they have ever used, and the truth is, it is one of the best USB condenser gaming microphone options out there.
It will work great both in your room and outside, on the street, because it can eliminate noise without too many problems, so I would recommend it to everyone trying to start their career on YouTube.
This microphone will also serve you for work purposes, so if you have a lot of important Zoom meetings, you will be able to use it this way.
Key Features
This Blue yeti USB microphone differs from most of their other microphone options, and it is one of the rare microphones on the market that has a three-capsule array.
It produces a clear sound that is rich and powerful and works fantastic with YouTube, so the sound will always match your videos perfectly.
The Blue Yeti USB mic is also equipped with Blue Voice software to ensure the broadcast vocals are clear and that your sound and video are always in sync.
This is an essential addition to every microphone for YouTube gaming because you want to make sure you will never have syncing problems with your devices.
The Blue Voice software is compatible with Yeti, Yeti Nano, and Yeti X, so if you want to make sure your sound quality always stays fantastic and you don't have to purchase a new microphone every year, this is the best microphone for you.
It does require you to download a special Logitech software if you want to make sure it will work, but it is still a great option, and the whole download process won't take you a lot of time.
With this condenser microphone, you won't have to worry about your sound quality. You will be able to easily record in different ways that would otherwise require you to get another microphone.
Just as on all other Blue Yeti USB microphone options, this one has onboard audio controls, too, so you can go through volume control options pattern selection, and mute someone instantly through your headphones, which is always of use.
This one is also quite flexible, so you will be able to use it both with a mic stand and without it, and you can move it around however you want without damaging headphone output.
However, since it is too big, it may not fit into every single workspace, so make sure it fits into your surroundings before you decide to purchase it.
Pros
4 polar patterns
Blue Voice software
Flexible
Onboard audio controls
4. Audio Technica AT 2020
Best microphone under $100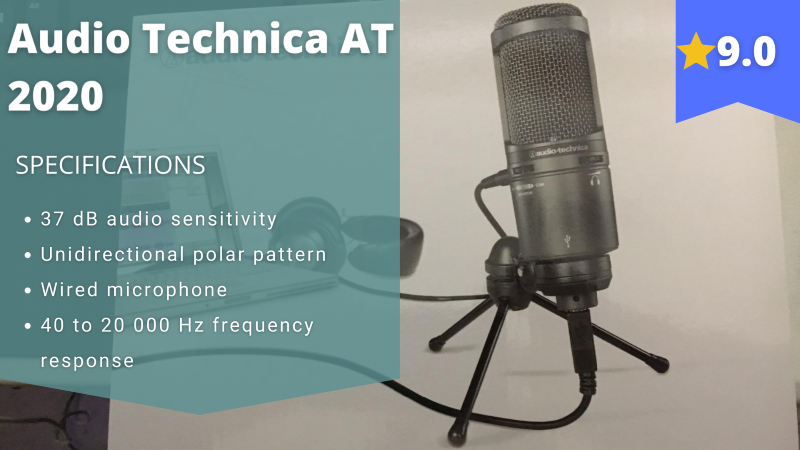 Stefan's Take:
I have to say that I was quite surprised by what an $80 microphone can do.
This microphone eliminates the background noise quite well and gives you enough room to play. At one point, I was even making as much background noise as possible and didn't receive one complaint about it being louder than my voice.
| | |
| --- | --- |
| Sound Quality | 9 |
| Polar Patterns | 9 |
| Noise-Canceling | 9 |
| Value | 9 |
Audio Technica microphones are made for YouTube gaming or regular streaming, and this model might become a regular part of your gaming setup.
Another plus is that it's priced reasonably, so it's a good option for those looking for a budget microphone.
Who Is It Best For?
Even though Audio Technica microphones are mostly aimed at professionals looking for an external microphone for their music studio, their devices have also been quite popular among streamers and YouTube creators.
If you are looking for a cheap mic that will provide good quality audio, you will check out their offers because they have amazing mics priced well and offer discounts pretty often.
They may have some professional options that cost a fortune. 
Still, Audio Technica can offer an even more affordable amazing microphone than Blue Yeti, so if I were starting in gaming commentary or on YouTube, I would pay attention to their products.
Key Features
This Audio Technica AT 2020 microphone is aimed at people working in studios and filming different music or serious content, but more and more YouTube creators are choosing their devices.
When using this model, you will be dealing with a condenser mic, but this one has shown to be the best option for filming YouTube videos, so I am sure you will succeed with it.
You can connect it to your mobile phone and your laptop or personal computer, so it should work fine even when it isn't in the professional studio surroundings.
The noise level is around 20 dB, which will give you enough freedom to act generally throughout your video without worrying whether your hands will produce a sound that will eliminate all the words you have said so far.
They also offer unmatched versatility, and the low mass diaphragm will create an extended frequency response and make sure you get a transient response quickly.
The cardioid polar pattern will eliminate everything from the background, and unlike most condenser mics, you won't have to stress about finding the mute button or reacting whenever there is something that may disturb your audio quality.
Audio Technica AT 2020 also has a threaded stand mount that will make sure you have a stable mic throughout your whole experience.
Pros
It has a stand mount
Cardioid pattern
Low mass diaphragm
SPL technology
Good price
5. Razer Seiren X
Best for new YouTube gamers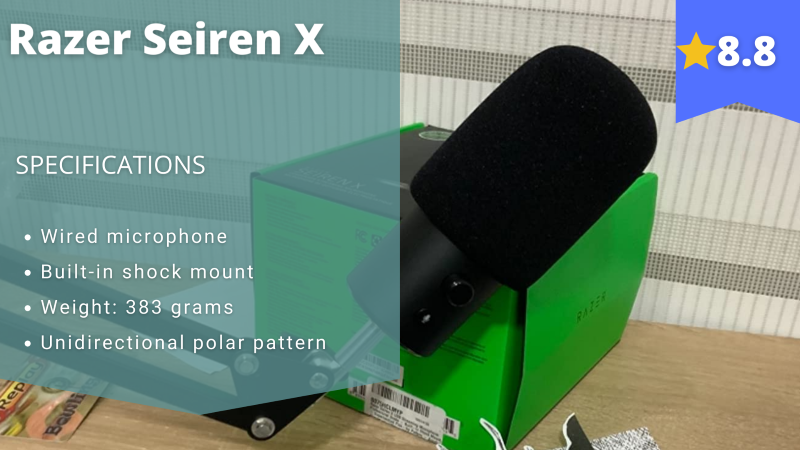 Stefan's Take:
I think this is a great choice for fans of Razer gadgets that are on a tighter budget.
This mic is powerful, and while I did notice a difference between this model and Razer Seiren Elite, it would be a great choice for beginners.
It has zero-latency monitoring, does a good job at removing background noise, it's easy to operate, and you still get a decent sound quality that your viewers will appreciate.
| | |
| --- | --- |
| Sound Quality | 9 |
| Polar Patterns | 9 |
| Noise-Canceling | 9 |
| Value | 8 |
Razer Seiren really does an amazing job with creating good microphones for streaming and YouTube, and this is also one of their best microphones.
Who Is It Best For?
This Razer Seiren is the best microphone for absolute beginners in the world of YouTube or streaming, and it is also one of the most affordable options on the market.
It has all the features you need, and the sound quality is great, while it is still quite affordable and suitable for people who don't have too much experience with devices like this.
If you want to ensure you have good sound quality but don't spend too much money to find a YouTube microphone, this is one of the cheap mics you need to try out.
It will work well both for streamers and those doing YouTube commentary.
Key Features
Even though it is cheap, its audio interface is amazing, and all the much more expensive microphones are not much different from this one.
It comes with a built-in background noise reduction which is the most important feature for ensuring good sound quality while filming your YouTube commentary.
Unless the microphone has a feature of this sort, don't purchase it because it can cause more harm than good.
A built-in shock mount will remove all the vibrations that could damage the audio interface and its crisp sound.
Like most other condenser microphones, this one also has zero-latency monitoring, so you don't have to worry about weird ambient sound.
It is wired, so you will have to be careful when using it, but it shouldn't create many problems. The best thing about it is that it is one of the cheapest microphones, so you should try it out.
Pros
Built-in shock mount
Eliminates background noise
Good sound quality
Very cheap
Cons
Not suitable for professional streamers
6. Samson G Track Pro
Great condenser microphone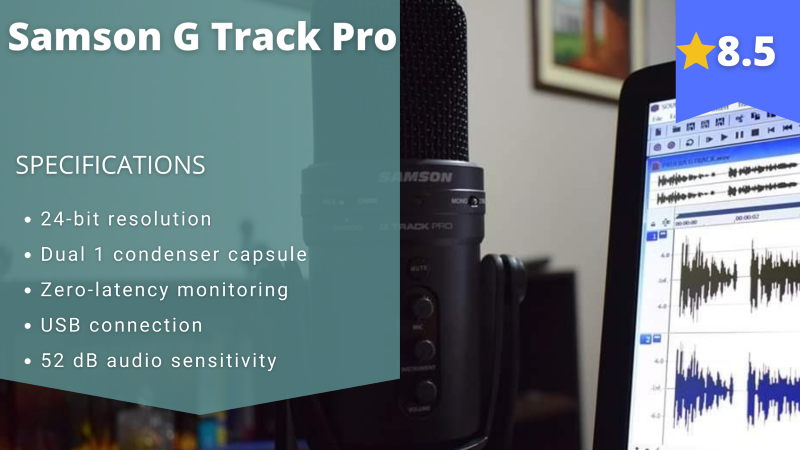 Stefan's Take:
While I did get this microphone to do my voiceovers, I used it even for a few meetings and video calls. And I was happy with what I got.
The mic is sleek-looking and modern, with multiple onboard controls that make adjusting the sound easier. 52 dB is more than enough for YouTube gaming, and it's good at removing unwanted noise, like tapping on a keyboard.
Also, I liked that it works even on mobile devices, so I wasn't limited to streaming only from my PC.
| | |
| --- | --- |
| Sound Quality | 9 |
| Polar Patterns | 8 |
| Noise-Canceling | 9 |
| Value | 8 |
Samson is a less-known company in the world of YouTube and Twitch streaming. However, this microphone has an outstanding audio interface, and your experience will be worthwhile.
Who Is It Best For?
This Samson Technologies microphone is a good option for gaming, creating YouTube videos, and even professional studio recordings, so whether you decide to purchase it mostly depends on your budget.
It will work fine in different environments, and since it is reasonably priced, even if you are starting, you should try it because it can be used for years and years without any problems.
Key Features
This is an all-in-one microphone with a professional audio interface that will allow you to record your sound and other instruments or audio in your surroundings, which is fantastic.
It is an excellent option for all sorts of activities, whether streaming, filming YouTube videos, or random TikToks.
This one is built for a studio, but you can use it for recording anywhere.
Its construction is so rigid that there is no way you will be able to damage it, even if you drop it on the floor.
Even though it is a bit tougher, it can still be moved around easily, so you don't have to worry too much about it.
High-definition audio is the key to its popularity, and since it has a 24-bit response and is based on the plug and play technology, you will get this perfect audio just by using the USB plug on your device.
Zero-latency monitoring is also the key to rejecting background noise, so with this one, there are not many things you should stress about.
It also has a cardioid, bidirectional and omnidirectional polar pattern, so your experience with the Samson mic should be amazing.
These will work well on a PC and a mobile device, so you can use them wherever and whenever.
Pros
Good price
Stable
Compatible with different devices
High-quality audio
Cons
Beginners might find it too complicated to use
What To Look For In A Microphone For Youtube?
Price
Price is probably the most important thing when you are choosing a microphone for Youtube gaming, and it can show you how quality the device is too.
In case something is too cheap to be true, that is almost always the truth, so you shouldn't put your hopes up too high.
The best options are always reasonably priced, and you will be able to find them on Amazon and different retailers at discounts, so there is always a way you can save up some money.
Condenser Microphone
Condenser microphones are the best microphones for Youtube gaming, and they will definitely provide you with the richest sound quality.
They are good at eliminating background noise and will allow you to film wherever you are without having to worry about the clarity of your sound.
USB Microphone
When you are choosing a microphone for Youtube gaming, you will definitely want to find a USB mic that can be moved around easily, and that will provide you with good sound quality even if you are moving around while filming.
It is also easier to connect it to your PC or mobile phone, so you won't have to worry about compatibility because it works with everything.
Conclusion
That concludes my guide on the best microphone for YouTube gaming. If you're still unsure which to get, here is a quick summary of the top three picks:
Razer Seiren Elite as the best overall,
Blue 1967 Yeti as the best for gamers,
Blue Yeti USB Mic with the best sound quality.
I hope you are happy with your purchase and ready to take your YouTube channel to a new level. I'll make sure to stop by!
FAQ
What mic do gaming YouTubers use?
All Youtube creators are using different microphones for Youtube, but usually, if you want to find out all the details about their equipment, you will be able to do it by checking the descriptions on their videos where they will provide you with links to it too.
Some of the most popular microphones are those created by Blue Yeti and Razer Seiren, so depending on your budget, you can make a choice between these.
Are 150 dollars too much for a microphone?
This tends to be a higher price for microphones, but you will be able to find plenty of options under this price.
Most of the microphones we have listed above are below this price range, so there are a variety of mics out there that are quite affordable.
You can find a good mic for as little as 50 dollars; all you have to do is look for it.