Flash online games were the small games that many of us have loved growing up, and even though most of them have become outdated, it probably makes you very nostalgic to come across them once in a while.
Well, if you haven't heard, since the end of the year 2020, it stopped being possible to ever again come across them.
Flash has always had a bad reputation because of its vulnerability to malware. After years of struggle, Adobe Flash is no longer going to be supported by browsers, and Adobe has stopped distributing it.
That's why you should go ahead and play your heart out using the big open-source libraries that still store these games. To help you with that, I made a list of some of the best Flash games that you should consider checking out.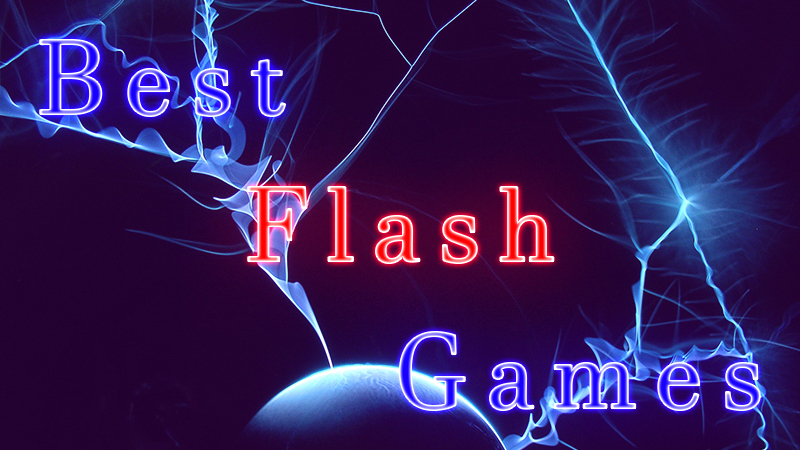 Action Games
Action games are the game genre that's loved by many, and it's always fun to pull them up when you want to play with a lot of challenges and excitement. And while there are bigger and more complex action games that are, it would probably be fun to revisit these popular Flash games.
The graphics of this one, like many Flash games, is simple but charming.
In Dino Run, you are a dinosaur that's running away from meteor particles that have fallen down on Earth. As we all know, this means that your dinosaur is just one wrong step away from extinction, so you can say that it is an engaging game!
On the run, you will be met with obstacles, as well as hills and other dinosaurs who are trying to run away from extinction and meteors. So, all you need to do is just run and don't look back!
Ninjas are always a fun addition to any game, and when you see one, you're sure that the game will be full of adventure.
With Final Ninja game, that's one of the favorite games among people, and your job is to simply go through a side-scrolling adventure. To help you on that journey, you have a belt full of different accessories, like throwing stars, grappling rope, as well as being able to be invisible.
It's definitely a fun time, even though it is a very simple game. Let's just hope there are no dead ninjas at the end of it!
If you are into action games that include attacks and war-like scenarios, then you've probably played IndestructoTank at some point.
In this game, you have simple gameplay, and you are an indestructible tank that drives around while being attacked by bombs. However, the fun part starts once you do get hit.
Since you're an indestructible tank, all that happens when you get shot is that you go into the sky. And with that, you'll be able to crash into your enemies since they attack from the planes.
Obviously, you score points by killing your enemies, so the more planes you crash, the more points you'll earn. Yes, this means that you have to let them shoot you quite a lot.
Since they can't kill you, the main thing that you just have to be careful about is keeping the tank full because you don't want to be in the middle of a showdown and just fall dead because you didn't pay attention to your fuel.
Puzzle Games
Puzzle games are a nice way to wind down a bit and play something that won't stress you out too much unless you are one of the people who take puzzle games extremely seriously.
Then you can use this walk down memory lane and play online browser games that will be a nice challenge in your day.
This is a fun Flash game that you have probably seen time and time before.
All you need to do is get the ball go from one block to another without lending on a spike. Because if you do – you're done!
The more you progress, the faster you bounce and the more obstacles you have to get through.
What's your score?
Elements is one of a few games that you should be cautious about when playing, as it might cause you some nausea.
In this very dizzy game, you need to move a ball around and destroy all of the bricks that come your way. Your main goal at every level is to reach the green block, as hitting it takes you to the next level.
The number of levels is 25, but many people say that they can't make it that long since the moving screen really does make you dizzy.
If you like to play games that require critical thinking, but that are also timed, then Stackopolis will probably be just to your taste.
In this Flash game, you will get a stack of blocks, and in the corner, there will be an image of the object that you are meant to be making. You do so by moving the blocks around.
Even though that is a fairly easy task to do, you will have a set time, and you need to finish everything before the clock strikes zero.
Sport Games
Sports in real life are not everyone's cup of tea, but most of us have enjoyed playing one sports game or another. Many people used to play Flash games mainly because of the sports ones, so let's remind ourselves what the best ones are.
Snowball fight has a different design than most of the other Adobe Flash games, but because of that, it might be one of the most popular Flash games.
You choose to be one of the characters, and you fight with everyone else in the office. Everyone will try to hide and protect themselves, but by using your arrow key and your mouse, you will move around and throw the snowballs directly in their faces.
One fun and cute thing about this game is that it has its own jingle song, so you will always recognize it by that.
This is probably one of those games that your mom found disturbing and didn't understand why you had to play it. It is a sports game. It's somewhat of a gym-related game, to be precise.
Only instead of working with legit equipment from the gym, you work out by doing grave hurdles, tomb lifting, digging the six-foot deep holes, and arranging skulls. Necrathlon has a very original concept if nothing else.
What you do is you compete in these 4 different modalities, and you need to win them all in order to keep your score high.
The tennis game is truly a classic, and I guarantee that you have played at least once in your life.
Even though it seems like a very simple game and you aren't sure what could even be hard about it, we all know that it wasn't a piece of cake.
You use the arrows and the space bar to control the movements, and the ball is definitely not a best friend of yours.
You can play this game in two different ways, either as an exhibition match, or if you're ready, you can do world championship matches.
Racing Games
Racing games are always fun to play, as they bring out excitement from anyone. Here are the best 3 options if you want to play games that include racing one last time before Adobe Flash player goes away.
Mini Machines is a top-down scrolling racing game with three different toy cars which you can upgrade in three different stats: max speed, acceleration, and steering.
In this game, you race against opponents on many different tracks made of everyday home objects.
Extreme Off Road Cars 2 is especially fun if you like bigger challenge than just racing someone. In this one, you're also racing the terrain.
If extreme sports are your thing, even just on the screen, then this game will be something you'll truly enjoy!
Another awesome race game, Super Drift 4 is perfect for us who love Need for Speed, but in a nostalgic way.
As the name suggests, you race throughout the streets, you drift, you're very fast.
While the tracks aren't anything revolutionary, and neither are the graphics, you could loose yourself in this game and race the pixelated streets for hours.
Logic Games
Logic games are the games that you should be playing if you need an easy way to get your brain to work a bit more, meaning that they are actually very useful. If your brain has been drained by long textbook lessons that are just stories with no end, then pulling up something like this can be quite refreshing.
Tangram is a classic, traditional Chinese game where you need to mix and match seven different pieces of paper until you get a figure that's the same as the one in the picture that you get.
As the pieces come in different shapes, you will need to use your brain quite a bit in order to get it right.
Of course, this is made harder by a timer, so you might not have that much time for overthinking this. It's mostly trial and error.
Hexa Turn is a fun little game that you could get lost in for literally hours!
The point is to stop the rectangle from touching the squares by blocking it's way through turning hexagons and making a barricade.
Even though this might seem like a simple task, I dare you to play for just 10 minutes, and then tell me how easy it is!
This is maybe the game that can tease your brain the most, so it's definitely great if you want to use a game to get your brain to work.
In this game, you will be presented with blue dots and red dots. The blue dots are vertices, and the lines you connect them with are called edges.
What you need to do here is reorganize the vertices and arrange everything in a way that do two lines will intersect each other. It sounds quite simple, but don't underestimate it.
Tower Defense Games
If you love to play games where there are wars and battles over protecting territories, then this is a great game genre to look into. There are many bigger and more popular games that have a similar theme; however, sometimes it's just nice to go around and fire some attacks without the commitment of a big, long game.
Protector is not only a tower defense game but also somewhat of a tactical RPG, as you do need to think your steps through.
In this game, your task is to destroy enemies like rats and Rogers, among others, that have come to take your territory. The helpers that you'll have in this are actually wizards and knights.
With these characters, you can focus on leveling them up and making sure that they keep getting better and better features and higher skills. You can also decide whether you want them to focus on special attacks or some other aspects of the fight.
As you can see, even though the gameplay is quite simple, there still needs to be a thought process behind this game.
If you like minimalist games, then this one is probably for you.
The only thing that needs to be done here is to have the vectoids that are coming for you eliminated.
Said vectoids come in a variety of colors, as well as a variety of different shapes, and what you need to do is to build towers that protect you against them.
These towers will fire put lasers and rays and will protect you to the best of their abilities.
Finally, if you've ever played online Flash games, you know that some of them have great soundtracks. This game is one of them, and the electronic sound really makes the whole experience amazing.
With this one, you will not only get some additional RPG features, but you will also have some fantasy included.
In this game, your enemies are the insects, which is kind of expected when you live in the midst of a forest. As the name of the game suggests, the weapons that you will be using to do this are different kinds of gems.
The gems will protect you and your territory with a variety of different spells, and in order to become even more powerful and assure your win, you can combine said gems. This will end in way more powerful spells.
Arcade And Classic Games
If you are here and are still loving Flash games in the 2020s, then it means that you love to play with the classics. Besides some classic games that we all remember from our childhoods, there are even games that resemble those from arcades.
It's guaranteed that you will have a lot of fun with this.
It probably doesn't get more classic than Tetris, does it?
If you need something that will ease your mind and keep you busy for an unlimited number of hours, then Tetris is what you should be going for.
Keep stacking those colored blocks on each other until you can differentiate colors no more.
This specific Flash version is extremely simple, almost as simple as the version on the Tetris device, so it will truly be nostalgic and wholesome to play this game when you grab some time.
Another classic that made the video game what it is.
I guess that there shouldn't be any special description about what this game is all about, but just in case you're a young person who stumbles upon a Flash game like this, and it piques your interest because it looks vintage, here's what it's all about.
Basically, your character is this little yellow circle that eats small circles that are in its way in a labyrinth, all while trying to avoid monsters.
Now that we've got that out of the way and I am feeling very old indeed, I just have to say that the Flash version of this classic game is as simple as you would expect it, and in my humble opinion, that makes it great.
If you are young, then you might know this from your Nintendo DS, but of course, this game also has a Flash game version.
If you do have a Switch or any other device that you can play Super Mario on, then I definitely recommend sticking to these ones, as this version isn't the best one out there. However, if you're playing just for the sake of nostalgia, then by all means, knock yourself out. It will be great.
Multiplayer Games
Playing multiplayer Flash games with friends is a universal experience for a lot of us, so if you wish to make a little game party dedicated to these times especially, I am sure that your friends would be delighted.
Even if you aren't going to call up the same elementary school friends nowadays, I'm sure that everyone will be delighted to do this fun activity together, one last time before there are no Flash games left to play with.
Let's see which one out of these three will make it to your list.
The first fun thing about this game is that you're able to customize your character. Even though the characters are quite simple, it's always a fun moment when each one gets to be decorated a bit.
To do this customization, you will need to earn some points, as you will need to distribute points on the attributes.
Like with many Flash games of this type, the whole race is done on a side-scrolling platform, much like it's done in Super Mario.
Since the main point of the game is racing, the person that arrives first to the end is the one who will be the winner. On this track, you will have many obstacles in front of you, and you will need to avoid them, as well as use different items that will be of general help.
If you are a lover of games that are a bit more aggressive and you will like to kill a lot of characters and kick punches, then you probably are a fan of Stick Arena.
In this game, your task is to kill every walking creature you see, and you have a variety of serious weapons, ranging from simple punches to AK-47s.
If you play as a guest, all you can do is simply play and kill everyone who comes your way, but if you decide to register, then you also get the ability to advance and get a higher rank.
Globulos is a very cute game that gives you a lot of different things that you can do.
The main deal is that you have a group of small creatures that you control, and they are being flung around. With them, you go through a wide variety of games and maps, where you will have different tasks.
For example, you could get in an arena where there is an opposing group of creatures, and you'll have to push them out of the arena, but you could also end up in a game where your task is to score goals.
Like some other Flash games, this one requires you to register if you want to play for a long time. If you don't, you can play only for 15 minutes.
Sure, you can end and log in and finish what you have, and then log in again after 15 minutes, but that becomes very irritating, very fast.
FAQ
Can You Still Play Flash Games After 2020?
Even though Adobe has officially killed Flash and all of the browsers stopped supporting it, the Internet has found some workaround about how you can still play Flash games after this has happened.
The main way to do this is to use Flashpoint, which is a free, open-source app for Windows. If you have Linux or Mac, you will have to be patient but not worrisome, as a version for each of these operating systems is currently being developed.
With this app, you're able to download gae+mes that you loved playing, and play them again, only not online.
Can I Play Any Flash Games In 2022?
It will probably be quite hard to do so, but you can find some workarounds for playing Flash games after 2020.
Of course, there aren't any online features in most of these solutions.
The main way to do this is to use the open-source app Flashpoint that allows you to download the Flash games you like on your computer.
The library of this source is huge, and it stores more than 35000 games, so you will most definitely find the exact ones you used to play daily as a kid. Or as an adult, for that matter.
Where Can I Find Old, Best Flash Games?
The best way to find old Flash games is to use apps on your computer like Flashpoint, as it has more than 35000 online Flash games stored in its library.
In order to actually play the games, you will need to download them, meaning that some online features may lack, so it might not be 100% the same experience, but it probably is close enough that you won't even notice the difference.
---
While we listed some of the best flash games on the internet, we realize that flash may not be compatible with all your browser. If you'd like to play HTML 5 games or non-flash games, try: