If you choose to start streaming via Twitch, you should firstly learn all about the program.
In this how to stream with Streamlabs guide, I will cover the most important things – starting from equipment and talking about some of the best features for streaming.
By the end, you will know all about how to stream on Streamlabs OBS and be entirely prepared to start streaming.
Without any further ado, let's begin!
Post 11 of 13 in the Software
Equipment Needed for Streaming
As said, I will start from the basics and then talk in detail about how to set up Streamlabs OBS.
Firstly, let's talk about the equipment to make sure you have everything needed for streaming.
1. Internet connection
Streaming requires a fast internet connection – if this condition is not met, the quality of your videos will be lower and there might be some delays that your viewers won't enjoy as much.
So, before you start thinking about how to setup Streamlabs make sure that you have a solid internet connection that supports all of the Streamlabs settings.
There are multiple websites for checking the upload speed which is the most important for streaming and my recommendation is speedtest.net.
2. Device for streaming
Most streamers use their computers or laptops for streaming.
This is probably because most streaming software is compatible with only computers.
However, with Streamlabs, you can even use a smartphone and a console is another option.
Just make sure that the device has a CPU strong enough to support game, stream, and software working at the same time.
3. Microphone
Most software pickup game audio automatically, but for recording your voice, you should use a microphone.
If not, the two sounds – desktop and your voice will mix and viewers won't get a clear tone.
4. Webcam
If you are streaming from the laptop, you can use the built-in webcam.
Console streamers will have to invest in the webcam and connect it to the device.
This webcam doesn't need to capture high-quality videos – just make sure that viewers can see your reactions during the gameplay.
QUICK OVERVIEW: Best Webcams
<!—INSERT CODE BLOCKS BELOW—>

HD 1080P video at 30Fps/ 720P at 60FPS
Full HD glass lens and premium autofocus

Full HD 1080p video calling
Automatic noise reduction

4k streaming and recording
HD 5X zoom
5. Capture card
Computer streamers do not have to get a capture card.
This is mainly for streamers that are using consoles – videos are captured on this card and displayed on the streaming platform.
6. Additional equipment
There are a few more things you can invest in – it is your choice. These extra pieces might improve the quality of the videos a bit, but you can stream without them.
Lighting
When it comes to lighting, I would recommend getting a ring light.
These can be quite pricy, so you can use any other lights.
Green screen
These are great for hiding the background – you can switch between different backgrounds or create one yourself.
QUICK OVERVIEW: Best Green Screen
<!—INSERT CODE BLOCKS BELOW—>

58.27 x 70.87 inch; 64.76 x 4.13 x 4.53 inch
100% polyester

9 x 15 Ft
4.5-inch durable and strong clamps

9 x 15 ft
3 spring clamps included
Installing Streamlabs
So, how does Streamlabs work?
Well, firstly you need to install it on your computer.
There are two versions – free and Prime.
If you are a beginner, I would recommend sticking to the free version.
For Streamlabs Prime, you have to pay $19.00 every month, but it is worth every penny – you get full access to the software and a bunch of amazing features.
When it comes to the download, open the Streamlabs website.
Get the download link – make sure you are using the one for your operating system.
Since recently, Streamlabs is available for Mac computers as well, so you do not have to use Boot camp.
Keep in mind that Streamlabs needs some additional files to run.
For example, if you do not have Visual C++, get it before the download.
Also, make sure that the program is whitelisted on the anti-virus and all drivers are up to date.
Once it is downloaded and installed, choose Launch and then choose Connect.
You will see logos of multiple streaming platforms, so just choose the one you want to stream to and log in to your account.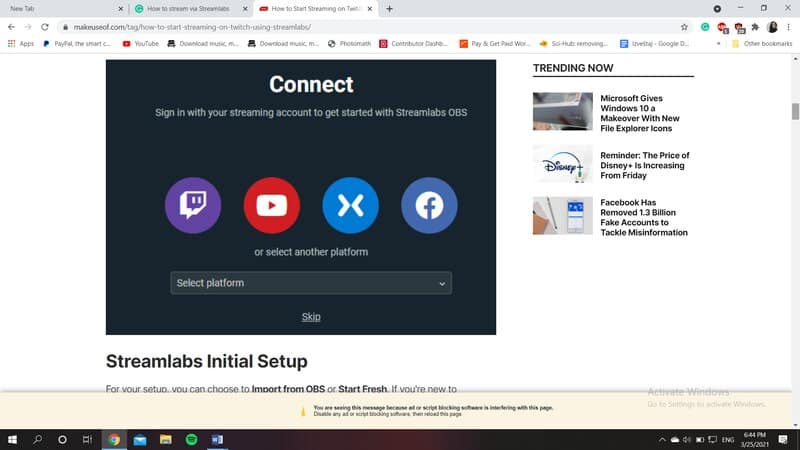 After this is done, you might need to go to Twitch and allow streaming from Streamlabs.
How to Set Up Streamlabs
Now, let's talk about the setup process – if some of the settings aren't chosen correctly, the stream might run properly and video quality could be affected as well.
Do not panic! This setup process is quite fast in most cases, and if you have used OBS before, it will be even faster.
Upon launching, you can choose between two options: Start fresh (option for new streamers) and Import from OBS (option for streamers that are switching from OBS). So, if you were wondering how to add Streamlabs to OBS, just choose the second option.
All settings from one software will be automatically added to the second one.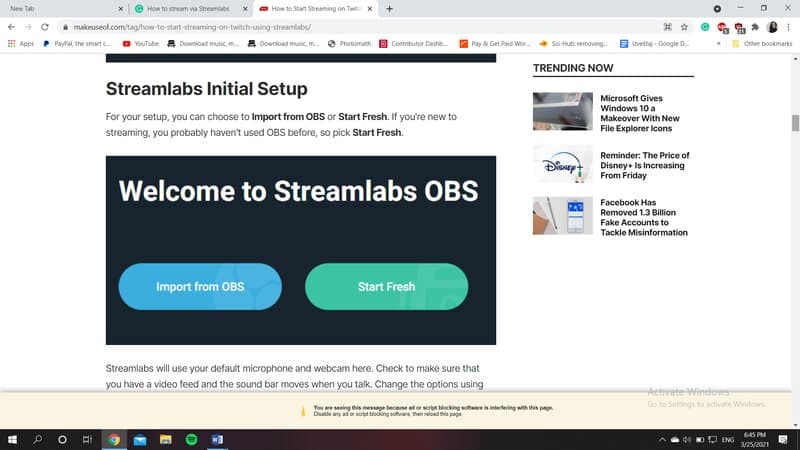 Streamers that are starting from zero will have to connect other devices – microphone along with the webcam. If you are using the laptop, the webcam will probably be automatically recognized.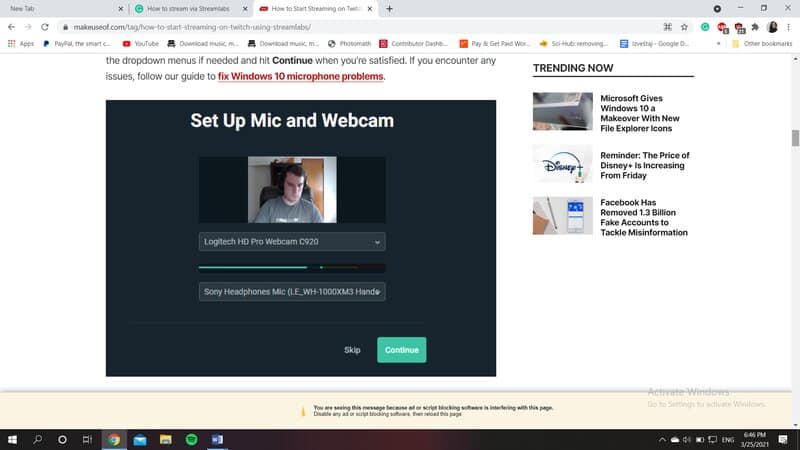 Then pick out the theme for the streams – Streamlabs has a quite rich library of themes, so picking the one that suits you shouldn't be a problem.
In the last part, you have to adjust the settings.
Streamlabs has incorporated auto-optimization – it will check your internet connection and determine the best settings for the stream automatically.
This is great for beginners that aren't sure which settings work the best.
You can do this manually, but it will take a bit longer and if this is the case, here are a few recommendations:
1. General tab
So, it would be best to start from the General tab, since the most important settings are placed here.
In this tab, you should check the following things:
Confirm stream title
Show confirmation dialog (tick both boxes, for starting and ending).
This is the best way to make sure that your viewers are watching the current stream, not something you've previously shown.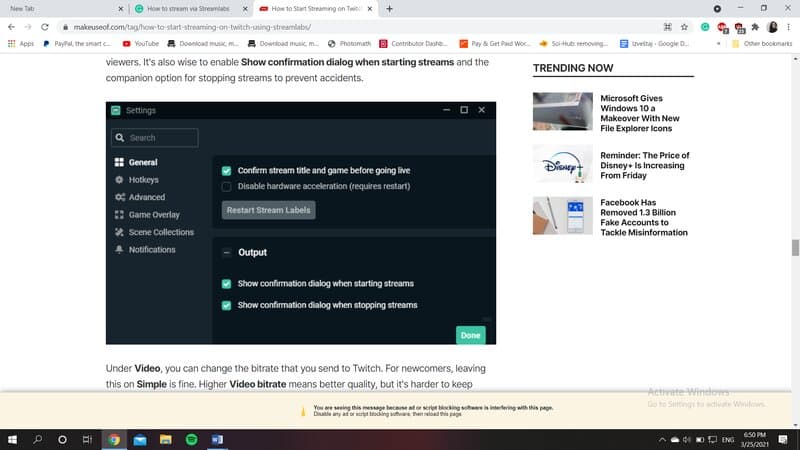 2. Output
In Output, you first have to adjust the streaming Encoder.
I would recommend sticking to Software unless you have NVIDIA, then change to Hardware.
For the mode, leave "Simple". If everything works fine, you can try using one of the more demanding modes, but firstly do it with Simple.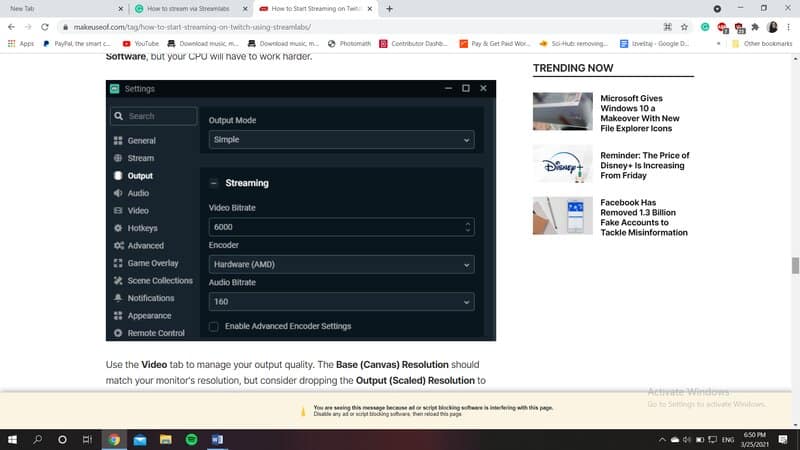 3. Video
Here you have to adjust the resolution.
As said, Streamlabs can do all of this for you, and you can change it later just to see whether everything still works fine.
720p is a great Scaled resolution and for FPS choose 30.
The base resolution can be higher if your monitor has a higher resolution.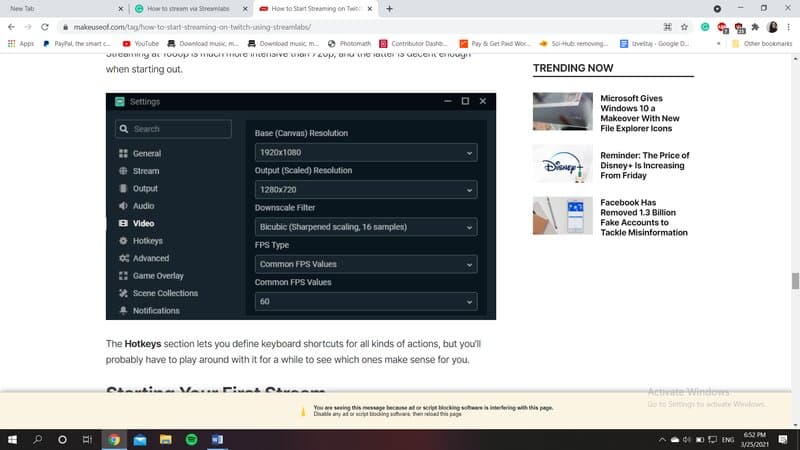 4. Hotkeys
This is for adding some useful shortcuts for streaming.
You don't have to set them up immediately – it would be better to test the program, start steaming, and later add only the ones you need.
Preparing for the Stream
Now that I've answered the most important question (how to setup Streamlabs OBS), I want to talk about all of the things you have to add to Streamlabs to create high-quality broadcasts.
Streamlabs dashboard is quite simple and navigating the program is fairly easy even for beginners.
Editor tab
This tab is placed on the bottom of the screen and it contains Scenes, Sources, and Mixer for the audio.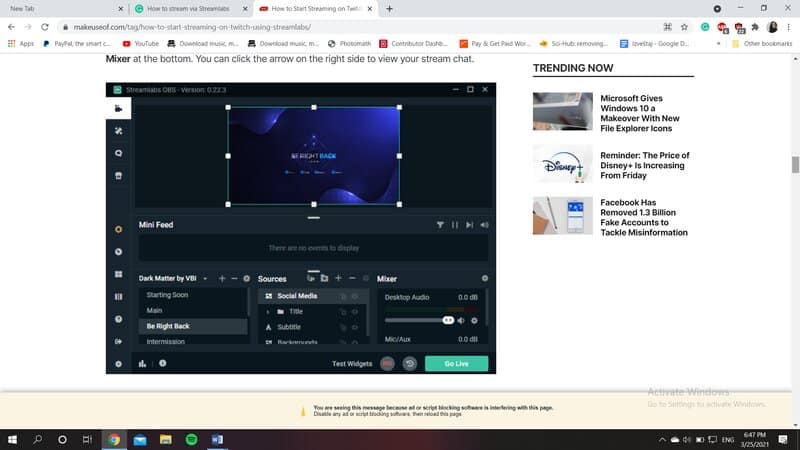 If you cannot see this tab, just chose the "Camera" icon.
Scenes
I will begin with the Scenes.
Your stream should include multiple scenes.
The scene with the gameplay is the main scene, and you should also include a countdown scene before the stream starts as well as the ending scene.
Also, if you plan on taking breaks during the stream, add a BRB scene, so your viewers know that the stream hasn't ended.
The number of scenes is entirely optional, just organize them however you wish, these are only a few recommendations.
Sources
Sources are just as important as scenes.
Once you choose to add a new source, you will see that there are many options.
For recording gameplay, you can either choose gameplay, or desktop/window capture.
When it comes to webcam, just click on video capture device – Streamlabs will immediately recognize it because it has been recognized earlier in the setup process.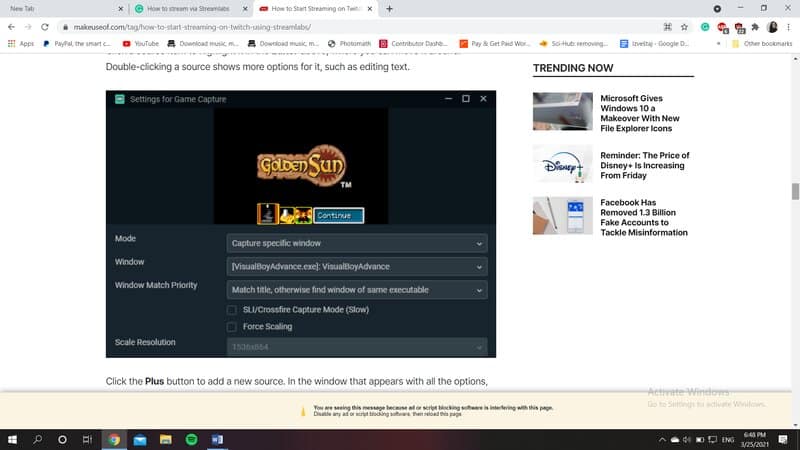 The same goes for the microphone, only this time you are choosing the Audio device.
Also, widgets you plan on using are added as sources.
Mixer
Mixer is used for adjusting the audio.
You will see both desktop and microphone audio in the mixer, and you can either record them on the separate or same track.
Typically, recording on separate tracks is the better option, but if you do not plan on further editing the video, they can stay on the same track.
Related: Best Mixer for Streaming in 2022 – Top 5 Products and Reviews
Customization
Streamlabs editor tab can be edited, so if you aren't comfortable with the default layout, you can adjust it.
On the bottom-left corner, you will notice squares – this is an icon for the layout editor.
Click on it to start customizing.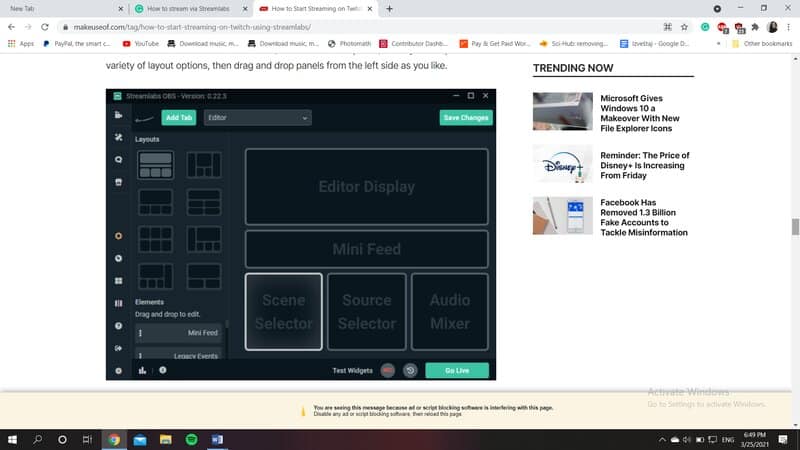 First Stream – How to Use Streamlabs OBS
If you have added the scenes and sources, tested the audio and camera, and everything is working fine, you can start streaming.
Before you go live, check the editor – see how all elements are positioned, and whether something has to be moved or resized.
A button for starting the stream is placed in the bottom, right corner of the program.
Once you click it, you will be able to name the stream, choose the game, and of course, tags.
With tags, you can describe your gameplay. For example, streamers use tags like no spoilers or casual gameplay.
You can also search for the common tags used for specific games.
Before you go live, you can also connect to Twitter and inform your followers that the stream is starting.
Then just click on Confirm.
Few Extra Options
Streamlabs has a ton of options and features, so I have to mention a few extra tools you can use to improve the quality of your streams.
Apps
If you decided to upgrade to Streamlabs Prime, you will get access to the Apps.
Here you can find many apps that will help you with branding, monetization, and increase the Twitch streams quality.
Widgets
Alerts are a great way to show appreciation.
There are different types, and all are added as sources.
So, when someone follows you or donates money, their name will appear on the screen along with an image, GIF, or some sort of animation.
Widgets also include Events, Viewer count, etc.
Cloudbot
When you open cloudbot, you will see a few different tabs.
Mod tools are the first one and it is used for filtering messages – in chat, there are a lot of spam messages, and with this feature, you can easily delete them.
There are also Commands, for linking actions with text.
Conclusion
Hopefully, after reading this how to stream with Streamlabs OBS article you will feel more confident to start streaming.
If you have any unanswered questions, check out the FAQ – you might the answer there.
Frequently Asked Questions
How do I start a Streamlabs stream?
All you have to do is add the scenes, sources, widgets, and click the Go Live button. Before going live, you can connect to the Twitter account, post a few tweets about the stream, and then choose Confirm to start streaming.
How do I stream Streamlabs on Twitch?
After downloading Streamlabs and launching it, connect to the Twitch account. It is the first step of the setup process. Once the account is linked, all you have to do is turn on the game, create scenes and sources in the Editor, and start streaming.
Does Streamlabs need to be open while streaming?
The website doesn't have to be open, but the app does. So, while you are streaming, the app has to be running in the background or the streaming will stop.
Do you need a capture card to stream on Streamlabs?
This depends on the device you are using for streaming. If you plan on using the computer, you probably do not need the capture card for OBS. However, console streamers have to use one.
Join our Discord Group. Ask questions, team up with fellow streamers, share memes, and more!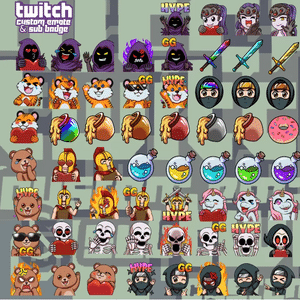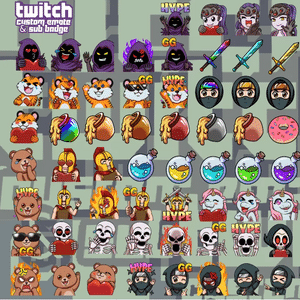 Claim for FREE:
FREE Emote PACKS
A book on growing your audience