To be honest – it can sometimes be tricky to keep up with a new Instagram follower within the Instagram app, regardless if you are currently using an Instagram account for fun or for business endeavors.
Missing out on your recent notification accidentally or thinking you'll check your notifications later, you might want to review your most recent followers list.
I can show you that it is possible to have an insight into and keep track of these numbers and that it is most definitely possible for you to see your recent followers on Instagram.
How To See Recent Followers On Instagram?
OK, you might be familiar with the fact that not every change on the Instagram app is something we expect and look forward to, as some of these changes can affect what we can but also what we are sadly no longer able to see.
So, if you're wondering if there is a way for Instagram users to see their latest followers list – Yes.
Is it possible, though, to see this kind of data within the app?
Well, what you should know is that, if you launch the Instagram app and visit a specific Instagram profile, then what you need to do is click on the Followers button.
The before-mentioned follower list that is at this point now visibly displayed on the screen might let you see the actual most recent followers, but also a mixed-up list of older and newer followers. Another thing you might experience is that you will see someone's recent followers might also appear at the very bottom of the page.
And if you're wondering why, well, it is because of Instagram's changes within their policies, as every new update can bring changes in the user's interface as well as the user's followers list.
Well, now, this type of list view can vary and appear differently on profiles without a specific rule. It can also appear differently if you try to view someone's account from a mobile device in comparison to viewing your Instagram followers list on your desktop.
Luckily, there are so many websites as well as third-party apps that can be a great help if you want to see other users you have gained as new followers within the Instagram app.
Earlier versions of the app itself allowed you to keep a precise track of your most recent Instagram followers until June 21 in 2021, the app has allowed Instagram users to see their followers displayed in a well-defined order, but things have changed.
4 Apps To View Someone's Recent Followers
So if you're not in the mood to play the guessing game within your own Instagram page, and don't want to think if your most recent followers are possibly some kind of fake followers or what is the undeniably real and legit order from your newest followers to your oldest followers – worry not.
Here are 4 amazing apps that can make your life easier and help you stay informed about the real numbers on your Instagram followers list.
1. Snoopreport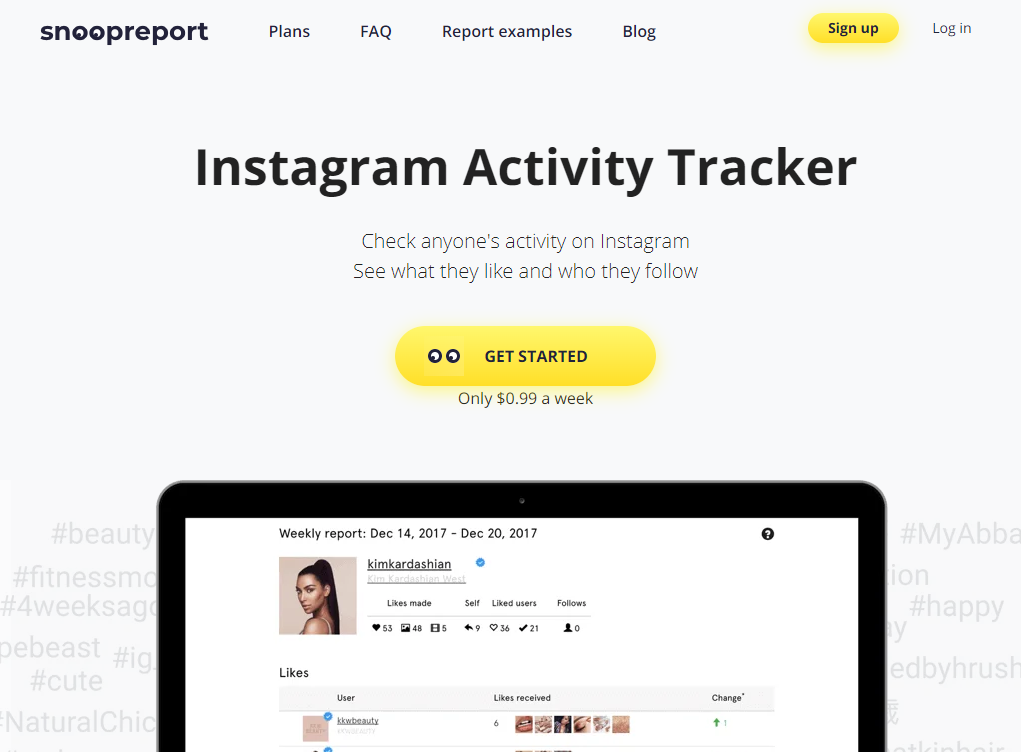 Snoopreport is a specific example of a third-party app that was created for you if you want to keep up with the numbers and latest followers list of a celeb or a close person's followers.
If you're curious about how this app works, let me tell you that you will get a very specific and precise report on the account you wish to check out. Likes, comments, followers on Instagram, and overall activity log based on publicly available data.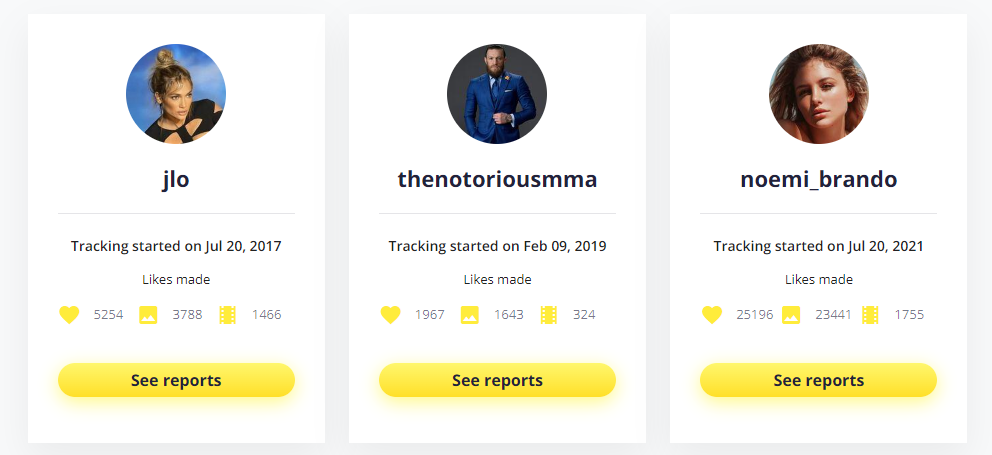 I'm pretty sure you're aware of the fact that stalking people's posts sounds creepy, but simply wanting to have quick access to the latest followers' info regarding someone you know is just fine.
Snoopreport will rely only on publicly available info, and everything that happens within the app is absolutely ethical and legal.
Also, find out what Instagram users have been snooping around on your latest posts or who viewed that last Instagram story of yours.
For the amount of $0.99 dollars per week, you get to join 55k satisfied users and enjoy Snoopreport for fun but also for business-related endeavors and viewing recent followers on Instagram.
2. IG Export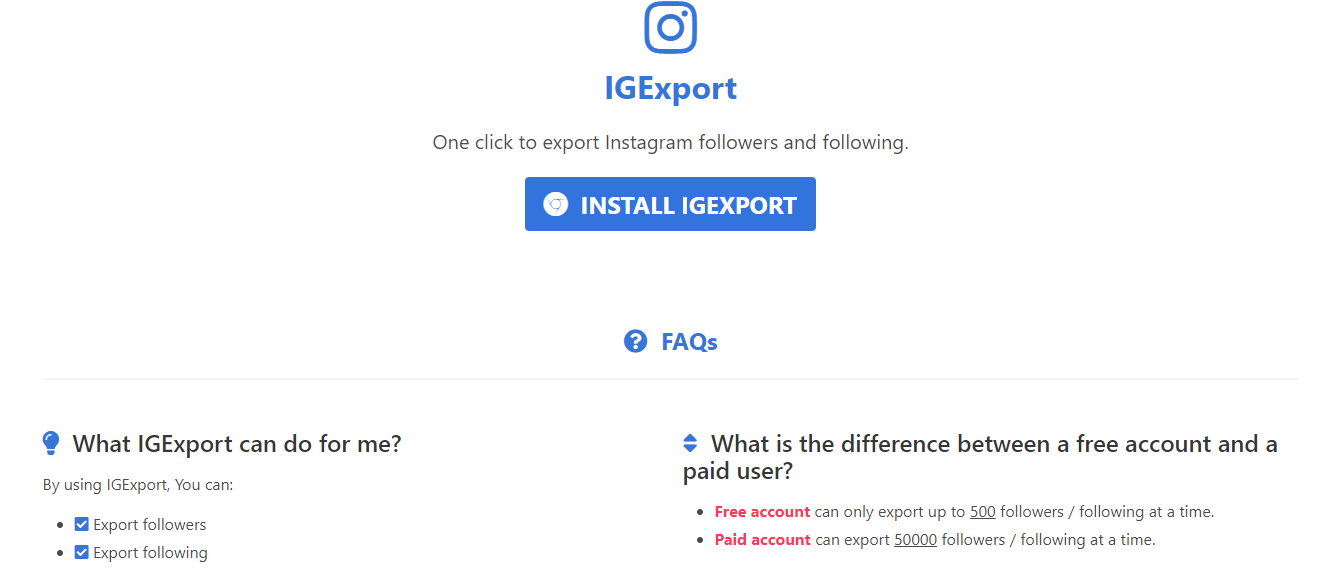 If you are someone, who is looking for exporting followers and importing followers lists into CSV, you should definitely check out IG Export.
On this Chrome extension, you can go for a free account that enables you to export up to 500 followers or following at a time.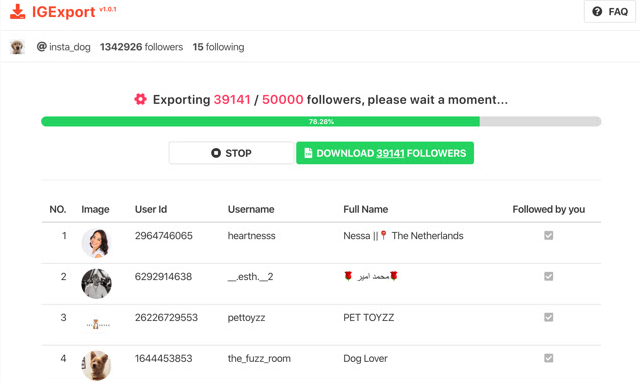 This extension is especially helpful if you are a social media content manager and want to easily have access to your data, as here you can export and import entire lists of followers into CSV files and save them for later use in different apps.
Alternatively, you can opt for the paid account, where you can export 50k followers or follow the list at a given time.
3. KidsGuardPro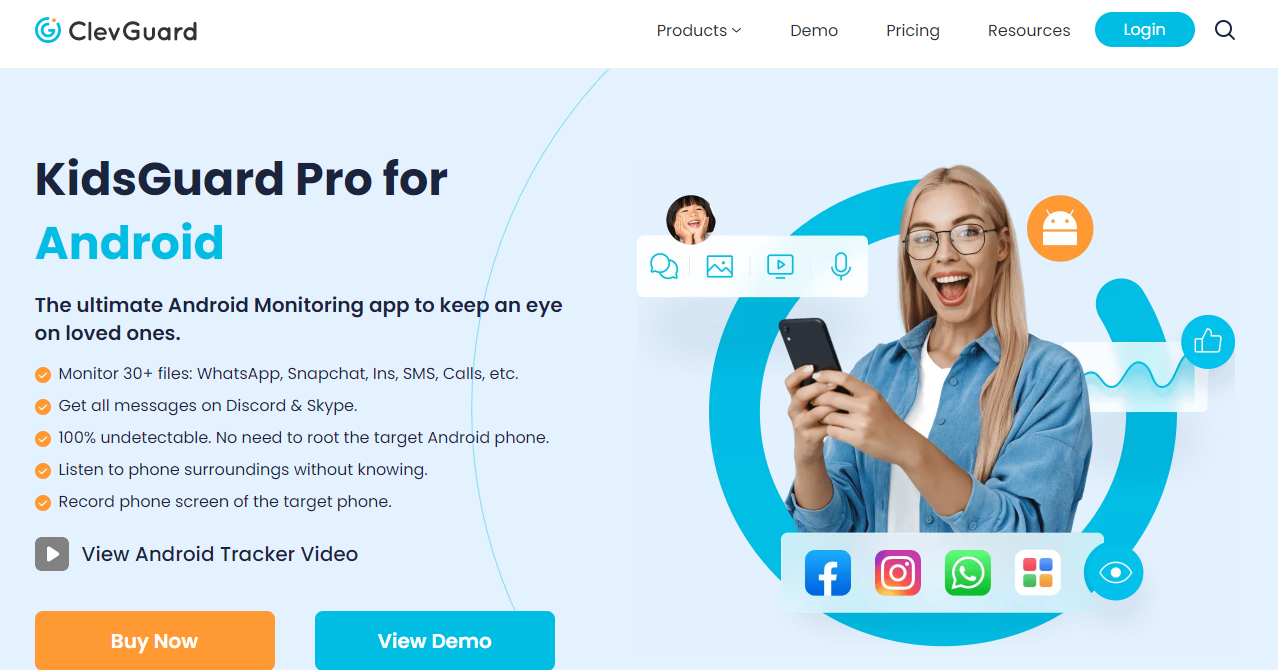 Keeping an eye on the youngest ones can be challenging at times. There are so many factors that have to be considered, and it's so easy to miss out on details.
Similarly to many other spying apps, KidsGuard Pro can allow you to view one very detailed activity tab of all activities across several popular social media platforms.
The thing that is also included in this offer is to see someone's recent followers on Instagram. Keep in mind that this gives you the ability to track calls, call history, and SMS inboxes.
Just like other third-party applications, this one will allow you to track someone's device's data whilst remaining undetectable at the starting price of a mere $29.95 per month for beginners.
A three-month plan will cost $16.65 and is the current bestseller. If you want to choose a 1-year plan, you can get it for only $8.32 per month.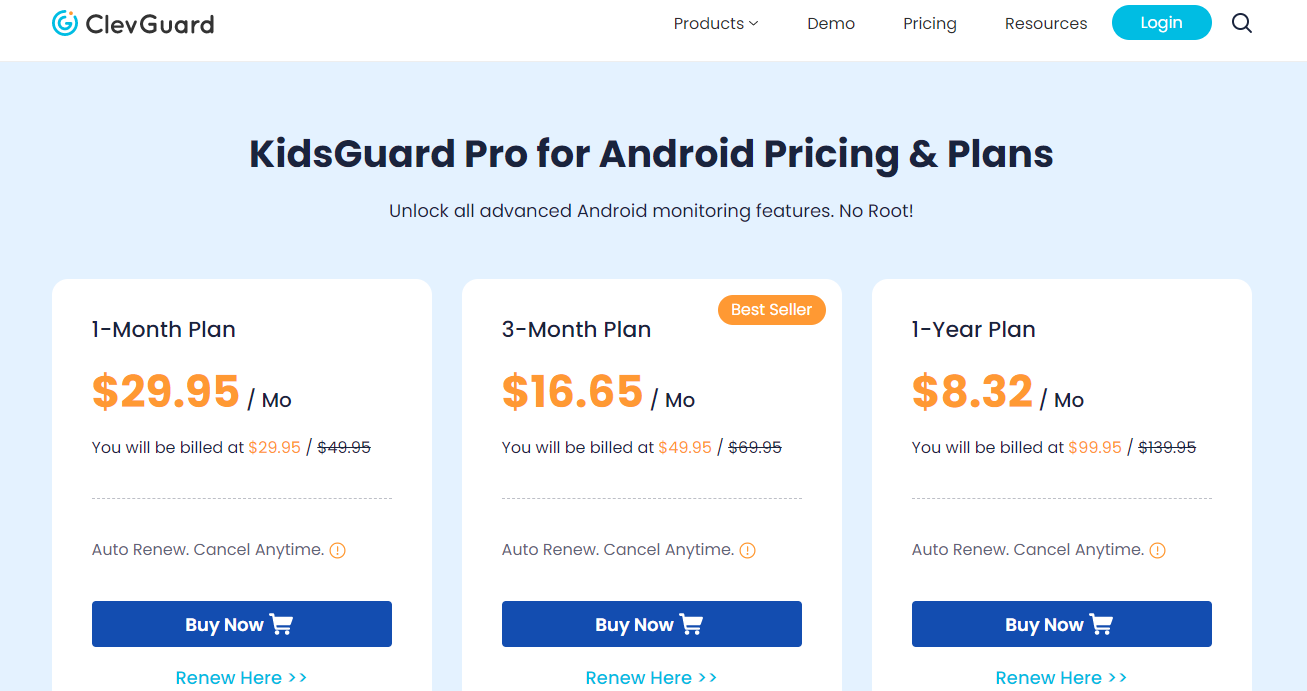 All three options are set to the auto-renewal option and can be canceled at any time.
4. Followers Track for Instagram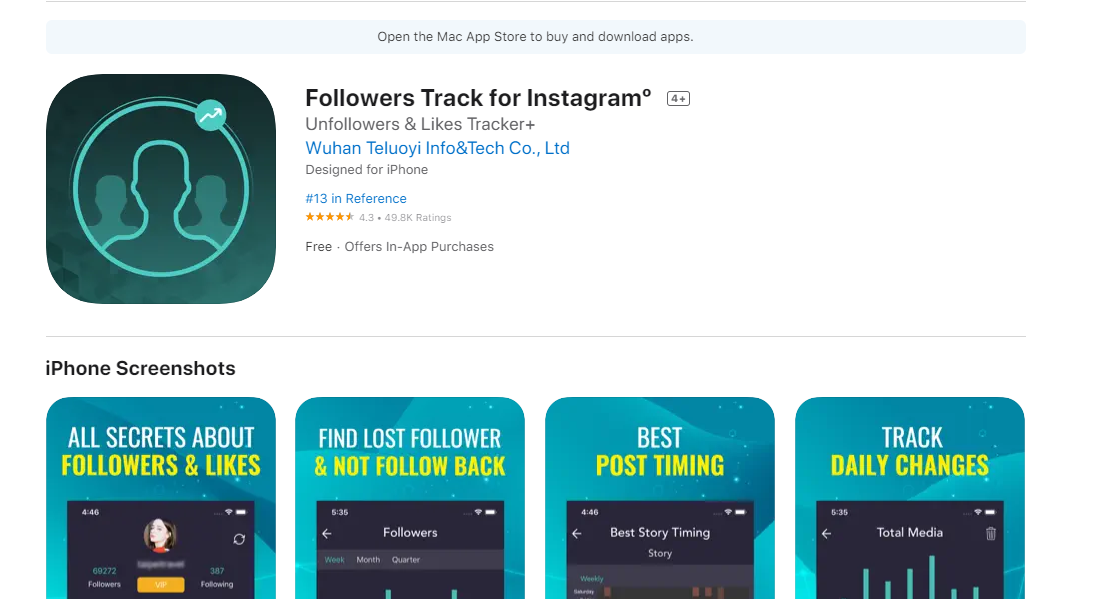 I had to save the best for last.
Followers Track app will help you with everything that is related to the follower list related – it can analyze and track the Instagram algorithm and immediately calculates the list of most recent followers on your Instagram account.
Tap into the list of accounts that mostly engage with your content and which accounts bestow your account with the highest number of likes as well as comments. Discover the times to post your Instagram posts and stories and track your audience's engagement.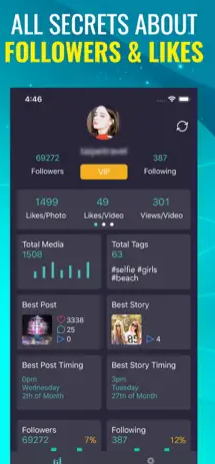 You can view lists such as most recent followers on your Instagram account, but also who has recently unfollowed you. The wonderful thing here is that you simply have to enter the app and refresh the list displayed to see the latest addition to it.
And what's also great here is that this app is free of charge. Such apps can really improve your overall IG game. Find this one and many other similar ones in the search bar of the App Store for iOS devices, and for Android devices, you can find it in the Play Store.
Conclusion
If your Insta curiosity gets you to dive deeper into your recent follower's statistics, and you simply want to see who these most recent followers are on Instagram, remember that the algorithm can play games.
It will not display the required list you wish to see of the users who have become your recent followers on Instagram in any way that is set in stone.
It especially doesn't ensure the list of your new followers on Instagram is in alphabetical or in chronological order.
Check out the apps I have recommended to you in this article for more insight into your followers' data on this app and thank me later!
FAQ
Can I sort followers by date?
Sadly, within the app, it's impossible to view followers in a specific order, as Instagram prefers to keep this undefined.
Your followers' tab might not reveal any specifically categorized order, but you can control what your following list looks like, as here you can categorize users you followed based on the exact date you followed them.
Do I get a notification if someone follows and unfollows me?
You do get a notification each time an Instagram account starts following you, of course. In case somebody unfollows you, you will not be able to see that, though.
Worry not, as for that you can also use one of the before-mentioned apps, the Followers Tracker list. You might even set up some apps to notify you if another Instagram user unfollows your Instagram account at any point in time.
How to see the most recent followers on Instagram account that is private?
Well, the reality of things, in this case, is that unless you are somebody who is following that private account, you will not be able to see their content.
Any external apps or attempts to have an insight into a private account's content and someone's recent followers will be unsuccessful, as there is no app on the market that can give you this kind of opportunity.