Since Twitch implemented the Hateful Conduct and Harassment policy in 2018, many people have been banned for saying the r-word or f-word.
---
So, can you say retard on Twitch chat?

You can say the r-word. However, you could get banned if somebody finds it offensive. So, it depends on the context.
Saying the r-word could result in either multiple-day or indefinite ban.
---
In this article, we'll dig deeper into Twitch's Hateful Conduct and Harassment policy and see when it's okay to use the r-word.
Twitches Hateful Conduct and Harassment Policy
Twitch's Harassment policies were much more relaxed back in 2011. But, even though that was the case, they never condoned or encouraged the use of words like "retard" or "faggot".
However, in February 2018 Twitch launched a new set of community guidelines and expanded them to be more restrictive in January 2021, the company has sought to crack down on hateful language, including humor if it is deemed offensive.
After the introduction of the new guidelines, the first high-profile streamer to be punished was Destiny.
A streamer who In addition to Streaming Hearthstone, is known on Twitch for discussing political topics that some may find controversial.
Even though his jokes and language are often considered offensive, Destiny has developed a loyal following.
Destiny received a 30-day ban for violating, as he mentioned, two guidelines.
The first was because he used a derogatory term, the f word, and the r-word to be precise, toward a person he was talking to on stream. 
The second reason was that, during one of Destiny's streams, he had a conversation with his mother in which he suggested that the United States should shoot Cubans who were swimming over to them.
Destiny claimed that the second offense is the one that got him suspended.
Can You Say Retard on Twitch?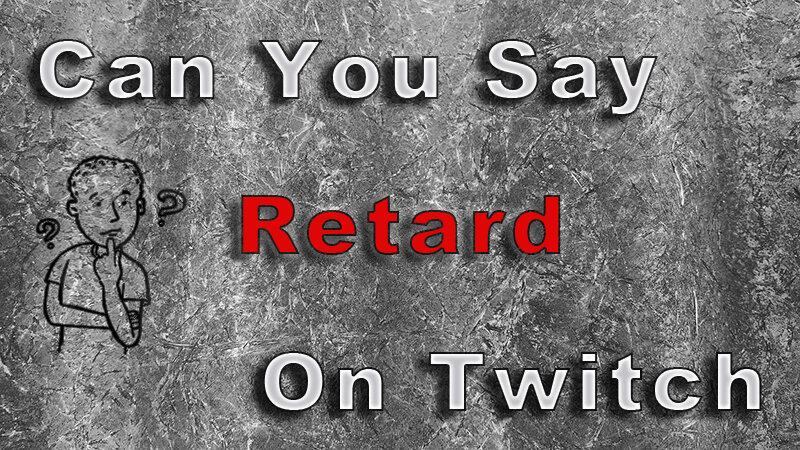 The main issue with using the r-word or any other non-racist derogatory term on Twitch is that the rules of conduct are unclear.
You have a zero-tolerance policy that is dependent on the context of what was said and done. As a result, there may be a large number of false positives.
More precisely, there may be content that is playful and well-intentioned but comes across as hateful to some people.
While, on the other hand, it is possible to have hateful content that is presented playfully, as to fly over some people's heads.
Hateful Conduct and Harassment on Twitch
Over time Twitch has adopted a zero-tolerance policy when it comes to Hateful content which means that they will not tolerate content or activity that advocates for, encourages, or facilitates discrimination, denigration, objectification, harassment, or violence based on:
In other words, using racial slurs such as the n-word, referring to someone as a "faggot" or "retard," or saying "shoot Cubans" is generally considered a zero-tolerance violation and may result in a temporary suspension (ranging from a one-day ban to a 30-day ban) or even an indefinite suspension.
Streamers Must Also Answer for What Their Audience Does
The hateful conduct and harassment policy apply not only to what the streamer does but also to what his chat does and says.
Streamers have been banned numerous times for opening links, pictures, or videos sent by their audience in chat.
Even with moderators in the chat, a person may be able to send a link containing hateful content, which may result in the streamer being banned.
This is especially true for popular streamers who may have tens of thousands of viewers in chat.
Some streamers have also been banned after it was reported that several people from their chat went to another streamer's chat to harass them.
This poses a significant risk for streamers because they risk being indefinitely suspended or banned as a result of one person's actions.
Is There an Acceptable Excuse for Such Conduct?
Twitch explicitly states in their Hateful Conduct and Harassment policy that they support Twitch users who express diverse or unpopular points of view in humorous or controversial ways, as long as they make the intent clear.
This means that context matters.
Some Twitch community members believe that the same should apply to bad words.
They explain how the term "faggot" has legitimate uses as well. How it is used to denote a cigarette or a bundle of sticks, for example.
And how the term "retarded" is a medical term in and of itself.
For these reasons, some Twitch community members believe that the r-word and the f word should not be considered a zero-tolerance violation.
For example, popular streamer Asmongold stated that there is nothing wrong with using the r-word and that people who get upset about it are simply stupid.
On the other hand, xQc, one of the platform's most popular streamers with over 9.9 million followers, who has been chastised in the past for using derogatory terms, has stated that he does not support the use of the r-word, but that it has nothing to do with the Twitch chat rules and regulations, but rather with his personal choice.