Although all GoPro cameras have inbuilt great stabilization for a better filming experience, gimbals can notably improve your smooth footage and reduce camera shake.
Here, I will focus on finding the best gimbal for GoPro cameras. I liked Hohem iSteady Pro4 the most because it is very simple to use,
Let's take a look, at a detailed review of that, and a few other gimbals!
QUICK OVERVIEW: Best Gimbal for GoPro
Battery life: 14 hours
IPX4 Water Splash-Proof

Lithium-ion battery
Basic modes

Weight: 0.7 kg
OLED screen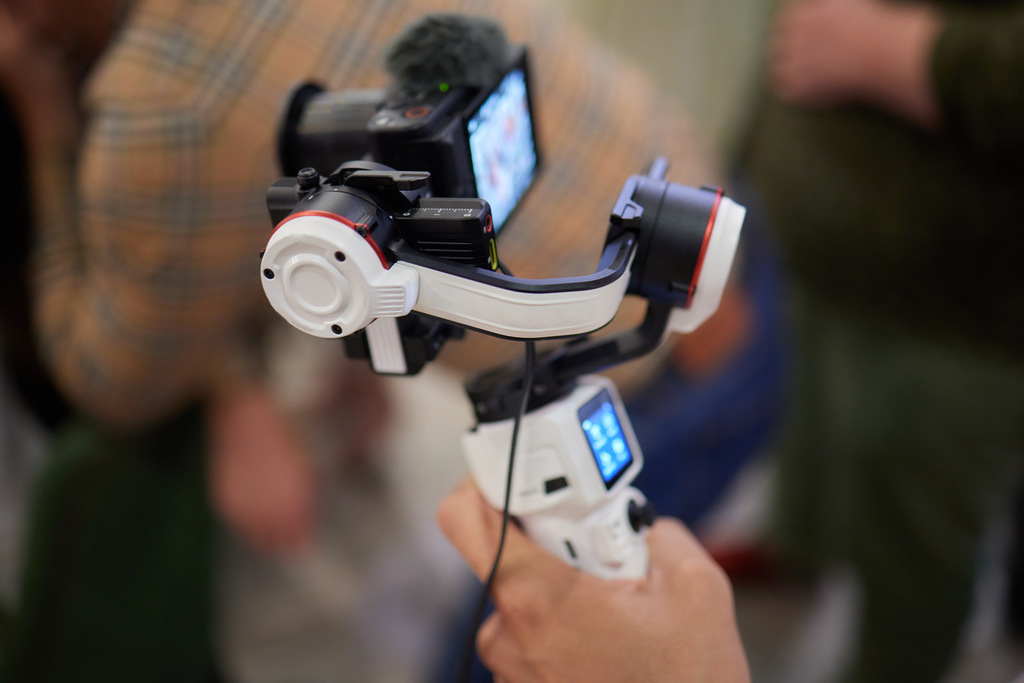 Best Gimbal for GoPro
Reviews
I give you the top 5 different gimbals among the best gimbals for your Gopro in the market.
1. Hohem iSteady Pro4
Best for holiday activities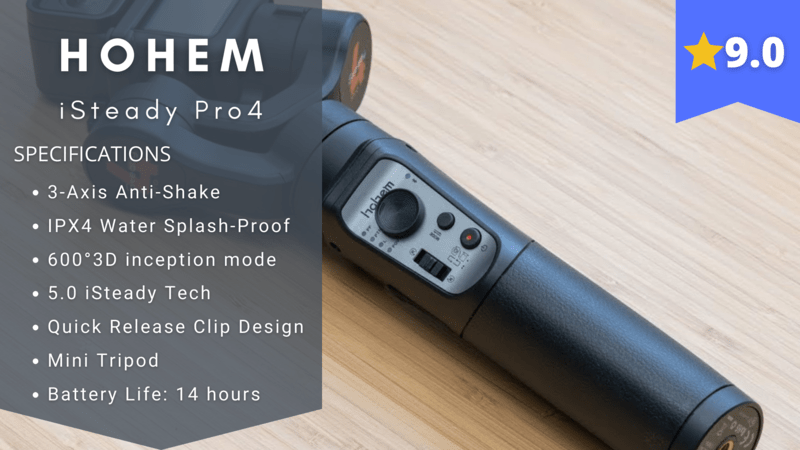 Stefan's Take:
The first thing I liked about Hohem iSteady Pro4 is that it works with almost all GoPro cameras. That is good to know because not all GoPro gimbals support all GoPro cameras.
GoPro body mounts on the top of the gimbal via a spare button and Quick Release Mount System. Just slide your GoPro into the cradle, wrap the Quick Release plate around it and it's ready for use.
| | |
| --- | --- |
| Value | 8 |
| Weight | 10 |
| Compatibility | 9 |
| Performance | 9 |
This 3-Axis gimbal is made for sports activities. I've tried it while walking, running, vlogging, and even skating, and I was enticed by its stability. Thanks to 5.0 iSteady Tech, it gives you stabilization, smooth footage, and clear, cinematic shots.
Your camera can easily be mounted with Quick Release Clip in just one step.
What impressed me is the long battery life – even 14 hours to film all your activities! That is the amazing battery life for a GoPro gimbal. You can be creative for a really long time.
In addition, by connecting your GoPro camera to the gimbal, you can charge it directly, which is great for extending the shooting time. The gimbal's battery capacity is big enough to simultaneously support the charging and running time. How great is that?
Enjoy your filming on rainy or snowy days without worries thanks to IPX4 Water Splash-Proof.
With Control Panel, joystick, mode, and shutter button, you can easily set the performance you want.
If you are more of a manual person, you can use the slider button to manually adjust the horizon leveling by fine-tuning the axes.
I adjusted the portrait orientation and made some great vertical videos. Speaking of great shots, my favorite feature of this gimbal is Motion Time-lapse. What magic this feature does! Just set it via App and let the gimbal shows its powers.
Yes, you can also control the modes and adjust the setting with an App that functions as a remote control.
For the best results for shooting, combine Hyper Smooth stabilization on your GoPro Hero with gimbal stabilization. Some of you maybe won't like this, but it really isn't a big disadvantage for me.
This 3-Axis gimbal for Gopro cameras will be your best purchase for all your activities.
Pros
Great Battery Life
Lock System
Motion Time Lapse
Led Lights
Wide Compatible
Affordable
Cons
Shaking footage without Hyper Smooth
Noise issues with GoPro Hero 5
Not for GoPro gimbal beginners
2. GoPro Karma Grip
Best for basic use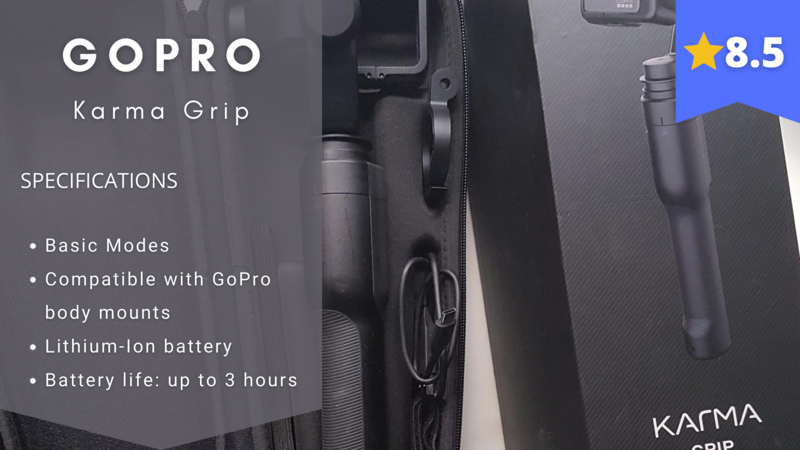 Stefan's Take:
What I didn't like about this GoPro gimbal is its short battery life – only less than 3 hours of use. You can use spare batteries and extend the running time.
The other disadvantage I noticed is that it's not rotatable which means no selfies (unless you turn the gimbal head all around but in that case, the buttons on the Karma grip will be on the wrong side).
Shortly, this gimbal for GoPro is a decent stabilizer with really basic performances. Skip it if you're looking for something more versatile.
| | |
| --- | --- |
| Value | 7 |
| Weight | 9 |
| Compatibility | 9 |
| Performance | 9 |
Among all GoPro gimbals, Karma Grip is produced by GoPro itself. It handles GoPro cameras from GoPro Hero 4 to 7, although it is designed for GoPro Hero 5 and 6. Other cameras can be attached with optional gear.
The gimbal provides excellent hand support. Through the Karma grip, you can control your GoPro Hero. You can plug the grip into the computer to transfer files without connecting the camera. In that way, you can charge both GoPro gimbal and GoPro Hero.
This 3-Axis gimbal has brushless DC motors which won't bother you while filming. You'll make shots with nice image stabilization, like the ones with cinema cameras.
This gimbal is a nice Karma stabilizer for basic use. GoPro Karma grip will give you a nice and comfortable feeling in the hand and with its lightweight and small size, it will always find a place in your bag.
Pros
Brushless DC motors
Karma grip
Quality build
Affordable
Cons
Non-waterproof
Short Battery life
Karma Grip Extension Cable not included
3. Zhiyun Crane M3 Combo
Best for vlogging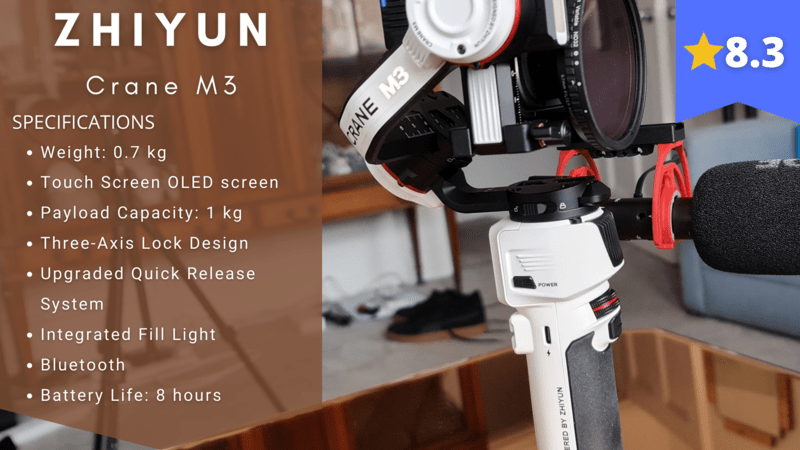 Stefan's Take:
Zhiyun has released a compact-size gimbal Crane M3 Combo. It is definitely the smallest gimbal I've tested so far and I liked the feeling of it in my hand.
It's light, comfortable, and attractive, almost fitting in the palm. Compared to other gimbals, it's half size of the DJI RS2.
| | |
| --- | --- |
| Value | 7 |
| Weight | 9 |
| Compatibility | 9 |
| Performance | 8 |
Modern design with attractive black and white color combination and comfortable grip handle make it perfect for young people and just about anyone enjoying a stylish life.
It comes in three different packages: the Standard, with a mini tripod (50 grams), color filters for the fill light, and camera cables, the Combo (used for testing), which includes a bigger tripod (150 grams), a clasp for your Smartphone, and a modern designed backpack.
And there is the Pro package with all camera accessories from the previous packages plus a microphone and an expansion base for connecting the microphone's 4 m cable to the gimbal.
Single-hand control is perfect for selfie mode. Trigger and control wheel button at the back and full-color touch screen with mode and record button at the front make you have everything you need on the top of your fingertips.
The trigger adjusts the camera position and enables activating sport mode quickly. Vortex mode will spin your camera around for better record footage. It is the perfect GoPro gimbal for vlogging.
The ease of balancing small cameras and GoPros gives you smooth footage and image stabilization but considering the weight of this gimbal, you won't be able to use cameras with heavier lenses.
Built-in Fill Light is bi-color with a color temperature of 2600-5400K and it will reduce image noises in the daylight and at night equally perfectly. No more carrying around an extra light ring on your travels.
All three axes have a locking mechanism for locking the arms when you don't use the gimbal and balance your camera shake easily.
The battery lasts for 8 hours with 2 hours of charging and you can use the gimbal while charging it via the power bank.
It is compatible with Smartphones, GoPro, and Mirrorless Cameras. I tested it with GoPro Hero 10 and I find it ideal for vlogging, traveling, or interviewing. It can be easily carried and mounted.
It also works with GoPros, but you will need to get the Combo package with the adapter mount because the Standard package doesn't include one (keep in mind that Combo costs 80$ more). Besides, some of the controls won't work for GoPros. The same goes for smartphones.
When you connect the camera cable to the gimbal for recording, it will charge your camera battery but at the same time, it will drain the gimbal's battery faster. Try avoiding connecting the gimbal to your GoPro camera.
Pros
Single hand control
Fast charging
Bluetooth connection
Multiple Shooting Modes
Good build quality
Cons
Slowly switching from a tripod
Non-waterproof
Poor compatibility
Expensive
4. INKEE Falcon Plus
Best for stability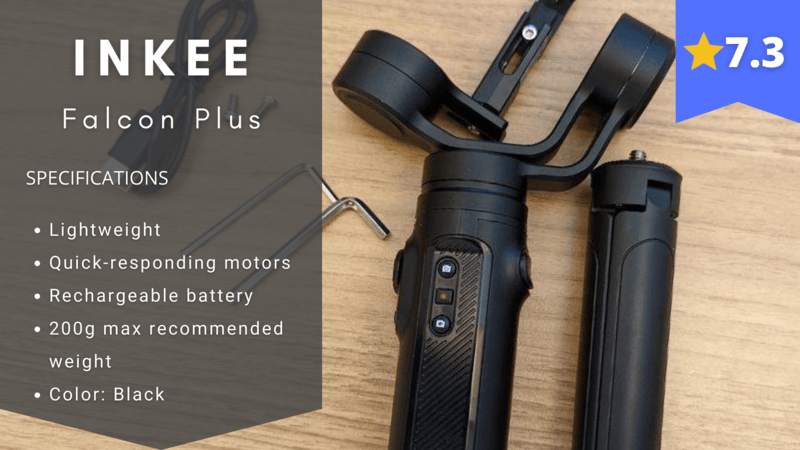 Stefan's Take:
This gimbal was pretty good while I was testing my GoPro 11. It is stable, durable, and simple to use.
What I liked the most is the multi-mode feature. I used the lock mode to stabilize the gimbal, follow mode when I was moving while recording and I checked out the different angle shooting.
| | |
| --- | --- |
| Value | 6 |
| Weight | 7 |
| Compatibility | 8 |
| Performance | 8 |
INKEE Falcon Plus stabilizer is compatible with almost all GoPro cameras, starting from Hero 5 to Hero 11 models and more.
It weighs only 300g and can support weight up to recommended 200g. Apart from that, there is an extra extension rod, which you can use to adjust the shot angle and distance.
The shots I made with this model were stable due to its 3 quick-responding motors and physical stabilization.
Battery life is around 9 hours, but you can prolong it a bit with the USB-C cable since the battery is rechargeable.
Depending on your needs, there are different working modes, such as follow, lock, vertical shooting, and low-angle shooting modes. For easier use, there is a light indicator to tell you which mode you're currently using.
Pros
Decent battery
Good compatibility
Easy setup
Multiple shooting modes
Cons
Wonky calibration

No mic attachment
5. GravGrip V2
Best for simplicity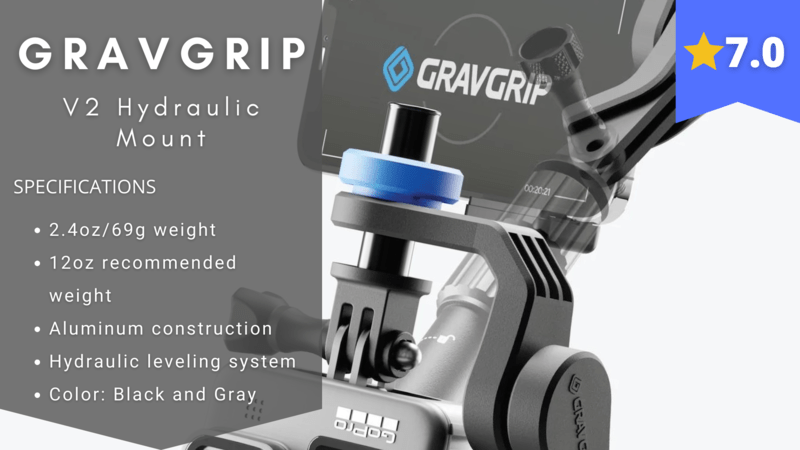 Stefan's Take:
This gimbal is probably the simplest option on my list. It is a hydraulic tool without batteries or displays.
What I found very handy is that I could use the GoPro attachment without any issues. Also, this is a very affordable solution if you are a completely new streamer.
| | |
| --- | --- |
| Value | 7 |
| Weight | 9 |
| Compatibility | 7 |
| Performance | 5 |
GRAVGRIP V2 is a hydraulic gimbal that is compatible with different brands, such as DJI, GoPro, and Insta360.
It weighs 2.4 ounces or 69 grams, and the recommended carrying weight is 12 ounces. You can also use the official GoPro mount attachments.
I really like the design of this gimbal. It's durable and made of a combination of glass-filled nylon, and stainless steel, with aluminum construction.
It comes in gray and black color. The design is also quite compact. It doesn't have a remote control, so it doesn't use any batteries.
Pros
Very light
Great compatibility
Compact and durable
Cheap
Things to Consider When Buying a GoPro Gimbal
Compatibility
The first thing you should consider when buying a GoPro gimbal is its compatibility with your GoPro Hero camera. There are plenty of gimbals that are promoted as the best GoPro gimbals but they don't work with the whole GoPro line. Check out before purchasing.
Build Quality
Your GoPro must be stable, comfortable, and user-friendly. It's important to be lightweight but strong and powerful.
Battery Life
Since I presume that you love your GoPro Hero camera and you'll be carrying it around with you, the battery life of your GoPro gimbal really matters. With longer battery life, your creativity is limitless.
FAQ
Does any type of gimbal fit my GoPro?
No. Before purchasing the gimbal you like, check if it's compatible with your GoPro camera. Gimbals for GoPro are made both for beginners and advanced GoPro users so the usage won't be a problem, but you have to check the compatibility of the gimbal you want.
Can I use a Smartphone gimbal as a GoPro gimbal?
Some GoPro gimbals can be used as smartphone gimbals, but some can't.
GoPros usually fit into the smartphone gimbals but that's not the correct use for them – smartphone gimbals work the best with smartphones.
And vice versa – you can maximize your GoPro performances only with GoPro gimbals.
Do I really need a gimbal for GoPro?
Knowing that GoPro cameras cover performances such as rock steady and hyper smooth, you may ask if a gimbal for GoPro is worth buying.
The answer is yes. The remote control is a big plus feature. Then, instead of using in-built image stabilization, you can have a mechanical gimbal and a wider field of view.
Image stabilization doesn't work very well in poor light so with a gimbal you can film in dark conditions and during evening hours.
Conclusion
GoPro gimbals are a great example of how you can enrich your GoPro Hero experience. Even the best GoPro cameras need a little help so use one of the best gimbals from my list and let the magic begins.
Today I reviewed 5 best GoPro gimbals, and to conclude, these are my top 3 choices:
Hohem iSteady Pro4 as the best gimbal for holiday activities;
GoPro Karma Grip for basic use;
Zhiyun Crane M3 for vlogging;
Hopefully, this list helped you to find the best gimbal for your GoPro camera!