The days of old-school heavy brick-like monitors are long gone. Nowadays, you have a lot of cool gadgets, such as monitor stands, that can really help you when it comes to setting up your equipment the right way.
And the best vertical monitor stand is HUANUO Dual Monitor Stand because of its versatility: you can adjust the monitors in the way that best suits you and avoid any discomfort while gaming, streaming, or working.
I have also tested several other models and created a list of the best vertical monitor mounts to help you choose the right one.
QUICK OVERVIEW: Best Vertical Monitor Stand
HUANUO Dual Monitor Stand

Material Type: Steel
Item Weight: 10.23 pounds

12x 12 x 28.5 inch
Color: Black

Amazon Basics Monitor Stand

Item Weight: 5.59 pounds
Color: Black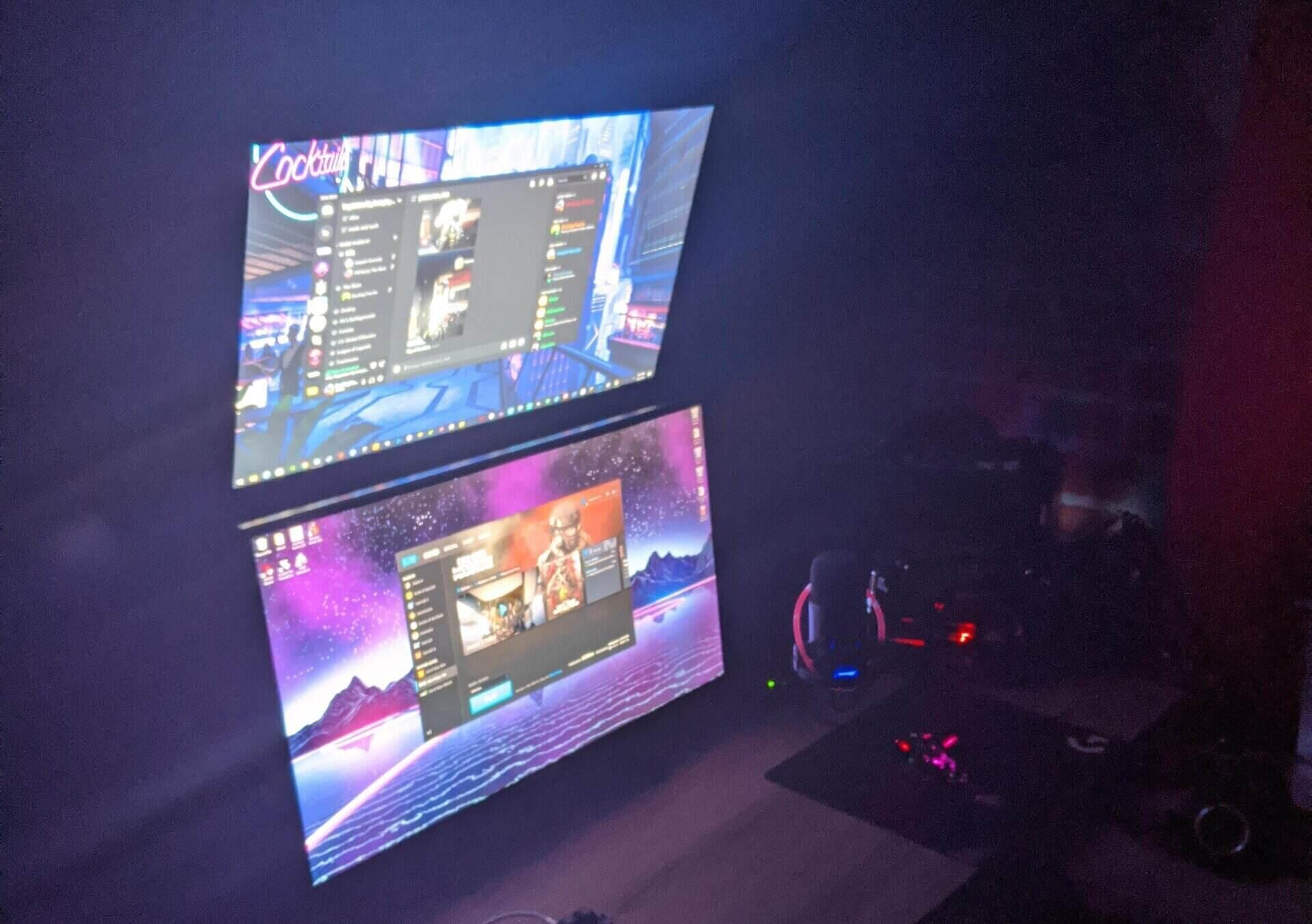 Best Vertical Monitor Mount
Tested & Reviewed
Here I am going to show you some of the best vertical monitor stands I came across and tested so you can make an easier choice.
These particular six products should be able to answer any demands that you guys might have when it comes to manipulating your monitor in any way that best suits you.
1. HUANUO Dual Monitor Stand
Best overall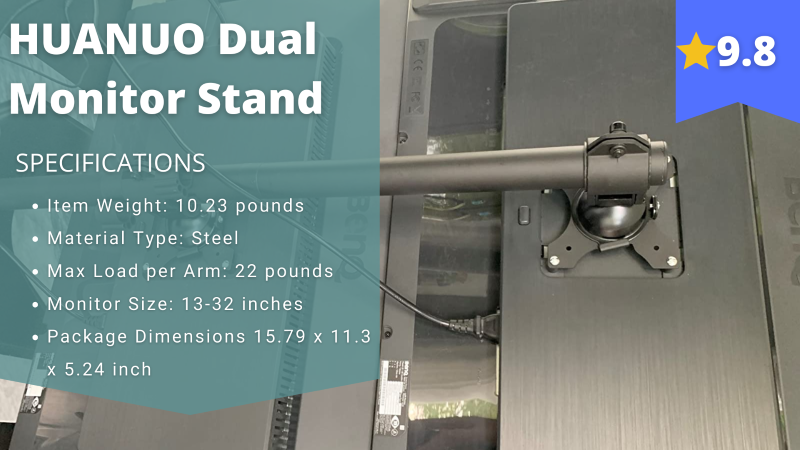 Stefan's Take:
What makes HUANUO monitor stand out is its versatility. I have used it for streaming, keeping an eye on separate projects at once, and working. I liked that it has multiple mounting options (I prefer the clamp) and doesn't require much effort to put together.
Also, it has an outstanding load capacity per arm and supports monitor sizes up to 32 inches, so it's undoubtedly the winner in my books.
| | |
| --- | --- |
| Stability | 10 |
| Compatibility | 10 |
| Quality | 10 |
| Value | 9 |
Here for the first product on my list, I have a really fine specimen: the HUANUO dual monitor stand.
Why do I think HUANO Dual Monitor Stand is the best among these? Because of its wide range of motion and excellent compatibility, that will improve your work environment and comfort.
Let's not talk too much and jump straight to the point.
Key Features
Based on the usage of this product, I would say it's best used for workspace, but keep in mind that it will not be compatible with glass and particle board desks.
The dual vertical monitor stand comes in handy when you have to work on separate projects at once. You can even work on one project and be able to use more information at once without the need to switch tabs or windows.
But don't get me wrong. You can easily play games and be able to stream and see the stream on the other monitor.
So, basically, you can do whatever you see fit and need at the moment. You can always be imaginative with this vertical monitor stand.
The first thing that came to my mind was, is my computer monitor compatible with the stand.
You can rest assured that this specific model is widely compatible with most 13″ to 32″ LCD monitors with a VESA pattern of 75×75 millimeters and 100×100 millimeters (weighing up to almost 10kg).
When it comes to setting up your monitor stand, with this particular model, you can do it in two ways.
There is the clamp version and the grommet version. I personally wouldn't want to drill my table in order to set my dual monitor vertical stand.
Therefore, the clamp comes in very handy, but of course, that is going to be your personal choice.
The next, if I may say, cool feature, and in my opinion, the first and most favorable thing is the ergonomic benefits that this product brings to the table. This means that you can(should) set your monitors to benefit your posture best and avoid straining your back, shoulders, and neck.
It is super easy to install, and above all, the full motion feature enables you to position the monitor in any way/angle you like with the tilt, swivel, and rotation functions.
Pros
Easy to install
Good quality materials (sturdy)
Variety of options
Multiple ways of installation
2. VIVO Dual Monitor Desk Stand
Best budget vertical monitor stand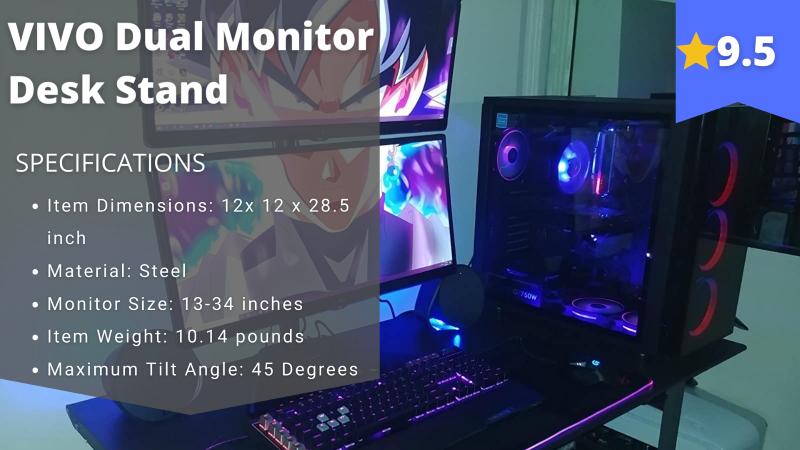 Stefan's Take:
I wanted to test this monitor because it is so similar to HUANUO. And I was quite pleased by how easy it was to set up, its load capacity, maximum height, and tilt angle.
Another great feature was the option to switch to portrait mode from landscape and vice versa. Anyhow, it's a great option for those on a budget.
| | |
| --- | --- |
| Stability | 9 |
| Compatibility | 10 |
| Quality | 9 |
| Value | 10 |
For the next product on this list, I have a similar product to the first one, but a bit more budget-friendly.
The design of this monitor stand is creative and innovative, while excellent quality is maintained at a low cost.
Perfect combination if you ask me!
Key Features
Considering the resemblance between the first product and this vertical monitor stand, there probably isn't much more that I can say that I haven't said already. But putting that aside, this is yet another fine piece.
This dual monitor vertical stand is highly budget-friendly. Why do I say highly? You literally can't find a cheaper price for any similar models that also have similar specs.
If you either think about sitting or standing while you spend time at your computer, this is the perfect product for you.
The setting option makes it perfect for all the different heights and postures.
This means that you won't ever have to experience back pain or sore neck and eyes from the bad posture that you had to maintain because of the lack of options when it comes to setting the perfect height/depth.
Obviously, the first thing that I checked was the compatibility.
This individual model can hold from 13″ to 30″ screens. This was rather disappointing for me.
Their decision to go for 30″ instead of 32″ wasn't very smart regarding the small difference in size but a big problem if you have a 32″ monitor.
It can hold up to 8kg in weight and is a standard combination of 75×75 millimeters and 100×100 millimeters with integrated cable management to maintain the cords in order.
The majority of choices regarding the articulation and height adjustments offer a +45 to -45 degrees' tilt, 360 degrees rotation, and height adjustment alongside the center pole. You can also choose between landscape or portrait mode.
The strong and padded base of this dual vertical monitor stand doesn't only hold your monitors but also protects your table from scratches.
The padded base glues to the table, enabling it to move (the measures are 10.5″ by 15″).
The thing I am certain you all like to hear is that this product is very easy to assemble/install and, above all, it has a 3-year warranty. The VIVO Company got your back.
Pros
Budget-friendly
Easy to assemble
3-year warranty
Sturdy
Padded base
Variety of adjustments
Cons
Hold up to only 30″ monitors
3. Amazon Basics Monitor Stand
Best single monitor stand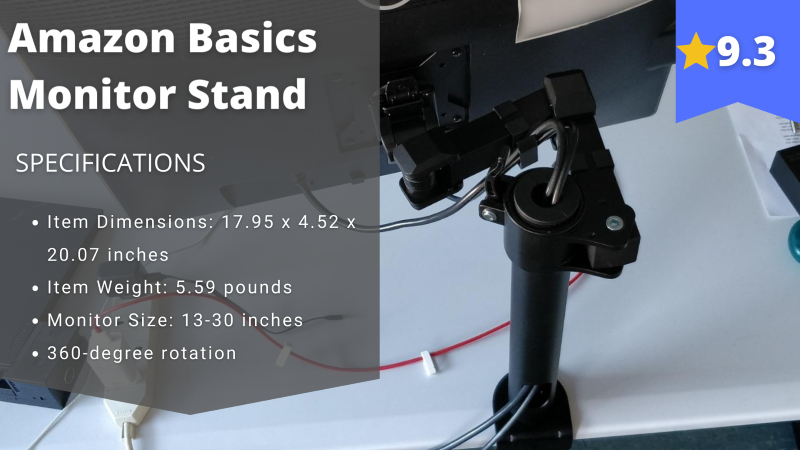 Stefan's Take:
This monitor stand is budget-friendly, easy to install, and made of quality materials that ensure the durability of the product.
What drew me to it was its range of motion. The full-circle rotation improves versatility, and you can easily adjust the height of the stand. Also, it features a wide range of tilt angles, and I easily found the best screen position for working and gaming.
| | |
| --- | --- |
| Stability | 10 |
| Compatibility | 9 |
| Quality | 9 |
| Value | 9 |
The Amazon Basics single monitor stand is slightly different than other products on this list.
Unlike the first two products, this isn't a dual monitor stand; it comes with only one mount. If I could say it's a perfect choice for all of you gamers out there because who needs two monitors for gaming?
With this cool single monitor stand, you can adjust your setup to suit your needs perfectly.
Key Features
If you are looking to buy a computer monitor stand, it means that you are done with the generic monitor stands that you get when you buy a classic computer monitor.
The first reason to buy this stand would be the variety of options when it comes to setting up your monitor to your ideal height and depth so that you don't necessarily need to endanger your back or your eyes while gaming/working on your pc.
If I could say, and this coming from an amateur gamer, that this particular monitor stand is a perfect combination for gamers.
The variety of adjustable options will always come in handy, especially since all of us game on a different level and, above all, with different preferences regarding the position of our gear.
This individual product comes with a limited one-year warranty, and not only that, but it's also very easy to set up/install.
I was able to install it in a matter of minutes, and honestly, it wasn't such a hassle at all, so I think you guys won't have a problem with this, either.
There is the standard VESA plate with a 75 x 75 mm option and 100 x 100 mm option (it comes with all the necessary tools and hardware), and it is rather light, considering it's made of durable steel.
For the next feature, and I must say that I personally am not a fan of it, the 13″ to 30″ fit. Why do I say this?
The stand itself supports up to 22 pounds (around 10kg), so basically, it can easily hold a 32″ monitor. So why doesn't it? I really can't tell, and I am especially bummed cause half of my monitors are 32″.
The full range of motion, on the other hand, was a completely different thing.
Also, it was very easy to manipulate, but with all that motion, some of the screws tended to loosen up a bit (maybe I could say that this is a normal thing cause of all the moving).
This shouldn't be a major problem because you can always tighten them up after setting the monitor stand at the wanted position.
The adjustable screen tilt goes from -15 to +85 degrees.
The 360-degree motion enables it to go from landscape mode to portrait mode. The height adjustment horizontal arm mount goes from 7.9 inches to 14.2 inches high.
Pros
One-year warranty
Easy to assemble/install
Full range of motion
Sturdy/nice quality
Ease on the pocket
Cons
Holds only up to 30″ monitors
The screws on the tilt can't tighten up
4. VIVO Dual 27″ Monitor Stand
Great stand for smaller spaces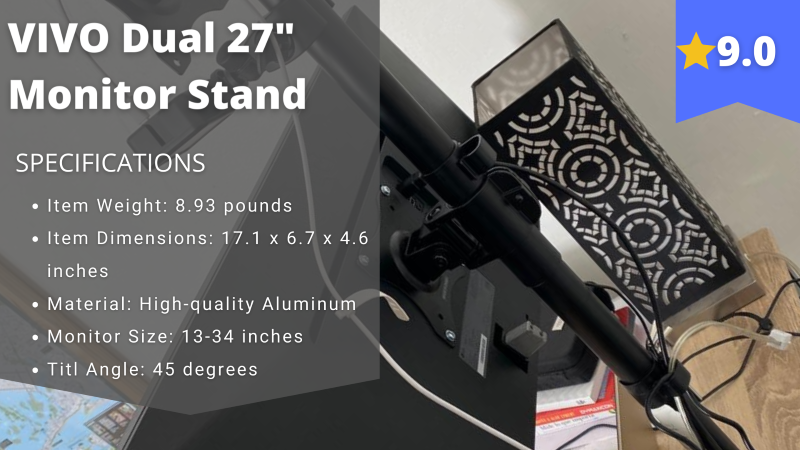 Stefan's Take:
This is one of the first monitors stands I tested when I was looking for something that would fit into my small office and support multiple monitors. The load capacity per arm is great and holds monitors up to 27 inches.
Moreover, the build quality is excellent, and I didn't notice any screws getting loose with use.
This is another model with an excellent range of motion, so you can set up the screen as you wish.
| | |
| --- | --- |
| Stability | 9 |
| Compatibility | 9 |
| Quality | 9 |
| Value | 9 |
Here I have yet another fine dual monitor vertical stand from the VIVO company, and like the previous one, it's a good quality stand while being easy on the pocket.
Let's check out the specs.
Key Features
When you think about your desk space, two individual monitors will take up a lot of space. Now with this dual monitor stand, you can make your monitors vertical and merge the two of them in one.
Either if you need to clean up space from your desk at your work office or from your battle station, you will be good to go with this fine product from the VIVO company.
The dual monitor stand is very sturdy and can easily hold two 27″ monitors, but the only thing you need to think about is your desk.
The desk must also be sturdy and made of strong materials since you can't apply the dual monitor stand on the glass table. So basically, if you have a strong desk and two monitors, you are good to go.
The thing that I noticed at first sight was definitely the quality of the product. I can confirm the company's claims regarding the quality, and I can also say that this is the strongest (sturdiest) dual monitor stand within the price range.
When it comes to mounting, I can assure you that it is very easy to assemble and mount.
The cool thing that I liked is the multiple ways of mounting it. The first way is the hefty duty C clamps, and by the way, that is the option I went for, honestly (I am not a drilling-a-hole-in-my-table kind of guy).
As you can assume, the second option is the grommet mount.
Don't get me wrong. The grommet mount can sometimes be the safest way to make sure that your dual monitor stand won't loosen up and damage your equipment.
But in this specific situation, I can assure you that the C clamp is going to get the job done because it's very hefty and will hold the monitors without any bending or curving.
As I have mentioned above, it holds from 13″ screens to 27″ screens in size. The maximum weight is 22 pounds (around 10kg), and the standard VESA mount goes from 75 x 75 mm to 100 x 100 mm.
The fully adjustable mode is the next reason, aside from space clearance, that we buy these products. It goes from -45 degree to +45-degree tilt, -45 to +45-degree swivel, and finally, the 360-degree rotation to switch from portrait mode to landscape mode in a matter of seconds.
It's very easy to assemble, and it also comes with integrated cable management. The easily attachable and detachable clips, which in my case really helped me, kept my cables organized and clean.
Pros
Multiple mounting options
Good quality-price ratio
Easy to install
Easy to manipulate/full motion
5. WALI Dual Monitor Desk Stand
Great monitor stand for streamers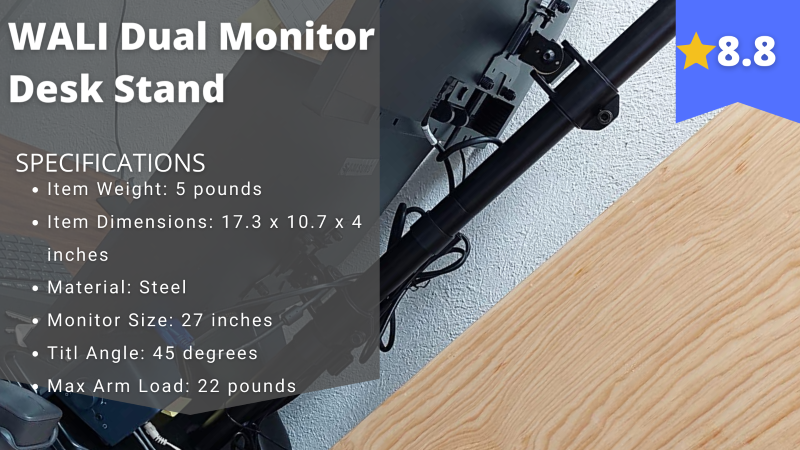 Stefan's Take:
The biggest advantage of the WALI monitor is the price-to-quality ratio. You won't break the bank, but you still get a quality product that will last for some time.
WALI Dual Monitor Desk Stand is easy to assemble and features a great load capacity and maximum height.
The only thing it's missing is the full range of motion that most monitor stands on this list have.
| | |
| --- | --- |
| Stability | 9 |
| Compatibility | 9 |
| Quality | 9 |
| Value | 8 |
I have the WALI dual monitor stand for the next product on this list. This monitor is a great combination between design, price, and functionality.
Key Features
The best thing about these dual monitor stands is that they give you the extra space that your monitors separately took without the vertical stand and overall give you a sense of aesthetics with your setup.
So, either if you need some extra space for your work or you just want your gaming station to look dope, this is the product for you. It's a rather budget-friendly solution that doesn't lack in quality.
It can go on any strong desk. Being that it has a freestanding V base, you can also put it on a glass table or any material (be 100% sure that the table can hold the stand without any problems).
WALI really meant what they said. This really is a good quality product and above all comes with 10-year protection.
The sturdy construction with high-grade materials guarantees a strong and stable connection with your monitor screen. The modern design will complement the aesthetics of your home office or workplace.
You can choose from the free-standing mount option to the grommet option. In this case, I would suggest the grommet option.
I just simply cannot trust this product enough to let it hold my two 4k monitors by a simple free-stand. The grommet base can maximally support a 4-inch thick desk.
When I mounted my dual monitor stand, I concluded that it was very easy to adjust.
It comes with a standard -45 to +45-degree tilt, -90 to +90-degree swivel, and 180-degree rotation which allows you to change from landscape mode to portrait mode.
It's compatible with monitors up to 27″, with a maximum weight of up to 22 lbs each (about 10kg), normally a standard VESA 75 x 75 mm and 100 x 100 mm. You can put it almost anywhere with the free-standing 15.5 x 11 inches.
This ergonomically designed dual monitor stand will allow you to work/spend time at your computer without the dangers of hurting your back or your eyes.
Pros
Budget-friendly
Multiple setting options
Two-way mounting option
Good quality-price ratio
Cons
It doesn't have a full-motion option
You must drill a hole in the desk to hold it
6. VIVO Quad Monitor Mount
Great quad monitor stand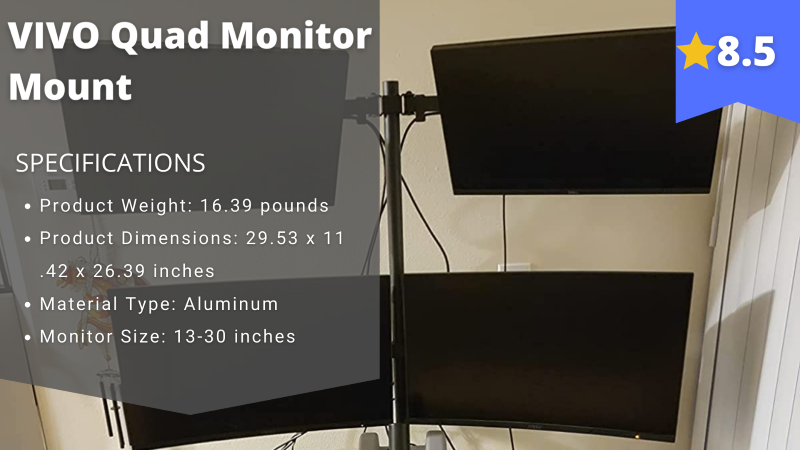 Stefan's Take:
I ordered VIVO Quad Monitor Mount because I wanted to see how a setup with four monitors would change my streaming experience. And I wasn't disappointed!
This monitor gives you the most versatility – you can set up the screens as you wish, it has a wide tilt range, and you can work on several projects simultaneously.
It's made of high-quality aluminum, so longevity is guaranteed. Just be sure that you have space for such a setup.
| | |
| --- | --- |
| Stability | 9 |
| Compatibility | 9 |
| Quality | 8 |
| Value | 8 |
The VIVO Quad Monitor Mount is the third VIVO product on this list, and it's the Autobot in the monitor-stand department.
This dope-looking piece will absolutely get the job done when it comes to mounting multiple screens on one pole.
Key Features
When you look at the product, you can see that it can mount 4 screens, so if you want to feel like you're working for NASA, this is definitely the product for you. Joking aside, with this fine piece, you can free your desk space to the maximum.
This model gives you the option to be imaginative and play with it till you set the right position that best suits you.
I personally was curious if I could merge the 4 screens and make it work like one. Obviously, you will need screens without the black frame (monitors that are screen only without the frame).
With this modern computer monitor stand, you can work on 4 different projects at once or even work on one project but with much more space and comfort than this product gives you.
Obviously, the coolest feature of them all is the main feature, and that is that you can attach 4 monitors at once. This will give you plenty of space to work on your projects.
It can hold 4 monitors from 13″ up to 30″ screens in size and 17.6 lbs (around 8kg) in weight.
As you can assume, the standard VESA plate with 75×75 mm and 100×100 mm options. It also comes with detachable cable clips that help me keep my cables in order.
The one thing I didn't like about this product is the base.  Why?
Well, in my opinion, when we have 4 LCD monitors attached to one monitor stand, I wouldn't want to risk it falling and damaging my equipment.
I could understand this if you could only hang one monitor, but with 4, it's a totally different story. They should have at least gone for the grommet if not for the hefty C clamp.
The Base is padded, so it at least protects your table from being scratched.
The measurements are 15.25″ x 11″, which will provide solid stability (but be careful to put your monitors at the center of gravity so that you can avoid any issues).
The standard 360-degree rotation enables it to change from portrait mode to landscape mode. Adjustable arm provides +80 to -90-degree tilt and 180-degree swivel.
The thing that you guys like to hear the most is probably that it is very relaxing and easy to assemble and install.
The manufacturer provides you with all the necessary tools needed for assembly. And finally, you will get a 3-year manufacturer warranty.
Pros
Easy to assemble
Holds up to 4 screens
Good quality materials
Multiple adjustable options
Cons
The base might cause stability problems
Price
Things to Consider When Buying Vertical Monitor Stands
1. Stability
What do I mean when I say stability?
Well, the first thing you need to look out for is the base itself.
You would want your monitors to fall and sustain damage caused by the loose and wobbly base. I would always suggest going for the vertical monitor stands with the hefty C clamp.
You can also go for the grommet, but why would you want to drill a hole in the desk when the C clamp does the same job and doesn't damage your table.
The free-standing base is also okay, but only if it mounts only one monitor. My advice is: don't risk it go for the safest option.
2. Quality
The second thing you should always consider when you buy something like this is the quality.
No one should go through the stress of damaging their own goods due to the lack of quality of their monitor stand. So, always check the quality before buying this type of product.
3. Compatibility
The final thing you should always check is if the stand supports the monitor you have. These products that we went through mainly support from 13″ to 27″ (30″). Therefore, always check for compatibility.
Conclusion
We have reached the end of this review, and I hope that all of the material we went through can help you guys choose the adequate vertical monitor stand.
To summarize, the best three monitor mounts are:
HUANUO Dual Monitor Stand as the best overall,
VIVO Dual Monitor Desk Stand as the most budget-friendly option,
Amazon Basics Monitor Stand as the best single monitor stand.
Everybody has different tastes and needs, so what works for me may not be the best fit for you.
However, I'm sure you can find the right monitor stand among the listed ones. Happy streaming!
Frequently Asked Questions
Can any monitor be vertical?
With the right equipment, yes, absolutely (just don't get me wrong, we are talking about new-generation monitors, not the old brick ones). That is only one of the multiple options that the vertical monitor stand brings to the table (as the name already says).
Is a monitor stand worth it?
Well, when you ask me something like that, I must say, yes, by all means, it's worth it. When we think about all the different sizes and shapes of our bodies, we all kind of sit in different positions.
Now with these vertical monitor stands, we have much more options from which we can choose and adjust the height and depth of the monitor that best suits our needs. This is great for avoiding any back pain, eye soreness, or any other kind of problem.
But that isn't the only benefit of this product. With it, you can clear up desk space and make the work or home environment just a little bit more stylish.
Do monitor stands work with all monitors?
If the question is, are all monitor stands universal, then the answer is no. The variations go from one stand to another.
Some will be compatible with monitors from 13″ up to 32″, and some from 13″ to 27″ or 30″ there can be different varieties. It all depends.
One more thing, the monitor stands are mostly made for new-generation monitors. The old grey bricks can't be mounted.