The current meme generation has introduced GIFs to our online conversations. Any reaction or emotion can be expressed through these short videos.
---
Animated GIFs are introduced on Twitch, so here are the best free places to find them.
Where do you get GIFs for Twitch?
1. Gfycat
2. GIFER
3. TENOR
4. Giphy
(EXTRA) 5. Nerd or Die (for SLOBS alert GIFs)
---
In the beginning, they were quite popular on Twitter, and now, animated GIFs are moving to Twitch! Let's learn more about GIFs for Twitch!
Can You Use GIFs on Twitch?
Yes, GIFs have become available on Twitch.
For almost any OBS alert or Twitch graphic, you can use a GIF and improve the streaming experience for your viewers.
Creators are loving this new feature on Twitch as it allows them to interact with their audience better and expand their community through high-quality, animated content.
In this short guide, you will learn where to find the perfect GIF for any situation and how to add them to your streams.
Without further ado, let's begin!
Where to Find Best GIFs
Streamers shouldn't have any problem with finding suitable GIFs.
The websites, already well known to streamers for Twitch graphics, have added GIFs to their already extensive library of images and other animations.
Also, even if you are a new streamer, you won't have to spend a single penny as they are almost always free.
Let's check out some of the most popular ones:
1. Gfycat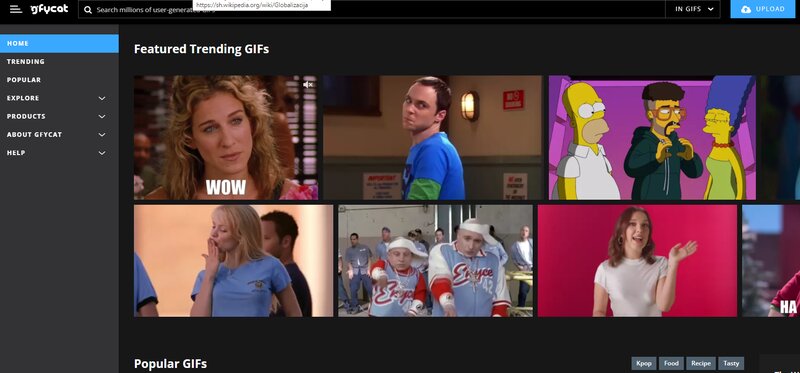 Gfycat features GIFs with a PG rating, so you shouldn't have any trouble finding the one that fits your brand, channel, and something your fans can relate to.
Besides trending and popular GIFs, the site also features Gaming GIFs, organized by the name of the game, so searching for the most suitable one is even easier.
2. GIFER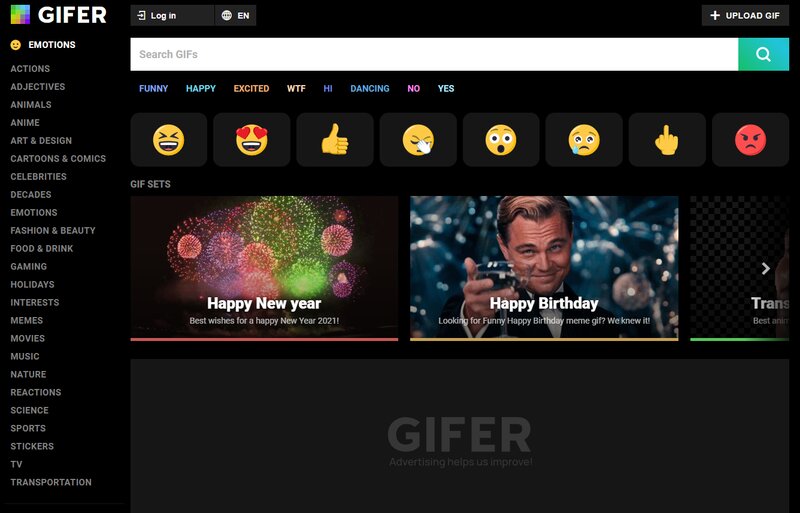 GIFER is another popular choice among streamers.
Their GIFs bring the social video experience to another level.
You can search for the perfect animation either by categories such as "food and drinks," "holidays," "action," "gaming," or by emotions.
All you have to do is enter the keyword in the search bar and then scroll through a bunch of recommendations.
3. TENOR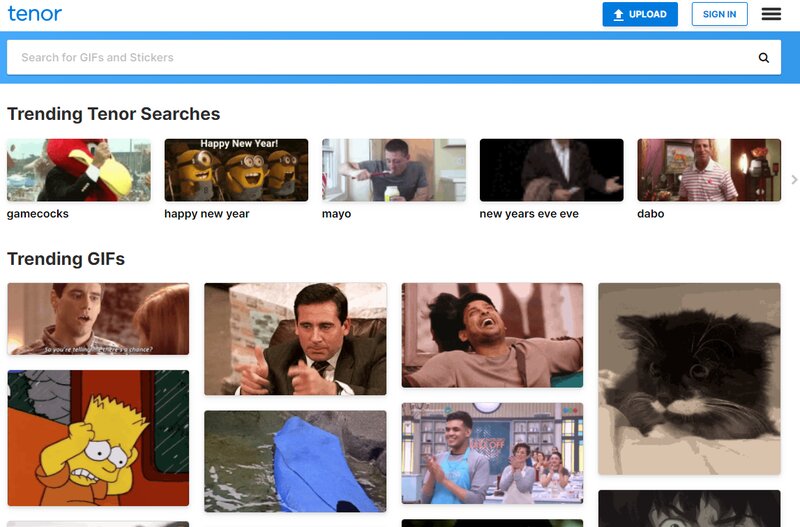 TENOR has some truly creative stuff that will make your streams more entertaining and draw the attention of other users.
Besides Trending, the website has reaction GIFs.
You can browse through thousands of GIFs or even post your own and expand their library.
4. Giphy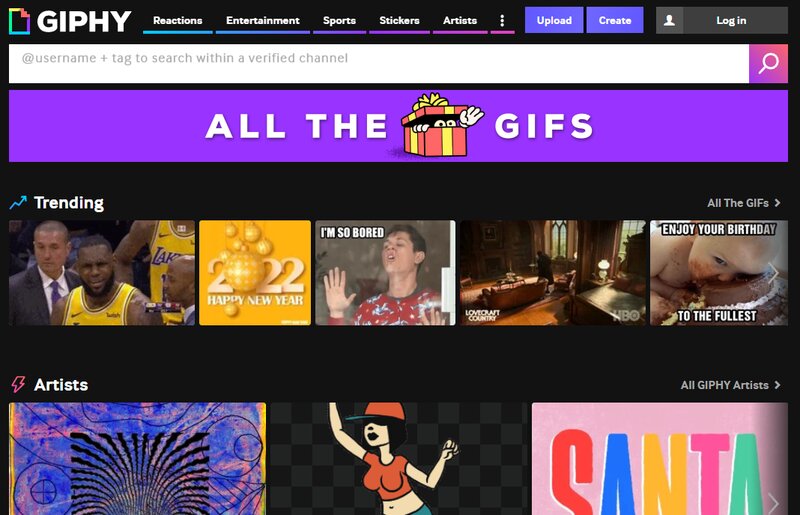 Last but not least is Giphy – one of the most popular extensions for Twitch streamers, and probably the website your viewers and followers are using as well.
In my opinion, Giphy has the most modern and simplest interface, so it is not surprising that it is an essential element of all streams, and it has become so popular among broadcasters.
Thanks to the new extension, Giphy tapping, adding the GIF to the stream is even easier.
Moreover, it allows your viewers to participate in a stream in some way – once you add the extension, they will be able to search through Giphy and show their reactions and emotions to your content.
Giphy will determine the duration of each video during the stream so that all viewers have an equal chance to participate. In the case of a long queue, every video will be shorter, so the waiting time for your GIF is shorter as well.
Types of GIFs
GIFs can be used for many purposes, such as images and other graphics for Twitch.
It is all about fun and making the stream entertaining and engaging the viewers more.
If you are not sure when to use GIFs, you can always check out other channels and see how they are incorporating Giphy or any other extension for GIFs. Here are a few types of GIFs most commonly used:
1. Donation GIFs
Each time one of your followers donates to your business, post a GIF on the screen that shows your appreciation.
You can find the right one by typing "money" on Giphy. Once other users see this shout-out, it will encourage them to donate as well or post comments to engage with their favorite broadcaster.
2. Transparent GIFs
Transparent GIFs are the most popular among Twitch channels.
They boost the quality of the stream more, as their graphics are better.
Almost all GIF extensions feature transparent GIFs, so just type this keyword in the search bar.
3. Animated GIFs for SLOBS Alerts
The new SLOBS update allows you to use GIFs as alerts.
You can set these flashy alerts when somebody comments, donates, or subscribes as a sign of appreciation and welcoming them to your online community.
The site Nerd or Die has GIFs compatible with SLOBS and OWN3D.
How Do I Put GIF on My Twitch Stream?
Now, let's talk about adding these animations to your stream to make it more fun.
Firstly, you should check whether the GIF you have picked out violates any of Twitch's regulations. This means no sexual references, violence, offensive language, or lewd terms.
All GIFs are limited to a PG rating. Otherwise, you can expect a ban from the site or some other consequences.
My additional advice is to double-check for copyrights and make sure that you are allowed to use the GIF. Otherwise, your content might be deleted.
If the GIF is according to the regulations, save it as an MP4 video and convert it to GIF.
Then you can add the GIF to the stream.
Adding animations is far easier if you have an extension, such as Giphy. Once the extension is added, select the screen part for this type of content.
Broadcasters and viewers can enter keywords in the search bar, and the content will be displayed one by one in the dedicated part of the screen.
Conclusion
Animations are used to boost the quality of the stream and make it fun and encourage followers to make contact with their favorite streamer.
Giphy extension has made adding GIFs even easier for Twitch streamers – all you have to do is install it, and the program will take care of the rest.
FAQ
Can you use copyrighted GIFs on Twitch?
No, Twitch streamers are not allowed to use any copyrighted media for their broadcasts. Always make sure that you are allowed to use graphics, or else your channel might get banned.
Where do you get GIFs for Twitch Alerts?
Giphy is one example and is most commonly used on Twitch due to the extension created specifically for streaming. Many other websites have just as good content, such as TENOR, GIFER, Gyfcat, Nerd or Die, and OWN3D.