There are absolutely no words to describe how I sometimes loathe TikTok.
Most of the time, I find TikTok videos uninteresting, awkward, cringe-worthy, plain dumb.
Oopsy!
But then, again, I catch myself watching all those things TikTok users post. One of the reasons is I have nothing better to do and another one is TikTok memes.
Cause, I like memes.
And I know you like them too.
Luckily, besides videos with dance moves and lip-syncing somebody else's song, Tik Tok offers a large variety of memes to check out.
Of course, to spare you some time, let me give you a list of the best TikTok memes.
(See? I'm already singing a different tune)!
Best TikTok Memes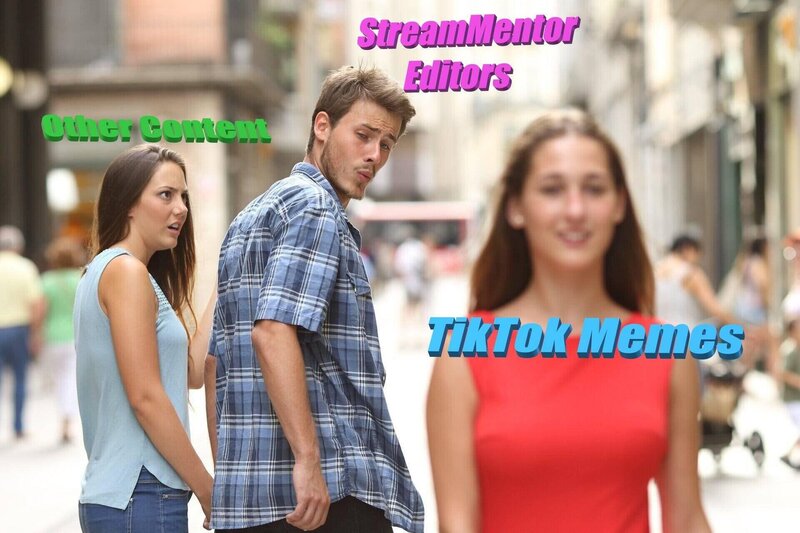 1. Karma Is a Bitch
I am sure you've seen this one at least 10 times in the latest videos you watched on the TikTok app.
The ultimate inspiration here is Veronica from Riverdale who uttered the now iconic phrase.
The point is to sort of humiliating someone by showing how different and sexier you look now.
Buuut…many users are opting to make a funny meme out of this one.
For example, the basic version shows you as you are, and then you pull a scarf, blanket or similar over your head and then show yourself fully made-up and dressed-up.
However, you can create a funnier version by showing someone else or looking the same, etc.
It's all up to your imagination.
2. Gummy Bear Adele
Funny and cute at the same time!
I imagine the creators of this meme as very funny creatures.
Here we have a concert-like made scene where a lone gummy bear is "on-stage" singing the now-classic song Someone Like you by Adele.
In front of this one gummy bear, there are plenty of other tiny gummy bears that like to sing the song together.
You can even find the video on YouTube, so you don't have to google it separately.
Of course, you'll also find it all over the TikTok platform so you can check it out every time you want to see something cute.
3. Stair Shuffle Dance Challenge
What the heck is this was my first thought upon seeing this video.
Seemingly, you're looking at very simple dance moves performed by other users. They are going up and down the stairs and everything seems so nice and smooth.
However, when this TikTok user tried to explore the topic further and have fun with their loved ones, it was a disaster the internet has never seen before.
The dancing to the music was everything but well-rehearsed, I almost broke my ankle so I can't say that I miss trying.
I just shut off the camera and let it go.
I wanted to post my failure online (TikTok, Twitter, and Instagram) and make you all watch and laugh and, but nah…too embarrassing!
The good thing is these videos are excellent material to leave your audience amazed by either your skill or your clumsiness (yeah, the charms of social media).
4. The Shoe Change Challenge
This one is easily one of the most frequent videos and memes on the app and I believe there isn't a single TikTok user that hasn't tried making a video like this.
It's fun and easy to do and you can use it to broadcast different stylings even if they are plain weird.
This one includes one person standing or sitting in front of the phone wearing one outfit. Then this person "stomps" the camera, moves the foot and appears in a completely different outfit.
And, so on.
Flash news!
You can make a whole bunch of memes with this one and they will be awesome due to the surprise effect.
However, you can apply this principle and create your own sketches by letting someone else appear instead of you, bring your pets in, or whatever pops your mind.
5. Yeah
What?
Exactly. Yeah. By Usher.
Here's excellent meme material for you.
The point is to mimic the intro sound of the song with any tool available.
I've seen couples do this with their heads; i.e. the wife/girlfriend cleans the cooker and then the husband shows up making a sandwich leaving a bloody mess.
This prompts the wife to play the song with his head.
Or, here's an idea for you – record your dog barking and mimic the tune.
Next, you can imitate this sound by moving furniture, kitchen tools and utensils or practically any item that crosses your mind.
6. The Ultimate Friend Zone Challenge
Ooooh, is there anything worse than being friend-zoned?
Hmm, yes!
Friend-zoning someone trying not to hurt their feelings. It's (supposedly) a sign of maturity.
Anyways, what's not mature is this crazy friend zone meme challenge circulating the TikTok app.
Here you'll see a boy and a girl almost kissing, but then one pushes the other away indicating "we're just friends".
Luckily, this is supposed to be a joke and the reactions are fake, so no harm done (we hope). It's a great game, though, to spend some time messing around.
This is a great meme cause you can bring in Player No. 3 and surprise friend-zone him by introducing your boyfriend/girlfriend to the game.
Just deliver the blow carefully if you haven't planned this in advance (don't be savage; otherwise, no comment).
7. Nala the Cat
Many TikTok users are coming to TikTok to check out funny animal videos.
These are even highly recommended for the children and kids facing TikTok for the first time.
Moreover, TikTok memes and videos involving animals are highly popular.
All the more so when we have a cutie such as Nala.
Nala's adventures are frequently broadcasted on the app and many users make use of these to make their next perfect meme.
For example, you use Nala unwillingly leaving a drawer with the caption "me leaving for work this morning" with some dreary music in the background.
Tragic and hilarious. Sad, yet funny.
You can even customize the video by adding some filters to create the mood and setting at your preference.
Thank you, Nala for bringing joy to kids and children of different age and to us a little bit older ones.
8. Dressing Pets Up
Come on, these TikTok videos must be absolutely hilarious.
Whether you have a TikTok account or not, I'm sure you come to TikTok to watch videos of cute animals and especially them being dressed up.
Just imagine a chihuahua all dressed up in pink with a cocktail in front of her and a funny caption such as "waiting for my next sugar doggy"!
You can't say this ain't fun!
Moreover, you can even apply the shoe challenge here and show your pet in different outfits or let them run around and play in these silly and fun outfits.
We the users like to see it and we like to try it.
I mean, seeing your cat in a miniature version of Carrie Bradshaw outfits? I've seen images and videos of it. Priceless.
Come on, TikTok is a social media app, so let's socialize by having you show us cute images and memes of your pets.
9. Inspirational Quotes
Ok, I know you didn't expect this one.
But, just wait and think – is it fun to see an inspirational quote such as "If at first, you don't succeed, try again" paired up with an image or video where you're failing for the hundredth time.
Let's say, stair dance challenge.
Show the way you fail at the dance, followed up by an inspirational quote about success that will obviously be completely sarcastic in this case.
And, those users who don't understand – well, maybe social media is not for them.
Still, an average TikTok user will understand it's all a joke and one big meme.
10. Animals Jamming
Ok, I never meant this to be a text on TikTok animal videos.
But, guys, this silly app that is TikTok truly keeps the users' focus by allowing them to upload almost anything they want on their account/page.
So, among the most shared memes on TikTok, you will definitely find videos of animals.
Most specifically, you will find a meme of a dog jamming to music. This video that has been widespread throughout the app is an excellent meme basis cause you can re-share it adding all sorts of silly filters and captions making it all about you.
Or, you know that TikTok offers great services and stuff, so play some funky music and see if your parrot can jam along with Uptown Funk or Yeah.
11. Wedding Rules
I ain't crazy I just know that the sillier the rules the larger the comment threads.
Surely you imagined your wedding day sometimes in April, warm sun shining, some romantic music being played while you and your beloved are tenderly swaying…blah, blah, blah
This ain't TikTok material!
What is, however, is coming up with all sorts of crazy ideas you'd never think of otherwise.
So, forget about that April. Say something like December exclusively, outdoors with Ramstein jamming their greatest hit all over again.
Everybody in black and whoever brings a gift, it must exclusively be wrapped in violet.
Here's news for you – get ready to get thrashed.
But, you just sit back and enjoy the ride of your life!
12. Rent-Free Video in Your Head
Or, rather, What's a Video that Lives in Your Head Rent-Free?
So, kids of all ages, let me tell you that my home page on the app was once swamped with these.
A whole bunch of users shared their most memorable video they found across social media, and let me tell you, boy, that stuff was crazy.
Seeing how (more than) two can play that game, you will find all sorts of stuff from plain cringe-worthy to plain hilarious so start a game again by sharing yours and the mass will follow (not just TikTok, but the Twitter platform users might join the game too).
Maybe even get ready to discover a whole new video that might start living in your head rent-free.
13. Taylor Swift
Yeah, she's cute and all, but have you seen her songs interpretation challenge?
Oh, from oddly embarrassing to oddly satisfying, is all I'm gonna say.
If you haven't done it already, do it now.
Don't wait till April to enjoy the spring vibe with people embarrassing themselves to your satisfaction.
14. I am Lost
So am I, my friend, so am I…lost in this world, lost in this life…
Now, seriously, the In This Shirt tune by the Irrepressibles is an excellent meme setting for all those weird crazy stuff you lose around the house.
Bottle and can openers, cutlery in general, socks, pets…
Definitely, one of the funniest memes you'll find out there.
15. Grandmas and Grandpas
Ooooh, these never get old.
I mean, memes. Grandmas and grandpas memes never get old.
TikTok is swamped with the adventures or random grandmas/grandpas so you're missing out a lot if you haven't watched any of these.
Moreover, when you re-share a video of them dancing and/or singing/lip-syncing with a witty caption, I'm sure your followers' count will grow rapidly.
Conclusion
And, this is my gift to you, guys,
Check out these lovely memes right away and enjoy the laughter time.
See ya!
Bye, bye!