Anyone who decides to become serious about streaming some content online (that can be video games, artistic work, situations from real life, or anything else), when researching the necessary equipment, will find that a capture card is an important asset.
A capture card is a device that, as the name says, enables capturing and recording of audio and video material from a computer. The simple explanation is that, when you record video locally, it converts the AV signals to digital data that your computer then encodes. The encoded data can be transferred to another computer, recorded, or streamed live.
A capture card is not absolutely necessary for every streamer. For example, if you are using just one computer, it will do everything and a capture card is not needed. Also, some gaming consoles, such as PS4 or Xbox One, have streaming capability through a built-in capture device.
But for those who need (or decide) to use it, we have tried one of the popular products of this type. The Elgato brand is famous among streamers for having the best external capture card models. Here is the review for its model HD60 S.
Elgato Capture Card HD60 S Review
Features, Software, Audience, and Price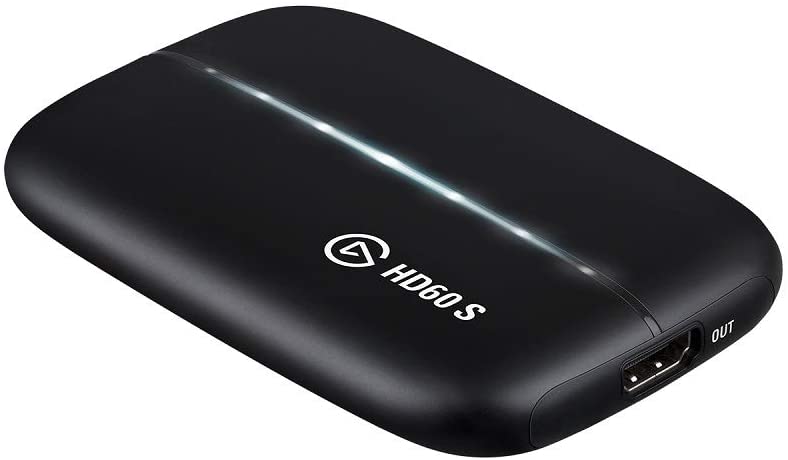 The brand Elgato used to be a part of the German technology products manufacturer Elgato Systems. In 2018, this brand was sold to Corsair and is now a part of Corsair's offer.
Elgato capture cards have the reputation of being the best ones on the market. This review is about their model HD60 S.
The capture devices of this model have proven to be of very high quality, coming from reading reviews from gamers online and from my own experience in using it to capture my gaming sessions for Twitch and YouTube videos.
Physically, the Elgato HD60 s is small and sturdy, so it doesn't break easily. The setup is simple as well, you only need to plug in the necessary cables and you are good to go. Exactly what and where it should be plugged in is clearly visible, so a mistake practically cannot be made.
A drawback of this version is that it doesn't have an in-built encoder (that process is done on your PC or laptop). The device itself is used for transferring data between other devices.
There is a separate program, a capture software that should be used along with the device, for a great performance of recording and live streaming gameplay.
This software is very user-friendly and easy to use. When you set it up, you can instantly stream your game and follow with the live commentary at the same time.
Below in this text, you will find a couple of guides on the most important aspects of recording (live streaming, live commentary, and the famous flashback recording).
Besides these, the software offers some design-related options where you can adjust the looks of your channel while you stream live. To know more about this, you can do some more extensive research online.
A newer version has the feature of GPU acceleration, meaning that some processes (of encoding and decoding videos) are transferred to the GPU to perform, thus taking a big load off the computer's CPU.
Why Do I Need an External Capture Card?
There are situations when game capture has to be done externally. That is when more than one device is used: for example when you use two computers (one for playing and another for streaming) or a console and a computer.
On the other hand, if you use one computer for everything, it will do all the work. However, that doesn't mean that you cannot use capture devices such as Elgato HD60 S. Not only are they possible to be used, but very useful as well.
Moreover, some game console devices have an internal capture card that enables you to stream directly without a need for an external one. However, these often have a limit on the time of recording and are less powerful.
Again, the Elgato game capture HD60 S is an excellent choice to overcome these downsides.
Software
Elgato has its own Game Capture HD software that should be your preferred editing software for Elgato HD60 S.
It is free for download and not at all complex for use. Once it is downloaded and set up, you start recording in only one click and streaming gameplay in two clicks (one for streaming and the other for capturing the mic).
Also, you get options where you can be creative and design the look that you prefer.
Elgato's software can be used for two purposes:
The base is one screen that you can stream, record, or edit (by adding overlays or audio, for example).
One of the raw video files that you want to edit with the Elgato game capture software will be presented in the top left corner of the window. Underneath, there are controls for streaming and recording.
On the right side, you can see other capture settings.
The program allows you to see your status, audio levels, capture settings, and overlays.
The software includes 10 custom overlays, but you can create your own as well. There is a good number of options that enable you to create great graphics.
Since update 2.1.0, this software has enabled Hardware Accelerated Decoding and Encoding. This means that the processes of encoding and decoding a video are done much faster through the PC's graphic processing unit.
Though this is not mainly a program for graphics, I was quite satisfied with what I could do with the looks of my stream. I played with webcam feeds and added animations, graphics, and texts.
The 3.1 version has the Chroma key feature. This feature removes the background behind you. For this to work, you need to fulfill some requirements:
It seems somewhat simpler to use compared to the Open Broadcasting Software (OBS Studio).
Also, I have experienced virtually no lags whatsoever. With exceptionally fast games, there may be a slight delay, but that is noticed only when the video is replayed and played at a slower speed.
The software is upgraded and improved regularly, so if there should be any problems, you can report them and they will be dealt with very soon. New features are added occasionally as well, so updating the app is a very useful thing to do.
There are audio options as well. You can play around and adjust them to suit your voice.
How to Use Elgato Game Capture HD60 Software
What follows are a few guides on how to use some of the software's most important features.
Live Streaming
Live Commentary
You can add comments as you go live by using a microphone that you plug into your computer. Or you can record a party chat. When you turn on this feature, it will be incorporated into your recording and live streaming without an option to go without it.
Flashback Recording
The Elgato Game Capture HD60 records the video while playing. Therefore, you can go backward or forward, or even pause a video. To perform flashback recording, follow the next steps:
There are many other options in the software. I have chosen to explain those that are of the greatest interest for streamers. A more detailed explanation of the software may be a completely separate topic whatsoever.
Key Features
1. Design
The design of the Elgato capture card is simple and elegant. Its outer mask is made of plastic and matte black in color.
It is very small and rectangular in shape with rounded edges. Its dimensions are 4.4 x 3 x 0.75 in (112 x 75 x 19 mm) and its weight is 3.7 oz (106 g). For easier understanding, it is the approximate size of a wallet.
It has ports on two sides: one side for input and the other for output.
The input ports include HDMI input, a USB C port, and an analog 3.5 mm audio input. The other side has only one: an output HDMI port.
There is also a striking LED status strip that signals whether the device is turned on.
The design of the box is also very pleasant. It is dark blue with just the most basic information on the front side.
The backside of the box gives more information about the device and also the images of all the parts that you will find when you open it.
2. Fast setup
The setup of the Elgato HD60 S is pretty self-explanatory. What you need to do is simply plug the necessary cables into the right slots on the device.
For input into the capture card, you need three cables:
The other side of the device has an HDMI output port, so this kind of cable is needed here. It goes from the capture device to the TV or monitor.
Once you plug in all the cables, you will use your computer to manage all the necessary options.
Having tried the Elgato game capture, I can say that this simplicity in its use is a great plus for this device. I didn't waste any time reading manuals and installing the device. A simple plug-in and you are set to go!
3. Immediate capture and streaming
There is a number of capture formats that are available for this Elgato game capture HD60 s. The lowest one is 480p, then come 576i and 576p, then 720p30 and 729p60, and the highest formats are 1080i, 1080p30, and 1080p60.
The USB cable with a C port and a 3.0 connection. A small detail that makes it simpler to plug in this cable is that it is reversible – no more turning the USB over and over to find the right side for plugging it in.
To be honest, that has saved me quite a lot of nerves over time.
The superior low latency technology is used to implement the possibility of processing a very high amount of data and to have a minimal delay in the process.
4. Fast to record gameplay
The fast recording is achieved by using the technology of advanced GPU acceleration.
To explain what this term means, let me mention first that the part of a computer that performs tasks is the central processing unit, which is known for short as CPU.
Some software includes tasks that can be done by the graphic processing unit, or GPU. Now, GPU cannot do everything that a CPU can, but the tasks that it can, it does much faster.
The place where these two processing units meet is GPU acceleration. Put simply, a software developer may introduce a special option to a software. This option would be to transfer a part of tasks from CPU to GPU.
The benefits are that the tasks for GPU are performed faster and CPU has less workload.
Now to go back to our Elgato HD60 S. When you take into consideration that its software uses GPU acceleration, you should understand well why it is beneficial when you hit record.
One more thing that I found extremely useful with the video capture is the Flashback Recording. Basically, that means that, if you forgot to record gameplay, you can slide back to any moment in the game and start recording.
Technical Specifications
System Requirements
Here is a list of the system requirements for Windows and Mac that are necessary for Elgato HD60 S to work well.
For Windows Users
For Mac Users
Target Audience
The Elgato HD60 S is a capture card that can be used by both amateurs and pros, beginners and veteran gamers.
The instant game view without lags, even in full-screen mode, good HDR support, and having a good uncompressed video of your Xbox or Nintendo Switch game are just some of the benefits of having precisely this capture card.
Though I am not a pro gamer, I don't consider myself a pure amateur either, as I have been engaged for quite a long time. After having tried a good number of capture cards, I have found that this one is an outstanding choice.
So, if you are seriously in the business, the Elgato HD60 S is good for you. And if you haven't reached those heights yet, the capture card is still a good one for you because you will get the pro to feel with it.
Price
With the lowest price at about $140 and going up to about $200, depending on the store (online or a brick and mortar store), the Elgato HD60 S is one of the mid-priced capture devices out there.
Based on my experience, and those of many other users, this is an awesome product totally worth the money given for it.
Frequently Asked Questions
Is Elgato Capture Card worth it?
Yes, this is one of the best models of Elgato's capture cards. It has a high performance and excellent features with high-quality results. Though there are always things to be improved, such as the supported resolution, it is a capture card of choice for many professional streamers.
Is Elgato any good?
Yes, Elgato is a cutting-edge company that follows the latest trends in technology and incorporates them into their old products (through updates, where possible) as well as new ones.
The capture card Elgato HD60 S is one of their best products. There are newer versions of S+ or Pro with some improvements from the S version, but I can honestly say that Elgato HD60 S is a really great product for live streaming and regular video capture.
What does Elgato Capture Card do?
Put simply, capture cards are there to transfer the encoded data with video files between devices. They are used mostly for video game capture and live stream.
These processes are quite a load for a gaming laptop or PC, so without a capture card, the computer may lose performance and impair game playing. Elgato capture cards are probably the best ones on the market today.
Is Elgato Game Capture HD still good?
This is a decent model of a game capture device, though it is older (almost 10 years old) and therefore outdated and replaced by better models. About 4 years ago, this model reached EOL (End of Life), which means that it is no longer produced. However, if you have it, you can still use it and even reach tech support about it.
Conclusion
In this Elgato capture card review, you have read about its model Game Capture HD60 and the capture software that goes along with it.
The Elgato Game Capture HD60 capture card is definitely excellent at capturing content from a video game system such as from gaming sessions played on the Xbox Series or Nintendo Switch.
It provides an instant game view with lags that are virtually nonexistent. Its streaming software is loaded with options related not only to streaming but also to stream design.
All in all, this really is a great product and it is my personal recommendation for you, no matter whether you are an amateur or pro gamer.
Related: Best Capture Card for Streaming – Top 8 Great Choices