No matter what industry you find yourself working in, be it a hobby or a more long-term commitment, your name is often the first and last thing people see. Streaming games on Twitch is not different. This is why you should look for the best Twitch name generator.
The possibilities with the right name genuinely are endless, as it forms your internet backbone that can go so far as to represent your entire brand! With that said, let's get down to it and learn everything there is to know about this topic!
Guide to Cool Twitch Names
I'll let you in on a little secret – up to 50% of your Twitch marketing work depends heavily on how creative and catchy your name is!
Good Twitch names are worthy assets that are continuously coveted by newcomers and veterans of the platform alike, making it extremely important that you pick a good Twitch name generator that can produce a long-lasting name that can supplement your rise to the top!
1. Short and Straightforward Names Are the Best
Let's face it, streamers come from all kinds of different backgrounds that join together to make Twitch a highly diverse platform that can be hard to follow up on sometimes.
Putting yourself out there among the crowd requires, alongside a charming demeanor, a memorable name that is universally easy to pronounce and catchy enough to stay in people's minds! This is where the Twitch username generator can help.
2. Use Combinations of Different Words
Innovation is the mother of all success, and what better way to cement yourself as an upcoming big-named streamer than to create meaning through conjoining words into a name that has all the attributes akin to the current crowd favorites?
Ask yourself, "What would sound cool to an average viewer that follows my channel?" Addressing this question early on will have a massive impact on how your channel is perceived, making word combinations an excellent choice for potentially fantastic results.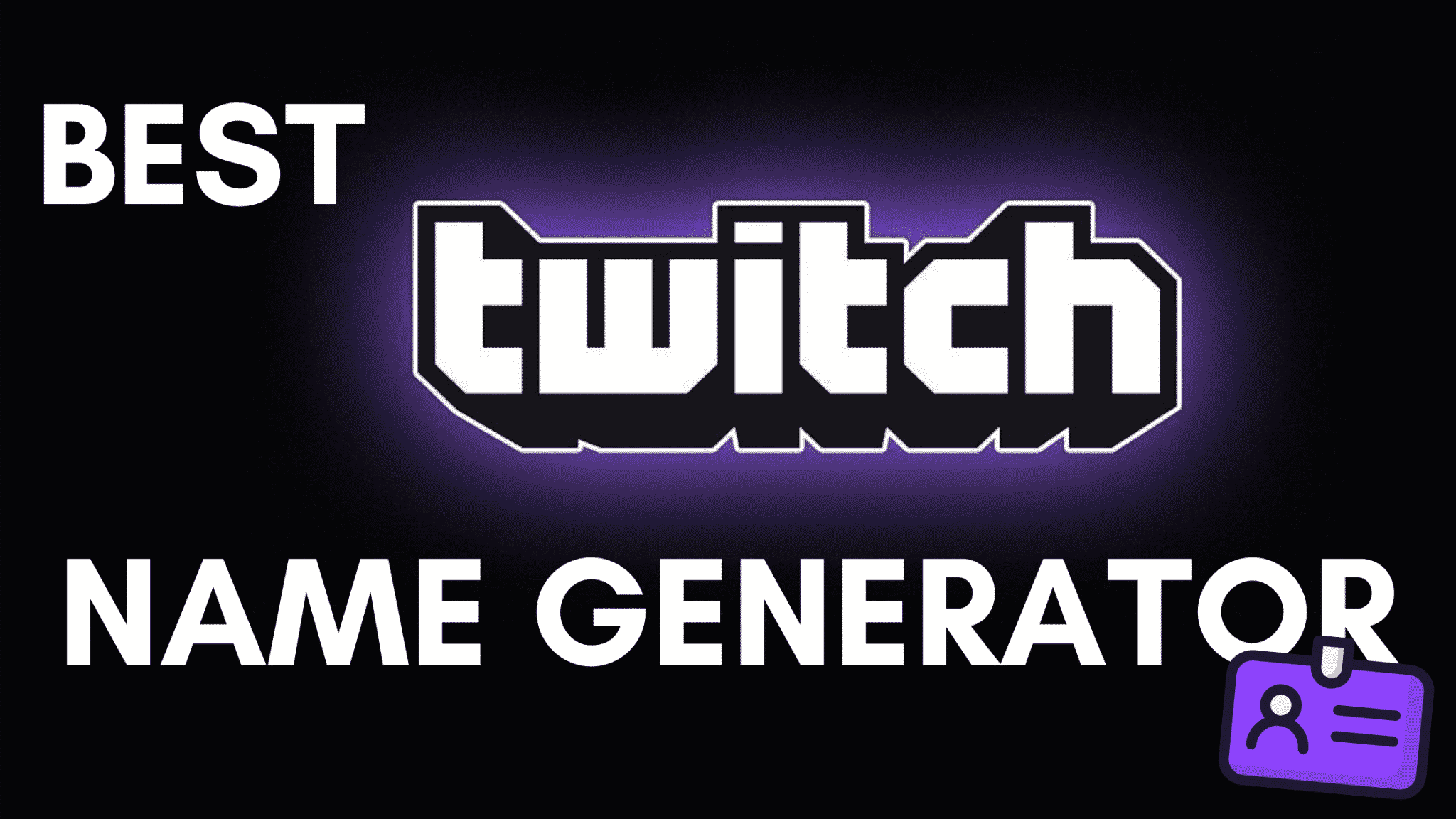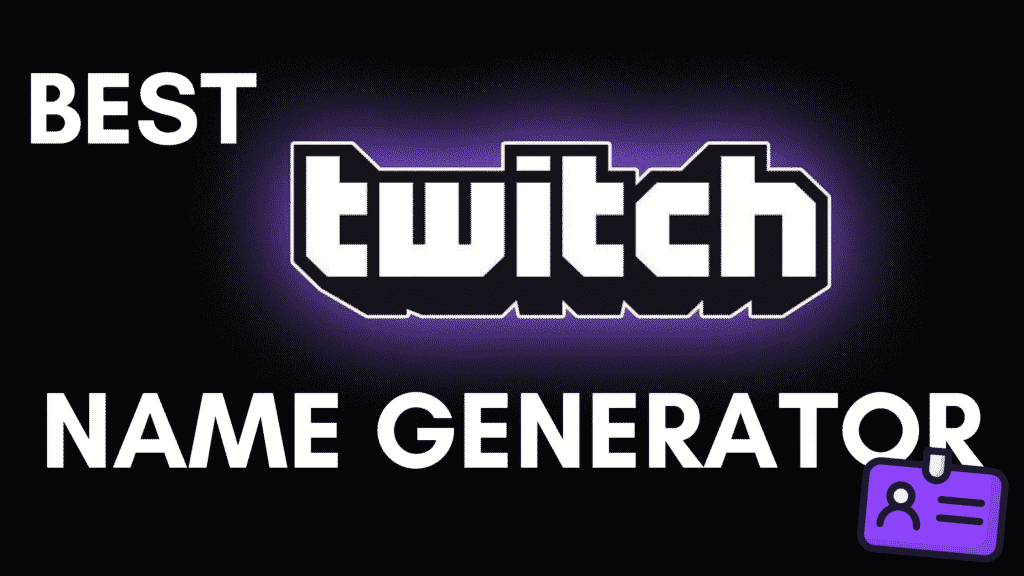 Best Twitch Name Generators
Practice makes perfect as the odds you come across a newly-created name that suits your taste are best determined using the algorithm in question and testing different variables that can suit your requirements.
Take note that good Twitch usernames are usually generated either by the ingenious nature of the human mind or by precisely-tuned name generator keywords aimed at specifying the type of content the streamer creates, so make sure to compile a small list of what kind of effect do you want your username to have on your viewers.
1. SpinXO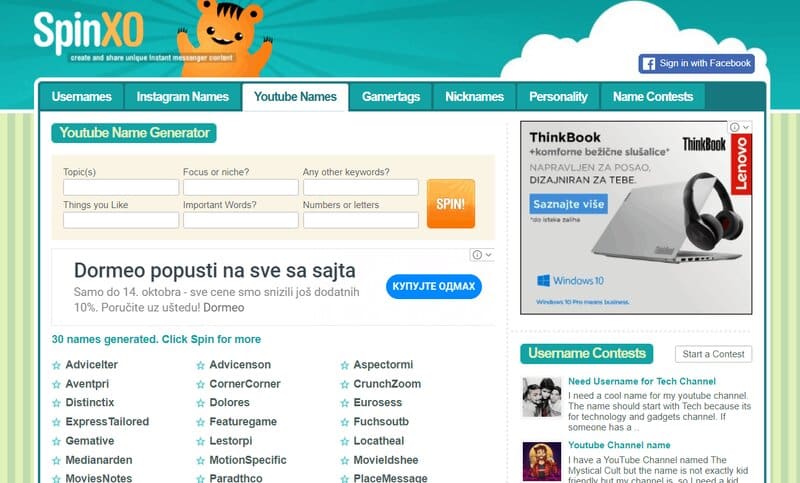 SpinXO is one of the leading options for getting the best possible results and variations within a future name, holding its unofficial title as one of the best Twitch name generators, often used as a streamer name generator.
One of its biggest strengths is the sophisticated username generator that combines simple information into unique usernames that can save you hours of pondering on your own to come up with a truly unique idea.
To sweeten the deal even further, you can check if your desired name is taken by someone else on all the popular social networks (including Youtube and Reddit) so that you can take a name that is unique only to you. Even if you really like one particular name and it happens to be taken, you can utilize a nearly endless amount of customization options to get the right match!
2. Jimpix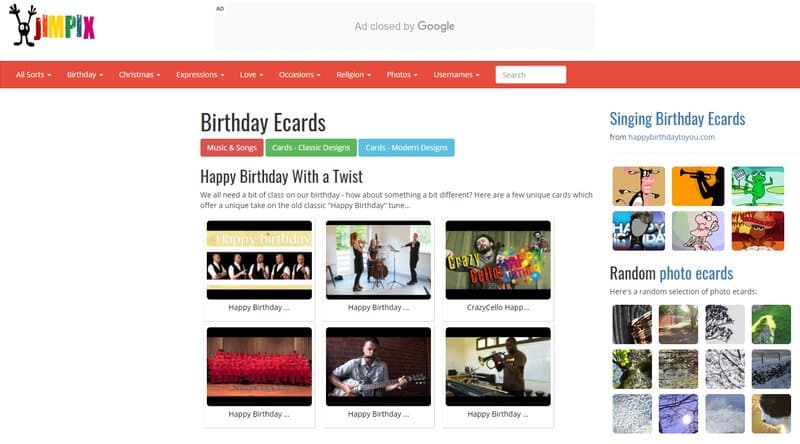 Unrivaled in its ability to break the chains of monotony by introducing combinations that can spice up all your accounts with an endless supply of creative names, this is a useful and funny username generator that is most often used to produce a large number of Twitch names for the platform.
The generator offers two types of services:
Creating a random list of names based on the user's choice of two categories you choose to combine, creating a result primarily through word-play. If you are unsure of where to start, you can't go wrong with this option.
Using words of your choice and the offered options to concoct a combination with your particular phrase or word included. If you have some sort of vision as to what your name should represent or hint at, this is your cup of tea.
Regardless of what you hope to get out of this service, it is a de facto jack-of-all-trades option for serving as a random Twitch name generator, enabling you to get the most out of name generators with minimal effort.
3. Name Generator Fun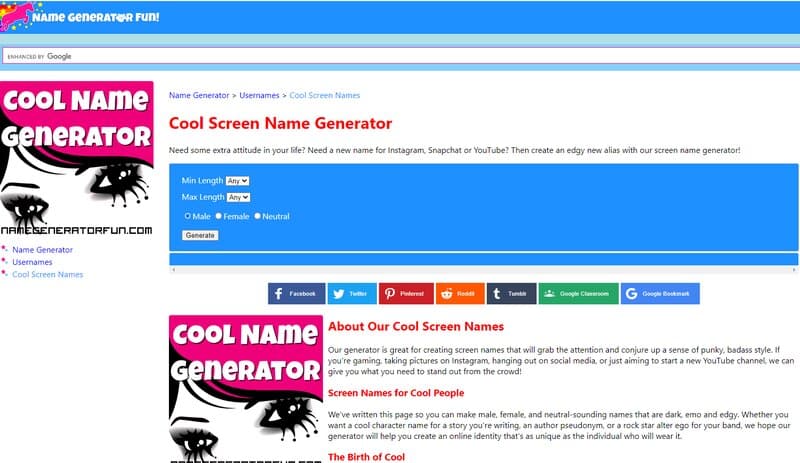 Looking for something new? Do you want to get yourself a service that offers cool vibes and can be used for more than just creating cool Twitch names? If so, you are in the right place!
This cool name generator has a long history of usage for almost every known social platform. It has excelled in creating names that have left a lasting mark in the fields of gaming and streaming alike.
The generator works by allowing you to select the minimum and maximum length of the name in question. After you have decided upon the size, you have to choose whether you want the name to be for a male, female, or gender-neutral persona.
The vast number of possibilities and the underlying level of uniqueness practically guarantees that you can get yourself a cool name or a spark of an idea that can get you to create a unique variation yourself.
4. Online Name Generator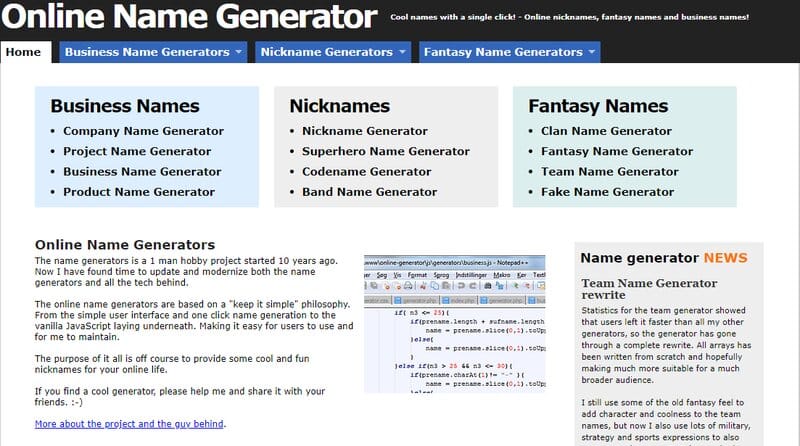 Starting off from humble roots as a solo project about a decade ago, this service is one of the most popular ones you can find online and, considering its potential, it is not hard to see why!
It offers you a big selection of categories and a potent name generator that rivals pretty much all other services in terms of quantity (you can get more than 25,000,000 totally unique names from using this generator).
It is straightforward to use; all you need to do is select a category and click the "generate" button to get started. You can use it as much as you like, and the system will compile a list of all the names you received through the service.
5.  Rum and Monkey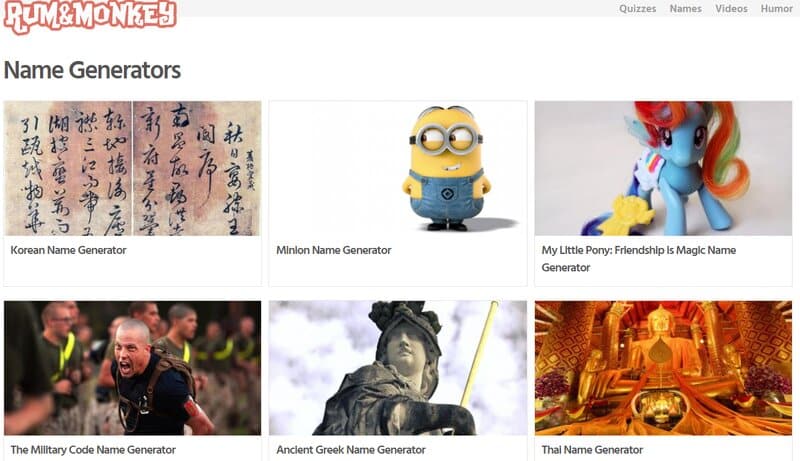 For those who wish to take an extra step forward and put additional input into creating the next best Twitch names, Rum and Monkey offer an exclusive service that puts you in the driver's seat! This makes it a pretty good Twitch name generator.
You get to choose what kind of name you want to receive by picking out a classification. Afterward, you fill out a quiz that centers around you, asking you questions regarding your generation, what kind of work you do,  your personal desires, etc.…
The process is lengthy, and it takes a while to get your name but, as far as good Twitch name generators go, this one is both original and creative, giving you great results that can be used for any purpose.
6. Fantasy Name Generators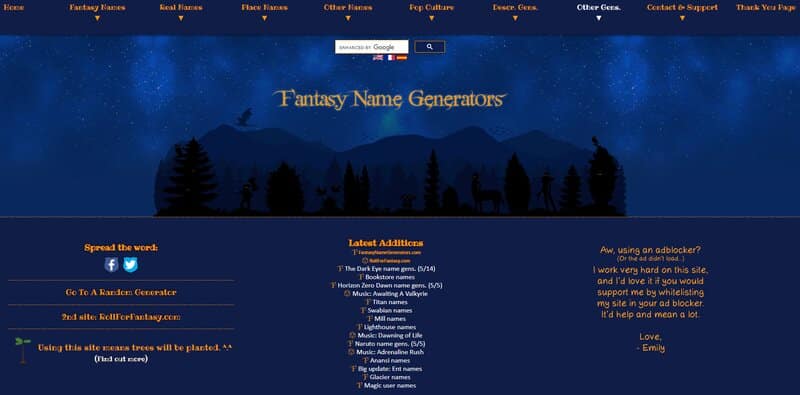 Suppose you have it all figured out. You know what kind of name you want for your persona, you know what audience you wish to attract.
You have a general idea of what type of content you will create on Twitch, and, at that point, almost everything is set. All that's left is to pick out the right name, and in this specific situation, this website shines!
It sports arguably the largest selection of name classifications on the internet that goes far beyond the realm of fantasy, with each one of them housing a generous selection of carefully thought of names.
 Another significant aspect about this website is that it is continuously being worked on, now offering names from the most popular franchises and universes such as Warhammer 40k, Mass effect, World of Warcraft, and much more!
With over 1400 name generators in one place, it is really hard not to find some name that won't strike your fancy even for the pickiest of users, so feel free to dive right into its nearly-endless inventory!
Related: How to Change Twitch Name in 2021 – Simple Ways and Benefits