Light for Streaming
If you need to find other streaming gear, make sure to look at our Streaming Gear page. Here, you will find everything you need!
Post 4 of 4
It's a common misconception that you need expensive equipment to start streaming when in reality you just need a phone a few accessories.
And even though you can make a lot of money from streaming, you have to start somewhere.
That's why today we're going to talk about budget lighting for streaming so you know what your options are. Let's not waste any more time and jump straight in!
Post 4 of 4 in the Light for Streaming
Best Cheap Lighting for Streaming
Reviews
These are the 6 best streaming lights that won't make you eat ramen noodles for a month as they are pretty much for anyone's budget. So let's see what we have on the menu today!
QUICK OVERVIEW: Best Cheap Lighting
10 brightness levels
Rotatable phone/camera holder

32 small LED bulbs
Twistable gooseneck

3200 K – 5600 K lumen
160 small LED bulbs
1. HQOON Ring Light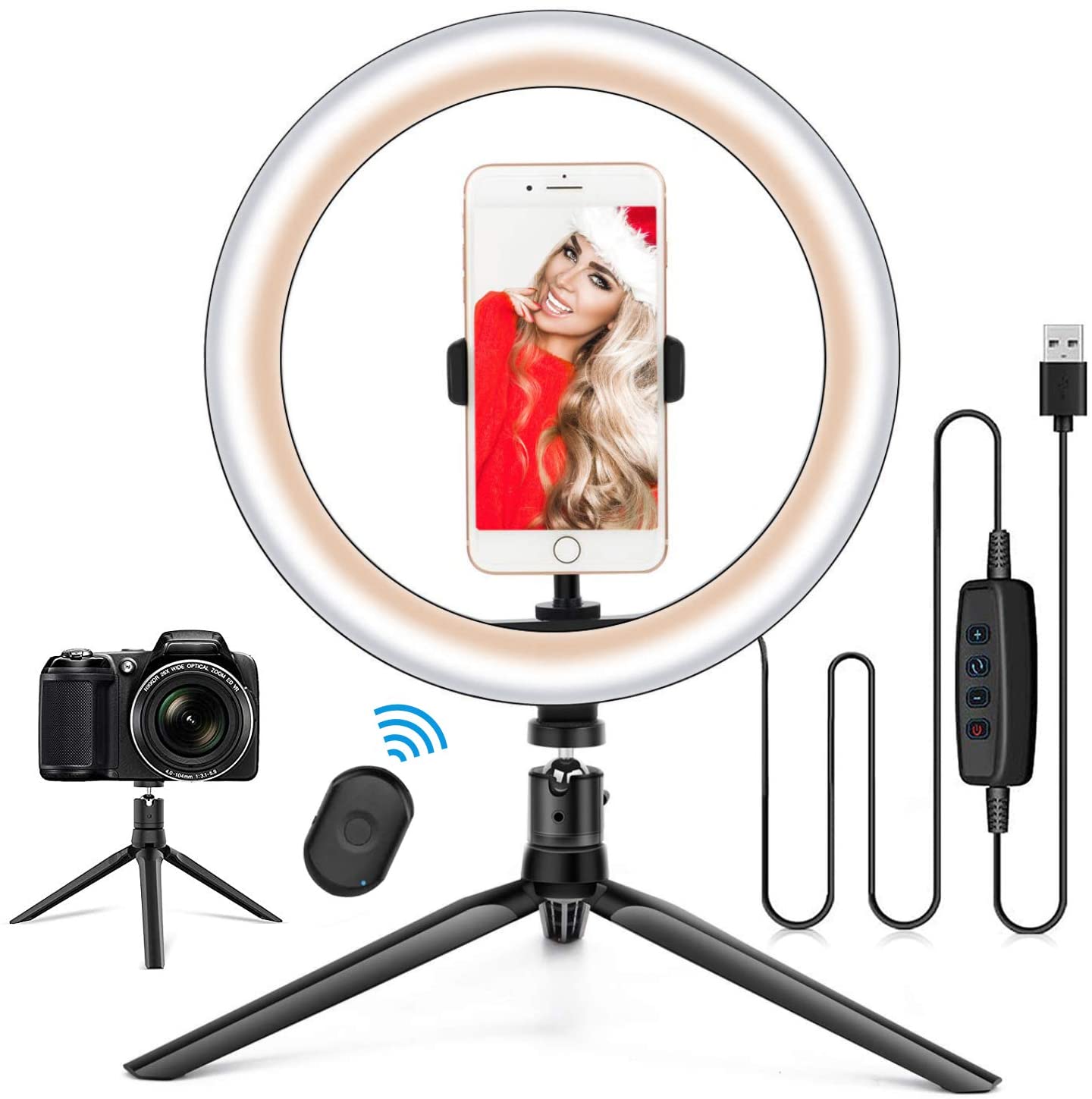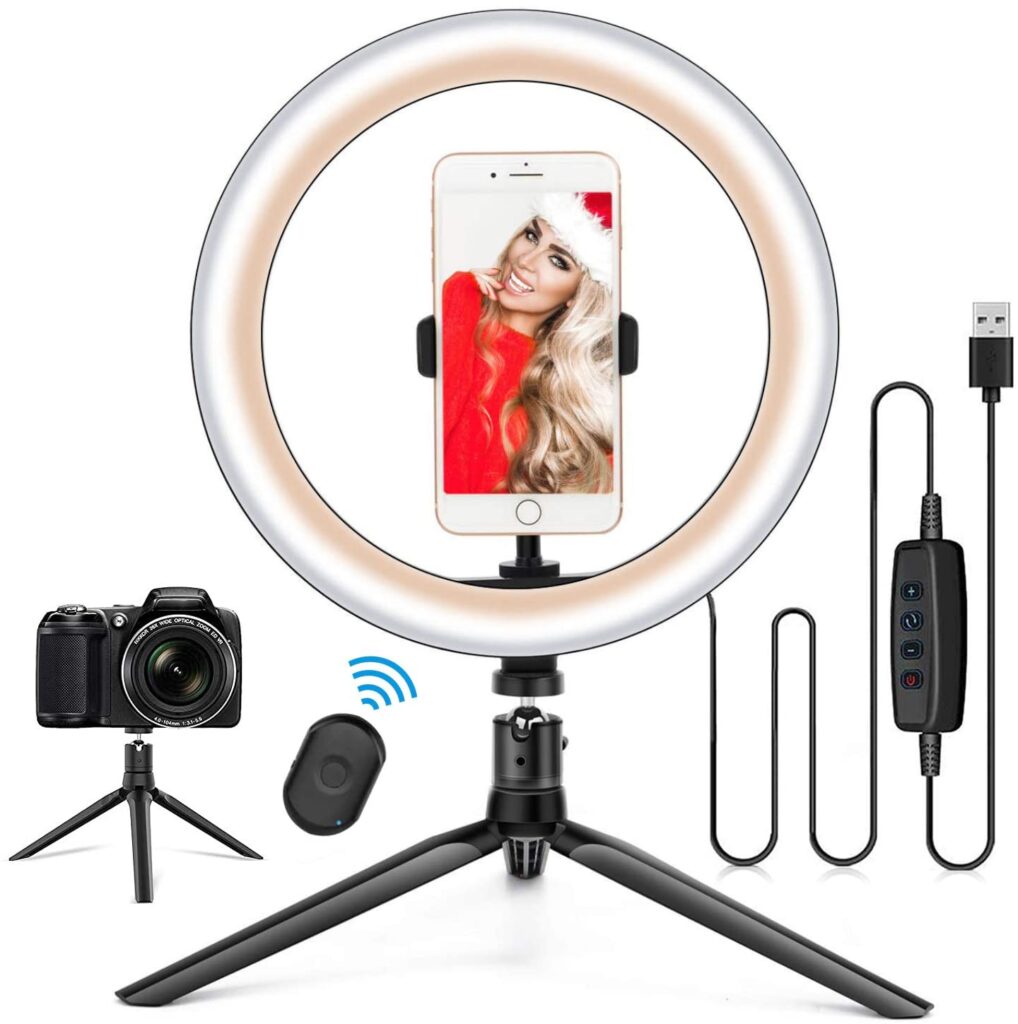 The first cheap lighting for streaming on our list is the HQOON ring light which you can pick up for under 20$ and is one of the most popular choices for streamers on a budget.
This is because it offers nice features for the price and is also a quality product.
So let's see what this ring light has to offer.
Who is it best for?
The HQOON ring light is a tabletop light which means that it's mostly suitable for streamers who need lighting directed at them while talking to their audience.
For example, streamers such as makeup artists, vloggers, entertainers, and so on.
So because it's not an expensive device, if you're thinking about starting your streaming career in any of these fields, then you'll be perfectly happy with this ring light.
Key Features
As mentioned, this ring light has 3 light modes you can adjust – warm, cold, and natural, and has 10 brightness levels.
That is quite useful when you need to either set the light to a minimum or light up your entire setup.
The ring itself is 10" and sits on a mini tripod which can be rotated 360° and gets you that perfect angle you're looking for.
The camera/phone stand sits behind the ring light and can also be rotated in any direction.
You can plug it in by using a USB cable which you can plug in any device such as a PC, laptop, or power bank.
---
2. GLORIOUS-LITE Clip-On Light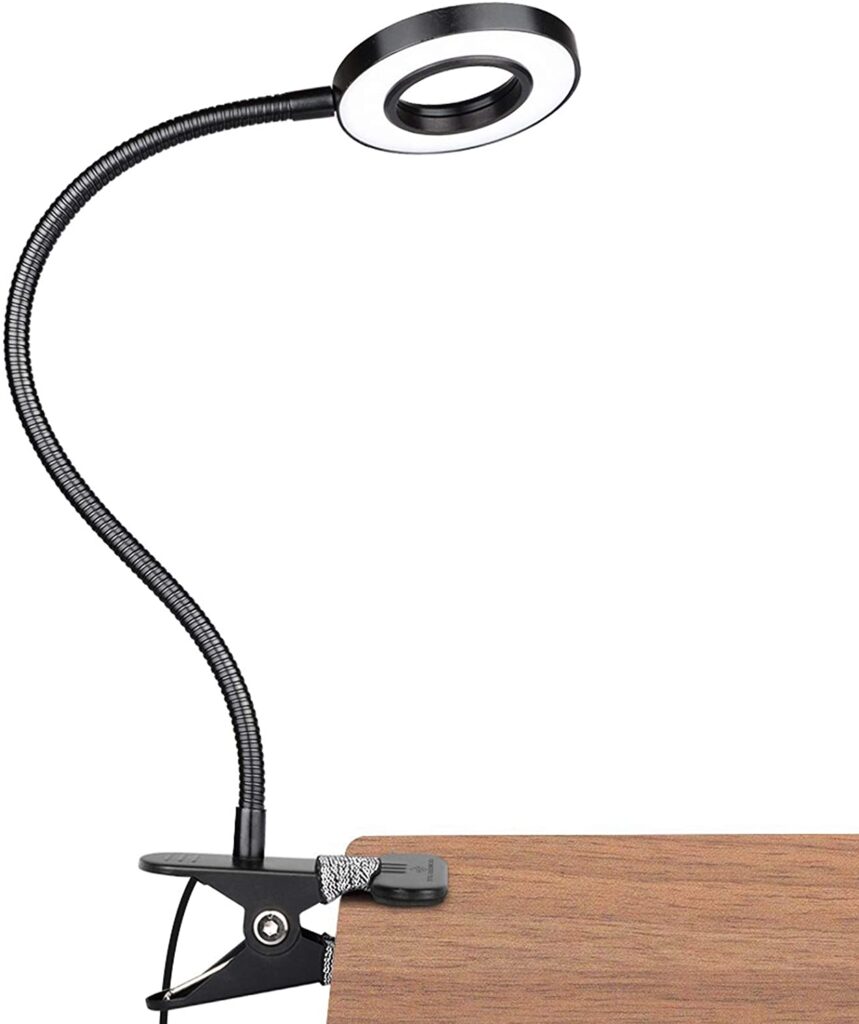 The second cheap lighting for streamers on our list is the GLORIOUS-LITE clip-on light.
This product certainly won't replace your streaming light by any means, but it's still a great tool to have clipped on your desk.
Let's see what this small light can do.
Who is it best for?
As this is a small LED lamp that you clamp on your desk, it won't be the brightest streaming light you can buy, and also, it will mostly be used to light up your setup, not so much your face or space behind you.
Mostly streamers who do DIY's and need good lighting on their table are going to be appealed by this light.
So if you like to do a lot of DIYs, or you need lighting on your desk, then you should definitely consider buying this light.
Key Features
The brim of the ring is just 3" but has 32 small LED bulbs which can generate up to 6000 K lumen when it's adjusted to full brightness.
Speaking of brightness, the lamp has 2 brightness modes – dim and maximum, and 3 light modes – warm, cold, and natural.
The great thing about this small LED ring light is that it has a twistable gooseneck that can be twisted in any direction and angle so you always have the light beam wherever you need it.
Lastly, the light is powered by a USB cable which is quite long (59″) and can be plugged into any device or power bank.
---
3. NEEWER 160 LED
Up next we have the NEEWER 160 LED which is one of the most powerful streaming lighting on a budget you can find.
It has a high-quality build that makes it living proof that you can get valuable streaming lights and not make a dent in your bank account.
There are lots of features to this streaming light so let's see what they are.
Who is it best for?
This is quite a professional streaming light even though it's under 25$, and that's why it will work wonders for all kinds of streamers such as gamers, entertainers, podcasters, and so on.
Because you can mount it on your camera or tripod, it will usually be used as a table-top streaming light which is always great if you're talking directly to the camera.
So if you want a studio-quality streaming light for cheap, then this is the right one for you.
Key Features
This LED streaming light has 160 small LED bulbs which can produce from 3200 K to 5600 K lumen which is adjustable by a wheel on the side of the light.
Knowing this, you can already tell that it's a bright light, and because you can mount it on a tripod, it can be both used as a background light or a setup light if you mount it on a table-top tripod.
What's great about this light is that it runs on 6 AA batteries which means you don't have to charge it or plug it in to be able to use it, and it has a heat dissipation system that doesn't let it overheat with prolonged use.
Lastly, we have to mention that this light also has a ¼" hot shoe camera mount which is quite handy if you're used to streaming through your camera.
---
4. UBeesize LED Ring Light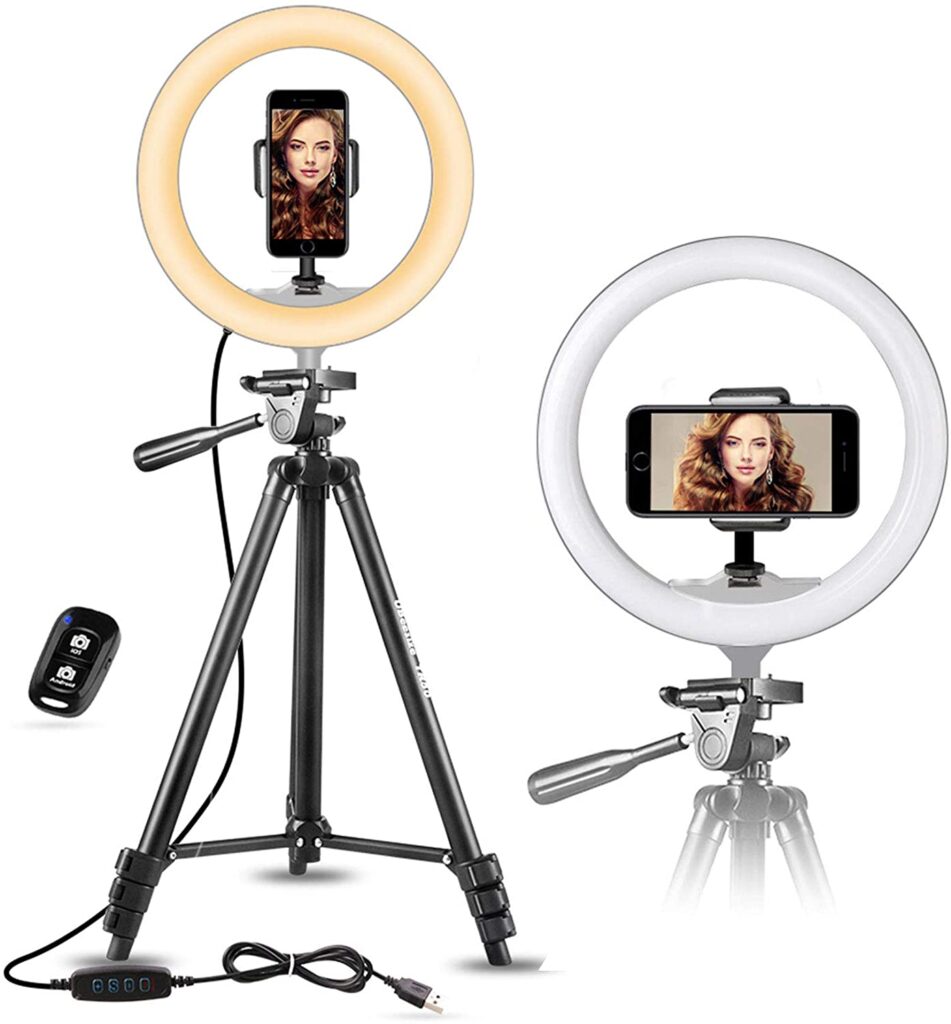 Next in line is the UBeesize LED ring light and we have to say that it's one of the easiest streaming lights to operate on this list and is a great tool if you're just starting to enter the streaming world.
It's more of a phone-based than a camera-based stream light so if you're someone who streams via phone, you're definitely going to like it.
Who is it best for?
As we already said, if you are comfortable or used to streaming your phone, then this streaming light is for you.
And, as streaming via phone is becoming more and more popular, this cheap ring light is going to get more and more attention pretty soon.
It's quite easy to use and operate and the features let you have full control of the brightness levels and lighting options.
So you should definitely grab it while you still can because you're going to fall in love with this great streaming light.
Key Features
First things first, the size of the brim is 10" which is big enough to emit lots of light and still small enough to carry in your backpack if you need it on the go.
You can also plug it in any device or power bank using a USB cable so that is also pretty neat.
It has an adjustable ball joint where the ring sits so you can rotate it to any angle you want, and also the phone stand is fully rotatable and can fit most mobile phones.
You can also control both the brightness levels and the colors by using a remote which is attached to the cable.
---
5. KeShi Selfie Ring Light
The fifth cheap lights for streaming on our list is the KeShi selfie ring light which is the first streaming light on this list that has a floor tripod.
Apart from that, this is the most expensive light on the list, but because it costs just above 25$, it won't break your bank.
It has lots of features we're just dying to talk about, so let's get to it!
Who is it best for?
Floor streaming lights are appreciated by gamers, podcasters, entertainers, and so on, because they don't need the light or camera pointed directly at them, but rather at their setup or room.
That's why this streaming light will appeal to them.
Also, if you need a tabletop light, you can just retract the tripod and you're good to go.
If you need a cheap floor/tabletop light that is also quite powerful and can light up your entire room, then you might want to consider buying this one.
It is quite a solid pick even for professional streamers.
Key Features
The first feature we're going to talk about is the 120 LED bulbs which can produce up to 5600 K lumen, which is enough to light up your entire room with just one button.
Second, all the controls, such as brightness level and color modes, can be changed by using a controller attached to the cord.
Since we've mentioned color modes, there are 3 colors you can choose on this light – white, warm yellow, and warm white.
Not only that, but you can also start recording by using a Bluetooth remote shutter.
Also, you can mount both your phone and camera using either the phone stand or the ¼" hot shoe camera mount.
Lastly, you can power it by using a USB cable and plug it into your laptop, PC, or power bank.
---
6. QIAYA Selfie Ring Light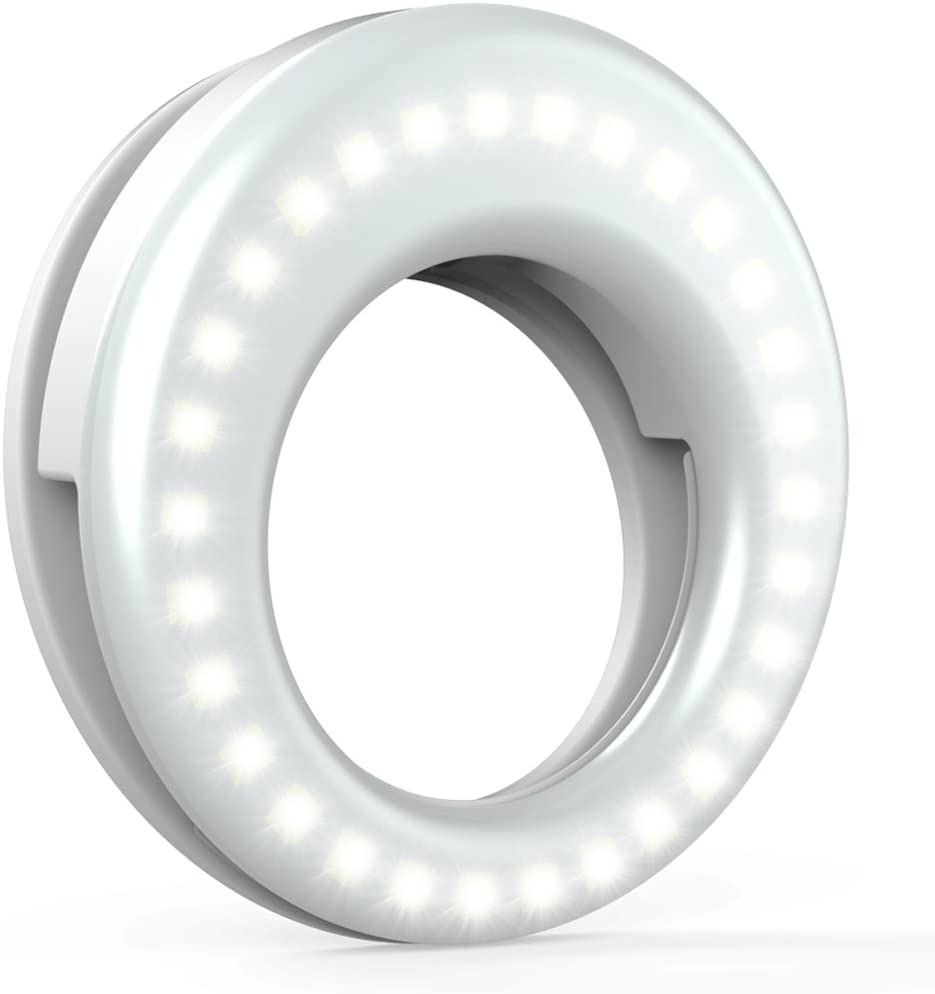 Last but not least we have the QIAYA selfie ring light which is quite a unique product, to say the least.
This ring light actually has a groove where you can slide it on top of your phone, laptop, monitor, camera, and so on.
But don't be concerned, because even though it's small, it's still quite powerful.
Who is it best for?
Even though this light won't replace your standard streaming light, it's still quite a powerful LED light that you can always carry around with you.
It can fit in your pocket and can be easily recharged using a USB cable.
So if you're someone who is always on the go and hates to carry around your streaming lights, then this is a great tool to have at any moment.
Key Features
One of the best features of this light is actually the simplest one – it has a groove on the side that you can use to mount it on any device.
This is quite cool because it can go over the camera so you have direct light when you're recording.
Also, even though the 950 K lumen doesn't sound that impressive, it's still quite a bright light so you won't have any problems if you're used to recording your face while talking and you need some extra lighting.
Lastly, there are 3 brightness options – dim, medium, and maximum, that are adjustable by using buttons on the side.
---
Things to Consider When Buying a Cheap Lighting for Streaming
Even though you can stumble upon very cheap lights for streaming while searching on the Internet, you still should take your time and do a bit of research before buying one.
Don't just buy the cheapest light because of the price, but rather focus on the light that is exactly what you need, and there are quite a few lights out there that will fit your needs even on a budget.
So let's see what you should consider before buying cheap lighting for streaming.
1. You Get What You Pay For
Streaming lights can range from 10$ to even 300$, heck, you can even find lights for 5$ if you search long enough, but don't blame us when the light starts to malfunction after 2 or 3 months.
That's why you should always invest the most amount of money you can into a streaming light.
If you like a particular light, but it's too expensive for you, save up some money and buy it, because, in the long run, it will last you more than cheaper lights.
Of course, if you just want a basic light and you're not willing to invest some money because you're just starting out, that's fine as well, as you can always upgrade to a better one later.
2. Price Doesn't Always Mean Quality
It is possible to get quality stream lighting even when you're on a budget. There are plenty of under 20$ streaming lights which are actually pretty good and can last you for years.
Remember, sales are your best friend and you should regularly check for them when buying streaming lights because you can sometimes get a studio-quality light for half the price.
On the other hand, don't be tempted to buy streaming lights just because they're expensive because price doesn't always mean quality.
If you can get some lights that cost a lot less than the expensive ones but do the exact same thing, then you've definitely struck gold.
3. Power over features
If you're just starting out with streaming and you're looking for cheap lighting, then you should look for streaming lights that shine the brightest over the ones that have cool features.
It's because you can do without the fancy features in the beginning, but you need a good light source with lots of brightness.
If you can find a cheap stream lighting that has both, then you'll definitely get the best of both worlds.
However, if you need to choose between a powerful light and one that has Bluetooth remote controls, 5 light modes, and 2 adjustable tripods but can't emit enough light to light up your room, then you should definitely settle for the powerful one.
Conclusion
In the end, we have to say that the title for best cheap lighting for streaming goes to the HQOON Ring Light because it's the most versatile, yet powerful streaming light on the market and it's quite cheap compared to similar products.
We hope you've enjoyed our list of best lights for streaming and hope that you'll find just the right streaming light which fits your budget.
Frequently Asked Questions
We are sorry that this post was not useful for you!
Let us improve this post!
Tell us how we can improve this post?